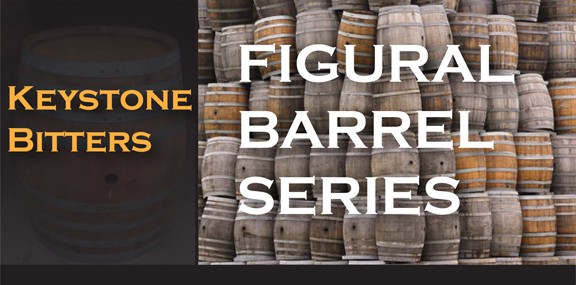 KEYSTONE BITTERS
12 July 2012 (R•091516)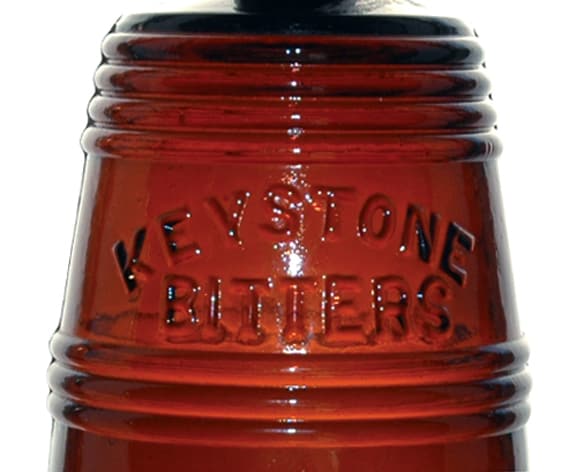 Here is another figural Bitters barrel that most Bitters collectors possess or are familiar with. Not terribly hard to find, as they are rated Very Scarce, but they do show up, usually in a darker amber color. I am surprised that there is not much information on the brand that was made by the Keystone Bitters and Cordial Co. in Cleveland, Ohio. I am hoping that this post will generate some more examples and support material such as advertising.
Please look at the comparison image below comparing the KEYSTONE BITTERS form with the WORMSER BROS and MIST OF THE MORNING figural barrels. You can also follow this link to see the similar HALL'S BITTERS.
The Carlyn Ring and W.C. Ham listing in Bitters Bottles is as follows:
K 36  KEYSTONE BITTERS, Circa 1865 – 1875,
KEYSTONE ( au ) / BITTERS // c //
Keystone Cordial and Bitters Co.   Cleveland, Ohio
9 3/4 x 2 1/4 x 3 1/4 (7 3/4)
Barrel, 4-3-3-4, Amber and Puce, LTC, Applied mouth, Very scarce
Cleveland City Directory 1908-09.
---
Read More on Figural Barrels
Barrel Series – Old Sachem Bitters and Wigwam Tonic
Barrel Series – Turner Brothers New York & San Francisco
Barrel Series – The Mysterious Blue Barrel
Barrel Series – Original Pocahontas Bitters
Figural Barrel Series – Hall's Bitters
Greeley's Bourbon Whiskey Bitters – aka Vertical Greeley's
Peach colored Bourbon Whiskey Bitters added to Color Run
Greeley's Bourbon Bitters – A Great Boston Bitters Barrel
The earliest and latest with the blue W. Wolf's Pittsburgh barrel
Barrel Series – Brent, Warder & Co. – Louisville
Barrel Series – I. Nelson's Old Bourbon
Barrel Series – B.M. & E.A. Whitlock & Co. – New York
Bennett & Carroll – Figural Barrel Series
Barrel Series – Liquore del Diavolo Figural Barrel
Barrel Series – Crow's Celebrated Tonic Bitters
Barrel Series – Chapin & Gore – Chicago – Sour Mash
Barrel Series – Bininger Old Kentucky Bourbon
Barrel Series – Columbus in a Barrel
Barrel Series – Stillman & Breen
Barrel Series – Ben Franklin Bitters
Barrel Series – Highland Bitters and Scotch Tonic
Barrel Series – Smith's Druid Bitters
Barrel Series – Roback's Stomach Bitters (the smaller ones)
Barrel Series – Roback's Stomach Bitters (the big boys)
Barrel Series – Dr. Chandler's Jamaica Ginger Root Bitters
Barrel Series – Favorite Bitters & Peoples Favorite Bitters
Barrel Series – Wormser Bros San Francisco
The Robinson & Lord Figural Barrel – Baltimore
The James A. Clark barrel from Louisville
The Hull Brothers barrel from Detroit, Michigan
Barrel Series – Out of the Ashes, the Wolford Z – Whiskey