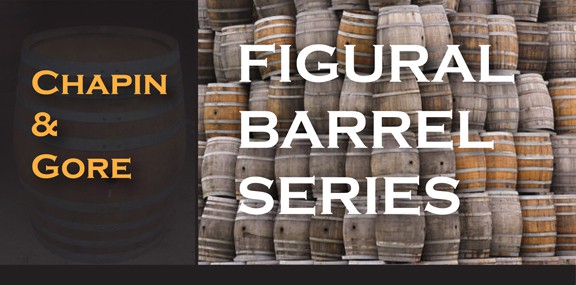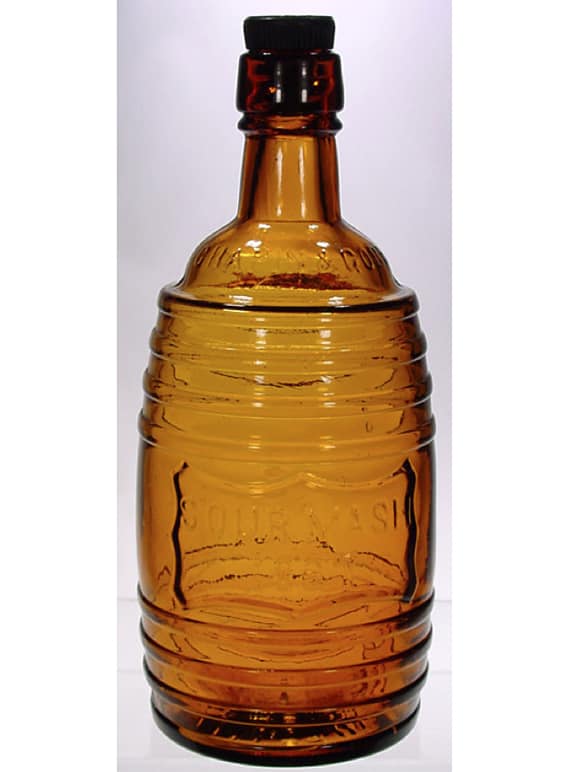 CHAPIN & GORE
CHICAGO 
SOUR MASH 1867
15 August 2012 (R•041519)
---
Gardner Spring Chapin & James Jefferson Gore

Next in the figural barrel series is the Chapin & Gore Sour Mash whiskey from Chicago. Chapin & Gore were major liquor merchants with quite a bit of history as you will see below. I like this bottle because it is in a different form than most barrels and it comes with a stopper which is pretty cool.
CHAPIN & GORE / CHICAGO // SOUR MASH / 1867,
Amber, 8 1/2″, Barrel shaped whiskey bottle, 8 1/2″ high.
With correct matching amber glass stopper.
From OASG: Chapin & Gore listed as wholesaler 1870-1919. According to John Panek, in the early 1850s, Gardner Spring Chapin, a broker in mining stocks, met James Jefferson Gore, who was handling freight overland to Nevada. Gore, sick, and in need of money, asked Chapin for a $200 loan so he could continue on to Nevada. The loan led to a lifelong friendship. Chapin moved to Fairbault, MN, where he opened a dry goods store. When the business went poorly there he moved to Chicago and established a grocery on Madison street. Gore became a successful businessman and sought out Chapin in Chicago. They opened a grocery store in 1865 at the corner of State and Monroe. Gore convinced Chapin to add a liquor department, and soon liquor was their major enterprise.
Just before the big fire in October 1871, they put out a brand of their own which they called "1867." Gore soon added the words "Sour Mash." The firm prospered and gained world wide fame. Branches were established in Kansas City, Indianapolis and Paris, and the partnership acquired their own distillery in Kentucky (RD #10, 6th District?). Gore died in 1891.
The company used the brand names, "Chapin & Gore Sour Mash 1887" and "Old Jim Gore".
Business name timeline: Chapin & Gore (1870-1910, 1913-1918), Chapin & Gore Inc (1911)
Address timeline: 162 State (1870-1871), 71-75 Monroe (1873-1902), & 142 22 nd (1873-1880), &121 Clark (1877-1880), & 73 S Halstead (1877), & 152 22 nd (1894), & 214 31 st (1894), 16-22 Adams (1904-1910), 61-67 E Adams (1911)
---
History of Chicago and Souvenir of the Liquor Interest

:

The Nation's Choice for the Great Columbian Exposition, 1893
The house of Chapin & Gore was originally established in 1866, at the corner of State and Monroe Streets. In October, 1871, driven out by the fire scourge, the firm opened a place at 152 Twenty-second Street, where for a time they had their headquarters, and May 13, 1872, their present headquarters were established at 73 and 75 Monroe Street, at which time a third partner, J. S. Carter, was admitted to the firm. Since that date branches have been opened at 214 Thirty-first Street; 247 Clark Street; 133 Van Buren Street; 1042 Union Avenue, Kansas City. The Twenty-second Street house is still open, and the bulk of trade is done on Monroe Street.
The individual members of the firm were three, and deserve special mention in this biographical review. G. S. Chapin was born near Boston fifty-nine years ago. He passes the bulk of his time traveling in the East and California. He is a gentleman widely known throughout the States as being at the head of the wealthiest and most famous liquor house in the West.
J. J. Gore was sixty-one years of age, and was born in Georgia. He was an active worker, and had always been at his desk early and late attending to the manifold duties that devolved upon him. Like Mr. Chapin, he was notable for his congeniality, and was a popular member of social and business circles. In September, 1891, Mr. Gore died, and his death removed one of Chicago's best known and most prominent merchants.
One of the hardest workers, however, and perhaps the one upon whom the most of the burden of labor falls, is J. S. Carter. Born in New York in 1850, he has, as before stated, been with this house since 1872. He is a popular, conscientious gentleman, and honorable to the last degree. It would be impossible to correctly estimate the magnitude of the business transacted annually by this house.
Their stock is enormous, and embraces the finest of the choice wines from the best markets of the world; brandies from the most notable manufacturers; cigars, the best the universe affords; cordials delicious; all kinds of aeriated waters, bitters, bay rum, etc. Imported liquors are of their own importation, in bond or free of duty, the records of the Internal Revenue Department showing that this firm have never bought or sold any alcohol, high wines, Cologne spirits, or compounded goods of any description. In addition to the Monroe Street wholesale department there is a fine bar and a gentleman's restaurant.
DIED SEPTEMBER 25, 1891. Many of Chicago's old residents attended the funeral of James J. Gore, which was held at the family residence, 2618 Michigan Avenue, on September 27th. The large crowd of respectful mourners, and the profusion of floral tributes bespoke the esteem in which the dead merchant was universally held. Music was furnished by the choir of Trinity Episcopal Church, where the deceased attended, though not a member. An impressive sermon was delivered by the rector, Rev. John Rouse, after which the remains were conveyed to Oakwoods Cemetery where interment took place A large procession followed the body to the grave. The honorary pall bearers were Carter H. Harrison, ex-Judge Egbert Jamieson, George H. Allen, A. Burnham, Joseph Shephard and Albert Martin. The active pall bearers were Charles E. Rector, Charles Clayton, T. Robinson, E. Hagenbuck, O. Burdick, Matthew Fisher, Thomas Miller and Walter A. Barker.
Telegrams of condolence were received from many of the deceased's business associates in various parts of this country and in Europe. Among the firms who testified to their respect for Mr. Gore in that way were W. S. Barres & Co., Paris; Allen & Co., of New York; Frank S. Stevens & Co., Fall River, Mass.; C. S. Bush, New Orleans, G. S. Chapin, Santa Barbara, Cal., and M. Bouche, Mauriel Sur Ay, France. Mrs. Poog of Brooklyn, a sister-in-law of Mr. Gore, and Mrs. Platt, a cousin, living in Cincinnati, and Captain William F. Fleming of New York, were present at the funeral.
---
The Chapin and Gore Building, at 63 East Adams Street, was commissioned by Chapin and Gore, a liquor distilling firm, to combine warehouse and office spaces with a street level retail store and bar. Built in 1904 by one of the most progressive architectural firms of the early 20th century, architects Hugh M. G. Garden and Richard Schmidt demonstrated the aesthetic possibilities of a functional building through exterior expression of interior functions, fine brickwork, and decorative terra cotta. The building's ornamental capitals and cornice were removed in the 1950s. The building was listed on the National Register of Historic Places on June 27, 1979 and later designated as a Chicago Landmark on January 21, 1982.
The Chapin and Gore Building is currently the home of the Chicago Symphony Orchestra administration. It is part of the Symphony Center campus, attached in 1997 to Orchestra Hall. The Rhapsody Restaurant is on the ground floor, serving orchestra patrons and the public. [source Wikipedia]
---
Read More on Figural Barrels
Barrel Series – Brent, Warder & Co. – Louisville
Barrel Series – Bininger Old Kentucky Bourbon
Barrel Series – Columbus in a Barrel
Barrel Series – I. Nelson's Old Bourbon
Barrel Series – W. Wolf found at Thrift Shop for $1.00
Barrel Series – Ben Franklin Bitters
Barrel Series – Highland Bitters and Scotch Tonic
Barrel Series – Smith's Druid Bitters
Barrel Series – Roback's Stomach Bitters (the smaller ones)
Barrel Series – Roback's Stomach Bitters (the big boys)
Barrel Series – Dr. Chandler's Jamaica Ginger Root Bitters
Barrel Series – Favorite Bitters & Peoples Favorite Bitters
Barrel Series – Wormser Bros San Francisco
Barrel Series – Mist of the Morning
Barrel Series – Old Sachem Bitters and Wigwam Tonic
Barrel Series – Turner Brothers New York & San Francisco
Barrel Series – The Mysterious Blue Barrel
Barrel Series – Original Pocahontas Bitters
Figural Barrel Series – Hall's Bitters
Greeley's Bourbon Whiskey Bitters – aka Vertical Greeley's
Peach colored Bourbon Whiskey Bitters added to Color Run