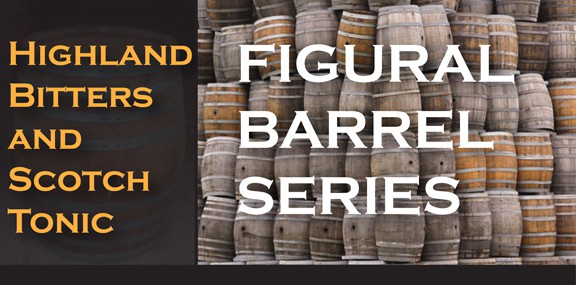 HIGHLAND BITTERS
AND SCOTCH TONIC
21 July 2012 (R•110813) (R•111313) (R•112813 – Mansfield Medicine Book) (R•090516)
"EUREKA. UNPARALLED SUCCESS of the WORLD-RENOWNED HIGHLAND BITTERS! Or, SCOTCH TONIC, The Greatest Remedy for all Diseases of the STOMACH, LIVER and BOWELS EVER DISCOVERED. Health to the Sick! Drink and Live!"
February 20, 1861 – Memphis Daily Appeal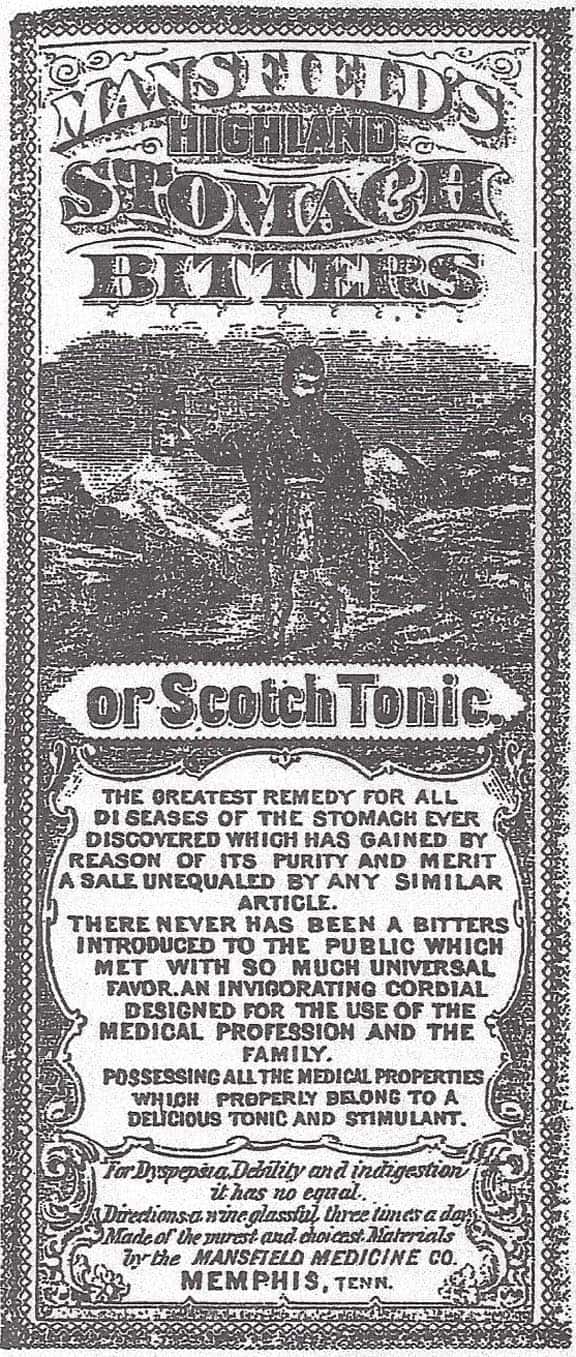 ---

Now to the great Highland Bitters and Scotch Tonic. Here is a dark horse and tough figural bitters barrel to obtain from Memphis, Tennessee. I have only seen three or four in collections and now have two examples in my collection that are pictured below. To me, the most exciting aspect, is finding an earlier metallic pontiled example, two of which are pictured and included in this article. The Carlyn Ring and W.C. Ham listing in Bitters Bottles is noted below:
H 117

 HIGHLAND BITTERS AND SCOTCH TONIC, Circa 1860 – 1875
HIGHLAND BITTERS (au) / AND / SCOTCH TONIC ( ad ) // c // 9 5/8 x 2 1/8 (8) Barrel, 10-10, NSC, Applied mouth, Yellow, Amber and Olive green – Rare; Amber and Olive green and Metallic pontil mark – Extremely rare The Mansfield Drug Company, Memphis, Tennessee
Note:

The Mansfield Drug Company was in business from 1840 – 1900 and produced a great variety of medicines and drugs.
Drug Catalog:

1883 Schieffelin
See:

 M 31 | Mansfield's Highland Stomach Bitters (coffin flask) and M33 | Mansfield's New Style Highland Stomach Bitters Scotch Tonic (square)
Van Vleet-Mansfield Drug Co.
P. P. Van Vleet, president of the Van Vleet-Mansfield Drug Co., Memphis, Tennessee was born in 1849 at Kalamazoo, Michigan, and received his education in the Kalamazoo College. Just after completing his course, he started out for himself, with no particular place north of New Orleans in view, but on reaching Memphis he was quick to see and realize the possibilities of the place and secured a position as prescription clerk with G. W. Jones & Company, at that time the largest drug house in that town. In 18i9 he purchased a half interest in the business. This interest he sold in 1884 and established the wholesale house of Van Vleet & Co., which business was continued profitably until 1894, when the business of the Mansfield Drug Co. was purchased, thus establishing the Van Vleet-Mansfield Drug Company.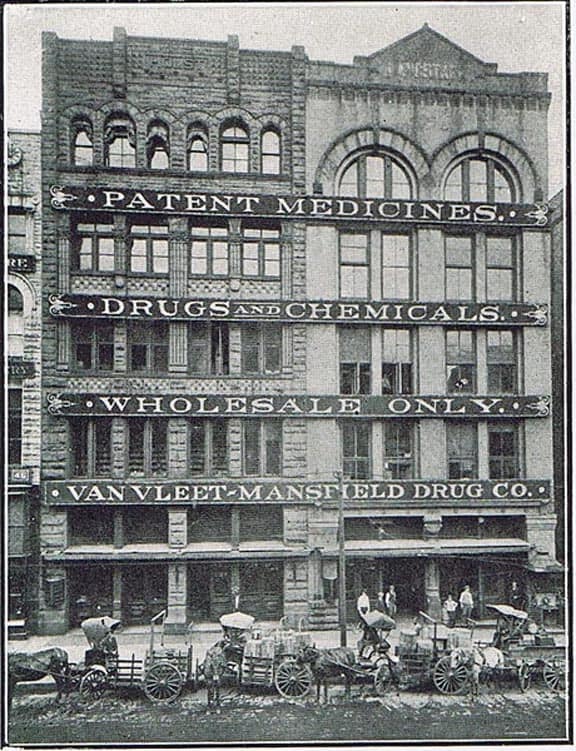 Mr. Van Vleet is a man of great executive ability to which there could be no better monument than the largest Southern drug house of which he is the head. He is one of the most public spirited men in Memphis, and, while he does not take an active part in politics, he is always ready to contribute his money and services for the welfare of the city. Mr. Van Vleet is an ardent fisherman and a prominent member of the Tarpon Club at Aransas Pass, Texas, where he goes several times a year in quest of the gamiest of fish. He is also a great traveler and has made several trips to Japan and Europe, and has been round the world once. [source: Digger Odell Publications]
---
---
Read More on Figural Barrels
Barrel Series – Smith's Druid Bitters Barrel Series – Roback's Stomach Bitters (the smaller ones) Barrel Series – Roback's Stomach Bitters (the big boys) Barrel Series – Dr. Chandler's Jamaica Ginger Root Bitters Barrel Series – Favorite Bitters & Peoples Favorite Bitters Barrel Series – Wormser Bros San Francisco Barrel Series – Mist of the Morning Barrel Series – Old Sachem Bitters and Wigwam Tonic Barrel Series – Turner Brothers New York & San Francisco Barrel Series – The Mysterious Blue Barrel Barrel Series – Original Pocahontas Bitters Figural Barrel Series – Hall's Bitters Greeley's Bourbon Whiskey Bitters – aka Vertical Greeley's Peach colored Bourbon Whiskey Bitters added to Color Run Greeley's Bourbon Bitters – A Great Boston Bitters Barrel