GREELEY'S BOURBON WHISKEY BITTERS
aka Vertical Greeley's
28 February 2012
---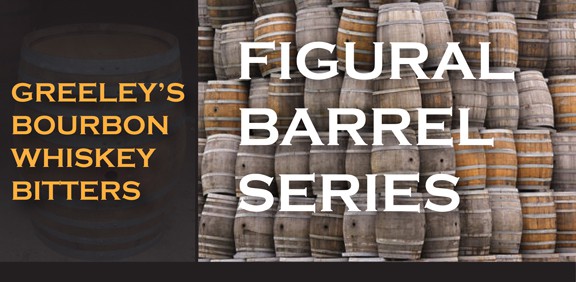 My last post in the Greeley figural Bitters barrel series is for the Greeley's Bourbon Whiskey Bitters also known and referred to as the Vertical Greeley's due to the vertical typographic treatment of "GREELEY'S". This post is also comparative to my two (2) previous posts for the BOURBON WHISKEY BITTERS and the GREELEY'S BOURBON BITTERS. Most of these barrels come in the oddest, chameleon type colors imaginable and challenge the best of us in describing the color of a particular bottle.
Read more: Peach colored Bourbon Whiskey Bitters added to Color Run
Read More: Greeley's Bourbon Bitters – A Great Boston Bitters Barrel
Now to the G 102 Greeley's. By the way, I am having REAL problems coming up with info on W.F. Greeley and A.W. Greeley and need help from the super sleuths.
G 102  GREELEY'S BOURBON WHISKEY BITTERS, Circa 1865 – 1875,
GREELEY'S / BOURBON WHISKEY ( cu ) / BITTERS / GREELEY'S /// c //
W.F. and A.W. Greeley, Boston, Massachusetts
9 1/2 x 2 1/4 (8 1/4)
Round-barrel, 10-10, FM, Applied mouth, Puce, Amethyst, Plum, and Copper – Common; Amber and Aqua – Very rare
Read more on Figural Barrels
Barrel series – Original Pocahontas Bitters
Figural Barrel Series – Hall's Bitters
Peach colored Bourbon Whiskey Bitters added to Color Run