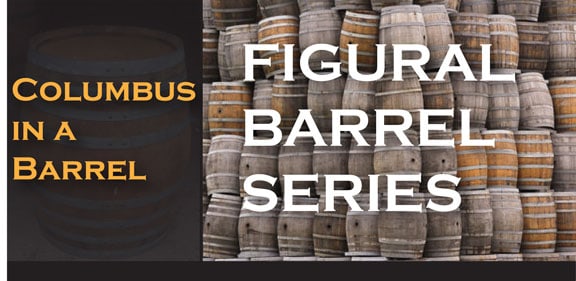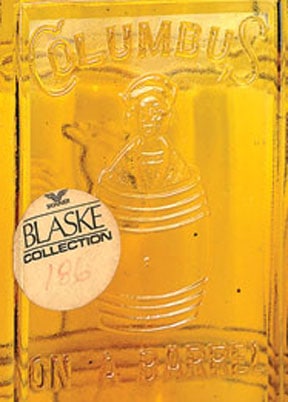 COLUMBUS ON A BARREL
(motif of Columbus in a barrel)
(motif of a rooster)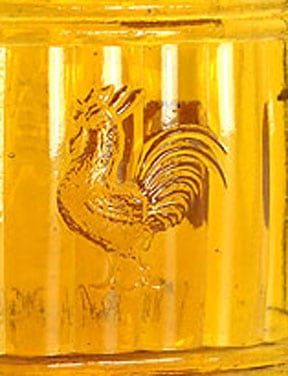 ---
I took a few weeks off for FOHBC Reno Expo business and other types of related posts and now would like to return to the figural barrel series with a rather interesting barrel that I am unfamiliar with. The COLUMBUS ON A BARREL made an appearance in the recent Glass Works Auctions | Auction 95. What an interesting bottle in a pint size. Online searches for information reveal nothing as far as more images and support material. Hopefully this post will shake some information loose.
I particularly like the Columbus in a barrel embossing on one side of the flattened barrel form and the rooster on the other side. Having the BLASKE COLLECTION provenance and sticker also adds great character to the bottle. Congratulations to the winner of this lot. You got a great one!
[As described by Glass Works Auctions]
"COLUMBUS" / (motif of Columbus in a barrel) / "ON A BARREL" – (motif of a rooster), American, ca. 1890 – 1900, yellow amber pint, smooth base, tooled mouth. A tiny 1/4" long in manufacturing stress crack is located in the area where the neck and body meet, otherwise perfect. Ex. Judge Blaske Collection.
---
Read More on Figural Barrels
Barrel Series – I. Nelson's Old Bourbon
Barrel Series – W. Wolf found at Thrift Shop for $1.00
Barrel Series – Ben Franklin Bitters
Barrel Series – Highland Bitters and Scotch Tonic
Barrel Series – Smith's Druid Bitters
Barrel Series – Roback's Stomach Bitters (the smaller ones)
Barrel Series – Roback's Stomach Bitters (the big boys)
Barrel Series – Dr. Chandler's Jamaica Ginger Root Bitters
Barrel Series – Favorite Bitters & Peoples Favorite Bitters
Barrel Series – Wormser Bros San Francisco
Barrel Series – Mist of the Morning
Barrel Series – Old Sachem Bitters and Wigwam Tonic
Barrel Series – Turner Brothers New York & San Francisco
Barrel Series – The Mysterious Blue Barrel
Barrel Series – Original Pocahontas Bitters
Figural Barrel Series – Hall's Bitters
Greeley's Bourbon Whiskey Bitters – aka Vertical Greeley's
Peach colored Bourbon Whiskey Bitters added to Color Run