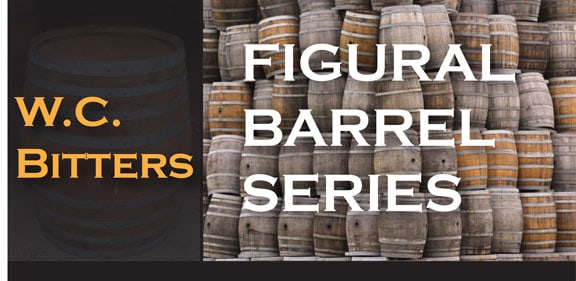 W. C. BITTERS
|
BROBST & RENTSCHLER
---
Here is a figural bitters barrel that takes a back seat to the other heavy hitter barrels such as the Old Sachems, Greeley's and Roback's (see bottom of page).
It a later bottle from Reading, Pennsylvania in a form that is unique to me in figural barrels. I actually like this shape but have always had a hard time with the name. Ring & Ham gave it a 'W' classification because it is called W.C. BITTERS. The "W.C." standing for Wild Cherry. I guest they did not want to deal with the two partners names, "BROBST" and "RENTSCHLER" which are uncommon and tough to pronounce.
The Carlyn Ring and W.C. Ham listing in Bitters Bottles is as follows:
W 57  W.C. BITTERS, Circa 1885 – 1895
// s // W. C. BITTERS // c // BROBST & RENTSCHLER ( au ) / READING, PA // sp //
10 5/8″ x 2 3/4″ (6 5/8)
Barrel, 3-3, Amber, ARM, Applied mouth and Tooled lip, Very scarce
I could only put my hands on two pictures of the bottle. One example resides in my collection while the other example is in the current Glass Works Auction.
---
Read More on Figural Barrels
Barrel Series – W. Wolf found at Thrift Shop for $1.00
Barrel Series – Ben Franklin Bitters
Barrel Series – Highland Bitters and Scotch Tonic
Barrel Series – Smith's Druid Bitters
Barrel Series – Roback's Stomach Bitters (the smaller ones)
Barrel Series – Roback's Stomach Bitters (the big boys)
Barrel Series – Dr. Chandler's Jamaica Ginger Root Bitters
Barrel Series – Favorite Bitters & Peoples Favorite Bitters
Barrel Series – Wormser Bros San Francisco
Barrel Series – Mist of the Morning
Barrel Series – Old Sachem Bitters and Wigwam Tonic
Barrel Series – Turner Brothers New York & San Francisco
Barrel Series – The Mysterious Blue Barrel
Barrel Series – Original Pocahontas Bitters
Figural Barrel Series – Hall's Bitters
Greeley's Bourbon Whiskey Bitters – aka Vertical Greeley's
Peach colored Bourbon Whiskey Bitters added to Color Run