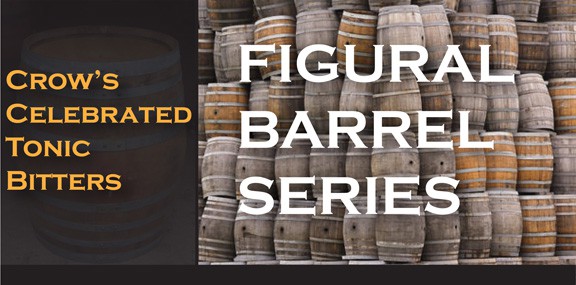 CROW'S CELEBRATED TONIC BITTERS
18 August 2012 (R•021914 major update) (R•090516)

---

Saving the best for last is the Crow's Celebrated Stomach Bitters. Only one known example is residing in the great figural collection of Bob Ferraro in Boulder City, Nevada. I was fortunate enough to see this beauty a few years back. The is no other barrel with this exact mold though the top half is similar to the large Roback's Stomach Bitters. I can not find any information on this rarity and welcome any news. Bob's example came from an old Indiana collection. We can only hope one shows up in a Thrift Shop. Read: Barrel Series – W. Wolf found at Thrift Shop for $1.00
Update 19 February 2014:
We are probably talking about Frank M. Crow and Walter A. Ruhe. This is a fascinating bottle to research because the clues are so sparse. I would like to thank Tim Pillow for the "W. A. Ruhe's Philadelphia Gallery" photo card from Evansville, Indiana below. This very important clue led me to Walter A. Ruhe, who guess what, lived in or near Philadelphia and a number of points in his life as you will see by the updated timeline below.
This further led me to Frank M. Crow, who was a distinguished early physician and druggist in Evansville. Though I have not found the 'smoking gun' to tie these two together, I believe there is a high probability that we are on the right track. How exciting!
POST IN UPDATE & RESEARCH MODE
William M. Crow (clue?)
Biographical and Historical Record of Greene and Carroll Counties, Iowa
William M. Crow, druggist, Grand Junction, was born in Warren County, Indiana, February 20, 1844. His father, John Crow, is a native of Dansville, Kentucky, and now resides in Polk County, this State. William M. was reared a farmer, and was educated in the high school at Des Moines, and also at Worthington and Warner's Commercial College of the same city. He came with his parents to Des Moines in 1850. In many respects he is a self-made man, having taught school sixteen years. He taught in Polk, Jasper, Dallas and Greene Counties; he also taught in Kansas. His mother was formerly Medina Mace, a sister of Hon. Daniel Mace, who represented the La Fayette, Indiana, district from 1852 to 1856, and it was he who presented the name of Andrew Johnson for Vice-President of the United States. He was a celebrated lawyer, and was the attorney of the famous criminal, Bowles. Afterward, while talking with President Johnson, he was stricken with paralysis, from which he never recovered. Mr. Crow came to Grand Junction in 1878, and engaged in his present business. He carries a capital stock of $2,500, consisting of drugs, medicines, paints, oils, books, stationery, school books, notions, and everything usually kept in a first-class drug store.  He does an annual business of $8,000.  He was married September l, 1874, to Mary E. Jenks, daughter of William C. Jenks, deceased, and they have three children — R. Ernest, Arthur M. and Hazel. The latter was named for the heroine of the beautiful drama, Hazel Kirk.  Mr. Crow is serving as president of the school board.  Mrs. Crow is a member of the Presbyterian Church.
Frank M. Crow
Frank M. Crow, one of the best known and ablest druggists of this section, was born in Columbiana county, Ohio, and served his apprenticeship in a drug store at Newcastle, Pennsylvania. He has worked at the business all his life from the time he was a boy of fifteen. He came to Evansville to manage the Pioneer Drug Store for the late Dr. Evans, the founder of the city and after whom Evansville was named. For nineteen years Mr. Crow had the supervision of this concern, being Dr. Evans' right hand man. When he established his own business five years ago it became known far and wide as the "Sign
of the Crow," and for some time this bird of wisdom was the living trademark of the business. Though the bird is now dead and gone, his master is in the prime of life and usefulness and his dispensary is one of Evansville's popular places of trade. Mr. Crow has always aimed to Frank M. Crow's Drug operate an exclusive drug store and he hews closely to this line, and has built up a most successful business.
Frank M. Crow's motto, to put it briefly, is "not how cheap, but how good." He has always lived up to his principle and his many friends and customers recognize in him the ideal of a first class druggist. Mr. Crow's ready response to the plan of advertising Evansville was typical of his character. He is a man of quick decision, the nature of his business being such as to demand these qualities of action and judgment in order to be successful.
Mr. Crow is a member of the Masonic and other fraternities and enjoys to the full the social side of life, being genial in his manners and broad in his ideas of business.
---
The Carlyn Ring and W.C. Ham listing in Bitters Bottles is as follows:
C 254.4  CROW'S CELEBRATED TONIC BITTERS
CROW'S CELEBRATED / TONIC BITTERS // W. A. RUHE / SOLE AGENT / EVANSVILLE IND.
9 7/8 x 2 3/8
Round – barrel, Amber, LTC, Applied mouth, Extremely rare
10 rings above and indented panels on opposite sides with embossing vertical. Upper portion of barrel is very similar to the large ROBACK'S STOMACH BITTERS barrel (R 73).
Only known example came from an early Indiana collection.
Select Timeline Events for Walter A. Ruhe
(probable A=Augusta)
abt 1834: Walter A. Ruhe, born Pennsylvania, father William, mother Sarah Matchett. wife: Martha Slocumb, children, Charles A., William S., Ida T.D., Ada , Emma, Walter, Samuel, Frederick)
1850: Ruhe living in Allentown, Pennsylvania.
1850: Samuel E. Gilbert first wholesale grocery in Evansville, Indiana. Ruhe later works with Gilbert.
1854: born, Frank M. Crow, druggist, Main St., Evansville, Indiana
1859: Married Martha Slocumb in Carmi, White, Illinois (just northwest of Evansville) on 06 January, 1859
1861-1865: Walter A. Ruhe, Musician, Union, Company F & S, 18th Regiment, Illinois Infantry (Army) – Civil War Service Index 
1865?: W. A. Ruhe's Philadelphia Gallery, Corner Main and Second Streets, Evansville, Indiana (see photo card above)
1866-1867: Ruhe & Finch Photographic Gallery (Walter A. Ruhe and John J. Finch), corner 2d and Main, Sawyers Building, 1866 Evansville, Indiana City Directory
1868-1869: Traveling agent (probably Samuel E. Gilbert, Grocer)
John Scantlin, who died many years ago, played the bass horn and Walter Ruhe, who was also a traveling man for S. E. Gilbert & Co., played the tuba horn. – History of the city of Evansville and Vanderburg County, Indiana *Samuel E. Gilbert, Grocer
Frank M. Gilbert, son of Samuel E. and Cordelia Manson Gilbert, was born in Mobile, Ala., on July 1, 1846, and went with his parents in 1852 (1850 some reports) to Evansville, Ind., where he was educated in the public schools and where he lived most of his life.
1870-1871: Walter A. Ruhe, clerk, 31 N. 1st. h n e s b Mulberry and Gum, 1870 Evansville, Indiana City Directory
1871-1872: Only residence is listed.
1883 – 1895: F. Hoyt & Co. (Frank Hoyt & Walter A. Ruhe) perfumery, 37 Strawberry – 1883 Philadelphia City Directory (see bottle below)
1899 – 1900: Walter A. Ruhe, cigarmaker by trade, resident Southern Branch National Home Disabled Volunteer Soldiers, Elizabeth City, Virginia
1903 – 1904: Walter A. Ruhe, Atlantic City (wife Martha) – Atlantic City City Directory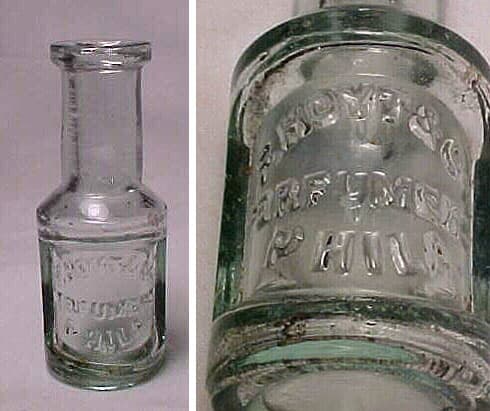 Reference: Evansville Public Library and BottlePickers.com
---
Read More on Figural Barrels
Barrel Series – Chapin & Gore – Chicago – Sour Mash
Barrel Series – Brent, Warder & Co. – Louisville
Barrel Series – Bininger Old Kentucky Bourbon
Barrel Series – Columbus in a Barrel
Barrel Series – I. Nelson's Old Bourbon
Barrel Series – W. Wolf found at Thrift Shop for $1.00
Barrel Series – Ben Franklin Bitters
Barrel Series – Highland Bitters and Scotch Tonic
Barrel Series – Smith's Druid Bitters
Barrel Series – Roback's Stomach Bitters (the smaller ones)
Barrel Series – Roback's Stomach Bitters (the big boys)
Barrel Series – Dr. Chandler's Jamaica Ginger Root Bitters
Barrel Series – Favorite Bitters & Peoples Favorite Bitters
Barrel Series – Wormser Bros San Francisco
Barrel Series – Mist of the Morning
Barrel Series – Old Sachem Bitters and Wigwam Tonic
Barrel Series – Turner Brothers New York & San Francisco
Barrel Series – The Mysterious Blue Barrel
Barrel Series – Original Pocahontas Bitters
Figural Barrel Series – Hall's Bitters
Greeley's Bourbon Whiskey Bitters – aka Vertical Greeley's
Peach colored Bourbon Whiskey Bitters added to Color Run