The James A. Clark barrel from Louisville
21 September 2016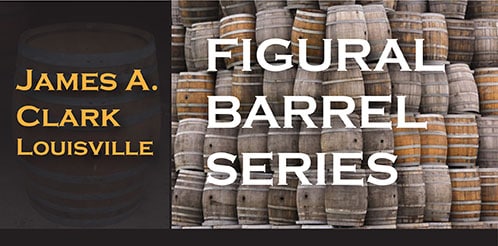 I have put out many barrel posts before but I missed the Clark barrel from Louisville, Kentucky. You see, there are only two examples, the last coming from the recent Glass Works Auctions Session 1 from the great Bob Ferraro Collection. Bob is known as Mayor Ferraro and the "Barrel King". Many times I would come across an obscure barrel only to find that Bob would have an example. Like I said, the Barrel King.
James A. Clark was a long-time grocer selling wines, liquors, tobacco, cigars, oysters, raisins, sardines, pickles etc. in Louisville, Kentucky. His Clark & Company address at one time was 219 Third Street which is embossed on the barrel though an advertisement in 1866 differs and says #73 Third Street (Old No. 219). We can find listings for him centered from 1864 to 1868. His partners were George W. Morris and Charles L. White. In 1868, White leaves and Clark takes on O. A. Knapp as a partner. The bottle most likely contained a bitters or bourbon, probably both as a label would state.
Mr. Clark was born on October 9, 1838 in Massachusetts and died on July 10, 1913 in Jefferson County, Kentucky.
Select Listings:
1866: Charles L. White connected with James A. Clark & Co. listing.
1866: James A. Clark Notice & advertisement.
1868: Clark & Co. changes partners:
1880: Jas. A. Clark, Wholesale Liquors, living in Louisville, Kentucky, age 41, born in Massachusetts about 1839, married to Fannie A. Clark – 1880 United States Federal Census
1900 Jas. A. Clark, Wholesale Liquors, living in Louisville, Kentucky, age 61, born in Massachusetts in October 1838, married to Fannie A. Clark – 1880 United States Federal Census
Read more about barrels:
Barrel Series – Old Sachem Bitters and Wigwam Tonic
Barrel Series – Turner Brothers New York & San Francisco
Barrel Series – The Mysterious Blue Barrel
Barrel Series – Original Pocahontas Bitters
Figural Barrel Series – Hall's Bitters
Greeley's Bourbon Whiskey Bitters – aka Vertical Greeley's
Peach colored Bourbon Whiskey Bitters added to Color Run
Greeley's Bourbon Bitters – A Great Boston Bitters Barrel
The earliest and latest with the blue W. Wolf's Pittsburgh barrel
Barrel Series – Brent, Warder & Co. – Louisville
Barrel Series – I. Nelson's Old Bourbon
Barrel Series – B.M. & E.A. Whitlock & Co. – New York
Bennett & Carroll – Figural Barrel Series
Barrel Series – Liquore del Diavolo Figural Barrel
Barrel Series – Crow's Celebrated Tonic Bitters
Barrel Series – Chapin & Gore – Chicago – Sour Mash
Barrel Series – Bininger Old Kentucky Bourbon
Barrel Series – Columbus in a Barrel
Barrel Series – Stillman & Breen
Barrel Series – Ben Franklin Bitters
Barrel Series – Highland Bitters and Scotch Tonic
Barrel Series – Smith's Druid Bitters
Barrel Series – Roback's Stomach Bitters (the smaller ones)
Barrel Series – Roback's Stomach Bitters (the big boys)
Barrel Series – Dr. Chandler's Jamaica Ginger Root Bitters
Barrel Series – Favorite Bitters & Peoples Favorite Bitters
Barrel Series – Wormser Bros San Francisco
Barrel Series – Keystone Bitters
The Robinson & Lord Figural Barrel – Baltimore