Confederate Stomach Bitters
Angelo Velati – Columbus Georgia
05 December 2014

There is an interesting bitters label that is presently making an appearance at Heritage Auctions. Thanks to Lou Holis for the tip. The label reads, "Confederate Stomach Bitters" with a Confederate flag. Beneath the flag is "A. Velati, Columbus, Georgia." If you google Confederate Stomach Bitters, you pull up the following quote from Treasure Depot. I believe this is in reference to another later labeled bitters from New Orleans.
Here's one I just got that came out of the wall of a old house. I have never seen this before it was no doubt used only here in the South. It may have a UK orgin by the "LTD" after the makers name and then sold in New Orleans. Has anyone every seen this one before.? It is still covered in the fine coating that wall/attic dust will give a bottle over 100 years. I am guessing it is somewhere in the 1880's or so era.
Treasure Depot *No Picture Attached
Angelo Velati
Angelo Velati was born in Italy around 1819 and sold cigars in Columbus, Georgia later in life. He probably sold a bitters too. Velati is a tough fellow to track down but I do see that he was a Confederate soldier during the Civil War enlisting as a Private in Everitt's Company, Georgia 5th Infantry Regiment and was also a member of Chapman's Company, Georgia Infantry aka, the Georgia Defenders. In 1864 he petitioned to be removed from being sent to the front. The letter below says he was invaluable in providing vegetables to Walker Hospital in Columbus. He also had Rheumatism which was also a contributing factor in him not fighting on the front lines. The letter below is quite interesting.
I have a problem with this label. Why can't I find a listing confirming the brand? Bright orange paper? Obviously recreated, at least in my mind. So what goes? Oh, and there is no listing in Ring & Ham. Hmmm.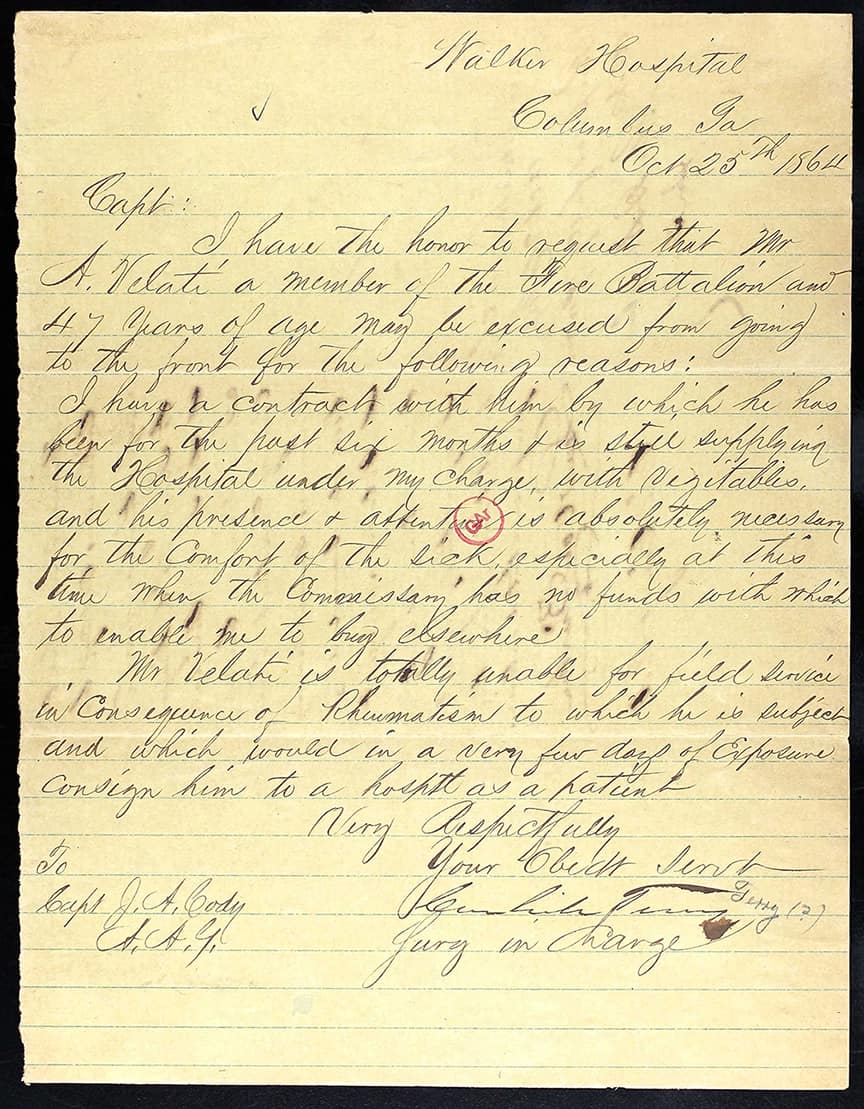 Select Listings
1819:

Angelo Velati born in Italy. Father and mother born in Italy.
1854:

Angelo Velati marriage to Elizabeth Adams April 8, 1854 in Montgomery County Alabama.
1860:

A Valatti, 38, Birth Year: abt 1822, Birth Place: Italy, Home in 1860: Columbus, Muscogee, Georgia, Post Office: Columbus, Dwelling Number: 271, Family Number: 271, Occupation: Candy Maker, Personal Estate Value: 5,000 – 1860 United States Federal Census
1861:

A. Velati, enlisted as Private, Georgia. Enlisted in Everitt's Company , Georgia 5th Infantry Regiment. Confederate, Georgia, Capt. Chapman's Co., Georgia Infantry (Georgia Defenders)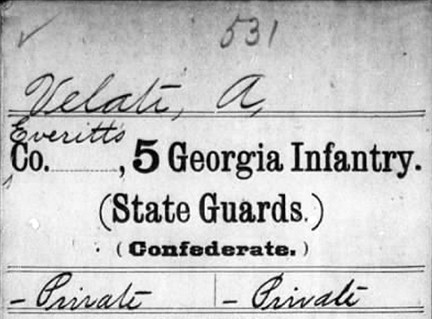 1863:

Confederate States purchase 1 horse from A. Velati October 14 1863 for $500 (see below)
1864:

A. Velati excused from going to the front of the war (see 25 October 1864 letter)
1865:

Tax Assessment for Angelo Velati
1879-1880:

Angelo Velati, cigar manufacturer, 35 St. Claire – Shole's Georgia State Gazetteer
1880:

Angelo Velati, age 61, widower, cigar maker, Columbus, Muscogee, 

Georgia – 

 1880United States Federal Census
1881:

A. Valatti, Birth Place: Italy, Death Date: Nov 1881, Cemetery: Linwood Cemetery, Burial or Cremation Place: Columbus, Muscogee County, Georgia, United States of America – U.S., Find A Grave Index, 1600s-Current