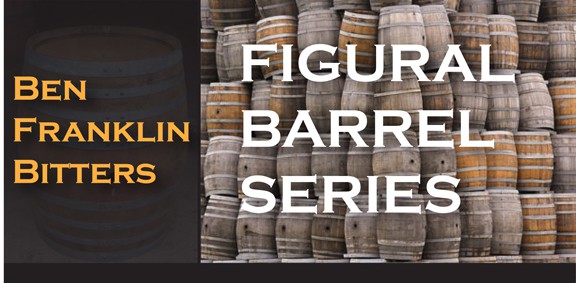 BEN FRANKLIN BITTERS

22 July 2012 (R•021718)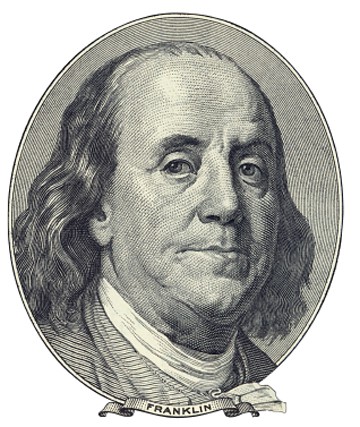 "Prove all things."
---

Here is a really great figural barrel in a conical form with tapered horizontal ribbing. There in NO embossing but at least two labeled examples exist (see pictures below) calling this a BEN FRANKLIN BITTERS POOR RICHARD'S TONIC. I love this bottle!. It is very architectural and reminds me of the New England annular inks. I've seen Heckler, Ring & Ham and the New York Historical Society publish different date ranges for this brand which is puzzling. FYI, I do posses two pontiled examples (see below).
Pay special attention to the New York Historical Society example. I was not aware of this bottle until today. WOW. Look at that gorgeous label!
Carlyn Ring
|

W.C Ham Listing in Bitters Bottles
F 80

 BEN FRANKLIN BITTERS, Circa 1855 – 1865
L…Ben Franklin Bitters Poor Richards Tonic
G. Mansfield Rowland Proprietor New Haven, Connecticut
10 x 3 1/2
Barrel, 10-10, Amber, Green, Cobalt, NSC, Applied mouth, Rough pontil mark
Body tapers shoulder to base
Label: These pleasant and healthy bitters are compounded of pure vegetable materials, and as a tonic cannot be surpassed. A simple trial will convince the most skeptical that these bitters are of the highest merit. Prove all things!
Description: 10 x 3 5/8 inches, Light green glass bitters bottle blown in a three-part mold with patent lip and rounded string rim, ball neck, conical body with horizontal ribbing and paper labels, and base with concave profile.
Label: paper label: on obverse: "Prove all things." paper label: on reverse: "BEN FRANKLIN BITTERS / POOR RICHARD'S TONIC / . . . PURELY / Vegetable / MATERIALS / And as a Tonic cannot be / surpassed / G. Mansfield Rowland / PROPRIETOR / A Single Trial / Will convince the most / skeptical . . . / Highest Merit. / DIRECTIONS. / . . . / NEW HAVEN / Conn."
This object was once part of the folk art collection of Elie Nadelman (1882-1946), the avant-garde sculptor.
---
Read More on Figural Barrels
Barrel Series – Highland Bitters and Scotch Tonic
Barrel Series – Smith's Druid Bitters
Barrel Series – Roback's Stomach Bitters (the smaller ones)
Barrel Series – Roback's Stomach Bitters (the big boys)
Barrel Series – Dr. Chandler's Jamaica Ginger Root Bitters
Barrel Series – Favorite Bitters & Peoples Favorite Bitters
Barrel Series – Wormser Bros San Francisco
Barrel Series – Mist of the Morning
Barrel Series – Old Sachem Bitters and Wigwam Tonic
Barrel Series – Turner Brothers New York & San Francisco
Barrel Series – The Mysterious Blue Barrel
Barrel Series – Original Pocahontas Bitters
Figural Barrel Series – Hall's Bitters
Greeley's Bourbon Whiskey Bitters – aka Vertical Greeley's
Peach colored Bourbon Whiskey Bitters added to Color Run