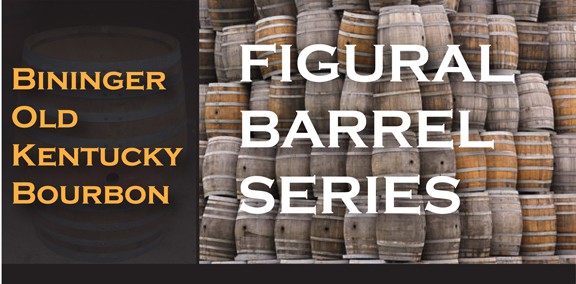 BININGER

OLD KENTUCKY BOURBON
10 August 2012
---

Let's now move on to the great and well-known Bininger brand figural barrels. I am fortunate to possess an example (pictured below) and one was included in the recent Glass Works Auctions | Auction 95. It is always rewarding to look at Bininger products because of the abundance of great information and material held by the Library of Congress. I also was able to find the great article from The New York Times written in 1870.
STRANGE, EVENTFUL HISTORY
The New York Times
October 15, 1870
*

Death of an old Merchant — Mr. Abraham Bininger
 Gathered to his Fathers — Story of an Industrious Family

*Received a telephone call from Bininger authority, Jack Pelletier on 25 April 2013 noting that parts of this article are not correct. Waiting for more information from Jack.

Mr. Abraham Bininger, the oldest liquor merchant in this City, died at his residence, No. 167 West Forty-fifth-street, yesterday morning, of paralysis of the brain. He has been ill only about two weeks so as to be confined to his house, but has been in delicate health for the past twelve years, though he has not been prevented, until his last illness, from giving his attention to business. He leaves a son of the same name, who succeeds him in business under the name of A. M. Bininger & Co., No. 15 Beaver-street, and a daughter. The wealth of Mr. Bininger is estimated at not less than $250,000, the most of which has been accumulated in his business.
Mr. Bininger, the father of the subject of this sketch, came to this country when a lad with his father and mother, who emigrated from Zürich, Switzerland. They came over on the same vessel with the celebrated John Wesley, and within two days' sail of Savannah, their port of destination, Mr. Bininger and his wife died, leaving Abraham, an orphan, to the care of the Weslyans, by whom he was educated at the Methodist Whitfield Orphan School in Savannah. A number of Moravians, who had settled there, came North afterward and brought young Bininger with them, educating him in that faith, with the intention of making him a minister. When of age Mr. Bininger settled at Cold Spring, and there began to preach, marrying at the same time and becoming the father of four sons — Abraham, (the subject of this sketch,) Isaac, Christian and Joseph. The elder Bininger went to St. Thomas as a missionary, and while there was told that none but slaves would be allowed to preach to slaves. He offered to become a slave in order that he might save the souls of the black race, but the King of Denmark, upon being made acquainted with the offer, gave permission to the Moravian parson to preach to any class in St. Thomas. After his return from the West Indies Mr. Bininger went with Mr. Whitfield as a missionary among the Indians; was very successful, and on his return to New-York met Mr. Embury, the first Methodist, who came to this country in that year, and together they organized a society and erected a church in John-street. From this City Mr. Bininger went to Camden Valley (now Salem) Washington County, New-York, with Mr. Embury, bought a large quantity of land, and there erected the family mansion.
Abraham, the eldest son, was this year sent to New-York to be apprenticed to the trade of a tanner, in the Swamp. He served seven years, but, not liking the trade, abandoned it when he became of age, in 1761, and obtained his living by working as a day laborer. About this time he married a sister of Peter Embury, (afterward celebrated as a grocer and wine merchant.) Peter went in the grocery business at the corner of Beekman and Nassau streets, where now stands the Park Hotel. After the marriage Mrs. Bininger found that it was difficult for a man to support a family on the earnings of a common laborer, and she assisted him by taking in washing and ironing, and thus managed to get along comfortably. She then proposed to have an apple and cake stand in front of the house, which as in Augusta-street — now City Hall-place — and she would, while washing, be on the outlook for customers. At first the young wife only sold a few cakes, cookies and sugar-plums. From that it changed to cabbages, potatoes, fruits, tobacco, snuff, and finally a few groceries. Here was the foundation of the great Bininger grocery-houses. The cookies, cakes and tea-rusk were daily supplied from a basket carried by a young man who peddled tea-rusks, &c. The name of the boy peddler was John Jacob Astor, who was then eighteen or twenty years of age, and had not long arrived in this country, and before he had fairly started in that wonderful rise in the world that Astor afterwards made. In after years, when Abraham Bininger was enjoying the fruit of his early planting, he took quite a delight in narrating all the incidents of his early days, especially to such men as DeWitt Clinton, and the other great men of the day. Abraham, after his little store was started, found that day labor was precarious. He plodded along contentedly for some time, and then he bought a buck and saw, and took up the business of sawing wood, then a very money-making employment. When Mr. Embury, his brother-in-law, built the store in Beckman-street, Abraham carried a hod; and afterward, pointing to the house, boasted that the greater portion of the bricks were carried on his shoulder. After a while he became so "free-handed" that he was able to buy a horse and cart. This he drove for some years. Meanwhile, his grocery department prospered under the careful management of his "Katy." The sales increased, and he frequently was called upon to purchase seven pounds of sugar a day, and carry it home, to be retailed out by the penny-worth. Up to this time, all his stock of groceries had been carried on his own back, but an important change was soon to occur. The old pastor was settled at Camden Valley, as has been narrated; it had become quite a place. Isaac Bininger, the brother of Abraham, after the war, lived with his father at Camden Valley. He had been finely educated. Abraham had not received an education. Isaac opened a store at Camden Valley, the most extensive between Albany and Montreal, and was the wonder of the primitive inhabitants.
So successful was Isaac, that he sent down to New-York City for his brother to come up and share in the mercantile prosperity of the old Bininger stock. Abraham departed from New-York, leaving Katy Bininger in charge of the shop in Augusta-street, and joined his brother at Camden Valley. He was taken into partnership. After a short time, the brothers decided that Abraham should come back to New-York and sell or barter away the produce, potashes, &c., received at the country store, and buy the return goods. At that period it took two weeks to do a journey now made in a few hours. Abraham, in accordance with the agreement, returned to New-York, never to leave it more; and here may fairly be said to be the start of the grocery-houses, for up to this period the merchandise had not gone greatly beyond the sale of a few pennies' worth of snuff, sugar, tobacco, candies and vegetables – a mere huckster business. After acting with his brother Isaac for some time, and being the sole agent, they concluded to dissolve, and Abraham received his share of the profits.
He then opened, on his own hook, a small grocery-store in Maiden-lane, opposite the old Oswego Market, that then came nearly up to Broadway. Property flowed in upon the prudent grocer. He bought two lots opposite the market, Nos. 10 and 12 Maiden-lane (now.) They were twenty-five by eighty feet deep each. He paid £250 for each.
After being in Maiden-lane for years, he bought the property on the west side of Broadway, twenty-five by one hundred, on the lot next from the corner of Liberty-street. He paid for it $11,000 — no building upon it. Everybody said he was crazy to pay such a price; that no man could stand it. It is still owned by the family.
From these small beginnings Mr. Bininger accumulated sufficient to establish the great house of which he has been the head for so many years. Thirty years ago, no house in the United States had such a stock of choice wines, liquors, cigars, &c., as this famed house. Out of the old stock has arisen two distinct houses, both dating far back into the past, but continuing the same kind of business. A. M. Bininger, the grandson of the old man who settled the town of Salem, and who was the son of Isaac, who started the mercantile business in that town in 1774, and established an agency in New-York City, in 1776, to which the old country store was finally removed about 1778, and is still carried on at No. 15 Beaver-street, under the firm of A. M. Bininger & Co., claims to be the most ancient, in fact, the original Hapsburg Bininger, as he no doubt is, for he was the hereditary owner of Bininger Castle, its portraits, old furniture, and rare old wills and title-deeds, at Salem, N.Y., and possesses the original letter of the King of Denmark, replying to the offer of the Moravian missionary, A. M. Bininger's grandfather, at St. Thomas, to wear chains, and to go into slavery, in order to preach Christ crucified to the slaves of that island.
Read more on the Bininger brand on PRG: A. M. Bininger & Co. Figural Cannon & Bininger's Night Cap Flask
Here are a few pictures of the Bininger Old Kentucky Bourbon figural barrels.
---
Read More on Figural Barrels
Barrel Series – I. Nelson's Old Bourbon
Barrel Series – W. Wolf found at Thrift Shop for $1.00
Barrel Series – Ben Franklin Bitters
Barrel Series – Highland Bitters and Scotch Tonic
Barrel Series – Smith's Druid Bitters
Barrel Series – Roback's Stomach Bitters (the smaller ones)
Barrel Series – Roback's Stomach Bitters (the big boys)
Barrel Series – Dr. Chandler's Jamaica Ginger Root Bitters
Barrel Series – Favorite Bitters & Peoples Favorite Bitters
Barrel Series – Wormser Bros San Francisco
Barrel Series – Mist of the Morning
Barrel Series – Old Sachem Bitters and Wigwam Tonic
Barrel Series – Turner Brothers New York & San Francisco
Barrel Series – The Mysterious Blue Barrel
Barrel Series – Original Pocahontas Bitters
Figural Barrel Series – Hall's Bitters
Greeley's Bourbon Whiskey Bitters – aka Vertical Greeley's
Peach colored Bourbon Whiskey Bitters added to Color Run