The Robinson & Lord Figural Barrel – Baltimore
A figural barrel by broom makers?
17 May 2014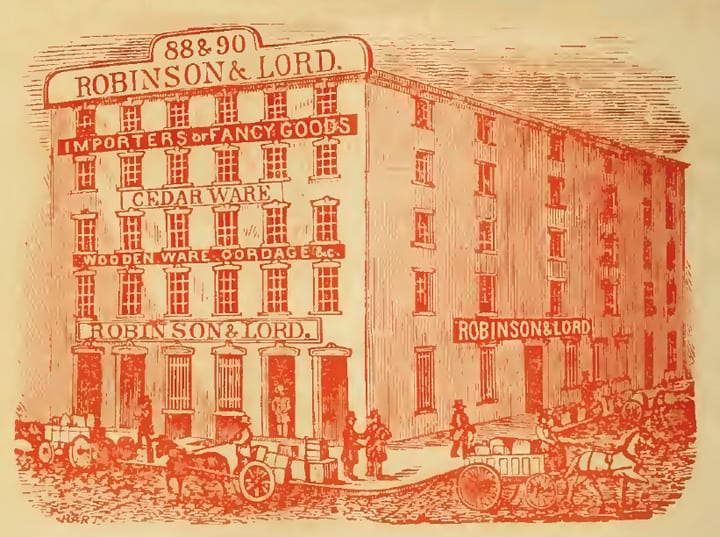 Seeing the Robinson & Lord figural barrel from Baltimore was a real surprise in the current Heckler Auction 110. I wasn't aware of this piece from my home town and certainly was intrigued by the "Robinson & Lord" embossing, the "88 & 90 Lombard Street" address and curious if this was indeed a whiskey or bitters, or both. The Heckler write-up is below. The bottle pictures are from their auction.
Lot: 36 "Robinson & Lord / 88 & 90 / Lombard St. / Baltimore" Figural Whiskey Bottle, America, 1845-1860. Barrel form, medium yellowish amber, applied square collared mouth – iron pontil mark, ht. 10 inches; (light exterior wear, light interior haze, 3/8 inch by 5/8 inch mouth chip, two 1/8 inch chips from mouth). An extremely rare pontiled whiskey barrel. Estimate: $1,000 – $2,000

What is really curious about this figural barrel bottle is that it was made by George W. Robinson and Charles W. Lord who partnered in business as Robinson & Lord (or Robinson, Lord & Co.) from about 1851 to 1863 at 88 and 90 Lombard Street in Baltimore City. And guess what? They specialized in selling brooms, chairs, brushes, wood ware, cordage, matches, house keeping articles and fancy goods. I guess this barrel was considered one of their  "Fancy Goods". In 1864, Robinson would drop out of the picture and Charles would continue running things at the Lombard address. He would change the company name to Lord & Robinson, putting his name first and retaining the Robinson name. Never could find an advertisement for the product. The low resolution bottle picture to the left is from the Baltimore Antique Bottle Club web site. They call it a whiskey. Bet it was a bitters!
Read about another great Baltimore barrel – Barrel Series – Smith's Druid Bitters
Select Listings
1814: John Robinson, chair maker – The Baltimore Directory and Register for 1814 and 1815.
1842: Tucker & Robinson, chair manufacturers – 1842 Matchetts Baltimore City Directory
1849-50: G. W. Robinson & Co., dealers in brooms, brushes, wood & c. – 1849 Matchetts Baltimore City Directory
1849-50: Murdoch & Robinson, brooms and wooden ware dealers, s.w. corner Lombard and Calvert (Charles Murdoch) (G. W. Robinson sucessor to J. Robinson & Son, chair manufacturers) – 1849 Matchetts Baltimore City Directory
1851: Robinson, Lord & Co., C. W. Lord and G. W. Robinson (see ad below) – 1851 Matchetts Baltimore City Directory
1855: Robinson, Lord & Co., Manufacturers and Wholesale Dealers in Wooden Ware,  Cordage & c., 88 & 90 Lombard street (see ad below) – 1855 Matchetts Baltimore City Directory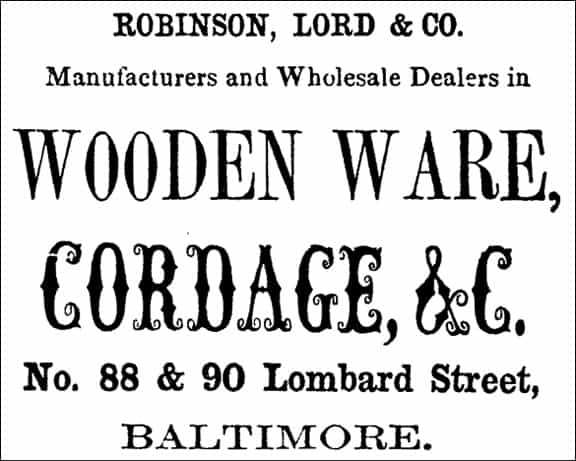 1860: Robinson & Lord, wholesale dealers in brooms, cordage, and woodware,  88 & 90 W. Lombard (George W. Robinson and Charles W. Lord) – 1860 Matchetts Baltimore City Directory
1864: Charles W. Lord, (see two ads below) Successor to Robinson & Lord, wholesale dealer in brooms, cordage, and woodenware, and importer of fancy goods, 88 and 90 w Lombard – 1864 Matchetts Baltimore City Directory
1876: The Fires of Sunday and Monday (see below). Two upper floors destroyed by fire at Lord & Robinson – The Baltimore Underwriter, April 13, 1876
1880: Lord & Robinson, Wooden and Willow Ware, 88 & 90 w Lombard – 1880 Wood's Baltimore City Directory