This site is presented and hosted by Ferdinand and Elizabeth Meyer. We hope to share our passion for collecting and dealing in Early American Antique Bottles and Glass.
Please contact us for any information and or bottle and glass news for post consideration. We are also looking for guest authors as we continue work on the FOHBC Virtual Museum project. Thanks!
---
Dr. Smith's Magic Bitters – John Brown Adkins – Council Bluffs, Iowa
I like the photograph at the top of the post showing the two-story building with the J. B. ATKINS bas-relief letters on the front facade. If you look closely, you will see that John Brown Atkins is standing proudly in the doorway and his windows and shelves within are fully stocked. I also see a camel and rider sitting on a box. Look at the roof, as there is a cool sculptural mortar and pestle on top of the building and painted graphics on the side advertising J. B. Atkins selling Drugs, Chemicals, Perfumery, Paints, Oils, Glassware etc. His address is 351 West Broadway. You can see the numbers on a column on the left side of the building.

---
Kohn & Adler's Bitters – Rock Island, Illinois
I recently received an email and 1866 newspaper clipping from Mark Wiseman about an unlisted Adler's Celebrated Anti-Cholera Bitters which led me to do a search for "Adler" information. This led me to another unlisted bitters advertisement for Kohn & Adler's Bitters from Rock Island, Illinois. There is no relation though, as the ad is from 1889. Here we are talking about Solomon and Monroe Kohn and Joseph H. Adler. Solomon was the father of Monroe. Kohn was born in Austria in 1826 and received his U.S. citizenship in 1866. Adler was born in Bohemia around 1832. I suspect the families knew each other and they both came to America together.

---
Adler's Celebrated Anti-Cholera Bitters – Simon Adler | St. Joe & St. Louis
I recently received and email and 1866 newspaper clipping (below) from Mark Wiseman about an unlisted Adler's Celebrated Anti-Cholera Bitters put out by S. Adler & Company in St. Joseph, Missouri. This rang a bell. After researching, I found out that this is the same "Adler" embossed on Landsberg's Century Bitters.

---
Pond's Bitters "Makes You Go Some"
Pond's Bitters is named after George Morgan Pond who was born in Tareytown, New York on 29 May 1854. Tarrytown is a village in the town of Greenburgh in Westchester County, New York. It is located on the eastern bank of the Hudson River, about 25 miles north of midtown Manhattan in New York City. He was the son of Loyal Sylvester Pond (Vermont) and Harriet Sarah Taylor (New Hampshire). He later married Louise Fitch in 1882. Their children were Annie, Kate, George Jr., Guy and Rainsferd Pond.

---
If you can't do business, drink Rex Bitters – Chicago
Here is what I call a telephone bitters. A bitters product so late that you could call your favorite saloon, liquor or drug store and order a case of Rex Bitters using your Chicago Telephone Company issued telephone, if you were fortunate enough to have one. Illinois Bell would not form until 1923 when they began automatic telephone service in Chicago.

---
Henry Fess Jr. Jaundice Bitters – Milwaukee, Wisconsin
Here is an extremely rare Jaundice Bitters from Milwaukee, Wisconsin put out by Henry Fess Jr., who was a prominent wholesale and retail druggist. The bottle recently showed up in an online auction that included other rather common bottles. Fess came to Milwaukee from Pittsburgh in April, 1846 and initially was located next door to Ludington's Corner, at what is now 405 East Water Street.

---
Buck's Aromatic Bitters – a First Rate Tonic & Remedy
I came across an unlisted Buck's Aromatic Bitters and was curious about the brand. It looks like the proprietors were Captain John Thomas Buck and Dr. Pinckney T. Baley (pictured above) working under the name Buck & Baley in Jackson, Mississippi. They were wholesale and retail druggists who also put out Buck's Diarrhoea (sic) Syrup and Buck & Baley's Chemical Yeast Powder.

---
Fellow Collector Needs Help
In from Bruce Silva: This is just one photo of the aftermath of the Camp Fire and conflagration, which obliterated the beautiful community of Paradise California. Fellow collector and friend Clint Powell, and his wife Kathy, lost their home. They are amazing people and could really use some help at this difficult time. A Go Fund Me page has been established to lend them a hand. Anyone can donate. Please consider taking a few moments out of your day, and make a donation to help them through this terrible time. Here's a link to the donation website. To donate, just click on the link and follow the easy steps. Camp Fire Support Clint & Kathy. Every little bit will help. Thank you one and all. Bruce
---
Sazerac Aromatic Bitters – P. H. Drake & Co.

Looking at the motif of the monogram "PHD & Co." on a Sazerac Aromatic Bitters bottle leads you to Patrick Henry Drake, the proprietor for the famous Drake's Plantation Bitters. You can see the link with the product name and Drake below with the monogram in the advertisement from Bitters Bottles. The bottles are called a figural lady's leg due to the sensual shape of the bottle neck. Three great examples are pictured at the top of this post from the great…

---
Dr. Wright's Tonic Bitters and Invigorating Cordial
Dr. Wright's Tonic Bitters and Invigorating Cordial Bitters was put out by Homer (Hoemer) Wright in Pittsburgh, Pennsylvania from about 1855 to 1857. Yes, this is early Pittsburgh glass with an iron pontil. As good as it gets. Previously an amber example was recorded. This one is yellow with an olive tone with lots of character. It is extremely rare, either color. Dr. Homer Wright was born in Wellsville, Ohio on April 8, 1833 and was a son of Dr. Hugh Wright, an eminent physician, and…

---
Life Everlasting Bitters – Atlanta, Georgia
Here is a great bitters square that John Pastor had in his recent American Glass Gallery Auction #21 which closed earlier in the week. The picture at the top of the post is from the auction. The Life Everlasting Bitters is one of the top Georgia bottles (see list further below). Here is the auction write-upon the bottle…

---
3-part moulded glassmaking in Britain, Ireland & the US.
Migrant glassmakers arriving in Colonial America had a hard time. First, in overcoming the barriers laid by the British to prevent them from getting there. And, second, having finally got there, in establishing viable businesses in a vast country short of skills & cash yet flooded with imports.So, American makers petitioned Congress for protection. Customs tariffs were imposed at 10% in 1789 & peaked at 45%. Even so, most early 19th-century American glasshouses failed within five years.

---
Jacob & David Hostetter – Dr. J. Hostetter's Celebrated Stomach Bitters
David Hostetter was a millionaire manufacturer of one of the most, if not the most famous and successful bitters ever produced, the Dr. J. Hostetter's Celebrated Stomach Bitters. Much has been written about the brand. I thought I would try to tie it all together. Of Dutch extraction, David Hostetter was the eldest child of Jacob Hostetter by his wife Mary Landis, and was born in Lancaster County, Pennsylvania on 23 January 1819. Dr. Jacob Hostetter was born on 13 October 1785 in York County, Pennsylvania…

---
American Glass: The Collections At Yale
Read this fine article called American Glass: The Collections At Yale by Laura Beach published in the latest issue of Antiques And The Arts Weekly. Exciting to see that this story made the cover of their latest issue. It also made the home page of their web site. Good exposure for our hobby too.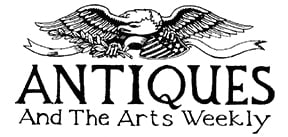 ---
Reed's Bitters – A mysterious little Reed's Bitters Vial
Not much personal information is available for George W. M. Reed from New Haven, Connecticut but he sure put out a rather well-known bitters, that being Reed's Bitters, which later morphs into Reed's Cocktail Bitters, Reed's Aromatic Bitters and Reed's Aromatic Stomach Bitters. Essentially the same bitters put up in beautiful amber lady's leg figural bottles. He was also known for his Reed's Gilt-Edge Tonic. Reed advertised extensively and sold his product nationally so we can track him that way.

---
Gentry, Slote & Co., New York
Dean Ferguson sent in three pictures of a "Good Samaritan Brandy", "Gentry, Slote & Co., New York" flattened globular form bottle that he found at a barn find from the Darlington farm in Darling, Pennsylvania which is west of Philadelphia. He said the house was very early. The bottle has an applied mouth with a cork and a super iron pontil. Dean asked if I had any information on the bottle. I was unfamiliar with the bottle but the Gentry name caught my attention.

---
Dr. Perley's Leptandrin Tonic Bitters – Lebanon, New Hampshire
Isaac N. Perley was born on 17 January 1839 in Enfield, New Hampshire, son of father Uri Perley (Enfield, NH) and mother Fanny Sawyer (Saulsbury, NH). He had to be pretty smart with a name like Isaac Newton right? After graduating from Canaan Union Academy in 1855 he went on to Dartmouth College and then graduated from Harvard Medical School in Boston in 1865. He next set up a medical practice and by 1870 was listed as a druggist in Lebanon, New Hampshire.

---
Dr. Zadoc and Madame Zadoc Porter – New York
In separate bitters folders I had clippings for Porter's Bitters and another file for Zadoc's Bitters. I thought I would wait for a rainy day (it has rained on and off for days here now) to do a little research on both. I have now combined the files into one file named "Dr. Zadoc Porter's Medicated Stomach Bitters." Zadoc Porter operated out of New York City and also sold Dr. Porter's Sugar Pills and called himself "Mr Porter, The Great Benefactor." His sugar-coated pills sold for 6 cents a box and were far easier to swallow than the crude and often horrid-tasting concoctions prepared by physicians.

---
The November December 2018 issue of Bottles and Extras has been mailed to members
Vol. 29 No. 6 | November – December 2018 | No. 240 Features: Hon. Stephen Buhrer, Self-Made in Cleveland Jack Sullivan, Pontiled Privies – We Digum! Peter Jablonski Michael Cronan – A Lad from the Old Sod Steve Abbott, The FOHBC Rocks and Rolls into Cleveland Matt Lacy, Warner Labels Michael Seeliger & Michael Craig, Vignettes: Shards of Wisdom, History's Corner, Here's a huge Coke collection located in a small Georgia city Bill Baab, Virtual Museum News Richard Siri, Jim Healy 2018 Cleveland National stoneware jug creation, Lost & Found, Member Photo Gallery, Departments: Table of Contents, FOHBC Officer Listing 2018-2020, President's Message, FOHBC News, From and For Our Members, Classified Ads & Ad Rate Info, Membership Directory, FOHBC Show-Biz, Show Calendar Listings, Membership Application Become a FOHBC Member and get BOTTLES and EXTRAS
---
Welcome to American Glass Gallery's Fall, 2018 Auction
Auction #21 open for bidding! Welcome to American Glass Gallery's Auction #21. Auction #21 includes a fantastic grouping of 352 Lots of quality Bottles, Flasks, Jars, and Blown Glass. In addition, we are pleased to include Part 3 of the Ralph Finch collection of Target Balls, Traps and Shooting Ephemera. This landmark collection is being sold in six parts with part three included in our October, 2018 Auction. Catalogs for both Auction #21 as well as the Finch Collection of Target Balls, Traps and Shooting Ephemera, may still be ordered by calling our office, or directly from our website, www.americanglassgallery.com.
---
A. Lambert Bitters – Philadelphia
Nick Downs posted some great pictures of an "A. Lambert's Bitters Philada" cylinder from Philadelphia over on the Antique Bitters Bottles Facebook page. His pictures are below. I cropped away the background on the two hand-held pictures. The bottle image on the top is from a past Norman C. Hecker Auction, I believe. Nick wrote the following with the pictures; Here is an exceptional example of this exceedingly rare colored pontiled bitters bottle from Philadelphia. It is boldly and crisply embossed "A. LAMBERT'S BITTERS PHILADa" and comes in a beautiful shade of yellowish olive green. It is absolutely loaded with bubbles and sports a large full iron pontil mark…

---
Harry Johnson's 1882 Bartender's Manual
It was interesting to come across and read online the New and Improved Illustrated Bartender's Manual or How to Mix Drinks of the Present Style. It was published in New York City in 1882 by Harry Johnson who was a professional bartender. The manual was printed in English and German by Samisch & Goldmann and sold for 50 cents. I pulled out a few illustrations here though you can read cover-to-cover here.

---
Red Cross Bitters
Here is a really cool, circa 1870, patent medicine label (below) that the Library of Congress is holding for William B. Dorman's Original Red Cross Bitters. Pictured is a crusader in armor with a red cross on the shield. The New England Lithography Company in Boston printed the piece. In heraldry, Saint George's Cross, also called the Cross of Saint George, is a red cross, usually on a white background, which from the Late Middle Ages became associated with Saint George, the military saint, often depicted as a crusader.

---
Looking at Spanish Bitters
The Library of Congress holds this great advertising patent proof lithograph label for Gainer's Celebrated Spanish Bitters (above) being transported by a passenger train, steamboat and horses and wagon emblazoned with the product name. A product sign is even on the river railing. I started searching for information online and found a few other Spanish Bitters. Let's take a quick look at them starting off with the Gainers. They are all extremely rare, some unlisted.

---
PE-RU-NA For Catarrh – The Great American Fraud
I like this PE-RU-NA for Catarrh advertisement. A Heavy Hand on TEXAS. Peruna was a late product related to the Mishler brand. Steve Ketcham adds the bottle picture and says, "The advertising was far more dynamic than the packaging!"

---
TO-NI-TA – Dr. Lorentz's Mucous Membrane Bitters
TO-NI-TA, is a scientific combination of the vital principles of the most powerful healing herbs known to medicine, and is guaranteed to contain no opiates or dangerous drugs of any kind. It has been analyzed and tested by the most eminent chemists and doctors throughout the world, all of whom have come to one decision, that "TO-NI-TA" is the most wonderful medicinal discovery of modern times.

---
Bininger Gallery Update
I have been nesting some great images of Bininger bottles for the past year or so waiting for a few missing pictures to justify a post gallery. With the Glass Works Auctions | Auction #96 additions, I can now release this post. If you have any additions of any different bottles, please send to me. My interest in Bininger's started early with figural clock, cannon and barrel additions to go with my bitters collection. Many of us do this as the Bininger name means great bottles and history.

---
Dr. Frank's Laxitive Tonic Bitters
Now here is a cool bitters bottle that up until now, I had never seen before. As coincidences go, I'm seeing two examples this past week. The first was auctioned off earlier in the week in Glass Works Auctions | Auction #124 which is pictured below. The second, pictured above, was on a dealer table at the Mississippi Gulf Coast Bottle Show happening this past weekend. Tom Lines from Alabama sent me a picture.

---
Dr. I. Newton's Anti-Bilious Bitters – Norwich, Vermont

Major post update. Israel Newton lived and operated out of Norwich, Vermont for over 70 years and as his newspaper advertising in 1805 states, he was the inventor of well known medical preparations such as Newton's Essence of Peppermint, Patent Effence of Tanfly, Tooth Ache Tincture and Eye Water which he sold in small glass vials. His early bitters, in the same 1805 advertising were Elixir of Health (stomach bitters pills) and Lady's and Gentlemen's Cordial Bitters. His Elixir of Health pills were put-up in boxes and meant to be dissolved in rum.

---
A. Loranger Globe Bitters – What is your Story?
I received an email and pictures this morning from John Throop. "Hi Ferd – was happy to find this Loranger Globe Bitters jug on eBay for a reasonable price. Do you happen to know where this is from or any other info? Thanks!"

---
Dr. Michael Cox's Bitters – Pittsburgh
I'd forgotten about my Dr. Michael Cox's Bitters with the three embossed cocks until somebody posted a picture of an example on PRG Facebook the other day. What a cool bottle. I always thought it was from New Orleans around 1885 but it is really from Pittsburgh, Pennsylvania and a really late, tooled lip bottle. So late, the proprietor Herman Obernauer could have people place orders for his bitters by phone!

---
Dr. Varena's Japan Bitters – From Tokyo to Peoria
Dr. Varena's Japan Bitters was made by Lion Manufacturing Company in 1887 in Peoria, Illinois. Originally the company was called the Lion Vinegar Company. They filled a Trademark Application on October 1, 1887 and noted that the product had been used since March 1887. The Trademark consisted of the the words 'DR. VARENA'S JAPAN BITTERS' with a representation of Japanese landscape. Unfortunately I can not find a labeled example or any color advertising.

---
Dr. Hills Restorative Strengthening Bitters – Farmer N.Y.
"I was tired and in a hurry, and took a drink of water out of a graduated glass in which I had dissolved strychnine. The water was bitter, but not much so. I can't have taken very much. I shall soon be over it; don't you think so?"

---
Looking at the Morning Star Bitters – Baltimore
The first proprietor of Morning Star Bitters was John Burns located at 100 South Charles Street in Baltimore, Maryland in 1866. He created a company called Morning Star Bitters Company to market and sell his product locally and across the state line in West Virginia. He said it was the Greatest Tonic of the Ages. By 1868, it was Burns & Weigley (John B. Burns and O.C. Weigley) who were selling Morning Star Bitters at the same address, same company. This era would be the first pontiled bottles. They would patent the brand and bottle in 1869.

---
Caldwell's Wine & Iron Bitters – Medina NY
The other day I did a post on the triangular Caldwell's Herb Bitters which was centered around York and Harrisburg, Pennsylvania. It reminded me of another Caldwell named product from Medina, New York called Caldwell's Wine & Iron Bitters. That is a pretty strange ingredient combination that just underscores the intent to sell alcohol as medicine. I quickly confirmed that there is no relationship between the Caldwell brands mentioned above.

---
Looking at the two Caldwell's Herb Bitters lattice variants
I thought I would circle back to two tall triangular bitters bottles I picked up in 2002 when I first started collecting bitters. I'm talking about the Caldwell's Herb Bitters with the 16 lattice grid and the Dr. Caldwell's Herb Bitters with the 24 lattice grid. Note the addition of "Dr." in the second example. Both are pictured below from my collection. Also, notice the different mouths. Bitters authority Frank Wicker has written about this brand before on Bottlepickers.com and done a fine job. I just wanted to retrace his steps and fill in a few gaps in my mind.

---
Post Update: Looking closer at the Brown's Celebrated Indian Herb Bitters
Not much is known about the proprietor, Neal N. Brown (also spelled Neall and Neill in historical documents) other than he lived and operated in Philadelphia and took out a couple of patents for his famous figural bottle in 1867 and 1868. I suspect he was an Irishman. We first see him as an innkeeper and tavern owner in 1863 and 1864. In 1866 he has some legal problems as he is charged by the United States government for transporting unsealed whiskey. Next Brown is into Patent Medicines and puts out his Indian Queen bitters. In the mid 1870s, he is listed as a liquor dealer…

---
Former FOHBC President Ralph Van Brocklin Dies Suddenly
The FOHBC is getting sad news today that our fellow collector and past FOHBC president Ralph Van Brocklin died suddenly last evening in Johnson City, Tennessee as he apparently suffered a heart attack while running on a local trail. Read Local News. More information will be provided once known.

---
2019 FOHBC 50th Anniversary National Antique Bottle Convention | Augusta, Georgia
Hotel Information
Here are the reservation links your guests can use to make online and phone reservations. Augusta Convention Center bookended by two Marriott Hotels in historic downtown on the river. Book your group rate for The Federation of Historical Bottle Collectors National Convention and Expo. Here is the information to make telephone reservations: Call the hotel direct 706-722-8900 and ask to be connected to reservations. Then, they would need to let the representative know that it's under The Federation of Historical Bottle Collectors National Convention and Expo group rate of $127 per night.

---
New information from bitters ephemera authorities Joe Gourd and Ben Swanson added to Geo C Hubbel & Co. Golden Bitters post.

During that period they have not only pursued a most liberal system or newspaper advertising; but every vacant fence curbstone, ferry-landing, even the rocks on the highway, have been embellished with large placards, "G — 1863 — B.", "Hubbel's Golden Bitters," and hundreds of others, which have become to New-Yorkers as familiar as household words.

---
Post Update with early use info: Log Cabin Series – Drake's Plantation Bitters
This medicinal make-up was unknown until the middle of the seventeenth century. The natives of Peru were generally supposed to have been long previously acquainted with its most wonderful medicinal qualities. Humbboldt makes favorable mention of the febrifuge qualities of this article as an antidote to Fever and Ague, Intermittent and Malarious Fevers, in his extensive South American travels. The Countess, wife of the Viceroy of Peru, having in her own person experienced the beneficial effects of the bark, is said, on her return to Spain …

---
New information on Charles C.Jerome and his many inventions related to National Bitters C.C. Jerome & Co. Detroit
Charles C. Jerome was best known in railway circles as the inventor of Jerome Metallic Packing. Jerome was born in 1833 in Canada, and in his early days studied medicine in Toronto. He practiced medicine for a time at Port Huron, Michigan and entered the Civil War as surgeon in a Michigan regimen. In Detroit in 1865, Jerome was located at 32 Woodward Avenue where he put out his National Bitters in two different bottles…

---
Looking at Dr. Gottlieb Fisch's Bitters and The Fish Bitters
I can not believe that I have not definitively written about the original figural fish bitters bottles before so I thought I would dust off my laptop and put something together. There are three variants worth noting and that includes Dr. Gottlieb Fisch's Bitters and The Fish Bitters (centered and off-centered mouth versions). There are also later 20th century bottles.

---
Edward H. Hartshorn – Hartshorn's Family Medicines
Recently, I saw a Dr. Hartshorn's Jaundice Bitters bottle on eBay and liked the color and label which features a key. I don't have an example in my collection as they are fairly common so I figured I would add one somewhere down the road. In the meantime, I thought it might be nice to pull together some information and support imagery as Dr. Hartshorn was rather well-known and put out a lot of products and advertising like these Dr. Hartshorn's Jaundice Bitters "Key to Health" advertising trade cards to support his brand.

---
The September October 2018 issue of Bottles and Extras mailed to members!
Vol. 29 No. 5 | September – October 2018 | No. 239 (Mailed 15 August) Features: When a Digging Permission becomes a Golf Outing Jeff Mihalik, No Fizz Less Bizz! Ken Previtali, W.C. Peacock: The Whiskey Man who made Waikiki Jack Sullivan, Walter Smith was bitten early by the collecting bug Bill Baab, Prized Midwestern Flasks Mark Vuono, Ebner Brothers Steve Abbott, Vignettes: Shards of Wisdom, History's Corner, Washington-Taylor Flasks from River Bridge Paul Vincent, Holey Holey Hoely Bill Baab, Lost & Found, Virtual Museum News, Member Photo Gallery and smooch more! Become a FOHBC Member and get BOTTLES and EXTRAS
---
Goldheim Bitters featured in Bottles and Extras
The July | August 2018 issue of Bottles and Extras has a super article on the extremely rare, Goldheim Celebrated Swiss Stomach Bitters from Baltimore. The article was written by Susan Helen Adler. This is a pretty tough-to-get Baltimore bitters square.

---
FOHBC 2018 Cleveland National Souvenir Program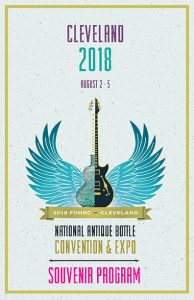 ---
2019 FOHBC 50th Anniversary National Antique Bottle Convention | Augusta, Georgia | Info & Contract Packet Online
Per FOHBC convention guidelines, we are posting the first online draft of the 2019 Augusta National Info & Contract Packet. We do this one week before the current year national which of course is the 2018 Cleveland National which starts a week from today. You can reserve tables and advertising space as of today. First come – first served. Packets will be available in Cleveland.  See Packet
---
RENO announced for the 2020 National Antique Bottle Show & Expo
After an extensive search, negotiations, presentations and FOHBC board approval, Reno has be selected as the location for the FOHBC 2020 National Antique Bottle Show & Expo. The event will be held at the Grand Sierra Resort & Casino. Richard Siri will act as Show Chair. Team Reno at this point will also include Warren Friedrich, Eric McGuire and Ferdinand Meyer V. Essentially the same team as the very successful 2016 Sacramento National.
Moses Atwood – Atwood's Jaundice Bitters – Georgetown, Massachusetts
I was going through some material the other day that I gathered for the recent Dr. Henry Baxter's Mandrake Bitters post which referenced the Atwood's Jaundice Bitters bottle. You see, both bottle shapes are similar. I was curious, who was Moses Atwood? It turns out that there were two primary Moses Atwoods operating about the same time in New England. Both were in medicine and started out in New Hampshire. This was confusing at first and I wanted to sort it out.

---
Dr. Henry Baxter's Mandrake Bitters – Vermont
I've had a Dr. Baxter's Mandrake Bitters tucked away in my collection for many years. The bottle is from Burlington, Vermont and is kind of cool because it has 12 sides! It is pretty common though so it doesn't get much attention. I like it anyway and it remains a favorite.

---
Minerva Bitters – Aussie or American?
I've had a folder on my laptop set within my 't0-do' list for some time for Minerva Bitters. The bottle is extremely rare. I can account for only two examples. My example is pictured above. The other was dug in Australia 40 years ago or so. It sure looks like an American bottle but there is strong evidence that it is from Australia around 1899. What do you think?

---
An extremely rare Newman's Golden Fruit Bitters
An extremely rare Newman's Golden Fruit Bitters sold on the recent Glass Works Auctions | Auction 119 that closed last Monday night. I've only seen the example above with the Carlyn Ring collection sticker. The example that sold looks to be a more 'golden' color (pictured below). Could be just the photography though.

---
Looking at some French Bitters
A really cool French Bitters (pictured above) put out by Morse & Williams showed up on the Glass Works Auctions | Auction 119 that closed this past Monday night. I wasn't familiar with the bottle and see that it is rated 'extremely rare' in Bitters Bottles. The listing even notes "dug near Torch Lake, Michigan". So I wonder, is this a second example? Where is the bottle from? Who is Morse & Williams 
UPDATED

---
A nice labeled Hindu Tonic Stomach Bitters
In the current Glass Works Auctions, Auction 119 there is an excellent example of a labeled Hindu Tonic Stomach Bitters prepared by liquor dealers Williams & Newman of Chicago, Illinois. The bottle appears to be unlisted. The example is clear with a fluted neck like a Dr. Loew's Stomach Bitters. The bottle has some nice tax stamps and an image of the Minots Ledge Light or Cohasset Massachusetts Lighthouse on the front label. More on that later.

---
Roger's Specific Bitters – Moundsville, West Virginia
It's alway nice to hear from bitters trade card, advertising and ephemera collector Joe Gourd up Chi-town way. Quite often he includes some rare paper items that I have not seen before. In this case a reference to Roger's Specific Bitters. This brand appears to be unlisted. I am not aware of any bottles. The bitters was invented by Dr. Timothy Ross Rogers.

---