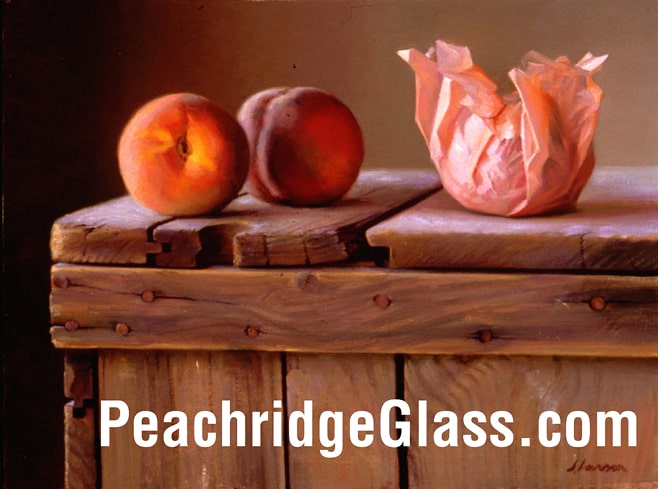 This site is presented and hosted by Ferdinand and Elizabeth Meyer. We hope to share our passion for collecting and dealing in Early American Antique Bottles and Glass. Please contact us for any information and or bottle and glass news for post consideration. We are also looking for guest authors as we continue work on the FOHBC Virtual Museum project. Thanks!
---
FOHBC Virtual Museum Open Free This Summer!
Visit Now

---
New Sarracenia Life Bitters
Here are the new Sarracenia Life Bitters photos with double the number of bottles than the previous image. Generous lighting with no flash. Photo numbers 1871 (top) and 1874 (middle) are all the older variants, while photo 1876 (bottom) has two older on the ends with four newer variants in the center. These were all produced between 1872 and 1879. The newer variety with the whiskey top are almost always just shades of amber to yellow amber. The legs run the opposite direction, and they are not as crude as the others. While some of the color differences are minor, others are eye-popping. I am still trying to get them all tumbled up as I have the time. – Rod Vining

---
J. W. Hutchinson's Tonic Bitters – Mobile, Alabama

I had some time to take some new photos and thought I would send you some updates for your website. Here are the J. W. Hutchinson's with the newest addition in the center. The black mark visible through the base is the Black iron pontil on this never buried specimen. Thanks, Rod Vining

---
Dr. A. W. Coleman's Anti-Dyspeptic and Tonic Bitters
New images In from big time Alabama collector Rod Vining. "The only thing new here is the black one that I used to own, and purchased back from Dr. Aprill's auction. This black one is whittled. Most of the black ones are smooth." Thanks, Rod

---
American Glass Gallery Sale opens Tuesday, March 23
Welcome to American Glass Gallery's March, 2020 Auction #25 which is open for bidding! Auction #25 includes a fantastic grouping of 280 Lots of quality Bottles, Flasks, Jars, and Blown Glass. In addition, we are pleased to include a grouping of Target Balls, Traps, and Shooting Ephemera, several of which are from the Ralph and Jan Finch collection. Visit Auction.
---
Bitters Bottles Supplement 2 Progress
Bitters Bottles Supplement 2 (BBs2) is progressing daily with a Bill Ham book signing event and sale scheduled for the Reno 2020 Antique Bottle Convention. Since March, I have been putting on average, 5 hours a day into the book. The Index is totally being redone. This is a great tool. A massive amount of work that has to be verified and cross-referenced with my data base on Peachridge Glass. There will be Color Plate sections on extremely rare bitters squares, bitters facsimile currency and bitters almanacs. The great archives of Dan Cowman, Joe Gourd and Ben Swanson, among others, is being referenced. Thanks to Bill Ham, Joe Gourd, Ira Burney, Ben Swanson and Jeff Burkhardt for their contributions. Joe, in particular is doing some great proof reading work. Every bottle has a story!
---
Heckler Announces the Evitt Collection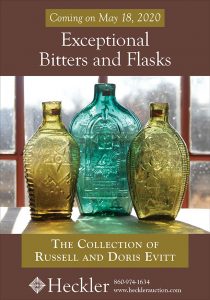 Good morning and Happy New Year from everyone here at Hecklers! Norm was wondering if you might share this ad for the Evitt collection on Peachridge. Thank you!
Nicole. Visit Norman C. Heckler & Company
---
FOHBC Virtual Museum NOW OPEN!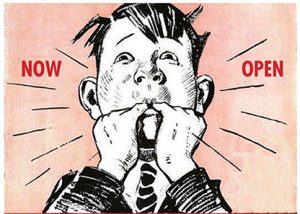 As some of you may have heard, the FOHBC Virtual Museum opened at midnight on 01 January 2020 when we went from our construction mode to our Soft Opening. There is no place, anywhere, where you will see our great antique bottle and glass pieces, images and research in one location. A true museum experience. MORE INFO
---
RENO 2020 Shootout!
This friendly competition will compare and judge three particular types of bottles from anyone who would like to enter examples that they own. The three judging events will be for the 'best' J. F. Cutter star shield type whiskey fifth, Bay City Soda Water Co. bottle and for the Old Sachem's Bitters and Wigwam Tonic. The merits of each bottle will be judged by a panel of veteran collectors experienced with each type. Each bottle entered into the competition will be given a unique code that represents the owner, so the judges will not know the identity of the owner until after final judging. Limit three bottles per category per person.

---
November December 2019 issue of Bottles & Extras
The entire issue is dedicated to the recent 2019 FOHBC 50th Anniversary National Antique Bottle Convention in Augusta, Georgia. Mailed 22 October 2019. Features: G. Harral – Best of Georgia by Eric McGuire, From Russia With Love by Felix & Marina Segal, The Man from Down Under by Bill Baab and Everything was just Peaches & Cream in Augusta by Ferdinand Meyer V. Become a member of the FOHBC.
---
Augusta Prizes and Drawings
As a bonus to show-goers and dealers, the FOHBC raffled a Jim Healy 2019 Augusta Canal commemorative stoneware jug . Tickets were $2 each or three for $5. You were encouraged to "Play to win!" The winner was announced around 4:30 pm on Saturday. Vaughn Jones from Statesboro, Georgia won this jug. Thanks to Mike Newman for making sure Vaughn received his jug as you did not have to be present to win.

---
Augusta People on the Showroom Floor
So far, we've put out eleven (11) Augusta events on the FOHBC web site and related social media. This includes all the special events from Thursday, 01 August, like the FOHBC Board Meeting, Mike & Julie Newman Open House, Augusta Museum of History Reception and Sweet Georgia Peaches Bottle Competition. We also covered the Friday, 02 August events, such as the Membership Breakfast, Educational Seminars, Ribbon Cutting, and Banquet.

---
Augusta Educational Displays
The Educational Displays are one of the most exciting components of a Federation national convention. The FOHBC encourages collectors to share their knowledge, enthusiasm and interests with other collectors by displaying their collections or related material. This year, Walter Smith from Team Augusta, was in charge of our displays. He did a great job!

---
Augusta General Admission | On the Tables
So far, we've put out nine (9) Augusta events on the FOHBC web site and social media. This includes all the special events from Thursday, 01 August, like the FOHBC Board Meeting, Mike & Julie Newman Open House, Augusta Museum of History Reception and Sweet Georgia Peaches Bottle Competition. We also covered the Friday, 02 August events, such as the Membership Breakfast, Educational Seminars, Ribbon Cutting, Youth Corner and the Banquet. You can also read the Augusta Souvenir Program.

---
FOHBC Augusta Banquet
Each FOHBC national event has a banquet that is preceded by a cocktail hour. What is so nice about these dinners is that it is a chance to unwind after a long day that typically includes the Membership Breakfast, Educational Seminars, Ribbon Cutting and Early Admission…

---
Augusta Youth Corner
We struggle every year to bring younger people into our hobby. Usually we are unsuccessful as there are just so many competing interests facing the next generation. Where once a parent or grandparent would spend precious weekend time working with a child on a postage stamp album or looking through old coins for that elusive Indian Head penny, now video games seem to be the norm. Interaction with elders has been minimized as a virtual world is boundless. Of course there are many other reasons and we should not give up.

---
Team Augusta & the Ribbon Cutting
It is no secret that in recent years it has become ever so difficult to find individuals that will step up and co-chair a national FOHBC convention. The workload is immense, and the challenges seem unsurmountable when you look at the big picture including site selection, events, workload, budget and operations to name a few. With this in mind, a group of extraordinary southern gentleman banded together to take on the task and make the FOHBC 50th Anniversary..

---
Augusta Educational Seminars
After our FOHBC Membership Breakfast, we were truly fortunate to be able to present a variety of fascinating educational seminars this year at our convention. We had a distinguished group of seminar presenters organized by seminar coordinator Bill Baab from Team Augusta. Bill did a wonderful job and made sure we all would have something to look forward to.

---
FOHBC General Membership Meeting Breakfast
The FOHBC bylaws require that an annual meeting be held with our members during our national convention. In past years, we had the meeting on the first day, directly after the FOHBC board meeting after a quick lunch break. Problem was, only a handful of members would show up, as many had not arrived in town yet or they weren't inclined to start off their bottle trip with a meeting. Anyway, back in 2015 at the Chattanooga National, we decided to have a membership meeting breakfast. You know the old adage, have food and they will come.

---
Sweet Georgia Peaches Bottle Competition
Our power opening day already started out with the 8:00 am- noon FOHBC Board Meeting followed by the early afternoon Mike & Julie Newman Open House. We spent our late afternoon at the Augusta Museum of History Reception. This left the evening for our next event.

---
Augusta Museum of History Reception
Thursday was our big first day as we started off in the morning with the FOHBC Board Meeting followed by the early afternoon Mike & Julie Newman Open House. As this ended at 3:00 pm, our Team…

---
Mike & Julie Newman Open House
The widely and wildly anticipated Mike & Julie Newman Open House occurred after the FOHBC Board Meeting. This was our lead-off event and boy was it a success! Guests were given directions to car pool or they could be shuttled by two (2) contracted vans that ran between our host Marriott Augusta Hotel and the Newman residence. A pair of the Newman's retired friends, Tom …

---
FOHBC Board Meeting at the Augusta National Bottle Show
The first event for any FOHBC national antique bottle show is actually the board meeting. The nineteen FOHBC board members are requested to attend, preferably in person, although we have a conference line for officers who cannot make the show. Read about the 2018 – 2020 officers here. FOHBC members, as guests, are welcome to attend in a non-speaking capacity.

---
Looking at a Moffat Billhead
Ben Swanson submitted this important illustrated billhead in the form of a stampless folded letter dated 1846 to Dr. William Washington Fritts of Carlisle, Kentucky from Dr. William Brinckerhoff Moffat proprietor of Phoenix Bitters. Hand written and signed.

---
Daily Dose carrying the Freight These Days
Starting with my injury back in March, I have been on an almost non-stop push to get outstanding material into Bitters Bottles Supplement 2. Working closely with author Bill Ham, we plan to have the book available for Reno 2020. There will be special bitters sections on Facsimile Currency from the Ben Swanson Collection and Almanacs from the Dan Cowman Collection coupled with years of new information from collectors. Just hit the dose glass to the left or right for daily bottle and glass news.
---
2019 FOHBC 50th Anniversary National Antique Bottle Convention | Augusta, Georgia | Souvenir Program

Well, the show is over and we are catching our breath. A couple of years of work boiling down to three or four intense days in Augusta. Now as the dust settles, we settle our accounts, collects some comments, look thru a couple thousand images and prepare for write-ups in Bottles and Extras and Antique Bottle & Glass Collector. A special shout-out to advertisers in our Souvenir Program. An important source of revenue and information.
 [Read]
---
Dr. Copp's White Mountain Bitters Advertising Trade Cards
As usual, when I ask bitters advertising, ephemera and trade card authority Joe Gourd a question, involving a rare bitters piece, I get a quick answer. In this case I asked a 'mountain' question and got an avalanche back. Look at these great Dr. Copp's White Mountain Bitters trade cards from Joe's collection. There are quite a few stock series used to advertise and sell this bitters. Simply outstanding!

---
Cannon's Bitters Study & Timeline – Washington D.C.
With new material and research on Cannon's Bitters, it seems like high time to re-look at this incredible brand. I thought I would lay out what I have discovered and see if we can connect the dots on the listings in Bitters Bottle Supplement 2.

---
Bissell's Tonic Bitters, Orrin Porter Bissell – Peoria, Illinois
I thought I would post today on Bissell's Tonic Bitters, a pretty cool bitters square from Peoria, Illinois. This brand should not get confused with Bissell's Dandelion Bitters from Keene, New Hampshire. I picked up my golden amber example from the Bottles and More Auction XVIII in August 2006. It is pictured at the top of the post. My labeled example is pictured below and was obtained at the Morro Bay Antique Bottle Show in March 2014.

---
Looking at Bitters in the Rheinstrom, Bettman, Johnson & Co. Presentation Book
As some of you may know, I been working with Bill Ham in getting the Bitters Bottles Supplement 2 book ready for publication. This includes reviewing and cross-referencing material from the great ephemera collections of Joe Gourd and Ben Swanson, among others. In one of the Ben Swanson files were pictures of this great Rheinstrom, Bettman, Johnson & Co. catalogue which contained illustrations of all their products. I included the spread pages below plus clipped bottles that have been enlarged. Very impressive layout and illustrations.

---
March | April issue of Bottles and Extras on newsstands now.
Loaded 72-all-color pages plus covers! Become a member of the FOHBC and get Bottles and Extras. Features: B. & B. A Tale of Two Cities and Trademarks by Jack Sullivan, Permissions Permissions but nowhere to dig! Jeff Mihalik, Missed it by that much!! (or just shoot me; well actually my wife) Bruce Silva, Moving the big rock in Council Groove, Kansas Johnnie Fletcher with Vignettes: Shards of Wisdom, History's Corner, Augusta Bottle Collectors' Heaven by Bill Baab, Augusta National Showtime Bill Baab, Augusta National Show Seminars Schedule, Topics and Presenters, Augusta Banquet Speaker, Marriott Hotel and Convention Center, Augusta National Bottle Competition, Proposed Changes to FOHBC Bylaws, Virtual Museum News, From cows to consumers: Daily milk delivery in bottles by Bill Baab, The History of the American Glass Stamp by Mark Vuono, Club Contest Page, Lost & Found and Member Photo Gallery

---
Botanic Nerve Bitters – Herb Medicine Company – Philadelphia
I came across some nice pictures of a partially labeled (about 90% compete) Botanic Nerve Bitters bottle from a past eBay sale. The gentleman who sent the images felt that the brand might be unlisted even though Bitters Bottles referenced a B 166.5 Botanic Nerve Bitters. Note that I clipped away the background in Photoshop. That catalog listing is…

---
Plows Celebrated Sherry Bitters – Chicago
Glass Works Auctions has a wonderful example of a figural Plows Sherry Bitters in their upcoming 'Colors of Spring' Catalog Auction #130. The bottle is pictured at the top of the post, in the grouping above and below. The Plows, in the form of a cluster of grapes, is drop-dead gorgeous. Even the label panel on the reverse is shaped like a grape leaf. The auction opens for bid on April 22nd and closes on April 29th, 2019. I have not seen this particular example before as it has been nested away for many years with Sidney Genius, a name I've heard of, but a person I have not met. Apparently he has or had some great bitters which are now being auctioned by Glass Works over a period of time.

---
Watkins' Celebrated & Invigorating Bitters, John R. Watkin's, Lancaster, Pennsylvania
I've had tucked away and stored in a digital folder, the upper-most advertisement for John R. Watkins, Agent, Wholesale and Retail Dealer in Foreign and Domestic Wines and Liquors, Raspberryade, Rectified Whiskey and Watkins' Celebrated Bitters, &c. Watkins was located on the southeast corner of Centre Square in Lancaster, Pennsylvania. The advertisement was found in the 1867 Directory of Lancaster County. I'm not familiar with this bitters and I've certainly never seen a bottle.

---
The Cherokee Medicine Company Galveston, Texas
Advanced Texas bottle collector Brad Seigler recently sent me a picture of an aqua square embossed The Cherokee Medicine Co. from Galveston, Texas. It is pictured above sitting to the left of an aqua IXL Sarsaparilla & Iodide Potassium from Houston and an amber Dr. Tobin Liver Medicine from Austin. All three of these bottles are extremely rare.

---
Bitters Bottles Supplement 2
I am deep into the hopefully final draft of Bitters Bottles Supplement 2 by Bill Ham. Much cross-referencing with peachridgeglass.com. On my back with 2 broken legs. Plenty of time to finally finish! To put this book into historical perspective.

---
U.S. Army Hospital Department bottles
I've always wanted to create a gallery of U.S. Army Hospital Department bottles. The molds, colors and use during the Civil War and later years epitomizes the history and stunning glass in our hobby. I will update this post as more images become available. There is some really great information on these bottles by Frank Sternad in Bottles and Extras and Robert J. Dalessandro on his Medical Antiques web site. That is also his picture of five U.S.A Hospital Department bottles at the top of this post.

---
Dr. D. Smith's Wild Cherry Tonic Bitters
Bill Ham emailed me with a new bitters listing regarding a bottle on eBay that closed last night. See Listing He already assigned the bottle a catalog number which is represented further below. It always amazes me when one of these unlisted bitters shows up. I wonder why it took so long for an example to surface and if there is any information regarding the bottle. This one took me on a wild goose chase.

---
William J. Reading and his Coffin Flask
I like these little pocket or coffin flasks especially when they have interesting locales embossed on the bottles such as this W. J. READING, KEY WEST, FLA. bottle. This image was found sitting all-alone and misfiled in my database. No idea where I initially found it or who sent it to me. So, is there a story here?

---
Reed Brothers – Dealers in Drugs & School Books
I like that, …"Dealers in Drugs & School Books" and also "Proprietors of Reed's Celebrated Overland Bitters." Here is another super tough, extremely rare bitters. I posted the 1870 advertisement below in Daily Dose last August. Now, as it turns out, a bottle example (pictured above) is in the current American Glass Gallery Auction #22. Thanks to Jeff Burkhardt for calling my attention to this bottle and inspiring this post. If you notice on the advertisement, the Reed Brothers consisted of John Reed, James Reed and Michael Reed. Their establishment was located on 9th Street, West Side Market Space in Lincoln, Nebraska. Again, they were the Proprietors of Reed's Celebrated Overland Bitters which is prominently noted on the bottom half of the ad which was found in The Nebraska State Journal on Friday, November 4, 1870.

---
Nicholas Longworth – Catawba Wine Bitters, Cincinnati, Ohio
Nicholas Longworth was an influential figure in the early history of American wine, producing sparkling Catawba wine from grapes grown in his Ohio River Valley vineyard on hills north of Cincinnati. He was also responsible for Catawba Wine Bitters, and the bottles embossed with the cluster of grapes. Highly desirable to collectors.

---
Missouri IXL Bitters – Isidor Bush
Isidor Bush (or in Europe, Busch) has his name on the extremely rare Missouri IXL Bitters bottle which to me is quite amazing. I've only personally seen this bottle once and that was at the FOHBC 2015 Chattanooga National Antique Bottle Show when bitters collector, Brad Shultis, carefully unwrapped the bottle to show me. The image at the top of the post was taken at the show. Actually, there is so much more to this bottle and the man behind it.

---
Garry Owen Strengthening Bitters – Ball, Lyons & Co. and I. L. Lyons & Co., New Orleans
Isaac Lazarus Lyons was born in 1837 and educated in Columbia, South Carolina. His father was Jacob C. Lyons who would open and run a successful grocery store in Columbia in 1827. The business earned its reputations as an oyster saloon for students from South Carolina College. Isaac would spend his childhood in Columbia moving to New Orleans just before the outbreak of the Civil War. He enlisted in the Confederate Army as a private, saw a great deal of service and was later promoted to Captain.

---
Khoosh Bitters – The Great Tonic of the Age – The King of Bitters
Not much attention is paid to Khoosh Bitters here in the United States as it is an English brand. I certainly understand collecting bottles from your own country, or region, or state or city, or town, as many bottle collectors do. I'm a bit of an 'all-over-the-place' collector, meaning that if I see or really like a bottle that has story and visuals to boot, I'm on it, and it is represented on my shelf in most cases. That is my Khoosh Bitters example at the top of the post in a topaz coloration. Great looking bottle though it is an odd size compared to most American bitters.

---
Dr. De Andries Pure Sarsaparilla Bitters, E. M. Rusha – New Orleans
I recently updated the post for the extremely rare Dr. Hyde's Southern Stomach Bitters put out by Dr. Edward Caleb Hyde in New Orleans around 1868. The Dr. De Andries Pure Sarsaparilla Bitters was made during the same time period by E. M. Rusha who operated within walking distance of Edward Hyde off of Tchoupitoulas Street in New Orleans. Both of their bottles are very similar with the shape, column bevel and shoulder detail. You can see a comparison below. Maybe they were friends but they were certainly competitors with their bitters. Most likely, Hyde aped Rusha with his bitters.

---
Continental Bitters, Mayer, Strouse & Baum – Philadelphia
I recently came across this neat circa 1862 trade card advertisement (above) held by the The Library Company of Philadelphia for Continental Bitters put out by Mayer, Strouse & Baum which surprisingly, seems to be unlisted. The proprietors are noted as Importers of Wines, Brandies Gins &c. The primary image and the reason for the bitters name is an illustration of the Continental Hotel, at No. 116 North 3rd Street in Philadelphia, Pennsylvania. The card also shows street and pedestrian traffic, including horse-drawn carriages, an omnibus, and a man on horseback.

---
Benjamin Lieber's French Cordial Bitters – Philadelphia
I recently came across this neat advertisement (above) held by the The Library Company of Philadelphia for B. Lieber (Benjamin) showing his storefront in Philadelphia in 1849. The illustration shows that Lieber is an Importer of Brandies, Wines and Gins. His address is No. 121 North Fourth Street between Vine & Callowhill Streets in Philadelphia. The ad also notes that he specializes in Foreign Wines and Liquors, London Brown-Stout, Scotch Ale, Absinthe, Segars, &c. and that he is a Manufacturer of Punch Essence, Cordials, Lemon Syrup, Raspberry, Lavender, Rose, Blackberry and Wild-Cherry, Brandies, Bitters &c. The bitters reference set me off in a search for more information.

---
Could this bottle be for the Celebrated Tobias's Wine Bitters?
A patron enters one of the two open entryways at which a straw basket and wine cask are displayed across from a large-cask shaped sign. Sign reads "S. Tobias No. 68 Importer & Dealer in Wines Liquors Cordials and Syrups." At the other entryway, a laborer rolls a cask out the door near a worker entering the cellar. Within the store, the backs of a patron and a clerk are visible in the rear of the store in which shelves of liquor bottles, straw baskets, wine casks, and barrels are displayed on shelves, the floor, and the open display window. Other boxes, bottles, casks, and barrels are visible at the upper floor windows. Barrels and boxes, one marked "S. Tobias" line the sidewalk, near a street lamp in front of the store.

---
Augusta Seminar Schedule, Topics & Presenters
2019 FOHBC 50th Anniversary National Antique Bottle Convention | Augusta, Georgia. We are truly fortunate to be able to present a variety of fascinating educational seminars at the 2019 FOHBC 50th Anniversary National Antique Bottle Convention in Augusta, Georgia. We have a distinguished group of seminar presenters organized by seminar coordinator Bill Baab.

---
Solomon's Strengthening & Invigorating Bitters – Savannah, Ga.
Post update: Sometimes I have bottle posts that take a longer and broader range approach such as the Fancy Square Series and the Figural Barrel Series etc. Other posts just announce antique glass related topics or deal with current events for bottle shows and auctions. This post today occurs because of a request or inspiration from a fellow collector. In this case, it is Charles Aprill, again. Charles and Jane Aprill are the King and Queen of Blues in the Crescent City or NOLA.

---
Lippman's Great German Bitters, The Standard Bitters of Germany – Savannah, Georgia and New York
Post update. Jacob Lippman was the second son of Joseph (1808-1876) and Barbette Lippman who were from Reichmansderf, Bavaria which of course is Germany. Joseph and Barbette arrived in Philadelphia in 1838 and shortly thereafter, Jacob was born in 1843. He was preceded by two years by his brother Louis. Another brother Lawrence, was born in 1846 in Savannah, Georgia. Jacob and his brothers constituted Jacob Lippman Wholesale Drug House, Lippman & Bro. and eventually Lippman Brothers at various points in time. Something brought the family to Chatham, Georgia in 1846 or so as Joseph, the father, established himself as a dry goods merchant and druggist according to an 1850 United States Federal Census and other sources. Chatham is the county for Savannah.

---
2019 FOHBC 50th Anniversary National Antique Bottle Convention | Augusta, Georgia
OPENING EVENT
Mike Newman Open House • Thursday early afternoon, August 1st, Please join Mike Newman at his home early afternoon, noon to 3:00 pm for an Open House to see his fantastic bottle collection. This is an important collection of a wide variety of the best of Georgia and South Carolina pottery and soda bottles. Mike also has a remarkable collection of inks, flasks and bitters bottles. The presentation and lighting is museum quality. A shuttle will be available from the Augusta Marriott to Mike's house in Martinez, Georgia which is 15 minutes (6.9 mi) via GA-28 if you are driving. Light lunch fare and refreshments will be served.

---
Spring Bitters – John W. Service, Hartford, Connecticut
Bobby Conner sent me the two top-most pictures here and said, "Good morning Ferd. Here's a bitters you may enjoy seeing. I can't find any info on it other than Bill Steele 'thinks' he may have had one at one time. Enjoy." I've not seen this bottle before so I thought I would check it out. Spring Bitters was somewhat of a generic term for bitters but there are certainly a few Spring Bitters out there associated with proprietors.

---
He Sold Black Hawk Bitters
In another newspaper notice, druggist, M.K. Shuggart in Iowa also had his Black Hawk Bitters seized. In court, he said it was a medicine and that it was a summer drink and should be classified with lemonade, even though the bitters was labeled 30 percent alcohol. Still more arrests for selling Black Hawk Bitters that reportedly made men climb telegraph poles and throw their tools in the street! The last from the Kansas Democrat in Hiawatha, Kansas. This is the kind of material you find in bitters researching, just like the assorted nefarious material put in a bitters bottle.

---
Tincture of Centaury Bitters – Bernheim Brothers & Uri – Louisville, Kentucky
If you go to the I.W. Harper website and visit the history menu on the banner, the following opening screen reads, "THE I.W. HARPER LEGACY, A LEGEND IS BORN" followed by "I.W. Harper's story begins in 1848 when our founder, I.W. Bernheim, came to America with $4 and a dream. A century later, his bourbon whiskey empire remains." Jerry Phelps recently shared some bottle images of a round, amber, sealed and pontiled Tincture of Centaury Bitters bottle from Louisville, Kentucky. I have heard of this bottle but have never seen pictures before, so this is pretty exciting.

---
2019 FOHBC 50th Anniversary National Antique Bottle Convention | Augusta, Georgia
The Southern Region of the Federation of Historical Bottle Collectors (FOHBC) would like to invite you to the 2019 FOHBC National Antique Bottle Convention in Augusta, Georgia. We will be celebrating the 50th Anniversary of the FOHBC. Please note the removal of Sunday (and Saturday night) event in schedule.

---
Excelsior Stomach Bitters – Rose's Drug Store, Westminster, Maryland
Here is an advertisement below for a possibly unlisted Excelsior Stomach Bitters that I came across during research for the Excelsior Stomach Bitters post from St. John, Iowa. This bitters is late and was advertised in 1904, came in three sizes (25c, 50c and $1 bottles) and could be purchased at Rose's Drug Store in Westminster, Maryland. Westminster is northwest of Baltimore City. Being from Baltimore, I was curious.

---
Excelsior Stomach Bitters – Drs. Ault and McGavern – St. John, Iowa
I am now looking at an 1867 advertisement from Mark from the Sioux City Register below for an unlisted Excelsior Stomach Bitters manufactured by Drs. Ault and McGavern in St. John, Iowa which is a small town that is not around anymore. Mark included the ad with his email and included an advertisement from the bitters agents, Smith & Moore of Sioux City, Iowa.

---
Dr. Thomas A. Hurley's Stomach Bitters – Louisville
Hurley's first drug store newspaper advertising occurs in The Louisville Daily Courier in 1850 where he is listed as a Druggist and Apothecary located on the corner of Seventh and Green Streets in Louisville, Kentucky. He was selling medicinal extracts for prescriptions along with Turkey Rhubarb, Pearl Starch, Venetian Red and Tobacco. In 1852, Thos. A. Hurley is noted as a candidate for School Trustee in the Seventh Ward in Louisville. There isn't much follow-up information here in this direction so he may not have been successful.

---
The 1948 Prince Cantacuzène Collection of Early American Bottles and Flasks
Dear Flask Collectors, As a result of doing some research, I found the the Auction Catalog for the Prince Cantacuzene Flask Collection. If you Google him, you'll notice he fled Russia after the Bolshevik Revolution coming to America and dying in 1955 in Sarasota, Florida. He was married to Ulysses S. Grants granddaughter. Why would a Russian Prince form such a flask collection? Here are a few photos. A link to the catalog follows photos

---
Use Dr. Henley's Celebrated California IXL Bitters
Dr. Henley was initially known for medicines like Dr. Henley's Regulator, Royal Balsam and Indian Queen Hair Restorative to name a few. Some of his better known bitters include the Dr. Henley's Wild Grape Root IXL Bitters, Dr. Henley's California IXL Bitters, Dr. Henley's Eye Opener and OK Bitters. He also put out Dr. Henley's Royal Palm Gin and Dr. Henley's Celery, Beef and Iron. Dr. Henley's Wild Grape Root IXL Bitters was invented in 1868 by Dr. William Henley who partnered with Louis Gross (L. Gross & Co.) who was a wholesale and retail druggist in Portland, Oregon. At least fifty cases of this product were displayed at the 1868 California State Fair by Dr. Henley and he won first prize.

---
Dr. Smith's Magic Bitters – John Brown Adkins – Council Bluffs, Iowa
I like the photograph at the top of the post showing the two-story building with the J. B. ATKINS bas-relief letters on the front facade. If you look closely, you will see that John Brown Atkins is standing proudly in the doorway and his windows and shelves within are fully stocked. I also see a camel and rider sitting on a box. Look at the roof, as there is a cool sculptural mortar and pestle on top of the building and painted graphics on the side advertising J. B. Atkins selling Drugs, Chemicals, Perfumery, Paints, Oils, Glassware etc. His address is 351 West Broadway. You can see the numbers on a column on the left side of the building.

---
Kohn & Adler's Bitters – Rock Island, Illinois
I recently received an email and 1866 newspaper clipping from Mark Wiseman about an unlisted Adler's Celebrated Anti-Cholera Bitters which led me to do a search for "Adler" information. This led me to another unlisted bitters advertisement for Kohn & Adler's Bitters from Rock Island, Illinois. There is no relation though, as the ad is from 1889. Here we are talking about Solomon and Monroe Kohn and Joseph H. Adler. Solomon was the father of Monroe. Kohn was born in Austria in 1826 and received his U.S. citizenship in 1866. Adler was born in Bohemia around 1832. I suspect the families knew each other and they both came to America together.

---
Adler's Celebrated Anti-Cholera Bitters – Simon Adler | St. Joe & St. Louis
I recently received and email and 1866 newspaper clipping (below) from Mark Wiseman about an unlisted Adler's Celebrated Anti-Cholera Bitters put out by S. Adler & Company in St. Joseph, Missouri. This rang a bell. After researching, I found out that this is the same "Adler" embossed on Landsberg's Century Bitters.

---
Pond's Bitters "Makes You Go Some"
Pond's Bitters is named after George Morgan Pond who was born in Tareytown, New York on 29 May 1854. Tarrytown is a village in the town of Greenburgh in Westchester County, New York. It is located on the eastern bank of the Hudson River, about 25 miles north of midtown Manhattan in New York City. He was the son of Loyal Sylvester Pond (Vermont) and Harriet Sarah Taylor (New Hampshire). He later married Louise Fitch in 1882. Their children were Annie, Kate, George Jr., Guy and Rainsferd Pond.

---
If you can't do business, drink Rex Bitters – Chicago
Here is what I call a telephone bitters. A bitters product so late that you could call your favorite saloon, liquor or drug store and order a case of Rex Bitters using your Chicago Telephone Company issued telephone, if you were fortunate enough to have one. Illinois Bell would not form until 1923 when they began automatic telephone service in Chicago.

---
Jacob & David Hostetter – Dr. J. Hostetter's Celebrated Stomach Bitters
David Hostetter was a millionaire manufacturer of one of the most, if not the most famous and successful bitters ever produced, the Dr. J. Hostetter's Celebrated Stomach Bitters. Much has been written about the brand. I thought I would try to tie it all together. Of Dutch extraction, David Hostetter was the eldest child of Jacob Hostetter by his wife Mary Landis, and was born in Lancaster County, Pennsylvania on 23 January 1819. Dr. Jacob Hostetter was born on 13 October 1785 in York County, Pennsylvania…

---
Bininger Gallery Update
I have been nesting some great images of Bininger bottles for the past year or so waiting for a few missing pictures to justify a post gallery. With the Glass Works Auctions | Auction #96 additions, I can now release this post. If you have any additions of any different bottles, please send to me. My interest in Bininger's started early with figural clock, cannon and barrel additions to go with my bitters collection. Many of us do this as the Bininger name means great bottles and history.

---
Post Update with early use info: Log Cabin Series – Drake's Plantation Bitters
This medicinal make-up was unknown until the middle of the seventeenth century. The natives of Peru were generally supposed to have been long previously acquainted with its most wonderful medicinal qualities. Humbboldt makes favorable mention of the febrifuge qualities of this article as an antidote to Fever and Ague, Intermittent and Malarious Fevers, in his extensive South American travels. The Countess, wife of the Viceroy of Peru, having in her own person experienced the beneficial effects of the bark, is said, on her return to Spain …

---