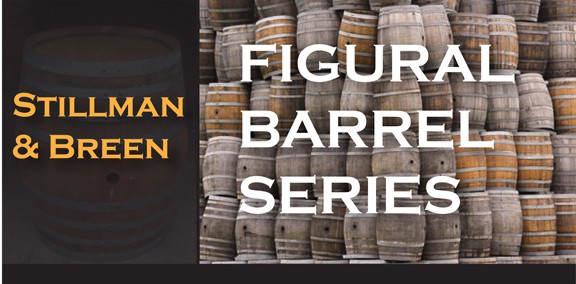 STILLMAN & BREEN

|

MEMPHIS, TENN
Brandies, Wines, Teas And Cigars
24 July 2012 • 28 July Update: See comment from Robert Cutchins below.
---
I guess this weeks figural barrel posts are about extremely rare bottles found in thrift shops. Why not? It happens all the time right?

Recently, it was the 2nd example of a W. WOLF PITTSBURGH barrel showing up in a Chicago area thrift shop (see: Barrel Series – W. Wolf found at Thrift Shop for $1.00). Today it is the extremely rare, STILLMAN & BREEN | MEMPHIS, TENN barrel which I believe is unique. This bottle was found in a Texas thrift shop in early 2010. This is unheard of folks, come on now, a Thrift Shop?
The STILLMAN & BREEN, by coincidence, or is there a link, is the same form and size, and looks like the same mold as the W. WOLF. Even the typography and bunghole is similar. Go figure!
I am trying to get in touch with the fellow who found the bottle in Texas. Apparently it is a contact or friend of Texas patent medicine collector, Brad Seigler. What we also know, is that Glass Works Auctions sold the bottle in December 2010 (see below). I am also trying to get these details. Why is this an incomplete post? Well, I am off to the Blue Bird Circle Shop and the Salvation Army to look for lamp shades, bean bag chairs and unlisted, pontiled figural barrels. Oh, and we are catching an early bird tomorrow to Reno for the FOHBC Expo!
From Memphis Diggers Read: Unknown Memphis Whiskey Barrel Found] From the information that Memphis collectors have found, Stillman & Breen looks to have been in business from 1861 to 1862. Also the owner found a site on the net that had some canceled checks and letterheads of Stillman & Breen from 1861 – 1862. (see examples below pulled by PRG)
"Stillman & Breen looks to have been in business from 1861 to 1862"
[Memphis Daily Appeal, Memphis, Tennessee, April 20, 1862, p. 2, c. 7]
"Bottles, Bottles. Bring on your second-hand bottles. We will pay the highest cash price for bottles delivered at our store on Second street. Stillman & Breen"
---
Read More on Figural Barrels
Barrel Series – W. Wolf found at Thrift Shop for $1.00
Barrel Series – Ben Franklin Bitters
Barrel Series – Highland Bitters and Scotch Tonic
Barrel Series – Smith's Druid Bitters
Barrel Series – Roback's Stomach Bitters (the smaller ones)
Barrel Series – Roback's Stomach Bitters (the big boys)
Barrel Series – Dr. Chandler's Jamaica Ginger Root Bitters
Barrel Series – Favorite Bitters & Peoples Favorite Bitters
Barrel Series – Wormser Bros San Francisco
Barrel Series – Mist of the Morning
Barrel Series – Old Sachem Bitters and Wigwam Tonic
Barrel Series – Turner Brothers New York & San Francisco
Barrel Series – The Mysterious Blue Barrel
Barrel Series – Original Pocahontas Bitters
Figural Barrel Series – Hall's Bitters
Greeley's Bourbon Whiskey Bitters – aka Vertical Greeley's
Peach colored Bourbon Whiskey Bitters added to Color Run