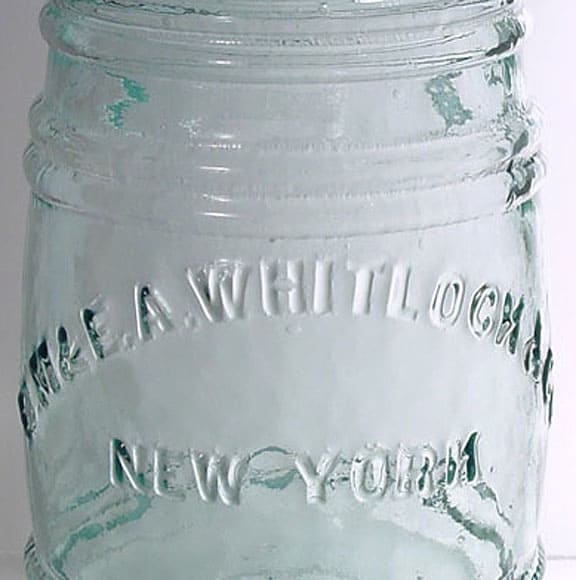 B. M. & E. A. WHITLOCK & CO. – NEW YORK
09 January 2013 (R•01Oct13) (R•031318)
---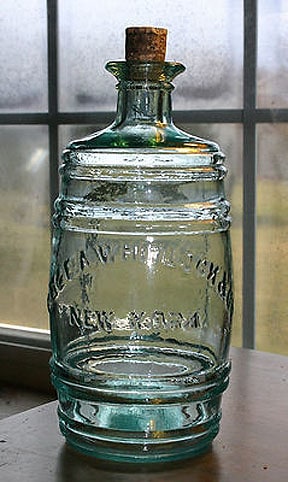 The figural barrel series from 2012 is for the most part, 95% or so complete meaning posts were developed for most of the great figural whiskey and bitters barrels. I was aware of the Whitlock barrel but was waiting for at least a second example to compare. While looking at the latest Glass Works Auction #96, so named the "Cabin Fever" Auction, I see a second example (see below) and yet a third example I find online, pictured to the left.
These barrels are clean, short blue aqua and have a super cool, flanged lip. I would say a must for any figural bottle collector.
Benjamin M. Whitlock and Edward A. Whitlock were successful grocers and importers located at 13 and 18 Beekman Street in the Bronx, New York. In some cases they were listed as B.M. & E. A. Whitlock & Co. Importers of Liquors, Segars & c. This extensive and well-known house was originally established in 1842 by Mr. B. M. Whitlock, "a gentleman esteemed for his many agreeable qualities, to which circumstance, united with active and energetic business qualifications, the house is mainly indebted for its highly prosperous career."- The Union Sketch-Book, see below
Tradition says that five brothers came to America from Dumphries, Scotland, two of whom settled in New York, Benjamin and Edward, and three of whom went to Virginia prior to the Civil War, around 1840. Benjamin was the elder of the New Yorkers and became very successful in the wholesale grocery business, with his younger brother Edward as a partner.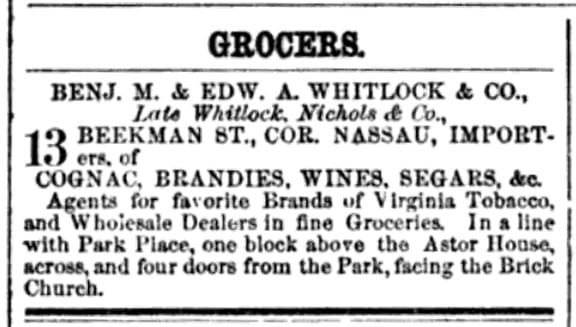 Benjamin M. Whitlock's store was at Nassau and Broadway near the old Brick Church. The church, was used as a hospital during the revolution. In 1856 it was ripped down and replaced by the first New York Times building. Whitlock traded in tobacco, wine, whiskey, and cotton.
Southern Militiamen, the Savannah Republican Blues, visited Whitlock promoting reconciliation on the eve of Civil War "…the bronze doors, with their elegant coat of arms and the inviting inscription, "Soyez le Bienvenue," were never thrown open with greater cordiality than when an entire regiment from Georgia was being entertained, the officers lodged in the rooms and the men encamped on the lawns." – Valentine's Manual of Old New York About 4 oclock the visitors again embarked, and proceeded up the River through Hurl (Hells) Gate, about twelve miles, to the suburbanvilla of B.M. WHITLOCK, Esq., in Westchester County, on the banks of the river… After being photographed in line on the lawn in front of Mr. WHITLOCKs fine new brown-stone mansion, taking a look at his sixty blood horses, and extensive repository of carriages, imbibing a timely drink, and viewing the grounds, the company was invited to a collation spread for three hundred in a shady grove near one of the residences. – NY Times July 23, 1860
These event of the Civil War took a great toll on Benjamin, and he died in 1863. His Obituary reads as follows — "Benjamin M. Whitlock, Esq., formerly one of the prominent wholesale grocers of this City, died on Wednesday last at his residence in Westchester County, after a very brief illness. Mr. Whitlock, in consequence of the present troubles, lost overwhelmingly, because of the failure of his Southern customers to meet their engagements, and was compelled to relinquish his business, which had before been one of the most profitable in the City. He was a man of finest business capacity, and of noble, generous impulses. His hospitality was lavish, and he was noted especially for keeping one of the finest studs in the country, his stock and stables being the centre of admiration and interest. These and the remainder of his property he sacrificed when misfortune overtook him, in order honorably to meet his sudden embarrassments." 1863 NY Times
After Benjamin's death, there was "a vast and fiendish plot." Some of Benj. M. Whitlock's friends (and possibly his brothers?) were reportedly out for revenge against New York City. "These Yankees," the "Southern Gentleman" says "will learn what General Sherman burns Atlanta it is to incur the Enmity of a proud and chivalric People."
Read: Constitution Bitters – The oldest Figural Bitters?
February 8, 1865 A NAWARK REBEL. WILLIAM LAWRENCE MCDONALD, who figures in the papers as the rebel agent in Canada, and the leading spirit in the Chesapeake, St. Albans, and New-York hotel-burning affairs… In1860, he associated with Mr. B.M. WHITLOCK, (his brother-in-law,) in the carriage business… "GUS" MCDONALD, a brother ofthe above, who also lived in Orange, but recently a resident of New-York, is in custody on a charge of harboring the incendiaries whilethey were in that city. — Newark Advertiser. – Harpers Weekly, December 17, 1864
Read More: Constitution Bitters – The oldest Figural Bitters?
---
Read More on Figural Barrels
Barrel Series – Crow's Celebrated Tonic Bitters
Barrel Series – Chapin & Gore – Chicago – Sour Mash
Barrel Series – Brent, Warder & Co. – Louisville
Barrel Series – Bininger Old Kentucky Bourbon
Barrel Series – Columbus in a Barrel
Barrel Series – I. Nelson's Old Bourbon
Barrel Series – W. Wolf found at Thrift Shop for $1.00
Barrel Series – Ben Franklin Bitters
Barrel Series – Highland Bitters and Scotch Tonic
Barrel Series – Smith's Druid Bitters
Barrel Series – Roback's Stomach Bitters (the smaller ones)
Barrel Series – Roback's Stomach Bitters (the big boys)
Barrel Series – Dr. Chandler's Jamaica Ginger Root Bitters
Barrel Series – Favorite Bitters & Peoples Favorite Bitters
Barrel Series – Wormser Bros San Francisco
Barrel Series – Mist of the Morning
Barrel Series – Old Sachem Bitters and Wigwam Tonic
Barrel Series – Turner Brothers New York & San Francisco
Barrel Series – The Mysterious Blue Barrel
Barrel Series – Original Pocahontas Bitters
Figural Barrel Series – Hall's Bitters
Greeley's Bourbon Whiskey Bitters – aka Vertical Greeley's
Peach colored Bourbon Whiskey Bitters added to Color Run