The Hull Brothers barrel from Detroit, Michigan
22 September 2016 (R•102416)

Here is a new barrel post for the extremely rare Hull Bros. from Detroit, Michigan. In fact, this is the only example I have ever seen. The amber bottle was offered in the recent Glass Works Auctions Session 1 from the great Bob Ferraro Collection. Bob is known as Mayor Ferraro and the "Barrel King". Many times I would come across an obscure barrel only to find that Bob would have an example. Like I said, the Barrel King.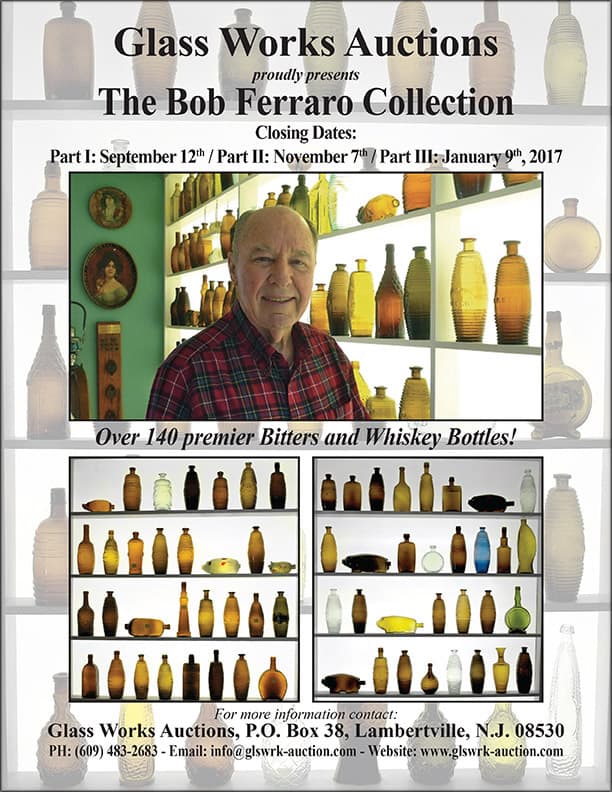 John and William Hull were the Hull Brothers and were established grocers located at the corner of Monroe Avenue and Campus Martius in downtown Detroit. This location was also called the Opera House block. You can see a listing below from the J.W. Weeks & Co.'s annual directory of Detroit for 1876-77.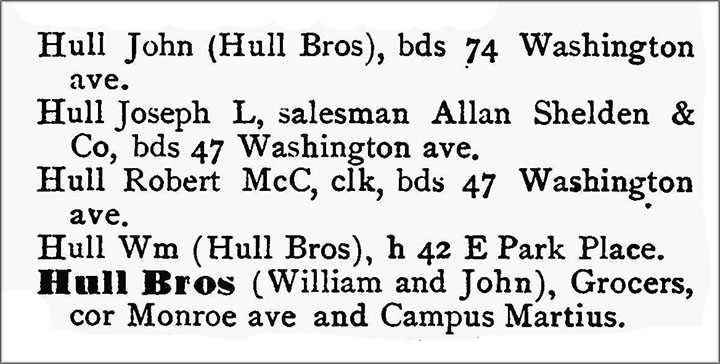 The following pictures show Bob's bottle from the auction and the building which was occupied by the grocers for decades. They sold just about everything and probably had a bottle made up to sell a bitters or some other type of spirits. This probably would not have been a medicine. Hard really to say without a label or advertisement for the specific product.
Read more about barrels:
Barrel Series – Old Sachem Bitters and Wigwam Tonic
Barrel Series – Turner Brothers New York & San Francisco
Barrel Series – The Mysterious Blue Barrel
Barrel Series – Original Pocahontas Bitters
Figural Barrel Series – Hall's Bitters
Greeley's Bourbon Whiskey Bitters – aka Vertical Greeley's
Peach colored Bourbon Whiskey Bitters added to Color Run
Greeley's Bourbon Bitters – A Great Boston Bitters Barrel
The earliest and latest with the blue W. Wolf's Pittsburgh barrel
Barrel Series – Brent, Warder & Co. – Louisville
Barrel Series – I. Nelson's Old Bourbon
Barrel Series – B.M. & E.A. Whitlock & Co. – New York
Bennett & Carroll – Figural Barrel Series
Barrel Series – Liquore del Diavolo Figural Barrel
Barrel Series – Crow's Celebrated Tonic Bitters
Barrel Series – Chapin & Gore – Chicago – Sour Mash
Barrel Series – Bininger Old Kentucky Bourbon
Barrel Series – Columbus in a Barrel
Barrel Series – Stillman & Breen
Barrel Series – Ben Franklin Bitters
Barrel Series – Highland Bitters and Scotch Tonic
Barrel Series – Smith's Druid Bitters
Barrel Series – Roback's Stomach Bitters (the smaller ones)
Barrel Series – Roback's Stomach Bitters (the big boys)
Barrel Series – Dr. Chandler's Jamaica Ginger Root Bitters
Barrel Series – Favorite Bitters & Peoples Favorite Bitters
Barrel Series – Wormser Bros San Francisco
Barrel Series – Keystone Bitters
The Robinson & Lord Figural Barrel – Baltimore
The James A. Clark barrel from Louisville