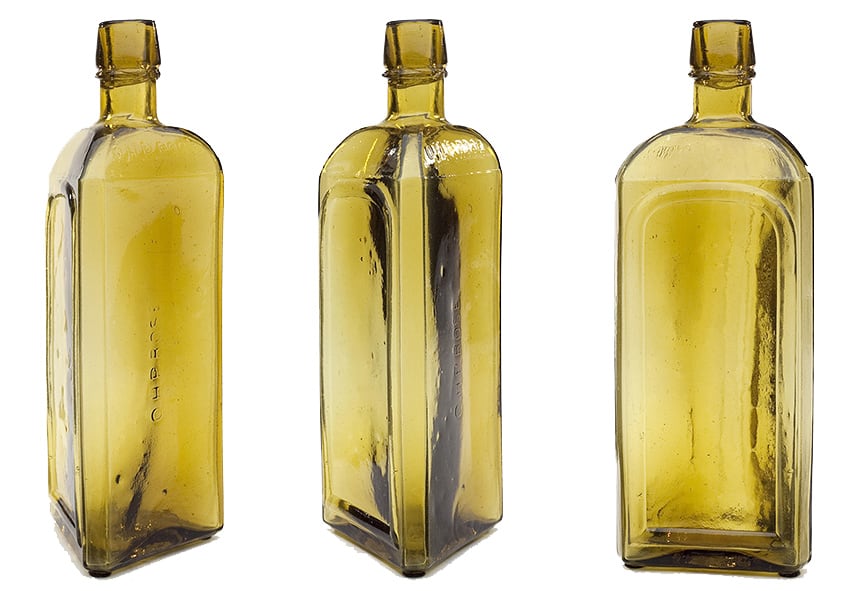 The Triangular O.H.P. Rose's Peruvian King Bitters
02 January 2012 (R•052915) (R•091618)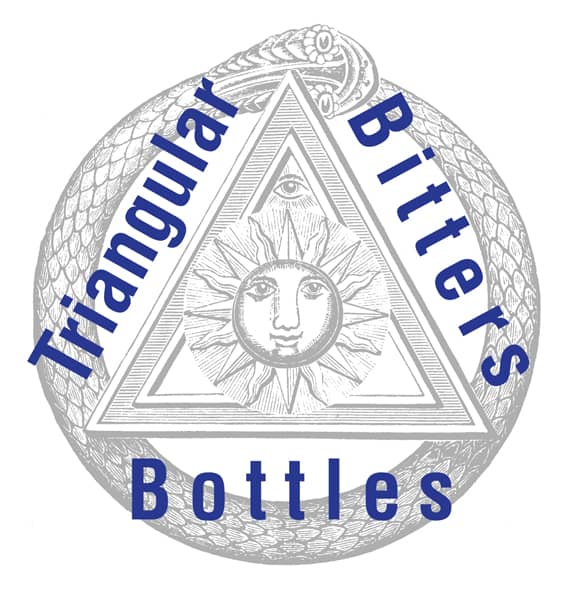 Taylor McBurney from South Kingstown, Rhode Island posted on the Bottle Collectors Facebook Page:
"Dug a neat farm dump today. Someone had hit it before me, but I found a nice pharmacy bottle they missed. A lot of criers there, including an OHP Rose triangular bitters, a St. Drake's cabin bitters, and an Udolfo Wolfes."
Dana Charlton-Zarro (New York City) followed up with the question
"What is an OHP Rose?"
What a perfect time to start a new series on triangular bitters. This particular example of an O.H.P. Rose (pictured below) that I possess was purchased from Jim Scharnagel (Gainesville, Georgia) at the Baltimore Antique Bottle Show in March 2010. He had it sitting under his table for me. His table is usually right behind mine. Thanks Jim!
The Carlyn Ring and W.C. Ham listing in Bitters Bottles is as follows:
O. H. P. ROSE'S PERUVIAN KING BITTERS
L…O.H.P. Rose's Great Peruvian King Bitters
// s // O.H.P. ROSE / E.G.R.I // O.H.P. ROSE // PAT'D JUNE 21 '70 // variant // s // f // PAT-D JUNE 21 '76 // O.H.P. ROSE //
10 1/2 x 3 3/4 x 3 1/4 (7 1/4) 1/2
Triangular, Amber, LTC, Applied mouth
Label: These Bitters are put in just enough west India Rum to preserve them in all climates. Contents: Dandelion, Narrow Dock Root, Gentian, Peruvian Bark, Wild Cherry, Wintergreen, Clove Buds, Anise Seed, Coriander,Cascarilla Bark, Caraway, Cinchona, Orange, Jesuit Powder Cinchona, Snake Root, Lavender Flowers, Sarsaparilla. Design patent applied for June 21, 1870 by Oliver H.P. Rose of East Greenwich in the County of Kent and the State of Rhode Island.
Though not embossed with the word 'bitters', the OHP Rose's is a great form and an exciting bottle! A little research and a prompt from Taylor led me to the really well done The Little Rhody Bottle Club web site and an extraordinary example of an O.H.P. Roses Bitters with striations. David Gates, noted on Facebook, "That's the one. How often do you see striations like that". That gem came out of a dump that he found first. Unfortunately he wasn't the one who found the treasure according to David.
David further writes on the Peachridge Facebook link for the Roses: Ferd, Thank you for providing that great information on the O.H.P. Rose. Steven James Anderson aka "Scratcher" is the owner of that little gem with the wild striations. He and I will be attending the Little Rhody Bottle Show on January 8th. He often tells the story of the unearthing of that little gem. I look forward to hearing it again. Enjoy!
Hmmm….really need more info and would like to see that baby! (see pictures of striated Rose's below)

Select Listings:
1827:

Oliver Hazard Perry Rose born New Shoreham, Washington County, Rhode Island, Father James Rose, Mother Dorcas Rose – Find A Grave
1870:

Oliver H B Rose, Essence Dealer, Age in 1870: 41, Birth Year: abt 1829, Birthplace: Rhode Island, Dwelling Number: 295, Home in 1870: East Greenwich, Kent, Rhode Island,Personal Estate Value: 1000, Household Members: Oliver H B Rose 41, Dorcas Rose 74 – United States Federal Census
1870:

 OHP Rose's Peruvian King Bitters Patent dated June 21, 1870.
1870: 

O.H.P. Rose, Peruvian King Bitters advertisement (above) – 1870 Providence, Rhode Island, City Directory
1871:

Oliver H.P. Rose, carpenter, house 42 Farewell – 1871 Providence, Rhode Island, City Directory
1873:

Oliver H.P. Rose, carpenter, boards 42 Farewell – 1873 Boyd'sNewport City Directory
1915:

Oliver Hazard Perry Rose death, 6 Jan 1915 (aged 87–88), East Greenwich, Kent County, Rhode Island, Burial, East Greenwich Cemetery, East Greenwich, Kent County, Rhode Island