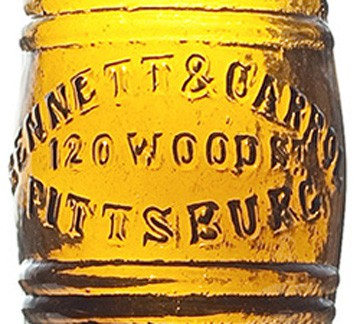 BENNETT & CARROL(L)  PITTSBURG(H)
---
Earlier this year I did a comprehensive series on most of the great figural barrels. I knew I had missed a few odd ones such as the Bennett & Carrol barrel (note spelling of Carrol missing an 'L', and the alternate earlier spelling of 'Pittsburg'). At the time I could not find much information and certainly could not find a good image. John Pastor with American Glass Gallery has a wonderful example in his Auction #9 that ends tonight. The description is as follows:
Lot #131: Bennett & Carrol / 120 Wood St / Pittsburg" Figural Whiskey Bottle, America, probably a Pittsburgh district glasshouse, 1855 – 1860. Brilliant yellowish golden, or light honey amber, barrel form, applied square collared mouth – iron pontil scar, ht. 9 ¼", very near mint; (a little minor roughness along the back edge of the square collared mouth, otherwise pristine perfect). A beautiful example of this very rare whiskey barrel, bright, crisp and nicely whittled. Note; we have added an additional photo taken on a bright, slightly overcast sunny day to show the beautiful yellowish and honey tones evident in this particular example.
Note this other example of a Bennett & Carroll flattened chestnut form that was sold in Heckler 98 Auction. Very similar pieces of glass. Unfortunately I can not find any other information on Bennett & Carroll so I welcome any new information that can be provided.
Read More on Figural Barrels
Barrel Series – Crow's Celebrated Tonic Bitters
Barrel Series – Chapin & Gore – Chicago – Sour Mash
Barrel Series – Brent, Warder & Co. – Louisville
Barrel Series – Bininger Old Kentucky Bourbon
Barrel Series – Columbus in a Barrel
Barrel Series – I. Nelson's Old Bourbon
Barrel Series – W. Wolf found at Thrift Shop for $1.00
Barrel Series – Ben Franklin Bitters
Barrel Series – Highland Bitters and Scotch Tonic
Barrel Series – Smith's Druid Bitters
Barrel Series – Roback's Stomach Bitters (the smaller ones)
Barrel Series – Roback's Stomach Bitters (the big boys)
Barrel Series – Dr. Chandler's Jamaica Ginger Root Bitters
Barrel Series – Favorite Bitters & Peoples Favorite Bitters
Barrel Series – Wormser Bros San Francisco
Barrel Series – Mist of the Morning
Barrel Series – Old Sachem Bitters and Wigwam Tonic
Barrel Series – Turner Brothers New York & San Francisco
Barrel Series – The Mysterious Blue Barrel
Barrel Series – Original Pocahontas Bitters
Figural Barrel Series – Hall's Bitters
Greeley's Bourbon Whiskey Bitters – aka Vertical Greeley's
Peach colored Bourbon Whiskey Bitters added to Color Run