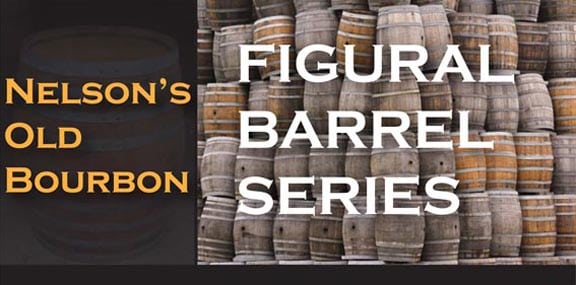 I. NELSON'S OLD BOURBON
MAYSVILLE, KY
Isaac Nelson
26 July 2012 (Updated 23 August 2013) (R•091516)
---

In my determination to leave "no stone uncovered" in the Figural Barrel Series (see far below), I now write on the I. NELSON'S OLD BOURBON figural barrel. This bottle came out of left field when Brad Seigler stated the following: "The Maysville, Kentucky bottle is also in the same mold" in response to my STILLMAN & BREEN figural barrel post.
I quickly did an online search and was lead to the Reggie Lynch groundbreaking, and Internet forerunner, Antique Bottle Collector's Haven web site. Apparently Reggie had come across this bottle previously and it was sold privately to the Mason County Museum and Research Library in Maysville, Kentucky. I really do not have any more information about this bottle other than what I post here. According to Brad, there are at least two examples that have been previously spotted. Both are pictured below.
Updated 26 August 2013 with the advertisement below:
I again find it extraordinary that the I. NELSON'S is so similar to the W. WOLF PITTSBURGH and the STILLMAN & BREEN MEMPHIS figural barrels (see below).
* 28 July: New picture added of example seen at FOHBC 2012 Reno expo.
---
Read More on Figural Barrels
Barrel Series – W. Wolf found at Thrift Shop for $1.00
Barrel Series – Ben Franklin Bitters
Barrel Series – Highland Bitters and Scotch Tonic
Barrel Series – Smith's Druid Bitters
Barrel Series – Roback's Stomach Bitters (the smaller ones)
Barrel Series – Roback's Stomach Bitters (the big boys)
Barrel Series – Dr. Chandler's Jamaica Ginger Root Bitters
Barrel Series – Favorite Bitters & Peoples Favorite Bitters
Barrel Series – Wormser Bros San Francisco
Barrel Series – Mist of the Morning
Barrel Series – Old Sachem Bitters and Wigwam Tonic
Barrel Series – Turner Brothers New York & San Francisco
Barrel Series – The Mysterious Blue Barrel
Barrel Series – Original Pocahontas Bitters
Figural Barrel Series – Hall's Bitters
Greeley's Bourbon Whiskey Bitters – aka Vertical Greeley's
Peach colored Bourbon Whiskey Bitters added to Color Run