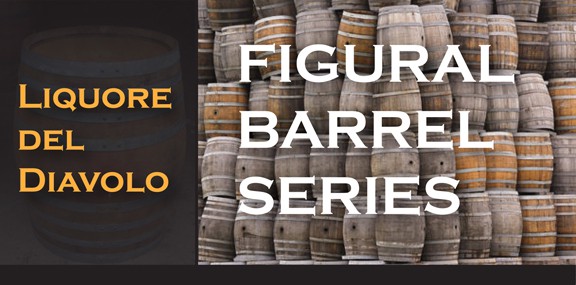 Barrel Series – Liquore del Diavolo Figural Barrel
20 August 2012 (R•052615) (R•052815)
LIQUORE DEL DIAVOLO
---

I can not think of too many antique bottles embossed with the devil or satan so when I saw a picture of this figural barrel I was intrigued with the embossing and name. This barrel comes at the tail end of my series on figural barrels simply because it is not American. Most of us figural collectors do not go after these foreign barrels as indicated by the low price of $220 and 3 bids that this barrel commanded in the latest Glass Works Auctions #95. It was estimated to bring between $275 and $375.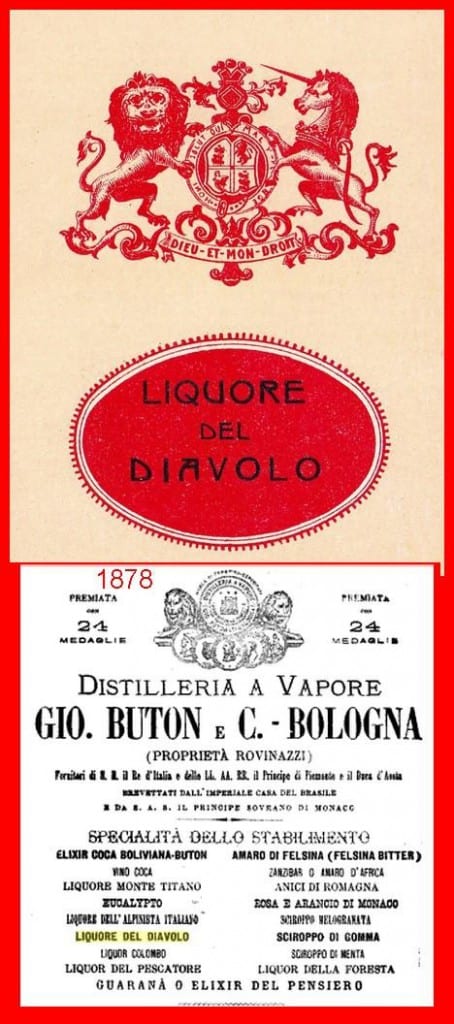 The English translation is 'Liquor of the Naples Devil'
I can not find any information while searching online for this brand so it must be rare. As usual, please send me any other support information so I can update this post.
Two other 'devil' or 'satan' like embossings on a bottle is the P.W.B.L. – PITT'S WONDERFUL BLACK LINIMENT and PLUTO water bottle (see below). See more great bottle embossings: Cool Bottle Embossings
"LIQUORE DEL DIAVOLO / (motif of a devil) / E. CIABURRI E. FIGLI / NAPOLI", Italian, ca. 1890 – 1900, red amber barrel, 9 3/4"h, smooth base, tooled mouth, about perfect (a tiny flake is off a lower ring). Looking for something different that you haven't seen before? Well, you just found it. The English translation is 'Liquor of the Naples Devil'
---
Read More on Figural Barrels
Barrel Series – Crow's Celebrated Tonic Bitters
Barrel Series – Chapin & Gore – Chicago – Sour Mash
Barrel Series – Brent, Warder & Co. – Louisville
Barrel Series – Bininger Old Kentucky Bourbon
Barrel Series – Columbus in a Barrel
Barrel Series – I. Nelson's Old Bourbon
Barrel Series – W. Wolf found at Thrift Shop for $1.00
Barrel Series – Ben Franklin Bitters
Barrel Series – Highland Bitters and Scotch Tonic
Barrel Series – Smith's Druid Bitters
Barrel Series – Roback's Stomach Bitters (the smaller ones)
Barrel Series – Roback's Stomach Bitters (the big boys)
Barrel Series – Dr. Chandler's Jamaica Ginger Root Bitters
Barrel Series – Favorite Bitters & Peoples Favorite Bitters
Barrel Series – Wormser Bros San Francisco
Barrel Series – Mist of the Morning
Barrel Series – Old Sachem Bitters and Wigwam Tonic
Barrel Series – Turner Brothers New York & San Francisco
Barrel Series – The Mysterious Blue Barrel
Barrel Series – Original Pocahontas Bitters
Figural Barrel Series – Hall's Bitters
Greeley's Bourbon Whiskey Bitters – aka Vertical Greeley's
Peach colored Bourbon Whiskey Bitters added to Color Run