T H E   F I N D  –  C H I C A G O   A R E A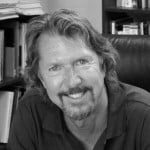 The gorgeous blue W. Wolf – Pittsburgh figural barrel found in a Thrift Shop for 70 cents this past summer [see Fig 1] made the celebrity rounds recently. Appearing first in Illinois, moving to Michigan next, then off to New Hampshire, back to Michigan, off to Sacramento, then to Auburn, CA where I saw it last weekend. The barrel is now back in Sacramento, residing at its new home with Jeff Wichmann (pictured to left) at American Bottle Auctions. Whew. Did I get that right?
Read: Barrel Series – W. Wolf found at Thrift Shop for $1.00 (actual 70 cents with discount coupon)
T H E   A R T I C L E  –  M I C H I G A N
Next, John Pastor (New Hudson, Michigan) made arrangements and picked up the bottle from the Nelsons sometime in mid August. He next presented a nice 2-page article [see Fig 2] on how the bottle was found, researched and ended up with his auction house American Glass Gallery. The story occurred in a recent issue of Antique Bottle and Glass Collector magazine. I was fortunate enough to be a part of this process and to assist the Nelsons in deciding what to do with their bottle.
T H E   F E R R A R O   E X A M P L E  
B O U L D E R   C I T Y,   N E V A D A
When asked to provide an insurance estimate to the Nelsons, Bob Ferraro and I collaborated and both said $40 to $50k. This was a tough estimate as there was only one other known example [see Fig 3] .
S P E C I A L    A P P E A R A N C E
Y A N K E E   B O T T L E   S H O W
K E E N E,   N E W   H A M P S H I R E
Many of us were pleasantly surprised to see the bottle on display [see Fig 4] with American Glass Gallery and John Pastor at the Yankee Antique Bottle Show in Keene, New Hampshire this past 07 October 2012. This was the first time I saw, held and admired the bottle in person. Simply stunning. I noticed the color was much closer to the Ferraro example which I had previously seen in Nevada [see Fig 3] .
A M E R I C A N   B O T T L E  
A U C T I O N S
S A C R A M E N T O ,   C A L I F O R N I A
This past Thursday, prior to the 49er Antique Bottle Show in Auburn, California I was rather surprised when I showed up for my appointment with Jeff Wichmann at American Bottle Auctions and saw the blue Wolf's sitting proudly on one of Jefff's many bottle shelves [see Fig 5]. Besides catching up on the latest with Jeff and his right hand man, Dennis Fox, I was there to inspect the Constitution Bitters that was found in East Texas recently. Read: Constitution Bitters – The oldest Figural Bitters?
T H E   W I C H M A N N
W.  W O L F  –  P I T T S B U R G H
A U B U R N,   C A L I F O R N I A
With a bit of high drama, Jeff Wichmann at American Bottle Auctions had the best "Boardwalk and Park Place' table presence and display at the 49er Antique Bottle Show this past Friday and Saturday in Auburn, California. You would have been hard pressed to miss the blue W. Wolf's barrel sitting on the top shelf  [see Fig 6] and greeting you as you walked in the front doors of the show. Breathtaking!
A   N E W   H O M E
A M E R I C A N   B O T T L E  
A U C T I O N S
S A C R A M E N T O ,   C A L I F O R N I A
Incoming images [see Figs 7, 8 & 9] and text from Jeff Wichmann yesterday (see below). This made me want to circle back and look at the Wolf's story and journey again. The new pictures from Jeff are spectacular. I wonder what we should call this bottle? Will it be the 'Nelson Wolfs Barrel', the 'Thrift Shop Wolf's" or the "Wichmann Wolf's", only time will tell.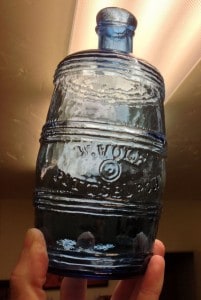 Ferd:
Hey thanks for the article on nippers. I always appreciate the posts you do and the many mentions of us. Here are a few other pics of the Wolf, it cleaned up so well, just some soap and water soaking and it really brought out the color and texture.
Great spending time with you for the Auburn Show. I hope you had a good time.
Jeff