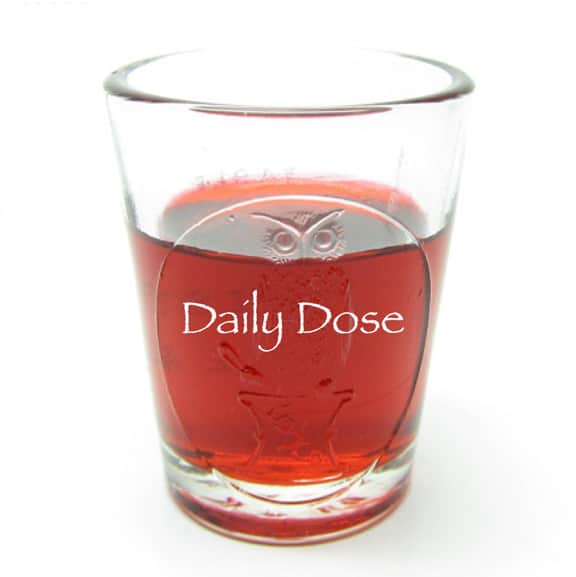 September 

|

2019
See Daily Dose January – April 2019
25 September 2019 | Friday
In from medical ephemera collector and authority Ben Swanson from Baltimore.
I have been trying to buy this billhead from a fellow collector for years.  The next time you see me you will notice that I now have a two prosthetic appendages as a result of having acquired it (one upper and one lower)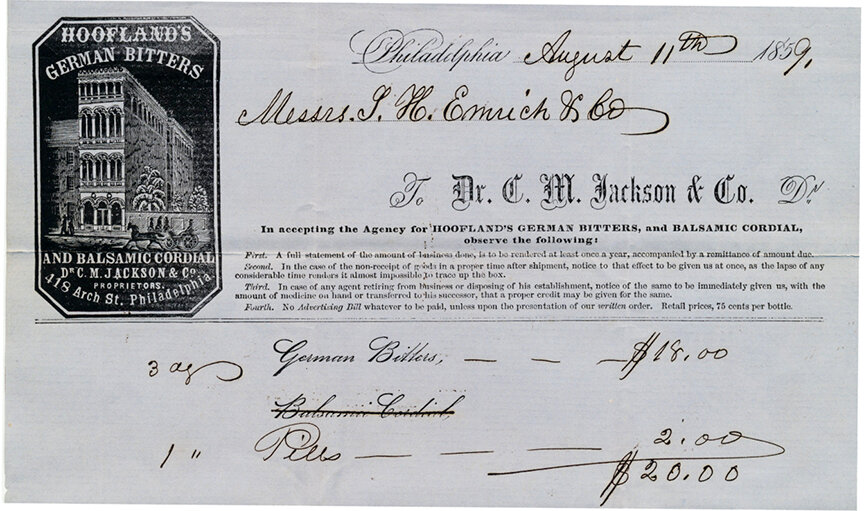 We'll create a listing in Bitters Bottles Supplement 2 for this important piece.
Billhead
H 168 HOOFLAND'S GERMAN BITTERS AND BALSAMIC CORDIAL,
Cameo of four-story Hoofland building, Dr. C. M. Jackson & Co. Proprietors. 418 Arch St. Philadelphia, 3 Doz. German Bitters $18, Philadelphia, August 11, 1859
Charles M. Evans manufactured Dr. Hoofland's Celebrated German Bitters in Philadelphia, Pennsylvania. Christolph Wilheim Hoofland invented the eponymous bitters in Germany in the 1840s and the product was introduced in America in 1850 by Charles M. Jackson. C.M. Jackson was among the many 19th-century distributors peddling bitters to a receptive U.S. market.
By 1863, the product was sold to Charles Evans and R. S. Jones. C. M. Evans was a clerk in Jackson's firm, and by 1867, the business directories list Evans as the sole proprietor of Hoofland's German Bitters. A decade later, the proprietors of Hoofland's German Bitters were Johnston, Holloway & Company of Philadelphia. According to the Hoofland's Almanacs, the product was "the happy result of intelligent research, coupled with the extensive practice of Dr. Christoph Wilhelm Hueflin (Hoofland) of Gena, Germany.
24 September 2019 | Tuesday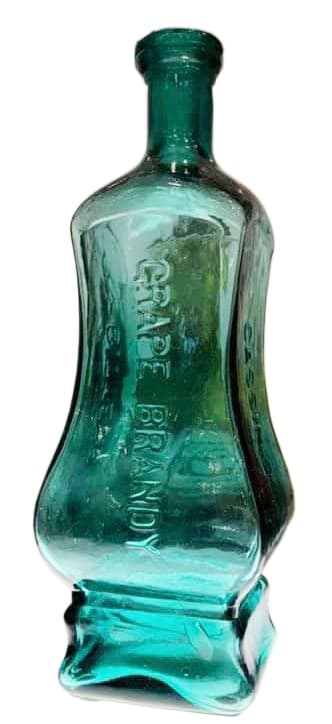 SPOTTED in Jeff Wichmann's office with American Bottle Auctions in Sacramento. This Cassin's will break $100k clams. Thanks to Dale Mlasko for tip. I clipped away the background of this low resolution image. I'm sure we'll be seeing some more pictures.
21 September 2019 | Saturday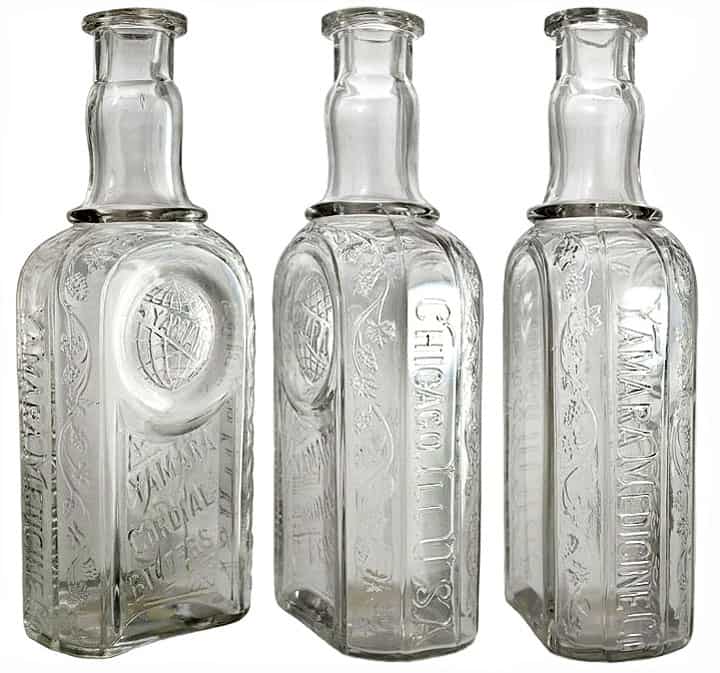 Cleaning the Y's in Bitters Bottles Supplement 2. This include's Yamara Cordial Bitters and Youngblood's Montana Bitters. The Yaupon Bitters cards are from Joe Gourd. The two Young's Herb Bitters cards are from the collection of John Kemler.
Trade card
Y 1.5 YAUPON BITTERS, Humorous illustration "Her bright smile haunts me still. Reverse: Yaupon Bitters or Elixir of Life. The Great Remedy of the Age. No Family Should Be Without It. Sold and Prepared by John R. Ludlow, Norfolk, Va.
Malaria! "Yaupon Bitters," The Daily Journal (New Bern, North Carolina), October 28, 1882.
John R. Ludlow was a druggist and was twice elected Mayor of Norfolk.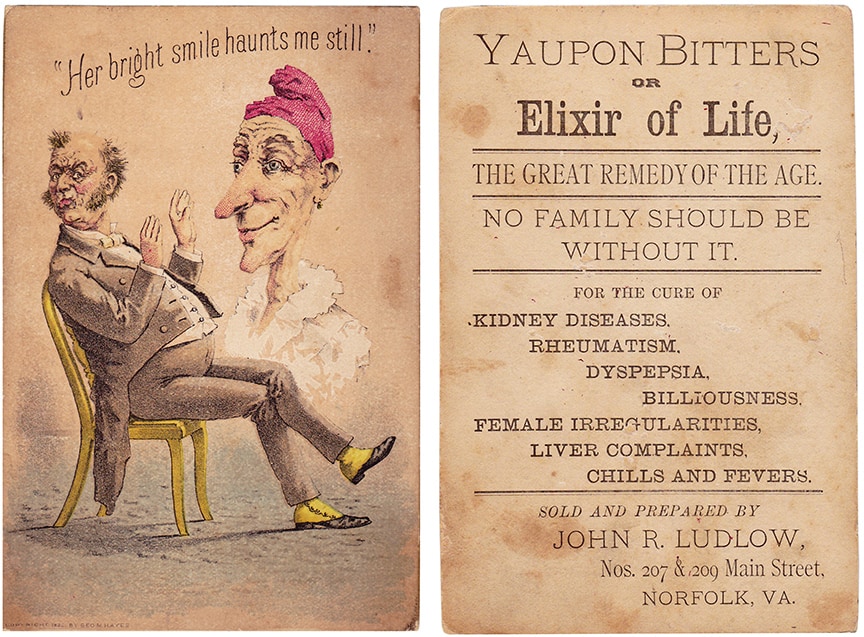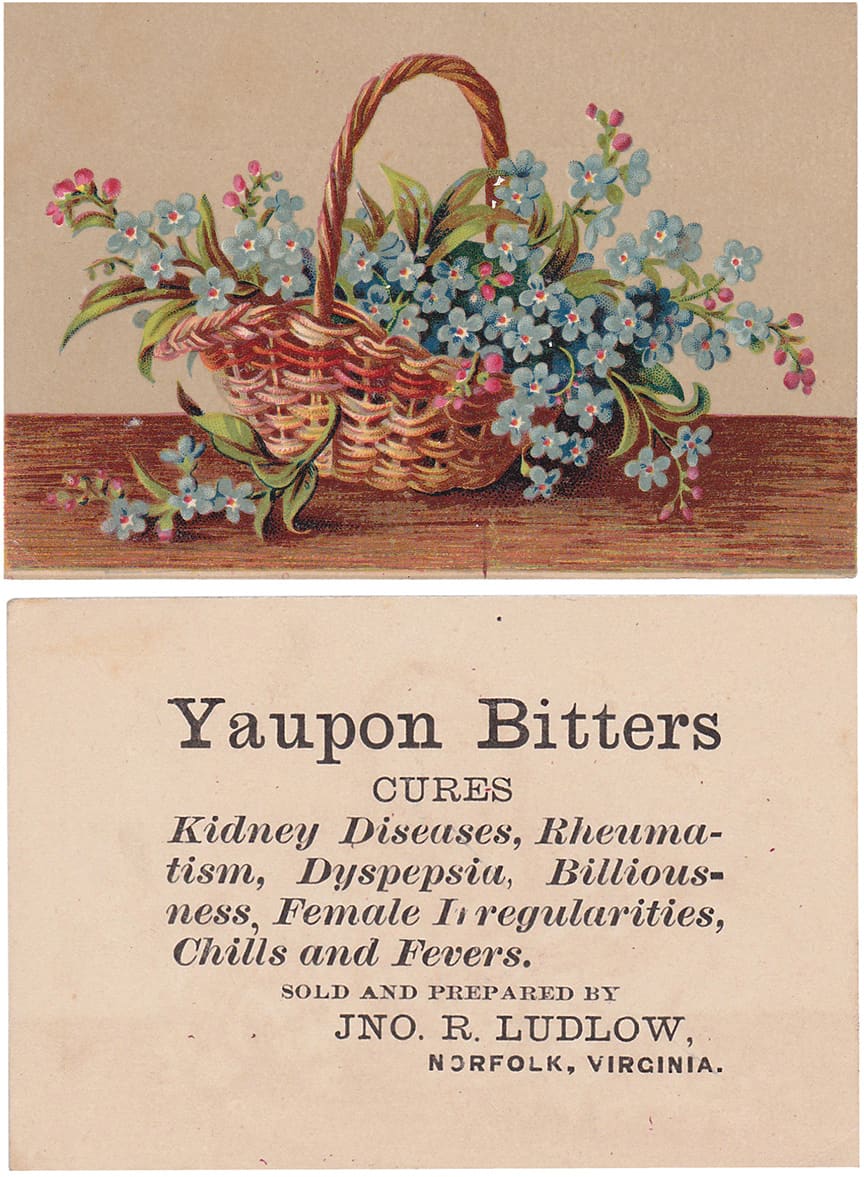 Trade cards
Y 9.6 YOUNG'S HERB BITTERS, Illustration Black Sailor and Jockey (2 cards), Reverse: Young's Herb Bitters, For Dyspepsia. Yankee Porous Plasters, Kentish Liniment. These Medicines Are For Sale At The Wissahickon Drug Store, Terrace Street, Wissahickon, and the Highland Pharmacy Cor. Penn St. and Manayunk Ave., Raynorville.
Wissahickon is a neighborhood in Lower Northwest Philadelphia.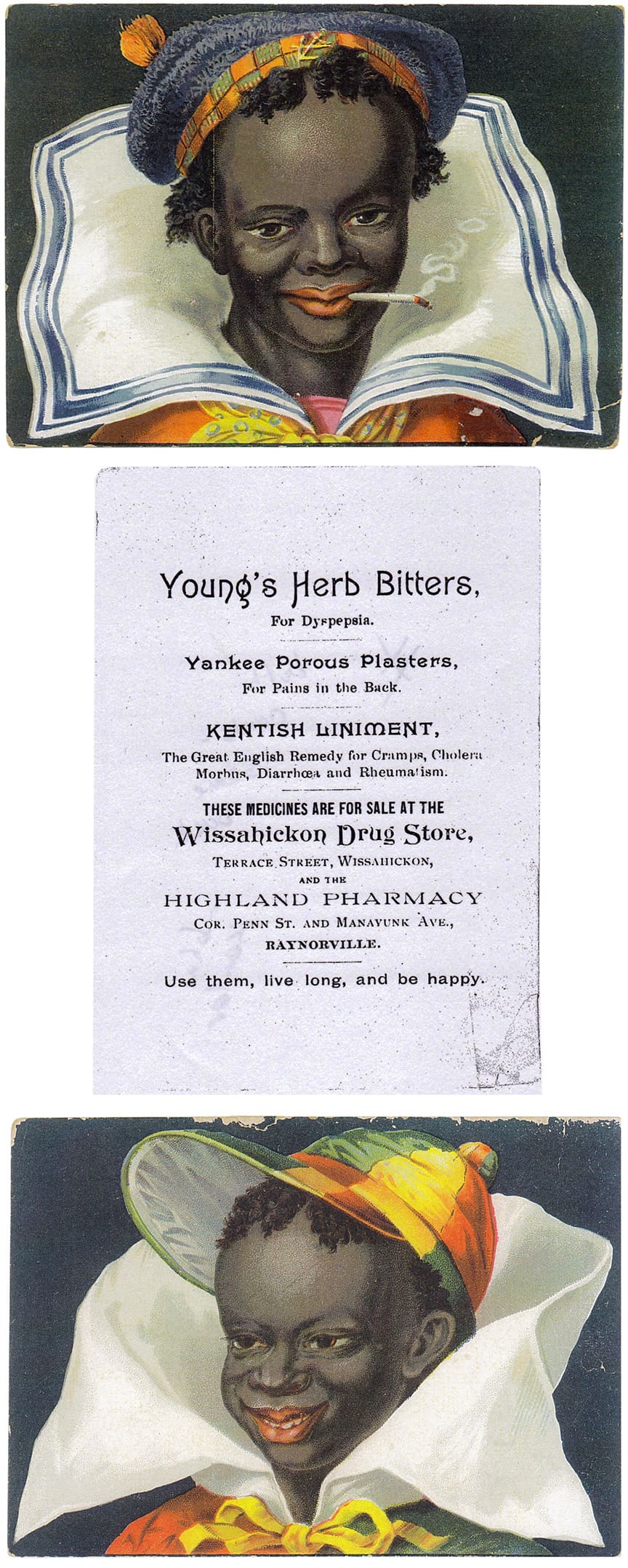 Joe Gourd spotted these playing cards on eBay. An unlisted bitters!
Playing Cards
B 50.3 BEENET CELEBRATED KIDNEY AND LIVER LAXATIVE BITTERS. Acts Gently Yet Promptly On the Bowels. H. Gehner Dist. Co.
H. Gehner Dist. Co., (Henry Gehner) Wines and Liquors, Wholesale, 801, 803 and 805 Market, Gould's St. Louis, Missouri City Directory, 1895. In business from 1874-1918.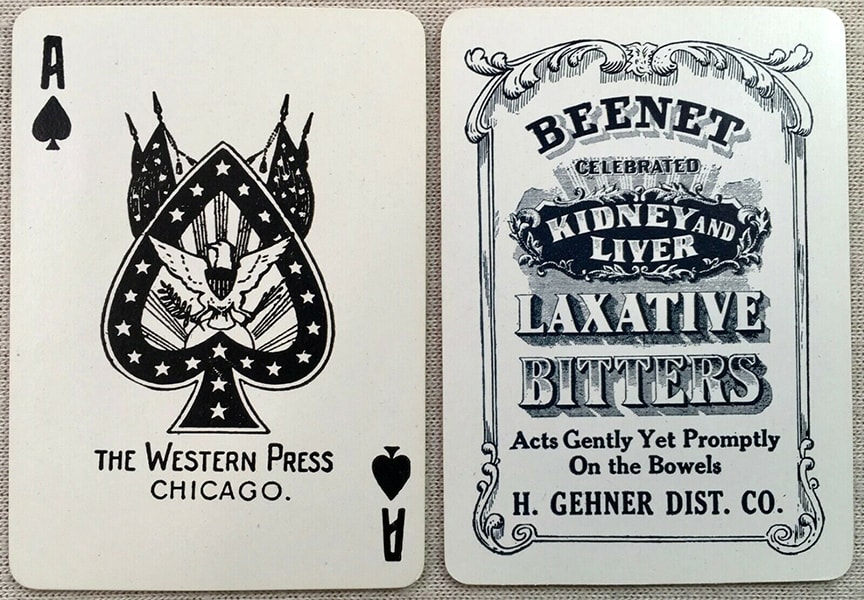 20 September 2019 | Friday
Well, TS Imelda bombed Houston after all yesterday. Dodged a bullet though. Finished up "W" listings yesterday working with Bill Ham and Joe Gourd on BBs2. The advertising mirror is from the Ben Swanson collection.
Circular
W 162.2 DR. WORDEN'S GENTIAN & SODA BITTERS, Portrait Dr. Worden, Dr. Worden's Home Remedy Service Co. Established 1900, Fred H. Luther, Pres. No Deleterious Drugs Used In any Form. Dr. Worden's Gentian & Soda Bitters. For all ailments pertaining to Stomach Troubles such as: Dyspepsia, Heart Burn, Gastritis, Ulcers of the Stomach…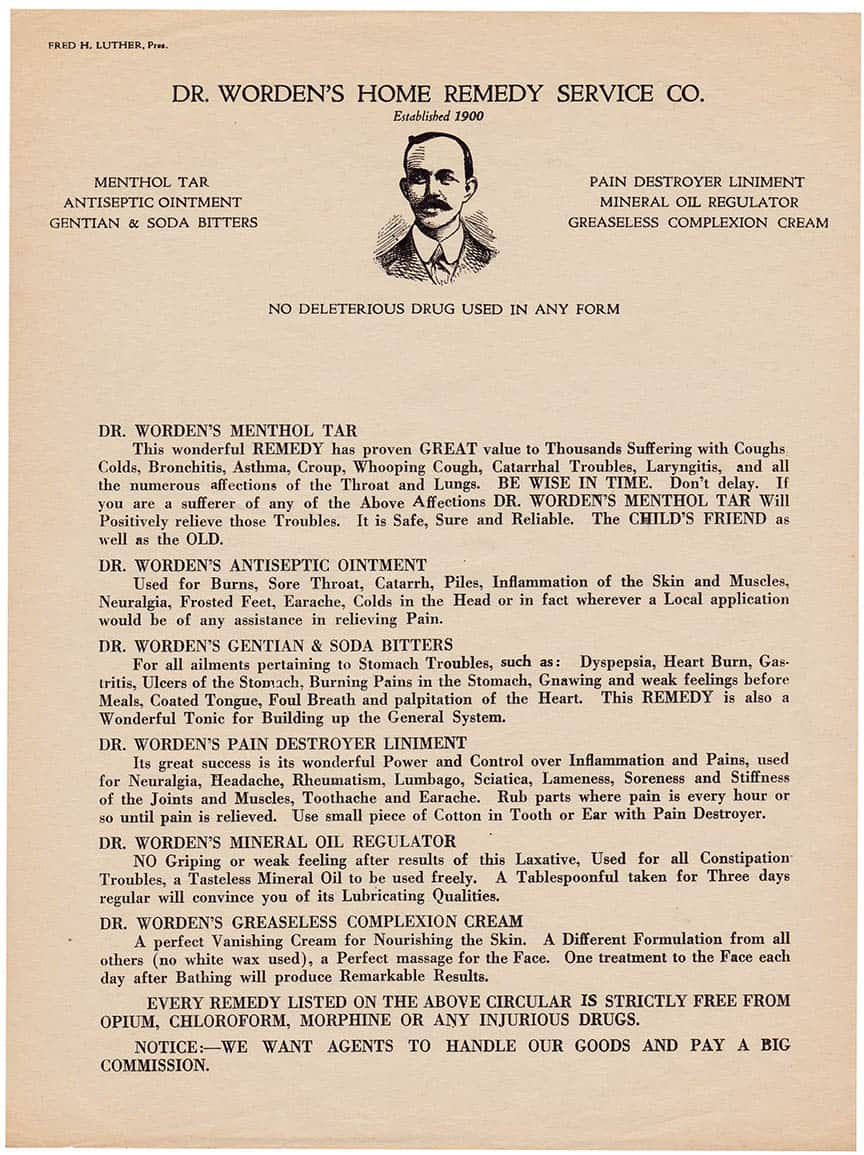 Broadside
W 162.3 DR. N. WORDEN'S TONIC BITTERS, A Sure Cure For Ague and Fever, Billiousness, Colds, &c. Large Bottles $1. Small Bottles 50 cents. Remember, This Is A Sure Cure. A. A. Luther, Sole Proprietor, Matteawan, N. Y.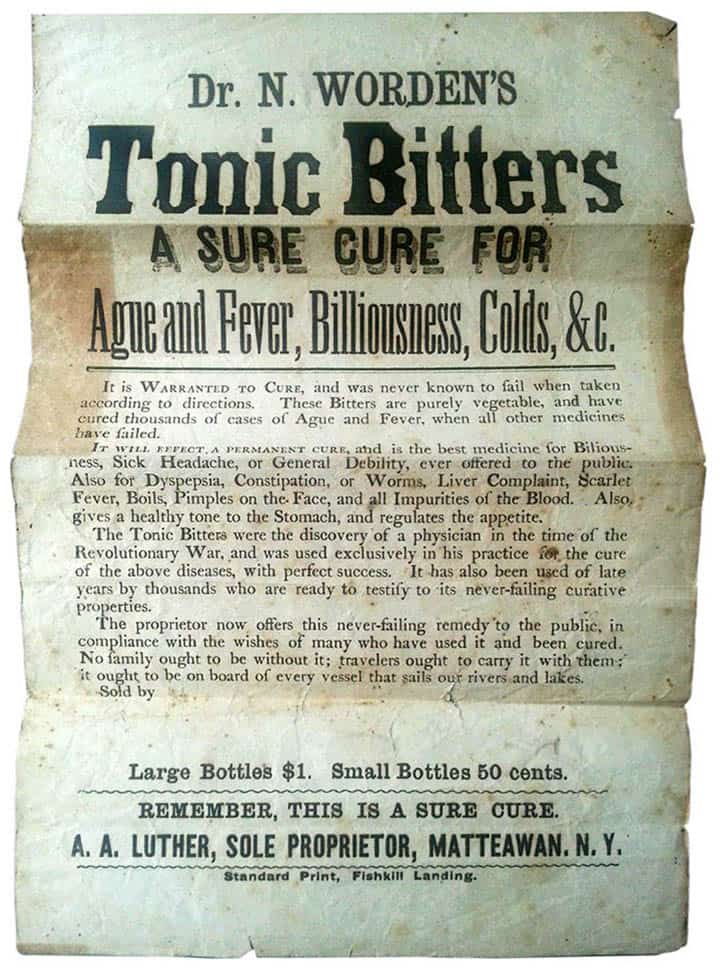 Advertising Mirror
W 164.5 WUNDERLICH'S AROMATIQUE STOMACH BITTERS, Drink Wunderlich's Aromatique Stomach Bitters, Wunderlich & Michel, Wholesale Liquor Dealers, New Albany, Ind. Glass cover over mauve paper with white printing.
Frederick Wunderlich and Louis Michel started their wholesale liquor business in 1873 in New Albany, Indiana.

From Biographical and Historical Souvenir for the Counties of Clark, Crawford, Harrison, Floyd, Jefferson, Jennings, Scott, and Washington, Indiana, 1889
FREDERICK WUNDERLICH, a native of Germany, was born October 30, 1830, and in 1848 came to the United States and located at Memphis, Tenn., remaining there one year. During this time he traveled through Tennessee and Mississippi, selling notions to the slaves. From Memphis he went to St. Louis, remaining there but a short time and coming thence to New Albany in 1850.
He remained in New Albany but a short time, going to Louisville, Ky., where, in 1852, he engaged in the manufacture of boots and shoes and clothing, continuing in the business until 1864, when he purchased a large shoe manufactory in New Albany, and carried on the business for two years.
In 1866 he engaged in the wholesale grocery 'business, which he sold out in 1867, and entered the livestock trade, buying and shipping to New Orleans. In 1869 he entered the feed, grain and commission business, and in 1873 added the wholesale liquor business, in which he is still engaged, doing the largest business in his line done in New Albany. Mr. Wunderlich is a self-made man; he has built up his large business and a substantial fortune by his untiring energy, unswerving integrity and commercial aptitude.
He is a prominent Mason, which order he joined in Louisville in 1855, and has filled every position in the Blue Lodge, he is also a member of the Scottish Rite in Masonry, of the Knights of Honor and of the Ancient Order of Workmen. He is a member of the City Council of New Albany from the Second Ward. He was married at Louisville, Ky., in April, 1853, to Miss Matilda Molloy, a native of Ireland, who came to the United States in 1849. Two children, Mary and Christina, have blessed the union. Mary is the wife of Louis Michel, who was in business with Mr. Wunderlich. Louis Michel's death occurred in February, 1889.
The next trade card is really cool, one of my favorites from Joe Gourd. This is a proposed revision for Kaiser Wilhelm Magen Bitters in BBs2. The W listing is incorrect. It should be a K listing to match K.5 KAISER WILHELM BITTERS CO. in Bitters Bottles.
Trade card
K 5 KAISER WILHELM MAGEN BITTERS, Humorous illustration of young children and chamber pots. Sanborn's Laxative Bitters "Makes It Easy For You" Reverse: For The Stomach's Sake Use The Famous Kaiser Wilhelm Magen Bitters, A Fine Tonic and Appetizer. Manufactured by The Kaiser Wilhelm Bitters Co. Inc. Sandusky, Ohio. See K 5 in Bitters Bottles.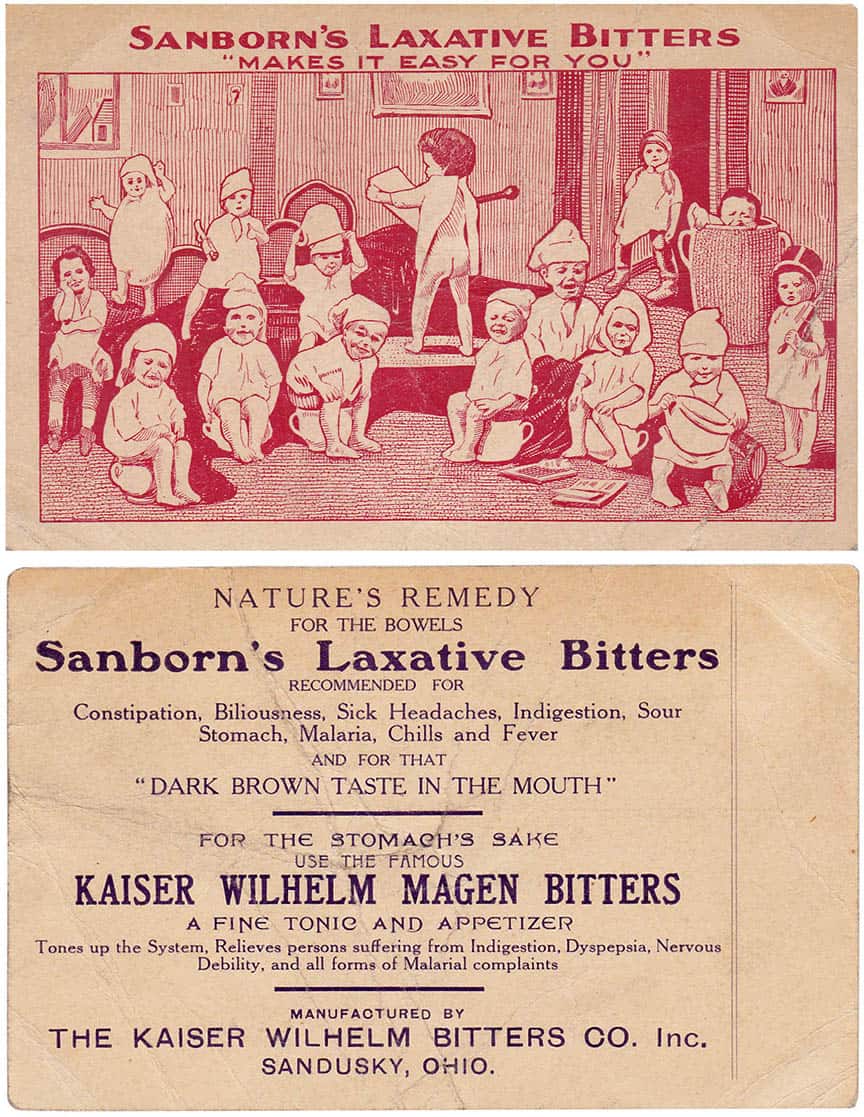 19 September 2019 | Thursday
Out of the path of Imelda as it surprisingly moved east of us. Some parts of east Houston and Eastern Texas at 25″ plus rain.
Some updates in BBS2. Working in W's. Wilbur's Puget Sound Stomach Bitters billhead from Joe Gourd. I added the drug store bottle.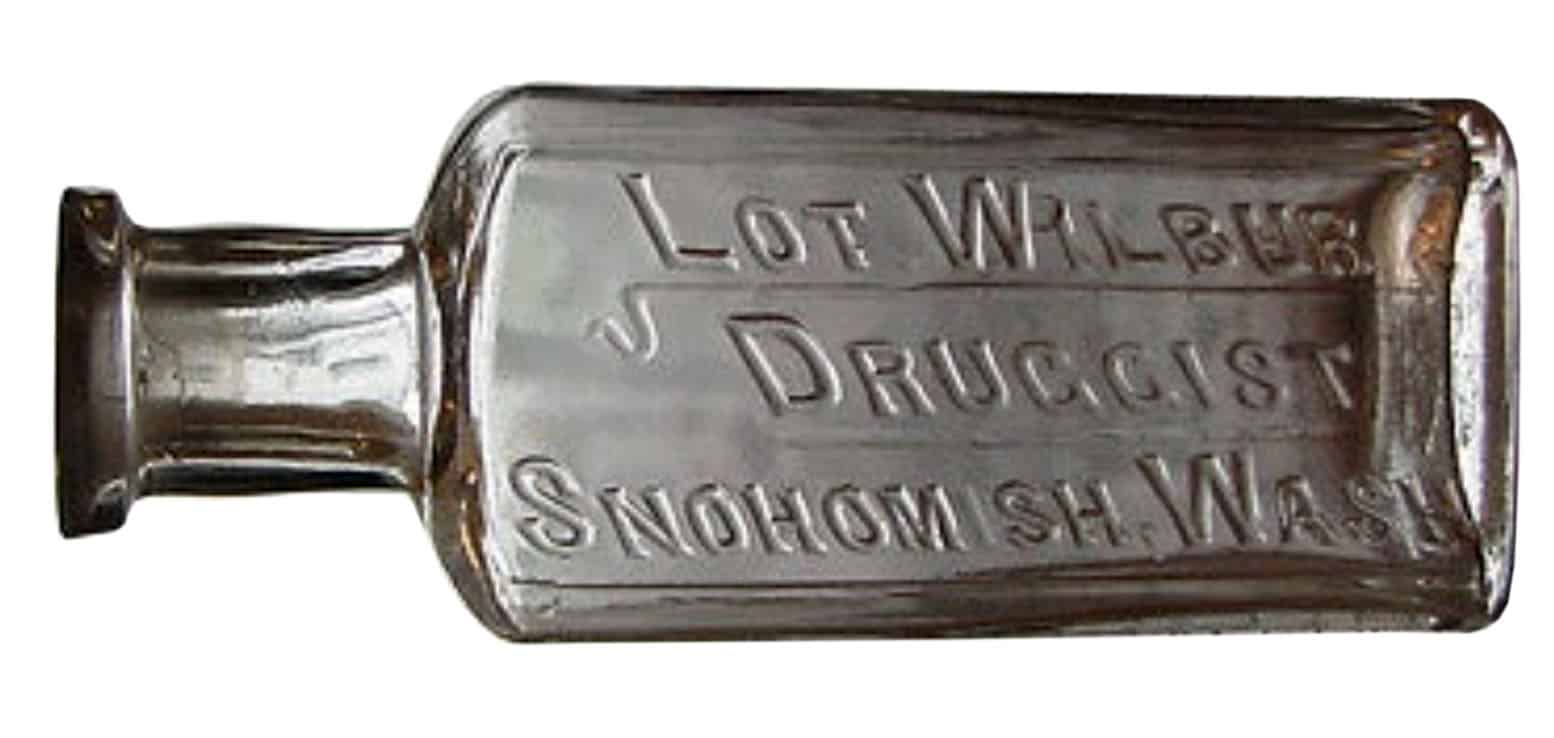 Billhead
W 109.5 WILBUR'S PUGET SOUND STOMACH BITTERS, Lot Wilbur, Mfg. Pharmacist, Snohomish, Wash. Date Aug 22nd 1894, Doz. Wilbur's Puget Sound Stomach Bitters 7.50
Wilbur Lot, Druggist, Snohomish, R L Polk and Co´s Puget Sound Directory, 1887
Written about Dr. D. B. Wiggins before. Read: Dr. D. B. Wiggins had a Tonic Bitters in Buffalo, New York
Trade card
W 108.7 DR. WIGGINS TONIC BITTERS, A Puzzle that will Puzzle you. Stars and buttons promotional game. Dr. Wiggins' Family Medicines. Copyrighted Sept. 28, 1883 by C. C. Knowlton, Buffalo, N. Y. Reverse: Dr. Wiggin's Worm Powder, Honey Cough Balsam, Rheumatic Drops, Tonic Bitters, Compound Sarsaparilla Syrup, Stomach and Liver Pills, Anti-Bilious Pills. Dr. D. B. Wiggins', 50 E. Seneca St. Buffalo, N. Y.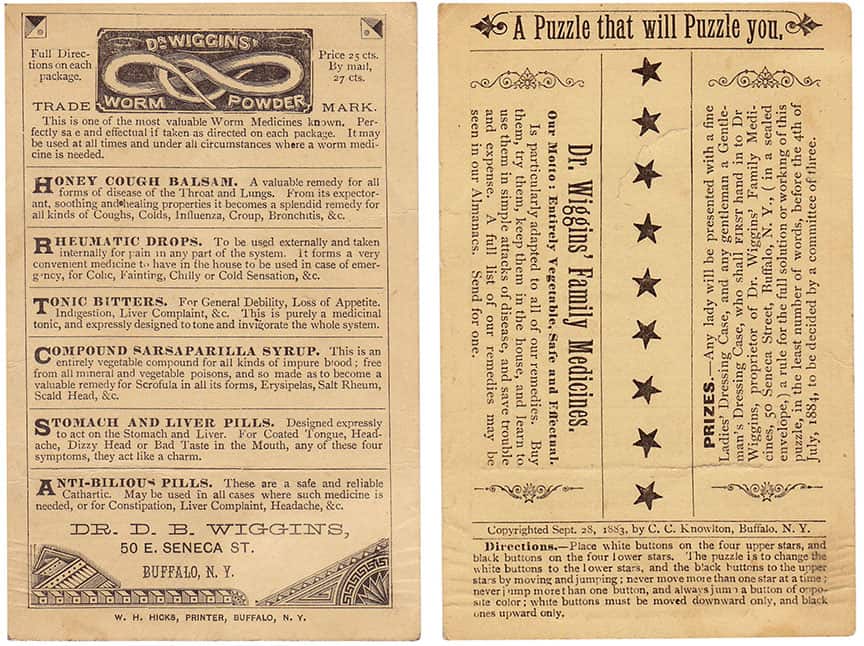 A proposed change for Wild Cherry and Iron Bitters in BBs2. I've posted about this before. Wild Cherry and Iron Bitters – J.M. Abeles, Leavenworth, Kansas
Label
W 113.5 WILD CHERRY AND IRON BITTERS, A Pleasant Medicinal Tonic and Nerve Stimulant, Cures Indigestion, Biliousness, Nervousness. General Debility Etc. Etc.
Prepared by J. M. Abeles, Druggist, Cor. 3d. & Cherokee Strs. Leavenworth, Kans. Label example from the St. Louis Label Works catalog. St. Louis, Missouri.
Joseph M. Abeles, drugs, 300 Cherokee, Leavenworth, Kansas City Directory, 1892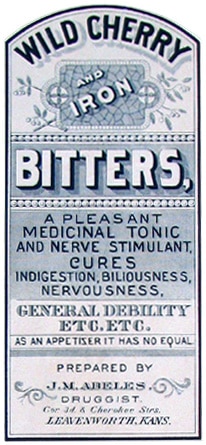 Here are three Webber's Bitters listing. Two are related. Cards are from Joe Gourd sand Kit Barry. I found the advertisement.
Newspaper Advertisement
W 59 WEBBER'S STRENGTHENING BITTERS, Have you tried Webber's Strengthening Bitters? Strengthens the Appetite, Strengthens the Nervous System, Strengthens the Old, Assists Digestion, and Invigorates the Whole System. J. T. Webber & Co. Proprietors, Springfield, Mass., New England Farmer (Boston, Massachusetts), May 10, 1873.
Trade card
W 59.4 WEBBER'S VEGETABLE BILIOUS BITTERS, Humorous black man illustration titled A "wag." Compliments of Webber & Co. Reverse: Webber & Co. Manufacturing Druggists, A few of our specialties are as follows: Webber's Vegetable Bilious Bitters. North Windham, Me. See s2W 59.5
Trade card
W 59.5 WEBBER'S VEGETABLE BITTERS, Color illustration of student with books titled Striving for Honors. Reverse: Webber's Vegetable Bitters. A Great Appetizer. Webber's Petroline. Unsurpassed as a Toilet Article. Prepared and for Sale by S. Meserve & Son, Bar Mills, Maine. See s2W 59.4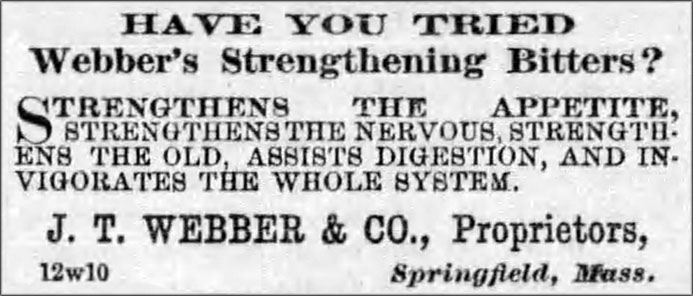 18 September 2019 | Wednesday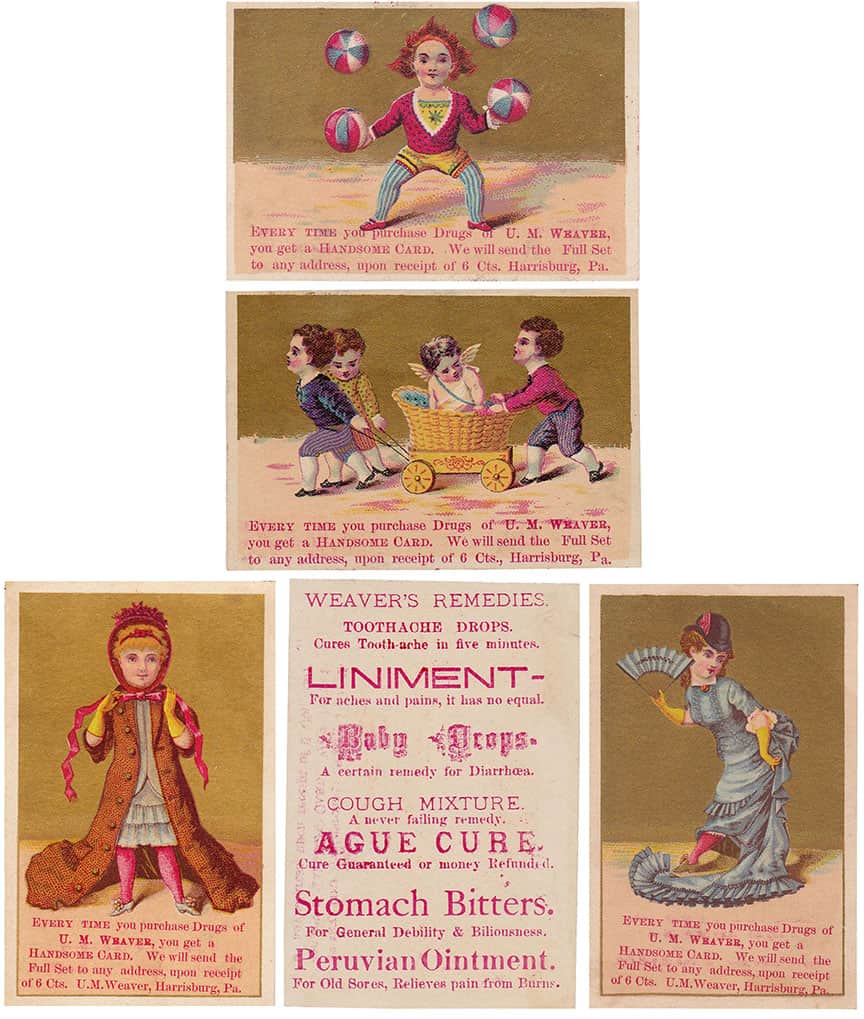 This next new listing for Bitters Bottles Supplement 2 reminds me of the thousands of lawsuits against opioid companies. Seems like our druggist friend, U. M. Weaver had quite a few side rackets. Here are two. Running a Gambling Den in the back of his drug store and selling heroin, cocaine, and morphine to addicts on the side… "Snow-Snuffers." These cool trade cards are from Joe Gourd. 
Trade card
W 57.5 WEAVER'S STOMACH BITTERS, Handsome card set, ie. Illustrations of juggler, pushing baby carriage, fancy ladies. Every time you purchase drugs of U. M. Weaver, you get a Handsome Card. We will send the Full Set to any address, upon Receipt of 6 Cts. U. M. Weaver, Harrisburg, Pa. Reverse: Weaver's Remedies. Toothache Drops. Liniment. Baby Drops. Cough Mixture. Ague Cure. Stomach Bitters. Peruvian Ointment.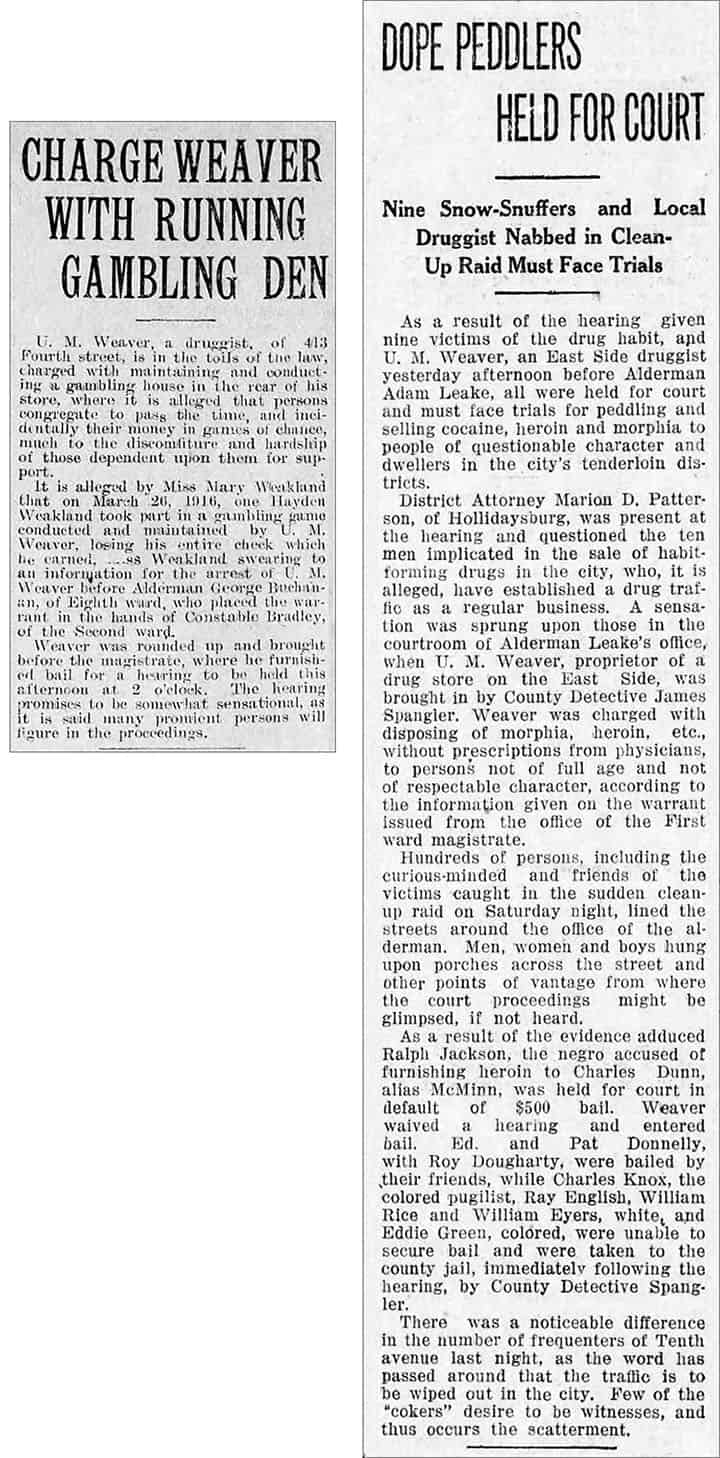 17 September 2019 | Tuesday
Played it close to home today with tropical storm Imelda moving through the region. We're on the dirty side. Expecting a lot of rain.
Just off a conference call with the Virtual Museum team. Now looking again at new listings in BBs2. These images are all from Joe Gourd. I'm providing the write-ups for Bill Ham review and approval. Also doing the research and adding extra information if needed. Some posted, some archived. This first one for Bitter Wine of Iron is tragic with the druggist Charles Warrington committing suicide. The title of the newspaper article pretty much sums it up.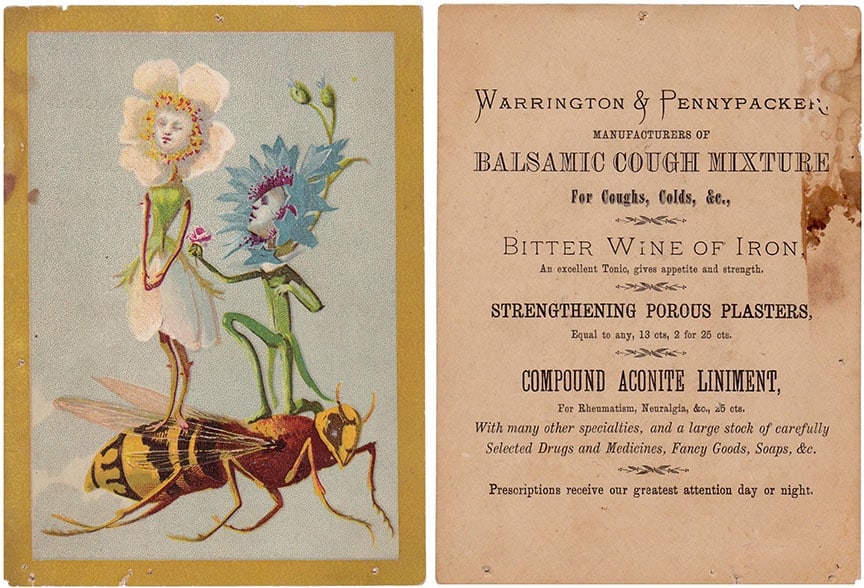 American Journal of Pharmacy, Volume 74, 1902
OBITUARY. Mr. Chas. W. Warrington, an active member of this College, died suddenly on the morning of November 13, 1901, in the residence attached to his store, S. W. corner Seventeenth and Mt. Vernon Streets. Mr. Warrington was born near Moorestown, N. J., and came to Philadelphia in his youth to engage in the drug business. He graduated from the Philadelphia College of Pharmacy in 1876, A short time afterward he formed a partnership with Henry Trimble, under the firm name of Trimble & Warrington, in the wholesale and retail drug business. When Professor Trimble relinquished his commercial interests in the drug business the firm became Warrington & Pennypacker, and continued as such until 1897, when the firm purchased the store at Seventeenth and Mt. Vernon Streets, and in the year following the partnership was dissolved, Mr. Warrington continuing the retail business at this location. He was elected a member of the College of Pharmacy in 1900. He was a member of the Society of Friends and a man of correct habits and quiet, unassuming demeanor. He is survived by a widow, a daughter, and two sons.
Trade card
B 12.65 BITTER WINE OF IRON, Illustration fantasy praying mantis people with flower heads on top of bee. Reverse: Warrington & Pennypacker, Manufacturers of Balsamic Cough Mixture for Coughs, Colds &c., Bitter Wine of Iron, An Excellent Tonic, gives appetite and strength.
Warrington & Pennypacker (Charles W. Warrington & Nathan Pennypacker), druggists, 501 Callowhill, Philadelphia, Pennsylvania City Directory, 1895

Billhead
W 50.5 WARTON'S CURATIVE WINE BITTERS, Warton Co. Manufacturers of Warton's Curative Wine Bitters, Buffalo, N. Y.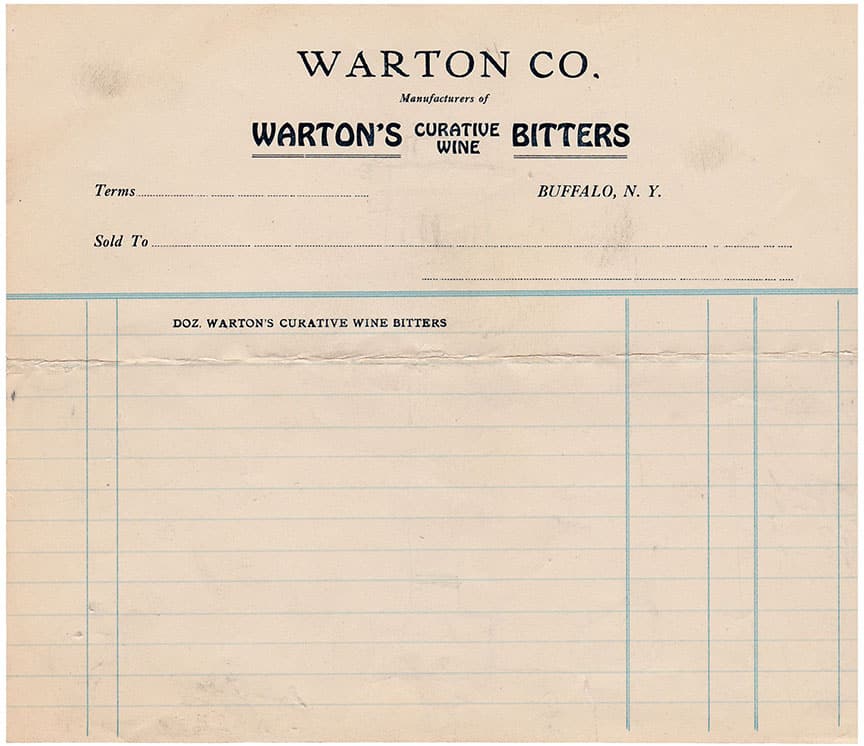 Matchbook
W 26.5 WANDA BITTERS, portly man with tray and glass of bitters. Ask the Bartender for… Wanda Bitters, Trade Mark. Good for the Stomach, Appetizer, Warms the Stomach, Mild Laxative. ¼ Wanda Bitters + ¾ Liquor.

16 September 2019 | Monday
A new listing in Bitters Bottles Supplement 2 for Very Fine Old Brandy Bitters. Example from Joe Gourd.
V 19.3 VERY FINE OLD BRANDY BITTERS, Trade Mark red lion in gold shield. Thomas P. Mallorie, Wine & Spirit Merchant. Leeds.
Thomas P. Mallorie & Co., Wine and Spirits Merchants, &c. Swan Street and Lands Lane, Leeds. Established 1812 by John Mallorie. Principal J. H. Lister, Harper's Manual, 1920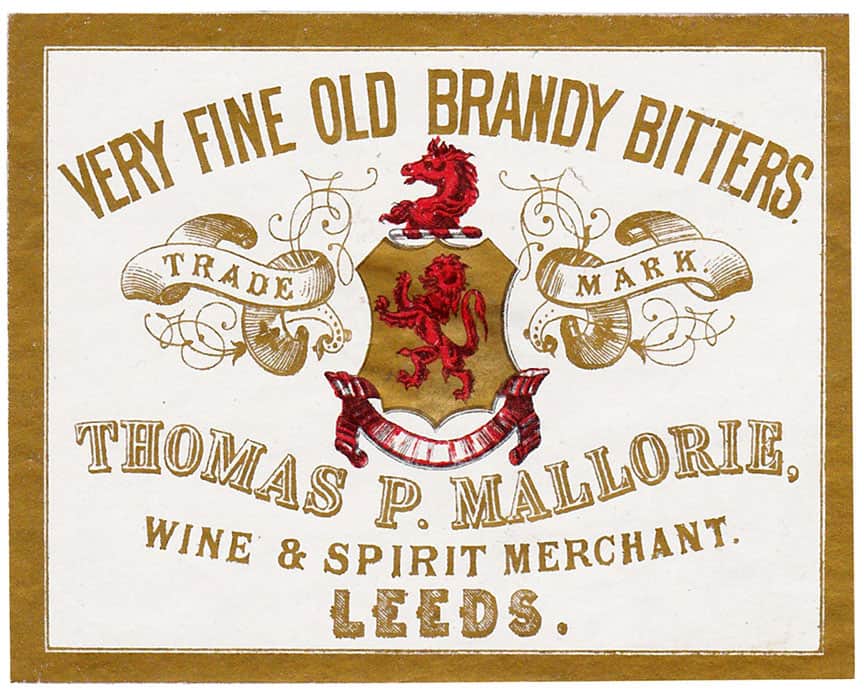 Here is an interesting label in German from Joe Gourd. Initially filed under 'V' in the BBs2 draft, we'll move to "E."
Label
E 26.7 EGYPTISCHES BITTERS, oder Baum des Lebens. (Egyptian Bitters or Tree of Life). In German. Patented 12 June 1866 for Peter Poncin. Dr. P. Poncin, St. Louis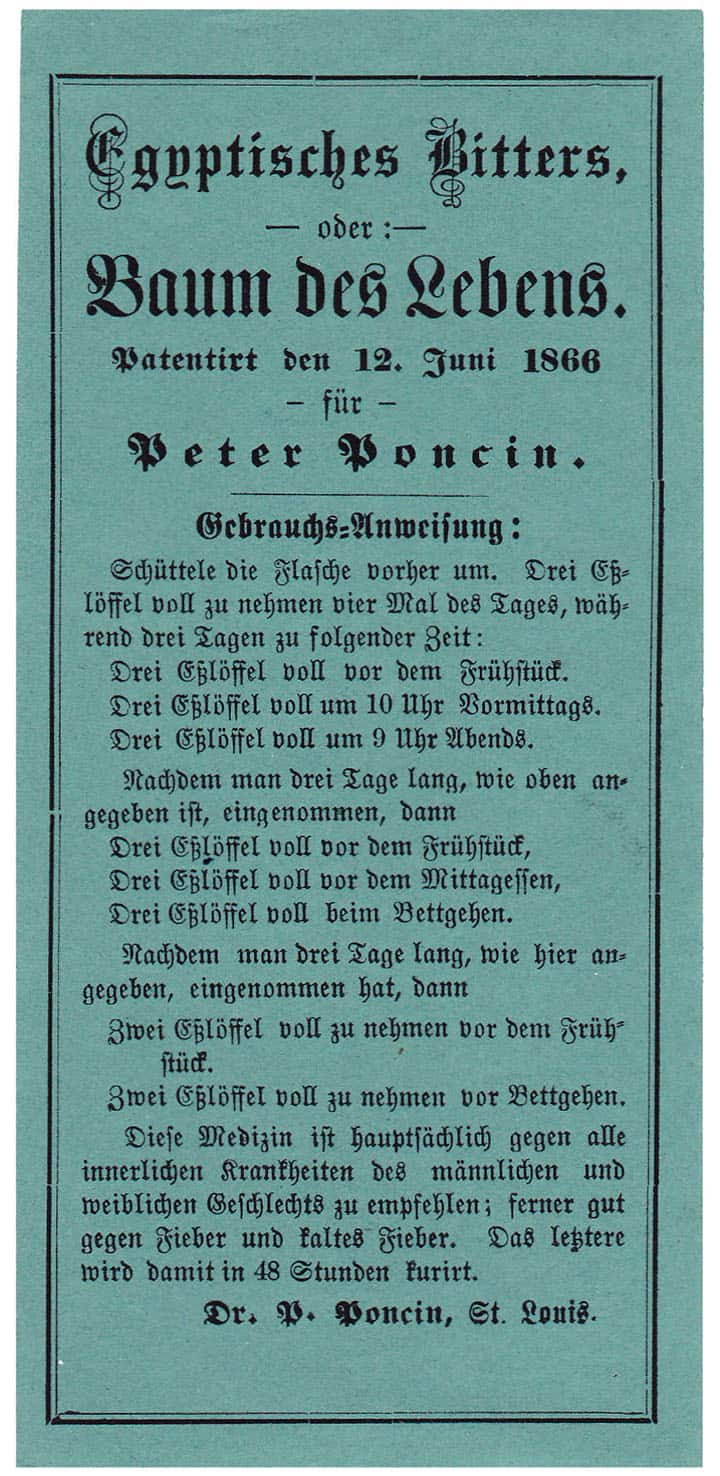 A last listing of a new label from Joe Gourd for Van Duzen Holland Stomach Bitters .
Label
V 6.5 VAN DUZEN HOLLAND STOMACH BITTERS, Illustration bearded man. Van Duzen Brand Holland Style Maag Stomach Bitters, Produced by Stark Distillery Co. at St. Louis, Mo. Importers
Stark Distillery Company. Est. 1847. O. G. Stark, President and Secretary, L. J. Stark, VP and Treasurer. (1910)

15 September 2019 | Sunday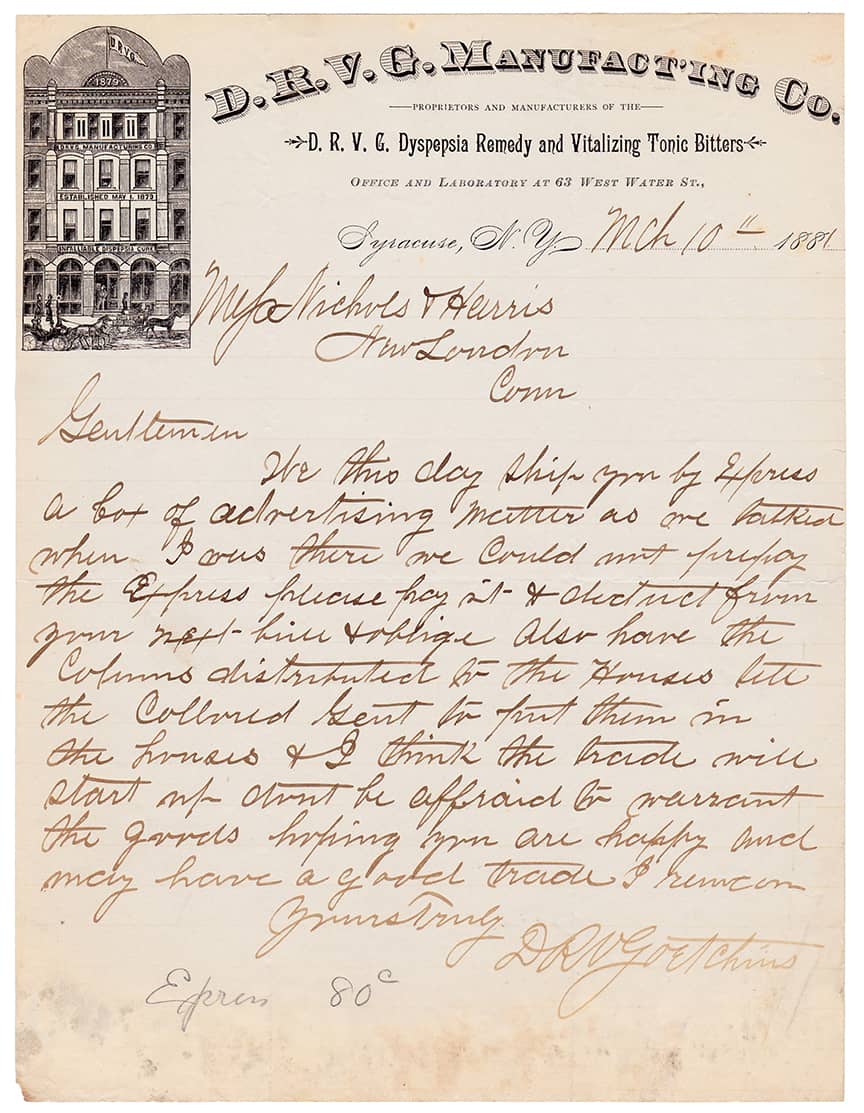 This is an interesting one. A proposed change for D. R. V. G. Dyspepsia Remedy and Vitalizing Tonic Bitters in BBs2. We should be cataloging this under "D" and not "V," as it appears in an earlier draft of the new book. I'm fairly certain D. R. V. G. means DRUG. A little word game play. I also believe it to be one product referenced, not two. Letterhead example is from Joe Gourd from the Kit Barry collection.
Up until 17th Century, the Romans didn't have any need of using separate letters for V, U or W. They used them interchangeably and pronounced in a same way. Later on, Latin language added 'Curved V' as a letter U.  Old Universities, Monuments in U.S. still has 'V' instead of 'U' in their old buildings. For example, Carnegie Library of Syracuse University, New York (where the brand started). Here is an example on the Smithsonian's' American Museum of Natural History facade.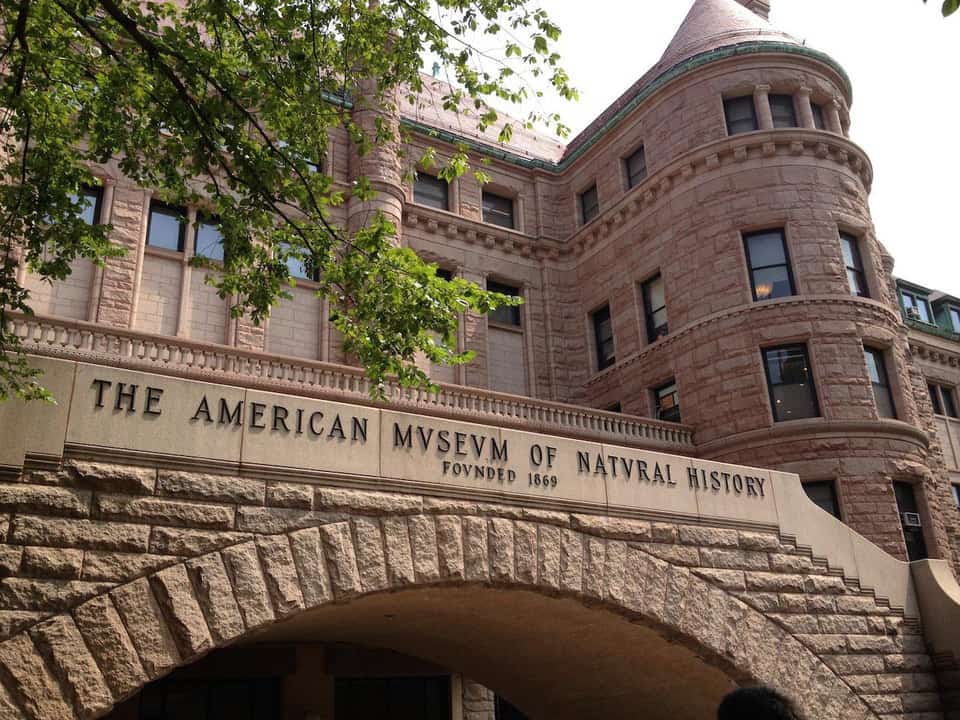 Also, look closely at the boxes on the horse cart. Two say DRUG with a curved U. One says DRVG with a pointed V.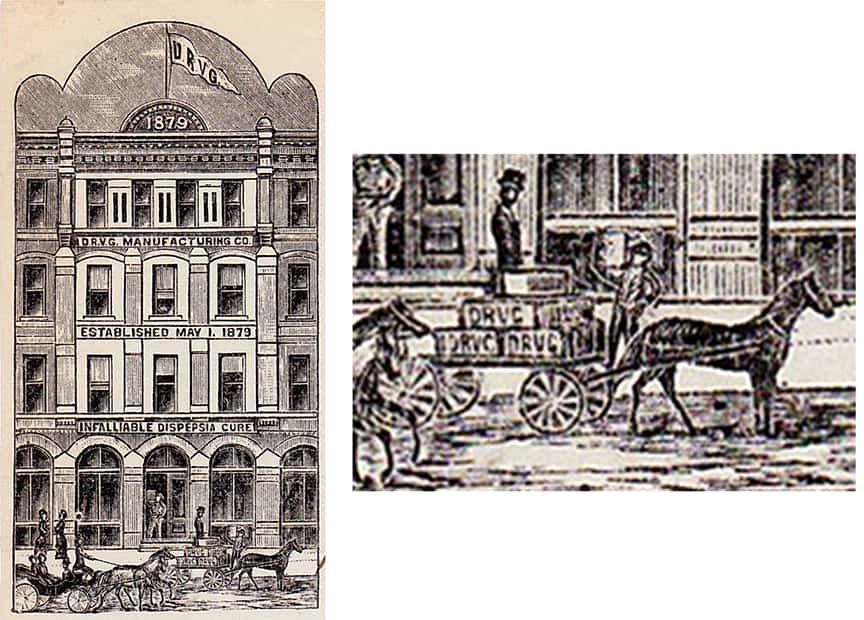 It may be a double entendre with the person's name, D.R.V. Goetchins. There was such a person, an inventor, who patented a head-rest. There are some tax records from 1866 in New York. I have not found any references for a "Dr. V. G. or Vitalizing Tonic Bitters" as a singular listing for "V."

Letterhead
D 130 D. R. V. G. DYSPEPSIA REMEDY AND VITALIZING TONIC BITTERS, Illustration of their 4-story building. Established May 1, 1879. D. R. V. G. Manufact'ing Co., Proprietors and Manufacturers of the D. R. V. G. Dyspepsia Remedy and Vitalizing Tonic Bitters. Office and Laboratory at 63 West Water St., Syracuse, N. Y. March 10th, 1881.
The D. R. V. G. Manufacturing Company (F. K. Fuller, President), patent medicines, has removed to Boston. – Bradstreet's, Volume 3, Bradstreet Company, 1881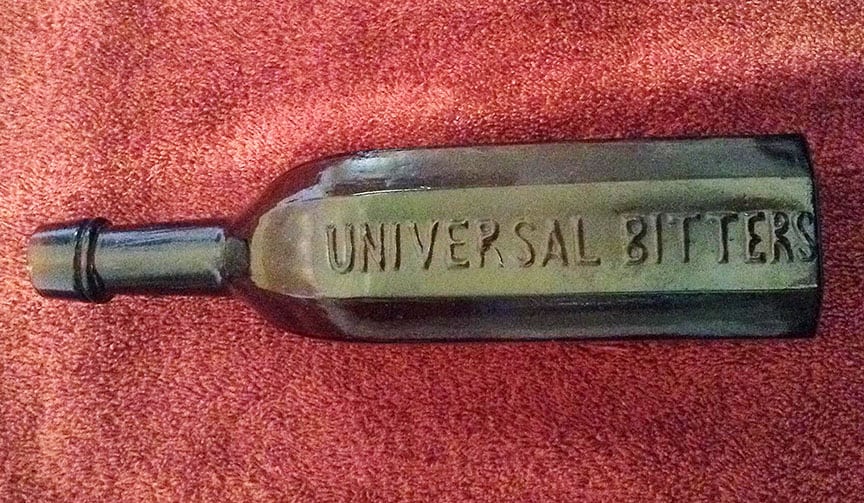 Cleaning up Universal Bitters listings today. Some examples are from my archives. The Universal Bitter Wine label is from Joe Gourd. The embossed bottle is from my collection.
Label
U11.1 UNIVERSAL BITTER WINE, Illustration of globe with banner wrap reading Universal. Directions: One to two tablespoonfuls before each meal. Universal Bitter Wine is a laxative tonic highly recommended for constipation… Manufactured by Universal Chemical Company, Chicago, Illinois, Formula Adopted May 14, 1920
U 11.2 // f // UNIVERSAL BITTERS // f // NK – PATENT //
10 ½ x 3 ¾ x 2 3/8 (7) 3/4
Rectangular, Amber, LTCR, Applied mouth, Extremely rare
N. Kieffer, New Orleans City Directory, 1868
References also to San Antonio, Texas
Found in New Orleans
Stock Offering Notice
U 11.3 UNIVERSAL BITTERS, Investors: Rare Opportunity to share in The Large Profits of one of the Most Promising Manufacturing Enterprises of the Twentieth Century. The Universal Bitters Company, A New York Corporation. 90 West Broadway, N. Y. Albert Goldman, Originator of Universal Butters, General Manager, New York Tribune, January 26, 1908.
Newspaper Notice
U 11.35 UNIVERSAL BITTERS CHEMICAL WORKS, Mr. Henry Scheriff, of St. Louis, sole proprietor of the Universal Bitters Chemical Works. Alton Evening Telegraph (Alton, Illinois) December 19, 1890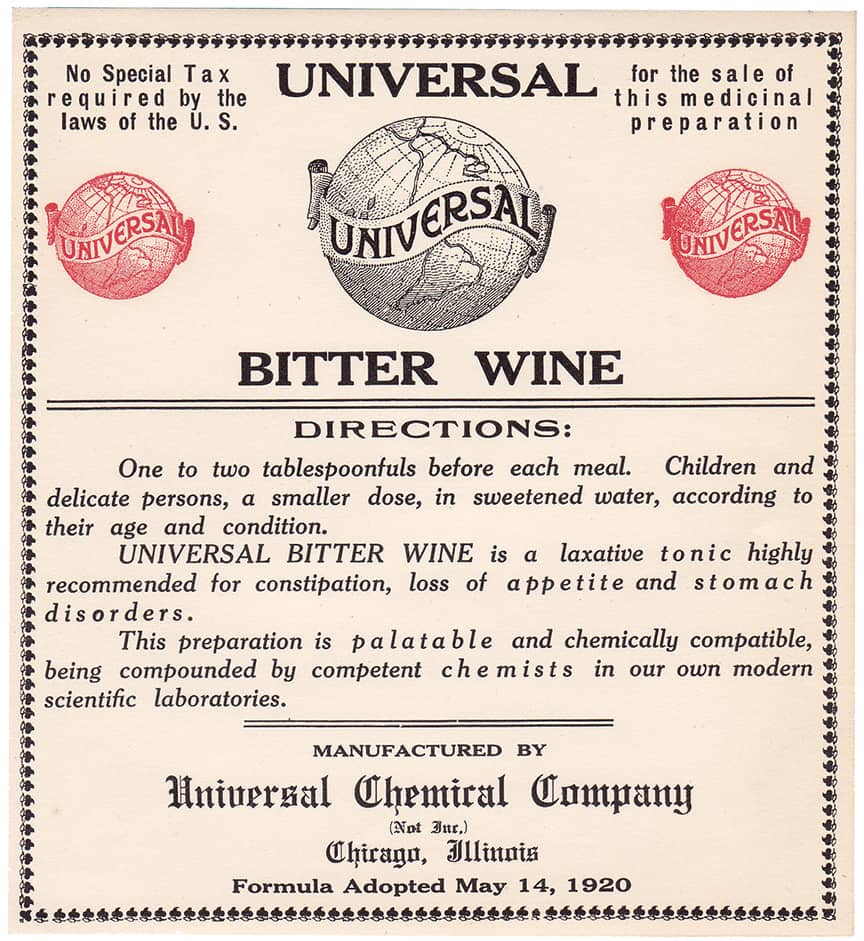 14 September 2019 | Saturday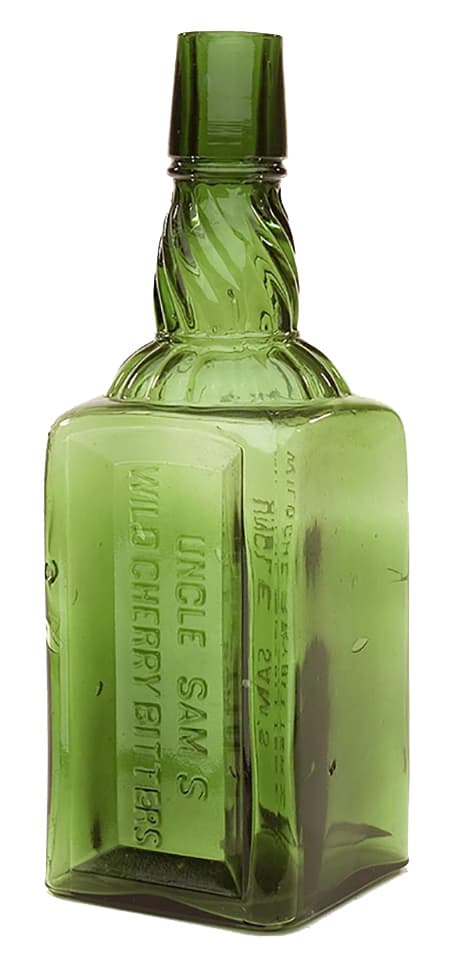 Working to straighten out the listing's for Uncle Sam's Bitters. I've actually come across four brands that will be listed in Bitters Bottles Supplement 2. Many bitters collectors are familiar with U 4, Uncle Sam's Wild Cherry Bitters. We'll update that one. The trade card was submitted by Joe Gourd from the Kit Barry collection.
Trade card
U 3.7 UNCLE SAM'S BITTERS, Color tinted photograph of woman with rose. For Your Health Drink Uncle Sam's Bitters. Reverse blank. Probably Uncle Sam's Wild Cherry Bitters, See s2U 4
Newspaper Advertisement
U 3.8 UNCLE SAM'S BITTERS, If your stomach is weak take "Uncle Sam's" bitters. Jones Bros, proprietors. The Topeka Daily Capital (Topeka, Kansas), February 23, 1881
Jones Brothers Drug Store, 149 Kansas Avenue, Topeka, The Topeka State Journal (Topeka, Kansas), 01 March 1879
Notice
U 3.9 UNCLE SAM'S STOMACH BITTERS, Manufacturer: S. W. Selwa & Co., Detroit, Mich. Name of Medicine: Uncle Sam's Stomach Bitters, Alcohol by Volume: 17.15 Per cent., Hearings Before the Committee on the Judiciary, House of Representatives, Sixty-sixth Congress, 1919
European Wine & Liquor Co. (Stanley W. Selwa and Michl Selwa) 580 Warren Avenue East, Detroit, Michigan City Directory 1915
Newspaper Advertisement
U 4 UNCLE SAM'S WILD CHERRY BITTERS, Uncle Sam's Wild Cherry Bitters Co., 1954 N. Broadway, St. Louis, Mo., Westliche Post (St. Louis, Missouri), November 29, 1900. See s2U 3.7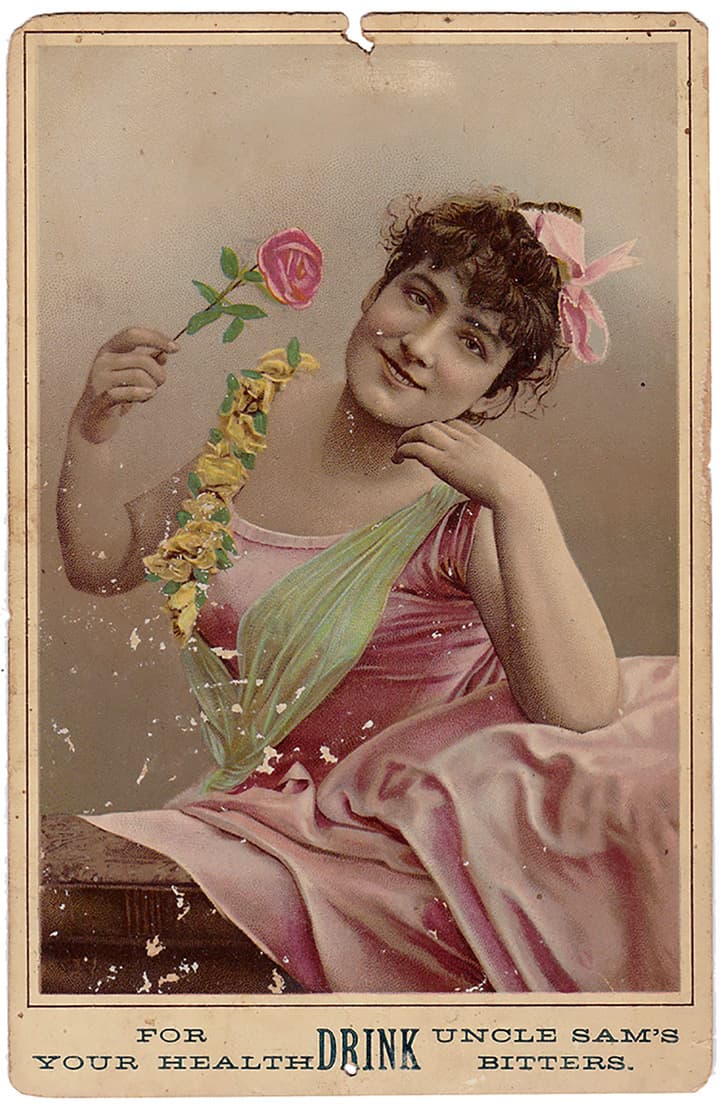 Newspaper Advertisement
C 120.3 CHAMOMILE BITTERS, Alterative Tonic and Diuretic. Promotes Health & Longevity. Jones Bros, Sole Proprietors, Topeka, Kansas., Weekly Kansas State Journal, March 9, 1882. See s2U 3.8, Uncle Sam's Bitters
13 September 2019 | Friday
More listings for BBs2. This first billhead is from Joe Gourd.
Billhead
U 2.5 UNCLE JOHN'S HOMESTEAD BITTERS, To C.N. Prior, Dr. Manufacturer and Dealer in Drugs, Patent Medicines, Segars, &c. Proprietor of Dr. Prior's Cough Balsam, Magical Pain Relief, Dysentery Syrup, Healing Salve, and Uncle John's Homestead Bitters. 33 East 9th St. N.Y. crossed out and Paterson, N J overwritten. Feby 18th 1874.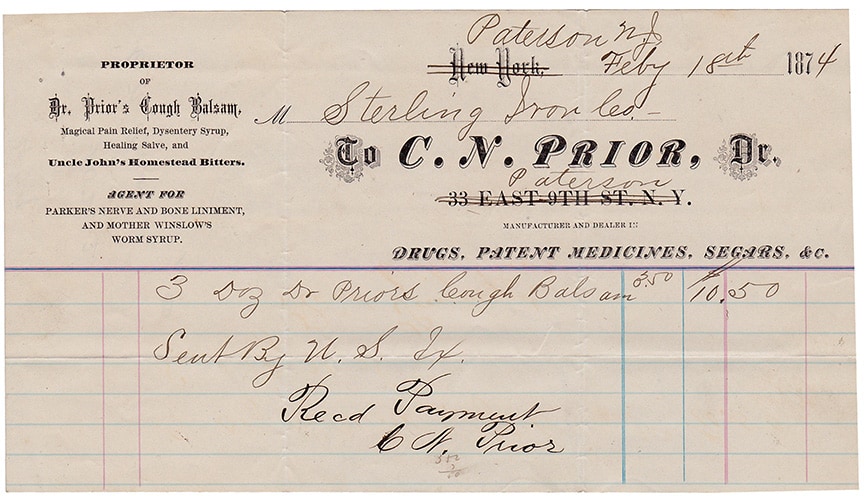 Label
E 24.7 EDWARD'S STOMACH, LIVER AND KIDNEY BITTERS, Trymore The Edward's Latest Stomach, Liver and Kidney Bitters, The World Known Greatest Blood Purifier, Scientifically prepared…, Dose instructions…, Guaranteed under the Food and Drugs Act, Edward's Chemical Works, 1082 Milwaukee Ave. Chicago, Ill.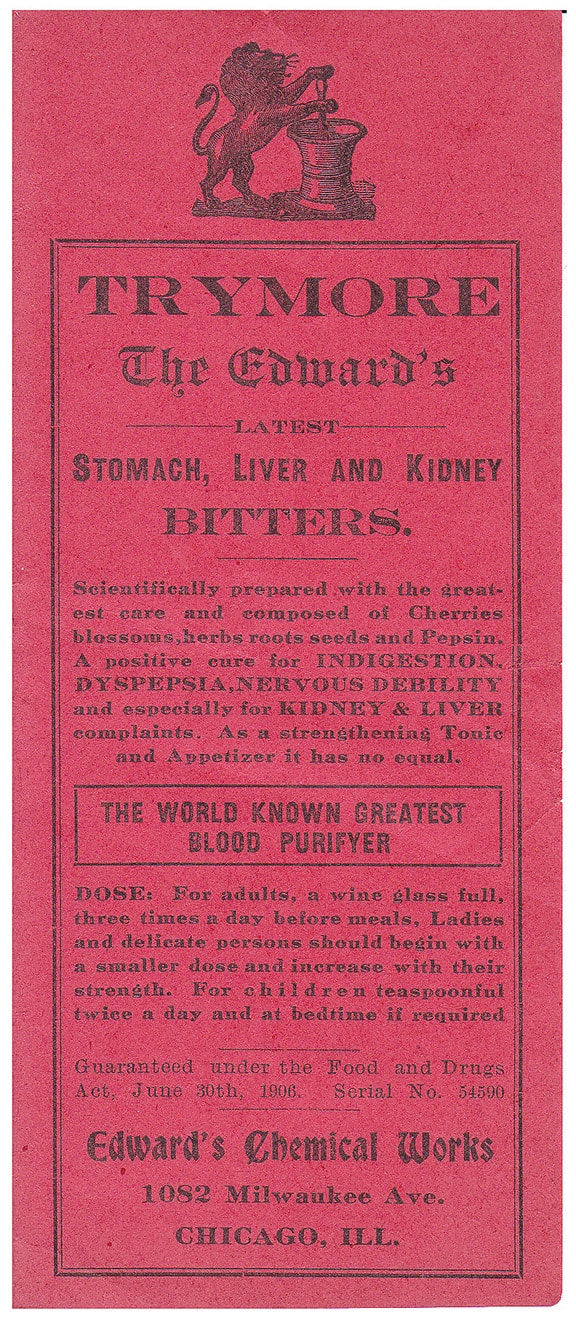 Here is a label Joe Gourd submitted for BBs2. The spelled Bitters incorrectly along with a few other words!
Label
10.3 UNION BITERS (Sic), All Should use the Root and Herbe (sic) Bitters. This compound contains no poisnous (sic) drugs and is put up in the best of Bourbon Whiskey. Prepared by J. A. Moore, Monroe, N. H. Price 25 cts.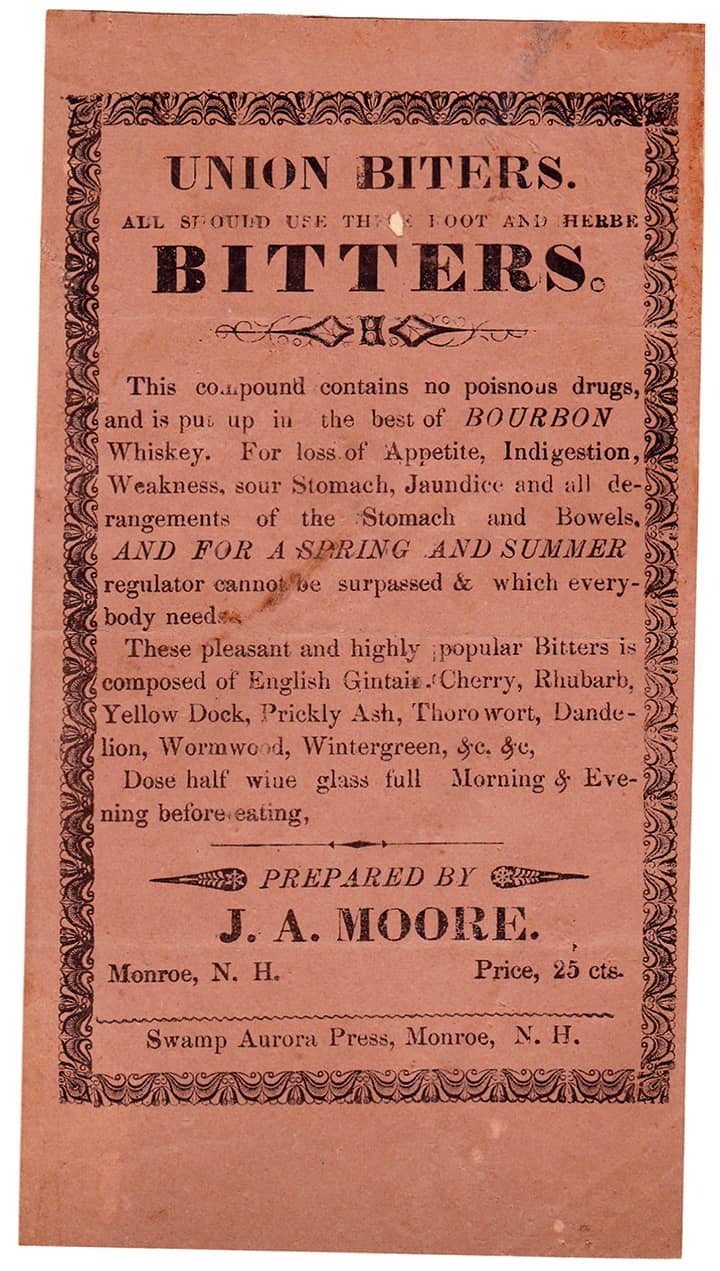 Here is an unlisted piece submitted by Joe Gourd.
Advertisement
U 15.5 DR. URBAN'S HOP BITTERS, An Excellent Recuperant and Appetizer After Prolonged Sickness. It Relieves Nervousness and Hastens Digestion. One Wineglassful taken three times a day before Meals, will be a good Tonic for ordinary Family purposes. Milwaukee, Wis.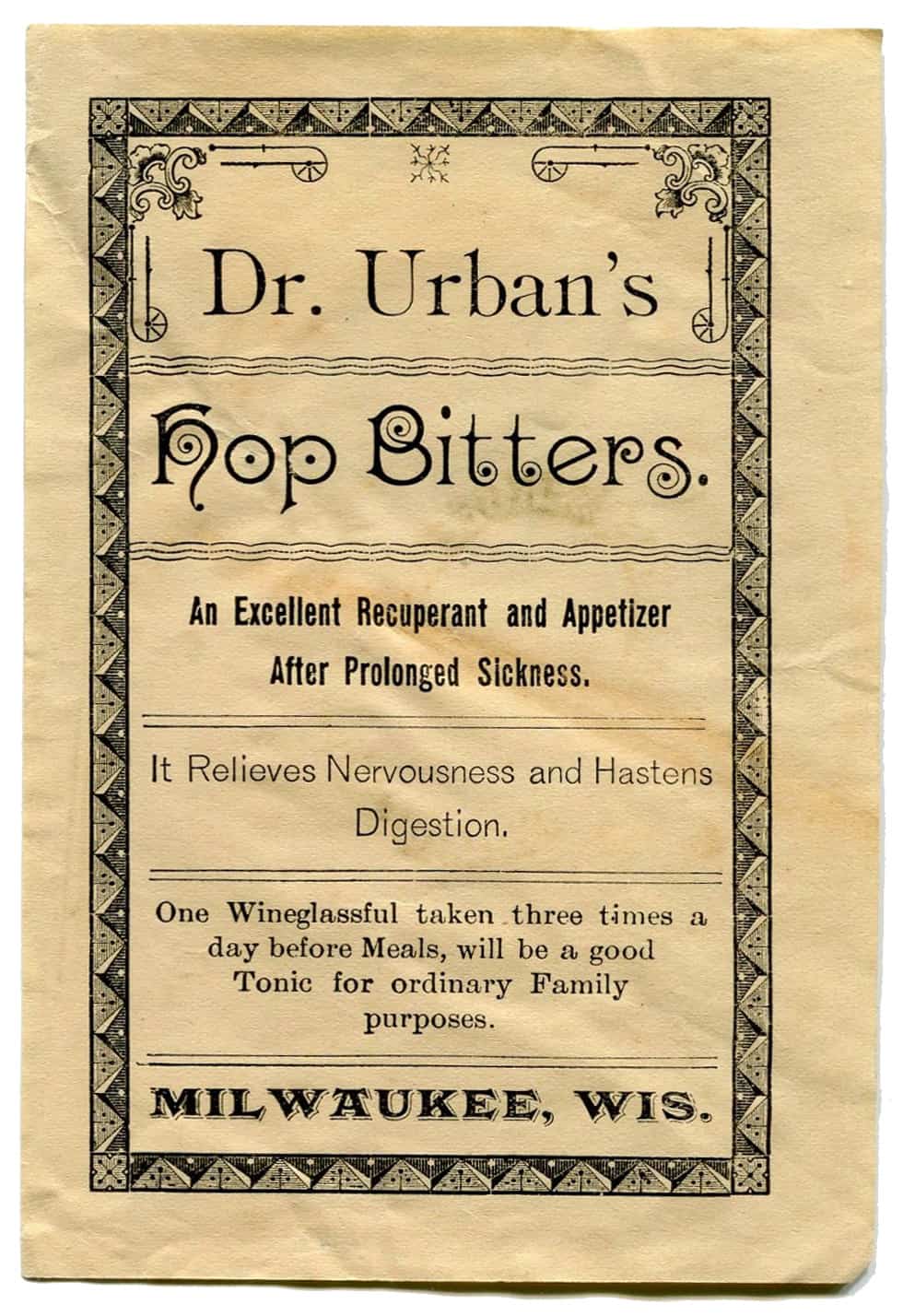 12 September 2019 | Thursday
More updates for Bitters Bottles Supplement 2. These are Joe Gourd pieces unless otherwise noted.
Trade card
T 62.5 TULARE LIVER BITTERS, Compliments of John J. Lasch, The Peoples' Druggist. Tulare, Cal. If you want to be healthy and happy, take Tulare Liver Bitters, Tulare Lung and Throat Balsam, Contains No Morphine. Reverse blank.
The San Francisco and Pacific Druggist, Volume 10, 1904: Dr. John J. Lasch passed away at his home in Tulare, Cal., March 29, 1905. He was a native of Cork, Ireland, aged sixty-five years. Both parents were German, his father being the German consul at Cork at the time of his birth; therefore he always considered himself a native German instead of an Irishman. He had passed the last twenty years in California, the first four years of which were spent in San Francisco, and then he removed to Tulare, where he opened a drug-store and conducted a prosperous business up to within a short time of his death. He was a good chemist and had a good education; his parents being wealthy people, he availed himself of the advantages that were offered him. He was a master of five different languages. Besides many true friends, he leaves a wife and three children by a former wife, two of whom are married. His second marriage proved very happy, and he was a devoted husband.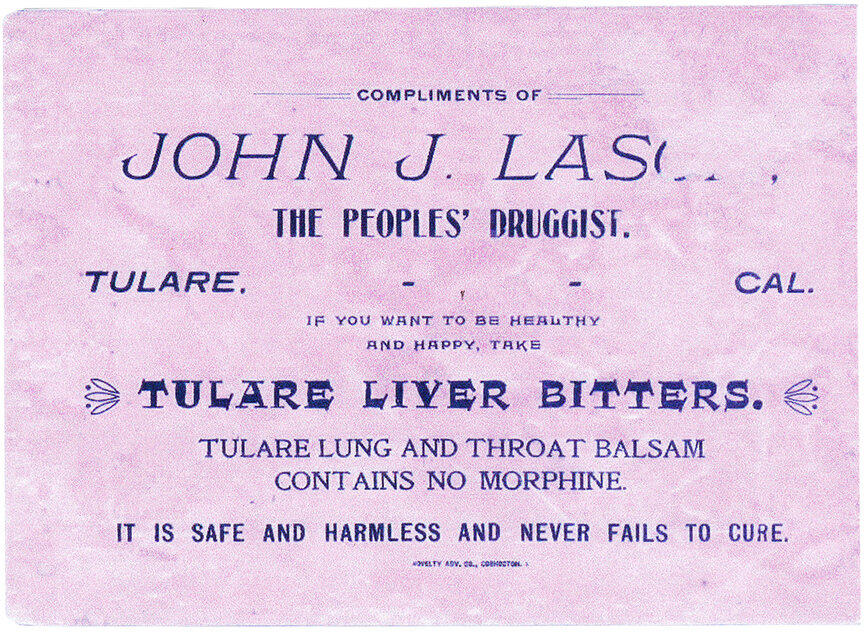 Trade card
T 57.3 TROMER'S PRIVATE BITTERS, Stock winter scene painting. Reverse: Tromer's Private Bitters. A High Class Bitter. Properties: Flavor, Tonic and Stomachic. Dose: 15 to 30 drops. Full Size Bottle, (9 ounces) $1.00, Half Size Bottle, 50 Cents. Can only be obtained from Wm. S. Tromer, M.D, Office and Laboratory, Canarsie, Kings County, N.Y.
Canarsie is a working- and middle-class residential and commercial neighborhood in the southeastern portion of the borough of Brooklyn, in New York City.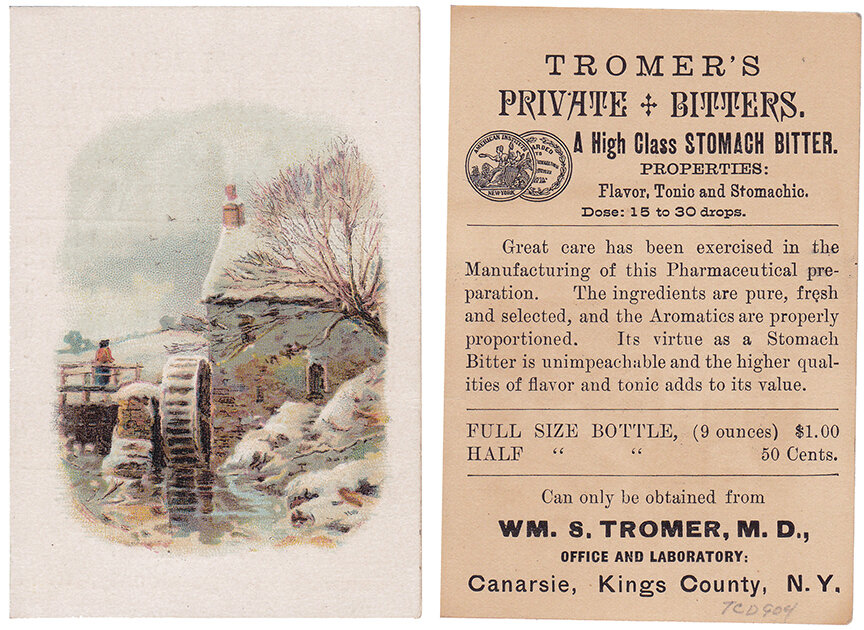 This next card was originally filed under 'T' to Tittle's Bitters. I see no evidence that it was marketed this way. Now using a B heading.
Trade card
B 113.3 BITTERS FOR NERVOUS AND WEAKENED SYSTEMS, Small illustrations of hunting scenes, J. J. Tittle, Manufacturer of Liniments and Pills, 319 Reily St., Harrisburg, Pa.
Jacob J. Tittle, Huckster, Medicine – Harrisburg, Pennsylvania, City Directory, 1882 – 1892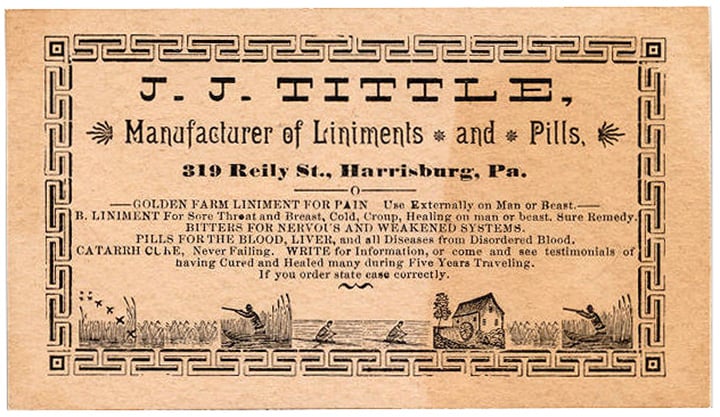 Change and additions for Triner's American Elixir of Bitter Wine in BBs2. The letterhead is from joe Gourd along with the framed picture image. I added other support material.
Letterhead
T 53.9 JOSEPH TRINER'S AMERICAN ELIXIR OF BITTER WINE, Monogram TK with cluster of grapes, Established 1890, Joseph Triner, Manufacturing Chemist, 799 South Ashland Avenue, Chicago, Ill. Triner's Angelica Bitter Tonic, Medicinal Stomach Bitters, Jan. 4, 1907. See page 539 in Bitters Bottles. See Triner's Angelica Bitter Tonic.
Advertisement
T 53.9 TRAINER'S (Sic) AMERICAN ELIXIR OF BITTER WINE, Hurrah, the War Is Over! Illustration of labeled bottle and Gold Medals, San Francisco, 1915 and Grand Prix Panama, 1916, Joseph Triner Co., 1333-1343 Ashland Ave. Chicago, Ill, San Antonio Evening News (San Antonio, Texas), May 26, 1919.
See page 539 in Bitters Bottles. See Triner's Angelica Bitter Tonic.
T 53.9 L … Triner's American Elixir of Bitter Wine Tonic
// c // JOS. TRINER / CHICAGO
10 x 3 (6 ¾)
Round, Amber, ABM
BAR p 113
Label: Monogram TK with cluster of grapes, Illustration gold medals. Trinerovo Horke Vino. Label on reverse.
Drug Catalog: 1901-2 JP&K Co.
See page 539 in Bitters Bottles. See Triner's Angelica Bitter Tonic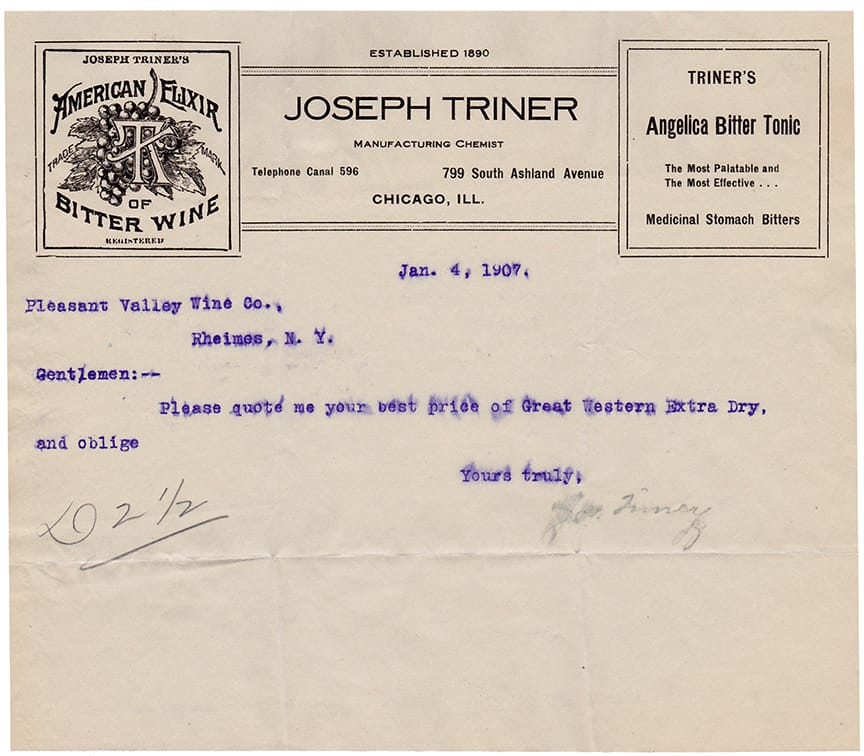 From the same letterhead above. Triner's Angelica Bitter Tonic. The image on the label face 'stumped' me until Marianne Dow asserted that it was Angelica root.
Letterhead
T 54.1 TRINER'S ANGELICA BITTER TONIC, Established 1890, Joseph Triner, Manufacturing Chemist, 799 South Ashland Avenue, Chicago, Ill. Joseph Triner's American Elixir of Bitter Tonic, Jan. 4, 1907. See pages 65 and 539 in Bitters Bottles. See Triner's American Elixir of Bitter Tonic.
T 54.1 ANGELICA ( au ) / BITTER TONIC // JOS. TRINER ( au ) / CHICAGO, ILL. //
9 1/8 x 4 ¼ x 2 ½
Rectangular, Amber, ABM
Label: Contents 1 Pint and 7 Fluid Ounces, A.Y.P. Exposition (Alaska-Yukon-Pacific) Seattle, Wash. 1909. None Genuine Without This Mark (angelica root illustration with JT monogram, medals) No. 37750 registered February 4, 1902, U. S. Patent Office. Contains 16% Alcohol By Volume. Prepared By Joseph Triner Company 1333-1343 So. Ashland Ave. Chicago. Reverse illustration medals and Joseph Triner. Merits and dose information. See pages 65 and 539 in Bitters Bottles. See Triner's American Elixir of Bitter Tonic.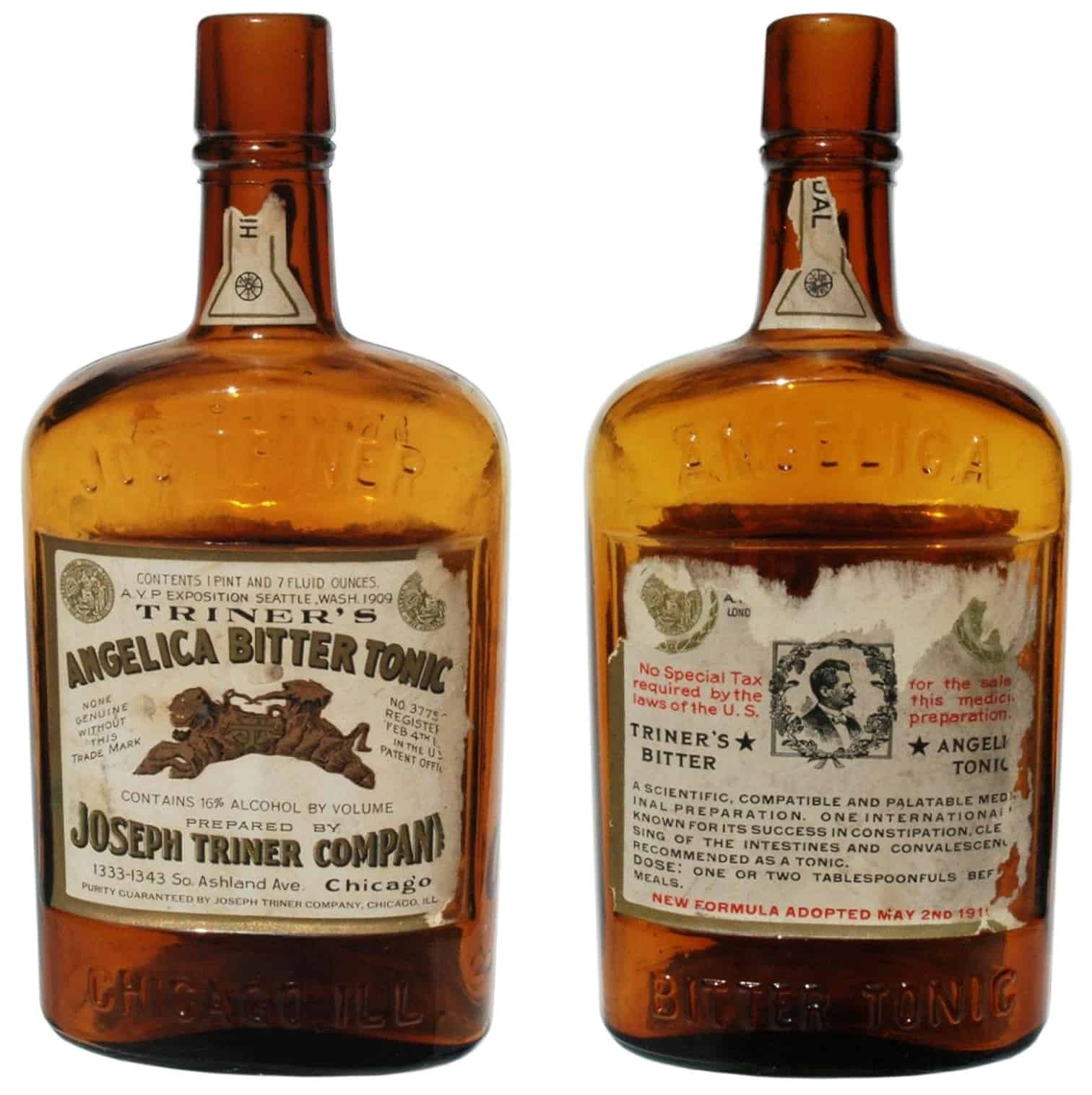 11 September 2019 | Wednesday
Some updates for Bitters Bottles Supplement 2. Thomson's Spring Bitters card and Tonical Herb Bitters letterhead from Joe Gourd.
Trade card
T 21.5 THOMSON'S SPRING BITTERS, Illustration boy and girl with jump rope, Reverse: Try Thomson's Spring Bitters, E. Thomson & Son, Pharmacists, Bank Block, Millbury, Mass.
From The Druggists' Circular and Chemical Gazette, 1896
H. C. Thomson has sold his business at Millbury, which has for many years been conducted under the firm name of E. Thomson & Son, to G. Everett Palmer, of Auburndale. Mr. Palmer is a young man, a graduate of the Massachusetts College of Pharmacy, and has had about 15 years of practical experience as a druggist. The business will be continued at the present stand in the Bank block in Elm street, the store being one of the most finely appointed to be found anywhere outside of a large city. The business was established by Elijah Thomson, who was the pioneer druggist of Millbury. He began in a small way at his home in Grove street, and later became associated in business with N. H. Sears in a Small building in Main street. Mr. Thomson retired after some years, and the business has been continued upon the same site from that time to this by N. H. Sears. Mr. Thomson reentered the drug business in 1874, being associated with H. A. Aiken, under the firm name of Thomson & Aiken, the store being located in the Cunningham block, which was