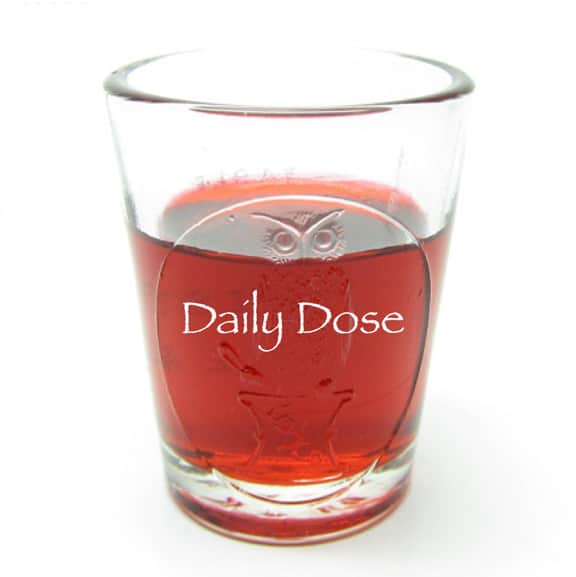 July

 

•

 December

 

 
|
2 0 1 8
26 December 2018 | Wednesday
Two nice advertisements from the 1878 Philadelphia, Pennsylvania City Directory. The first is listed in Ring and Ham as O 82, Original Aromatic German Bitters manufactured by Charles Schneyer, Not. 154 & 156 Fairmont Avenue Philadelphia. The second is for Swaim's Panacea prepared at Swaim's Laboratory, No. 113 South Seventh Street. Swaim's was established in 1820.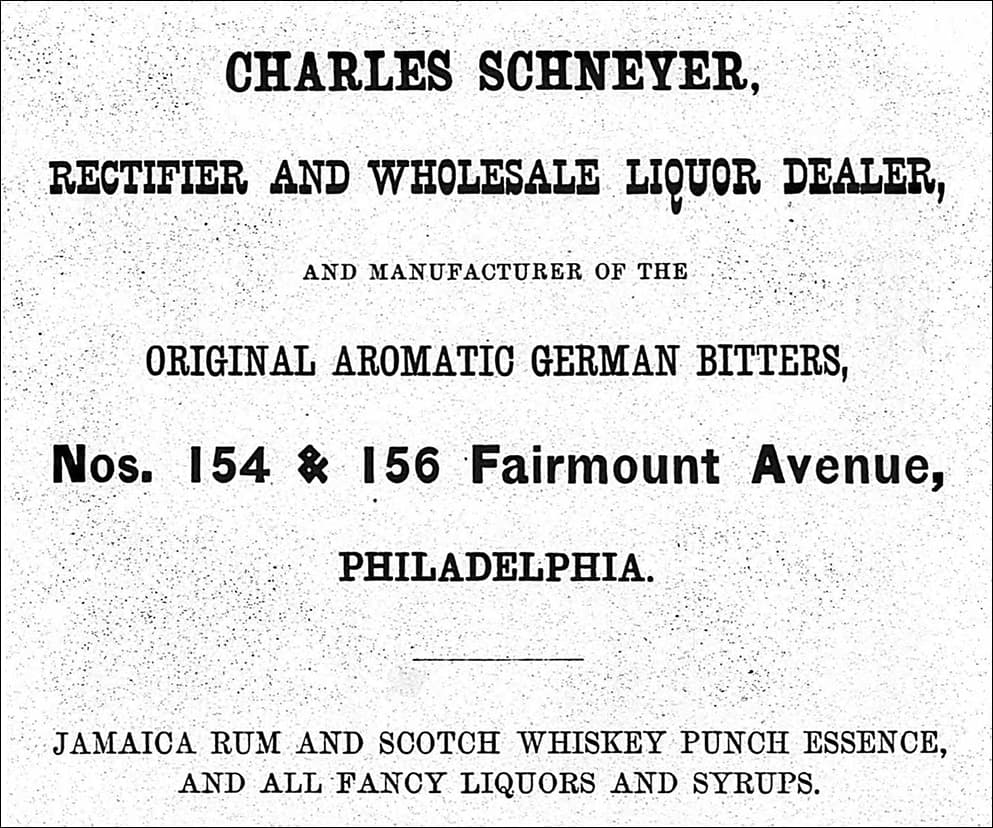 15 December 2018 | Sunday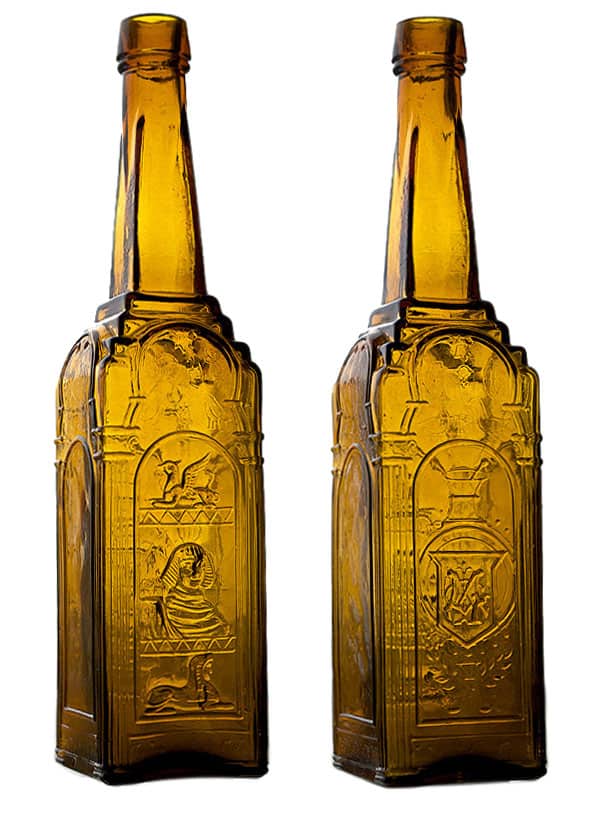 Post update with new information about Moses G. Landsberg. Read: Ladies and Gentlemen… the Landsberg Sphinx Bottles
12 December 2018 | Wednesday

Post update. S.S. SMITH. JR & CO / CINCINNATI. O. – A Semi-Cabin in Sapphire with information on Samuel Sherwood Smith and if this is a bitters bottle.
09 December 2018 | Sunday

A Visual History of Johnnie Walker's Striding Man Logo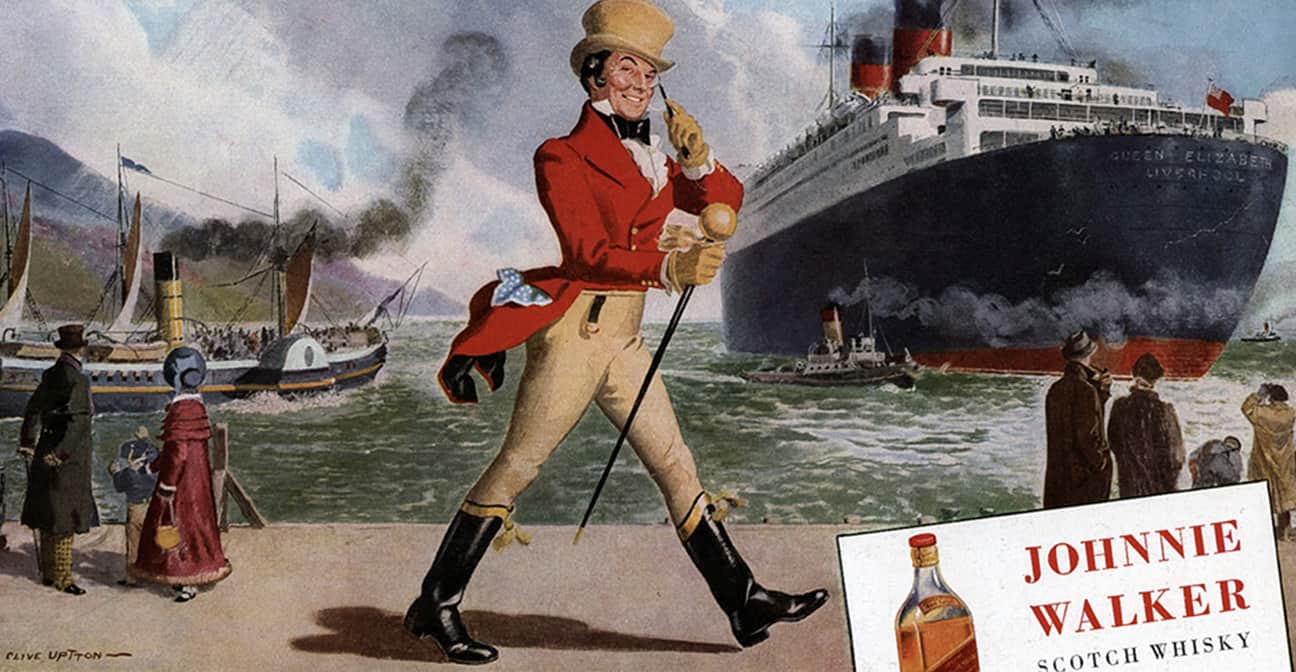 05 December 2018 | Wednesday
Unlisted Adler's Celebrated Anti-Cholera Bitters by S. Adler & Co., St. Joseph, Missouri. Circa 1868-1877. Ever hear of this one? Not in the book. – Mark Wiseman
Read: Adler's Celebrated Anti-Cholera Bitters – Simon Adler | St. Joe & St. Louis

04 December 2018 | Tuesday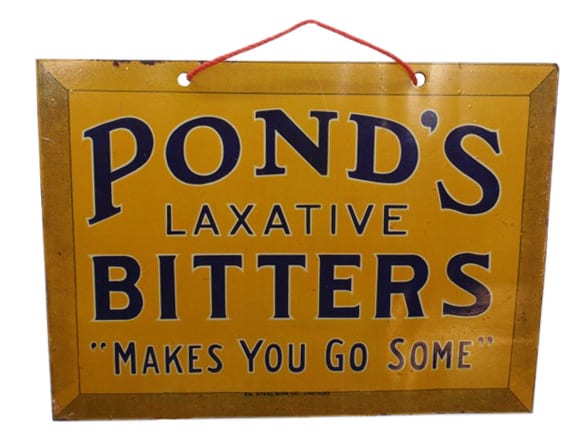 Pond's Bitters "Makes You Go Some" post update with this sign submittal by Steve Ketcham.
Pond's Bitters "Makes You Go Some"
30 November 2018 | Friday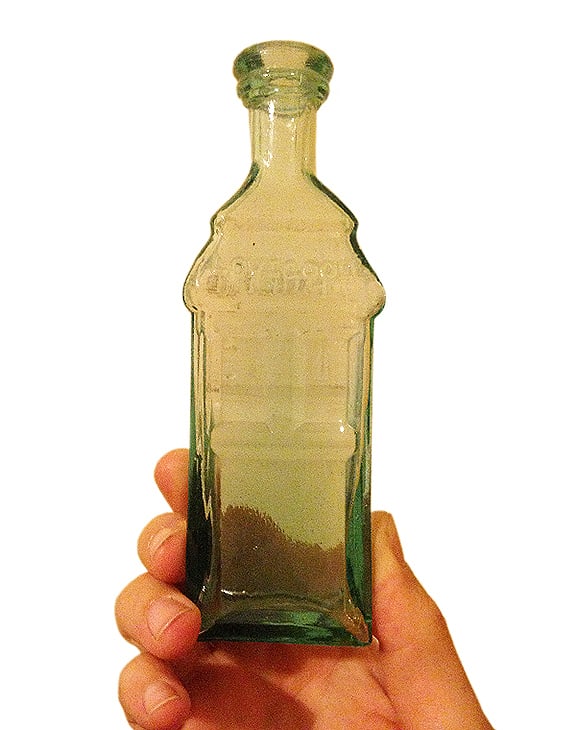 Post Update: Finally found the man responsible for Lovegood's Family Bitters from Anderson, Indiana thanks to Martin Van Zant.
29 November 2018 | Thursday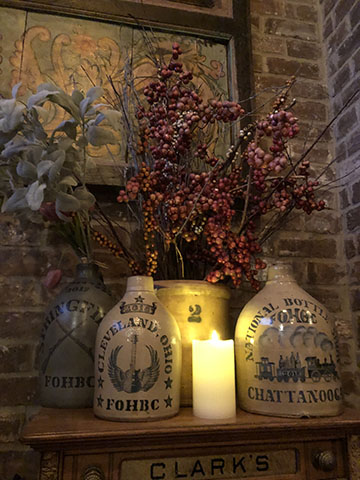 Warmest of Holidays. Elizabeth's budding collection and display of FOHBC national commemorative jugs made by Jim Healy.
11 November 2018 | Sunday
Reference to some unlisted bitters being sold in New Orleans from 1872 – 1875 by Dr. F. H. Ayers located at 16 Natchez Street. The Ayers Southern Vinegar Bitters is listed in Bitters Bottles as A 145. The Ayers Log Cabin Bitters and Arkansas Traveler Bitters appears to be unlisted.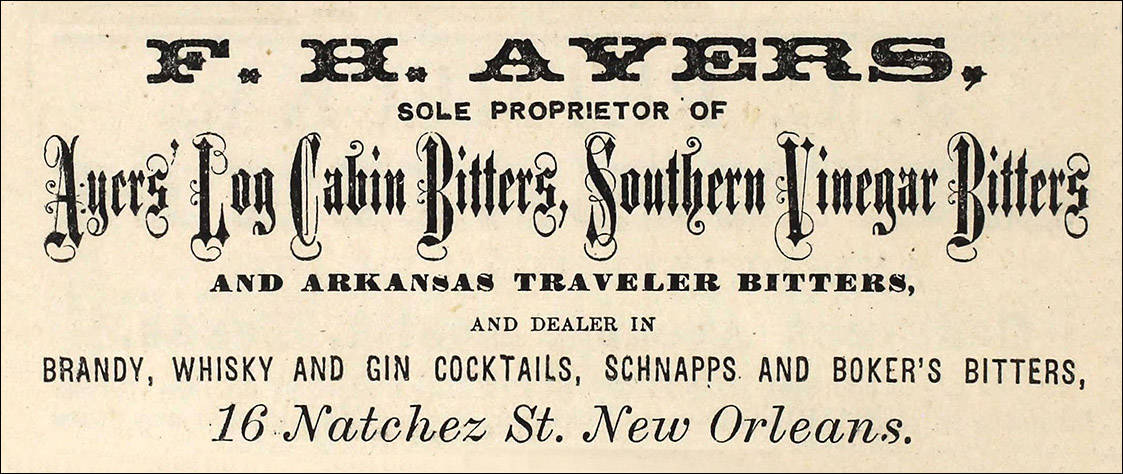 Probably good that Dr. Ayers started making and selling his own bitters because in 1871, Hostetter and Smith, through their counsel, sued him and others for using old labeled Hostetter's Celebrated Stomach Bitters bottles and refilling them with their product and selling again. This was actually a pretty common illegal practice.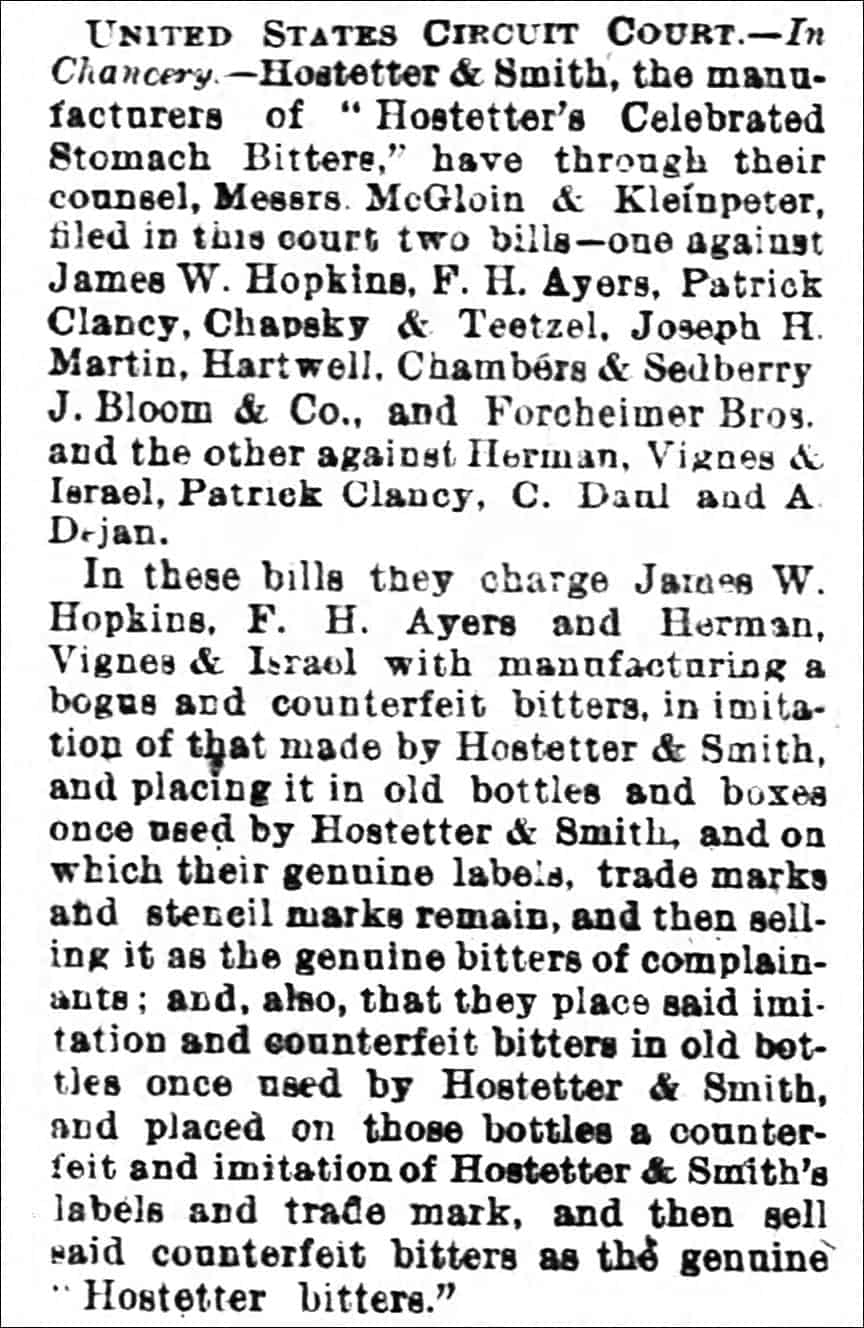 10 November 2018 | Saturday
Reference to an unlisted Granite State Bitters being sold in Vermont only in 1872 – The St Johnsbury Caledonian, Friday, July 26, 1872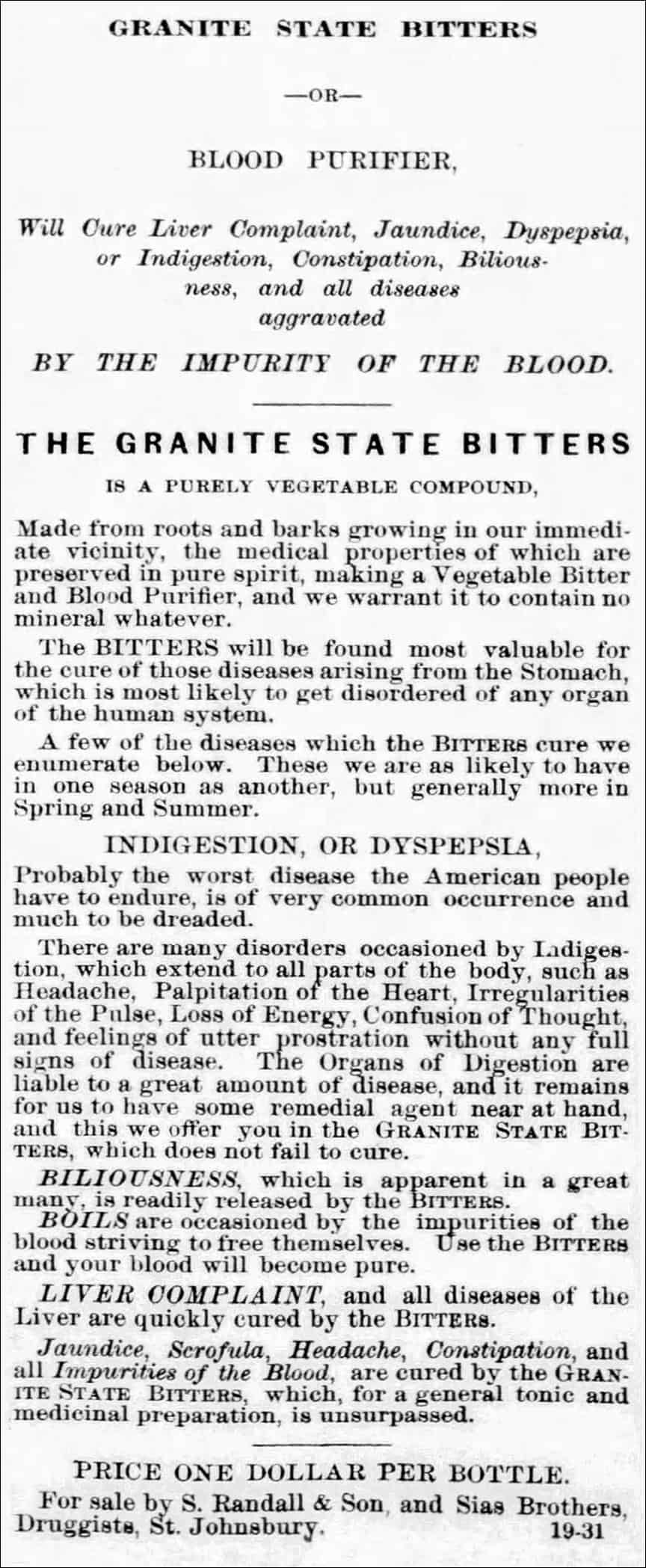 09 November 2018 | Friday
Reference to an unlisted Honnet's Golden Aromatic Bitters being sold in Austin, Texas only in 1875 – Austin American Statesman, Saturday, October 30, 1875

Probably Ben Honnet, Virginia Tobacco Agency, Dealer in Snuff, Cigars, & Tobacco. Avenue Hotel building, Congress Avenue. Bds at Kluge's Restaurant. – Mercantile and General City Directory of Austin Texas, 1872-73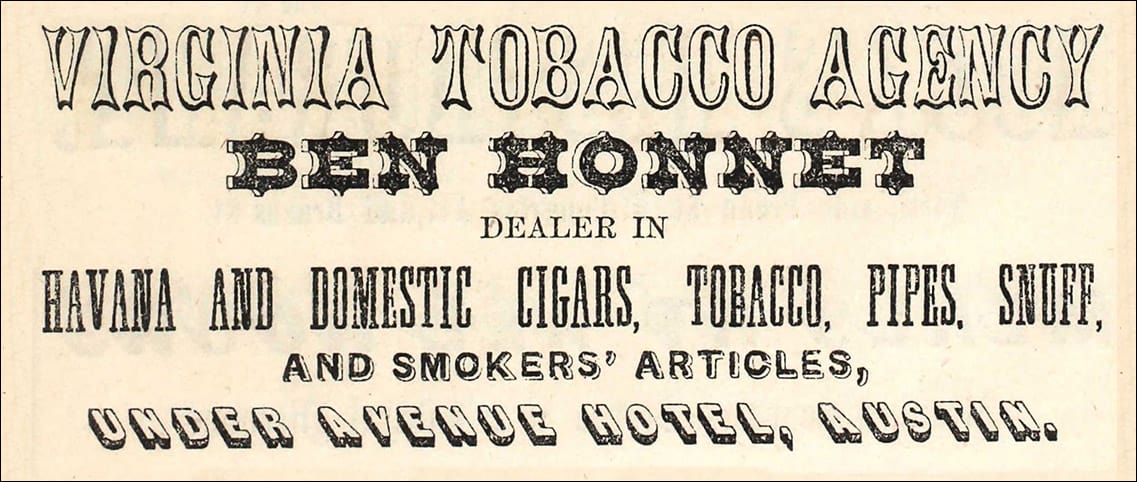 08 November 2018 | Thursday
Reference to an unlisted Our Own Louisiana Southern Bitters from H. J. Rivet, Pharmaceutist and Druggist, 53 Chartres and 36 Bienville Streets – Commercial Bulletin Price Current and Shipping List, Wednesday, September 29, 1880.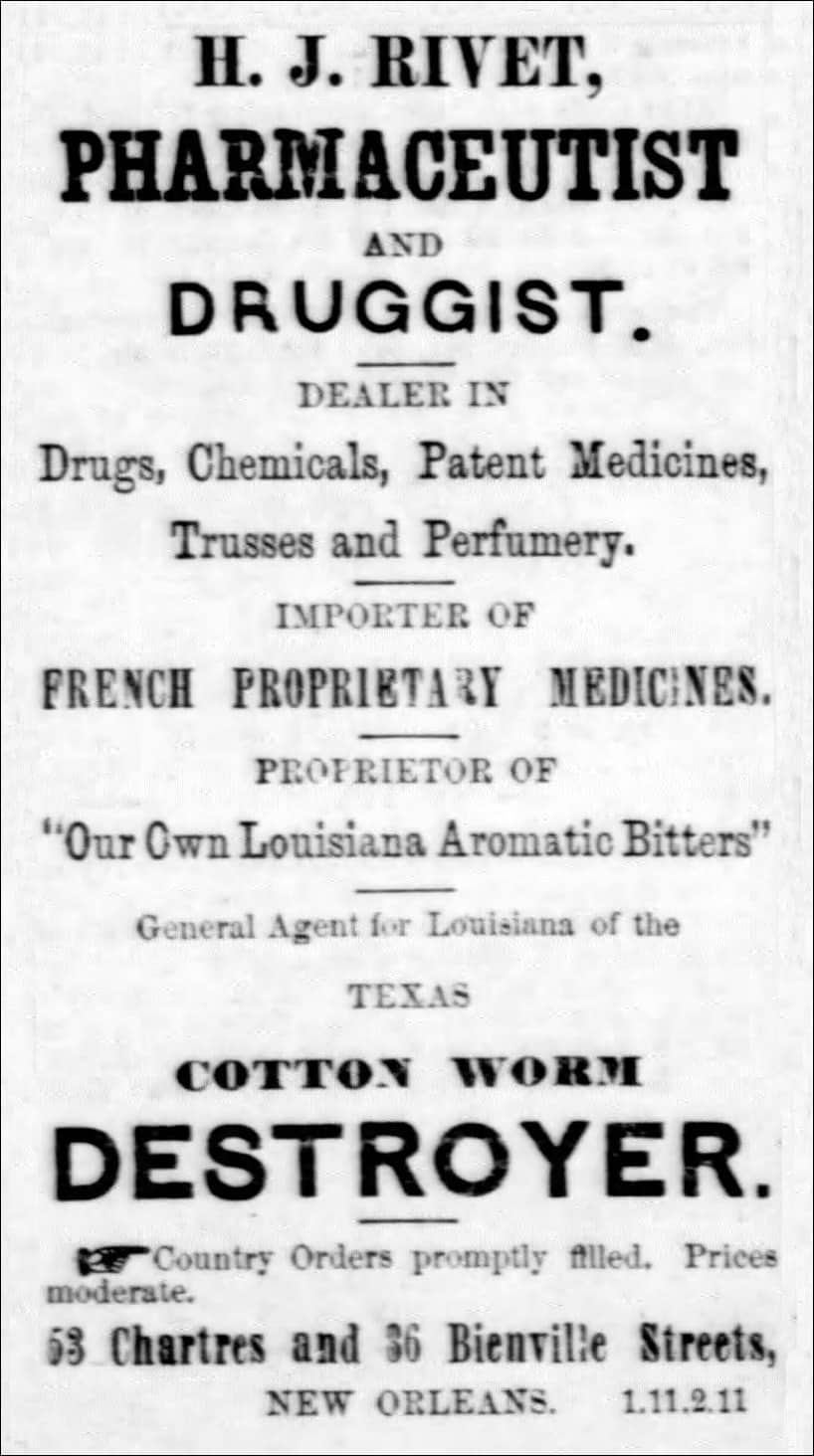 07 November 2018 | Wednesday
I like this Iron Works illustration in an 1866 NYC directory for J.B. & W.W. Cornell. They worked in decorative metal work for railings, columns, elevators, safes, street lights, grills, shutters, stairs and more.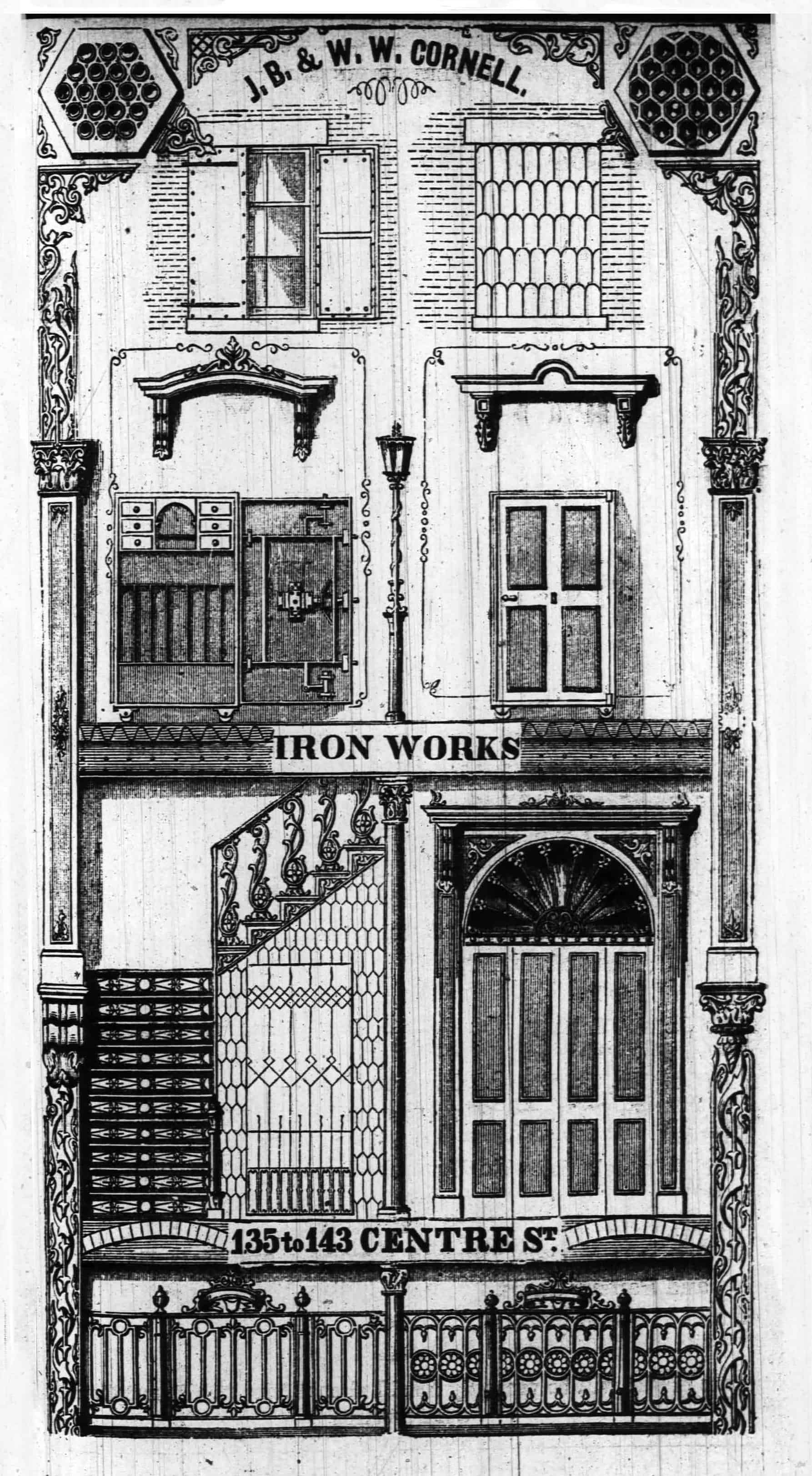 28 October 2018 | Sunday
Pretty cool, Hostetter's Stomach Bitters three ad set appearing on different pages within The Overland Monthly, Samuel Carson, 1890 (San Francisco). The Hostetter Company out of Pittsburgh, Pennsylvania was being run by D. Herbert and Theo E. Hostetter at that time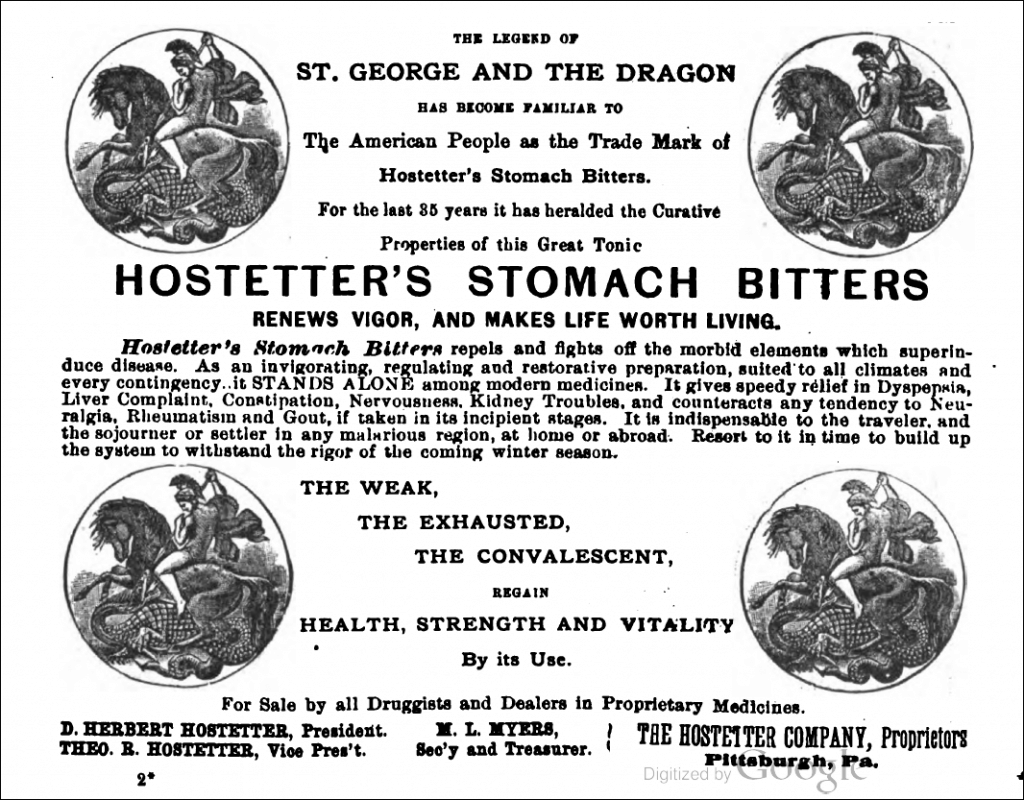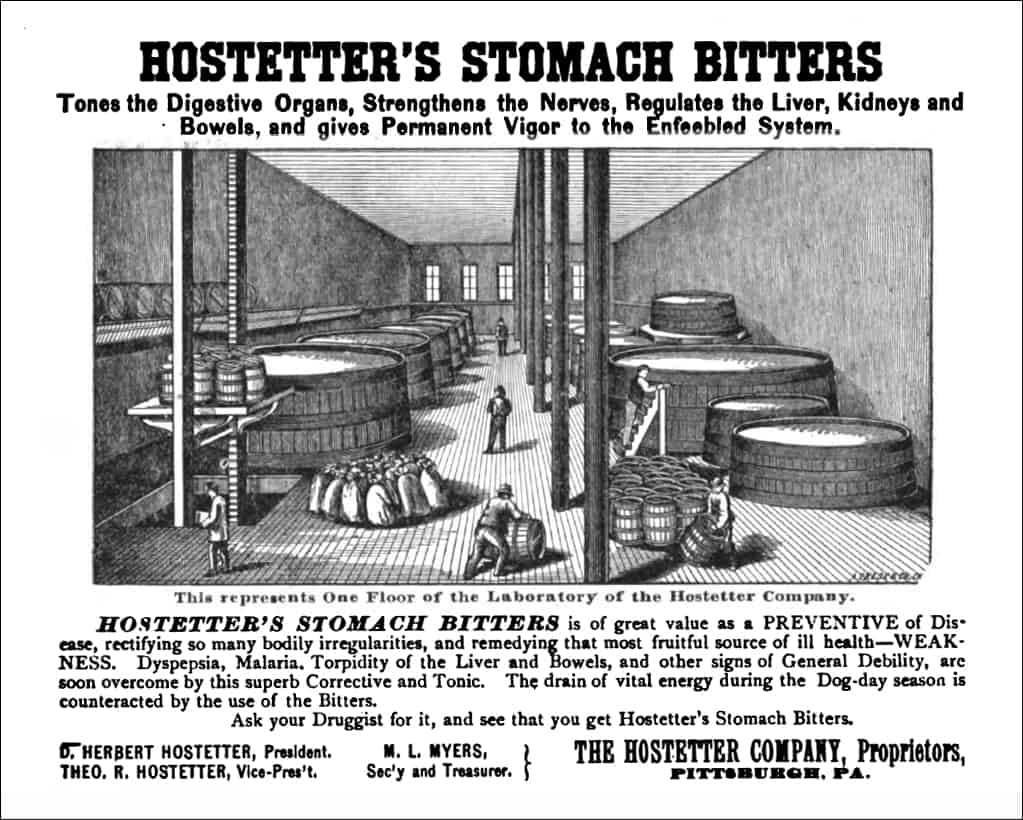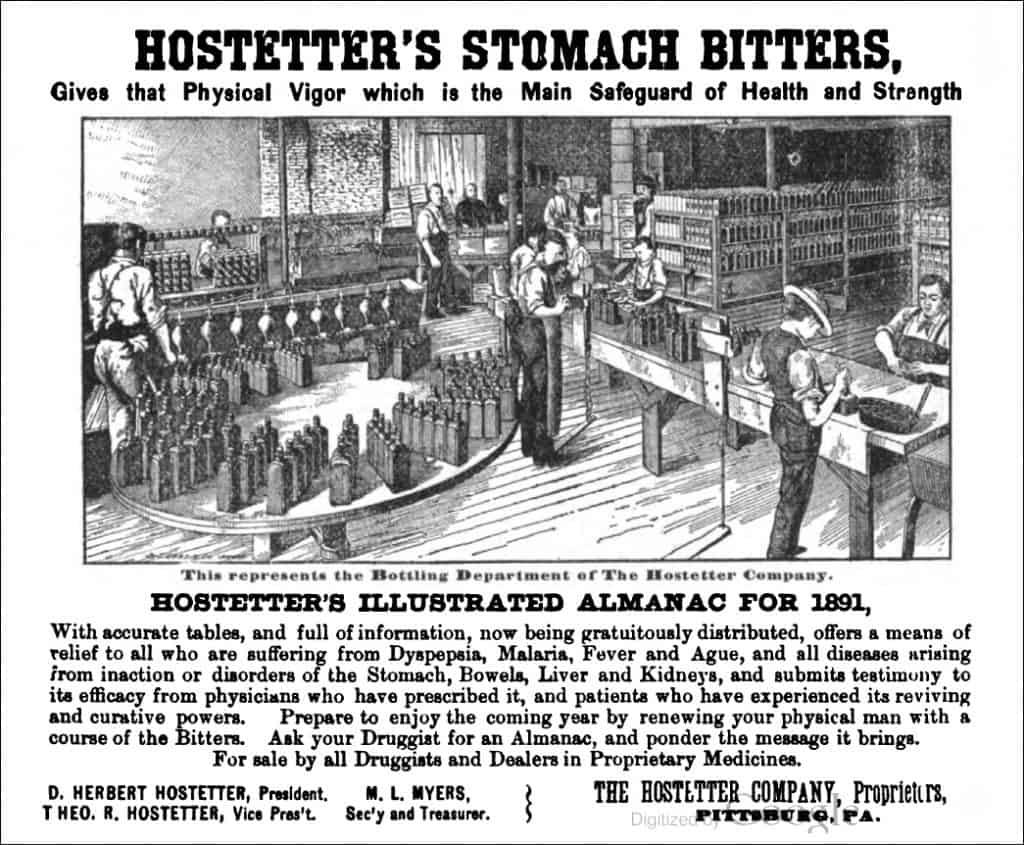 27 October 2018 | Saturday
1871, Reed's Celebrated Overland Bitters newspaper advertisement (The Nebraska State Journal, Friday, August 11, 1871) from Reed Brothers, Dealers in Drugs and School Books in Lincoln, Nebraska. I have to admit, I have not seen that specialty combination before. Ring and Ham Bitters Bottles catalog R 29. The brothers sold out to S. S. Brock & Company later in 1871. Somewhere, somebody has the extremely rare, amber square bottle which I have not seen.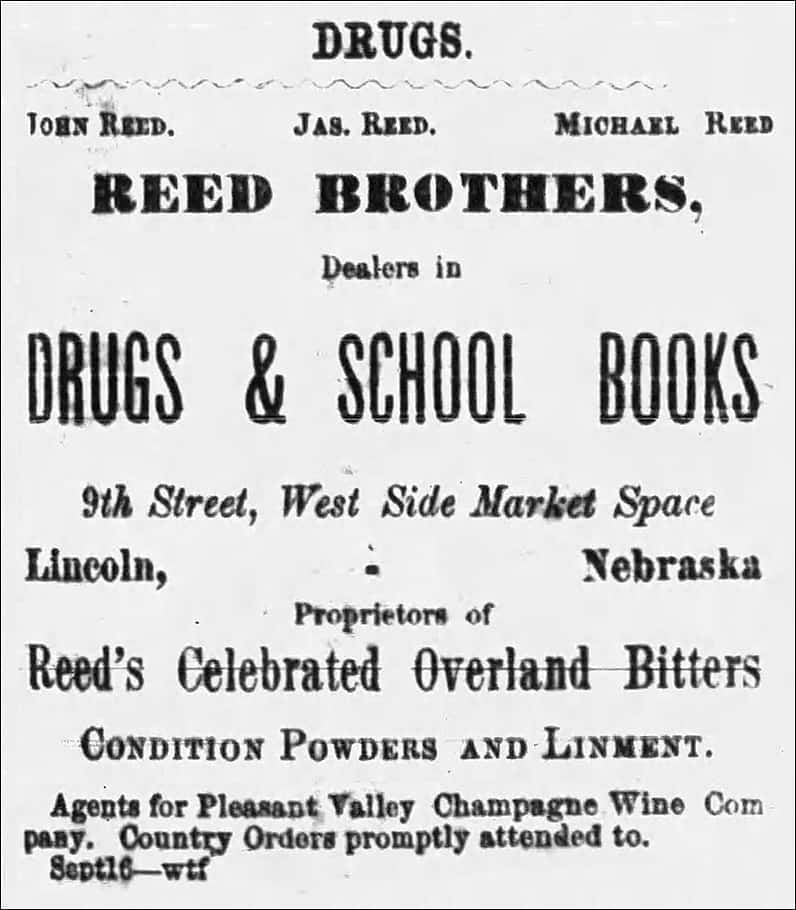 23 October 2018 | Tuesday
Post update: St. Nicholas Stomach Bitters – Gentry & Otis – New, York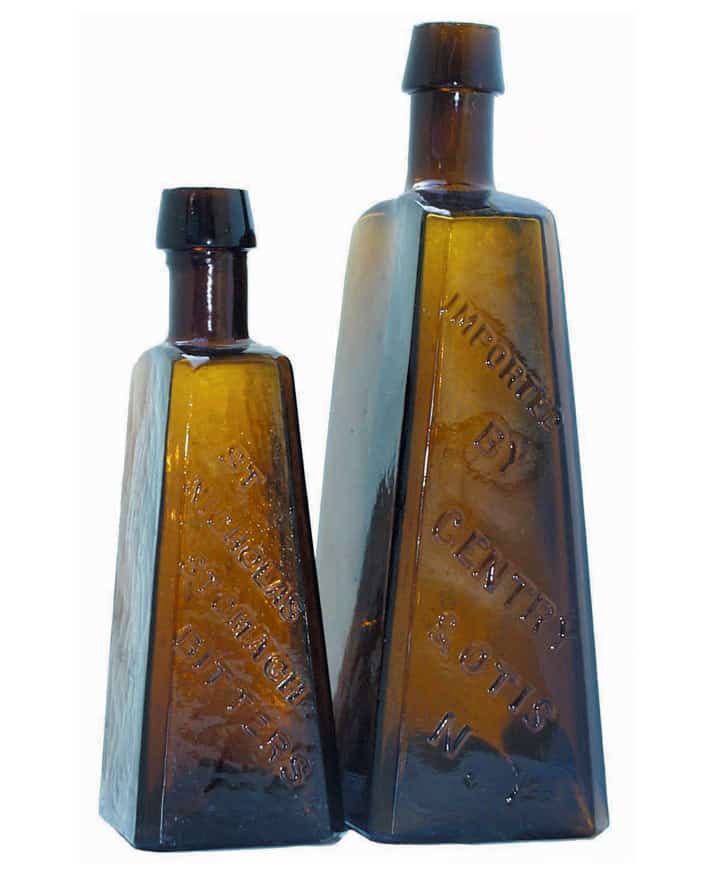 19 October 2018 | Friday
Post update: Sterne's Celebrated Congress Bourbon Bitters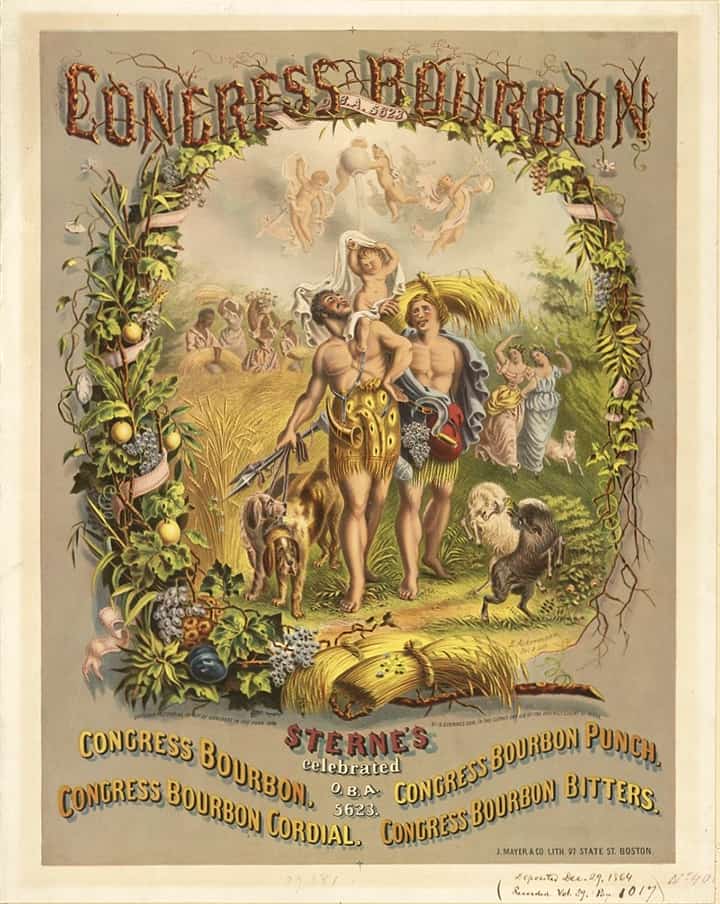 As Self Driving Car Development continues, you have to raise an eyebrow to this 1868 Patent Drawing of a Improved Locomotive Steam Apparatus invented by Zadoc P. Dederick and Isaac Grass.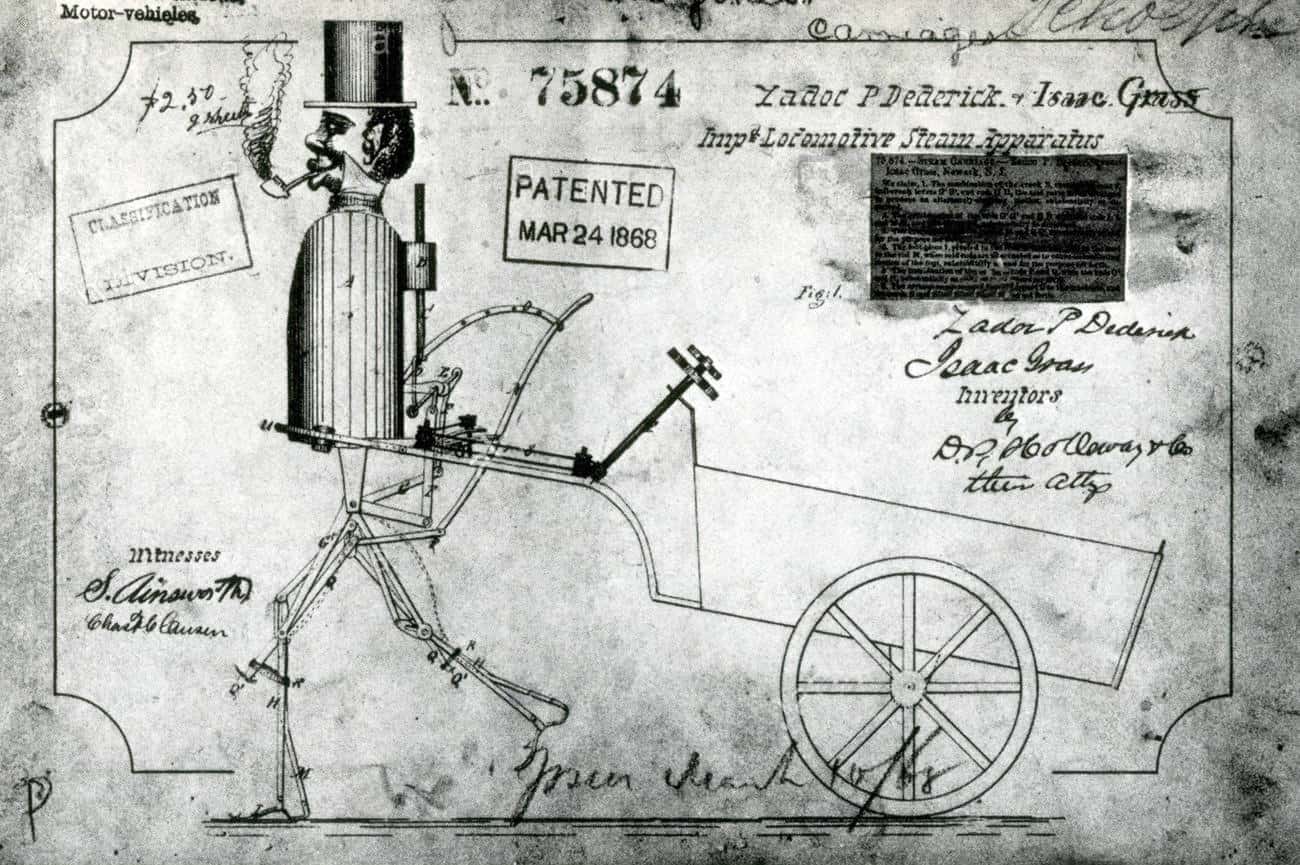 18 October 2018 | Thursday
Post Update: Log Cabin Series – Old Homestead Wild Cherry Bitters
Just an AMAZING Old Homestead Wild Cherry Bitters in WILD CHERRY!
"OLD / HOMESTEAD / WILD CHERRY / BITTERS – PATENT", America, 1865 – 1875. Gorgeous, medium-to-deep strawberry puce, cabin form, applied sloping collar – smooth base, ht. 9 3/8", virtually attic mint; (a couple of tiny pinprick specks of roughness on the edge of the lip, otherwise perfect). R/H

#

O37

. An extremely rare and desirable color, it has been more than 20 years since another example has been offered at auction. Provenance: Joe Kray collection, purchased at Cherry Hill, NJ Nat'l, 1994. Absolutely no amber is this one, a fabulous color. – American Glass Gallery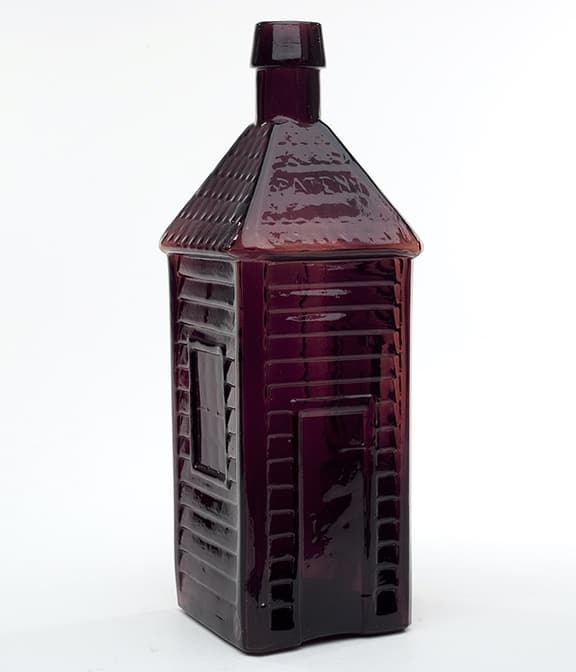 17 October 2018 | Tuesday
Post update: Oxygenated Bitters – A Sovereign Remedy
16 October 2018 | Monday
Post Update: Red Jacket Bitters – Another Chicago 'Indian'

13 October 2018 | Saturday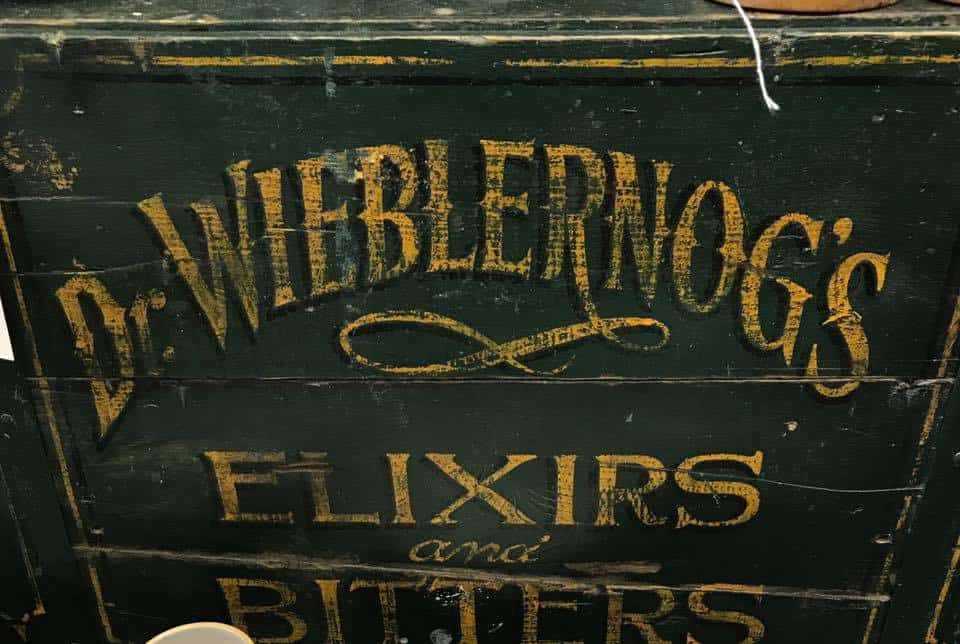 Ferd, have you ever seen this name before. The dealer said it was bought out west several years ago. It is a wooden case that appears to have good age but I have never heard of that name. I guess it possibly could have been a labeled bottle. Any help would be appreciated. Thanks
Jack (Hewitt)
Jack: Hmmm. Ancestry.com, Fold3, Newspapers.com etc says this name does not exist in their immense datebase. I'll go deeper. Luv it though. It almost looks like a prop for a stage or movie set? 😎
08 October 2018 | Monday
Really cool ad for Kentucky Tonic Bitters.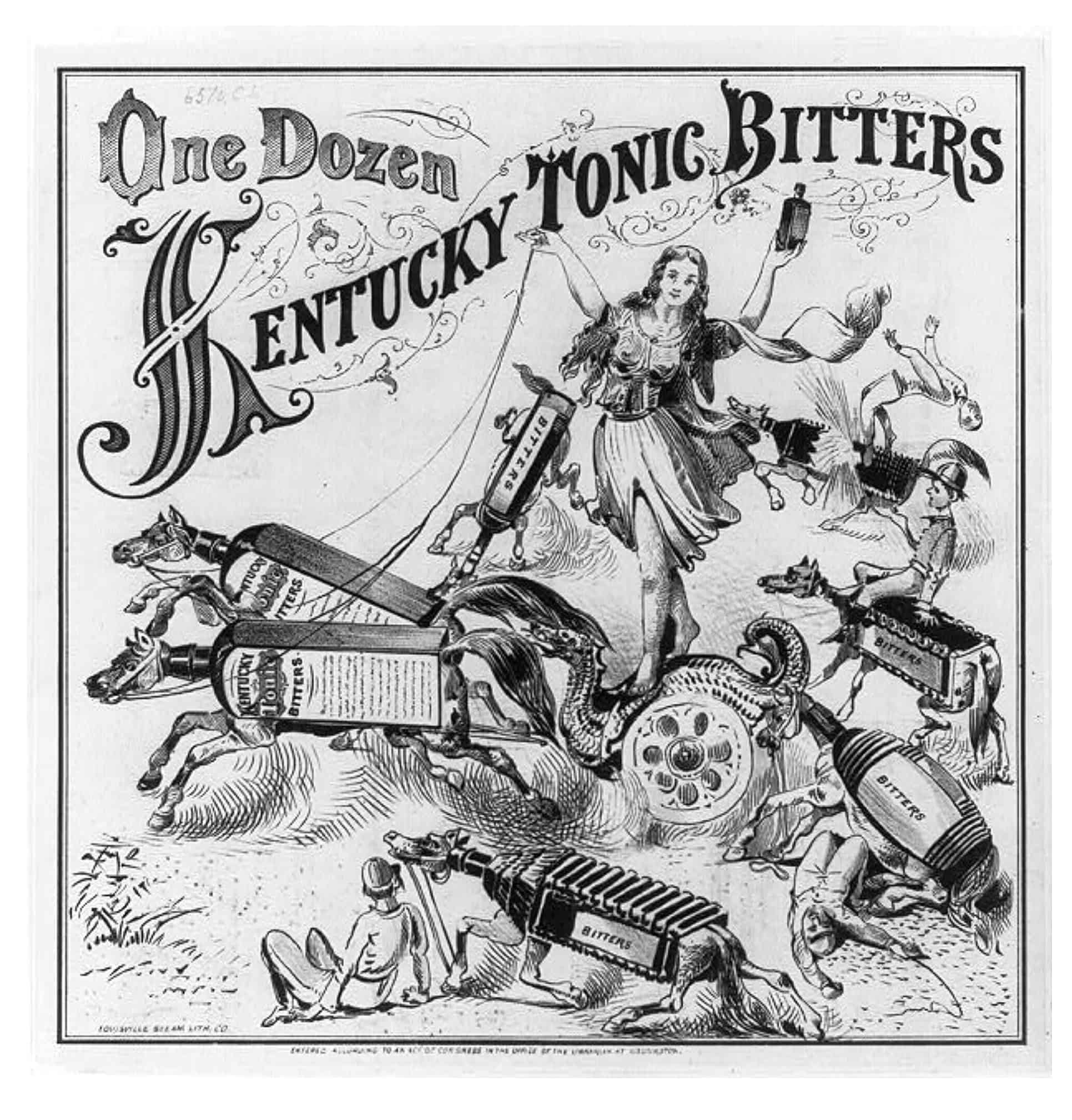 07 October 2018 | Sunday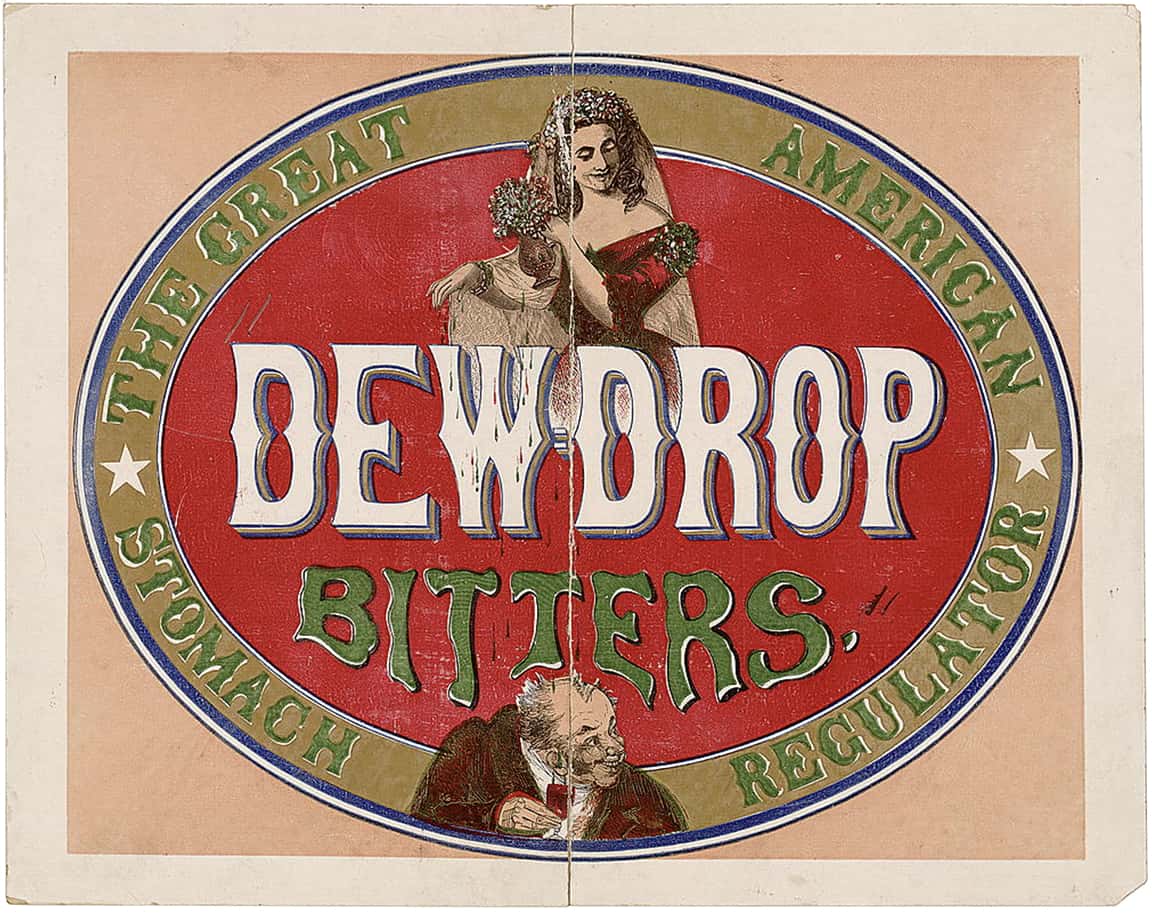 Dew Drop Bitters print advertisement showing a woman, perhaps a goddess of nature, dripping dew from a pitcher of flowers onto a man below holding a small glass to catch the drops. c1868 – Library of Congress
06 October 2018 | Saturday
Post update: The Doyle's & Soule's Hop Bitters – Rochester, N.Y.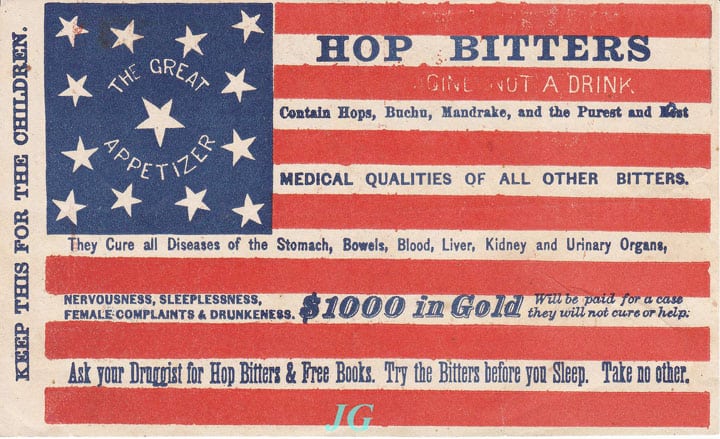 05 October 2018 | Friday
Post update: A. Loranger Globe Bitters – What is your Story?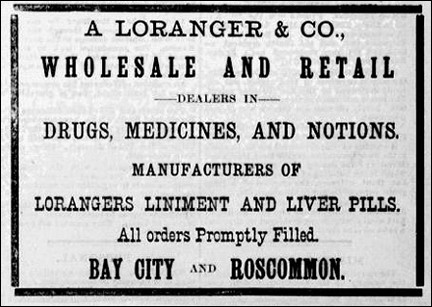 04 October 2018 | Thursday
Pretty cool and raw New York Hop Bitters from down under. Current ABCR Auction.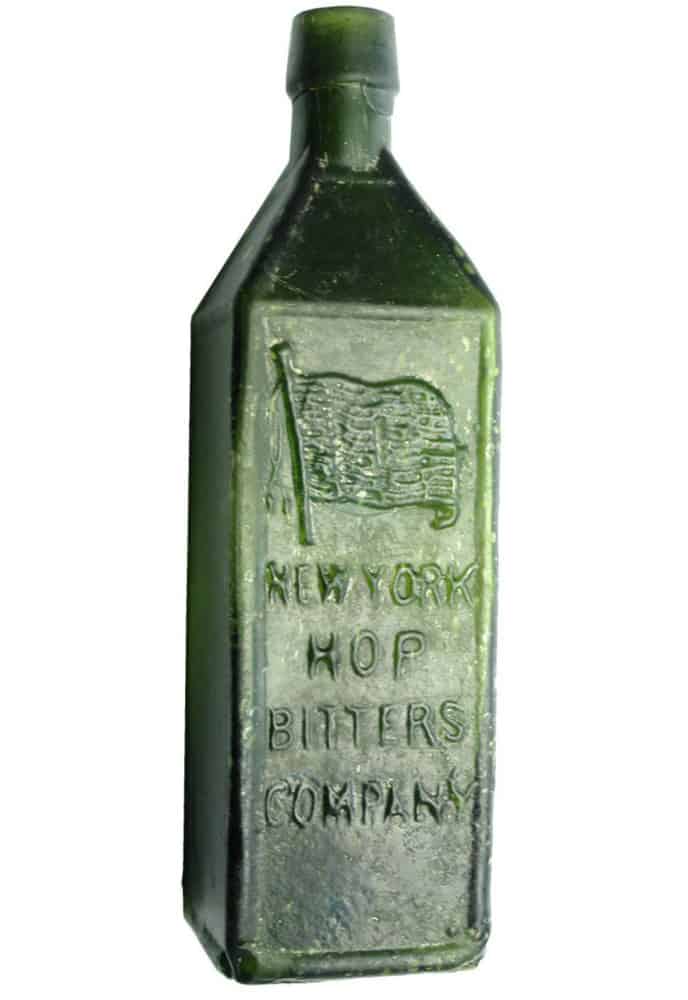 27 September 2018 | Thursday
Post update for J.M. Laroque's Liquid Anti Bilious Bitters – Baltimore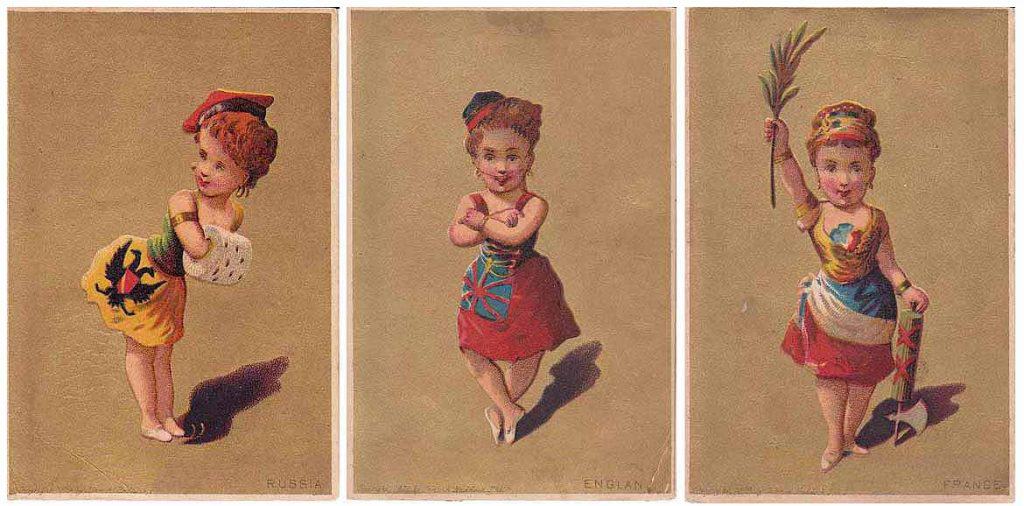 Appears to be an unlisted bitters ad below. DeCinchon's Pereuvian Bark Bitters noted in The Cairo Bulletin (Cairo, Illinois), Thursday, January 10, 1878

25 September 2018 | Tuesday
Post update for NECTAR BITTERS with this super example from Matthew Tigue Levanti. Read: Professor Lennords or Leonnard's or Leonard's Celebrated Nectar Bitters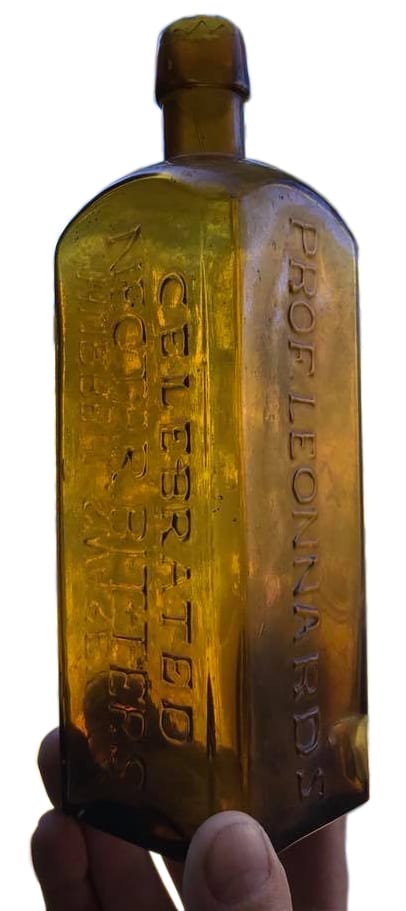 21 September 2018 | Friday
1766 bitters advertisement for Purl Bitters, by Virtue of the King's Patent. Pretty darn early. From The Public Advertiser (London), Saturday, October 18, 1766. There are actually earlier ads. A bitters from across the pond.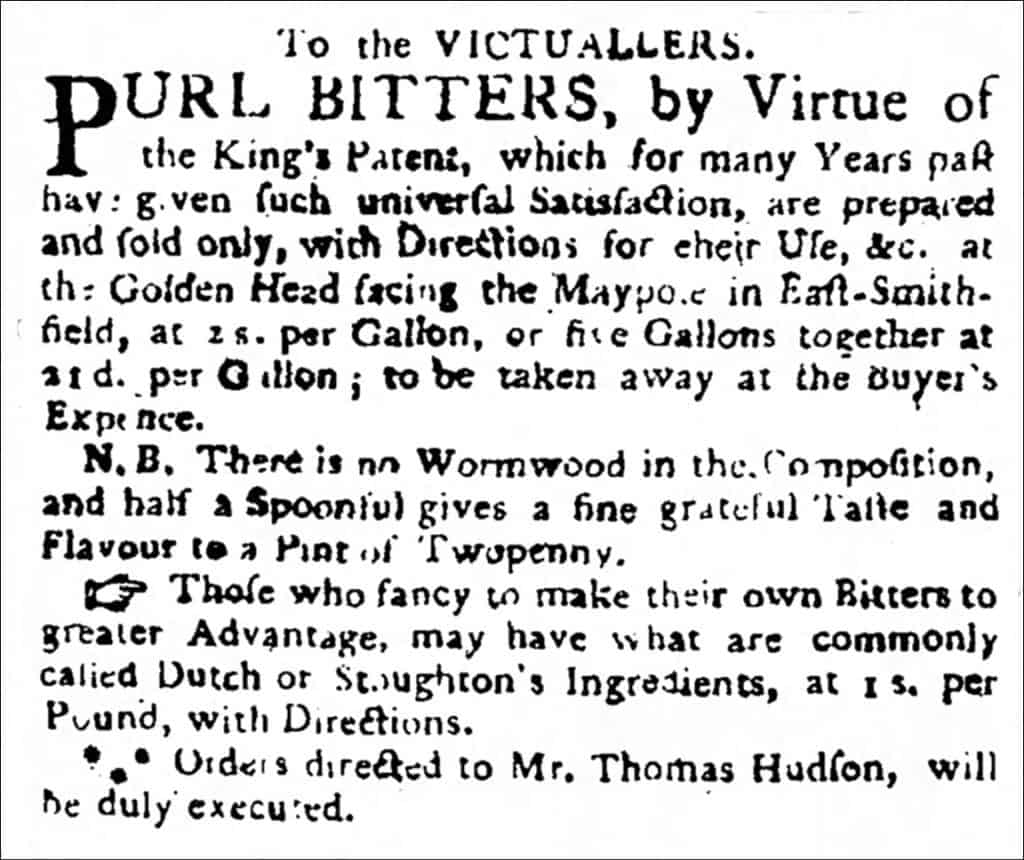 16 September 2018 | Sunday
Found an unlisted bitters advertisement for Smith's Morning Star Bitters in The Topeka Weekly Times, Thursday, June 22, 1871 (only year).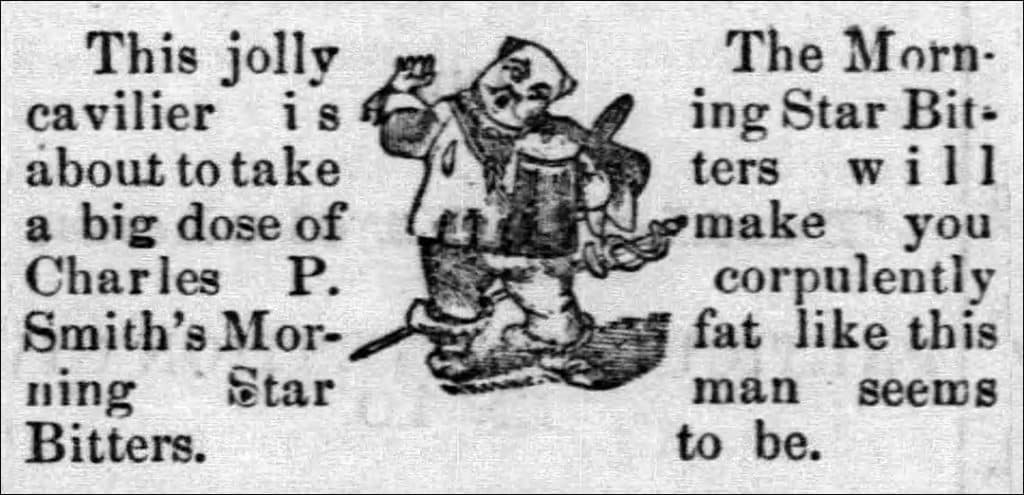 14 September 2018 | Friday
An encrusted Drake's Plantation Bitters submitted by Matthew T. Levanti. Read: Log Cabin Series – Drake's Plantation Bitters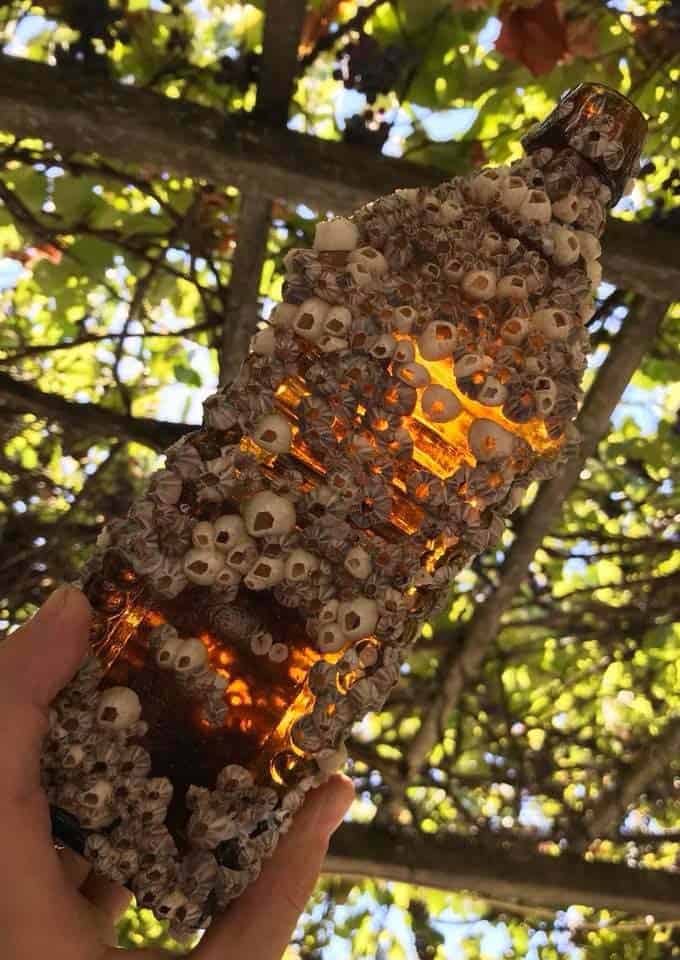 10 September 2018 | Monday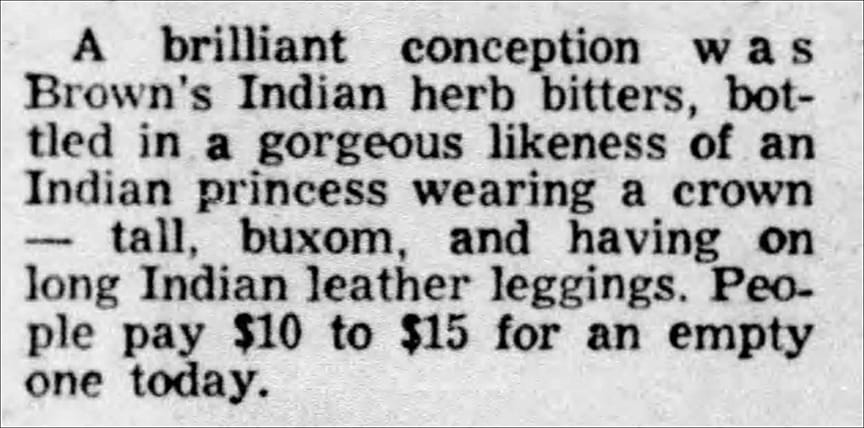 AVAILABLE: Brown's Celebrated Indian Herb Bitters (figural Indian Queen) for $10 to $15 a bottle…… in 1954! Hartford Courant, Sunday, October 31, 1954.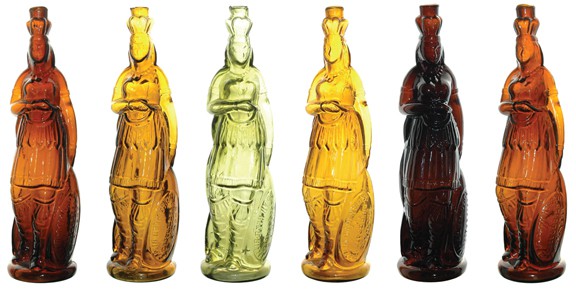 09 September 2018 | Sunday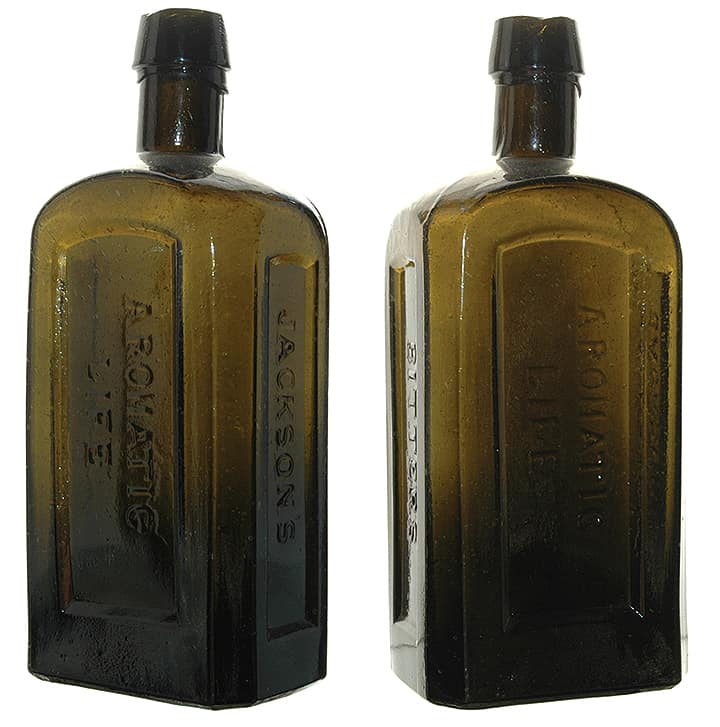 Jackson's Aromatic Life Bitters – Chris Bubash has recently found reference to a Dr. Jackson's Aromatic Life Bitters being sold in Illinois in 1855 and a Dr. J.B Jackson which prompted a post update. Here are a few support pieces he found. Not sure if it is the same guy. The glass sure does not look like Chicago or St. Louis glass. We need to reference Bottled in Illinois. Would someone check?
08 September 2018 | Saturday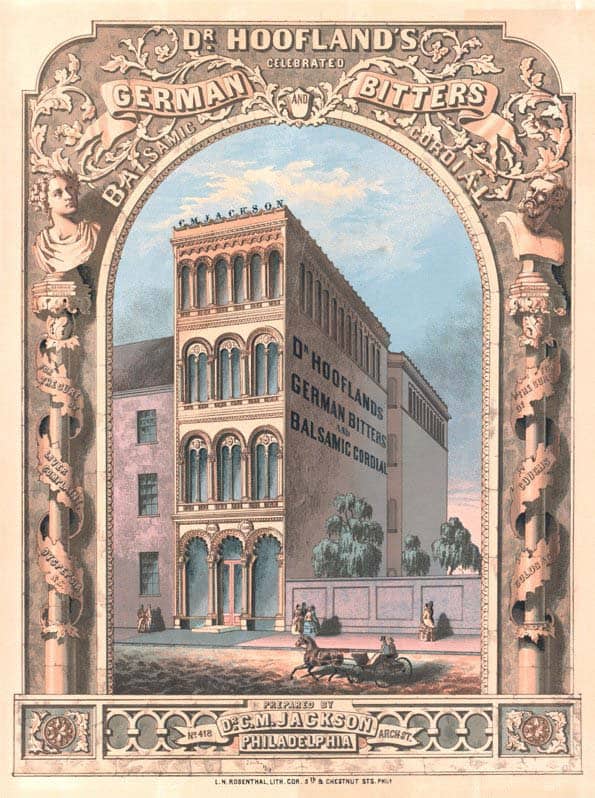 A cool advertising trade card for Dr. Hoofland's Celebrated German Bitters. This bitters was put out from around 1850 to 1892. That's quite a run.
07 September 2018 | Friday
Flying back home today. Business on the East Coast all week. Lot's happening but looking forward to being back in the nest. Interesting ad submitted by Mark Wiseman for Dr. Smith's Magic Bitters! Could be unlisted. Need to check out the books.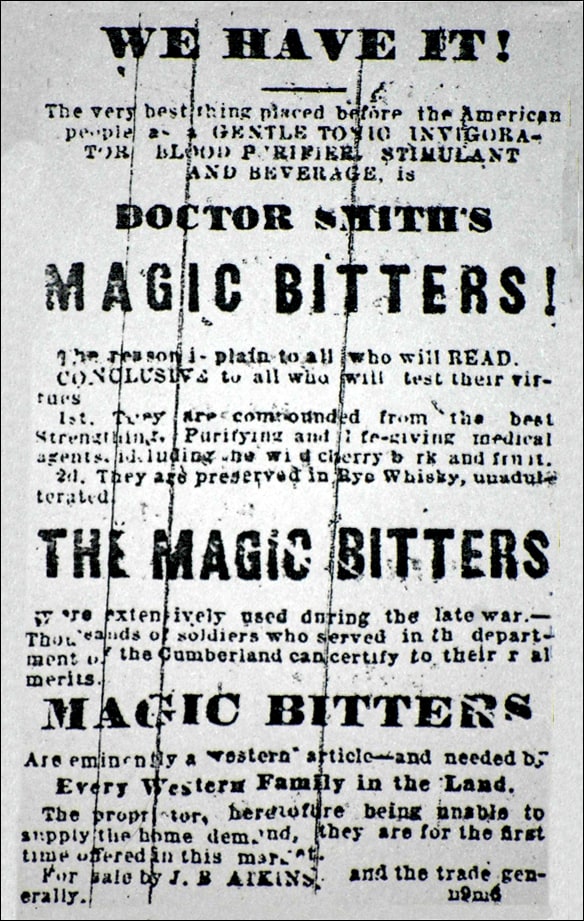 04 September 2018 | Tuesday
Post update: German Tonic Bitters – Boggs, Cottman & Co. – B.B.B. – Boggs Balt Bitters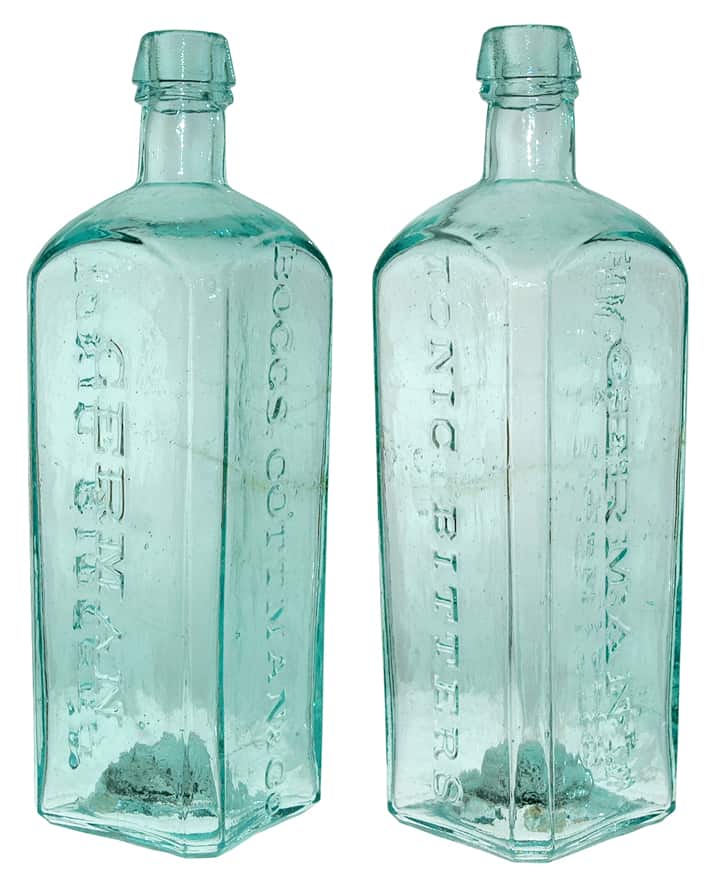 03 September 2018 | Monday (Labor Day)
Post Update: Figural Pig Series | Suffolk Bitters
01 September 2018 | Saturday
Post update: THE NATIONAL BITTERS – Schlichter & Zug | Walton & Zug | J.S. Walton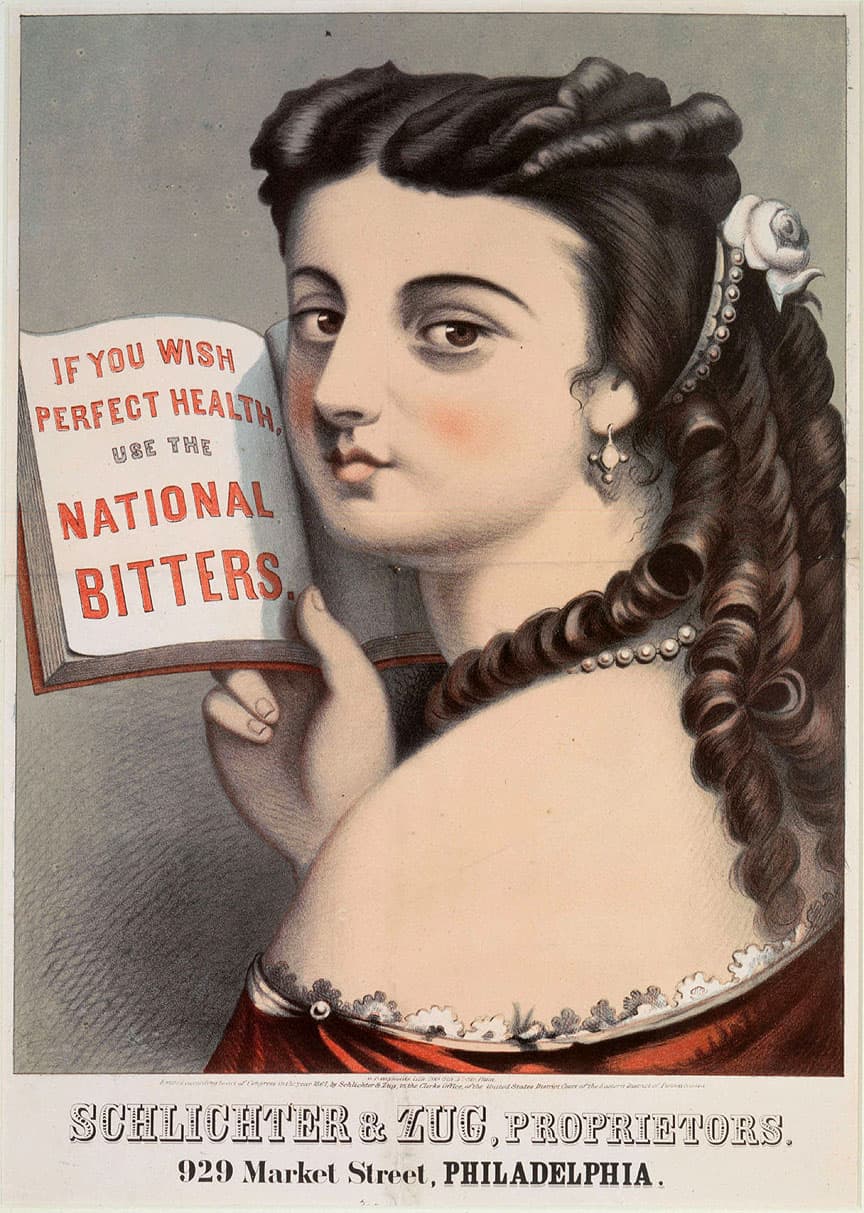 30 August 2018 | Thursday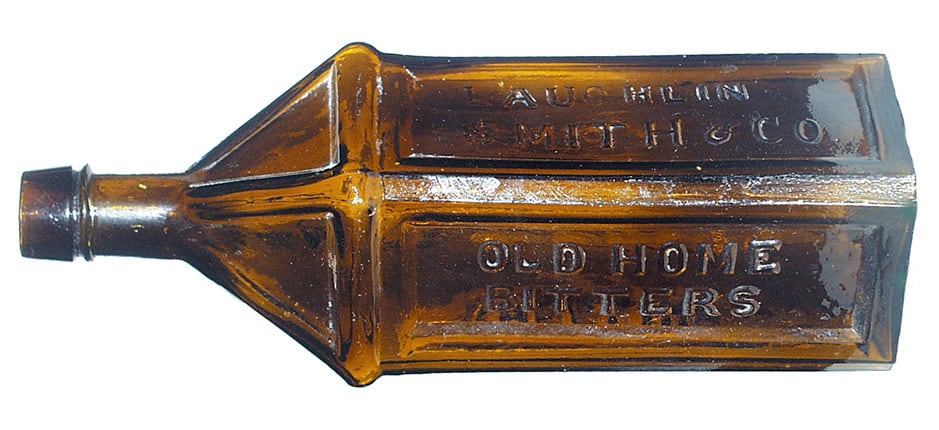 Post update: Old Home Bitters – Wheeling, West Virginia
"The Terminal" Love this picture. Arguably one of the most famous photos of a rail horsecar in New York City, by famed photographer Alfred Stieglitz. Taken in 1893 – The J. Paul Getty Museum
29 August 2018 | Wednesday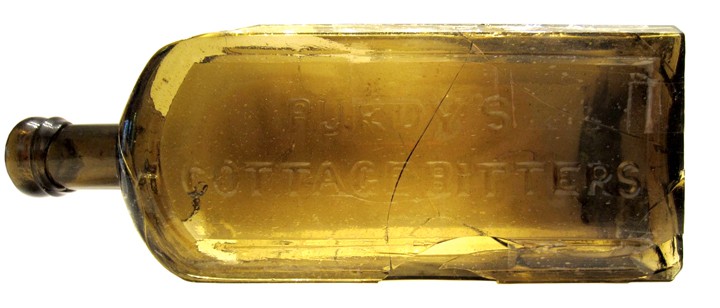 Hiram Purdy was engaged for many years in the wholesale liquor trade. He was the inventor of the metal showcase and was the projector of the first horse street railway in New York, named the Bowery and Third avenue line which was built in 1854.
Post update: My Purdy's Bitters Mystery Solved!
27 August 2018 | Monday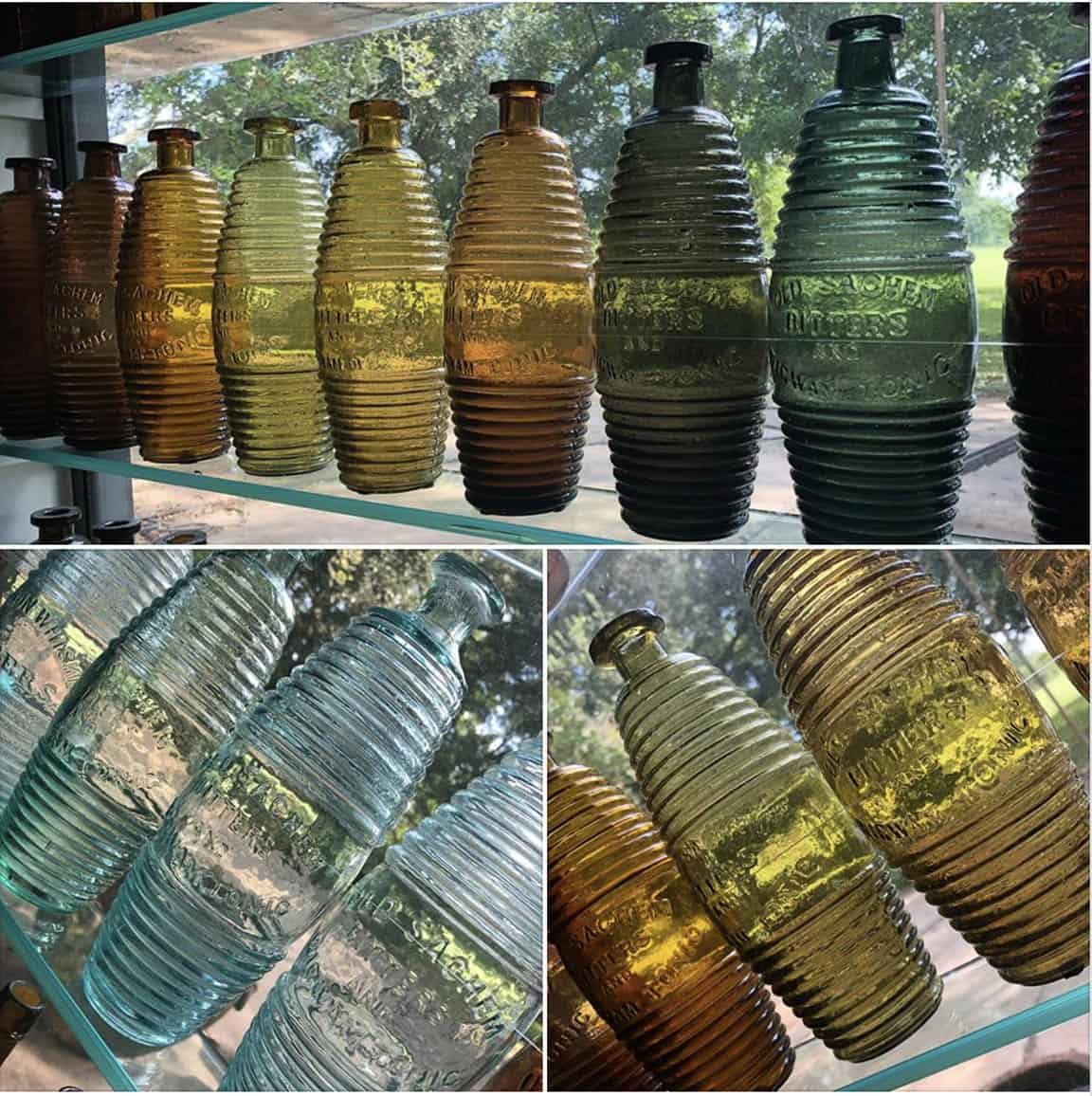 Putting some Old Sachem Bitters and Wigwam Tonic barrels back on shelves after HARVEY.
Read: Barrel Series – Old Sachem Bitters and Wigwam Tonic
26 August 2018 | Sunday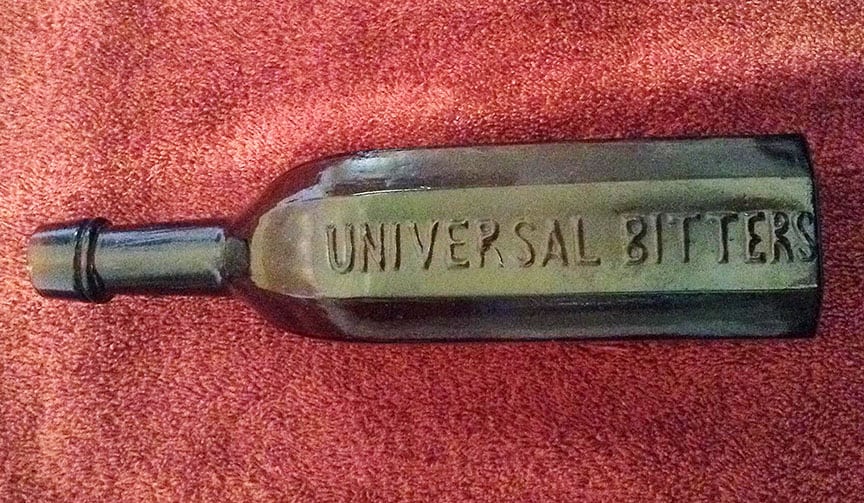 Post Update: The missing link Universal Bitters by Nicholas Kieffer
25 August 2018 | Saturday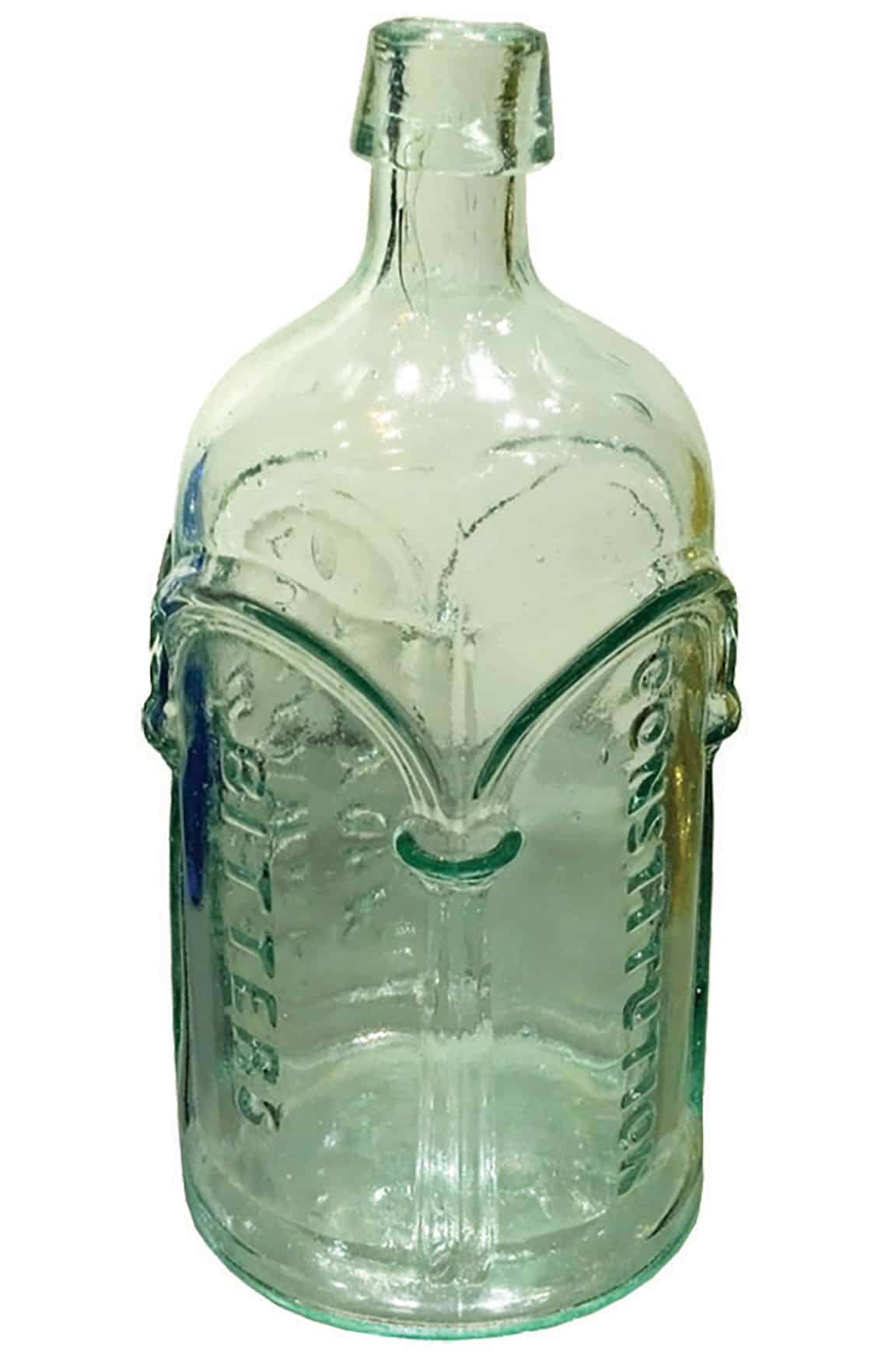 Post Update: General housekeeping and material from Eric McGuire.
Constitution Bitters – The oldest Figural Bitters?
21 August 2018 | Tuesday
Old Sachem Bitters Headquarters almanac illustration. Image from Ted Krist. The "T S, X C, M R, 1858" copy exists here too. Still need to figure that out.
Read: OLD SACHEM BITTERS AND WIGWAM TONIC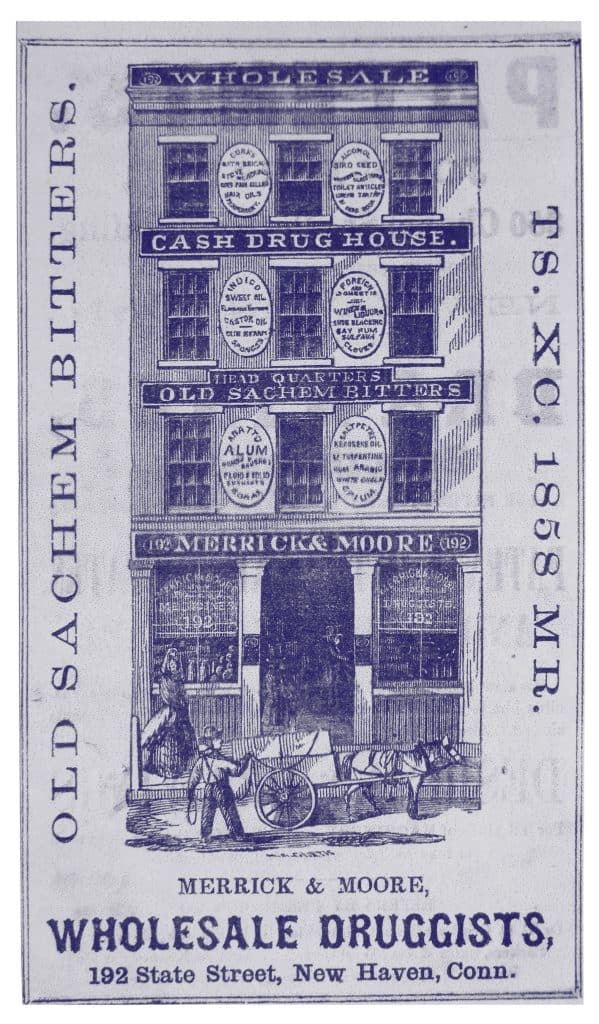 20 August 2018 | Monday
Looks like an unlisted bitters. Rauch's Cordial Magen Bitters ad from The Catholic Telegraph, 27 September 1865.
F. W. Rauch's Cordial. Recomendad by Dr. Quinn, Dr. Dav. O'Connell, Dr. McMillan, Dr. Emmerth, Dr. Neumann, Dr. Greve, and others. F. W. Rauch's Cordial has gained, in the short time of its sale, so many friends, and has relieved ao many persons of pains and diaeasss, that the manufacturer deems it his duty toward mankind, to make it known as far as possible. It is a pleasant and wholesome beverage. It benefits the Stomach, Kidneys, Bladder, Lungs, Throat, Brains, Eyes, &c. Fortifying the bowels it nullifies the consequences of weakness, may they be Diarrheaa, Costiveness, or Vomiting. It has been used with great benefit against Headache, Whites, Cough, Catarrh, &c. It is excellent as a tonic, cephalic, diuretic, and carminative. For sale at Drug Stores, Groceries and Saloons. Manufactured bv F.W. Rauch. No. 9 1/2 Twelfth Street, Cincinnati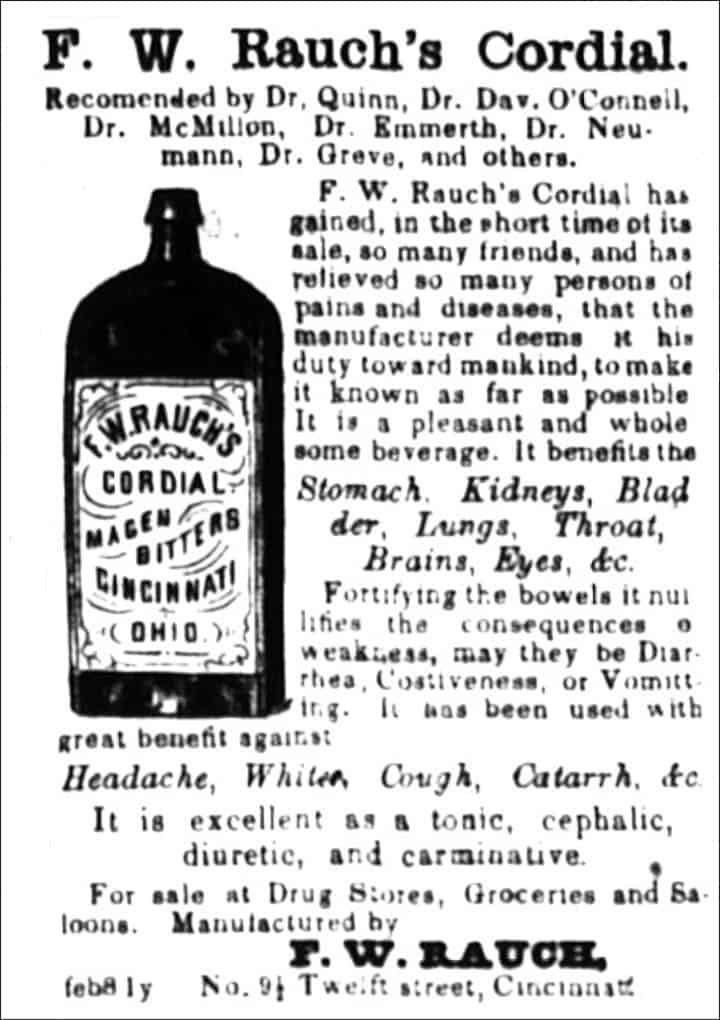 19 August 2018 | Sunday
Some decorative Landsberg and Professor Byrne bottles seeing the light of day since being packed up from Hurricane Harvey. About this time last year.
Read: Professor Byrne and Landsberg – Some Highly Decorative Bottles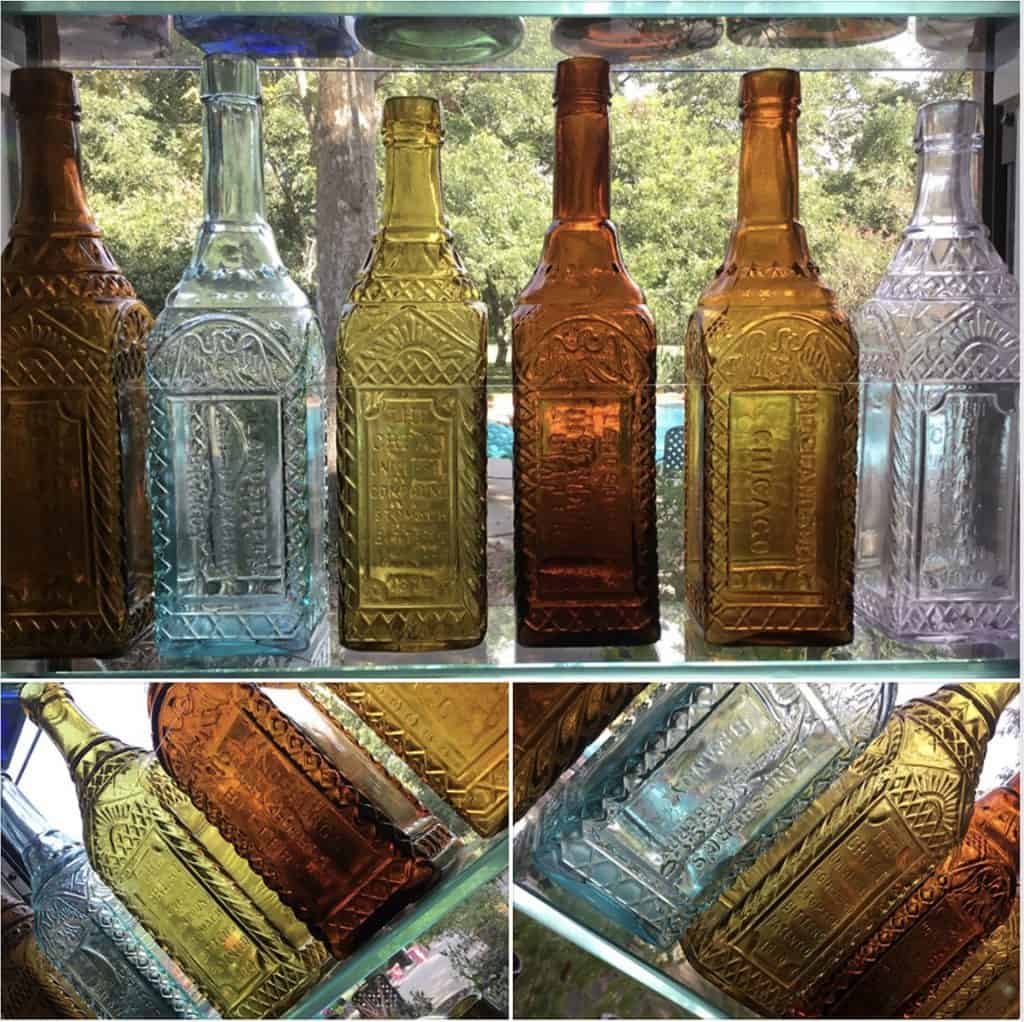 18 August 2018 | Friday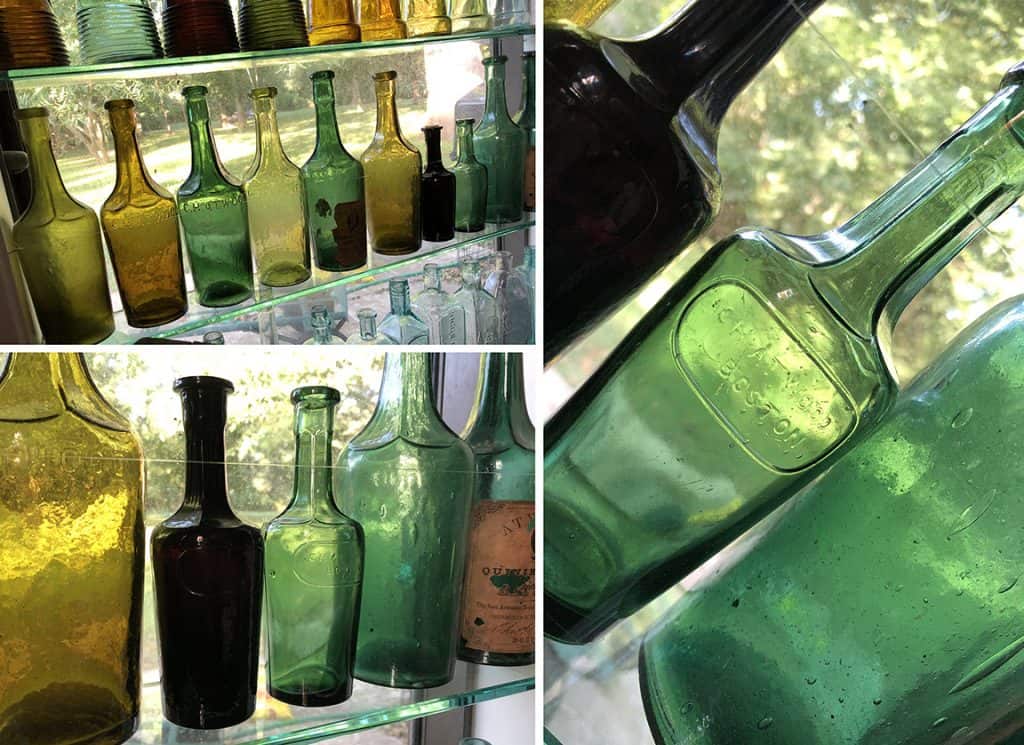 Added this cool green, small-size Atwood's Quinine Tonic Bitters to my collection. Embossed BOSTON. Thank you Chris Eib.
Read: C. H. Atwood – Neat Bitters Bottles with Fluted Necks
17 August 2018 | Friday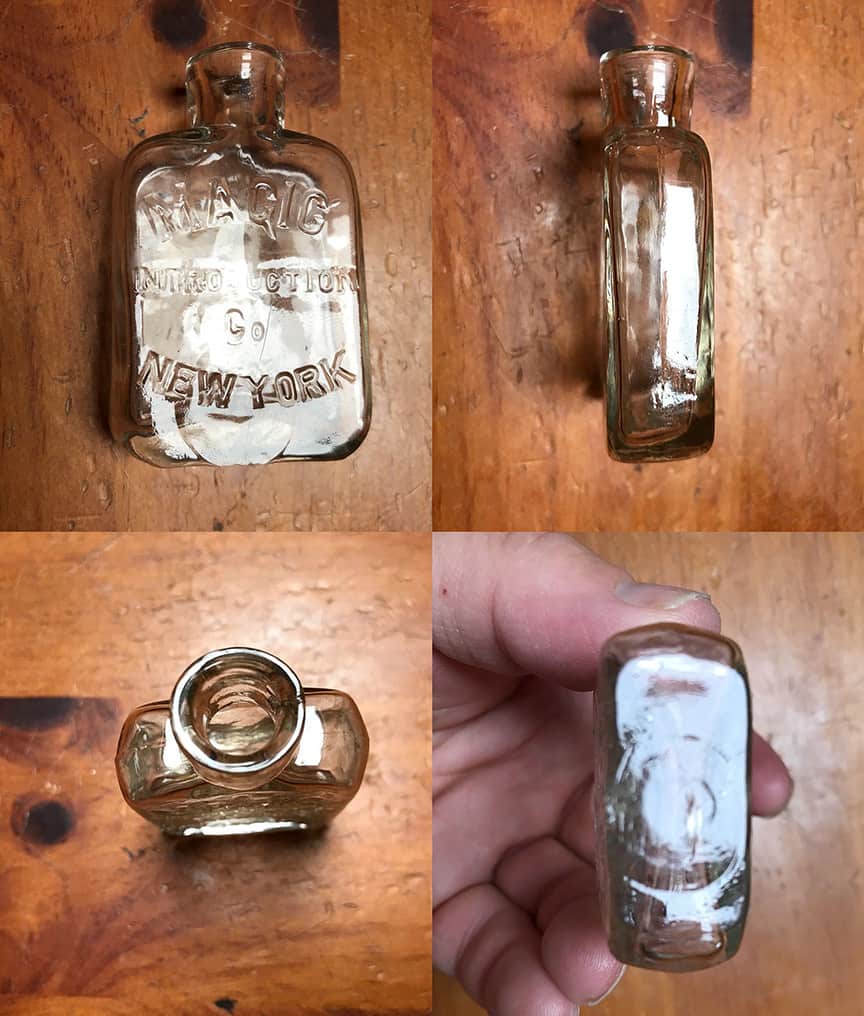 Prior to Elias Koopman founding of the American Mutoscope and Biograph Company, he was also the founder of The Magic Introduction Company. He later headed the Runsyne Corporation, a maker of electrical signs. Jason Champlin points out interesting enough, there was a bottle made from the Magic Introduction Company.
Read: Koopmann's Bitters, for use in Marshy and Swampy Districts
14 August 2018 | Tuesday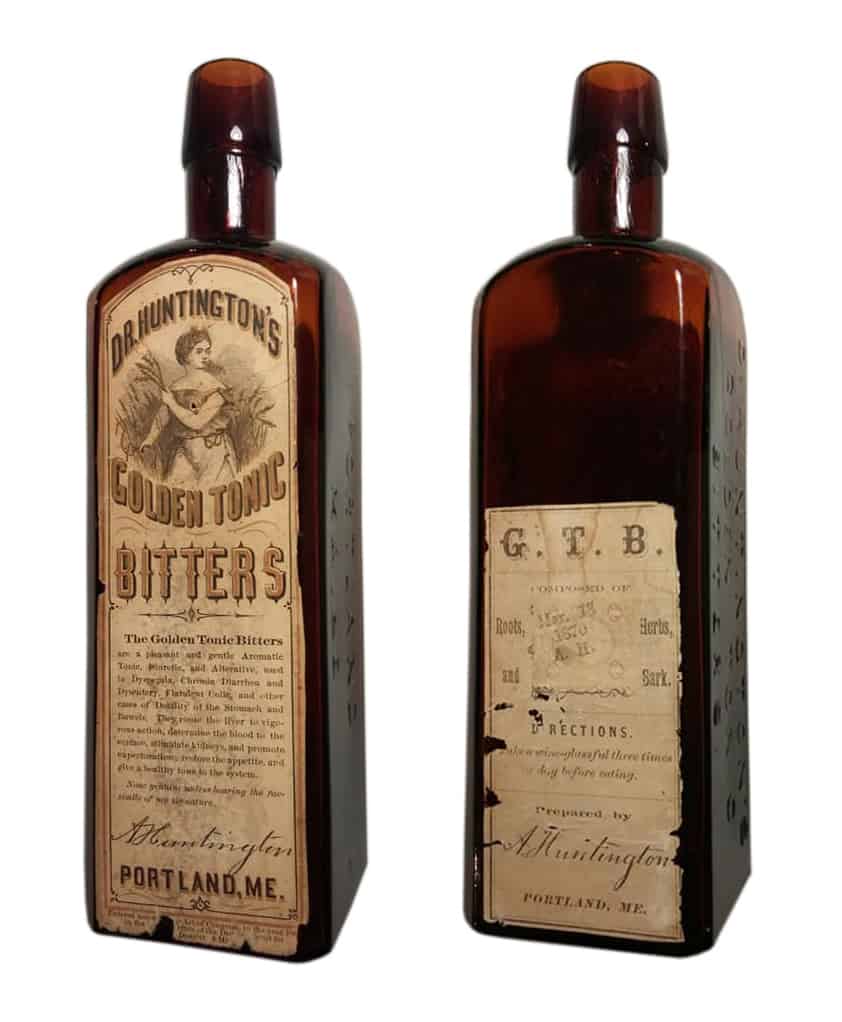 Hi Ferdinand – I have a labeled Huntington's Golden Tonic Bitters with two labels that I thought you'd like to see. It confirms that Alpheus was the proprietor of the medicine. The back label also has a 4 cent Proprietary tax stamp dated March 13, 1870. Additional photos are of a pontiled med with his name and Monmouth ME embossed. The other bottle is smooth base with Portland ME embossed. Alpheus moved from Monmouth to Portland (Deering) sometime between 1863 and 1867. He was still located in Deering selling meds as late as 1885. The Horse and Ox liniment ad is from 1860 and the ad for his spruce gum and Golden Tonic Bitters is from 1869. Cheers – Sam Fuller, Stockton Springs ME
Read More: Dr. Huntington's Golden Tonic Bitters – Portland, Maine
13 August 2018 | Monday

Found this newspaper clipping last night confirming George N.W. Bryant started his apothecary business in NYC on March 19, 1845. Post updated.
Read: Bryant's Stomach Bitters aka The Cone
11 August 2018 | Saturday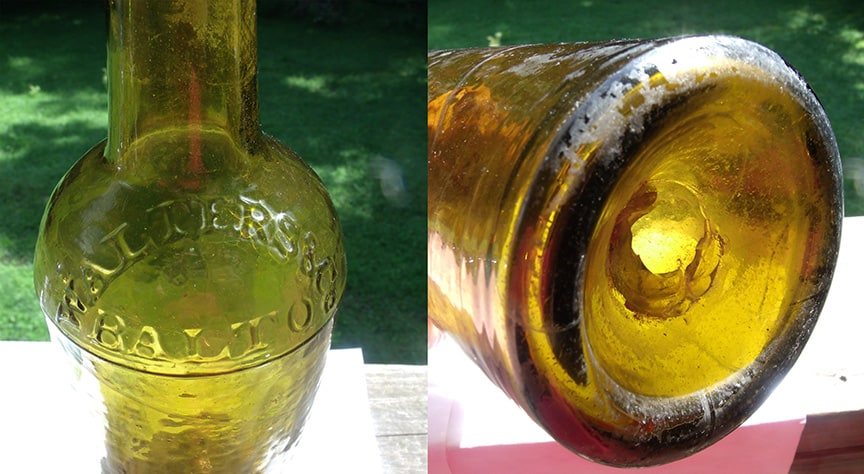 Nice embossed Walters & Co. Baltimore, 3-piece mold cylinder in a beautiful yellow amber found by Thomas Johnson.
Read: William T. Walters and his Museum Bottle
08 August 2018 | Wednesday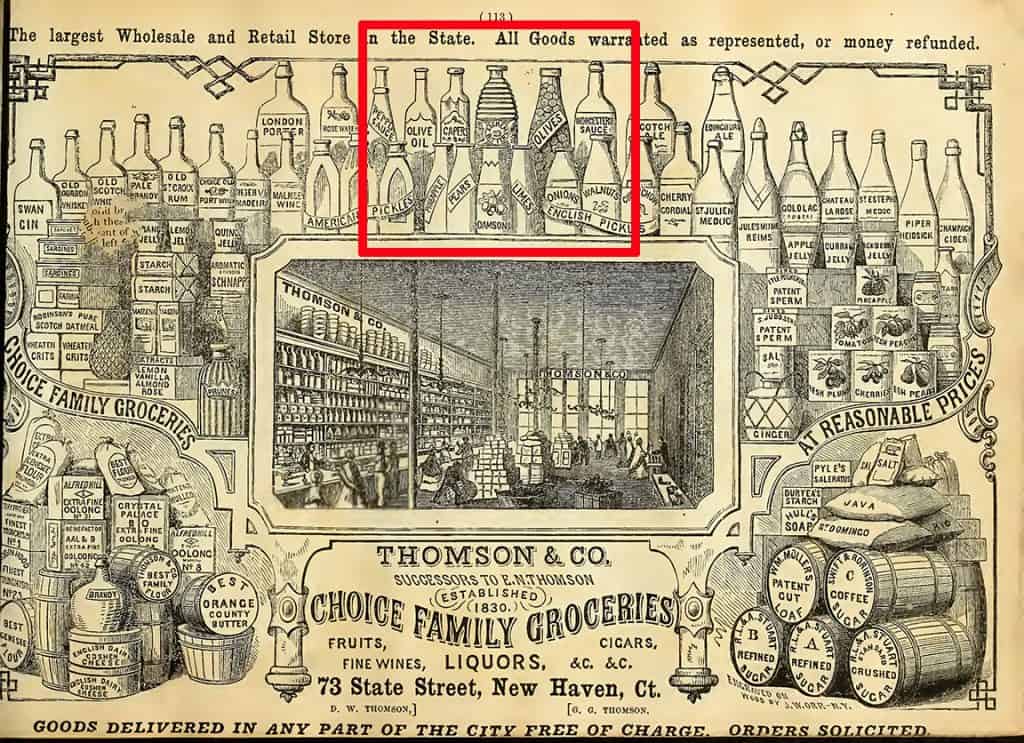 Ted Krist gets the bottle "Hawk Eye" award this month for spotting this Old Sachem Bitters bottle sitting on the center top shelf of a Thompson & Co. Grocer ad in 1860.
07 August 2018 | Tuesday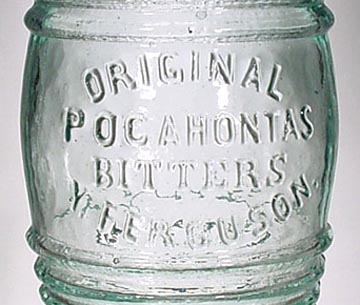 Pocahantas Bitters update. Based on new material provided by bitters authority Ted Krist at the 2018 Cleveland National, we now know that there was a 'Yates' Ferguson who is the "Y." Ferguson embossed on the bottle. This makes finding information a bit easier.
06 August 2018 | Monday
Super Ted Krist Bitters display at the Cleveland National wins BEST IN SHOW! Ted also gave a seminar on bitters.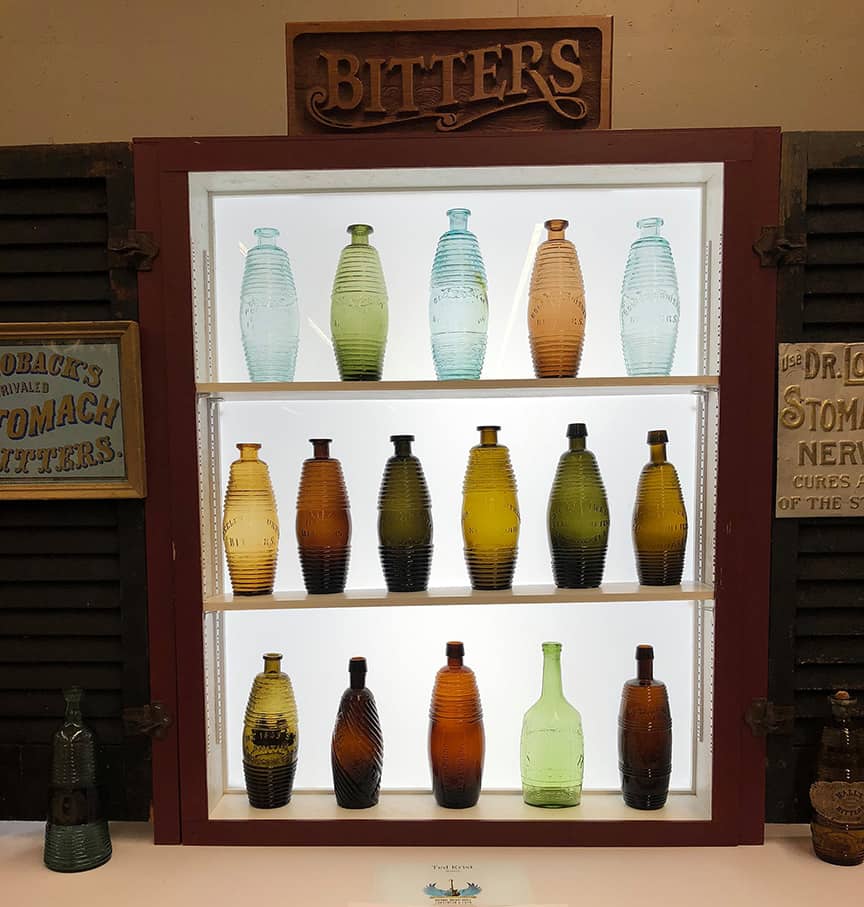 05 August 2018 | Sunday
Capital Tonic Bitters prepared byJ.R. Chessman, Burlington, New Jersey. Looks to be an unlisted bitters. The Bucks County Gazette, Thursday, October, 22 1891 (Bristol, Pennsylvania)
30 July 2018 | Monday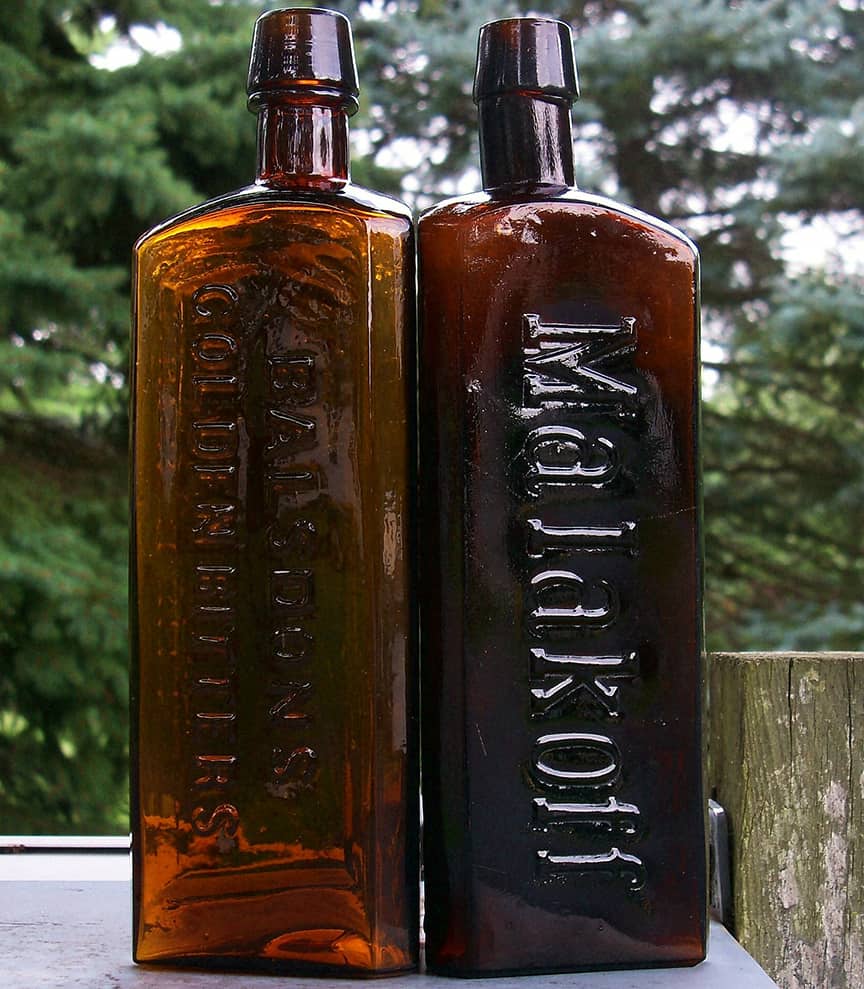 Hi Ferdinand: I'm in need of your top notch research skills once again. I have a New York? bitters? bottle that I'm coming up blank on. So I know it's got to be extremely SUPER rare. This one appears to have been blown in the same triangular mold as the triangular B 15, Balsdon's Golden Bitters. Also a New York bottle. Now, Ring & Ham list three variants of Malakoff Bitters; the M 14 and 15 in Bitters Bottles; and then the M 15.5 in Bitters Bottles Suplement. This one however, looks to be an unlisted, label only bitters, but with only the name MALAKOFF very largely embossed on one panel; and on the other, is LINDENTHAL BRO'S N.Y. (pics included)
So you get around. Do you recall ever coming across this bottle before in your travels? I'm very interested to find out what, if anything, that you're able to come up with. Thank you Ferdinand. Enjoy the Cleveland expo.
Regards, Chris (Eib)
[PRG] Chris: Your Malakoff by Lindenthal is one killer bottle. Crazy bold. typography. Never seen it before! Looks to be a Russian brand. Malakoff Stomach Elixir from this New York Tribune, 1871 ad. Not related to New Orleans bitters brand.
Read: What about this New Orleans Malakoff Bitters?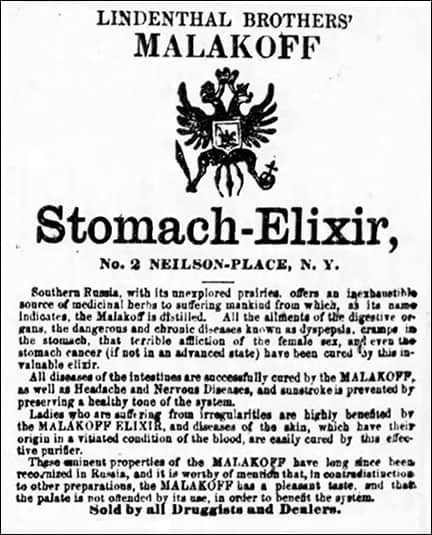 29 July 2018 | Sunday
Found this 1867 ad for Dr. Atherton's Dew Drop Bitters.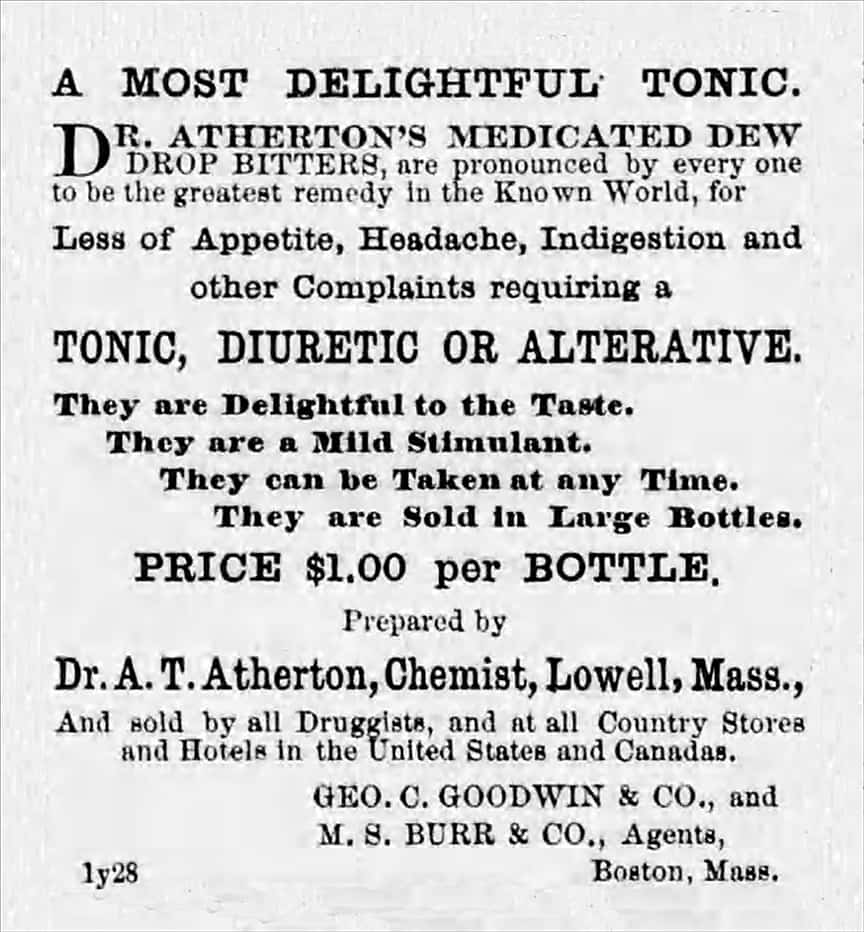 15 July 2018 | Sunday
Hi Ferdinand, I wanted you to have these pictures of the Peychaud's in my collection. I was reading the Appomattox river find. Best regards, David Jackson
Read: Peychaud's New Orleans Seal found in Appomattox River
Read: Peychaud's Cocktail Bitters – L.E. Jung and his Gators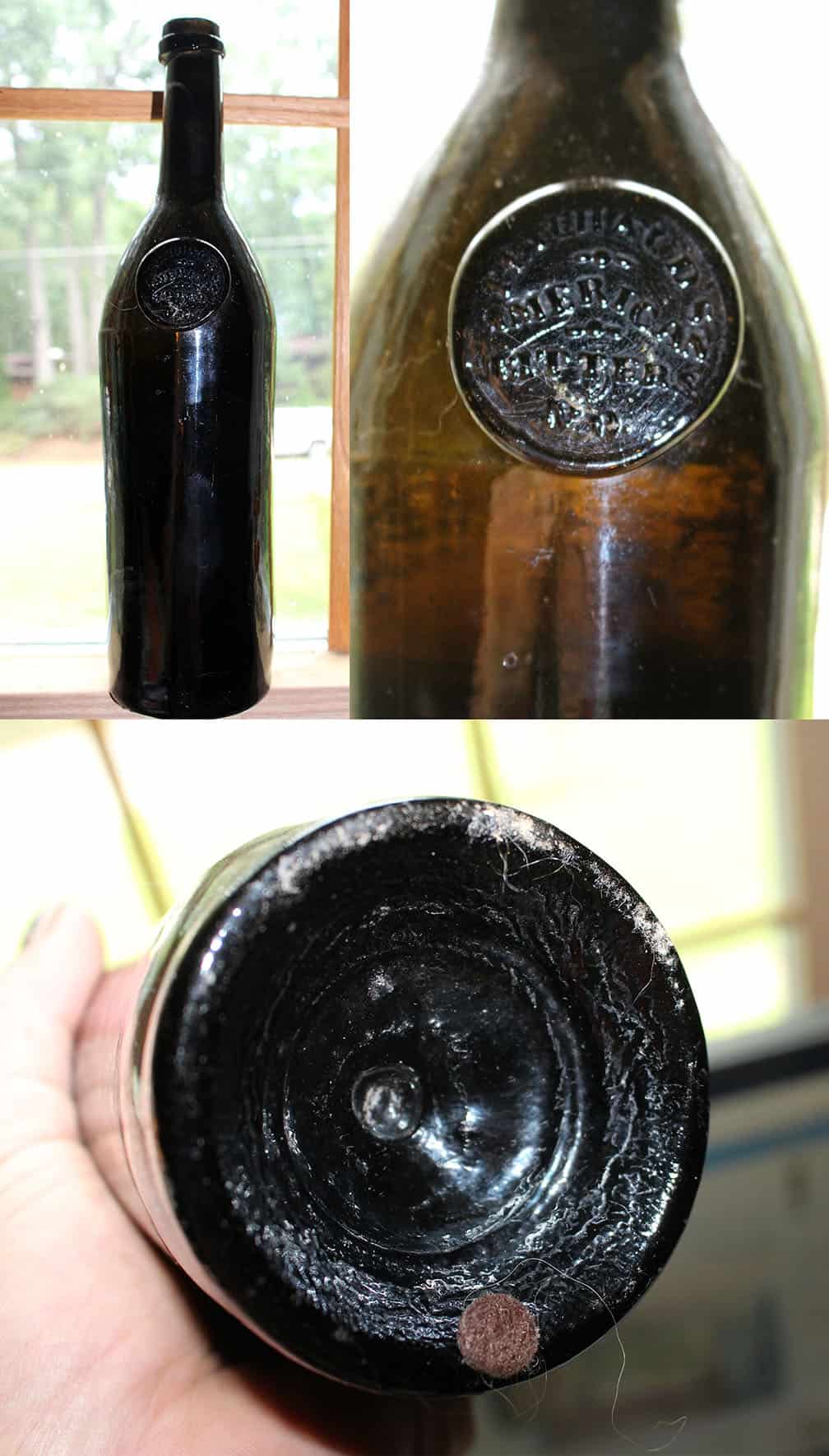 07 July 2018 | Saturday
Sorry, been on summer break so to speak. Jeff Wichmann has a new Charles Lediard bottle I have not seen before in his current American Bottle Auctions | Auction 65.
Read: Charles Lediard and his Liquor Products