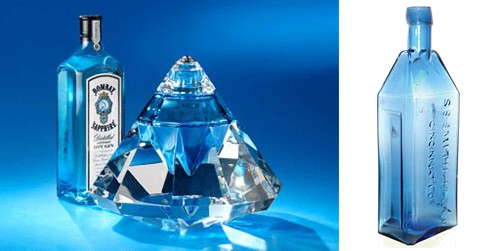 S.S. SMITH. JR & CO / CINCINNATI. O. – A Semi-Cabin in Sapphire
Sometimes life repeats itself…
26 March 2012 (R•121218 – Info on Samuel Sherwood Smith) (R•040119 – Aprill example)

In this post I would like to explore the commonalities between the beautiful coloration and faceting of blue Sapphire gems, the S. S. SMITH JR & CO. figural, rectangular semi-cabin (that probably contained a bitters, whiskey or rye) from Cincinnati, Ohio and Bombay Sapphire Gin (my preferred Gin).
The chamfered bottle design of the S. S. Smith certainly reminds me of the gem we are familiar with and the Bombay Gin bottle. Sapphire is a color that responds well to light and can refract lighter and darker tones that are gorgeous. Who wouldn't want to pick this bottle off the shelf of a merchant in 1870 or so. I know I can usually spot this color and brand in a field of many behind a bartender now.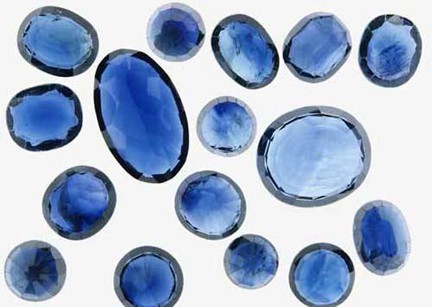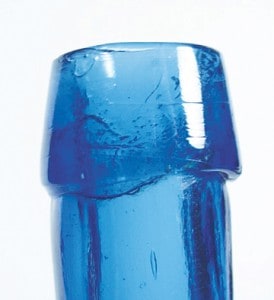 Sapphire is the official birthstone for the month of September as adopted by the American National Association of Jewelers in 1912. It is also one of the birth stones for the Zodiac signs of Pisces, Taurus, Virgo and Sagittarius. Sapphire is given as a gem for the 5th, 23rd and 45th wedding anniversaries while a star sapphire is given on the 65th wedding anniversary.
Sapphire is the non-red variety of corundum (the red variety of corundum is ruby). A 9.0 on the Mohs scale of hardness, sapphire is the second hardest natural mineral.
Blue is by far the most popular color for sapphires, but they can be almost any color, including yellow, green, white, colorless, pink, orange, brown, and purple. Padparadscha is the name for a rare orange-pink variety of sapphire and has a higher value than blue sapphires.
In the Glass Works Auction 94 this past March 2012 (Ides of March Auction) (see picture below) one of these S.S. Smith gems showed up. An example has not made an appearance for years. These are really tough to come by. I purchased my example in 2006 (see pictures below) in a private transaction from an East Coast dealer and auctioneer. I wish I had more information on the bottle such as a label or advertising but alas, I can not find a thing. I have heard rumors of an amber example. [Updated with amber information below] Hopefully this post will ferret out some more information from my collector friends.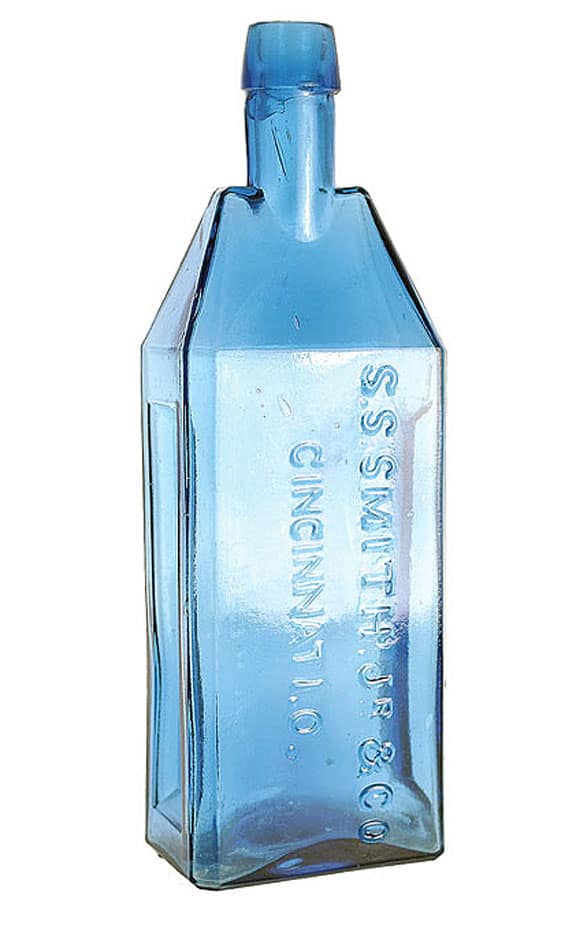 Glass Works Auction 94 "The Ides of March" Auction. Closed 19 March 2012.
This example sold for $4,312.50 including auction house premium. Most examples have sold historically (I have seen two or three including my own) for around $6,500 meaning someone really got a deal.
148. "S.S. SMITH. JR & CO / CINCINNATI. O.", (Denzin-SMI-21), Ohio, ca. 1870 – 1880, medium cobalt blue semi-cabin, 9 5/8"h, smooth base, applied tapered collar mouth, perfect condition. For those of you who collect these popular semi-cabin bottles, this is a hard one to find, and gives you a chance to add some nice color to the collection!
Samuel Sherwood Smith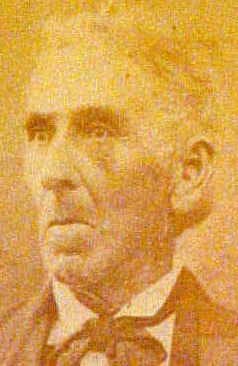 Samuel Sherwood Smith was born on August 30, 1803 in Solon, Cortland County, New York. He was the son of Levi Smith and Hannah Holland and one of 11 boys from the couple. One newspaper article said he was the smallest, but lived the longest. He certainly accomplished a great deal in his life. He was married first to Margery (?) Smith in 1826 and then Elizabeth Andress Smith in 1832. Two of his children, S. S. Smith Jr. and Edwin Forrest Smith would eventually join him in the liquor business.
By 1820, Samuel Smith is found residing in Cincinnati, Ohio. U.S. Federal Census records do not list an occupation each decade until 1860 where he is listed as a merchant. I suspect Smith was a liquor dealer or some type of general merchant many of those years. That same 1860 federal record is missing S.S. Smith, Jr. who would have been 26 years old or so at the time. Edwin F. Smith was 18 years old at the time.
An article in the January 1995 edition of Antique Bottle & Glass Collector magazine. mentions that the Booth family, part of an acting group, visited the Smith family in 1848 on an acting tour. Sol Smith, one of Samuels brothers, was an actor. John Wilkes Booth, then ten years old, was there, as well as the ten year old S.S. Smith Jr.
In 1862, we see the first listing of S.S. Smith & Company comprising of Samuel S. Smith and his son S.S. Smith, Jr. They are selling liquors at 56 West 2nd Street in Cincinnati. By 1869, it is S.S. Smith, Jr. & Company, Liquors located at No. 34 E. 2nd Street. They were dealers in fine bourbon and rye whiskeys. His partners were his sons Samuel and Edwin and Benjamin Ehrmen who had married his daughter Louise. Samuel Smith Sr. had moved on from the business by then and was now the president of a life insurance company.
In 1871, the following newspaper advertisement (below) appears in The Cincinnati Enquirer for S. S. Smith Jr., & Co. (S. S. Smith Jr., Edwin F. Smith and Benj. F. Ehrman) selling Wholesale Liquors at 58 W. Second Street in Cincinnati. Notice the "Proprietors of the Celebrated Morning Call Bitters." Could this be the product in the bottle? Actually, I do believe this. This semi-cabin bottle shape now also found in amber, is basically the same form as many other bitters. Whiskey, rye and other spirits were typically bottled in round cylinder bottles. The only thing that casts doubt on this idea is another Morning Call Bitters being sold in Cincinnati around the same time period.
Read: A Morning Call Bitters Comparison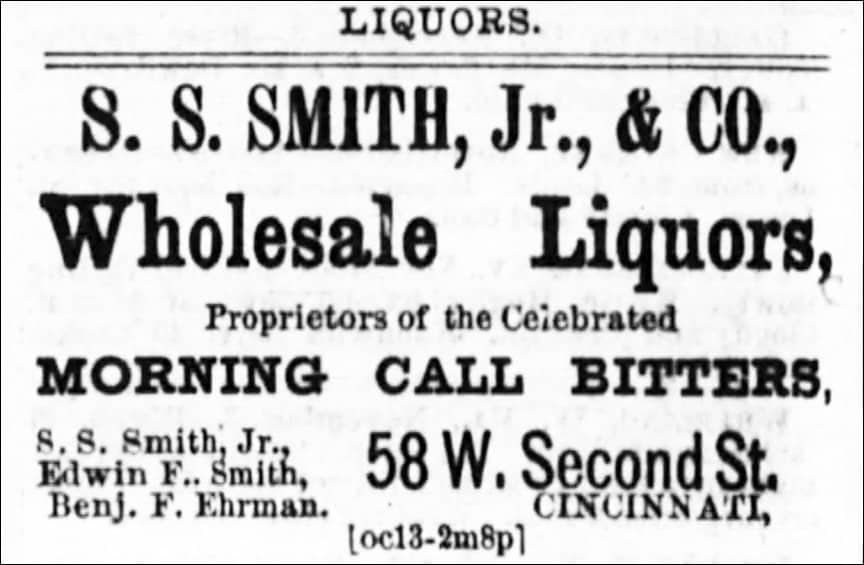 Samuel S. Smith (Senior) would continue in the insurance business. In 1876 and 1877, he is listed as the president of the Cincinnati Equitable Fire Insurance Company. He would die in 1885. Some type of fall hastened his death. His son, S. S. Smith Jr. would continue the business until 1876 or so. The following year he is listed as a travel agent.
Read more: S. S. Smith just Dug
Read More: Cincinnati Bitters Spotting – A cross reference of directories
Select Listings:
1803:

 Samuel Sherwood Smith born 30 August 1803, Solon, Cortland County, New York, Son of Levi Smith and Hannah Holland (

1761

–

1814)

, Children of Samuel and Elizabeth: Edwin Forrest Smith, Louise (Smith) Ehrman, Sarah (Smith) Hinman, Charles Stembridge Smith, Child of Samuel and Margery: Ellen Smith – U.S., Find A Grave Index, 1600s-Current
1820:

Samuel Smith, Home in 1820: Cincinnati Ward 3, Hamilton, Ohio, Enumeration Date: August 7, 1820 – 1820 United States Federal Census
1830:

Samuel Smith, Home in 1830: Cincinnati Ward 1, Hamilton, Ohio – 1830 United States Federal Census
1840:

Samuel S Smith, Home in 1840: Cincinnati Ward 2, Hamilton, Ohio – 1840 United States Federal Census
1848:

 Article in the January 1995 edition of Antique Bottle & Glass Collector magazine. The article mentions that the Booth family, part of an acting group, visited the Smith family in 1848 on an acting tour. John Wilkes Booth, then ten years old, was there, as well as the 10 year old S.S. Smith Jr. – Gary Beatty
1850:

Samuel S Smith, Age: 46, Birth Year: abt 1804, Birthplace: New York, Home in 1850: Cincinnati Ward 2, Hamilton, Ohio, Household Members: Samuel S Smith 46, Elizebeth Smith 38, Ellen Smith 21, Marcus Smith 19, Samuel S Smith 16, Sarah E Smith 14, Edwin F Smith 9, Virginia Smith 7, Louisa Smith 2 – 1850 United States Federal Census
1860:

Samuel S Smith, Merchant, Age: 56, Birth Year: abt 1804, Birth Place: New York, Home in 1860: Millcreek, Hamilton, Ohio, Post Office: Cincinnati, Dwelling Number: 1188, Family Number: 1319, Real Estate Value: 50,000, Personal Estate Value: 40,000, Household Members: Samuel S Smith 56, Elizabeth Smith 48, Edwin F Smith 18, Virginia Smith 16, Louisa Smith 12, Fanny Smith 9, Chas Smith 7 – 1860 United States Federal Census
1862:

S.S. Smith & Co., (S.S. Smith & S.S. Smith, Jr.), Liquors, 56 west 2nd – Cincinnati Ohio City Directory
1869:

S.S. Smith, Jr., Liquors, No. 34 E. 2nd St., S.S. Smith Jr. & Co. Dealers in fine Bourbon and Rye Whiskeys, 58 W. 2nd St.,partners were Edwin Smith and Benj. Ehrmen – 1869 City Directory of Cincinnati
1870:

 Samuel S. Smith, President Life Insurance Co, Age in 1870: 63, Birth Year: abt 1807, Birthplace: New York, Dwelling Number: 678, Home in 1870: Cincinnati Ward 14, Hamilton, Ohio, Personal Estate Value: 1000, Inferred Spouse: Elizabeth Smith (born England), Household Members (all born in Ohio): S Samuel Smith 63, Elizabeth Smith 58, Edwin F Smith 28 (Maker of Malt), Virginia Smith 24, Louisa Smith 21, Fanny Smith 19, Charles Smith 17 – 1870 United States Federal Census
1871-1872:

S.S. Smith Jr. & Co. (S.S. Smith Jr., Edwin F. Smith and Benj. F. Ehrman), Wholesale Dealers in Bourbon and Rye Whiskey, &c., 58 w. 2nd. – Cincinnati Ohio City Directory
1871:

Newspaper advertisement (below) S.S. Smith Jr., & Co. (S.S. Smith Jr., Edwin F. Smith and Benj. F. Ehrman), Wholesale Liquors, Proprietors of the Celebrated Morning Call Bitters, 58 W. Second Street, Cincinnati – The Cincinnati Enquirer, Saturday, November 4, 1871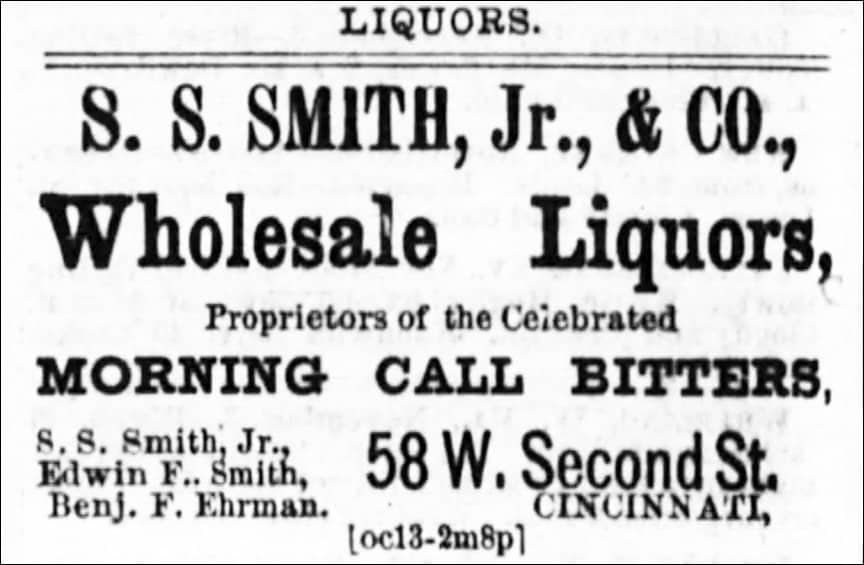 1874:

 S.S. Smith Jr. & Co., (S.S. Smith Jr.) Wholesale Liquor Dealers, 58 w. 2nd. – Cincinnati Ohio City Directory
1876:

 S.S. Smith Jr., Liquors, h 105 Dayton – Cincinnati Ohio City Directory
1876-1877:

S.S. Smith (Senior), President Cincinnati Equitable Fire Insurance Co., 1269 Race, Residence, 278 W.4th – Cincinnati Ohio City Directory
1877:

S.S. Smith (Junior), Travel Agent, 249 W Pearl, h 105 Dayton – Cincinnati Ohio City Directory
1880:

Samuel S. Smith, Fire Insurance Co. President, Age: 78, Birth Date: Abt 1802, Birthplace: New York, Home in 1880: Cincinnati, Hamilton, Ohio, Street: Huntington Block, House Number: 7, Dwelling Number: 182, Marital Status: Married, Spouse's Name: Elizabeth Smith, Father's, Birthplace: New York, Mother's Birthplace: New York, Household Members: Samuel S. Smith 78, Elizabeth Smith 66, Louisa Ehrmarna – 1880 United States Federal Census
1885:

 Samuel Sherwood Smith death: 5 Apr 1885 (aged 81), Cincinnati, Hamilton County, Ohio, Burial: Spring Grove Cemetery, Cincinnati, Hamilton County, Ohio, Section 77, Lot 4, grave 16 – U.S., Find A Grave Index, 1600s-Current
1885:

Newspaper notice (below) Samuel Sherwood Smith dead – St. Louis Post Dispatch, Wednesday April 15, 1885