The missing link Universal Bitters by Nicholas Kieffer
07 June 2014 (R•060814) 
(R•082618)

I have been monitoring some e-mails this past week or so between Frank Wicker and a person who had contacted him regarding a possible unlisted bitters. This person was seeking information on the bottle. Frank forwarded the pictures to me and I immediately recognized the bottle as a missing link related to Nicholas Kieffer in New Orleans. The initial email,
"Hello, my name is Steve and I dug a bottle here in my hometown of New Orleans 30 years ago and have been trying to find information on it ever since. Here is a description of the bottle. Gilka shaped. One side panel is embossed UNIVERSAL BITTERS. On another side panel is embossed N.- K. PATENT. The 2 front and back panels have no embossing on them at all. It is a BIMAL. I've attached 4 pictures of it for viewing. Hard to tell in the pics, but it is amber in color. I appreciate any information on it or any links to information you can share with me as to finding more out about it. Thank you most graciously" Steven T. Bauer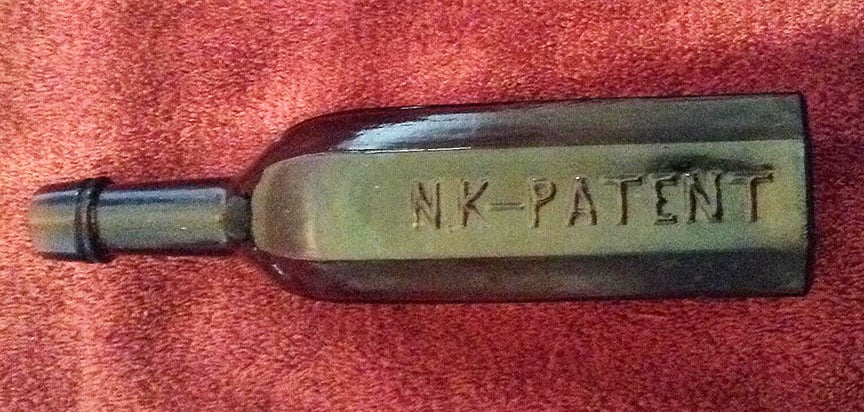 The "NK-PATENT" embossing leads us to a Nicholas Kieffer (parents Nicholas Kieffer and Elizabeth Fual) who was born in 1796 in Alsace, France. Nicholas eventually came to the United States and settled in New Orleans, Louisiana. Kieffer may have served as a Private 2nd Company in the 4th Regiment French Brigade, Louisiana Militia and was reported in business in 1866 as a manufacturer of wholesale liquors. That same year, on 18 September 1866, he received a patent for his "prize winning" Malakoff Bitters (or could it have been for the Universal Bitters?).
Read: What about this New Orleans Malakoff Bitters?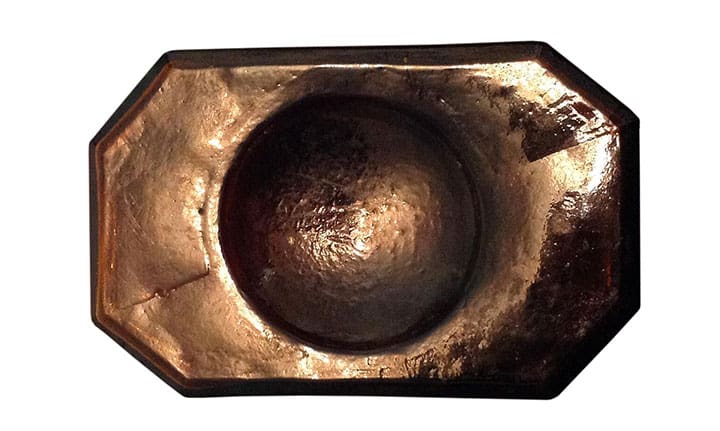 The three bottle pictures used in the post courtesy Steve.
The new Ring & Ham catalog listing for the next Bitters Bottles Supplement will be U 11.2 according to author, Bill Ham.
U 11.2

 UNIVERSAL BITTERS
// f // UNIVERSAL BITTERS // f // NK–PATENT //
10 ½ x 3 ¾ x 2 3/8 (7)3/4
Rectangular, amber, LTCR, Applied mouth, Extremely rare
N. Kieffer, New Orleans City Directory, 1868
References also to San Antonio, Texas
Found in New Orleans
In the mid to late 1870s, the brand was represented by Alphonse Walz of New Orleans and A. E. Neuberg of Chicago, which I find odd. It also looks like Kieffer moved to Texas and was manufacturing and marketing his bitters out of San Antonio, where he had family, in the 1880s. (see advertisement and patent below).
There were some major wholesalers and grocers in San Antonio at that time including Hugo & Schmeltzer, A. B. Frank & Co., H. Genet, George Dullnig, Sam C. Bennett, and others. Goods came in by the car loads, and were exported out by long wagon trains, and by rail according to one historical passage. The man who was making and selling the patented Universal Bitters in San Antonio was Honore Grenet. He probably was selling Universal Bitters from the Alamo as you will see!
Honore Grenet
Among the pioneers of our modern trade we must not forget the genial and enterprising gentleman whose name heads this article. Mr. Grenet is a native of La Belle, France, but is a thorough believer in the glorious future of San Antonio. Not only has he managed a very extensive business, which includes groceries, dry goods, hats, boots and shoes, crockery, beer, liquors and country produce, but he has always been prominent in all public enterprises in this city and is one whose name is always sought when any new enterprise is projected. His private enterprise is well known to every visitor of the Alamo, which he uses as a storehouse to relieve the claims for space made by his immense stock in his mammoth business, which adjoins the shrine of Texas. Of all our business men, none stand higher than Honore Grenet. – History of San Antonio Commerce
As noted in the above advertisement, Frank Krisch took over the brand after the death of Honore Grenet. He was a partner with Jacob Weber & Company and eventually went out on his own. Frank Frisch was a character who, with his brother Amand, ran a saloon under the business name Krisch & Brother at 203 N. Flores and the corner of Houston street. Other business concerns included Krisch & Heitgen (John A. Heitgen) where the two operated a bakery. He also was involved with a meat market that was run by his son, Frank Jr.
In 1885, Universal Stomach Bitters was being manufactured by Felix Kieffer & Co., 217 Conti Street in New Orleans.
Select Timeline Events
1866:

 Kieffer & Co., and Nicholas Kieffer Special IRS Tax Assessment. Keiffer also patents his Makakoff Bitters.
1867:

 Kieffer, N. (Nicholas), wines and liquors, Poydras, b Rampart and Basin – New Orleans City Directory
1868:

 Kieffer N. & Co., (F. Hollander), liquor dealers, 255 Poydras – New Orleans City Directory
1870:

 Kieffer N. mnfr. of Patent Malakof Bitters, importer and dealer of Wines, Liquors, Ale and Lager Beer, 11 Rampart, 1st dist. res. same – New Orleans City Directory
1871:

 Kieffer & Hollander, (N. Kieffer and F. Hollander), mnfrs. Malakoff bitters, Western lager beer, ale and porter, 196 Canal, and 11 Rampart, 1st dist., – New Orleans City Directory
1872:

 Kieffer N. mnfr. of Malakoff Bitters, 72 Chartres, r. 11 Rampart, 1st dist., – New Orleans City Directory
1874 – 1876: 

A E NEUBERG & CO.

, Chicago, IL. (
1874-1876

) "Sole agents in the US for Malakoff bitters" (1876). Business continues as Ferdinand Neuberger. Business name timeline: A. E. Neuberg & Co.
1873 – 1875

 F. Krisch, saloon, Bexar County, Texas – 1873 San Antonio Directory
1877:

In 1877, a Frenchman, Honore Grenet, bought the Convento building (the long annex of the original mission compound) and courtyard from the Catholic Church and built a two-story museum and grocery store complex with three wooden towers housing false wooden cannons.
1884:

 Nickola Kieffer, San Antonio, Texas. December 9, 1884 Patent 308,900 – Bitters (see patent above)
1885:

 Advertisement: Universal Stomach Bitters manufactured by Felix Kieffer & Co., New Orleans – The Times Picayune, Sunday,

July 5, 1885
1885 -1891:

Krisch, Frank jr, 207 N Flores, meat market – 1885 San Antonio Directory
1891

: Krisch, Frank sr, (J. Weber & Co.), Krisch Hall and saloon, 207 N Flores. 1891 San Antonio City Directory
1892 – 1893:

Convention Hall, F. Krisch, proprietor, cor W Houston N Flores – San Antonio City Directory
1894:

F. Krisch, lessee, San Pedro Springs, end San Pedro avenue – San Antonio City Directory