Ladies and Gentlemen… the Landsberg Sphinx Bottles
12 February 2014 (R•121318 – new GWA example & Moses G. Landsberg Info)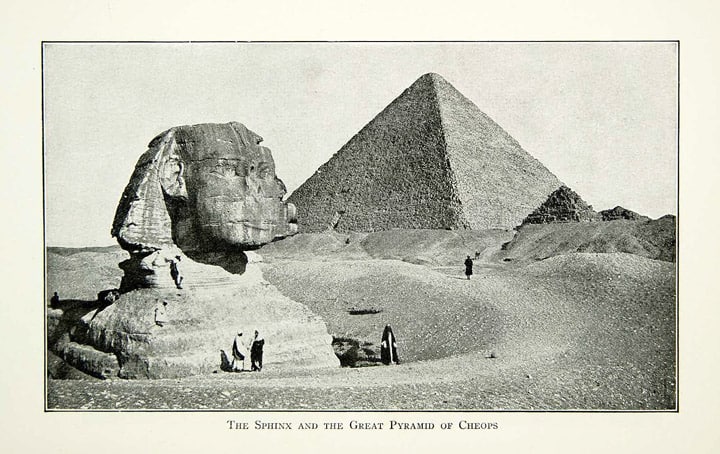 This post is a follow-up to the "Another Patended Landsberg Bottle" article on 04 February 2014 by James Viguerie. It is really great that we are now seeing examples of this bottle. Ladies and gentlemen… the Landsberg Sphinx bottles!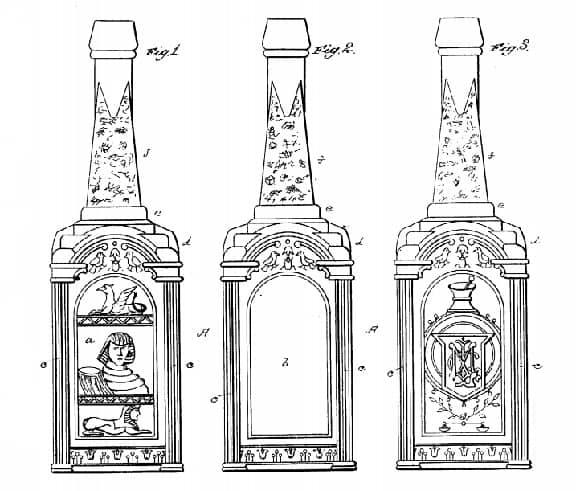 Hi Ferdinand,
Because of some remodeling projects here, I have fallen behind on my frequent doses of Peachridge. When I was catching up yesterday, I noticed your piece on the Moses Landsberg Sphinx bottle. As it happens, I have two versions of this bottle. Both are shown above.
The example on the left is the older version, having an applied lip. It is the version depicted in the patent drawings, and it bears the Moses Landsberg Co. monogram. The example on the right bears a tooled lip and the monogram reads SLCo. Since acquiring these two versions, I have wondered if Moses sold out to a family member so that the monogram retained the L. While the two vessels share many qualities, they are clearly from different molds. The later example is embossed Chicago, Ill at the base, below the monogram.
The earlier version stands about 12 1/4 inches tall, the later version about 12 3/8 inches tall.
Steve (Ketcham)
I might add that I have heard of at least one more example in the collection of some Chicago Bottle Club members, but I have never been able to verify this or speak with them.
---
---
Moses G. Landsberg Bottles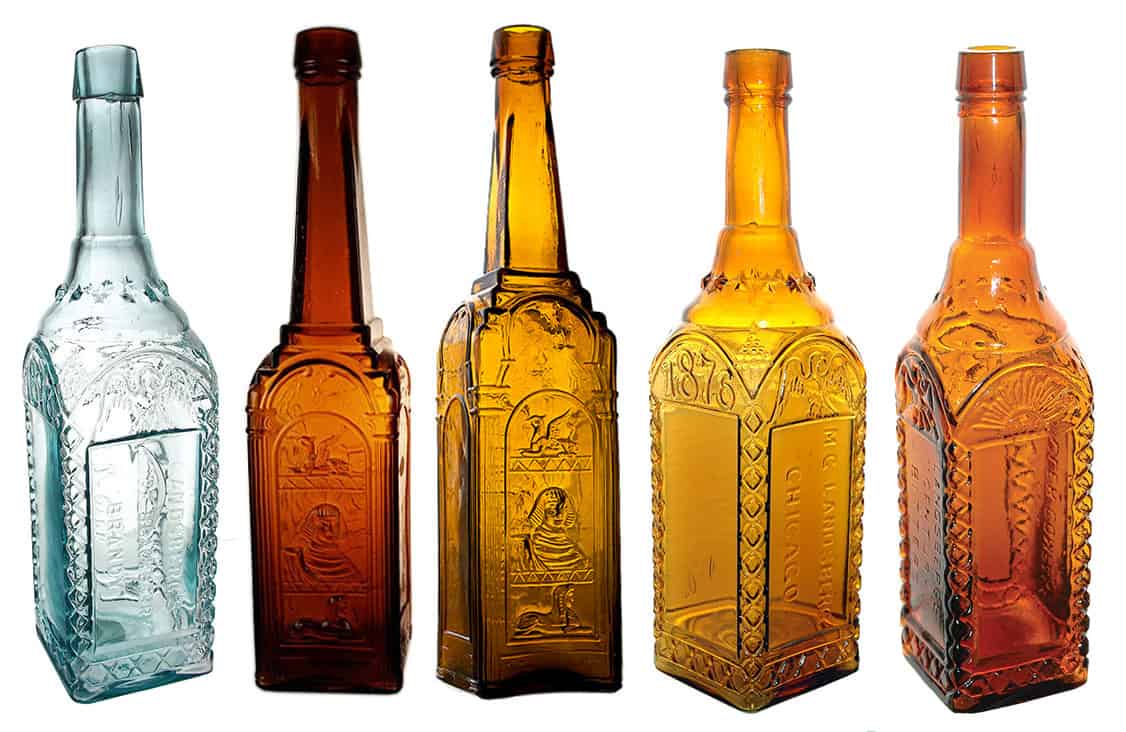 From left t0 right:
a) Landsberg Pure Blackberry Brandy | A. Heller & Co. New York.
b) MGL "Sphinx" (variant 1)
c) MGL "Sphinx" (variant 2)
d) M. G. Landsberg | Chicago (L 15) (presumed bitters)
e) Landsberg Century Bitters | The Adler Company St. Louis
---
Moses G. Landsberg
Moses G. Landsberg is associated with some of the finest American antique bottles ever made. They are extremely ornate and finely detailed and are considered prized collectibles. Unfortunately, much about Landsberg remains a mystery.
What we do know is that Landsberg is of Jewish ancestry and was born in New York around 1844. Nothing is known about his parents or when he or they came to America. Of course, New York City was a great jumping off point for many immigrants, especially from Germany. Many arrived seeking religious or political freedom, others for economic opportunities greater than those in Europe, and others for the chance to start fresh in the New World.
Landsberg was apparently a traveling man as we first see him listed as a clerk, probably in a liquor store, at 47 Public Landing in Cincinnati, Ohio in 1870. Cincinnati was a preferred destination for many Germans, if Landsberg was German. He was boarding at a place called Spencer House which leads me to believe he was not living with his family. We see this situation repeating during his life and migration from city to city. In 1871, he is still clerking at a new address, 15 Sycamore in Cincinnati and boarding at 123 Main Street. In 1873, he is found in Cleveland, Ohio listed as an agent for Harris & Zilch (Henry Harris and John Zilch). They were liquor dealers located at 199 Ontario.
This experience clerking and being an agent or salesman for a liquor business leads Moses Landsberg next to New York City where in early 1875 he is selling liquor at his own con-cern at 169 E. Broadway. Shortly thereafter, in 1875, he takes on a partner and the busi-ness is called Landsberg, Kantrowitz & Company consisting of Moses G. Landsberg and Isaac Kantrowitz. They are at the same Broadway address. That same year, a Gerson Landsberg, who is a man of the cloth, is living at 236 E 54th Street in New York City. I be-lieve this is a brother of Moses.
Moses Landsberg next heads to the Windy City and we see him listed as Landsberg & Company (Moses G. Landsberg & Gerson Landsberg) selling flour at 118 Blue Island Ave-nue in Chicago, Illinois. Moses is boarding at the Atlantic Hotel in Chicago while Gerson Landsberg is noted in the Chicago directory as living in New York City.
It is in Chicago in 1882 where Moses G. Landsberg files a Patent and Design for a Bottle which is Landsberg Century Bitters. The patent is Design No. 12861 dated April 11, 1882. That same year, a newspaper notice puts Moses Landsberg as a guest at the Park Hotel in Chicago. It is assumed that the brand was first concocted in 1876 as it is embossed on the two variants of the Landsberg Century Bitters bottles.
In 1883, again in Chicago, Landsberg files another Patent and Design for a Bottle which is the Landsberg "Sphinx Bitters." It is Design No. 13699 dated March 6, 1883.
In 1884, Landsberg is back to being listed as a traveling salesman addressed at 24 Syca-more in Cincinnati, Ohio. He is boarding at Hexter's Hotel. I guess he was selling his way east as he was back in New York City in 1886 living at 297 E 109th. His next occupation, in 1888, is that of an editor in New York City. He is now living at 261 E 122nd.
In 1891, Landsberg is living in Boston, Massachusetts and he is the editor of the Jewish Chronicle. In 1892, he publishes the History of the Persecution of the Jews in Russia. In 1893 he is living at 34 School, Room D in Boston. Next he moves back to New York City and becomes the editor of the Jewish Herald. He continues in this position until his dealth on 23 January 1900 in Manhattan. He was 56 years old.
---
Select Listings:
1844:

Moses G Landsberg birth about 1844 – New York, New York, Extracted Death Index, 1862-1948
1870:

M G Landsberg, clerk, 47 Public Landing, bds Spencer House, Cincinnati – 1870 Cincinnati Ohio City Directory
1871:

M G Landsberg, clerk, 15 Sycamore, bds 123 Main, Cincinnati – 1871 Cincinnati Ohio City Directory
1873:

Moses Landsberg, agent Harris & Zilch (Henry Harris and John Zilch), Liquor Dealers, 199 Ontario, Cleveland – 1873 Cleveland Ohio City Directory
1875:

Moses G. Landsberg, Liquors, 169 E. Broadway, NYC – 1875 New York City Directory
1875:

Landsberg Kantrowitz & Company (Moses G. Landsberg & Isaac Kantrowitz), Liquors, 169 E. Broadway, NYC – 1875 New York City Directory
1875:

Gerson Landsberg, Reverand, h 236 E 54th, NYC – 1875 New York City Directory
1878:

Landsberg & Company (Moses G. Landsberg & Gerson Landsberg), Flour, 118 Blue Island Avenue, Chicago. Moses boards at Atlantic Hotel, Gerson lives in New York.– 1878 Chicago, Illinois City Directory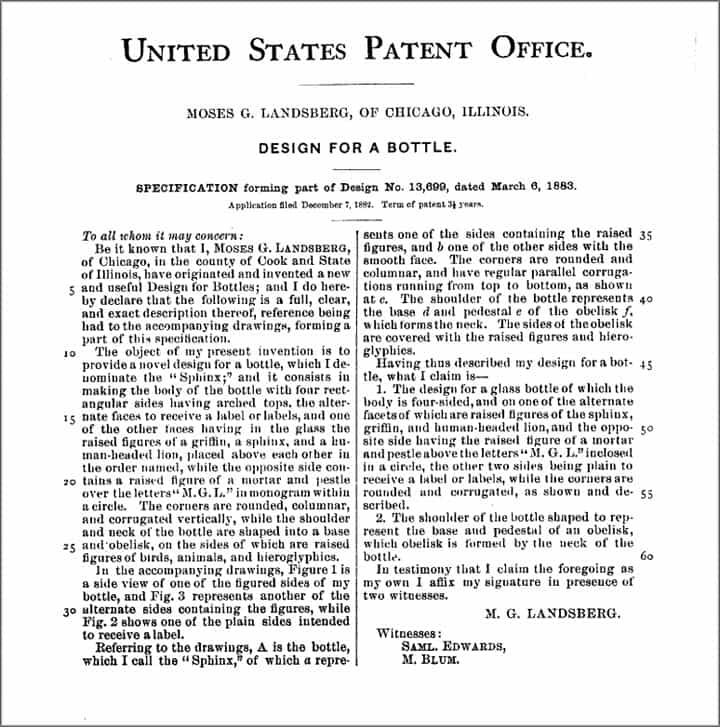 1882:

 (Below) Patent: Design for a Bottle (Landsberg Century Bitters), Design No. 12861, dated April 11, 1882, Moses G. Landsberg of Chicago Illinois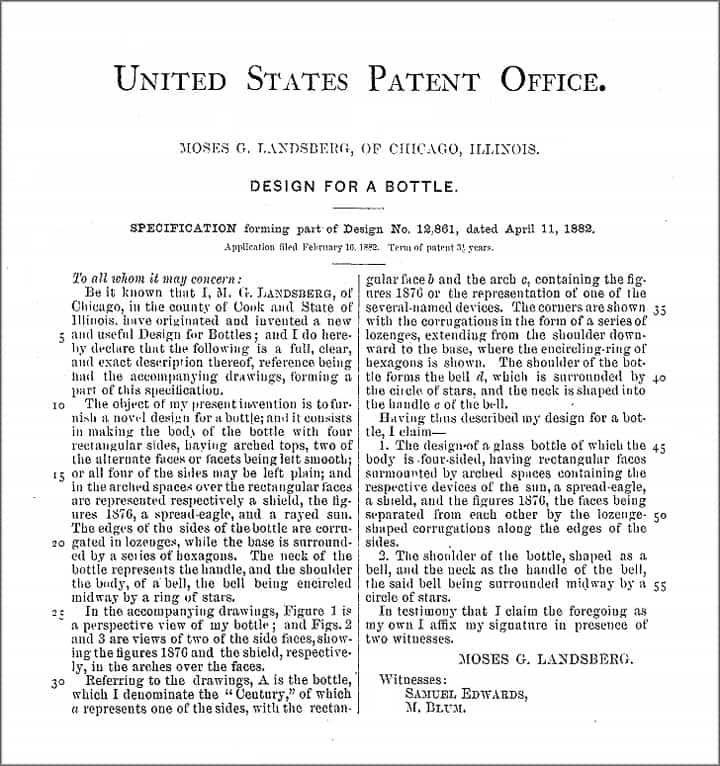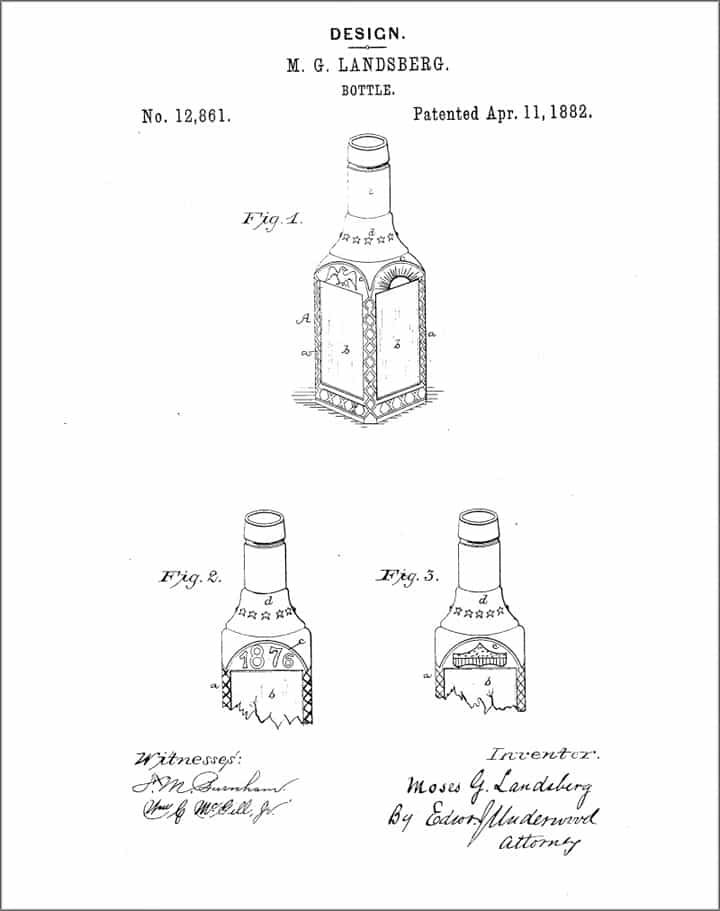 1882:

 Newspaper notice (below) Moses Landsberg, of Chicago, were guests at the Park Hotel – Chicago Tribune, Sunday, July 2, 1882

1883:

Patent: Design for a Bottle (Landsberg Sphinx Bitters), Design No. 13699, dated March 6, 1883, Moses G. Landsberg of Chicago Illinois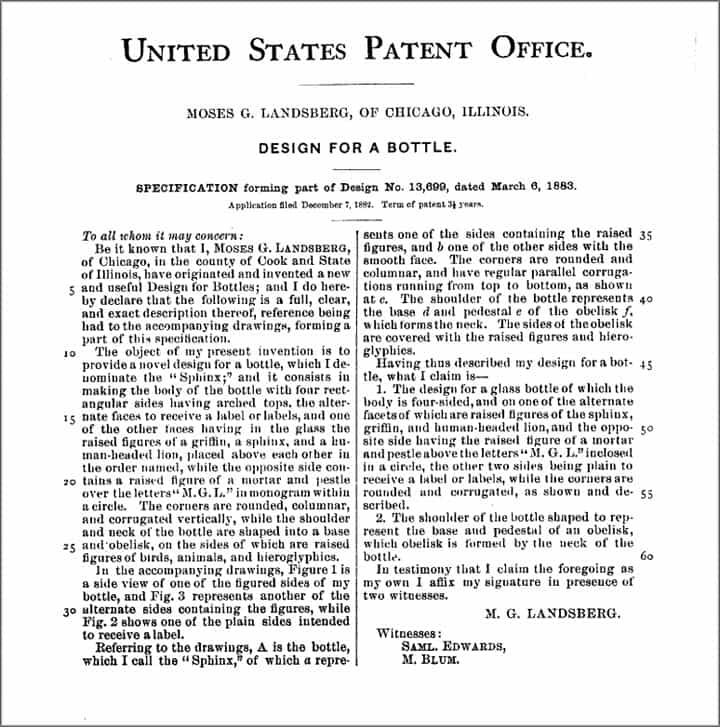 1884:

M G Landsberg, traveling salesman, 24 Sycamore, bds Hexter's Hotel, Cincinnati – 1884 Cincinnati Ohio City Directory
1884:

Newspaper notice (below) Moses G. Landsberg presses suit – Chicago Tribune, Friday, July 25, 1884

1886:

Moses Landsberg, h 297 E 109th, NYC – 1886 New York City Directory
1888:

Moses G. Landsberg, Editor, h 261 E 122nd, NYC – 1888 New York City Directory
1891:

Newspaper notice (below) M.G. Landsberg, editor of the Jewish Chronicle – The Boston Globe, Monday, November 16, 1891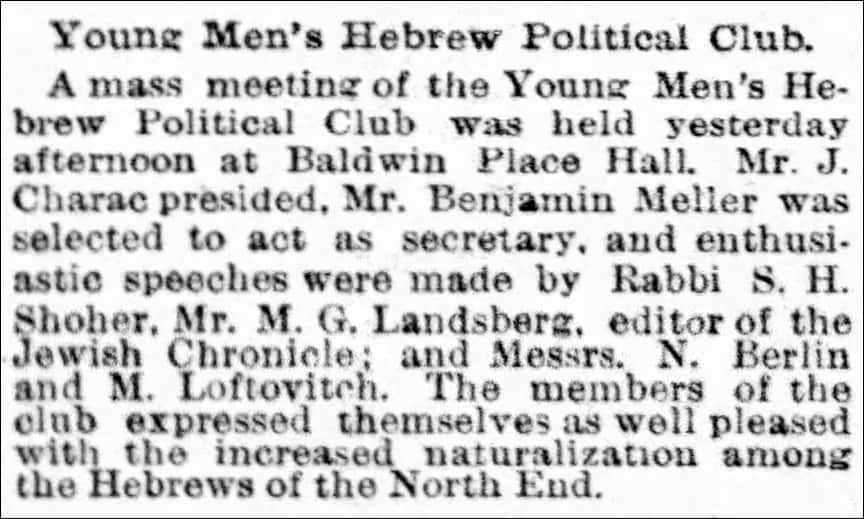 1892:

Moses G. Landsberg, Esq. History of the Persecutiuon of the. Jews in Russia, Boston, 1892 – Jewish Agricultural Utopias in America, 1880-1910
1893:

Moses G. Landsberg, Editor, 34 School, room D, Boston – 1893 Boston, Massachusetts City Directory
1893:

Newspaper notice (below) M.G. Landsberg, editor of the Jewish Herald – The Jewish South, Friday November 17, 1893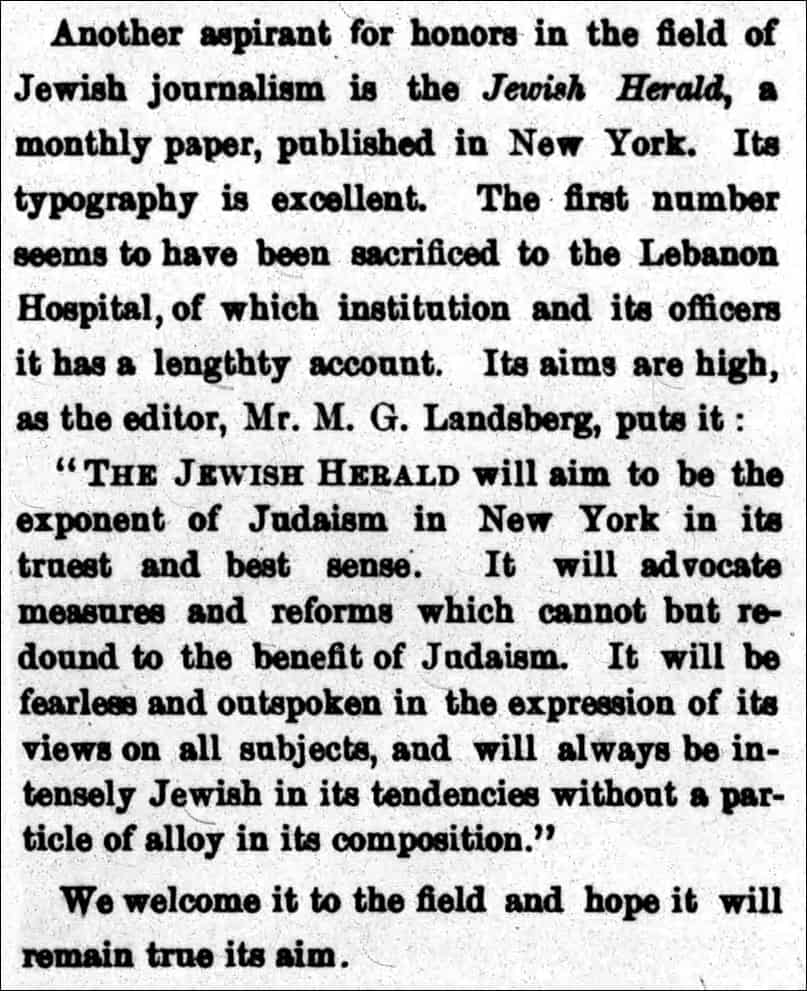 1899:

Moses G. Landsberg, Editor, 61 Beekman, h 1652 Lexington Avenue, NYC – 1899 New York City Directory
1900:

Moses G. Landsberg death: 23 January 1900, Manhattan New York, Age 56 – New York, New York, Extracted Death Index, 1862-1948