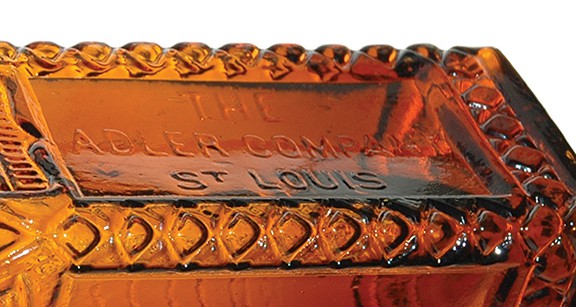 Adler's Celebrated Anti-Cholera Bitters
Simon Adler | St. Joe & St. Louis
06 December 2018

I recently received and email and 1866 newspaper clipping (below) from Mark Wiseman about an unlisted Adler's Celebrated Anti-Cholera Bitters put out by S. Adler & Company in St. Joseph, Missouri. This rang a bell. After researching, I found out that this is the same "Adler" embossed on Landsberg's Century Bitters (see top of post).

The new listing by Bill Ham for the forthcoming Bitters Bottles Supplement 2:
Advertisement
A 11.5 Adler's Celebrated Anti-Cholera Bitters
The Council Bluffs Weekly Bugle, June 28, 1866
S. Adler & Company (Simon Adler), St. Joseph, Missouri
The Adler Company embossed on Landsberg's Century Bitters bottles
Simon Adler
Simon Adler was a life-long liquor man born in Darmstadt Germany around 1830. His parents were also from Darmstadt which is a city near Frankfurt in southwest Germany. It's known for the Mathildenhöhe district's art nouveau buildings, like the iconic Wedding Tower. I'm not sure when Adler came to America, but he most likely arrived in New York at a young age and made his way to Saint Joseph, Missouri, arriving in 1859. St. Joseph (informally St. Joe) is north of Kansas City. Speaking of weddings, Adler would marry Anna Cohen (1847–1914) and they would have four boys, Irvin, Jessie, Arthur and Charles.
We next see Civil War Draft Registration Records for Simon Adler in 1843 in St. Joe. Then we see Simon Adler as the proprietor of Adler's Celebrated Anti-Cholera Bitters addressed at E. Side Market Square and 17 Third in St. Joe in 1866 and see him listed as a liquor dealer and rectifier with S. Adler & Company in 1870. They were housed in a 3-story brick building. Abraham Furst was his brother-in-law and partner.
The bitters was a remedy targeting a scourge named Asiatic Cholera. The second cholera pandemic (1826–1837), also known as the Asiatic Cholera Pandemic, was a cholera pandemic that reached from India across western Asia to Europe, Great Britain and the Americas, as well as east to China and Japan. Cholera caused more deaths, more quickly, than any other epidemic disease in the 19th century. Adler said the concoction or versions of the medicine and been in use for fifty years and used testimonials from Professors Chapman, Bird and Andral in London and Professors Geradin and Gatmard of Germany. I can find no examples of this bottle which could have been embossed or just sold with a label.
The 1870 United States Federal Census lists Adler's personal estate value at $2,000 and his real estate value at $30,000 so he must have been fairly successful at that time. He reportedly was one of St. Joe's most energetic and successful business man and popular and influential with his friends and business associates.
A 1975 St Louis Missouri City Directory, lists Adler, Furst & Company comprising of Simon Adler, president, Abe Furst, Henry I. Ruggies and Emanuel Fist. They were listed as distillers, rectifiers and wholesale liquor dealers located at 19 and 21 S. 2nd Street in St. Louis. Simon Adler would still reside in St. Joe while maintaining A. First Distilling Company in the same locale.
Events took a turn for the worse later in 1875, as Simon Adler became the target of U.S. federal agents in a scandal involving the switching of uncancelled duty stamps on liquor bottles and a series of articles appeared in the Missouri newspapers including the Globe-Democrat. At one point Adler's stock was confiscated and the principals, Adler and his partner Abraham Furst, were imprisoned for a year and each assessed a fine of $10,000. They were accused of being conspirators with other indicted companies in the area.
By 1877, the company is listed as Adler Company with Simon Adler (president) and Emanuel Fist selling liquors at 19 S. 2nd Street in St. Louis, Missouri. Abraham Furst was still his partner. The Landsberg's Century Bitters bottles, embossed "THE ADLER COMPANY, ST. LOUIS" were made during this period and were embossed 1876.
Read: Professor Byrne and Landsberg – Some Highly Decorative Bottles
Read: Looking at some Landsberg bottles
By this time, Adler had moved from St. Joe to St. Louis in 1878 and would die of softening of the brain (senile dementia) on September 7, 1884. Adler had gone abroad for several years prior to his death to obtain some sort of relief. He would leave his children a considerable fortune. The renamed Adler Distilling Company would continue with Abraham Furst as president located at 111 S. Main Street.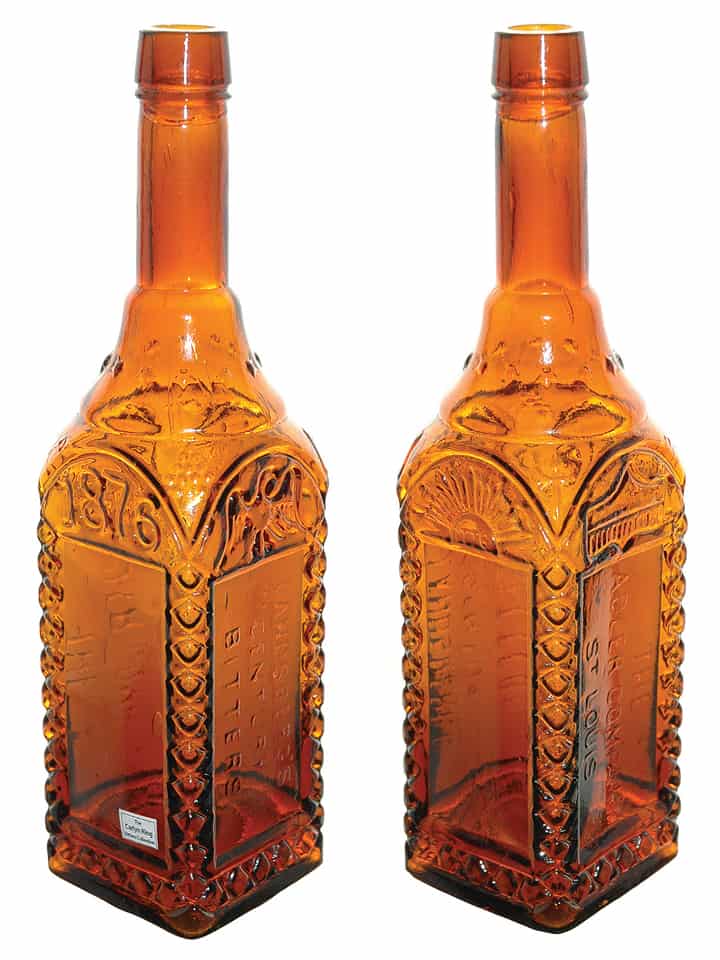 Landsberg's Century Bitters
L 13  Landsberg's Century Bitters 
LANDSBERG'S / "CENTURY" / BITTERS // sp // THE / ADLER COMPANY / ST LOUIS // sp // // u // motif eagle // 1876 // motif shield // motif sunburst with 1776 //
11 1/2 x 2 7/8 (6 1/4) Square, Amber, LTCR, Applied mouth, 4 sp, Rare
12 stars on bell shaped shoulder. An especially ornate bottle.
Note: Design No. 12,861 patented April 11, 1882 by Moses Landsberg of Chicago, Illinois. "The object of my present invention is to furnish a novel design for a bottle; and it consists of making the body of the bottle with four rectangular sides (panels), having arched tops, two of the alternate faces or facets being left smooth; or all four of the sides may be left plain; and in the arch spaces over the rectangular faces are represented respectively a shield, the figures 1876, a spread eagle, and a rayed sun. The edges of the sides of the bottle are corrugated in lozenges, while the base is surrounded by a series of hexagons. The neck of the bottle represents the handle, and the shoulder of the body of a bell, the bell being encircled midway by a ring of stars".
Select Listings
1863:

 Civil War Draft Registration Record: Simon Adler, Birth Year: abt 1830, Place of Birth: Germany, Age on 1 July 1863: 33, Race: White, Marital Status: Unmarried (Single), Residence: Washington, Buchanan, Missouri, Congressional District: 7th – U.S., Civil War Draft Registrations Records, 1863-1865
1866: 

Newspaper clipping (above): Adler's Celebrated Anti-Cholera Bitters – The Council Bluffs Weekly Bugle, June 28, 1866
1867:

S. Adler & Company, Simon Adler, rectifiers, E. Side Market Square and 17 Third, Saint Joseph, Missouri – Frank Swick´s Resident and Business Directory of Saint Joseph, 1867-68
1870: 

Newspaper clipping (below): S. Adler & Co. rectifying house, three stories, brick – Saint Joseph Daily Union, Friday, April 1, 1870

1870:

 Simon Adler, Age in 1870: 40, Liquor Dealer, Birth Year: abt 1830, Birthplace: Baden, Dwelling Number: 269, Home in 1870: St Joesph Ward 4, Buchanan, Missouri, Personal Estate Value: 2000, Real Estate Value: 30000, Inferred Spouse: Anna Adler, Household Members: Simon Adler 40, Anna Adler 23, Irvin Adler 7, Jessie Adler 3, Arthur Adler 1 – 1870 United States Federal Census
1875:

 Adler, Furst & Co., (Simon Adler, president, Abe Furst, Henry I. Ruggies and Emanuel Fist), distillers, rectifiers, and liquors wholesale, 19 and 21 S. 2nd, Simon Adler residence St. Joseph, Missouri – St Louis, Missouri, City Directory, 1875
1875:

 Passage: Matters were looking bad for Simon Adler as well, and he soon became the target of US federal agents in a scandal involving the switching of uncancelled duty stamps on liquor bottles and a series of articles appeared in the Missouri newspapers including the Globe-Democrat. At one point Adler's stock was confiscated and the principals, Adler and his partner and brother-in-law Abraham Furst, were imprisoned for a year and each assessed a fine of $10,000. They were accused of being conspirators with other indicted companies in the area. – Diary with Description of Legal Case of S. Adler Liquors. St Joseph, Missouri, 1875
1876:

 Adler, Furst & Co., (Simon Adler, president, Abraham Furst, Henry I. Ruggies and Emanuel Fist), liquors, 19 S. 2nd – St Louis, Missouri, City Directory, 1876
1876

: Newspaper clipping (below): U.S. vs. Simon Adler & Abraham Furst. Indictment for implying certain packages of distilled spirits without effacing or obliterating the stamps thereon. – The State Journal, Friday, March 17, 1876

1876:

 Newspaper clipping (below): Simon Adler and Abraham First, of St. Joseph, liquor dealers, each one year in county jail and fine of $10,000 – St Louis Post Dispatch, Saturday, April 15, 1876

1876:

 Newspaper clipping (below): Simon Adler, one of the prisoners of the Cole County jail – St Joseph Weekly Herald, Thursday, September 11, 1884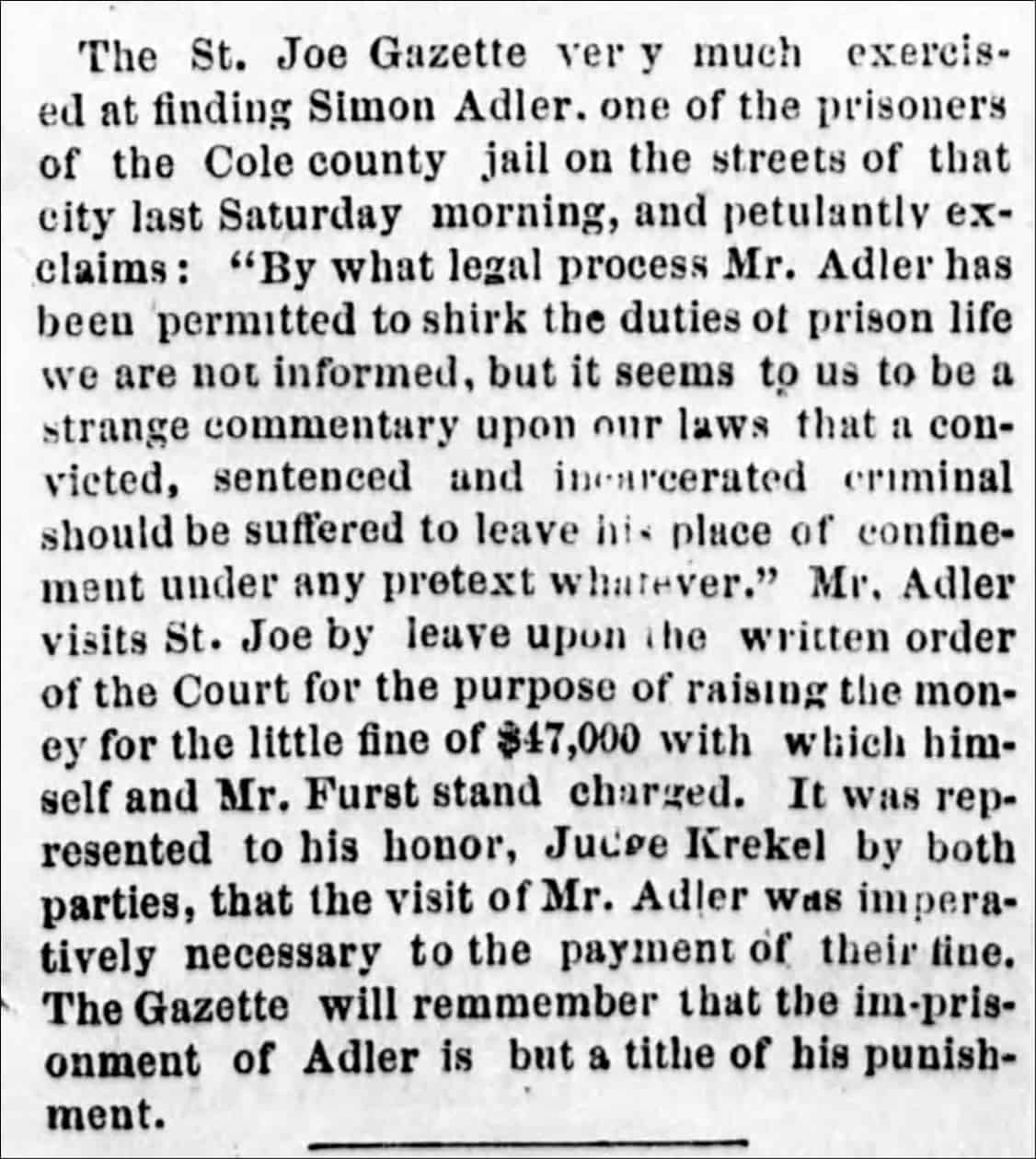 1877-1878:

 Adler Co., (Simon Adler, president, E Fist), liquors, 19 S. 2nd – St Louis, Missouri, City Directory, 1877
1880:

Simon Adler, Age: 51, Liquor Merchant, Birth Date: Abt 1829, Birthplace: Darms, Home in 1880: Saint Louis, St Louis (Independent City), Missouri, Street: Purton Place, House Number: 1725, Dwelling Number: 60, Father's Birthplace: Darmstadt, Mother's Birthplace: Darmstadt, Household, Simon Adler 51, Anna Adler 33, Irvin Adler 16, Jesse Adler 13, Arthur Adler 10, Charley Adler 8 – 1880 United States Federal Census
1884:

Simon Adler death 7 September 1884 (aged 53–54), Burial, New Mount Sinai Cemetery and Mausoleum, Affton, St. Louis County, Missouri – U.S., Find A Grave Index, 1600s-Current
1884:

 Newspaper clipping (below): The Death of an Old St. Josephite – St Joseph Weekly Herald, Thursday, September 11, 1884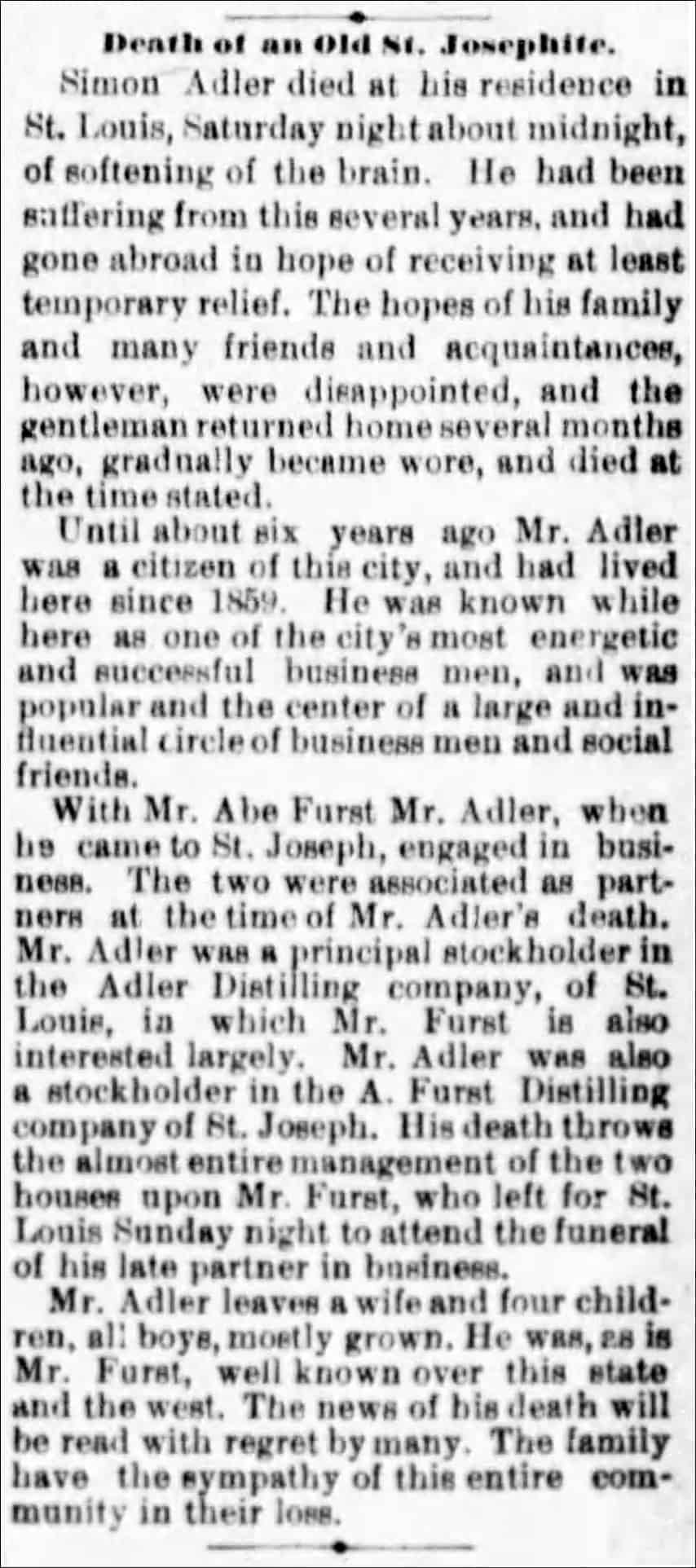 1884:

 Newspaper clipping (below): The Death of Simon Adler – St Joseph Gazette Herald, Tuesday, September 9, 1884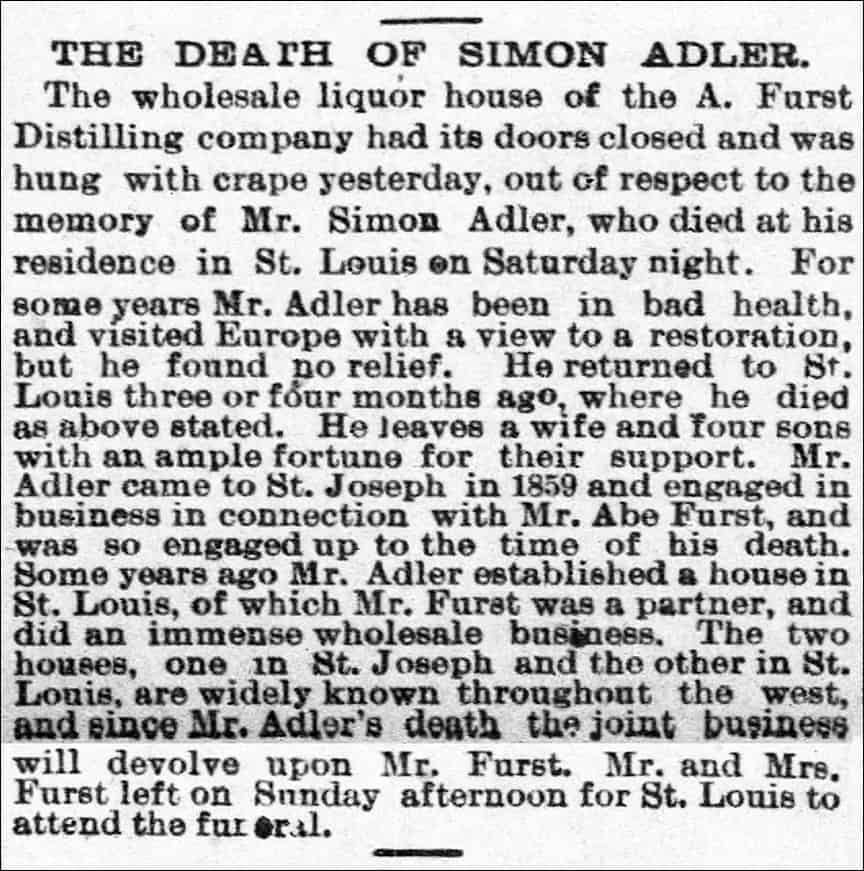 1885:

The Adler Distilling Co., A. Furst, pres, 111 S.Main – St Louis, Missouri, City Directory, 1885