Pond's Bitters "Makes You Go Some"
28 November 2018 (R•120418)

The story here is about three related Chicago-sold bitters. The first is Lash's Bitters from California which inspired Rex Bitters and Pond's Bitters, the subject of this post. Pond's Bitters was a direct competitor of their Windy City rival, Rex Bitters.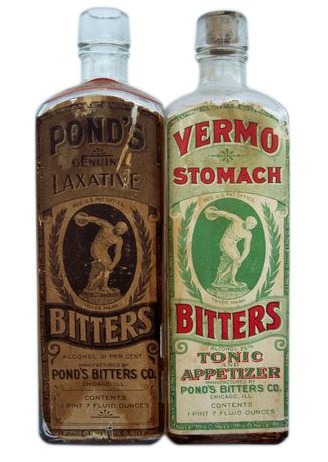 These were primarily bitters sold as a laxative and 'a permanent cure for constipation' but contained quite a bit of alcohol, hence the Pond's Bitters "Makes You Go Some," monkey drinking on a chamber pot above. Doesn't get much better then that.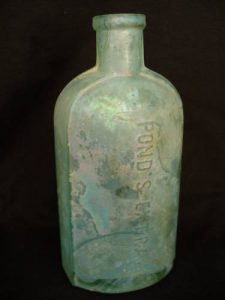 First of all, some may think that Pond's Bitters Company is related to Pond's Extract Company which started out in 1846 as a patent medicine company when Theron T. Pond [1880-1852], a pharmacist from Utica, New York, began selling 'Golden Treasure', a homeopathic remedy he developed from witch hazel. This is not the case. Most of us remember Pond's Cold Cream. I've gone back in ancestry trees but can not find a connection. There probably is somewhere down the line as both Pond's came from New York.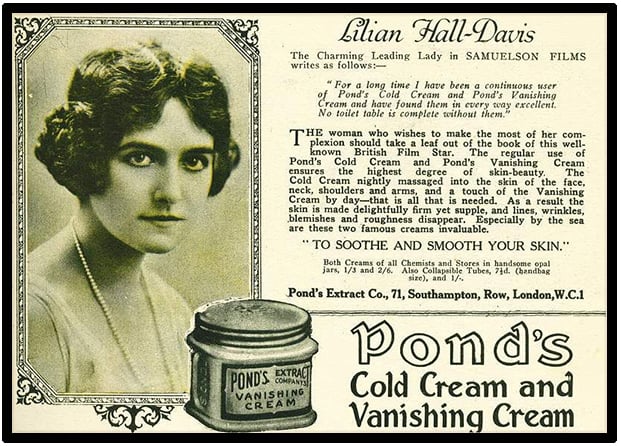 Read: Pond's Extract Company
Lash's Bitters
Lash's Bitters starts with John Joseph Spieker who moved to California in 1875. In 1876, at the early age of 20 or so, Spieker became a druggist in Sacramento and by 1878 he was a partner in Tufts & Spieker (A. C. Tufts and J. J. Spieker) who were druggists and apothecaries. In February 1884, John Spieker formed a new partnership with Tito M. Lash, and named the company T. M. Lash & Co. to produce Lash's Kidney & Liver Bitters.
Tito hired an accountant in 1889, who found questionable accounting problems in the company's books. In October of that year, an injunction was granted that denied Spieker access to any accounts, money, or property, and the partnership was officially terminated. Ten days later, Spieker bought out his former partner, and also Lash's half of the rights to produce and market the firm's line of products.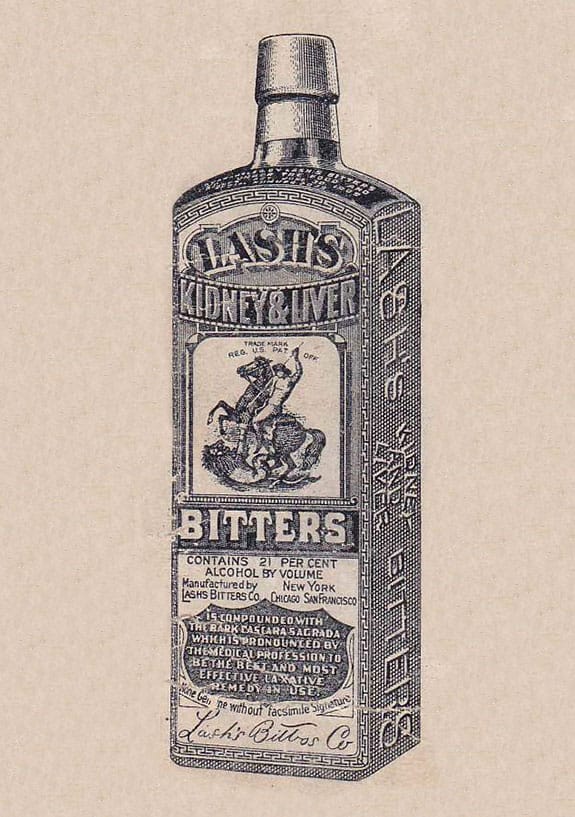 John Spieker then established a new company called Lash's Bitters Co. and continued to manufacture Lash's Bitters. The company moved to San Francisco in 1893, and a year later, it was officially incorporated as Lash's Bitters Co. The business was very successful and in 1901, the Chicago office was opened with $1,000 in capital, and in 1904, the New York City office opened.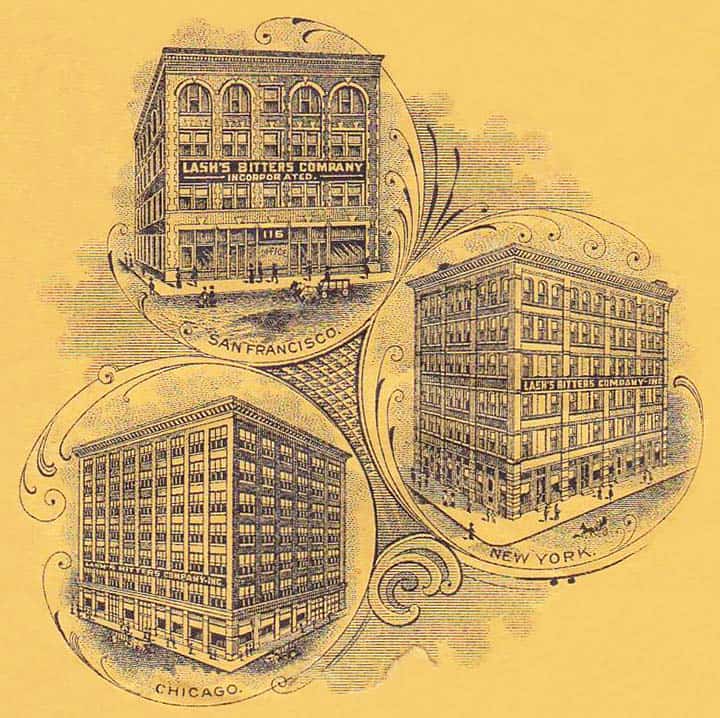 Read: Lash's Bitters | San Francisco – Chicago – New York • PART ONE | The Bottles
Read: Lash's Bitters | San Francisco – Chicago – New York • PART TWO | History
Read: Lash's Bitters | San Francisco – Chicago – New York • PART THREE | Humorous and Clever Advertising
George Morgan Pond
Pond's Bitters is named after George Morgan Pond who was born in Tareytown, New York on 29 May 1854. Tarrytown is a village in the town of Greenburgh in Westchester County, New York. It is located on the eastern bank of the Hudson River, about 25 miles north of midtown Manhattan in New York City. He was the son of Loyal Sylvester Pond (Vermont) and Harriet Sarah Taylor (New Hampshire). He later married Louise Fitch in 1882. Their children were Annie, Kate, George Jr., Guy and Rainsferd Pond.
As noted above, Pond grew up in New York but something made him move to the west coast as we see him working as a clerk in Los Angeles, California in 1879. He was 25 years old at the time. In 1880, he is listed as working as a bookkeeper in Los Angeles. He moved to Sacramento in the 1880s and eventually Santa Cruz. In the mid 1890s, Pond was living in San Francisco and was working as a manager at A. Schilling & Co. (August Schilling and George F. Volkmann) wholesale dealers in coffee, teas, spices, flavoring extracts and baking powder at 108-112 Market Street. One block from Lash's. It is during this period that he met John Spieker and Tito Lash. Whether he worked directly with them or as a business associate, I can not determine, but he must have gained their confidence as he moved to Chicago and opened and managed the Lash's Bitters Co. office in 1901. The ad below is from a Chicago business directory that year.

The move for Pond to Chicago must have been sudden as the San Francisco City Directory in 1901, lists George M. Pond, as president of Pond & Company. They were doing foreign and domestic commissions, advertising novelties and calendars located at 12 and 22 Market Street in rooms 32-33. The directory would've already gone to press. I wonder if his company was doing advertising promotion for Lash's and that was the connection? I doubt it was his son George Jr. as there would have been double listings in the resident section of directories from that period.
Pond's Bitters Company
In 1909, George M. Pond left Lash's and formed his own firm, Pond's Bitters Company at 147 Fulton Street in Chicago. This picture card below shows Pond sitting on three boxes of his Pond's Bitters surrounding by his office staff. [Joe Gourd Collection]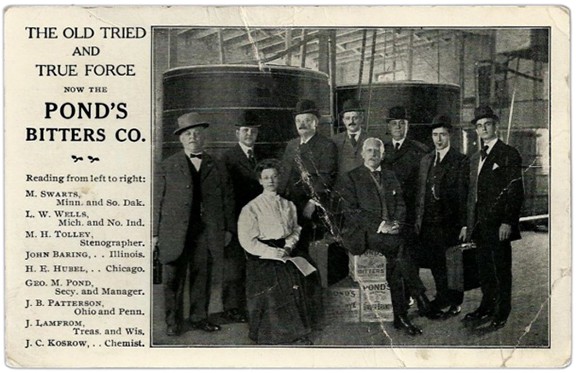 They would manufacture and sell Pond's Bitters, their signature product. They also manufactured Pond's Ginger Brandy, Pond's Gin-Ger-Gin, and Pond's Rock and Rye with Horehound. Their trade mark was a discobolus. Interesting that the head has been altered to face forward and down. Pre-PhotoShop cut-and-paste.
Pond would run the company with grand success until 1911 or 1912. It is then that we see John Schweger listed as president and Jacob Lamfrom as secretary at Pond's Bitters Company now located at 723 Fulton Street. Pond would die on 30 May 1919, so maybe ill health or just advanced age made him leave the company.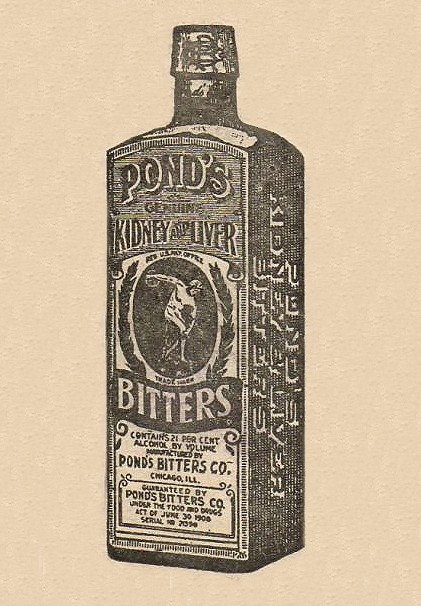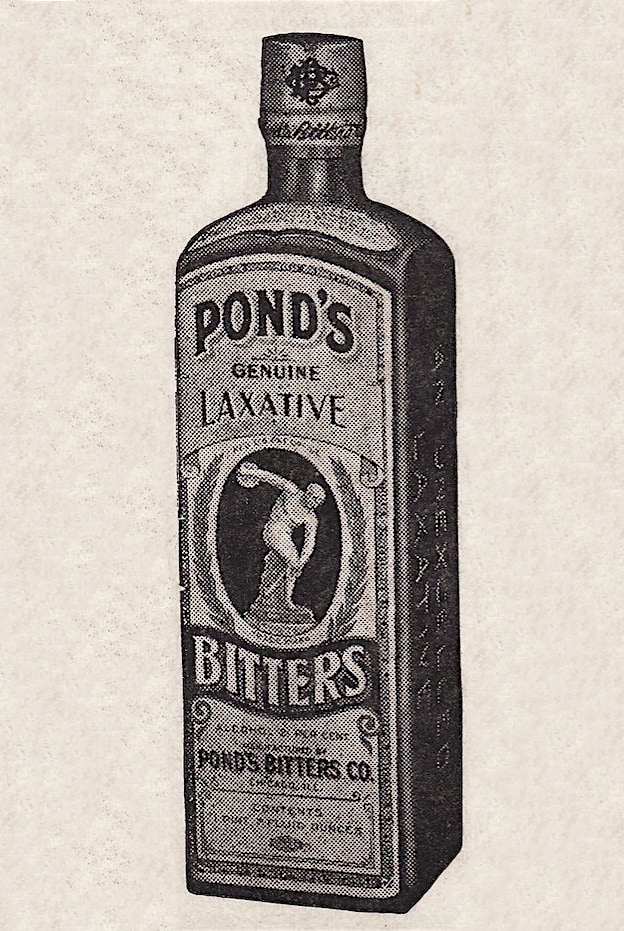 Pond's Bitters was now going national and in 1914, William F. O'Brien signed a contract with Pond's Bitters Company to sell the bitters in parts of Pennsylvania and New York. The company would go on to manufacture Pond's Cherry Whiskey (Cordial), Pond's Kil-a-Kol and Pond's Vermo Stomach Bitters. The Vermo Stomach Bitters was sold from 1919 to 1924 and was pitched as a tonic and appetizer. At this time, Jacob Lamfrom was President.
Suggestive Advertising
Just like Rex Bitters which started in Chicago in 1902, Pond's Bitters put out a lot of advertising material and some of it was mildly risqué. Remember, Pond had a background in advertising and promotions in San Francisco. They would get in trouble with the same police chief and judge that hounded Rex Bitters when William E. Slaughter was president. In 1910, a summons was issued to Pond's Bitters Company for distributing indecent advertising pictures near school houses.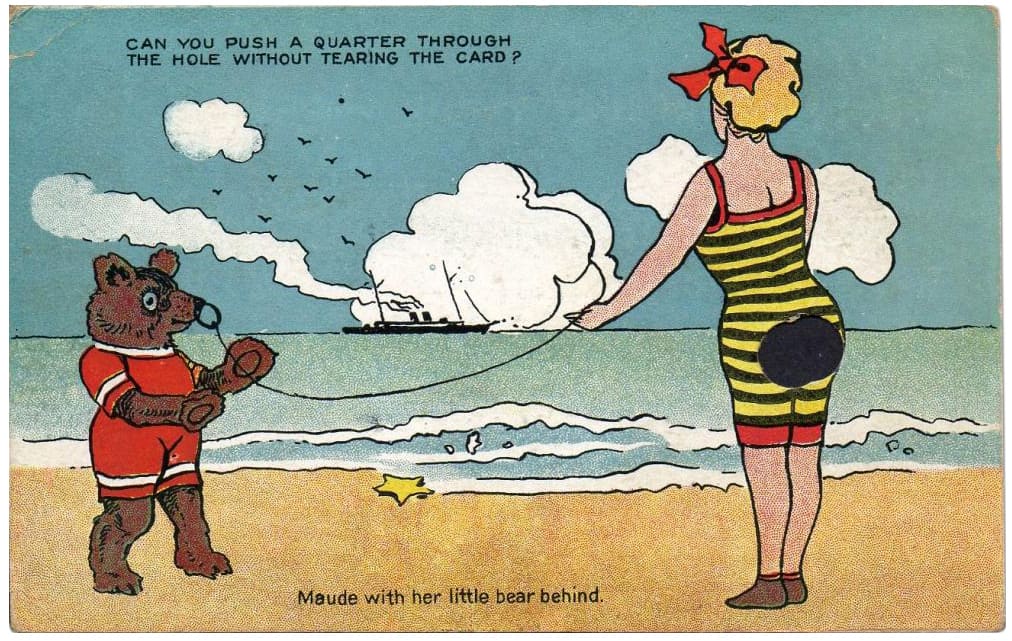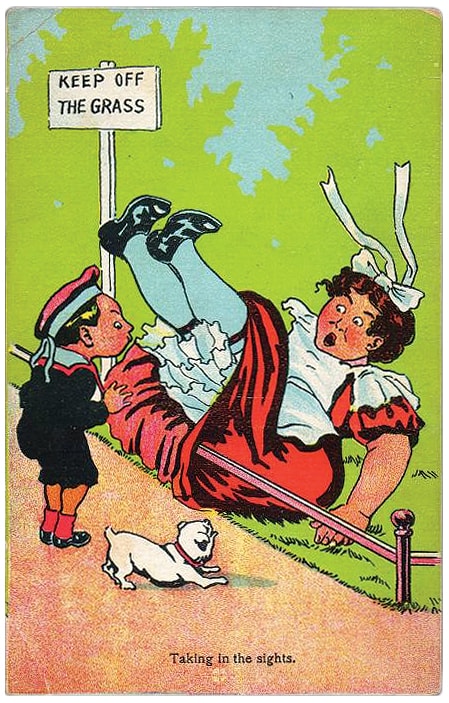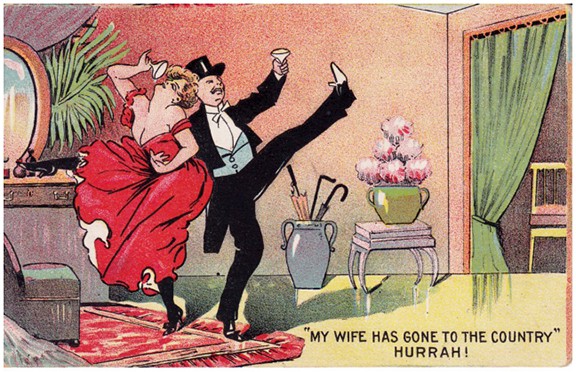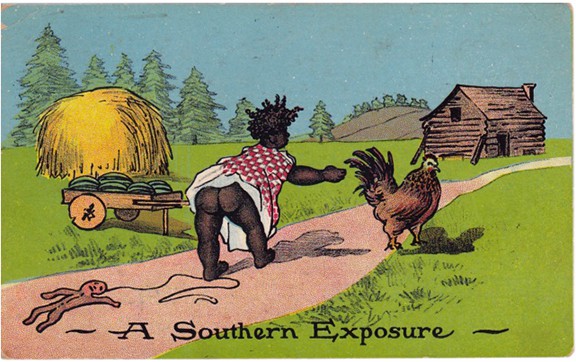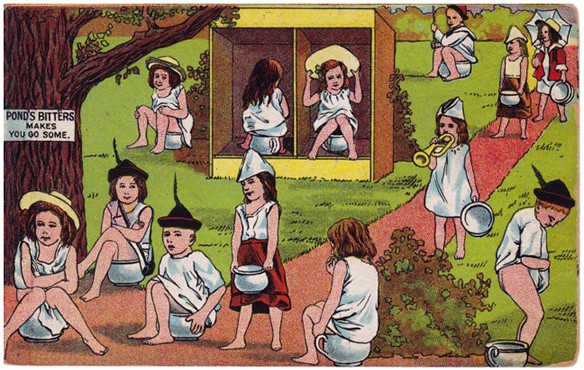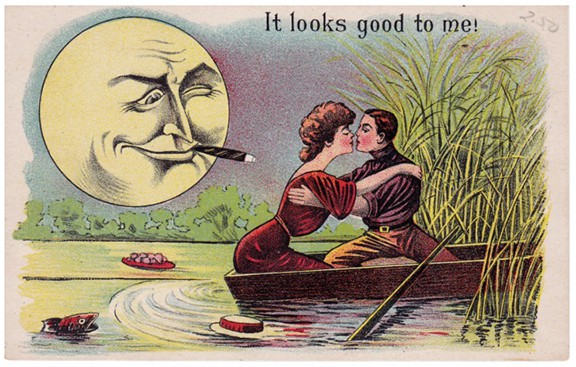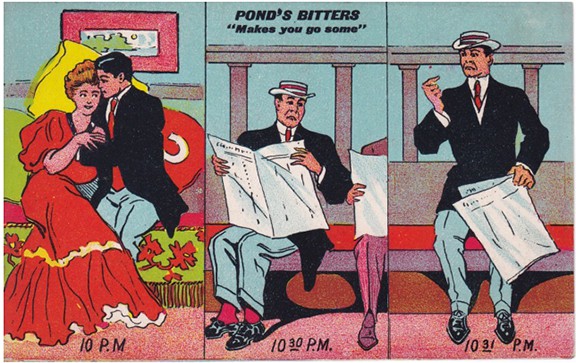 Other complaints were filed against Pond's Bitters Company by the city prosecutor for circulation of a picture postcard that, while innocent looking in itself, becomes offensive when held at a certain angle. Look at the card below when you turn it upside down and use your thumb to frame the new derriere image. [Joe Gourd Collection]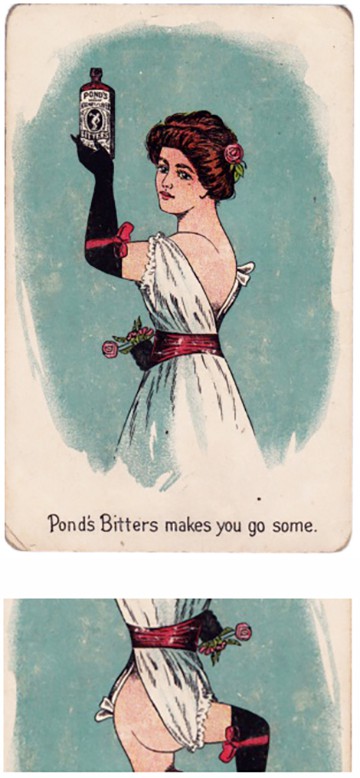 Of course, this is how advertising works. Catch your attention and then hopefully, you will read about the product and then buy some.
Read: If you can't do business, drink Rex Bitters – Chicago
More trouble with the law
The Pure Food and Drug Act in 1906 did not spell good news for the Pond's Bitters Company. This act was set up for preventing the manufacture, sale, or transportation of adulterated or misbranded or poisonous or deleterious foods, drugs, medicines, and liquors, and for regulating traffic therein, and for other purposes. On August 23, 1912, Congressman Joseph Swagger Sherley's proposed amendment, the Sherley Amendment, to Section 8 of the Pure Food and Drug Act, was enacted. It prohibited 'false and fraudulent' labeling of a product (though not advertising). The red tape was piling up.
In 1916, the City of Chicago sued Pond's Bitters Company for selling spirituous liquor without a license. Tests proved that their product was 20 per cent alcohol. Obviously the feint of selling the bitters as a medicinal product was wearing off.
With Prohibition taking effect in January 1920, this would all come to a boiling point. In October of that year, a U.S. judge specifically targeted the heads of Rex Bitters Company and Pond's Bitters Company. The judge went on to say, "and I want the presidents, not the office boys or any other minor officials of these two companies."
Subpoenas were issued after a jurist had examined 60 quarts of liquor that had been seized by federal agents at local Chicago saloons. According to a newspaper report, "The 60 quarts were piled high in front of the jurist when he reached over and at random picked out two bottles. The first was that of the Rex Bitters Company, labeled '22 percent alcohol'. The second was that of the Pond's Bitters Company labeled '20 percent alcohol'. These are rare remedies indeed to be found in saloons when Prohibition laws are in force," said the jurist. Each of the defendants was fined $500.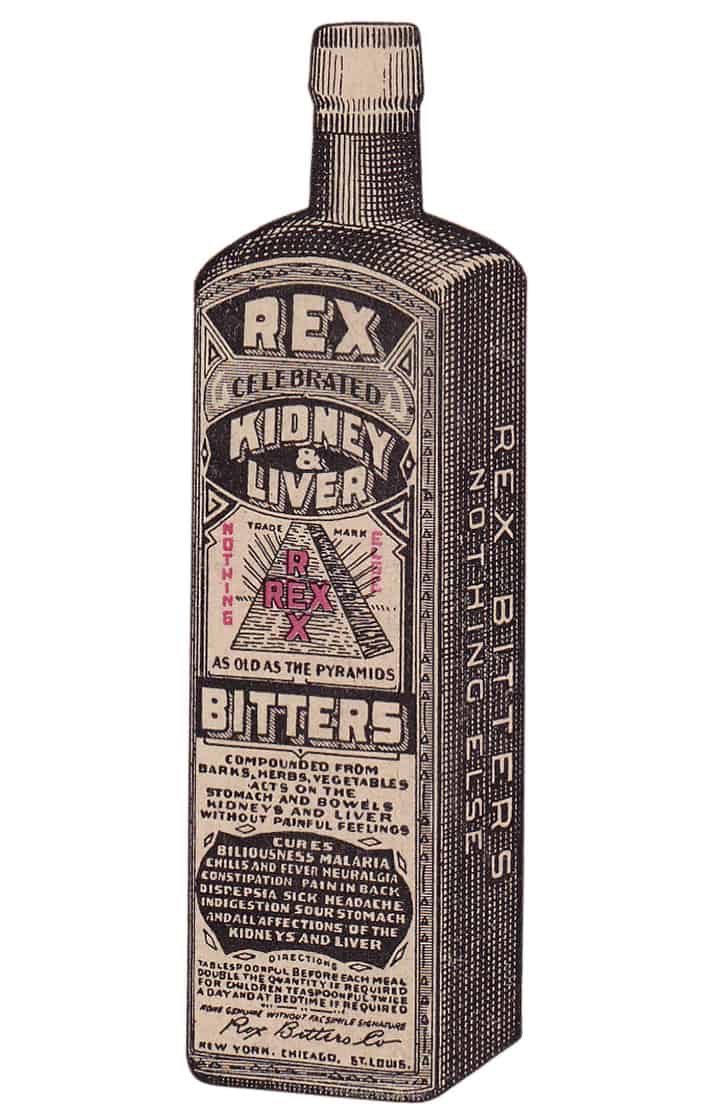 In another bit of courtroom drama in 1920, Rex Bitters Company and Pond's Bitters Company fought it out in front of the judge. A newspaper clipping (further below) was titled,"Bitter Folks Seem to be in Bitter Tangle." where a Judge Landis made attempts to discover the extent of the sale in the trade of Pond's Bitters. He had asked for samples from three saloon raids. He called to the stand Jacob Lamfrom, now president of Pond's Bitters Company and asked,
"How much of this stuff did you make last month?"
"Fifteen Hundred cases" Lamfrom answered, and added that all of it had been sold to wholesale druggists and grocers.
"You didn't sell any of it to saloons?"
"We do not solicit that trade." sidestepped the president.
"I asked you if you sold and of it to saloons," replied the judge vehemently.
The conversation degraded from there and eventually the judge ordered Lamfrom to be taken by United States Marshall's and put behind bars.
Interestingly enough, a witness for the rival Rex Bitters Company was present and supplied information that Pond's Bitters contained 21 per cent alcohol. Hmmm…, Rex Bitters contained 22 per cent alcohol.
1924 would pretty much wrap it up for Pond's Bitters Company.
Fulton Market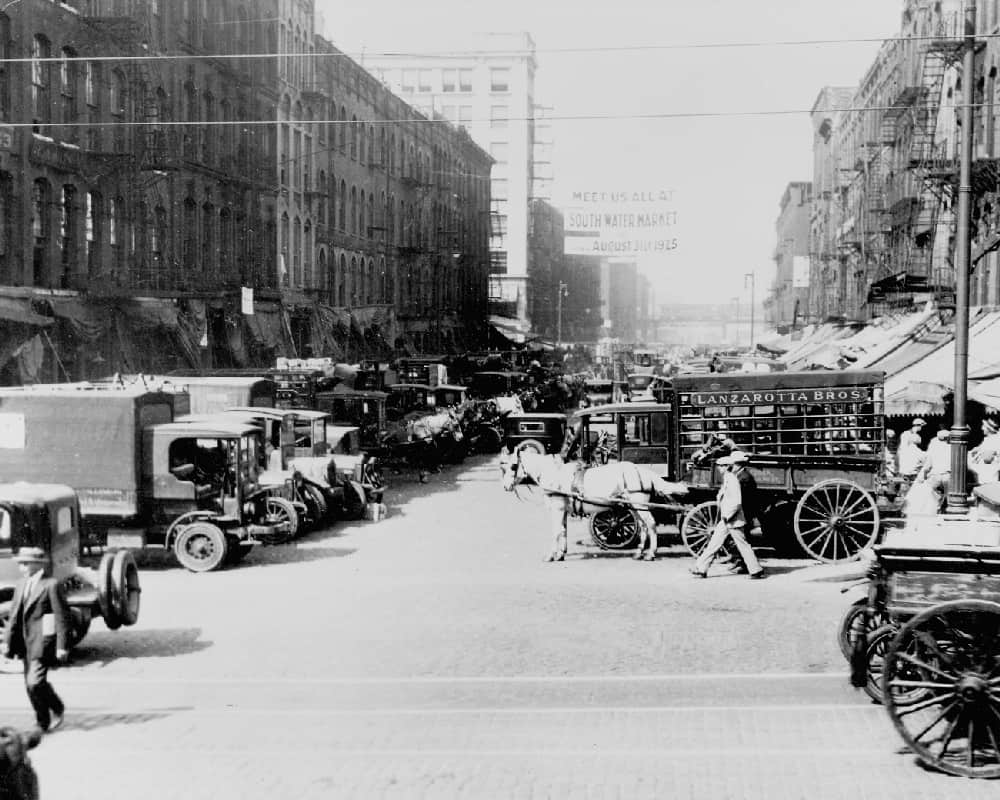 Pond's Bitters, throughout their years in business, had many Fulton Street addresses. They hopped down Fulton Street (pictured above) a number of times from 1909 to 1924, eventually landing at Fulton Market on the corner of Fulton and Green Streets.
James Thompson's original 1830 plan of Chicago was centered on Wolf Point at the fork of the Chicago River and included much of the area that is today the Fulton River District. The street grid and block layout imposed on this small area defined the pattern of Chicago's development as the city grew. Commerce dominated the district for much of its history. Lumber and grain were shipped through the district, and Sears and Roebuck's first mail order warehouse was located at Fulton and DesPlaines. Randolph Street became the center of wholesale produce distribution in the late 19th Century and was the site of the famous Haymarket Square labor riots of 1886 on Des Plaines Street.
The Bottles
The Carlyn Ring and W.C. Ham listings in Bitters Bottles is as follows: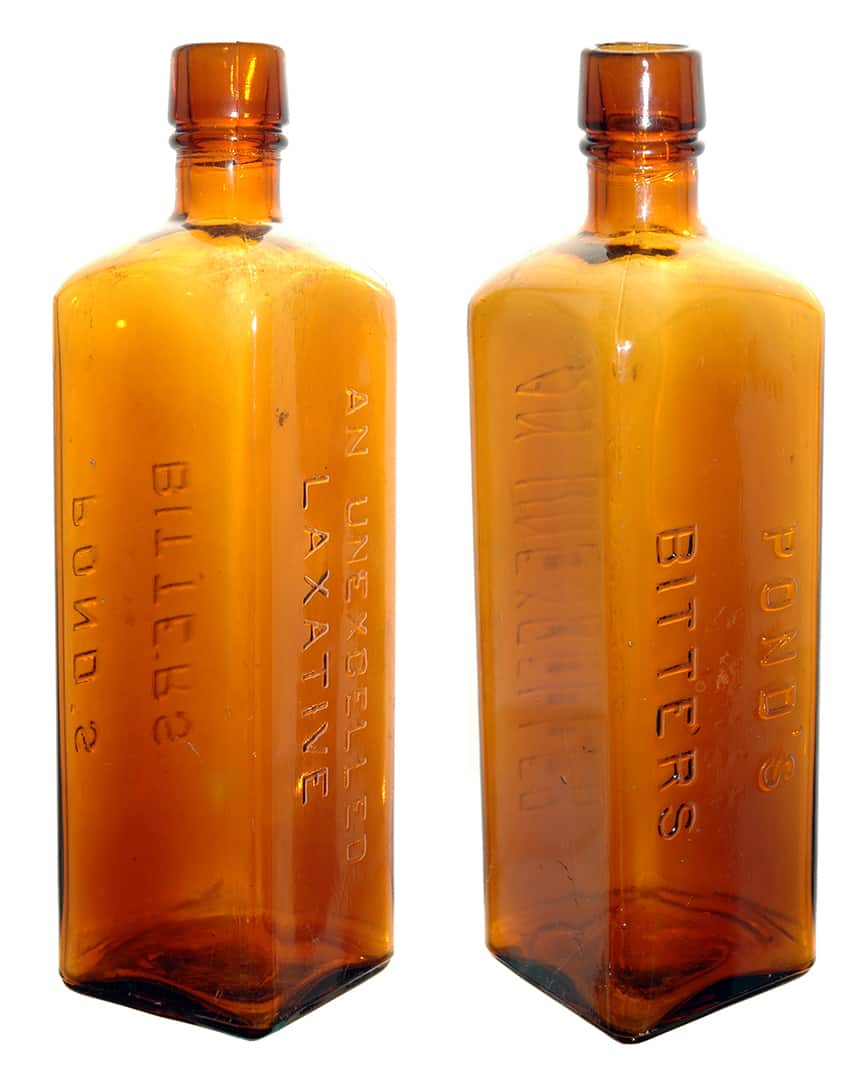 P 120  Pond's Bitters (above)
POND'S BITTERS // f // AN UNEXCELLED / LAXATIVE // f //
L…Pond's Genuine Laxative Bitters
9 5/8 x 2 3/4 (7 3/8)
Square, Amber, LTCR, Common
Also some ABM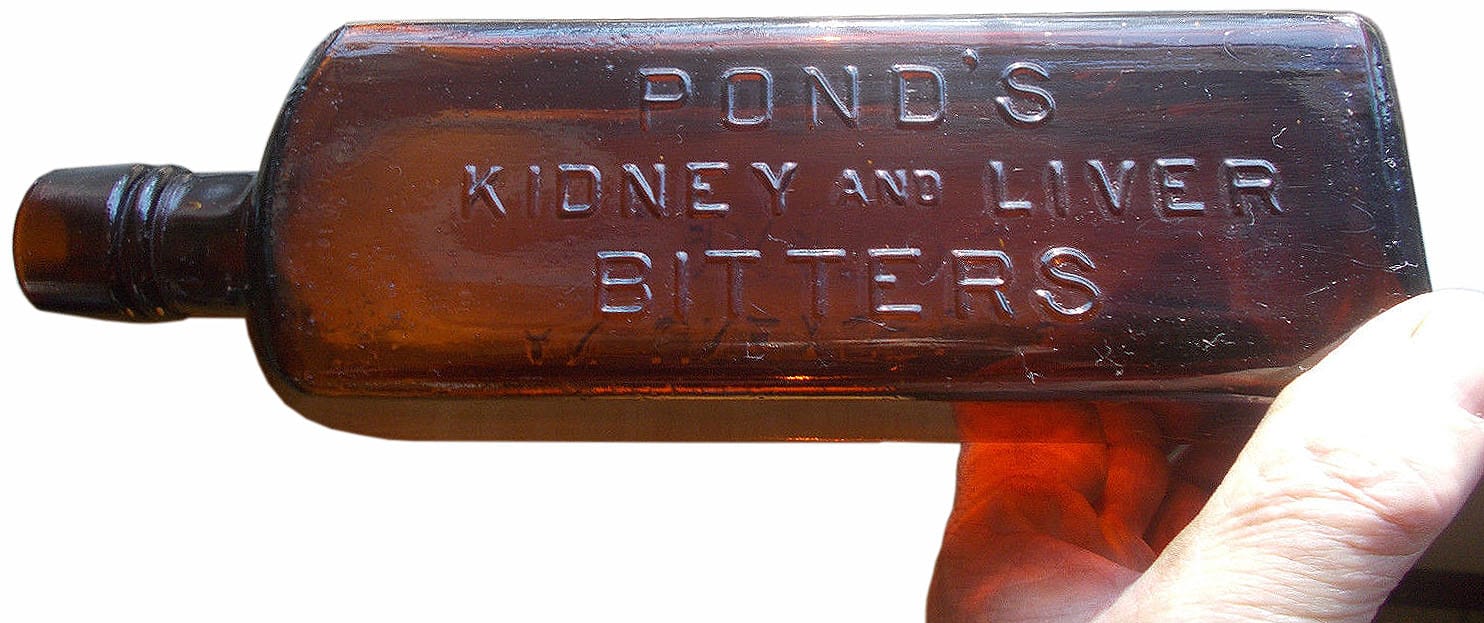 P 121  Pond's Kidney and Liver Bitters (above)
POND'S / KIDNEY AND LIVER / BITTERS // f //  AN UNEXCELLED / LAXATIVE // f //
9 1/2 x 2 3/4 (7 1/4)
Square, Amber, LTCR, Common
Also some ABM
Considered to be the original and older than preceding. Some with Kidney and Liver partially obliterated.
Drug Catalogs: 1880 and 1885 Goodwin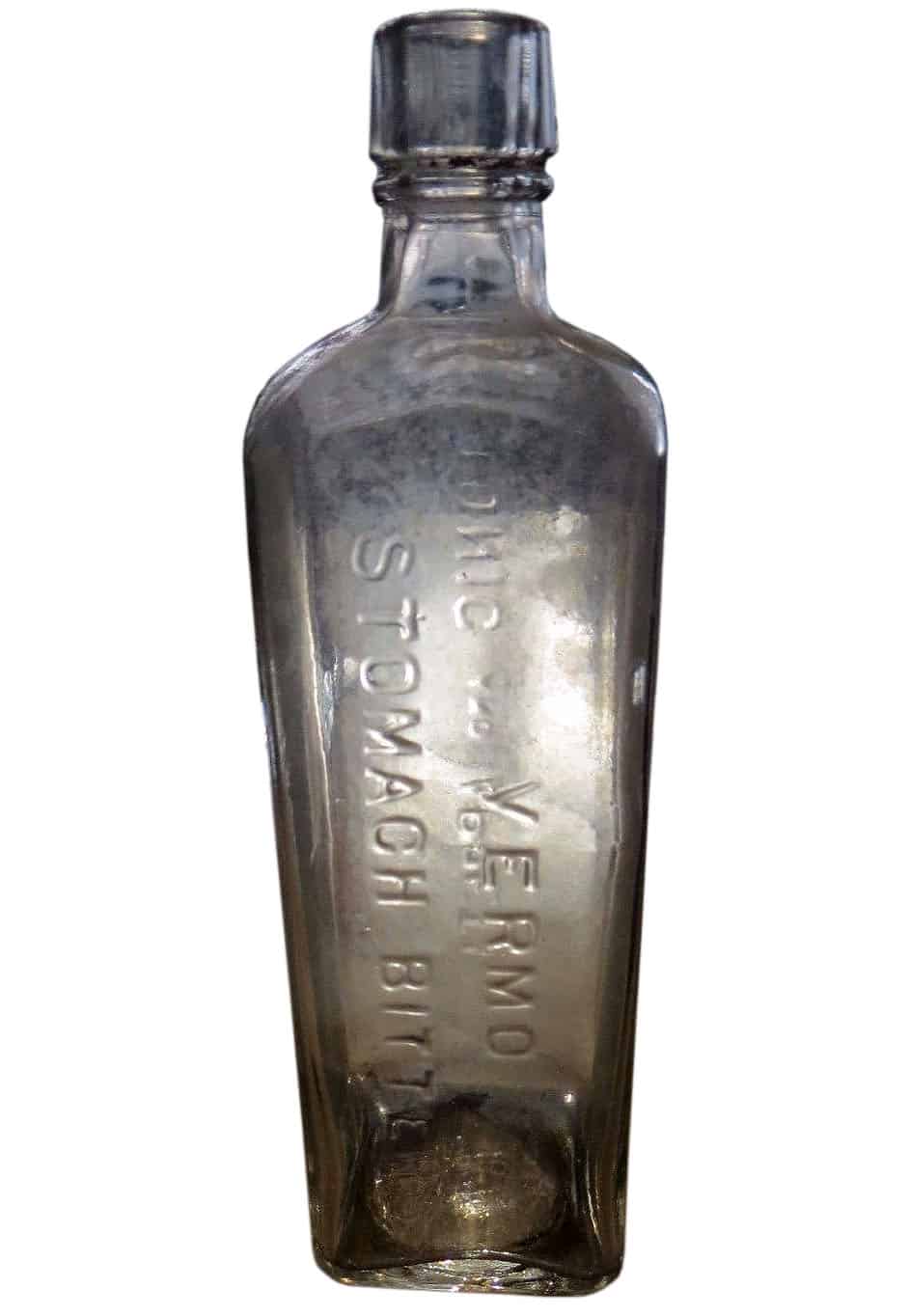 V 15  Vermo Stomach Bitters (above)
VERMO / STOMACH BITTERS // f // TONIC AND APPETIZER // f //
833-845 Fulton St., Chicago, Illinois
9 1/2 x 2 3/4 (7 1/2)
Square, Clear, LTCR, Common
Advertising Trade Cards
The advertising cards in this post are primarily from the Joe Gourd and Ferdinand Meyer V collection. Most are catchy, humorous and inspire you to turn over and read the Pond's Bitters Company product information. The addresses date the cards.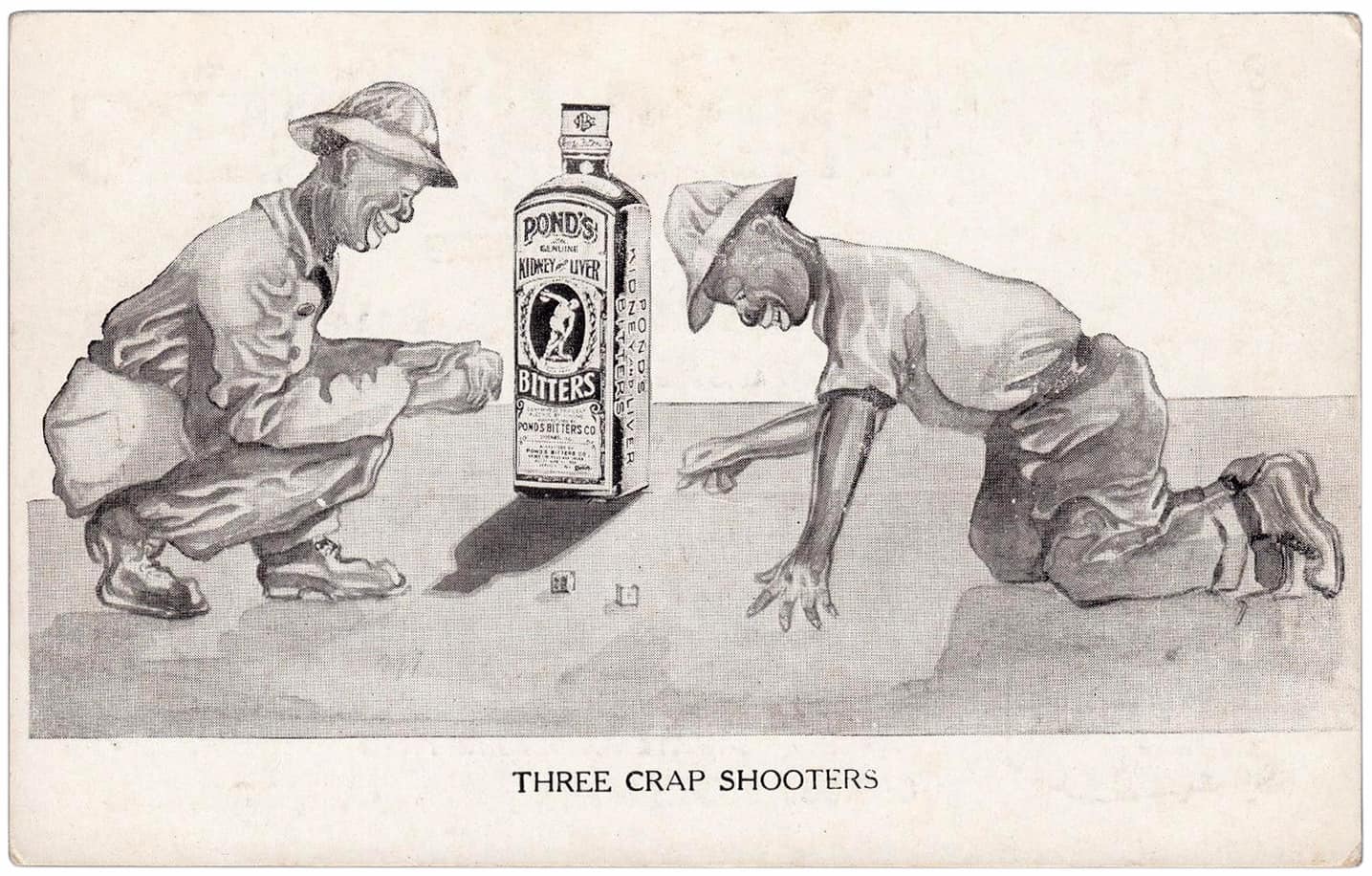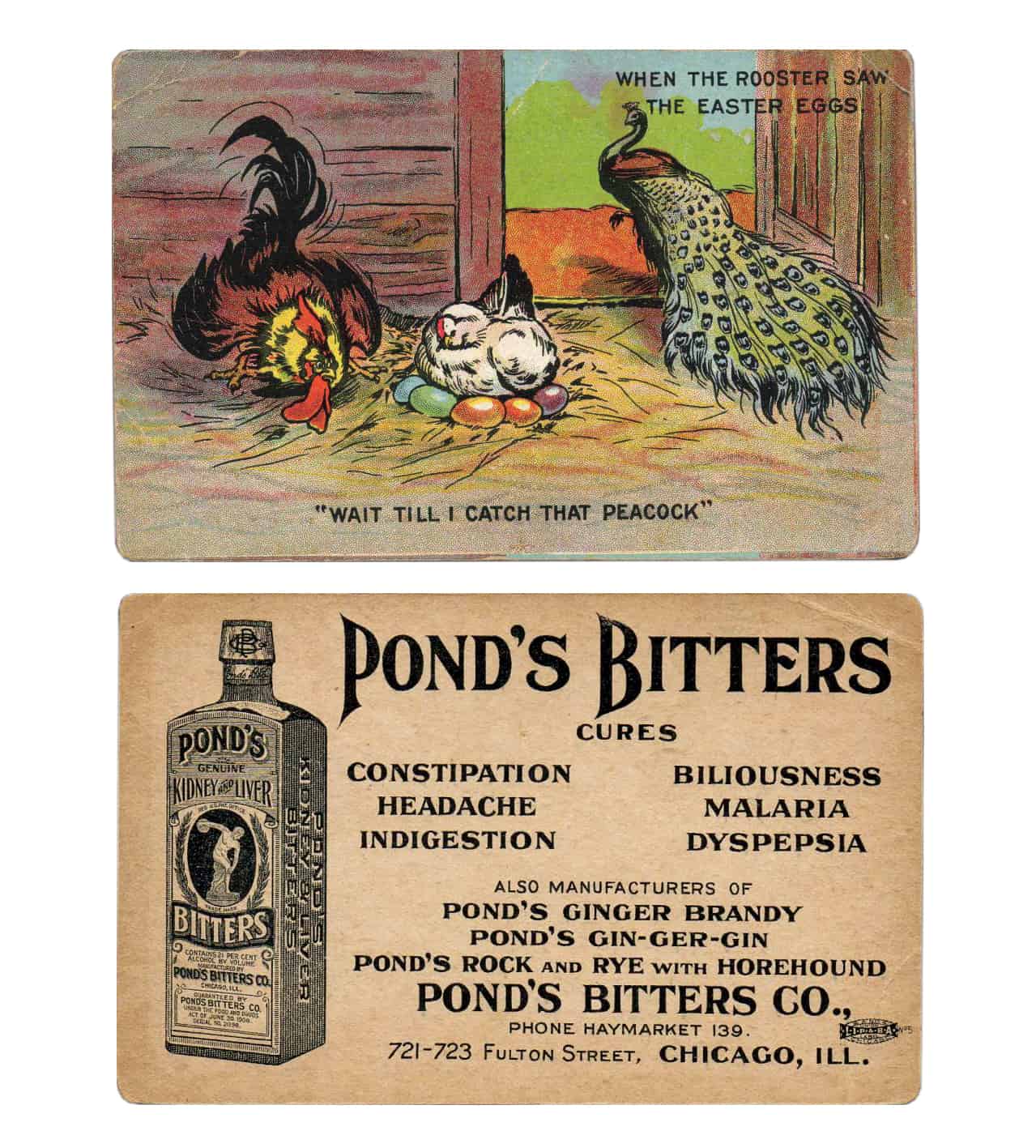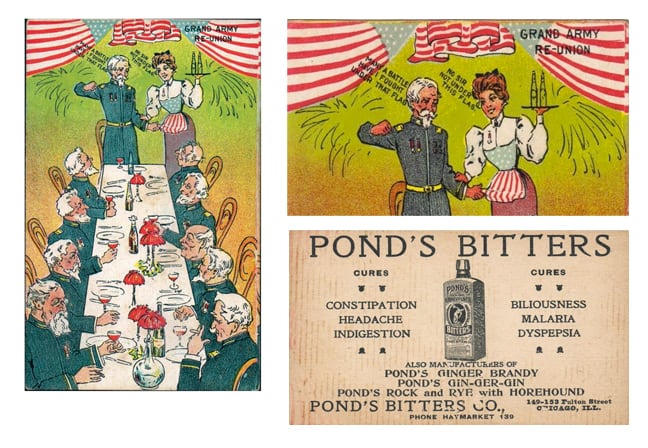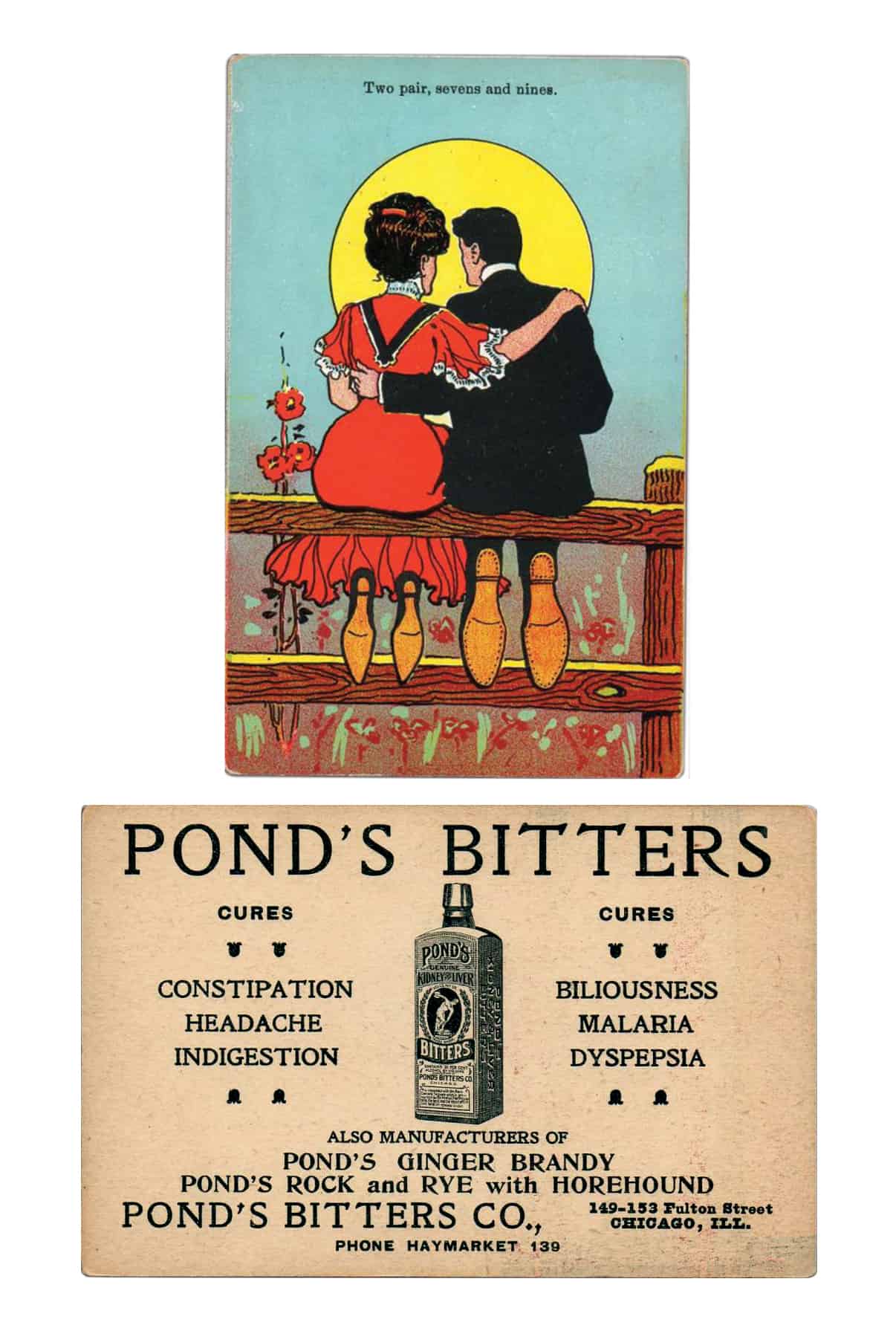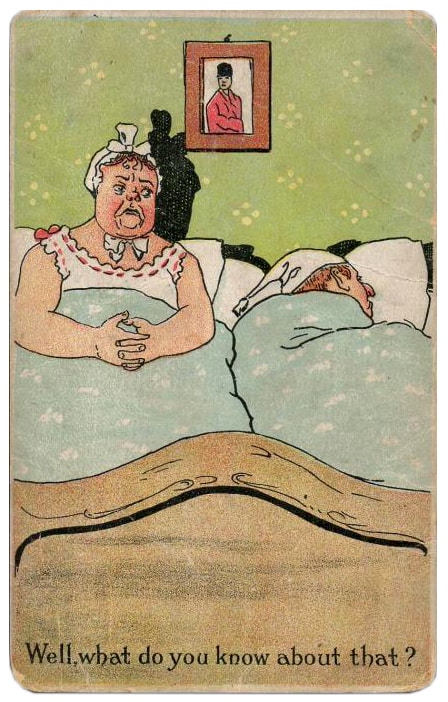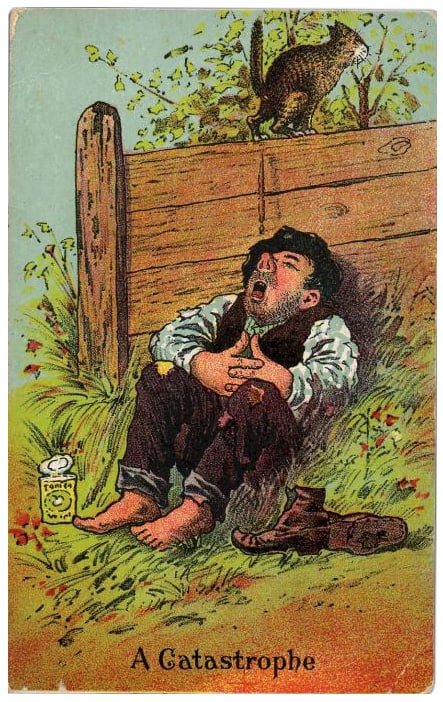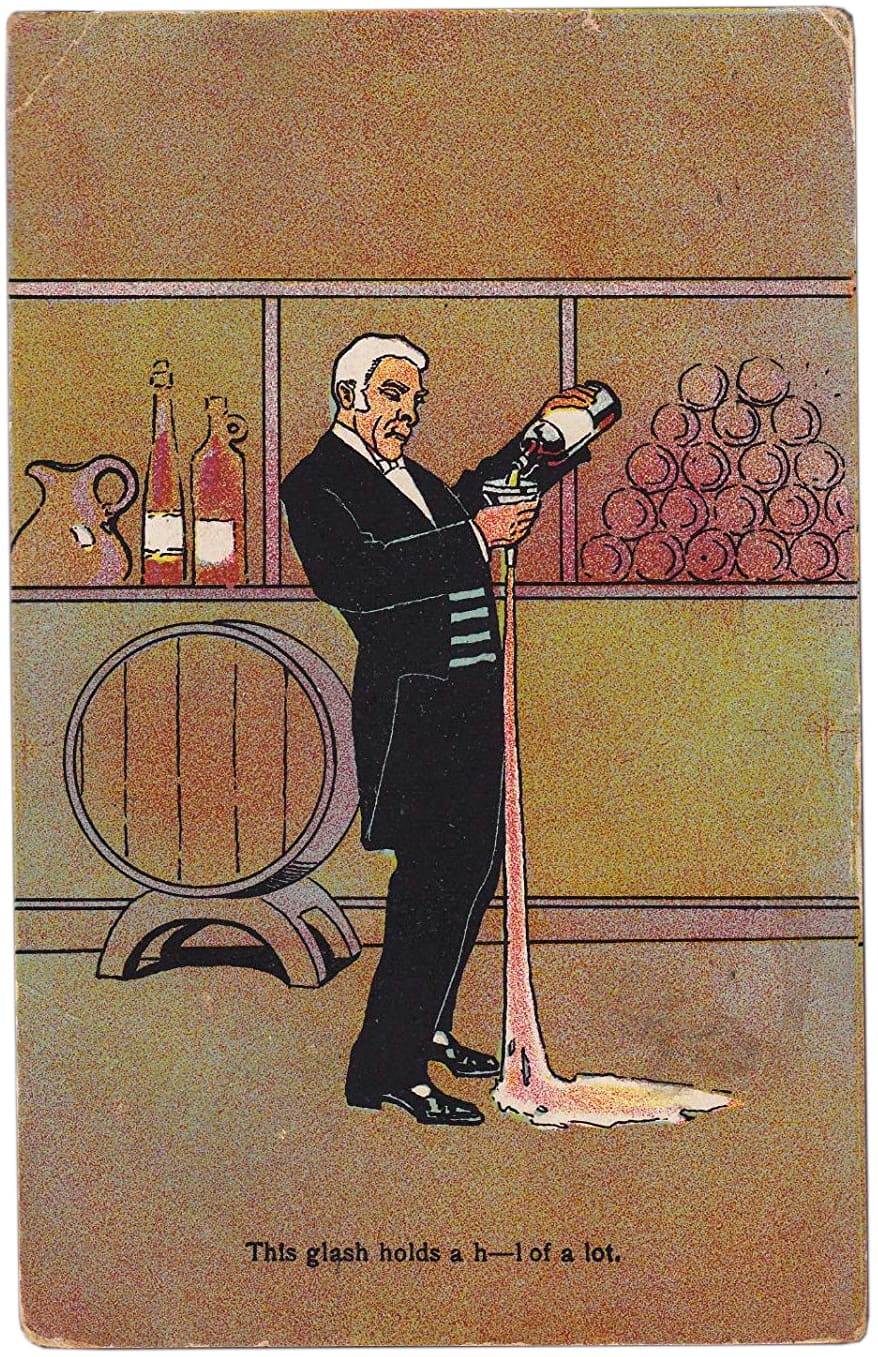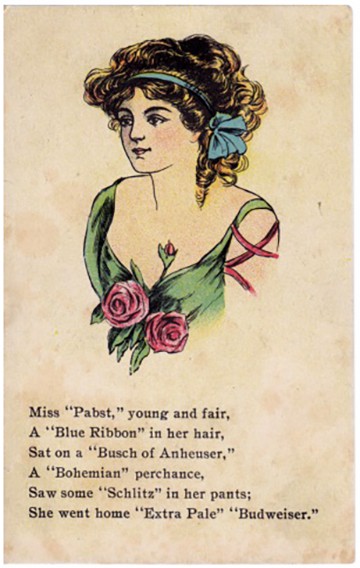 Advertising Sign
Pond's Laxative Bitters "Makes You Go Some" metal sign. 6 3/4 w x 5 h – Steve Ketcham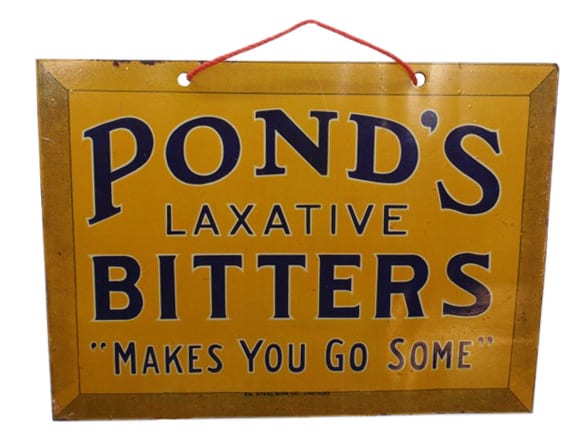 Facsimile Bank Note
Pond's Bitters Co. Bank of Prosperity Facsimile Bank Note, circa 1910. – Ben Swanson collection.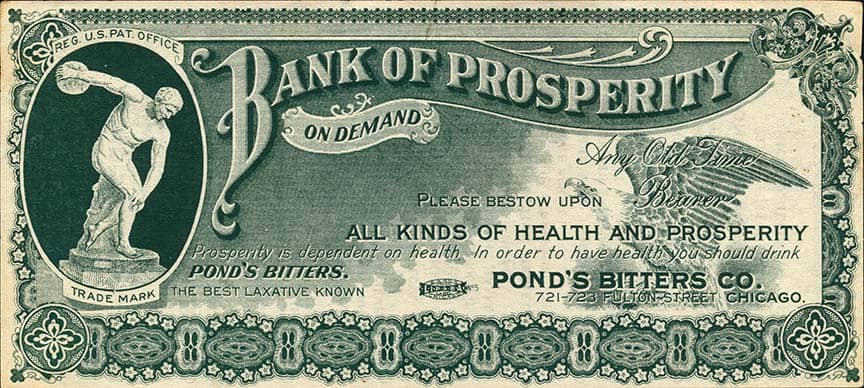 Select Listings:
1854:

 Birth: George Morgan Pond, 29 May 1854, New York, the son of Loyal Sylvester Pond and Harriet Sarah Taylor, married Louise Fitch – U.S., Find A Grave Index, 1600s-Current
1860:

George Pond, Age: 4, Birth Year: abt 1856, Birth Place: New York, Home in 1860: Scarsdale, Westchester, New York, Post Office: Scarsdale, Family Number: 4448, Household Members: George Pond 4, Louis Pond 1 – 

1860 United States Federal Census
1870:

George Pond, Age in 1870: 14, Birth Year: abt 1856, Birthplace: New York, Dwelling Number: 16, Home in 1870: New York Ward 15 District 3 (2nd Enum), New York, New York, Inferred Father: Loyal Pond, Inferred Mother: Harriet Pond, Household Members: Loyal Pond 56, Harriet Pond 51, Annie Pond 23, Kate Pond 16, George Pond 14, Guy Pond 11, Rainsferd Pond 8 –

 1870 United States Federal Census
1879:

George Morgan Pond, Age 25, birth act 1854, Clerk, Los Angeles, California –

California, Voter Registers, 1866-1898
1880:

George M. Pond, Occupation: Bookkeeper in Store, Age: 27, Birth Date: Abt 1853, Birthplace: New York, Home in 1880: Downey, Los Angeles, California, Dwelling Number: 189, Marital Status: Single, Father's Birthplace: New York, Mother's Birthplace: New York – 1880 United States Federal Census
1887:

 Newspaper notice: George M. Pond registers at the Wilken's House hotel – San Francisco Examiner, Sunday, 17 July 1887
1888:

George M. Pond, Sacramento, $10 contribution "The Pratt Murder Fund" – The San Francisco Examiner, Sunday, 12 August 1888
1890:

Mr. & Mrs. George M. Pond from Santa Cruz came to San Francisco Monday – The San Francisco Call, Monday, 14 April 1890.
1896:

George Morgan Pond, Age: 42, Birth Year: abt 1854, Residence Year: 1896, San Francisco, California – California, Voter Registrations, 1900-1968
1896-1897:

 George M. Pond, Manager, A Schilling & Co. (August Schilling and George F. Volkmann) wholesale dealers coffee, teas, spices, flavoring extracts and baking powder, 108-112 Market), r 1318 Masonic Ave., San Francisco – 1897 San Francisco, California City Directory
1898:

George Morgan Pond, Age: 44, Birth Year: abt 1854, Residence Year: 1898, San Francisco, California – 

California, Voter Registrations, 1900-1968
1898:

George M. Pond, Com. Salesman, A Schilling & Co. r 1318 Masonic Ave., San Francisco – San Francisco, California City Directory
1899:

George M. Pond, Com. Merchant, Luning Bldg,, r 1318 Masonic Ave., San Francisco – San Francisco, California City Directory
1900:

George M. Pond, Merchant, Age: 46, Birth Date: May 1854, Birthplace: New York, Home in 1900: San Francisco, San Francisco, California, Street: Masonic Avenue, House Number: 1318, Marital Status: Married, Spouse's Name: Louise Pond, Marriage Year: 1882, Father's Birthplace: Vermont, Mother's Birthplace: New Hampshire, Occupation: Merchant (General Index), Household Members: George M Pond 46, Louise Pond 43, Florence Pond 16 – 1900 United States Federal Census
1900:

George Morgan Pond, Age: 46, Birth Year: abt 1854, Residence Year: 1900, Street address: 1318 Masonic av, Residence Place: San Francisco, California – California, Voter Registrations, 1900-1968
1901:

George M. Pond, President, Pond & Co., foreign and domestic commissions, advertising novelties and calendars, 12 From and 22 Market, rooms 32-33, San Francisco – San Francisco, California City Directory
1901:

 Newspaper notice (below): Lash's outlay $1,000 capital in Illinois – The Inter Ocean, Wednesday, May 29, 1901

1901:

Lash's Bitter's Co., George M. Pond, manager, 149 and 151 E. Huron – Chicago, Illinois City Directory
1902:

Newspaper notice (below): Lash's Bitters Co., George M. Pond, Manager, 149 and 151 E. Huran – Chicago, Illinois City Directory

1903:

George M. Pond, r 1318 Masonic Ave., San Francisco – 1903 San Francisco, California City Directory
1909:

Pond's Bitters Co., 147 Fulton – Chicago, Illinois City Directory
1909:

 Pond's Bitters advertising trade card circa 1909. Pond's Bitters Co., 149-155 Fulton Street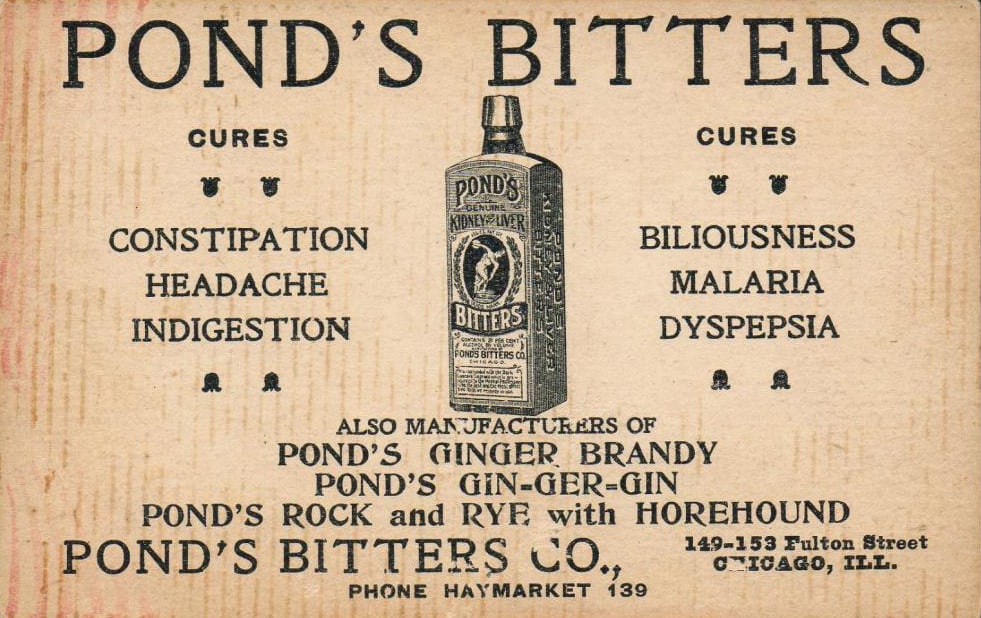 1910-1911:

Pond's Bitters Co., 723 Fulton – Chicago, Illinois City Directory
1910:

George M Pond, Manufacturer Patent Medicine, Age in 1910: 51, Birth Year: abt 1859, Birthplace: New York, Home in 1910: New Trier, Cook, Illinois, Street: Elmwood Ave, House Number: 730, Married, Spouse's Name: Louise Pond, Father's Birthplace: Vermont, Mother's Birthplace: New Hampshire, Household Members: George M Pond 51, Louise Pond 50, Florence Pond 25 – 1910 United States Federal Census
1910:

 Newspaper notice (below): Summons issued to Pond's Bitters Company, 721 Fulton Street, for distributing indecent advertising pictures near school houses – The Inter Ocean, Thursday, November 17, 1910

1910:

 Newspaper notice (below): Pond's Ginger Brandy and Pond's Rock and Rye, Pond's Bitters Company, Chicago – Chicago Tribune, Saturday, July 16, 1910

1910:

 Pond's Bitters advertising trade card circa 1910. Pond's Bitters Co., 721-723 Fulton Street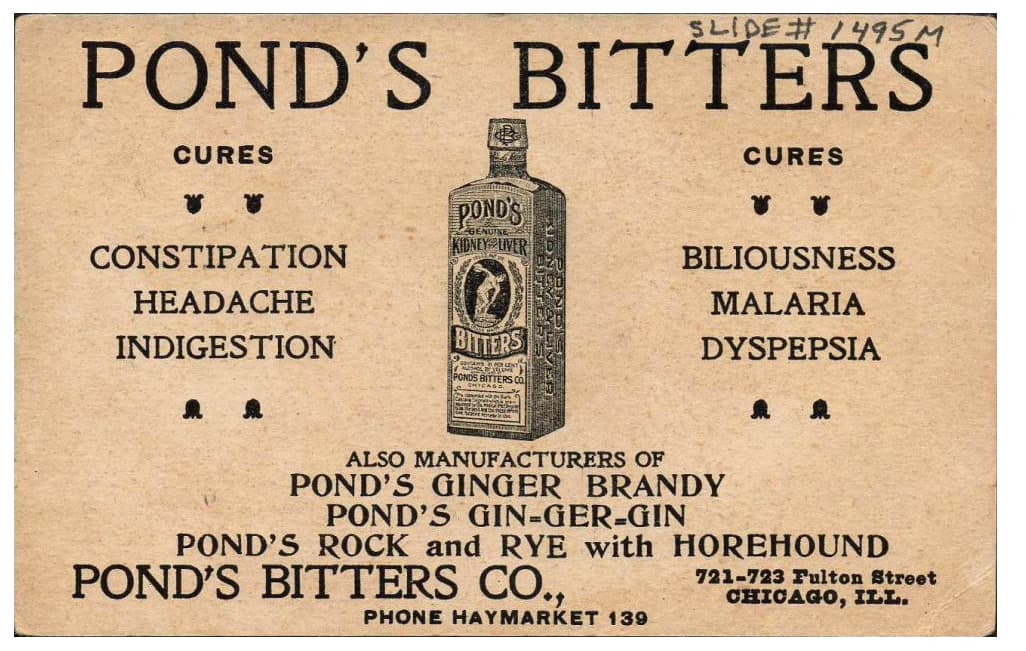 1912-1913:

Pond's Bitters Co., (John Schweger, President, Jacob Lamfrom, Secretary), 723 Fulton – Chicago, Illinois City Directory
1914:

 Newspaper notice (below): William F. O'Brien sign contract with pond's Bitters Company to sell the bitters in parts of Pennsylvania and New York – The Scranton Truth, Saturday, June 20, 1914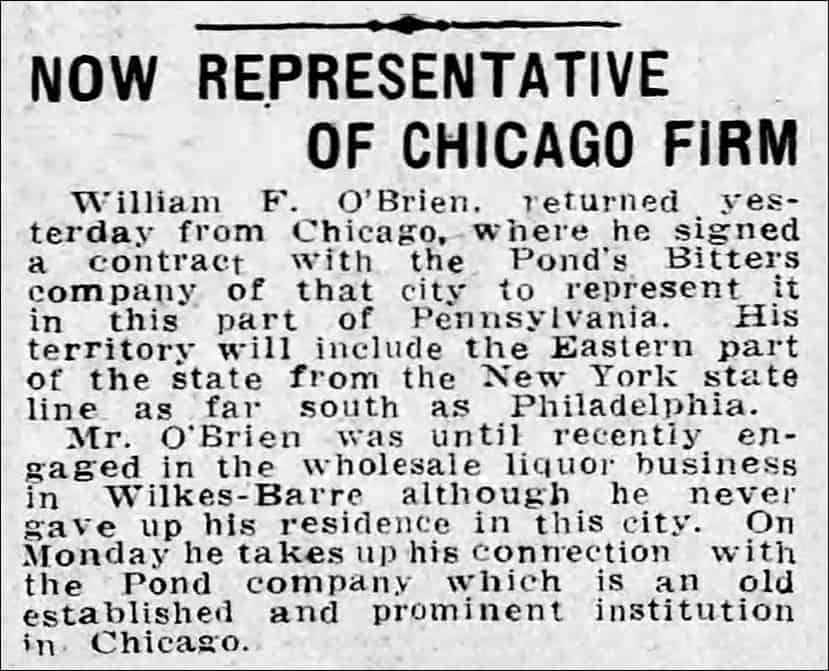 1915:

Pond's Bitters Co., 833 Fulton – Chicago, Illinois City Directory
1915:

 Pond's Bitters advertising trade card circa 1915. Pond's Bitters Co., 833-845 Fulton Street
1916:

 Newspaper notice (below): City Sues 'Pond's Bitters.' for selling spirituous liquor without a license, 833 Fulton Street, Tests prove 20 per cent alcohol – Chicago Tribune, Saturday, June 17, 1916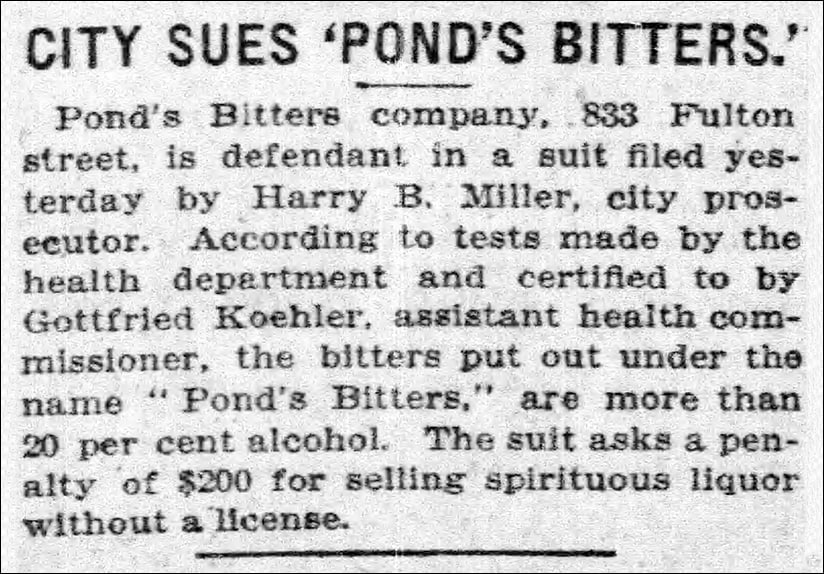 1916:

 Newspaper notice (below): Pond's Bitters Bookkeeper Felled by Bandit in Elevated Station (Mary O'Shea) – Chicago Tribune, Saturday, December 3, 1916

1919:

Death: George Morgon Pond, 30 May 1919, Wilmette, Cook County, Illinois, Cemetery: Graceland Cemetery, Burial or Cremation Place: Chicago, Cook County, Illinois – U.S., Find A Grave Index, 1600s-Current
1920:

 Newspaper notice (below): Boys, over 16, Wanted for light factory work at Pond's Bitters Company, Fulton and Green Streets – Chicago Tribune, Thursday, March 11, 1920

1920:

 Newspaper notice (below): Subpoenas issued for heads of Rex Bitters and Ponds Bitters companies – Journal Gazette, Saturday, October 16, 1920

1920:

 Rex and Pond's Bitters fighting it out in court. "Bitter Folks Seem to be in Bitter Tangle, Jacob Lamfrom, president called to stand – Daily Arkansas Gazette, Monday, October 18, 1920

1922:

 War on all Dealers Selling "Bitters." Vermo Stomach Bitters made by Pond's Bitters Company – The Akron Beacon Journal, Thursday, May 4, 1922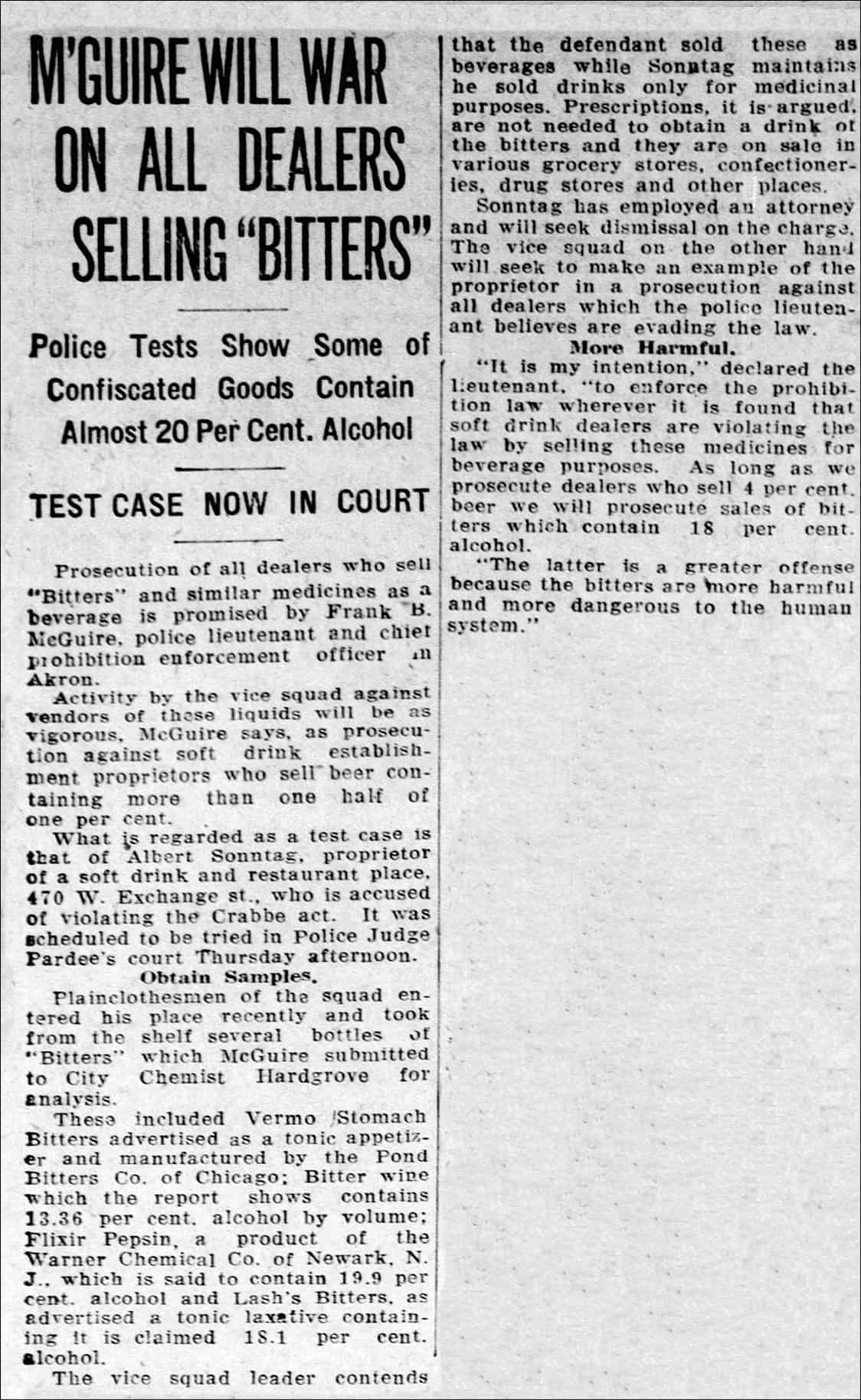 1923:

Pond's Bitters Co., Jacob Lamfrom, President & Treasurer, J K Lamfrom, Secretary 833 Fulton Market – Chicago, Illinois City Directory
1924:

Newspaper advertisement (above in post) for Vermo Stomach Bitters manufactured by Pond's Bitters Company, Chicago – The Akron Beacon Journal, Wednesday, March 12, 1924