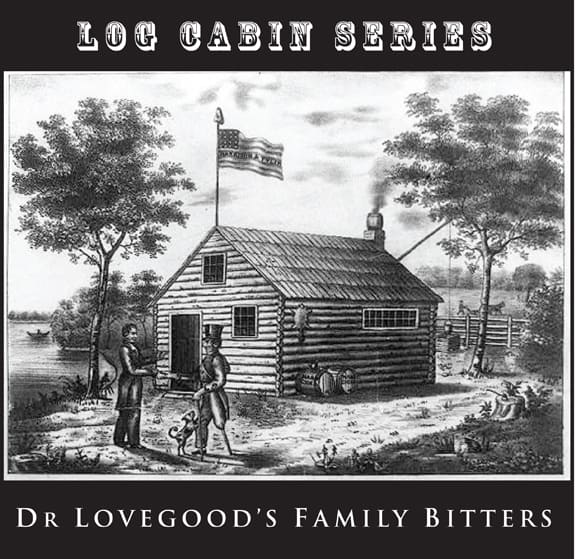 DR LOVEGOOD'S FAMILY BITTERS
Dr. Leonard Harriman – Anderson, Indiana
08 December 2012 (R•052714) (R•012415)
(R•112918) (R•041819) (R•012021)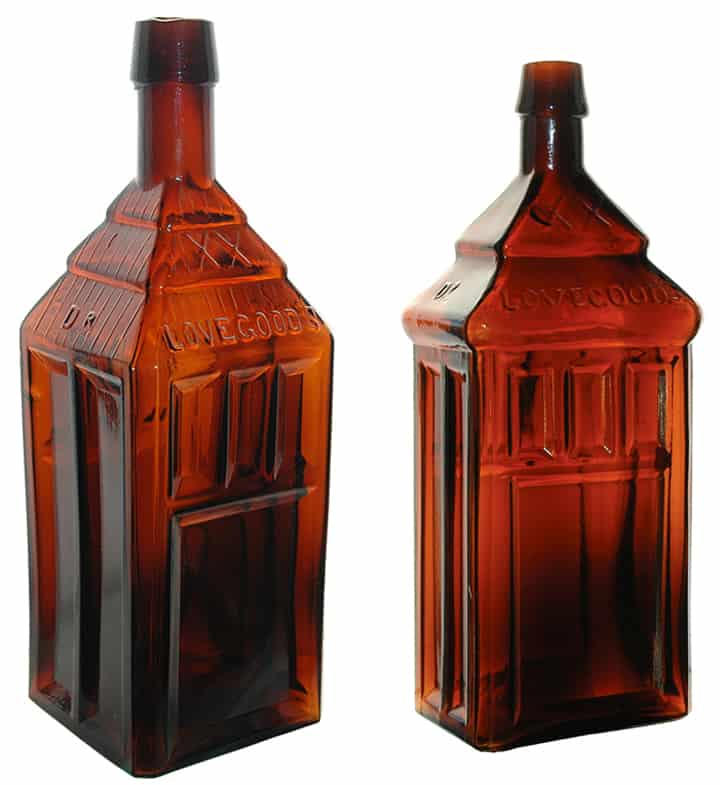 ---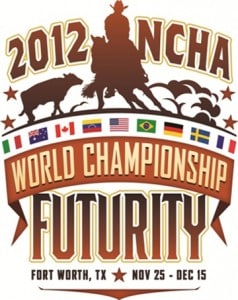 You really have to love the great names for some of the medicine brands and antique bottles we collect. E. Dexter Loveridge, Dr. Lovegoods and Dr. Feelgood are on my mind.
My wife, daughter and granddaughter have departed with horses, trailers and tack and are headed to the 2012 National Cutting Horse Association (NCHA) World Championship Futurity at the stockyards in Fort Worth, Texas. This is their FOHBC National Antique Bottle Show each year. Adrianna competes today and Sunday. Could even go further next week we hope. Good luck sweetie.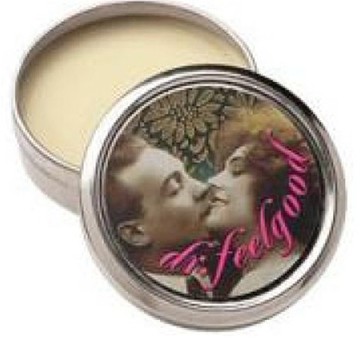 This will give me a good chance to catch up with some of my bottle work and to do the next post in the figural cabin series for Dr. Lovegood's Family Bitters. Technically not a log cabin, but still a cabin.
Actually, I thought it would fun to compare the differences between the much larger square Dr. Lovegood's Family Bitters (L 124) and the rectangular Dr. Lovegood's Family Bitters (L 125). There is virtually no other information available on these bottles until when I received a communication from Martin Van Zant who says that Dr. Lovegood was from Anderson, Indiana. He shared the picture below. He added that there was no actual Doctor named Lovegood. That was a made up name and sold under another Doctor. There are two versions of the Dr. Lovegood's bottle. One has the Anderson, Indiana reference. The one depicted below does not.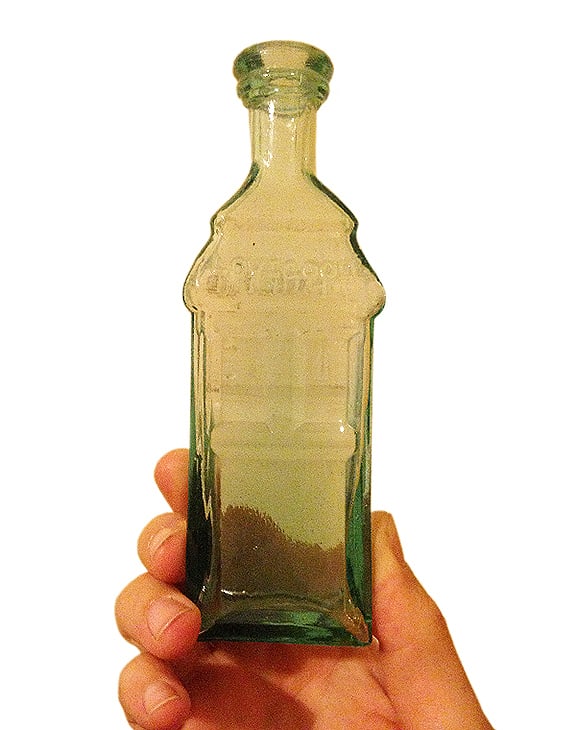 No labels, advertising or any merchant information. Maybe somebody out there has some information that we can add to this post. Make sure you pay close attention to the shapes and notice the misspelling of 'BITTRS' on the rectangular L 125 example. These bottles are rather tough to obtain, always come in amber and look great as a pair.
Yeah yeah




Rat-tailed Jimmy he's a second hand hood




Deals out in Hollywood




Got a '65 Chevy, primered flames




Traded for some powdered goods




Jigsaw Jimmy he's runnin' a gang




But I hear he's doin' o.k.




Got a cozy little job through the Mexican mob




Packages the candycaine
He's the one they call Dr. Feelgood




He's the one that makes ya feel all right




He's the one they call Dr. Feelgood
Motley Crue
Dr. Feelgood lyrics
Dr. Leonard Harriman
[November 2018 update]
Dr. Leonard Harriman, a life-long physician, was born on 31 December 1816, in Preble County, Ohio, to Sally Tibbets, age 31, and Leonard Harriman, age 40. There is little information about his parents though his brother, Dr. Simeon B. Harriman was also born in Preble County on 01 April 1822, when Leonard was five years old. Preble County is east of Indianapolis. Both were noted as one of the first physicians to arrive and practice medicine in Alexandria, Indiana which is due north of Anderson, Indiana. Simeon would eventually practice medicine in Richmond, Indiana where he would die in 1883. Richmond is east of Indianapolis.
Dr. Leonard Harriman married Elizabeth Swafford on 02 March 1837 in Henry County, Indiana and they had three children together. He attended Rush Medical College in Chicago, Illinois graduating in 1845. His wife Elizabeth passed away in 1849. They had only been married 12 years. He would marry again to Angelina Kezer in Delaware, Indiana, in August 1851 when he was 34 years old and they had four children together. His children from both marriages were Theresa Jane, George M., Milton, N., (first marriage) and Jesse, Flora Temple, Benjamin Fremont and Rena Harriman (second marriage). Milton Harriman was chosen as the first city marshal of Anderson and served that capacity for two terms. He next was elected to the office of Justice of the Peace which he served for several years.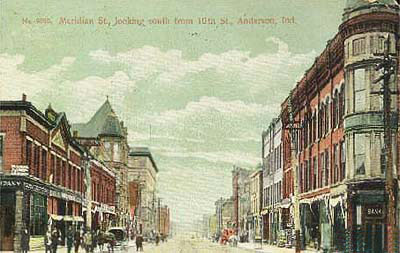 Dr. Leonard Harriman was well-known in Anderson (Madison County) having come from Wayne County, Indiana around 1856. Anderson is located northeast of Indianapolis and between Indianapolis and Muncie, Indiana. Dr. Harriman remained in Anderson practicing medicine where he manufactured Lovegood's Family Bitters. W. H. Conklin in Westfield, Indiana was the sole agent for the bitters as reported in The Noblesville Ledger (Noblesville, Indiana) on Thursday, 8 April 1869.

Dr. Harriman moved to Kansas somewhere around 1876. While in Kansas, Dr. Harriman continued in the drug business and practiced medicine. Dr. Harriman died in his home in Sterling, Kansas in October 1886.
The Carlyn Ring and W.C. Ham listings in Bitters Bottles are as follows:
L 124  DR LOVEGOOD'S FAMILY BITTERS
// s // XX / LOVEGOOD'S // DR // BITTERS // FAMILY //
10 1/2 x 3 1/2 (5 1/2) 3/8

Square cabin

, Amber, LTC, Applied mouth, 4 sp, Rare
Lettering reads counterclockwise
L 125  DR. LOVEGOOD'S FAMILY BITTERS
// s // XX // LOVEGOOD'S // DR / BITTRS // FAMILY //
9 1/8 x 3 1/2 x 2 (5 1/2) 3/8

Rectangular cabin

, Amber , LTC, Applied mouth, 4 sp, Rare
Lettering reads counterclockwise
---
L 124

(Square)

DR LOVEGOOD'S
---
L 125

(Rectangular)

DR LOVEGOOD'S
---
 

(Rectangular)

DR LOVEGOOD'S FAMILY MEDICINE
---
Select Listings:
1816:

Dr. Leonard B. Harriman was born on December 31, 1816, in Preble, Ohio, to Sally Tibbets, age 31, and Leonard Harriman, age 40. – various sources
1837:

Leonard Harriman, Spouse Name: Elizabeth Swafford, Marriage Date: 2 Mar 1837, Marriage County: Henry, Comment: Harriman, Leonard married Swafford, Elizabeth on 02 Mar 1837 in Henry County, Indiana – Indiana Marriage Index
1850:

Leonard Herriman [Harriman], Age: 36, Physician, Birth Year: abt 1814, Birthplace: Indiana, Home in 1850: Prairie, Henry, Indiana, Race: White, Gender: Male, Family Number: 137, Household Members: John H Cline 24, Sarah J Cline 21, Leonard Herriman 36, Theresa Jane Herriman 6, Milton Herriman 10, Isabel Williams 22 – 1850 United States Federal Census
1860:

Lenard Harman [Leonard Harriman], Physician, Age: 44, Birth Year: abt 1816, Birth Place: Ohio, Home in 1860: Anderson, Madison, Indiana, Post Office: Anderson, Dwelling Number: 126, Family Number: 126, Real Estate Value: 3500, Personal Estate Value: 2500, Household Members: Lenard Harman 44, Angelina Harman 33, George M Harman 10, Lenord Harman 5, Fremont Harman 3 [Harriman] – 1860 United States Federal Census
1862:

L. Harriman (physician), N. Harriman (physician), S.B. Harriman (physician and insurance agent) – Third Edition of Geo W Hawes and Co´s Indiana State Gazetteer and Business Directory, 1862-63
1865:

 Newspaper advertisement (below) for S.B. Harriman, M.D. (brother of Leonard Harriman) practicing in Richmond, Indiana – Richmond Weekly Palladium, Thursday, October 19, 1865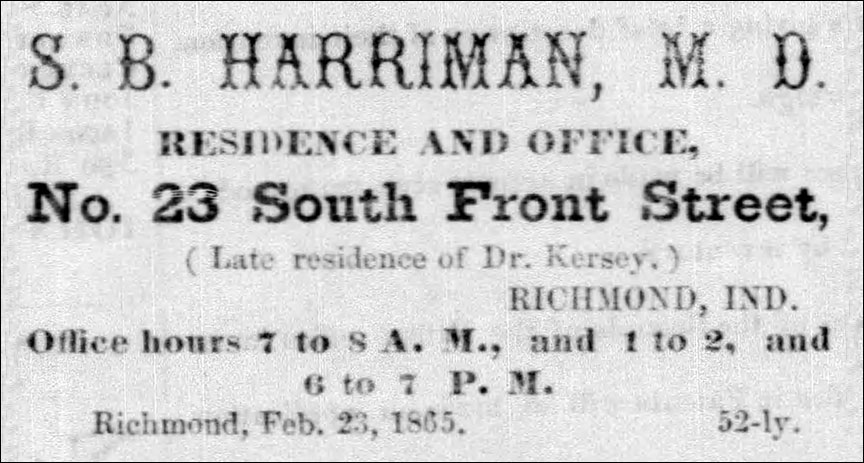 1865:

 Newspaper advertisement (below) Dr. Lovegood's X. X. Family Bitters by Dr. Harriman & Co. Laboratory at Anderson – Indianapolis Daily Journal (Indianapolis, Indiana) February 6, 1865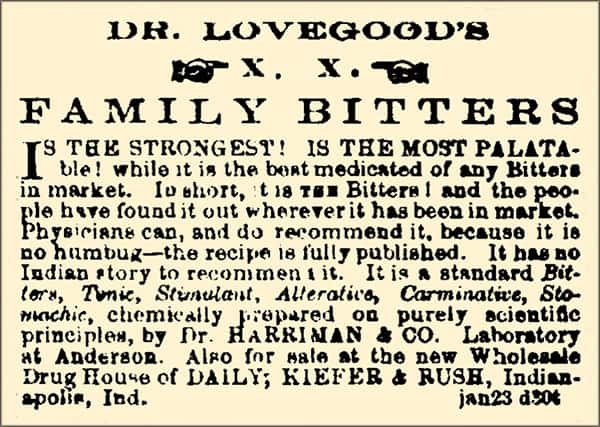 1869:

 Newspaper posting (below) BITTERS! Lovegood's Bitters, W. H. Conklin at Westfield, Indiana is sole agent for Lovegood's Bitters – The Noblesville Ledger (Noblesville, Indiana), Thursday, 8 April 1869

1870:

 L Harriman [Leonard Harriman], Physician, Age in 1870: 54, Birth Year: abt 1816, Birthplace: Ohio
Dwelling Number: 346, Home in 1870: Anderson, Madison, Indiana, Personal Estate Value: 4000, Real Estate Value: 2500, Inferred Spouse: Angalina Harriman, Household Members: L Harriman 54, Angalina Harriman 45, Rena Harriman 16, Framsard Harriman 12, Flora Harriman 3 – 1870 United States Federal Census
1873:

 Newspaper advertisement (below) for S.B. Harriman, M.D. (brother of Leonard Harriman) practicing in Richmond, Indiana – Richmond Weekly Palladium, Saturday, January 4, 1873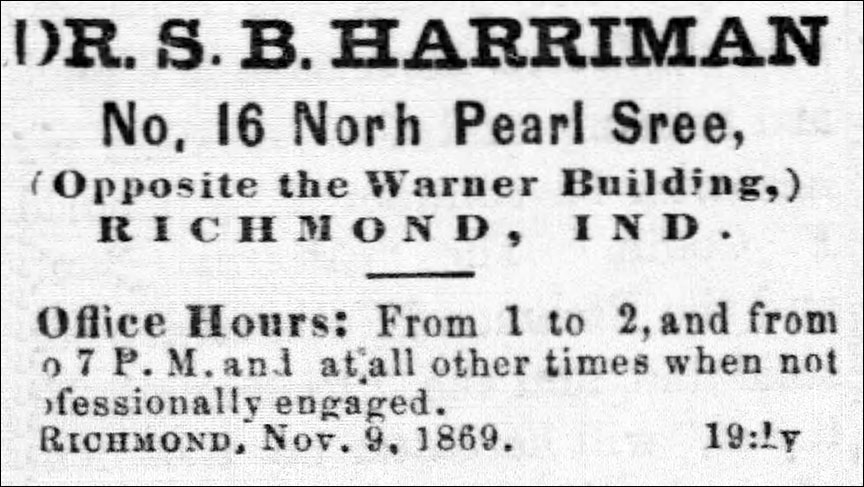 1880:

Leonard Harriman, Age: 63, Physician, Birth Date: Abt 1817, Birthplace: Ohio, Home in 1880: Sterling, Rice, Kansas, Dwelling Number: 86, Household Members: Leonard Harriman 63, Angelina Harriman 53, Fremont Harriman 22, Flora Harriman 13 – 1880 United States Federal Census
1886:

Newspaper posting (below) Dr. Leonard Harriman death in Anderson, Indiana – The Richmond Item (Richmond, Indiana), Tuesday, 12 October 1886,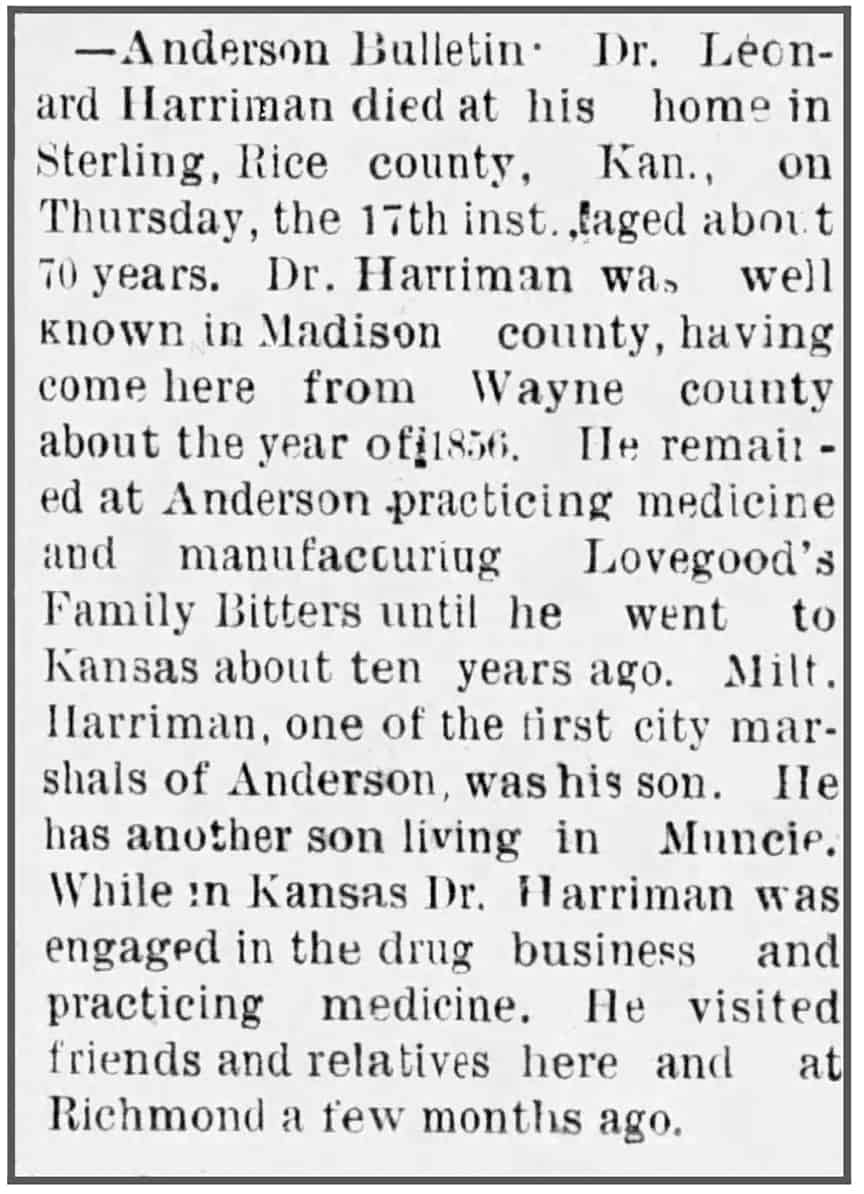 1886:

Dr Leonard Harriman, Death Date: Sep 1886, Cemetery: Sterling Cemetery, Burial or Cremation Place: Sterling, Rice County, Kansas, Spouse: Angelina Harriman, Children: Flora Temple Harriman, Minnie Myrtle Harriman – U.S., Find A Grave Index, 1600s-Current
1910:

Angelina Harriman (widow Leonard Harriman), res E. 620 Mansur Avenue – Guthrie, Oklahoma, City Directory, 1910