Jackson's Aromatic Life Bitters
10 July 2014 (R•090918)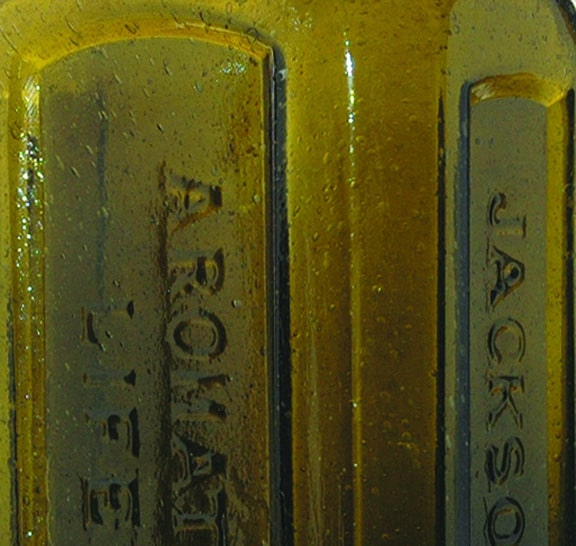 Earlier today, I put up a post on the (Thuringer) Aromatic Stomach Bitters. It got me thinking of the great, Jackson's Aromatic Life Bitters. Somewhat similar, I though I would sequence them up and look at some Jackson examples today. My dark yellow olive example (pictured above) has a smooth base, applied sloping collar mouth and is crude glass that is full of seed bubbles. It is somewhat lighter than other examples that I have seen. It is also ex. Carlyn Ring. There are two different dark olive green examples pictured below.
I'm afraid I have no clue where this bottles is from or what the story is with it. I am suspecting New York. I doubt it is related to Jackson's Stonewall Bitters.
The Carlyn Ring and W.C. Ham listing in Bitters Bottles is as follows:
 

J 4

 JACKSON'S AROMATIC LIFE BITTERS
f // JACKSON'S // AROMATIC / LIFE // BITTERS //
9 3/4 x 2 1/2 (6 1/2) 3/8
Rectangular, Dark olive green and Dark yellow olive, LTC,
Applied mouth, 3 sp, Very rare 
So who is Jackson?
As I mentioned, I doubt it is related to Jackson's Stonewall Bitters.
It could be Dr. C.M. Jackson, the man responsible for first marketing and selling Dr. Hoofland's Celebrated German Bitters in Philadelphia in 1850. The glass looks right and the bottle shape is similar to the early aqua Dr. Hoofland's German Bitters.
There is reference to an Aromatic Life Bitters being sold by Fisher & Heinitsh in Columbia, South Carolina in 1868. No mention of Jackson though.
Could be James A. Jackson who initially developed The Home Bitters in St. Louis in 1870.
Chris Bubash has recently found reference to a Dr. Jackson's Aromatic Life Bitters being sold in Illinois in 1855 and a Dr. J.B Jackson which prompted this post update in 2018. Here are a few support pieces he found. Not sure if it is the same guy. The glass sure does not look like Chicago or St. Louis glass. We need to reference Bottled in Illinois.