William T. Walters and his Museum Bottle
WALTERS & Co. BALTIMORE
25 July 2013 (R•081018) 
(R•081418)

I have this great, 6-sided bottle I picked up from Michael George back in 2010 at the Baltimore Bottle Show embossed with "BALTIMORE" and "WALTERS & CO." It doesn't have the word "BITTERS" on it but I have a feeling it might have been? The bottle is oddly shaped and reminds me of my similar Wheeler's Berlin Bitters that is pictured below. This bottle also has the word "Baltimore" embossed on a panel. Maybe the Walters and Wheelers were both produced at the Baltimore Glass Works? All we need to do now is find a labeled example.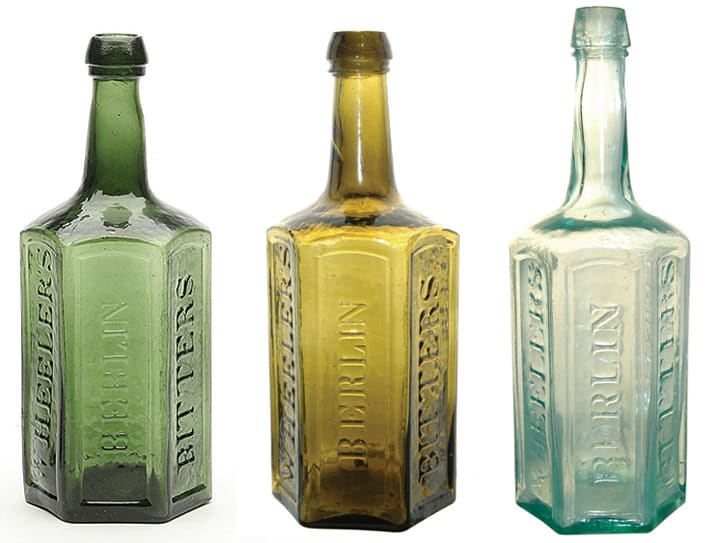 Anyway, an example of the Walters showed up at the FOHBC 2013 National Antique Bottle Show in Manchester, New Hampshire this past weekend on the sales table of Evelyn and Clark Roberge. I also had my example with me. It was fun to compare both bottles and to do a little research on the name. I had heard that the name "Walters" was associated with the The Walters Art Museum in Baltimore. How can that be?
My thanks goes to Evelyn for allowing me to use their bottle pictures and the illustration  image of the Walters & Co. building.
William Thompson Walters
William Thompson Walters was born on 23 May 1819 in the small mining town of Liverpool, Pennsylvania. The first of eight children, William was brought up with little education and little chance at commercial success. In search of a better life, William, at 21 years of age, moved to the economically booming center of Baltimore in 1841. He was educated as a civil engineer, worked as a grain merchant and in 1847 established himself in Baltimore as a liquor wholesaler. He eventually became interested in the coal and iron industry, and while in charge of a smelting establishment in Pennsylvania produced the first iron manufactured from mineral coal in the United States. His primary wealth came through investments in East Coast railroads. At age 26, he married Ellen Harper; together the couple had three children: William, Jr., who died in early childhood; Henry, born in 1848; and Jennie, born in 1853.
He was educated as a civil engineer, worked as a grain merchant and in 1847 established himself in Baltimore as a liquor wholesaler.
he and his wife started acquiring European works of art
Following the lead of other prosperous Baltimoreans, William moved his wife and children from the crowded downtown area to the fashionable, park-like setting of 65 Mount Vernon Place (now 5 West Mount Vernon Place). At the dawn of the Civil War, William, who had mixed loyalties, thought it best to take his family away from the United States. They arrived in Paris in the summer of 1861. During this time, he and his wife started acquiring European works of art. From artists, dealers and exhibitions throughout France, Switzerland, Italy and England, William and Ellen began building the collection that would become the Walters Art Gallery.
Sadly, tragedy struck the Walters family shortly after they arrived in Europe. While on a trip to London in November 1862, Ellen contracted pneumonia and died quickly, at the age of 40. William, perhaps to console himself, turned to collecting with even more vigor. At the end of the war, in 1865, he returned to Baltimore with his children. In the spring of 1874, in his first attempt to bring art to the public, William opened his house to visitors every Wednesday in April and May, charging a 50-cent admission fee, which he donated to the Baltimore Association for the Improvement in the Condition of the Poor. These openings became an annual event in 1878 and were eagerly anticipated by Baltimore's residents.
Henry Walters
When William died in 1894, he bequeathed his collection to his son. Henry Walters would not only follow in his father's footsteps in business – investing and managing railroads – but would carry on the family interest in art as well. He greatly expanded the scope of acquisitions, including his astounding purchase of the contents of a palace in Rome that contained over 1,700 pieces. This acquisition added Roman and Etruscan antiquities, early Italian paintings, and Renaissance and Baroque works of art to his holdings. Although he spent little time in his native city, Henry continued the work his father had begun by opening his collection to the public. In 1900, he bought three houses on Charles Street adjoining a property he already owned. Henry had the site transformed into a palazzo-like building, which opened to the public in 1909. He died in 1931, bequeathing the building and its contents to the mayor and city council of Baltimore "for the benefit of the public. The Walters Art Gallery, now the Walters Art Museum, opened its doors for the first time as a public institution on November 3, 1934.
Reference and Read: The History of the Walters Art Museum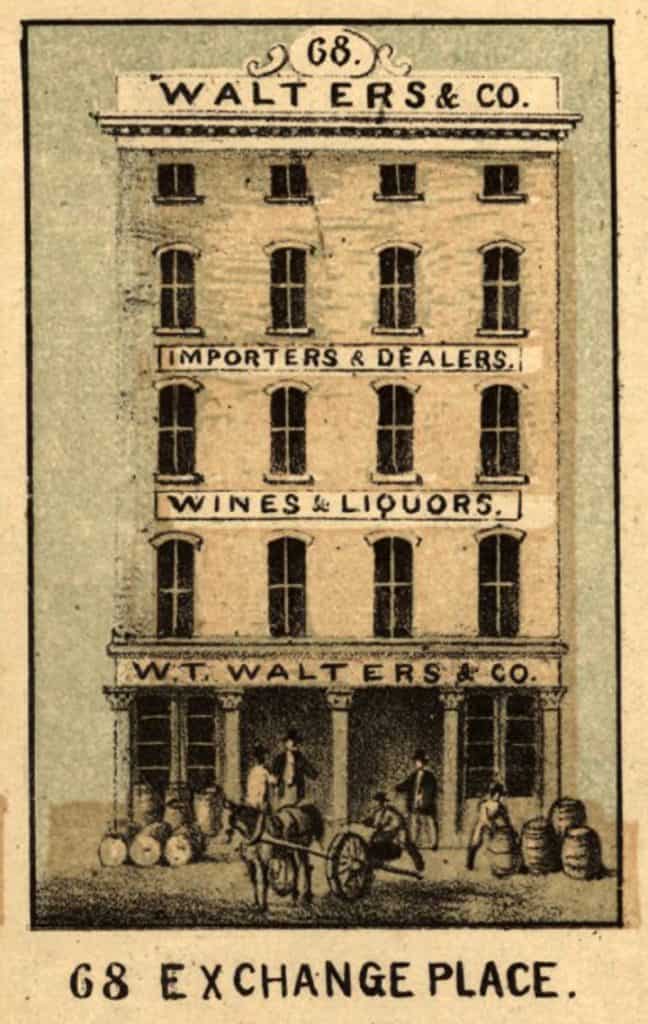 William T. Walters & Edwin Walters
Edwin Walters was born in Harrisburg, Pennsylvania in 1834 and was the son of Henry Walters. He received his education at schools in Harrisburg and came to Baltimore in 1848, where his brother William T. Walters had preceded him in the liquor business under the name Walters & Harvey.
In Baltimore, Edwin first was employed at the sugar-importing firm of Samuel Hurlburt on Bowly's Wharf. In 1857 or so, Edwin Walters became a partner with his brother and the firm was now called W.T. Walters & Company (William T. Walters, Edwin Walters, Joshua P. McCay).
When the Civil War broke out, Edwin Walters went abroad due to his firm having been fiscal agents for the State of South Carolina. All three principals were under threat of arrest.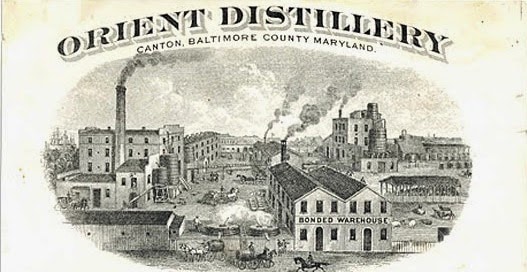 During the early part of 1864, Edwin Walters withdrew from the firm and purchased the Orient Distillery in Canton which is a neighborhood along Baltimore's outer harbor in the southeastern section of the city, roughly two miles east of Baltimore's downtown district. Canton being next to or near the neighborhoods of Patterson Park, Fells Point, Highlandtown, and Greektown.
Edwin Walters then purchased his brothers shares of W.T. Walters & Co. and continued business as Edwin Walters & Company. Mr. Walters died on 19 April 1897 in his apartment at Hotel Rennert.
The firm of Broderick & McRae, wholesale liquor dealers purchased the stock, good will, trade-marks and another appurtenances of Edwin Walters & Co. upon Mr. Walters death. They both had been previous employees of Walters & Co.
The Bottle
The bottle specifications are as follows:
L…WALTERS & Co // sp // BALTIMORE // sp //
9 1/2 x 2 1/2 x 3 1/2 (6 1/2) 3 1/2
Two Short Panels and Two Large Panels
DLTC, Applied mouth, pontil mark, Extremely rare,
Olive green
Lettering reads reversed and shoulder to base
Meyer Example
Note Mike George received: Mike, I am not sure if the bottle was dug. I found this bottle in a little out of the way shop, about 1/2 mile off the main road in Franklin County, Virginia, known as the Moon Shine Capitol of the World. I went to see the lady about buying some old country store items she had told me about. When I got there she had not had time to get the items out of storage due to her mother getting sick that week. She did have an assortment of bottles set out and I went thru them and pick out what I thought were some interesting bottles.
I would have sold the Baltimore bottle for about $25 dollars the next day if someone had of asked me. It turned out to be my dumb luck on me buying the bottles, because if she had the items I went there to buy, I would not have looked at the bottles. Of the hundred or so bottles that were out, most of them were plain soda or unmarked bottles.
I also got about 1/2 dozen emails after the bottle was sold telling me that I had just sold a $10,000 dollar bottle. That may be so but that's the way this business works, I was happy with what I got and I am sure that you are happy. The lady that sold me the bottle was the unlucky one. However I plan to go back and see her again. I intend to spend a good portion of the funds with her, so she will get some of it back. Thanks, Cecil