A. Loranger Globe Bitters – What is your Story?
25 September 2018 (R•092618) (R•092718) (R•100518)

I received an email and pictures this morning from John Throop. "Hi Ferd – was happy to find this Loranger Globe Bitters jug on eBay for a reasonable price. Do you happen to know where this is from or any other info? Thanks!"
A. Loranger & Co. Detroit and Sherwood Brothers of New Brighton, Pennsylvania or most likely Fulper Pottery Company of Flemington, New Jersey
I posted the above pictures on PRG Facebook and stoneware authority Steve Ketcham felt like it might be the work of the Sherwood Brothers of New Brighton, Pennsylvania. Some quick searching online takes me to a fine article called Sherwood Brothers: Under the Radar by whiskey authority Jack Sullivan.
About 1879, the Sherwood brothers, G.W. and W.D., founded their pottery. By 1895 they were employing as many as 140 workers and had the capacity to produce two railroad carloads of pottery per day. Their success extended into the 20th Century.
As far as the jug is concerned, Larry Throop (Johns Uncle) states the following:
I have seen many of this style and they are a Sherwood Bros. product. Sherwood Bros. were probably the biggest competitor to Red Wing and Western in the Midwest. It is possible that this was made at the end of this bitters company's reign but most of this style of jug is a little later (1900 – 1920). White glazes were just coming on the market in about 1895, however Sherwood Bros were one of the first to use it in the US. The first production white glazes made by the pottery companies still had coatings on the interior of the pieces with Albany slip as they didn't know if the contents would leach through the white zinc glaze. They had to pour the glaze into the piece and swirl it around and then dump it out before firing the piece. Once they realized the zinc glaze sealed well (which was about 1900), they stopped coating the inside with Albany slip as this saved one extra step in the manufacturing process. They just dipped the whole thing in the zinc glaze then a second glaze dip to get the Albany on the outside. This jug would have been a relatively expensive piece for the merchant because it demanded so many steps to complete plus the gold lettering. This gold lettering was generally just painted on the jug once it was fired, so you see a lot of this style with the lettering worn away.
Further correspondence with Jack Sullivan:
Dear Ferd: Thanks for letting me know about the Loranger Globe Bitters. Had not seen that particular jug before. Unfortunately it is not from Sherwood Bros. of New Brighton PA, though they made many nifty jugs. This one is from Fulper of Flemington, New Jersey. I am including my article on Fulper below so you can send it to your correspondent. I had a fair sized collection of Fulpers years ago and sold most to the couple starting a Fulper museum in Flemington. Unfortunately they were unable to keep it open financially. I still keep a list of all known Fulper jugs that I send out on request and will be happy to send it to you if you wish. Will add the Loranger to it right away as this is the first Fulper bitters bottle I have ever seen. All the best to you and Elizabeth.  Jack
Read: Fulper's of Flemington
Ferd: In one of those amazing coincidences that come around once in a while, last evening I got a call from Adam Koch of the Ohio Bottle Club. He had been contacted about a bottle from someone who had found it in Arizona and Adam called me for an identification. It advertised Courtland Club Whiskey made in Toledo (my old home town). I knew quite a bit about the company and had even written a piece on the outfit. When he sent me a photo at once I could see it was a Sherwood Brothers bottle, though it lacks an identifying mark. Am sending it along (below) to you so you can see the difference between Sherwood and Fulper whiskeys. Quite a contrast. All the best. Jack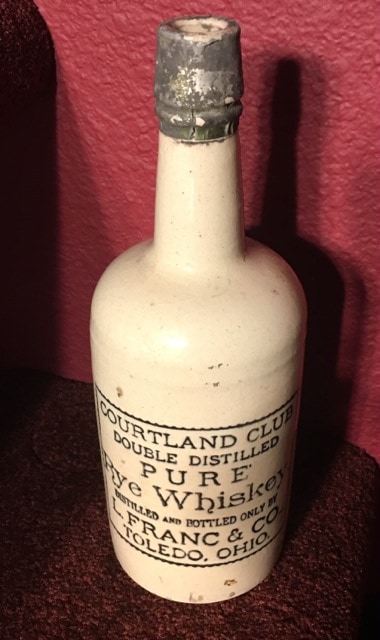 A. Loranger & Company
The bitters seems to be unlisted. I am first getting some quick hits for Amos Loranger who was a grocer in Detroit in 1870 and an A. (Arthur) Loranger & Co. (manufacturing chemists) in the late 1890s, also in Detroit. So possibly Arthur Loranger ordered his stoneware bottles for his bitters from the Sherwood Brothers. Detroit is only about 180 miles northwest of New Brighton. With the new information posted above, the jugs would have come from Fulper Pottery Company of Flemington, New Jersey, quite a distance further.
We first see Arthur Loranger as a clerk in Detroit, Michigan in 1874. By 1877, he is in business with his brother Fred in Bay City as Loranger Brothers, wholesale druggists. They are also partners in L. Fournier & Company in Grayling which was a dealer in drugs and druggist supplies.
They next, in 1877, purchase the business of Globe Extract Works on Jefferson Avenue and move into the business of manufacturing perfumes, flavoring extracts, baking powder and druggists supplies. Here is where the name Globe Tonic Bitters comes from. The firm name is changed A. Loranger & Company. Their building was described as being four stories tall and with a basement. A notice said that they were going to extensively renovate their building and put in an elevator to accommodate plans for an expansion. An advertisement in 1879 states that the firm is the manufacturers of Lorangers Liniment and Liver Pills.
In 1888 and 1889 advertisements and other listings, we see that the firm of A. Loranger & Company were listed as manufacturing chemists and wholesale dealers in baking powders, mustards and spices. They were still addressed at 222 and 224 Jefferson Avenue in Detroit and had a laboratory in Windsor which is west of Detroit in the center of Michigan. The laboratory burnt down in 1890. They went out of business in late 1889 and 1890.
Thanks to Corey Stock for support information on Loranger.
Select Listings:
1870:

Amos J. Loranger, grocer, 797 Fort w h same – Detroit Michigan City Directory
1874:

 Arthur Loranger, clerk, bds 251 16th – Detroit Michigan City Directory
1877:

Notice (below): A. Loranger & Company announcement of purchase of Globe Extract Works – Crawford Avalanche (Grayling, Michigan), November 24, 1877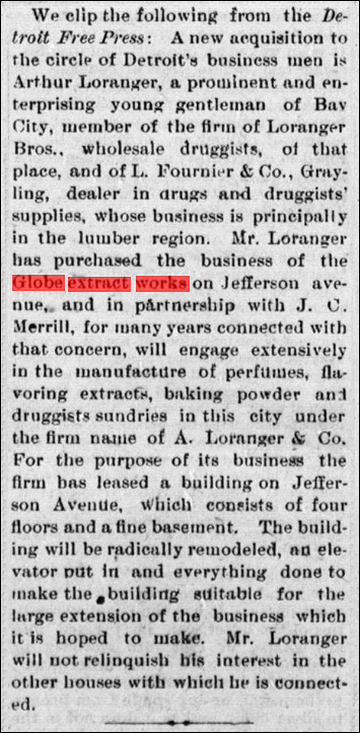 1879:

 A. Loranger & Company advertisement (below) – Crawford Avalanche (Grayling, Michigan), June 18, 1879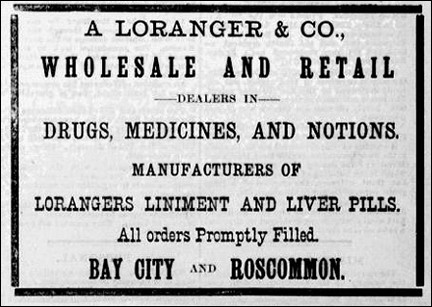 1886

– Arthur Loranger, Druggist, 216 3d – Bay City Michigan City Directory
1887:

Loranger Brothers (Arthur & Fred C. Loranger), druggists, 216 3rd – Bay City Michigan City Directory
1888-1889:

A. Loranger & Co. (Arthur Loranger pres, H. Raoul Loranger sec & tres), Manufacturing Chemists, 224 Jefferson Avenue, Tel. 1081 – Detroit Michigan City Directory, 1888 & 1889
1889:

Newspaper Notice (below): A. Loranger & Co. Hopes to Go In Business – Detroit Free Press, Tuesday, October 8, 1889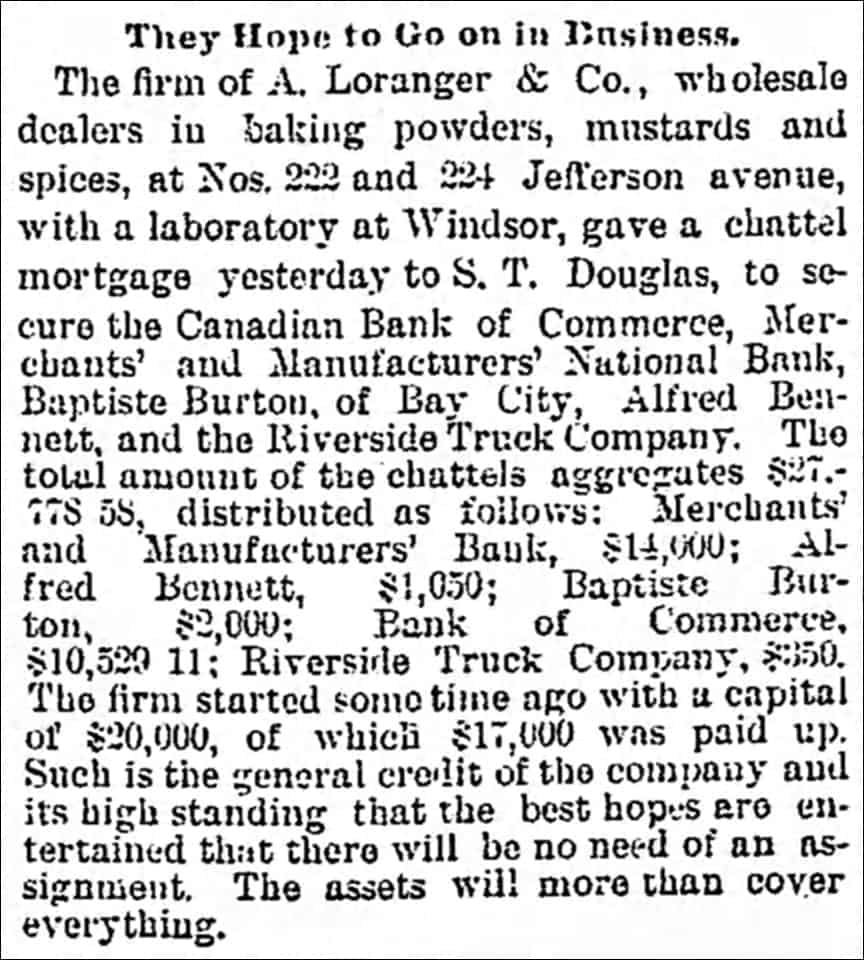 1889:

 Newspaper Notice (below): Assignee's Sale A. Loranger & Co. wants to sell entire stock – Detroit Free Press, Tuesday, October 29, 1889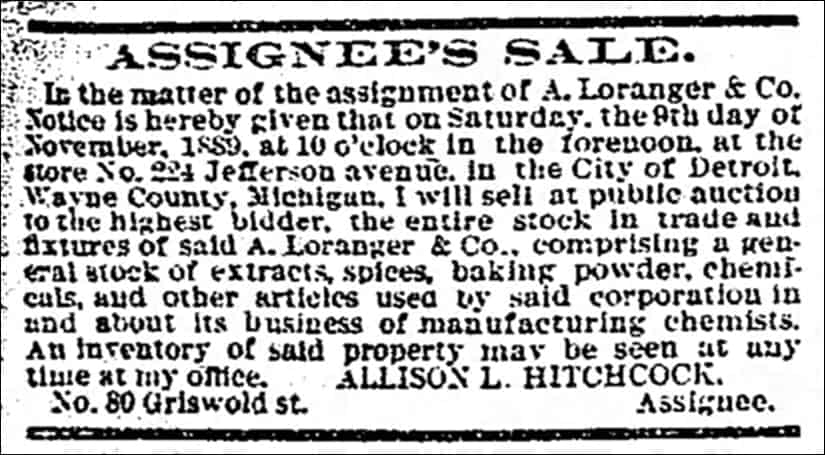 1890:

Windsor, Michigan Newspaper Notice (below): Loranger & Company space consumed by flames – Detroit Free Press, Thursday, May 8, 1890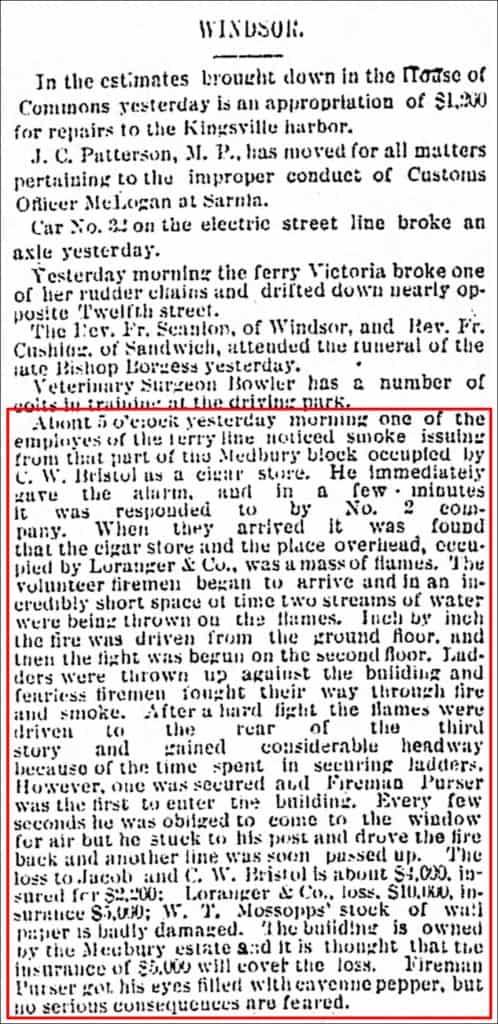 1890-1891:

Arthur Loranger, h 51 Lewis, – Detroit Michigan City Directory
1891:

Newspaper Notice (below): Loranger & Company insolvent – Detroit Free Press, Thursday, June 11, 1891