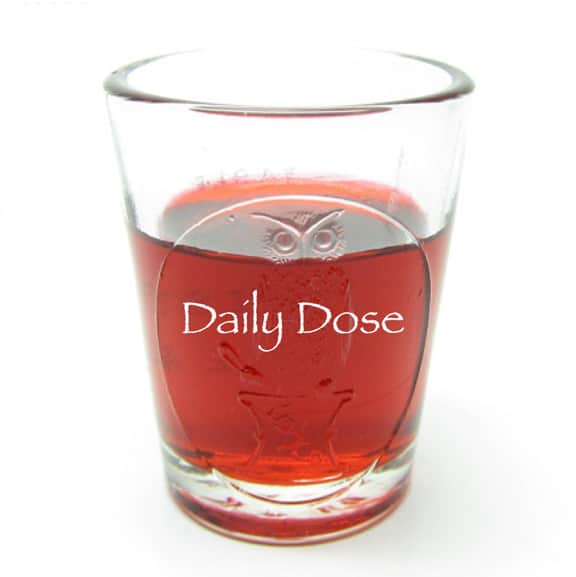 M A R C H   2 0 1 3
Section dedicated to daily thoughts and interests
Saturday, 30 March 2013
Spent most of the day mowing grass on the tractor and then crashing for an hour or so. Feels good to get something done and it looks nice even though the grass really has not grown too much without rain. Just opened a bottle of  2004, La Crau de Ma Mere Chateauneuf du Pape. Very relaxed. Girls off riding horses. Just me and the dogs.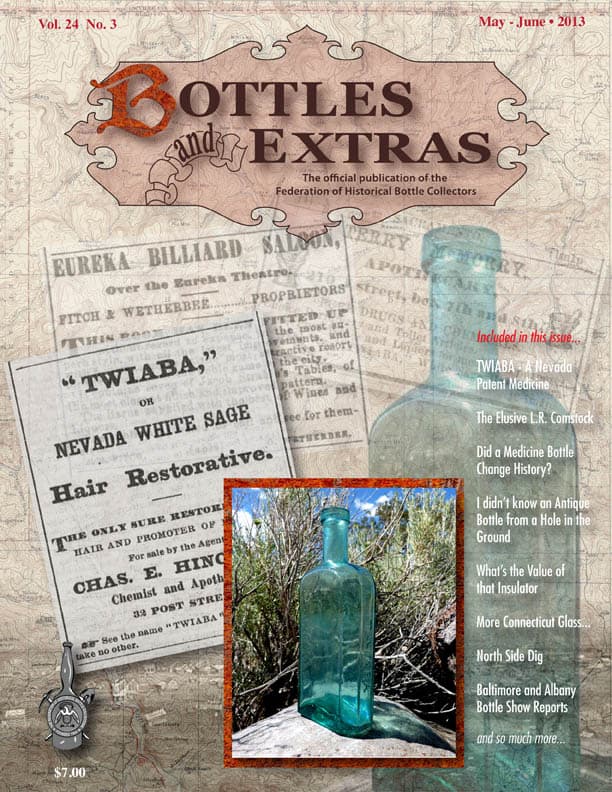 Earlier competed the design on the May June issue of Bottles and Extras. Will give you guys a sneak peek. Great article on TWIABA and Nevada by Eric McGuire.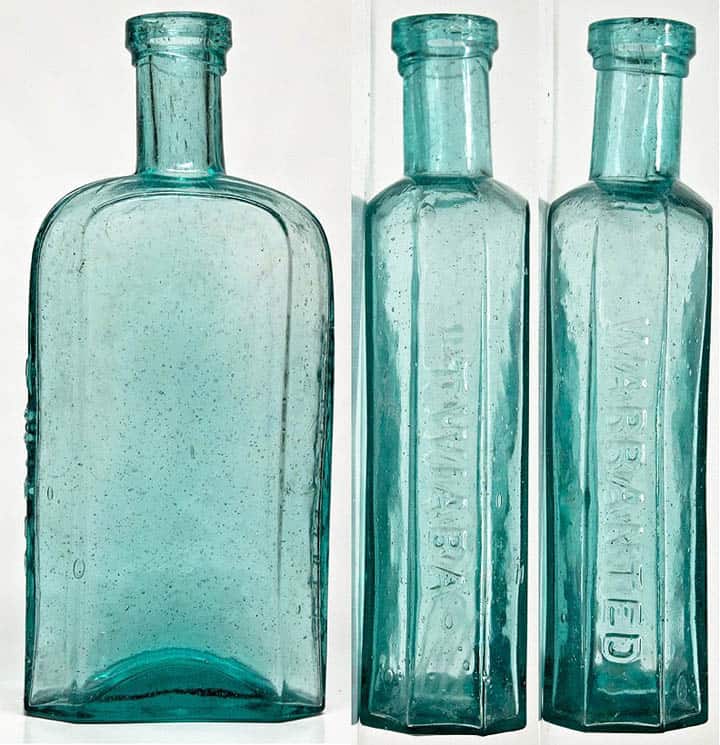 Friday, 29 March 2013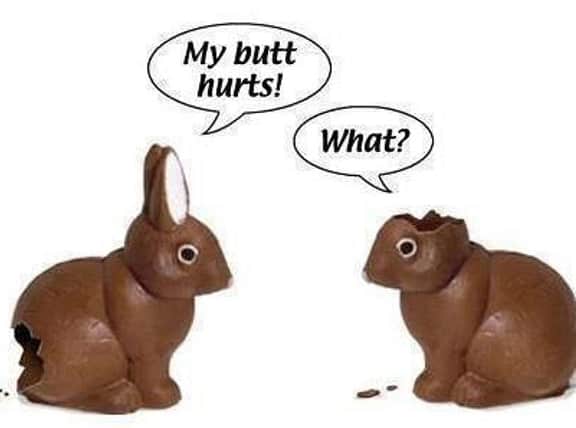 Working out of Peachridge today. I see this chocolate bunny graphics every year around Easter and I still chuckle each time.
Thursday, 28 March 2013

Don't forget the North American Glass Fruit Jar auction. The Heckler auction ender last night. Only after one item. The Glass Works Auction ended Monday night.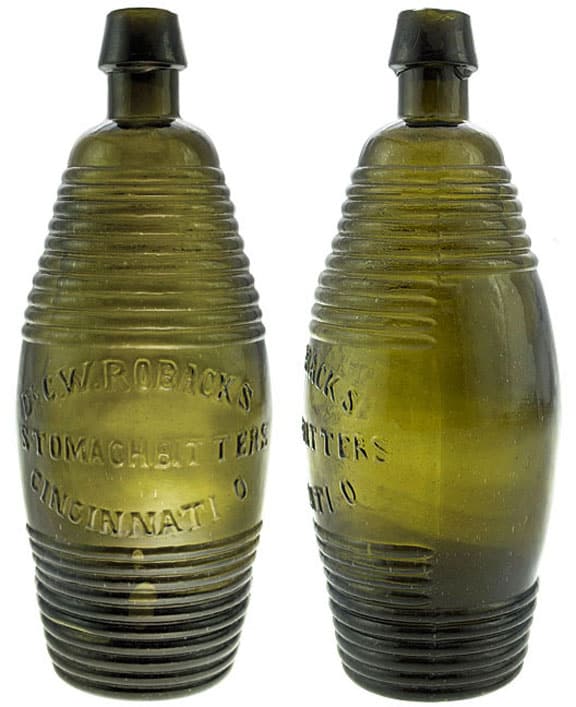 Lovin' that small Roback's in green. At $12k without the juice. Read: Barrel Series – Roback's Stomach Bitters (the smaller ones)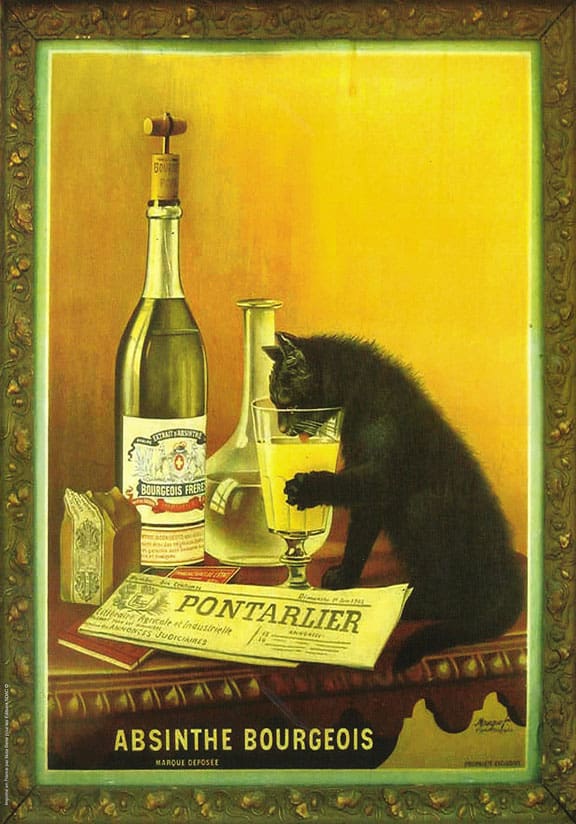 New Absinthe Bourgeois poster submitted by Bruce Silva. A favorite of his. Visit Post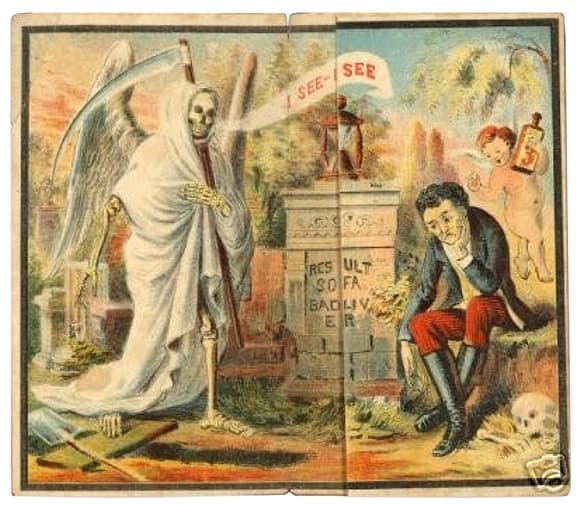 Posts in development for Dr. B. F. Prickly Ash Bitters and FOHBC Manchester 2013 National Antique Bottle Show Seminar Announcement.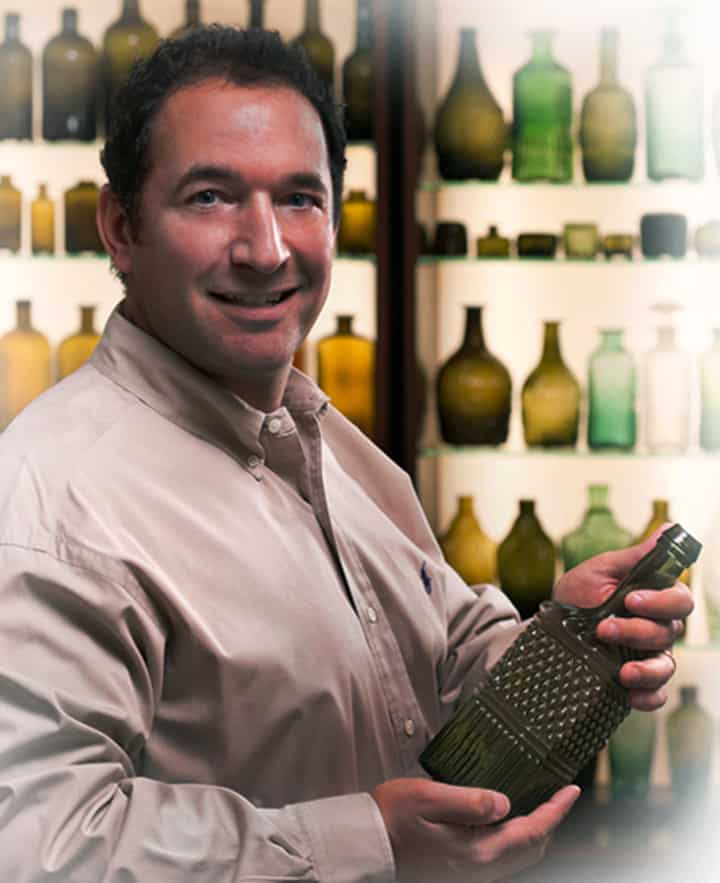 Tuesday, 26 March 2013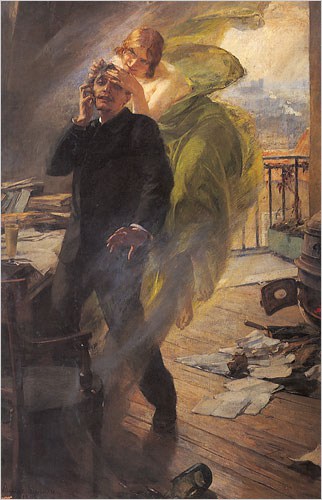 Always enjoy learning something about my bottles and our great hobby. I really wasn't sure what absinthe was until the email and post – The New Orleans Absinthe Makers. I certainly had not heard the term "Green Fairy". Love it! So many questions and so many avenues to explore. No wonder Warren F has so much fun.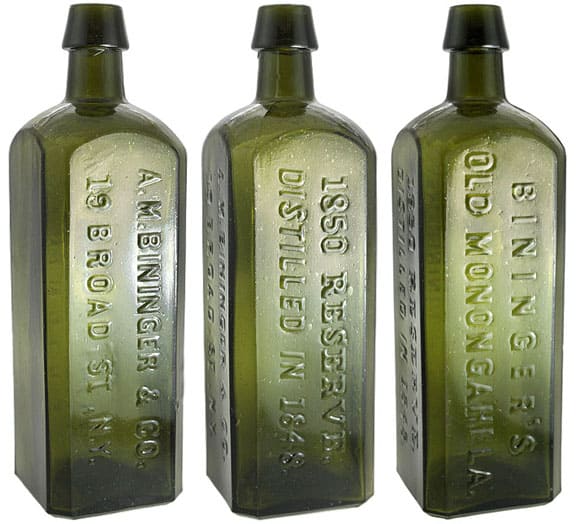 Watching some really interesting $$ numbers in the Glass Works Auction "March Madness" that closed last night. Look at the Bininger Old Monogahela now at $14k. Great bottle.
More: Bininger Gallery
Monday, 25 March 2013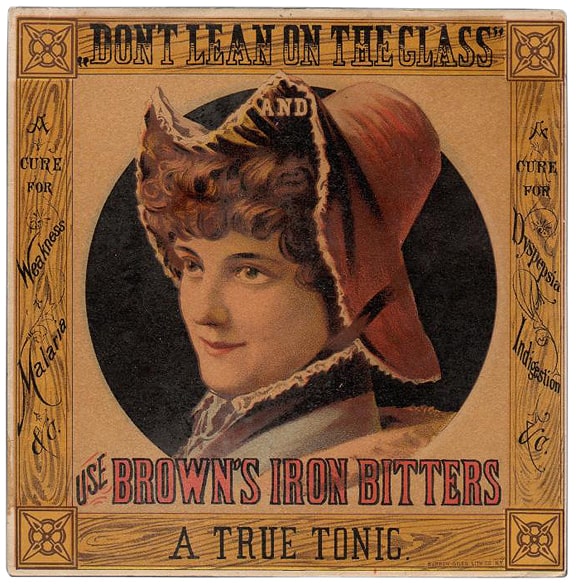 In the thirties this morning at Peachridge. Headed to work. Nice Brown's Iron Bitters advertisement from Dave's Great Cards. Read: Baltimore's Iron Bitters – Brown Chemical Company
Sunday, 24 March 2013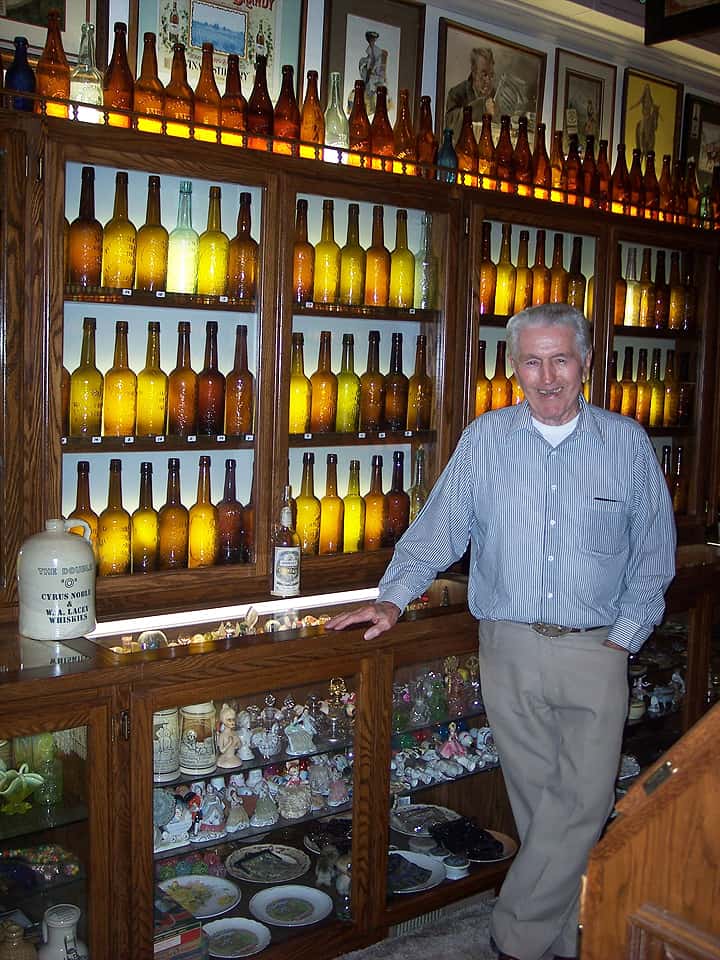 So how was Morro Bay? Next year for sure. Pam Selenak sent in another picture of Ken Schwartz. See Obituary (Allen & Dahl Funeral Chapel)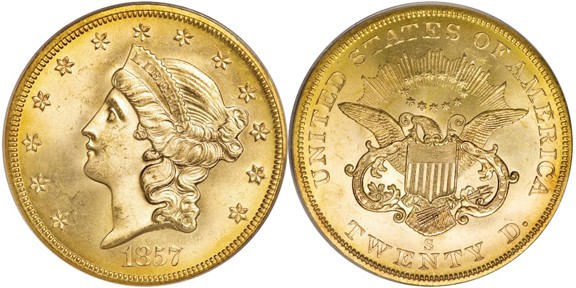 Hi Ferd,
Attached is a photo of the Type 1 Reverse $20 Gold Coin as depicted on the U.S. Gold Bitters. The difference is there is no "In God We Trust" inside the circle of stars above the eagle on the reverse.
Tom Phillips FOHBC Conventions Director
Read: U.S. Gold Bitters – Augusta, Maine
Looks like we passed 1/2 million visits to PRG today. Wish I could really open this up with regular writers, bloggers and posters.
Saturday, 23 March 2013
It shouldn't have been a shocker but it was as Ken has been hanging on. What a huge loss to the bottle collecting world. One of my greatest memories was visiting with Ken and Teenie. Bill Ham was kind enough to take Elizabeth and myself up for an afternoon visit. What a man, what a wife and what a collection.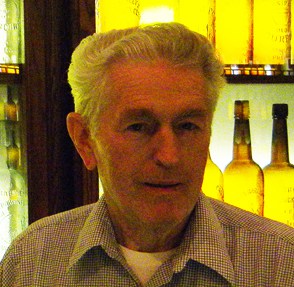 Kenneth Schwartz, 83, of Redding died Friday at Vibra Hospital of Northern California in Redding. Arrangements are pending at Allen & Dahl Funeral Chapel in Redding (243-1525).
Published in Redding Record Searchlight on March 22, 2013
Friday, 22 March 2013 Finally back in Houston. I wish I could go to the Morro Bay show this weekend. I'm bushed though. Been emailing back and forth about the possibility of a 'Glass in the Grass' event here at Peachridge. Would anybody come? Kind of like a Heckler event. Had fun with the S.O. Richardson piece yesterday. Have a few updates. Hope to leave the office early today.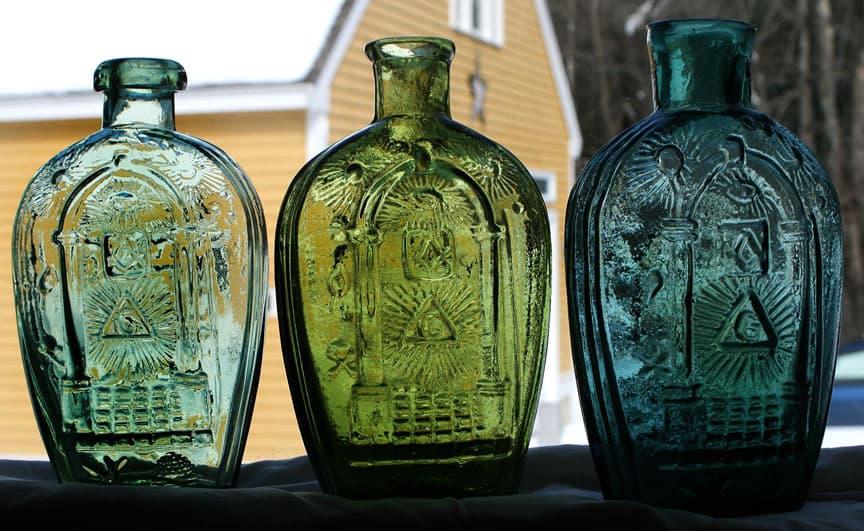 Three EARLY 1815-1820 KEENE NH Eagle / Masonic flasks. Lead glass, brilliant colors, fantastic early American historicals!! The center one is a new addition to my collection… very excited about the color!! – Michael George (PRG: you may recognize the flask from the latest ABA auction)
Wednesday, 20 March 2013
[In from Pam Selenak] Ferd, Could you please post this for me asap.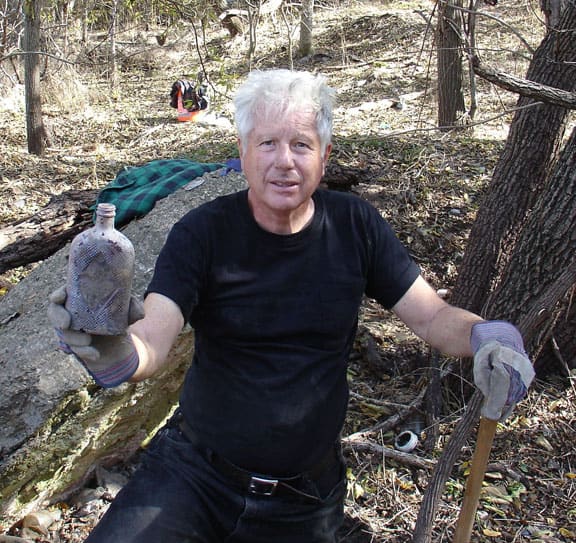 Remembering Ken Lawler at Morro Bay show this weekend. There will be a gathering at "Dockside" restaurant for remembrance of Ken Lawler. I have put aside an area at the restaurant that we can gather and enjoy our stories and give Ken the tribute that he so deserves. Dar has talked to me and sends her thank you to everybody. She wishes she could attend but has family with her at this time. Drinks and food are available but everyone is responsible for their own tab. Address: 1245 Embarcadero, Morro Bay, Ca. 93442, Phone# 805 772-8100, This will take place after the bar-b-que from the Morro Bay show on Friday 3/22/13 at around 630 till? Bring your camera, any pictures you would like to share and of course those memories that we will all keep close to our hearts. Pam 22 & 23 March 2013 (Friday & Saturday) Morro Bay, California – The San Luis Obispo Bottle Society's 45th Annual Show and Sale, Friday, March 22nd, 1:00 pm to 6:00 pm and Saturday, March 23rd, 9:00 am to 3:00 pm at the Morro Bay Veterans Hall, 209 Surf Street, Morro Bay California, Free admission and no charge to early birds. Info: Richard Tartaglia, Show Chairman, Tele: 805.543.7484 or email Steve Mello dirtytiver53@gmail.com. FOHBC Member Club
Just Plain Weird
Raw: Storm Drops Hail on Cars, Roads in Brookshire. Elizabeth called me at my hotel room in the middle of the night scared to death as she huddled with our four dogs. Freak storm centered over Peachridge. I watched it on radar later and it was serious. Look at this video. Keep in mind that it broke a 100 year record being in the low 90's on Monday.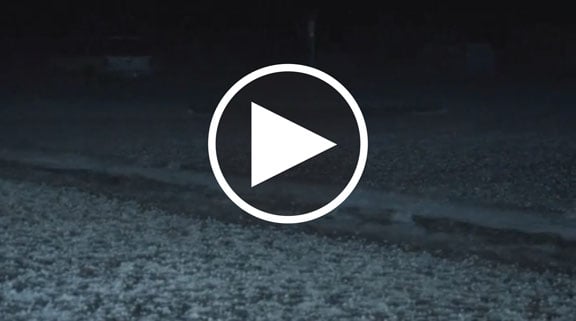 Tuesday, 19 March 2013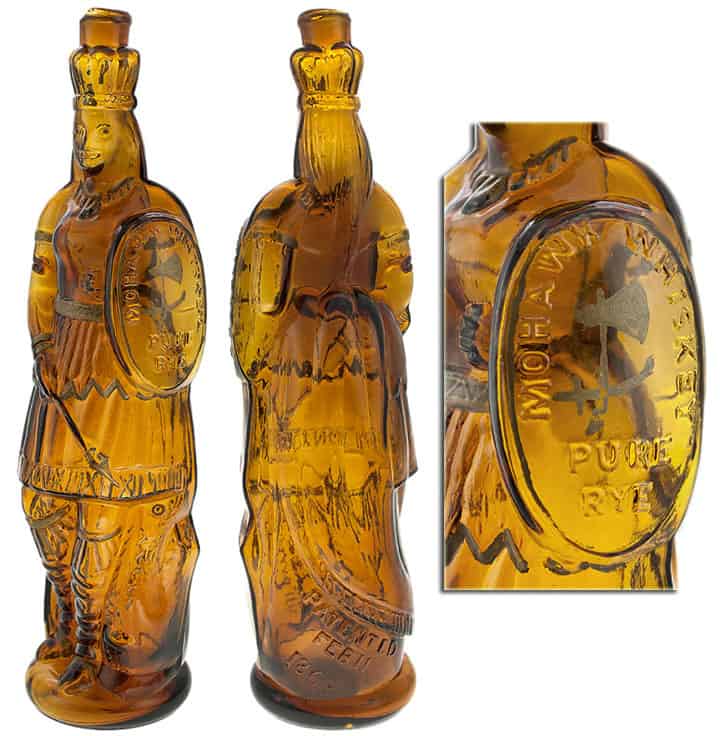 Traveling most of the day. In Augusta, Georgia now. Look at this GREAT Mohawk Whiskey Queen in Glass Works Auction #97. Wow. Compare the gold paint with the ABA example in the PRG post which was updated. Very interesting. Factory paint job. READ: Mohawk Whiskey Pure Rye Indian Queen
Monday, 18 March 2013
Lots of bottle news coming in from all points. Heckler has announced Auction 103 that starts todays. These auctions are never ending of late? Is this good or bad? Prices seem strong in areas I am interested in.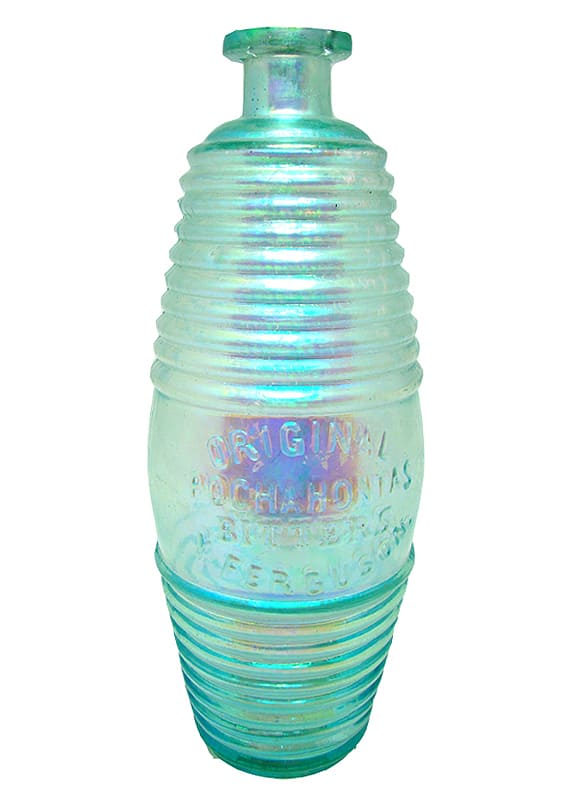 Updated the Barrel series – Original Pocahontas Bitters post with clarification from Bill Ham on the misspelled variant O 86.1. FYI…there is an example of an O 86.1 in the current Glass Works Auction #97. Love that video of Michael Polak digging in Hawaii. Wouldn't that be a dream 3 week vacation. I can not seem to find three hours to take off of late!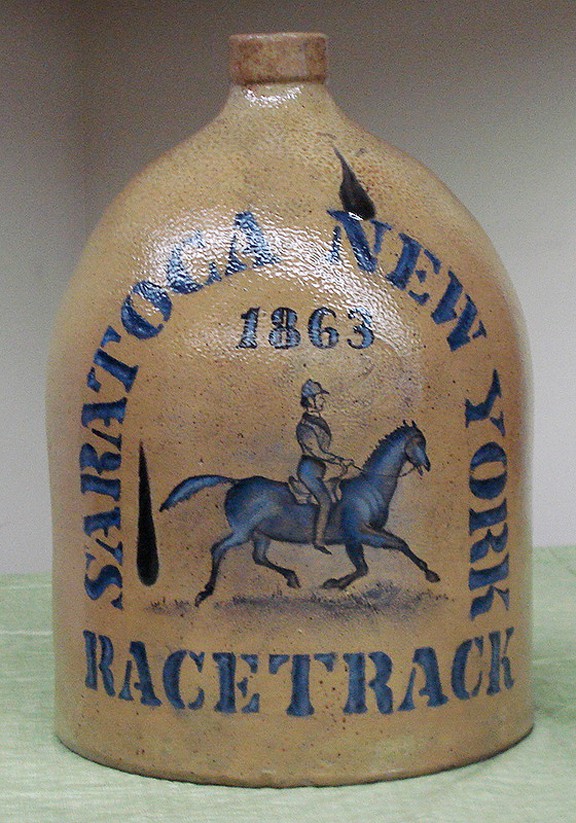 Ferdinand,
Roy Topka with the Bottle Museum in Ballston Spa here. Local collector and artisan Jim Healy (he was tickled pink by the mention of his good work in the current Bottles and Extras) created the attached Fantasy Jug for the Museum and donated it to be raffled. The theme being the 150th anniversary of the Racetrack in Saratoga. By early April the Museum website should be featuring the jug and information on the raffle, along with other media exposure that will be undertaken to promote the raffle. What I am asking, is it possible when the website is ready could the jug be pictured on your website with the link to the NBM? I understand if this is not possible, as all the clubs and the Federation are needing to raise money for their own purposes. I figure it never hurts to ask! Thank you for your consideration, if you have any questions, or if there is ever anything I can do please let me know.
Roy Topka 2013 Saratoga show chair
Saturday, 16 March 2013
Hearing that the long lost, T 17 | THELLER'S STOMACH BITTERS has been located in a long dormant collection. Could be the lone sole example. Ring & Ham say "This bottle was dug in an old pre-Revolutionary dump on a clay bank in East Greenbush, Rensselaer County, New York.". Theller's name pops up on other bottles such as my Theller's Bitters lady's leg from NY and a Red Cloud Bitters variant from NY. Read: Labeled Theller's Bitters Lady's Leg – New York Read: Red Cloud Bitters – One of the Chicago 'Indians'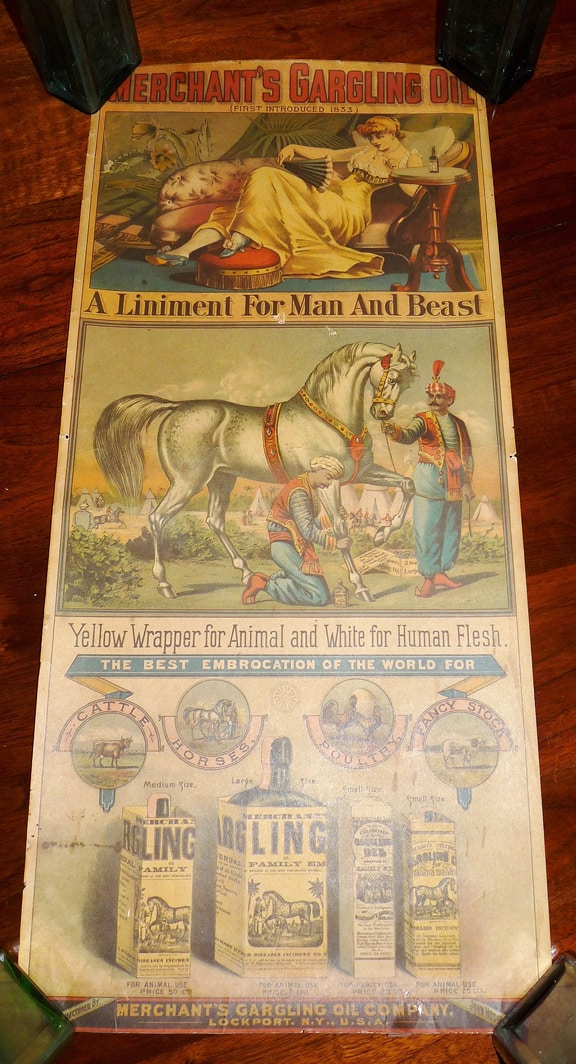 "This is an old piece you don't see too often, and great color and condition. Guess I'm in the market for a frame now. That is four large size Gargling Oils holding down the corners. This is a big piece." – Dave Kam Read: Merchant's Gargling Oil – "Good for Man and Beast"
Friday, 15 March 2013
Working out of Peachridge today. Great weather that is just making the bottles look their best in the windows. Prompted me to develop the latest 'Windows' post. Snapped this phone picture below of my OK Plantations as I was reading on the den sofa. The sunlight was bouncing from bottle to bottle. Quite spectacular. This is a North window so sunlight was being redirected off the horse trailer windows onto the bottles.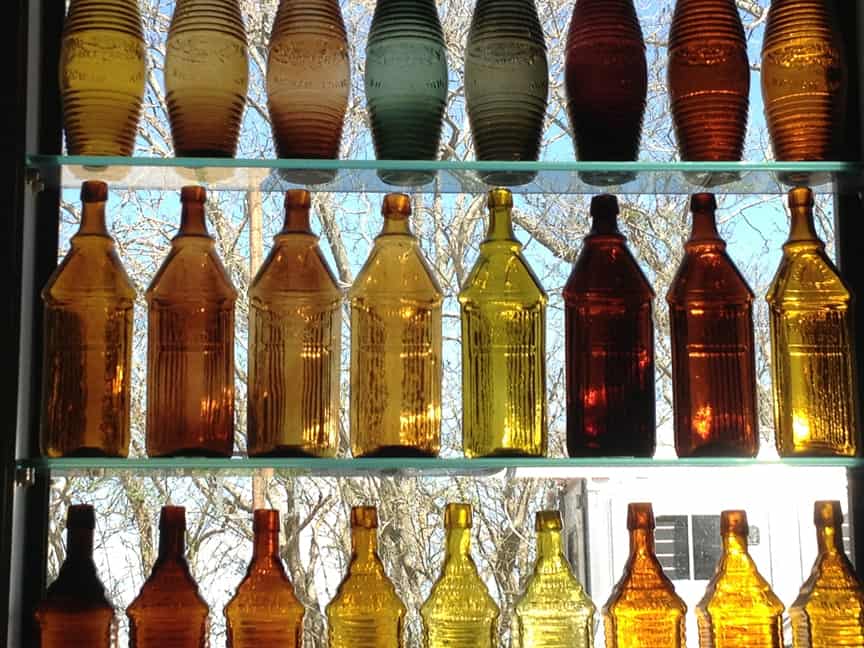 Thursday, 14 March 2013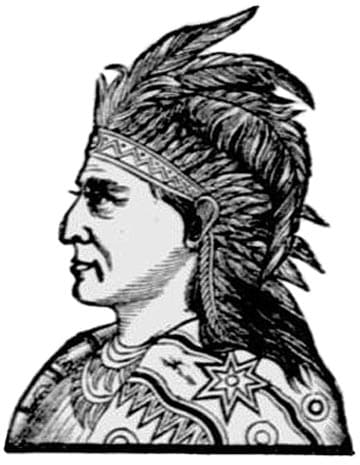 At my office now. About 6:30 am. My grandson and I are going to take the light-rail to the Museum District and visit the Zoo this morning. Great weather and spring break. Hopefully you took a peek at Starr Weems work. Met her online yesterday. I like when someone connects with our hobby in artistic ways. Also posted the story of Sgt. Reckless the War Horse. Nothing to do with bottles and glass. Just a great story. Thanks to my friend Paul Kaminski for sharing. Hope to put up the last of the Chicago 'Indian' posts this morning with Lewis' Red Jacket Bitters. That is there advertising motif on top. Product actually from New Haven, CT. [email from Mark Warne] "Hi Ferdinand. About a year or so ago another Red Cloud Bitters sold on ebay. Dark amber. It went for $825 and you were the underbidder". Mark
Wednesday, 13 March 2013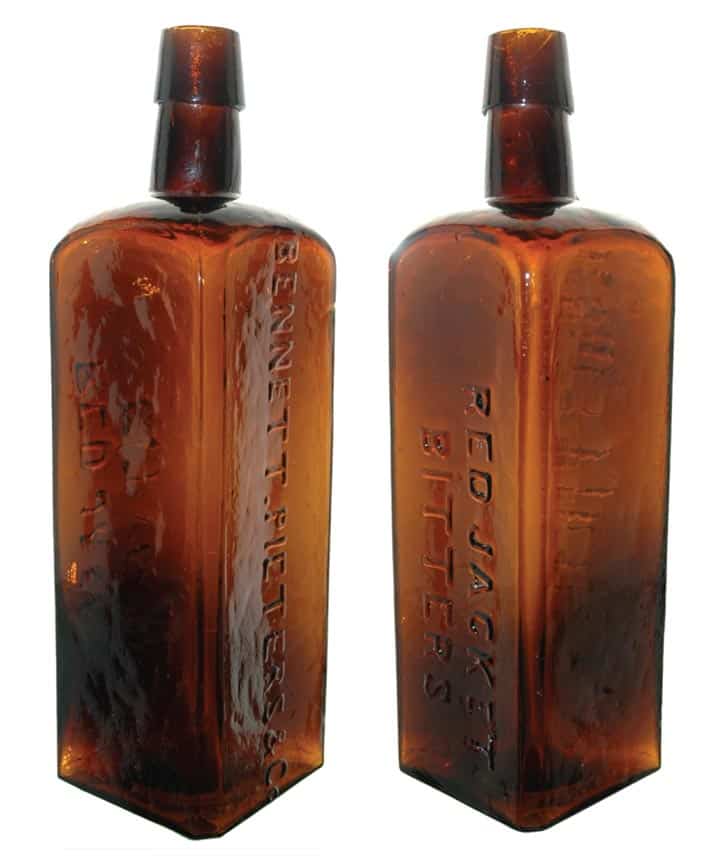 Bogged down trying to distinguish the differences with what I am calling the Chicago 'Indians'. Basically I am talking about RED CLOUD BITTERS and RED JACKET BITTERS. Very interesting to look at the differences and evolution of the brands. Also finally understanding the differences with the New Haven, Connecticut, RED JACKET STOMACH BITTERS.
Monday, 11 March 2013
[Always nice to hear from Rick Simi from Downieville, CA]
Ferd, I was pleasantly surprised by your comments in the Dr. John's post. Take a look at a post I wrote back in 2010. Read at Western Bitters News: The Times -They Are a Changin. I enjoyed your chronicle of the Baltimore show. rs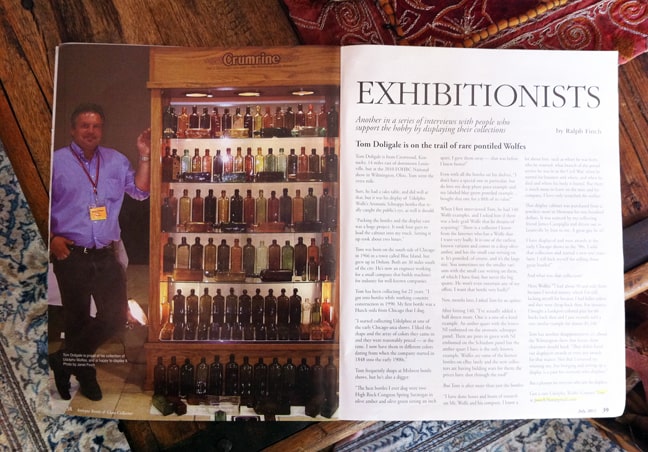 We are also very pleased to know that Tom Doligale is back from his first round of 29 days of grueling cancer treatments. Tom is the best of the best as far as representing the passion and expertise that defines our hobby. He also has the greatest Udolpho Wolfes Schnapp's collection on Earth. Tom you are an inspiration. Tom chronicled his treatment almost daily on facebook and stayed connected which is amazing. He even had some of his favorite bottles with him. Read: Tom Doligale and his Udolpho Wolfe's Aromatic Schnapps
Saturday, 09 March 2013
Finally home from this long 10-day bottle, business and family trip. Hope to complete the Baltimore Journal today with the most important day…Sunday. Lots of cool bottle pictures. [Update to the Coca Bitters post] I also see, (with the eyes of Warren Friedrich) that this new dug example is different than the example I possess. It looks earlier with indented panel(s) and smaller embossed typography. Is the mouth also applied. I only received one picture. I will ask for more. Stay tuned.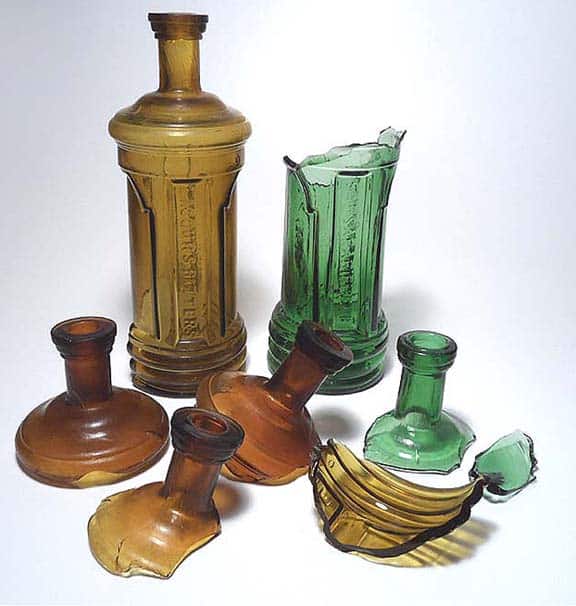 Love this picture of Lacour's shards. Will do a post later.
Friday, 08 March 2013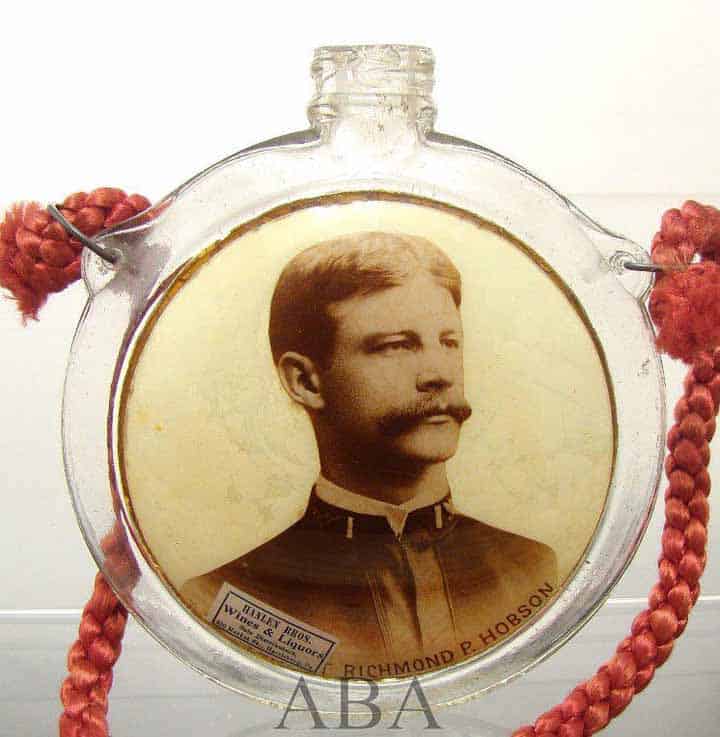 Finally headed home later today. Been about 10 days or so of hotel rooms and restaurant meals. Miss all my dogs and country runs. Incoming groovy material last night from Sandor, new bitters find from Maine and so much more. Need to unpack my bags and my mind. Need some fresh clothes. Also, just finished squeezing in a post on label under glass bottles from the last ABA auction. Inspired by Dennis Humphrey and the Richmond P. Hobson flask.
Thursday, 07 March 2013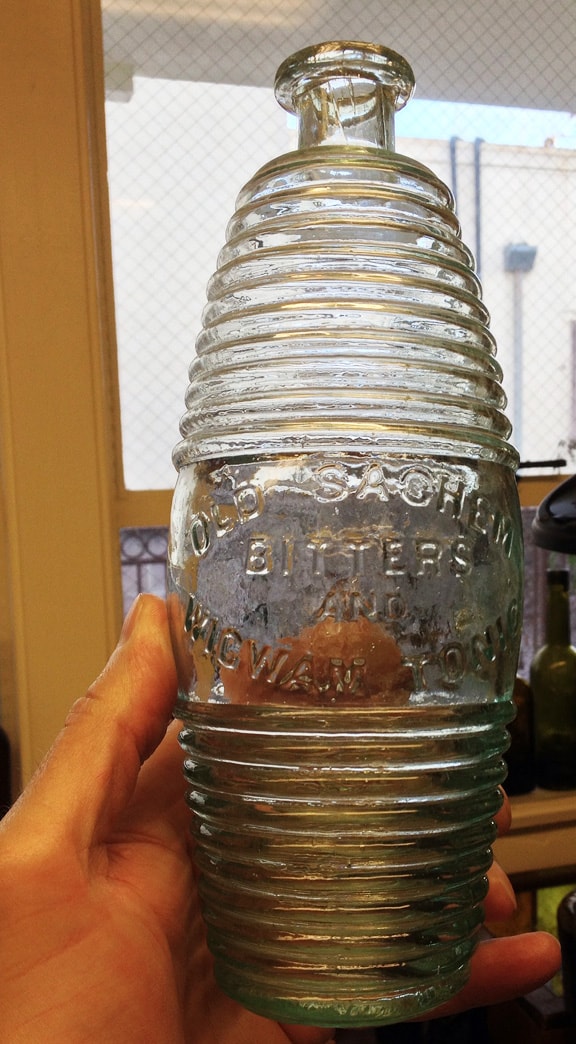 Holy Moses! Look at this incoming picture of an  Old Sachems Bitters and Wigwam Tonic in a light green aqua. Coming from a private collection. About perfect.
Make sure you read the Looking back at Deadwood, South Dakota post. It is fun going back and reading about history and connecting pictures of historical significance to our great hobby.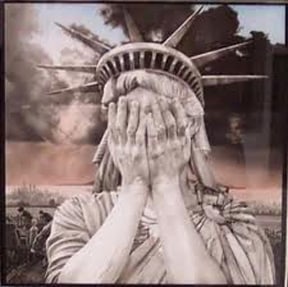 Will also be putting up a post on Collector Rights from Jimmy Bray. Please read. Need your comments.
Wednesday, 06 March 2013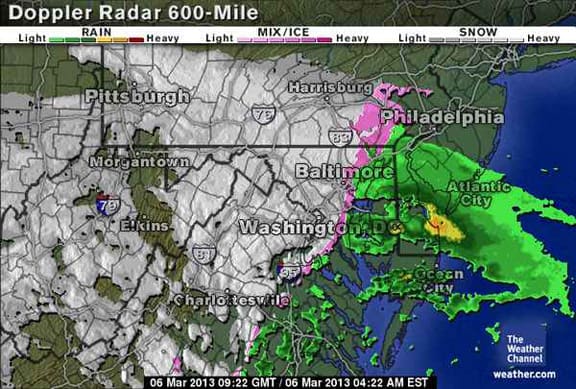 In the tail end of this snow event in Kentucky last night and today. This storm is headed to Maryland. Glad I got out of there on time. Bottles should arrive today in Houston. Four were broken on the way up. This really upset me.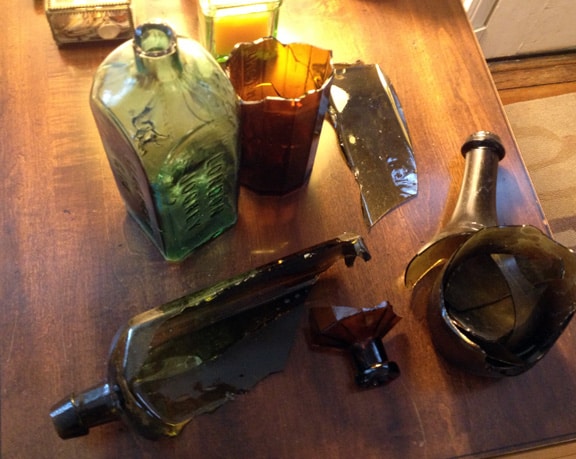 Really intrigued by that Deadwood Saloon shot with all the bottles. Found the source photo. Working on a post for Deadwood, South Carolina. Any of you remember that great HBO series "Deadwood"?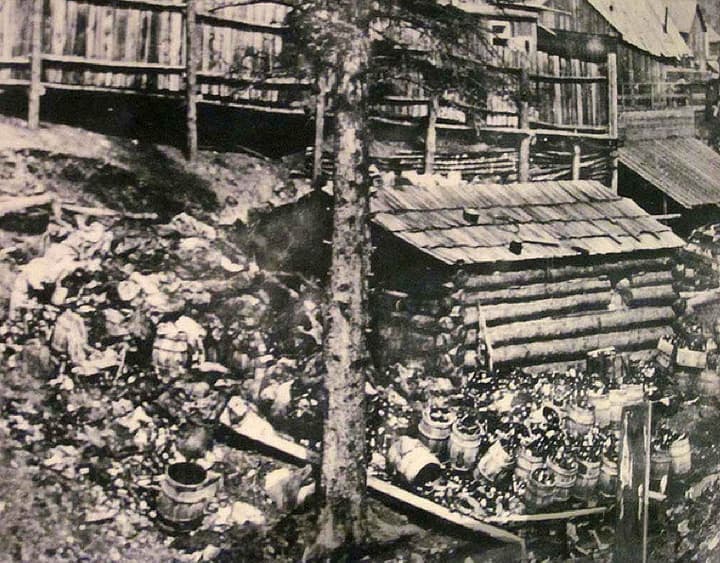 Tuesday, 05 March 2013
Just starting to hear who won the American Bottle Auction lots that I forgot about Sunday night. I just emailed a bottle friend and said that I was exhausted Sunday night and fell asleep. All of Jeff Wichmann's bulk emails go into quarantine. Usually I check each day. This time I got very backed up in Baltimore with the big 4-day weekend of bottle events. Typically a Sunday night is good to end an auction for me as I usually do not fly. In this case, many people were traveling, on ground and in air. I crashed at my moms house.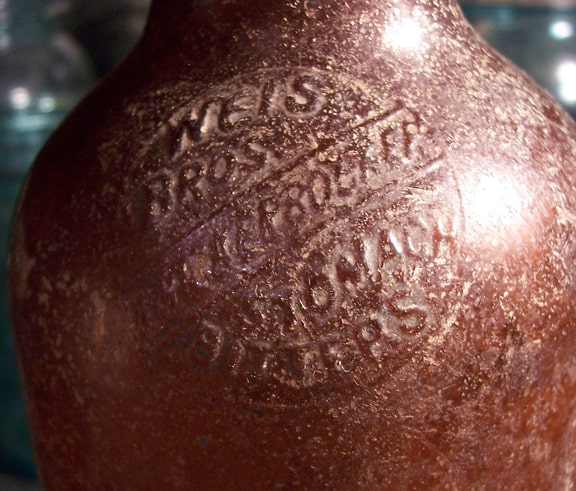 Just did a post on Weis Brothers Knickerbocker Stomach Bitters based on an incoming find. Check it out. Also getting lots of Baltimore pictures in. Haven't decided on a post or article. How about Sandor's Barto's Great Gun Bitters?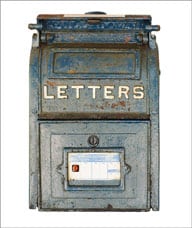 March Mailbox Letters updated.
Monday, 04 March 2013
Crazy, wild weekend at the Baltimore Antique Bottle Show. Very little sleep except last night. Off to Lexington, Kentucky today. Backed-up with posts and reports. Stay tuned. Thanks
Saturday, 02 March 2013

Very busy. First cup of coffee. Preparing for a five hour FOHBC board meeting this am prior to the Baltimore Show set-up.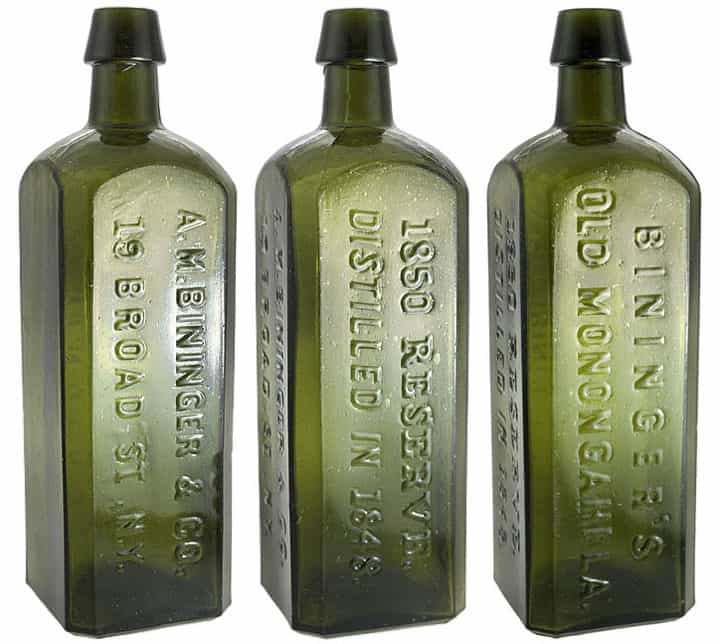 Liking that XR Bininger Old Monongahela at Glass Works Auctions #97.
Friday, 01 March 2013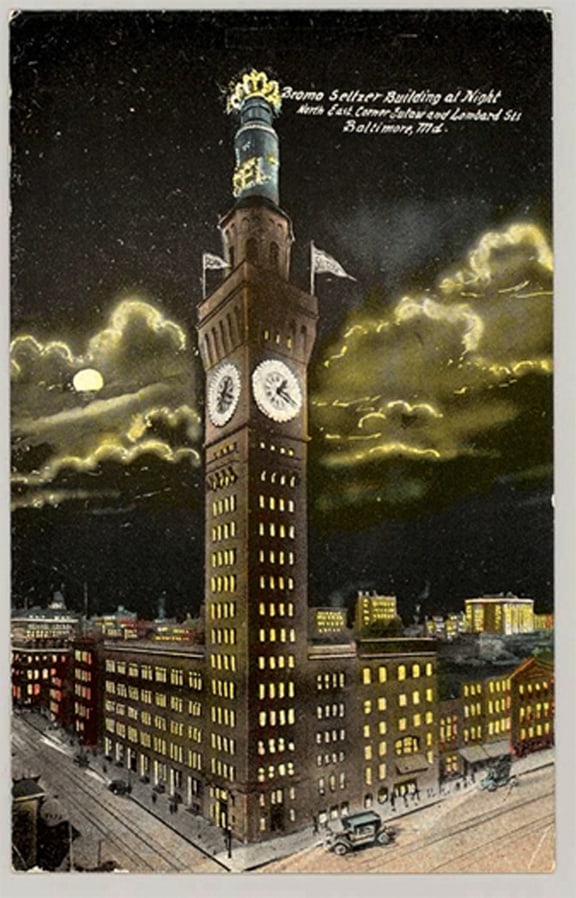 Now in Baltimore. Hope to do some fun bottle related stuff later today like go to Fells Point, the Washington Monument, the Bromo Seltzer Tower etc. My home town.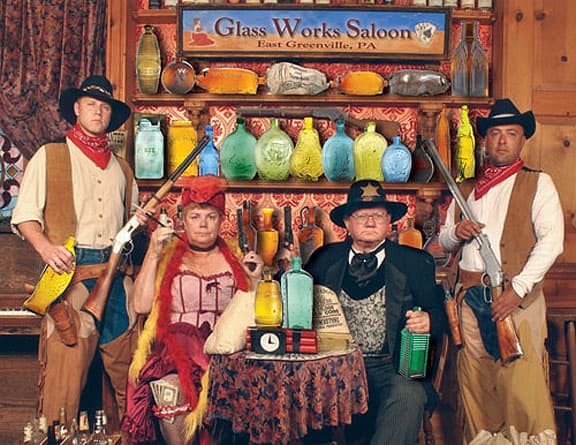 Like this Photoshop update titled "Meet Glass Works Auctions "J" Team!" Came by email blast yesterday..