A labeled

Dr. Hopkin's Union Stomach Bitters
15 November 2012 (R110614)
"

It is priced at 75 cents – pretty good since it 'cures' pretty much EVERYTHING."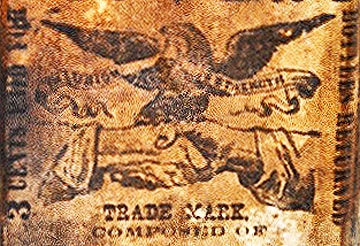 I have said this many times before, and I will say it again. "It sure is fun to get an email with bottle pictures and questions." In this case it is from 'Jeanne' from somewhere in bottleland asking about her special bottle.
Hello,
I was trying to look up some information on some of my bottles. One of them is an amber bitters bottle with three sides of labels and an embossed side. Most of the three labels are intact and readable. It is priced at 75 cents – pretty good since it 'cures' pretty much EVERYTHING. Then again, three wine glassfuls a day would make you forget you had anything wrong with you in the first place. I guess it's like yours except for the labels.
How does one get an appraisal or who would YOU trust if you were a collector. The definition of collector as it pertains to me is, I collected any bottle I liked since I was 20 and that was decades ago. Thanks for any help or suggestions. Sincerely,
Jeanne
I mentioned to Jeanne that I might post her pictures due to the completeness of the labels and the super character of the bottle. Pretty decent for a Dr. Hopkins. Jeanne mentioned that she might want to sell the bottle too. Let me know if you are interested and I will put you in touch with her. Look at the labels closely, as it seems that each side of the bottle advertises a different Hopkins product. Dr. Hopkins sure knew how to use the label for advertising and information. Jam packed.
DR. A. S. HOPKIN'S UNION STOMACH BITTERS (embossing)
DR. HOPKIN'S CELEBRATED UNION STOMACH BITTERS (label side)
SARSAPARILLA AND OTHER ROOTS AND BARKS (ingredients)
UNION CELEBRATED ROOT & BARK BITTERS (label side)
The Carlyn Ring and W.C. Ham listing in Bitters Bottles is as follows:

H 180

 DR. A.S. HOPKINS UNION STOMACH BITTERS
DR. A. S. HOPKINS / UNION STOMACH BITTERS / HARTFORD CONN. // f // sp // f //
L…Union Celebrated Root & Bark Bitters
9 3/4 x 2 3/4 (7) 3/8
Square, Yellow, Amber and Green, LTC, Applied mouth, 3 sp, Scarce
Label: Composed of sarsaparilla and other roots and barks. Compounded so as to act in concert, and assist nature in eradicating disease, stimulating, importing tone to the stomach, and strength to the system and a most efficient tonic. Warranted a pure vegetable medicine, guaranteed to keep in any climate and improve with age. Unequaled for hotel, family or medicinal Use. Cholera morbus, asiatic or spasmatic cholera, dysentery and diarrhea. It gives immediate relief in all cases of pain, bilious and painter's colic, cramps, spasms, convulsions, etc… Cures sudden colds, coughs, fever and ague, canker in the mouth and stomach, kidney complaints, seasickness, headache, cleanses the stomach, regulates the bowels and imparts a tone of health and vigor to the body. Continued to be advertised in 1912.
Read More: Union Bitters – Haven't Seen this One Before