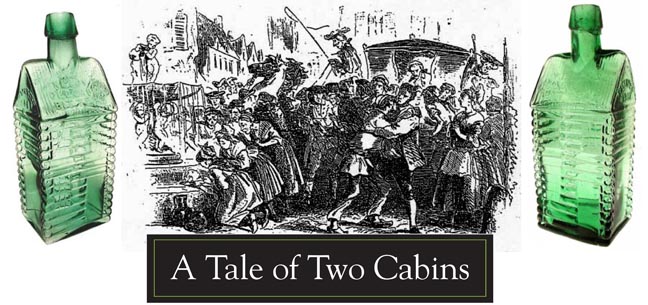 KELLY'S OLD CABIN BITTERS
---
I vividly remember one evening back in 2003 where I kept sneaking out on my porch steps of my loft (hiding from my wife, Elizabeth) in downtown Houston. I was actually in a virtual online and telephone bidding war with some unknown person (who I now know was Bryan Grapentine) for a teal green and minty looking KELLY'S OLD CABIN BITTERS. Let's call this Kelly's #1. I think my last bid was rather healthy but I got spooked because Jeff Wichmann, the auction house chief, suspected the bottle may sell at a price in the stratospheric level. So I bowed out. Well the bottle sold for $27 large to Bryan and in my, and others opinion, Bryan got a great deal on an extraordinary bottle. As you will see, the next time the bottle sold, it sold for quite a bit more. The picture (below) and description in the American Bottle Auctions catalog at that time read:
"found in Nebraska in a dried up water well"
Lot #45: KELLY'S OLD CABIN BITTERS (Kelly's #1). Ring/Ham K 21. Another of the great bottles in this collection and the highlight of our trip was this beautiful teal green/blue Kelly's! I had heard about this bottle but had never seen it and was somewhat skeptical of its existence. However, after seeing it, I was hardly disappointed. In fact, I was flabbergasted at how beautiful the bottle actually was! A true greenish teal with some blue, I gasped as I saw the sun gleam through it sitting in his window. It's so odd to see a bottle you've seen so many times in amber, suddenly appear in an unknown (at least to us) color. In addition, it's a superb example with loads of bubbles and good overall crudity. Aside from an open bubble between two logs, (it couldn't have been in a better spot as it's real tough to see) it is Almost Mint or better. On the way home from Nebraska, I wondered at the number of these colored examples known? Were there two, five, ten or was this it? So far, we only know of this example and the one from the Cris Batdorff collection, which had some repair done to it, and which we now understand was quite a bit different hue. There are most likely others, but who knows? We've tried to capture the exact color of the glass and we would say it's within a degree or two, so what you are seeing is what you're buying. A bottle we are proud to offer, this was found in Nebraska in a dried up water well. A couple of other amber Kelly's were found within earshot of this example. Needless to say, this is one you need to see in person, altough the pictures are right on the money. Please call us for additional photos and any other questions you may have. Almost Mint–or better. Bottle selling price: $27,000 (wither the auction house premium)
Bryan Grapentine eventually sold his great bitters collection and the bottle again made an appearance with American Bottle Auctions in late 2007 in the three segment Grapentine Auction series. This time the same bottle (Kelly's #1) sold for a whopping $46,000, not including the auction house premium. The ABA catalog write-up is as follows:
"he took it to a bottle show in the 1970's and collectors there told him to go home, that it was a fake. He knew however that it couldn't possibly be a fake because he dug it himself"
KELLY'S OLD CABIN BITTERS (Kelly's #1) PATENTED 1863. Applied top in a cabin shape. PLEASE NOTE: We've had a couple people that have suggested this bottle and possibly others in this sale are not what we've presented them to be. I suggest you man-up and either speak with us personally or keep your mouths shut. We have an 100% gurantee on all of the bottles we sell. Okay, having said that, here is the Kelly's Bitters. We actually sold this Kelly's years ago and now it has found its way back for another auction. We originally purchased this bottle from a collector by the name of Pete Peters in Nebraska. So really it's had only two owners, Pete and Bryan. Pete told the story that he took it to a bottle show in the 1970's and collectors there told him to go home, that it was a fake. He knew however that it couldn't possibly be a fake because he dug it himself, 30 feet into a well. He also found others in the same hole. What an absolutely wonderful bottle in a dramatic color. We have photographed it with three other colors, just to show the different hues one can obtain in these popular bitters. When people mention a green Kelly's, they usually think of olive, but as you can see, this is more of a teal. There is a partial open bubble on one corner of a side log. It's actually very hard to tell that it's an open bubble. Otherwise, the bottle is perfect. It has a wonderful top, a little stubbier than some we've seen. Everything else about it is top notch. If the bubble bothers you we recommend staying away. Otherwise, for cabin collectors, this is the one. We've photographed it with another green example that is not in the Grapentine collection. Forget the rumors, look at the bottle, some in this hobby (and you know who you are) need to grow up. Est. $15,000-25,000. MB $15,000. Note: The bottle sold for $46,000 not including the auction house premium.
A post auction write-up in Antique Trader said the following: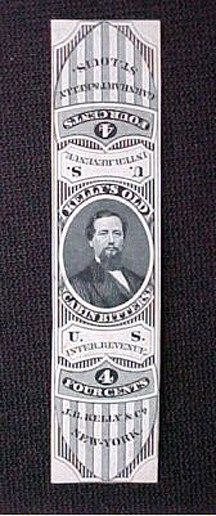 SACRAMENTO, Calif. – The second batch of approximately 300 bottles from a single Arizona collector totaled more than $500,000 in the online sale conducted by American Bottle Auctions. "Numerous records were broken and this has put the Bryan Grapentine collection so far over $1 million with another auction to go," said Jeff Wichman, owner of the auction company. A rare colored Kelley's Old Cabin Bitters bottle, sold for $51,520 (including 12 percent buyers premium), while a Cassins Grape Brandy Bitters bottle made $40,320. A Keach Baltimore "torpedo" bottle with stand sold for $17,920, and an R.L. Higgins Virginia City master inkbottle, one of only two known, realized $14,400.
The bottles come from collector Bryan Grapentine, 70, of Phoenix, who has been building his collection for 25 years. Grapentine now wants to "make some room in his house" and concentrate his efforts on specialized areas of glass, like scent bottles and ink containers.
Well, now the mate of this great Kelly's #1 has shown up in a current American Bottle Auction event. The ABA write-up is as follows:
KELLY'S OLD CABIN BITTERS (Kelly's #2) PATENTED 1863 with applied top. Over forty years ago, a gentleman named Pete dug a well in Ogallala, Nebraska. According to Pete, as they neared the bottom, they found a number of these bitters. Amber was represented as well as olive green. Most startling were two light greenish examples they had never seen before. They eventually brought them to a bottle show and were told they were fakes. They explained that they had themselves found them along with other more prevalent colored examples to no avail. At that point they each decided to keep one. The other, which we sold out of the Bryan Grapentine sale in 1997, and again in 2007 brought over $50,000. That was Pete's original acquisition and since then he has worked a deal out with his partner for the other one, the one we now offer. Now while we don't believe these are the only two that exist in this color, we do believe that this example may be one of the prettiest. There is a small area on one roof with some interior haze, which when viewed from the other side is nearly unnoticeable. The bottle is overall quite uneven and the color leans toward green rather than blue, as the glass is much thicker than the other variant. We never thought we'd have another opportunity to represent a bottle of this nature, however, here it is. We will grade this a 9.7 with just a bit of typical usage wear.
More Kelly's #2 Pictures
Interesting enough, I had the opportunity to review a third KELLY'S OLD CABIN BITTERS in Houston a few years back that is in the possession of Dan Cowman. This specimen has a repaired top and is similar in color. Read more: A Picture of a Picture of Two of Brad Francis's Kelly's Old Cabin Bitters. See below.
I do not know where the Kelly's #2 in the American Bottles Auctions will end up. As of this morning the bid was at $36k. Stay tuned.