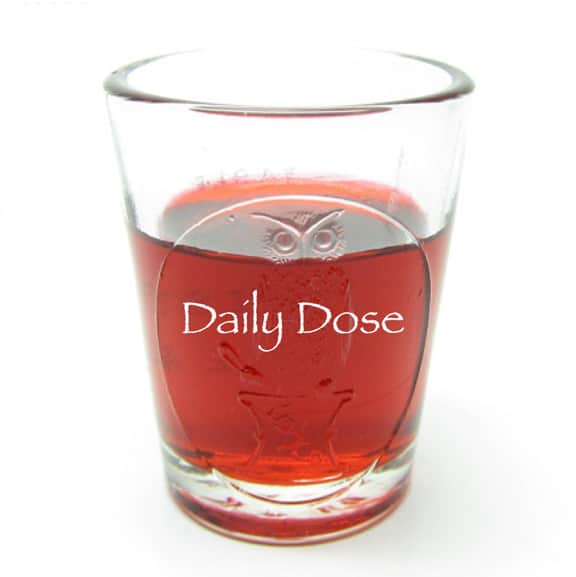 February

   

2 0 1 4
Friday, 28 February 2014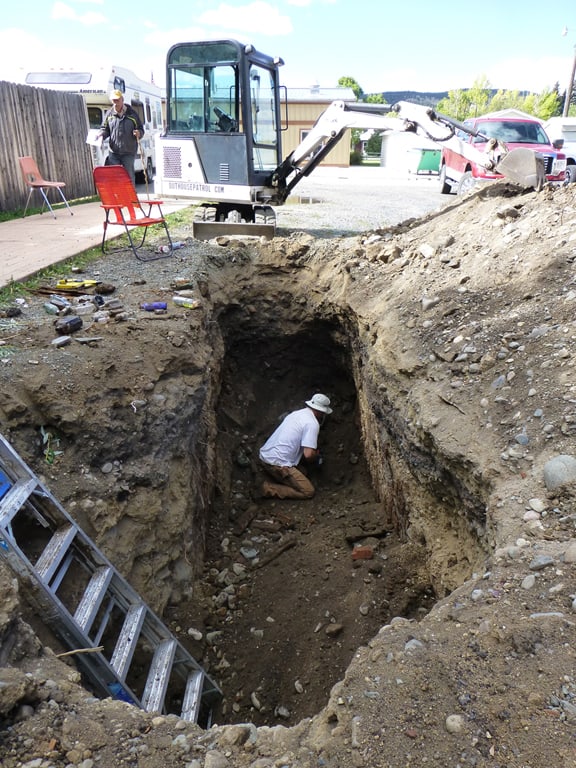 Hello Ferd, Our show is coming up, a little earlier this year. Hoping you can list us when you get a chance. Snowing right now. Reggie researching daily. Old topo maps overlaid on google so we can see what is there and go right to the area where buildings were but they didnt draw in the old shitter- we have to do more work to find that and dumps but 2014 is looking great and we should have good stories to share in a couple of months.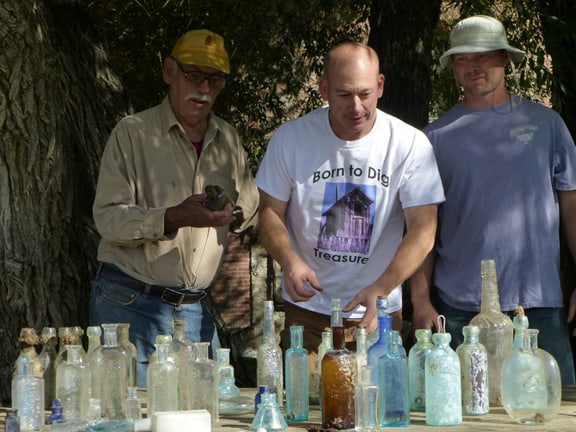 Perhaps you need to come see Montana and come to the show. I can loan you shovels or let you run the little track hoe! The last good hole was this one in Boulder MOntana. Not much real rare but some we all needed and oh so fun digging a 17 wide by 5 and about 7 feet deep with bottles lined up starting about 5 feet. A huge hole for the hotel! Drugstore nearby and the sick must of stayed in the hotel as we found about 150 plain drug and pill bottles. Even got a drugstore from Wichita, KS. And a blob soda from Rock Island, Ill.
Take care & see you at the shows.
Thanks,
James (Campiglia)
www.jameschips.com
www.outhousepatrol.com
30 & 31 May 2014 (Saturday) Butte, Montana – Montana Bottle Collectors Association 2014 Old Bottles, Antiques and Collectibles Show & Sale, Butte Civic Center Annex 1340 Harrison Avenue , Set up: Friday 30 May at 3:00 pm, but may not be unpacked and displayed prior to 4:00 pm. Early Birds: Friday, 30 May 4:00 pm – 8:00 pm;  $5 and covers both days. General Admission: Saturday, 31 May, 10:00 am – 4:00 pm. $3. Info: James Campiglia, Show Chairman, 406.219.3293 or 805.689.0125, E-mail:jameschips@bresnan.net or Erich Weber, Secretary/Treasurer, 406.227.8154 or 406.439.0563 FOHBC Member Club
Thursday, 27 February 2014
Midday bird to Baltimore. Connect with Jerry Forbes (Carmel) and Pam Selenak (Orange County) coming in from the west coast. Off to eat crab cakes tonight! Baltimore Antique Bottle Show this weekend.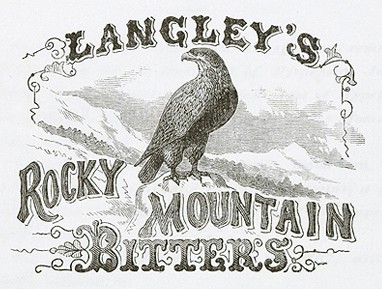 Look at this odd trademark for Langley's Rocky Mountain Bitters in Boston. Having trouble linking it to Dr. Langley's Root and Herb Bitters from Boston. What am I missing?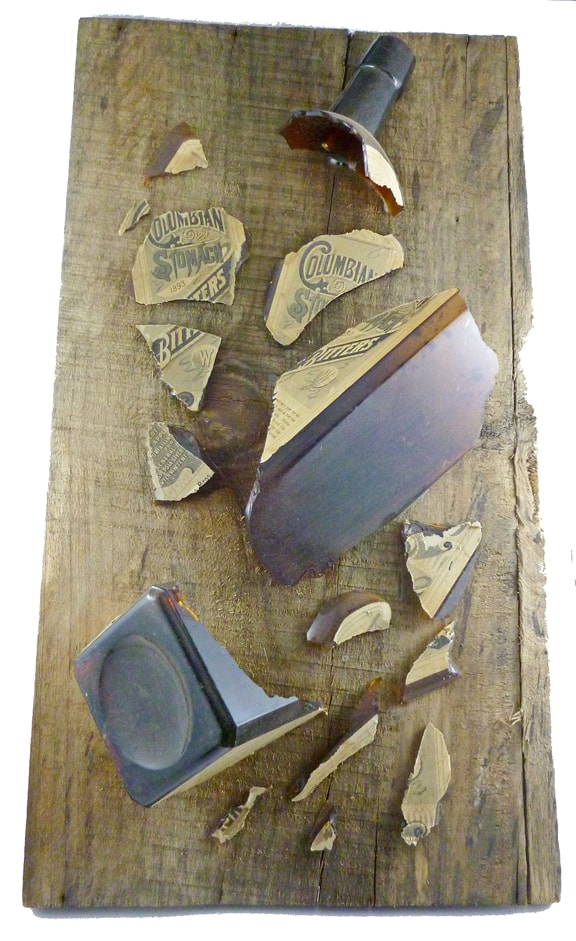 What do you do when a bottle comes poorly boxed and breaks? Well you make wall art as Marlena VanHelsing did! She says "A beautiful fully labelled Columbia Stomach Bitters finds a new life mounted as a piece of wall art after being mailed to me in a soft shoe box and 2 sheets of newspaper. Umm ok!"
Wednesday, 26 February 2014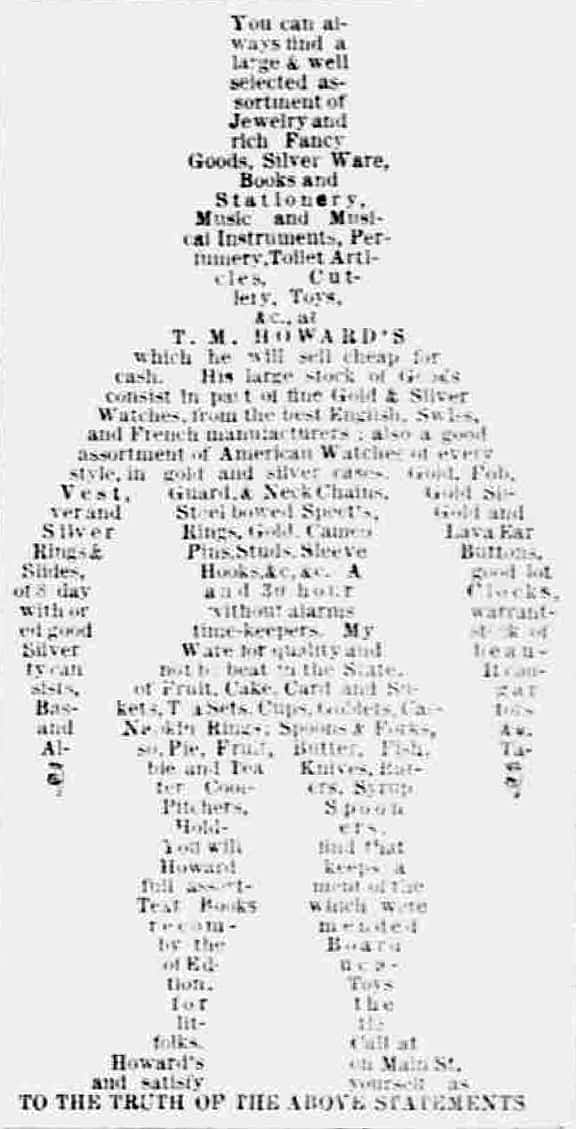 While woking on a post for Dr. Langley's Root & Herb Bitters, I came across this cool typeset advertisement for T. M. Howards in an 1863 newspaper. This would be before computer typesetting.
Tuesday, 25 February 2014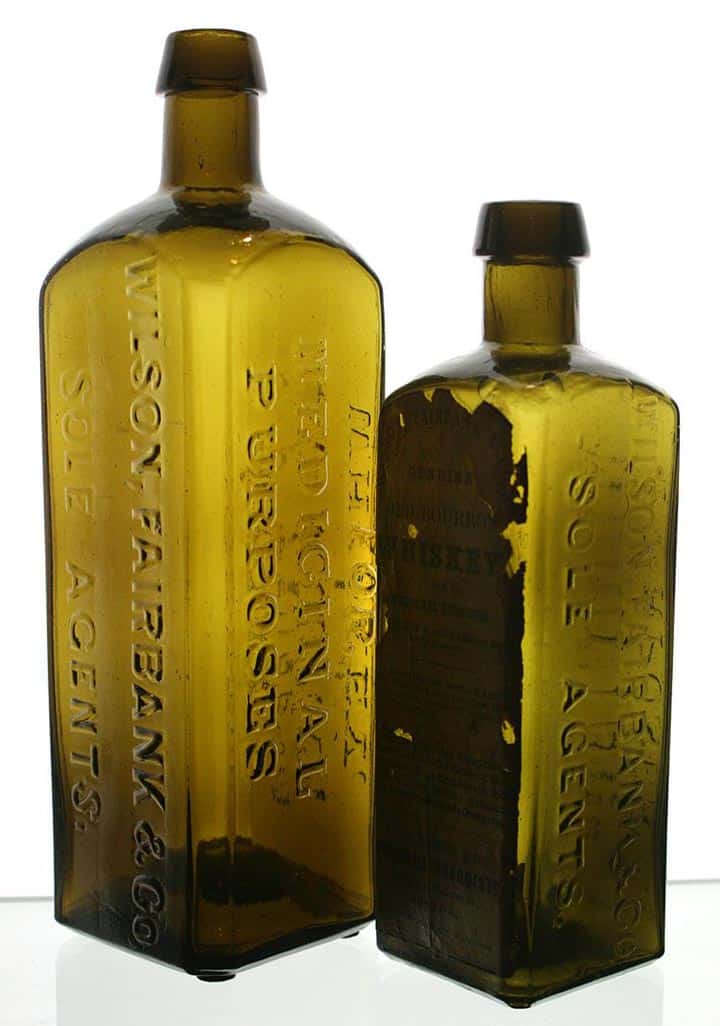 Thanks to Michael George for adding two extraordinary pictures to the Monk's Old Bourbon Whiskey post. Steve Mello adds, "I remembered this bottle being listed in Bill and Betty Wilson's spirits bottles of the old west. It was copyrighted in 1968. The description of the bottle is as follows. Embossed MONK's OLD BOURBON WHISKEY, ca. 1853 to 1858 open pontil scar,square with beveled corners, amber, rare. The book does not have a photograph of this bottle. I wonder if this is a different mold or they did not get all the correct info. Not unheard of for the books of the day?? Regardless it is a great bottle."
Monday, 24 February 2014
Rodeo over for Katy, Texas. Houston Livestock Show and Rodeo starts on 04 March and runs through the 23rd. Now that event is BIG. Baltimore Antique Bottle Show now on the radar. Flying out Thursday afternoon. Check out this picture of a complete case of log cabin extracts posted by Ryan McMurray over at Bottle Collectors. Might be at Balto. Look for a post on an unlisted Columbia Cascara Bitters.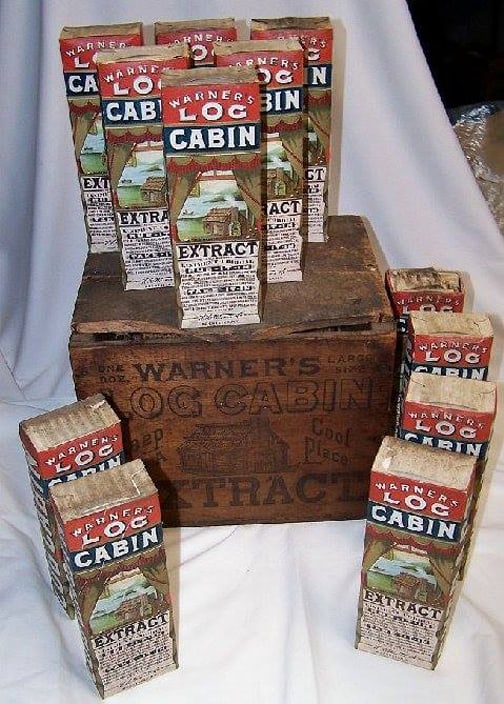 Ferdinand, I recently picked up this bitters bottle and I have never seen it before. I've seen hundreds of the Dr. Harters sample bitters but they were always embossed on the front. This one is embossed on one side Dr. Harters and the other side W.C. Bitters. Have you seen this one before? Do you have any idea on its value if one has sold before at auction? Thanks, Brandon (Smith)
Read More: Dr. Harter's Wild Cherry Bitters and the Bottle Gods
Read More: A Train Load of Health – Dr. Harter's Family Medicines
Friday, 21 February 2014
Yeh, it's Friday. Came in to studio at 4:30 am. Too much on my mind. Leaving for the Baltimore Antique Bottle Show next Thursday. Lots to do between now and then. Katy Rodeo opens tonight. Both granddaughters are members of Katy Cowgirls who open the Rodeo each night. They also lead in the parade tomorrow. They both compete tonight in cutting and barrels too. And poor Elizabeth, still with her father in San Angelo.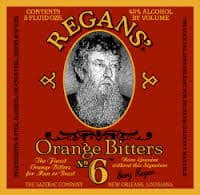 Found a neat 'retro' logo for a current brand of Regan's Orange Bitters. Also, is Pierre Lacour related to Louis Lacour? Read: What?…more Orange Bitters…..!
Doing an update with new material on the Crow's Celebrated Bitters, Only 1 barrel known.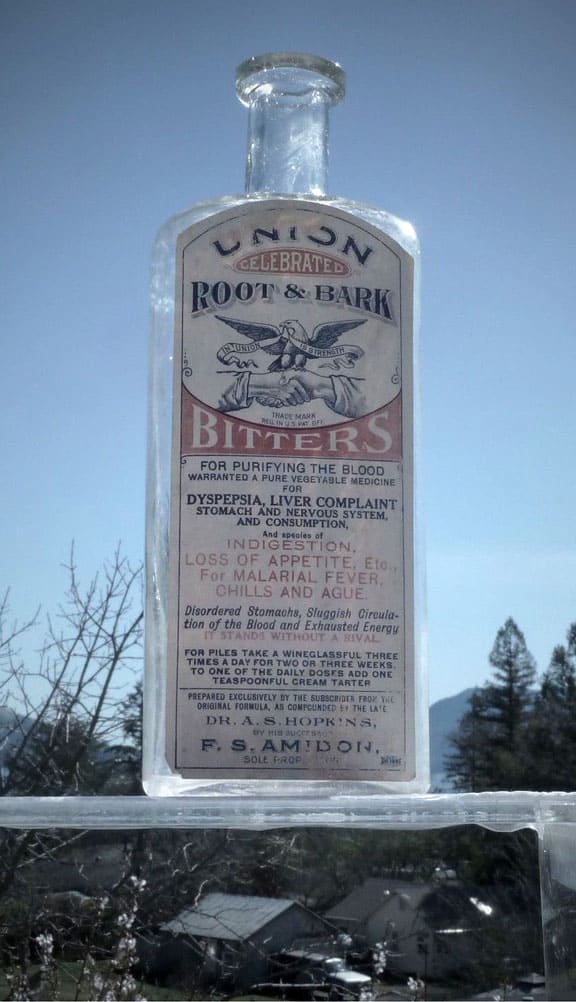 And what's the deal with that Union Root and Bark Bitters on ebay? Is it unlisted? From James Viguerie "saw some more rare bitters on eBay. The Union Celebrated Root & Bark Bitters looks unlisted. It looks like a newer variation on Dr. A. S. Hopkins Root & Bark Bitters (H177-H183)".
Wednesday, 19 February 2014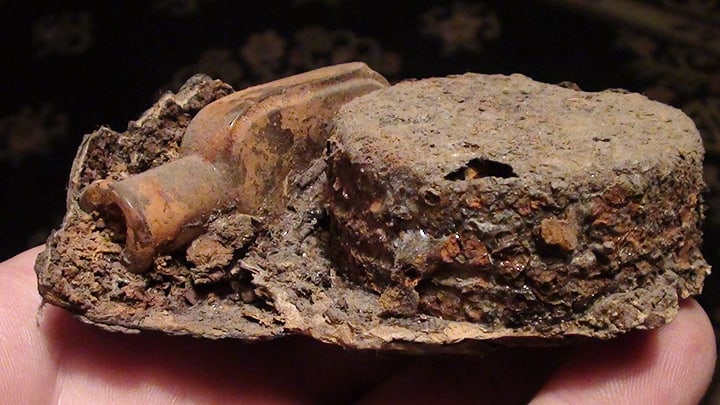 My grandson said his Mamma was making him sweet roles this morning before school. I think this picture reminds me of a breakfast serving ala bottle collector. Photo by Jason LaPort.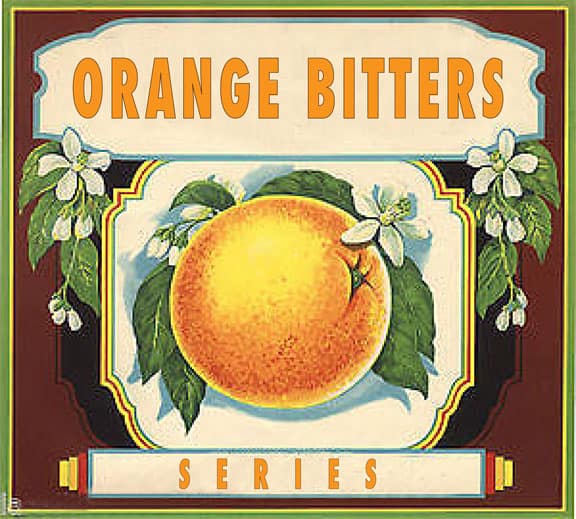 Finished the ORANGE bitters series this morning with the Rees Orange Tonica. I want to thank bitters trade card authority Joe Gourd (Chicago) for inspiring and contributing his material for this series. Joe sent a nice e-mail and said, "Must confess that I am having the most fun I've had in years contributing to your posts. I'm a firm believer that there is a great joy in sharing collections of every type. Hope you continue to have the time, inspiration and energy to advance interest in our hobby."
Monday, 17 February 2014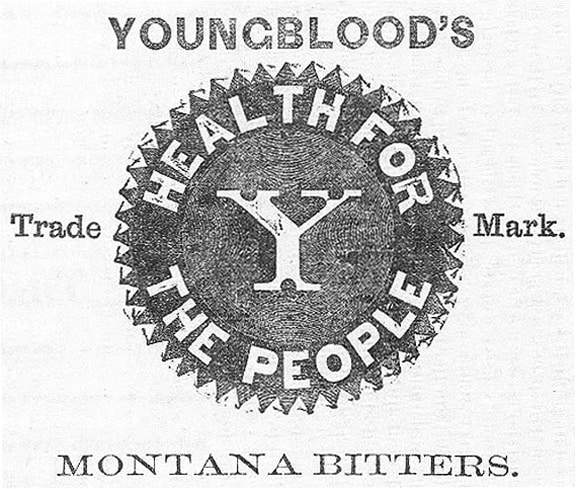 You Montana diggers like James Campiglia, get diggin'… Read: The rest of the story of Lorenzo D. Youngblood and his Tonic Bitters This puppy is unlisted.
Stay tuned for "Mama's Recipes for Keeping Papa Home". This will include three unlisted Chicago bitters.
Sunday, 16 February 2014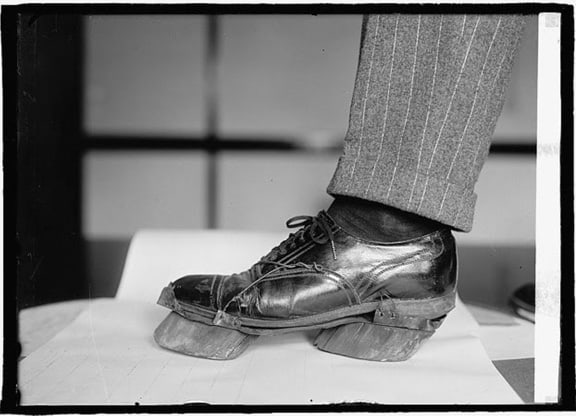 Brilliant!! Cow shoes used by Moonshiners in the Prohibition days to disguise their footprints, 1922. Leisa Huntsman Lambert says "Moooooon Shine Shoes!"
Updated the Angostura Bitters post with a nice letterhead from J. W. Wuppermann that is on ebay. Read: The Wizard of Oz and Angostura Bitters
Saturday, 15 February 2014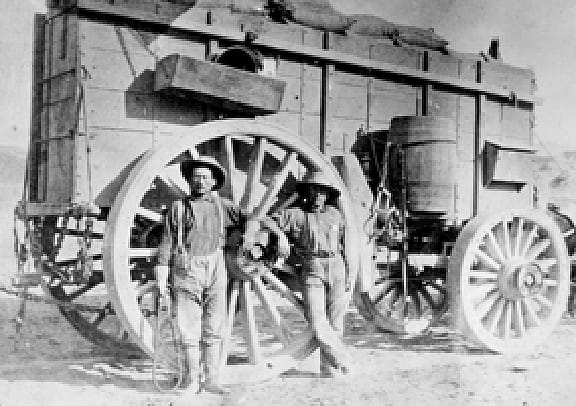 Could this be a wagon full of Drakes Plantation Bitters or Hostetter's Bitters headed out west? Speaking of Hostetters, you see that beauty that Dale M has up on ebay? Nothing that guy touches are anything less that drop-dead killer.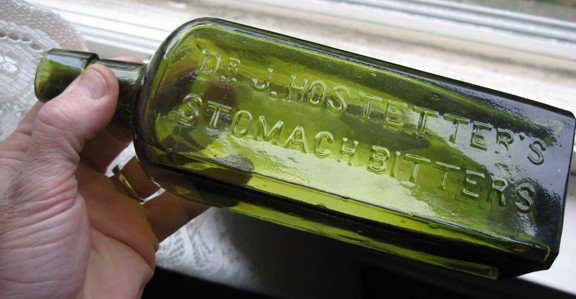 Cool 1881 Dr. Harters Wild Cherry Bitters Playing Cards on ebay. Added to: Dr. Harter's Wild Cherry Bitters and the Bottle Gods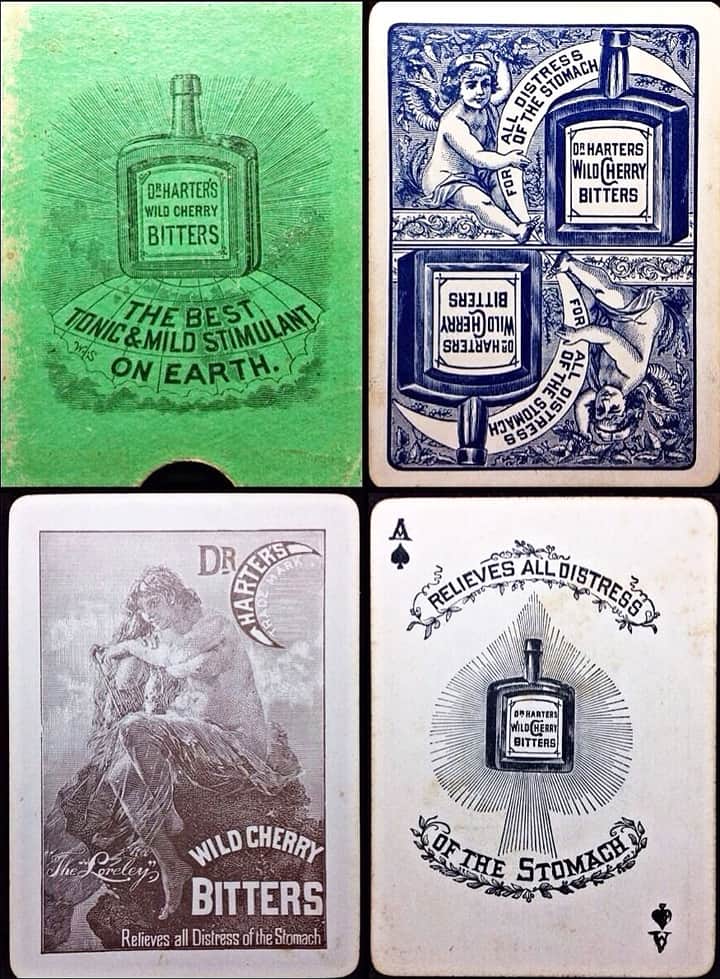 Friday, 14 February 2014 – Happy Valentines Day!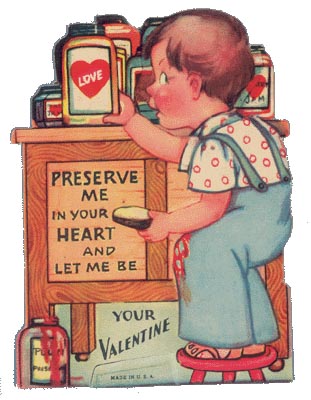 Ah Friday. Not a restaurant reservation to be had. Doesn't matter, Elizabeth still in San Angelo with her dad in ICU. Looking better. Thanks for all your well wishes.
Look for a post later on my "Purdy new Bitters". You hard core bitters collectors will know that one.
Did you hear about the professional basketball arena that is going to be built on an old mid 1900s trash dump! One of our bottle 'stars' may have access to the site.
Tragic: My new Baker's Orange Grove Bitters came from an old Maine collection, owned by a retiree who had moved to Florida. He consigned his entire collection to North American Glass, and he was looking forward to watching the auction results. Unfortunately, last Tuesday, two days before his first auction closed, he passed away.
Thursday, 13 February 2014
Thank you Corey Stock for submitting the following advertisement for Mack's Orange Tonic Bitters. I had a hunch I was looking at P. Mack. What is interesting is that I consulted on a project in the 1980s called Church Street Market in Orlando on the exact spot of the bowling alley where P. Mack was selling his delicious orange wine!
Wine for Sale at my Bowling Alley on Church St., near the Depot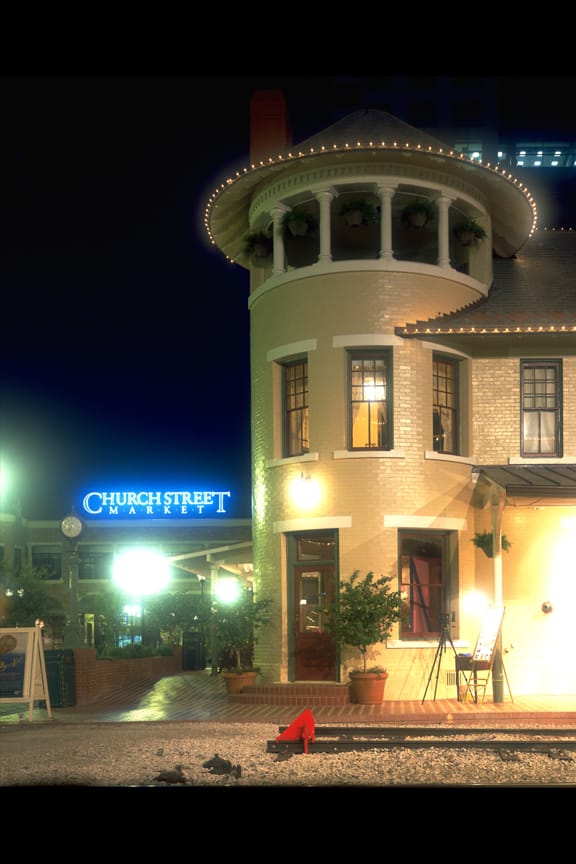 Wednesday, 12 February 2014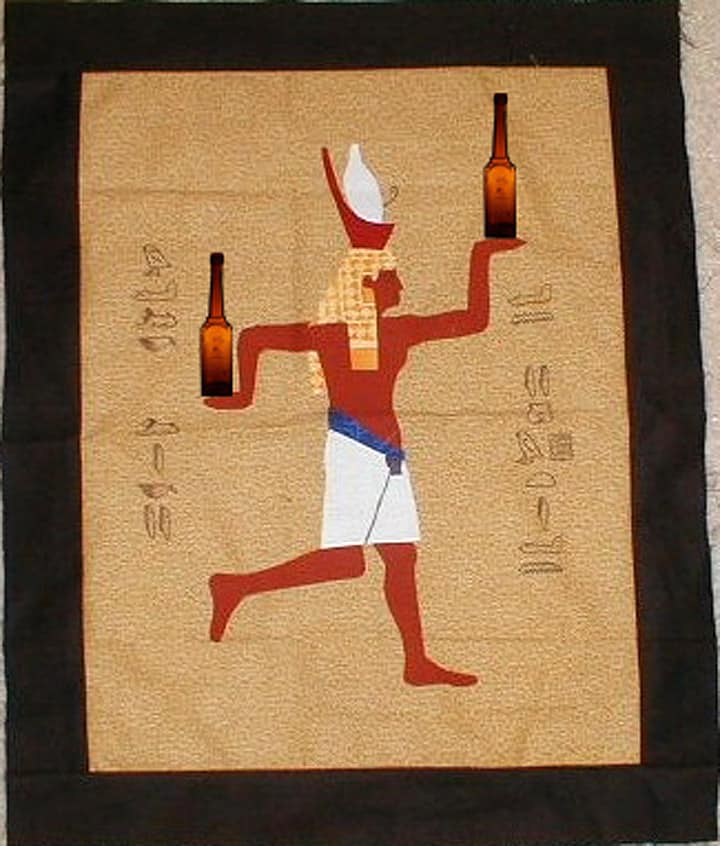 Those two Landsberg Sphinx's rock!! Way to go Ketcham.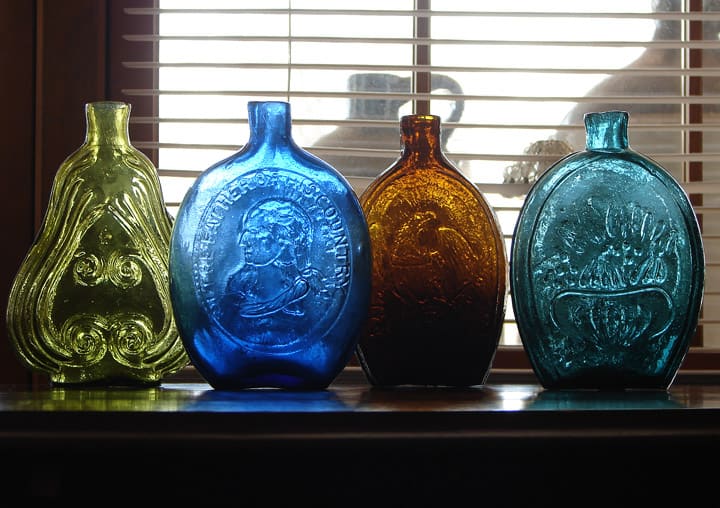 Incoming pic from Cody Zeleny. Now that is nice….
Tuesday, 11 February 2014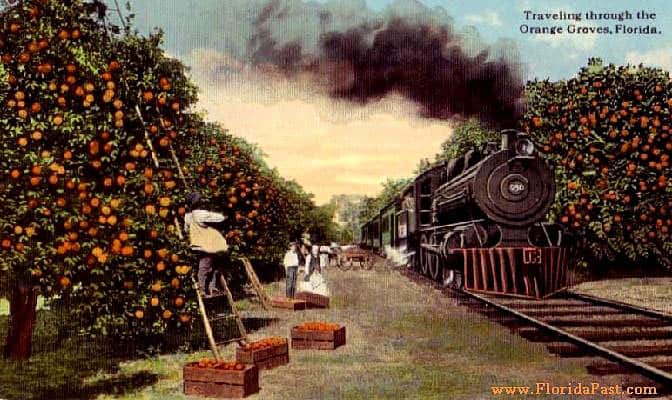 Tired… up all night. Dropped Elizabeth off at the airport at 4:30 this morning for a family emergency with her father. He just came out of surgery in San Angelo, Texas. Hope everything is OK. Freezing rain here. Kind of miserable. Good back drop to think about sunny California and Orlando today with two more Orange bitters posts. Kind of obsessed with all this. Frustrated I can not find much info on the Mack's Orange Tonic Bitters.
Dale Mlasko thinks he might have a picture of the California Orange Bitters. He adds, "I have handled a California Aromatic Orange Bitters. It was a label only cylinder fifth with beautiful graphics depicting oranges."
Monday, 10 February 2014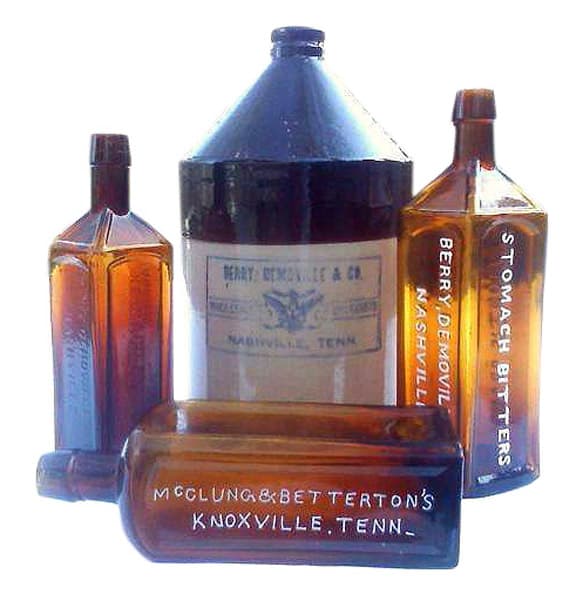 Pictured above: Small and large examples of the Aromatic Orange Stomach Bitters and the Berry, Demoville & Co. jug – Shultis Collection * Note the McClung & Betterton bitters laying in front.
Sunday, 10 February 2014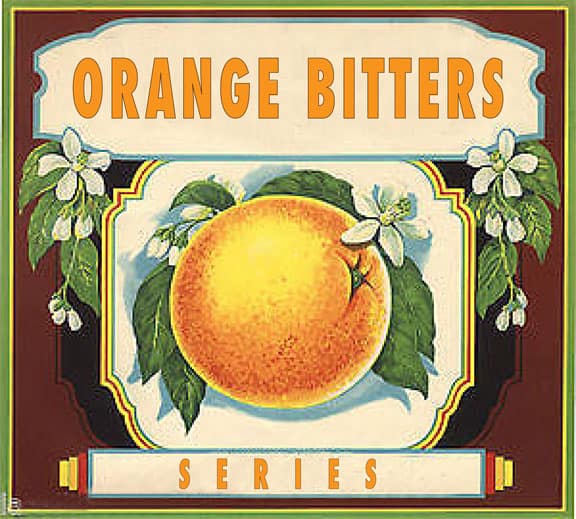 Started the Orange bitters series off today with the Fine Aromatic Orange Stomach Bitters from Nashville. Bill Ham sent us an update on the second Bitters Bottles Supplement and Gary Katzen's cat (I suppose, named milkie) photobombed some his milk glass rarity studio session.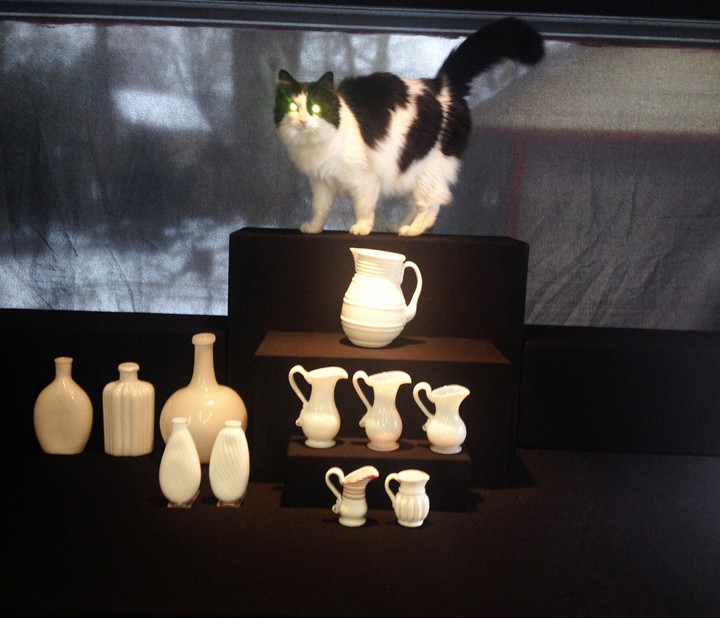 Saturday, 08 February 2014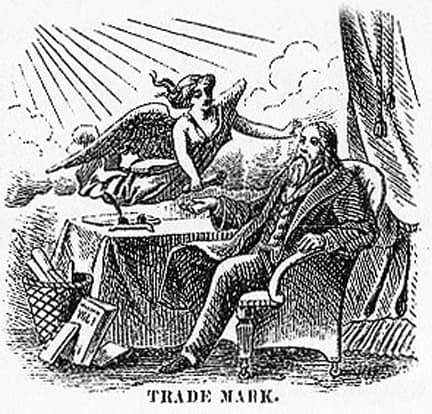 Was really surprised that Stephen Buhrer was Mayor of Cleveland for three terms. He truly must have had help from above to accomplish what he did in his lifetime. Read: The Honorable Stephen Buhrer and his Gentian Bitters
Look for a new series on the color orange.
Thursday, 06 February 2014
Come to papa…..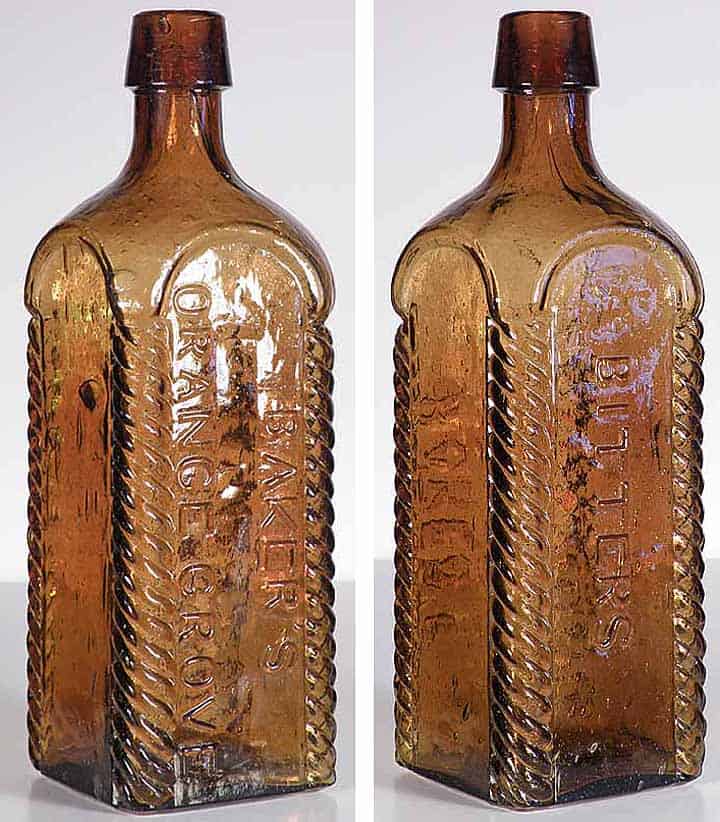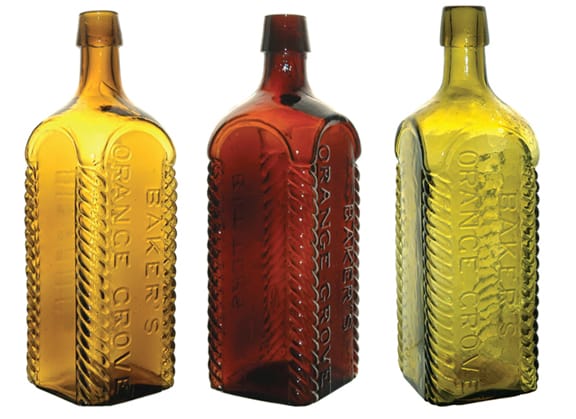 Wednesday, 05 February 2014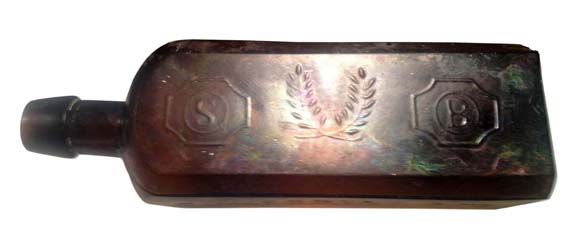 Hey everybody out there in TV land! It's time to play 'Guess That Bottle!'. Only clue, this is a bitters! Go figure….
Tuesday, 04 February 2014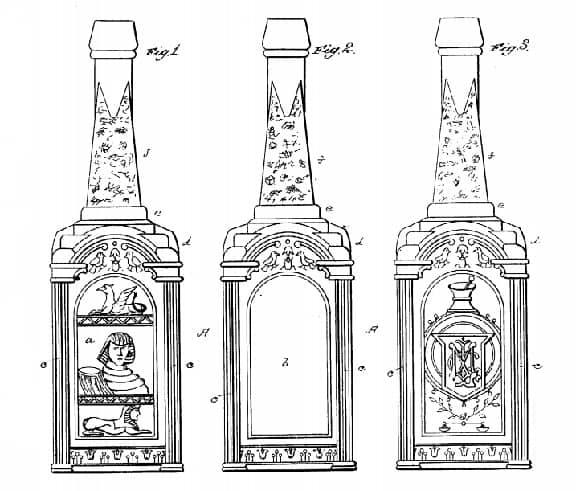 Anybody win anything in the Glass Works Auction last night? Let me know if you are happy. Focusing on the great Landsberg bottles. Anybody have "Landsberg's Sphinx Bitters"?
Read: Looking at some Landsberg bottles…
Read: Another Patended Landsberg Bottle
Getting some pics in from Chris Brumitt of the elusive Our Own Southern Bitters by C. H. Ebbert from Memphis. Will wait to update post.

Read: Our Own Southern Bitters – Memphis
Read: Hot on the trail of the elusive O.O.S.B.
Read: More on C.H. Ebbert & Co's OUR OWN SOUTHERN BITTERS
Monday, 03 February 2014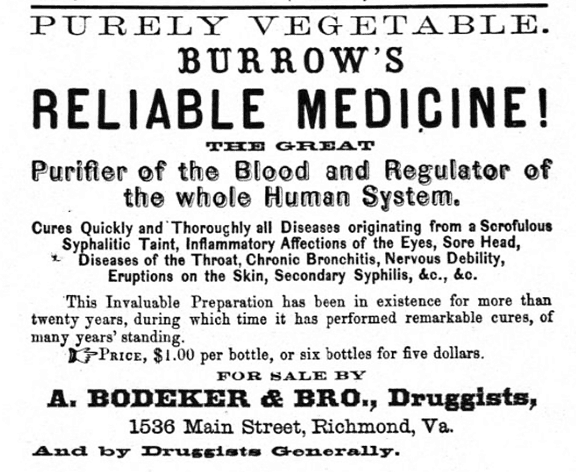 Did some housekeeping, on Bodecker Bitters today with the addition of this early 1869 advertisement found in the Richmond City Directory. Read: The Bodeker Brothers brand – killer bitters from Richmond!!
Look for an upcoming post on the Landsberg bottles.
Super Bowl Sunday, 02 February 2014

Really liking this partially labeled Tippecanoe Bitters on ebay. Thanks to Abel Da Silva for tip. Read More: The Tippecanoe Bitters Figural Log and Mushroom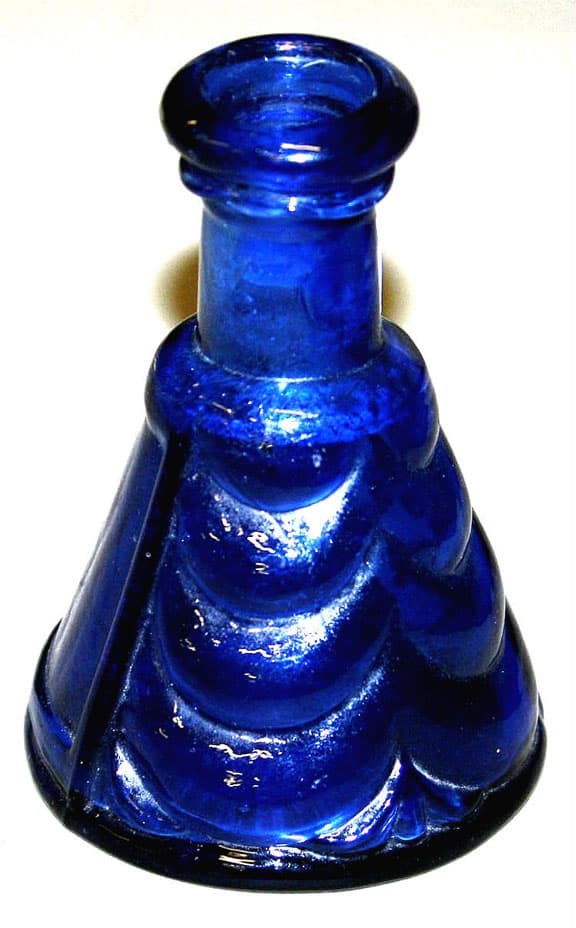 Hello Ferdinand, I was shocked by the auction price today of $2.500.00 plus premium for this Cobalt Blue Drape Style Pontil Ink Bottle 1850-60's at Merrill's Auction gallery. The last one sold at American Glass Gallery on November 14.2012 for $1,100.00 plus premium. Abel
PRG: Charles and Jane Aprill examples below
Saturday, 01 February 2014
Back on the saddle again after being on the road all week. Always nice to come home and see my bottles! Off to Miami Monday. Any Miami collectors out there? Reprinted from Western Bitters News…
And We Wonder Why Bottle Shows are Declining
I had an interesting phone call this morning. It was from the California State Board of Equalization. For those of you that are not familiar with the state BOE its the California Franchise Tax Board, you know, the folks that collect your sales tax if you have a legitimate business here in California.
The nice lady from the BOE asked me if I was selling at the Anderson Bottle Show this weekend. I replied yes, I am going to try and sell something at the show, but the possibility of making a sale is always in question. This reply sort of set her back for a moment but she recovered while I was wondering how in the heck did she know I had purchased a sales table at the Anderson Bottle Show.
It seems that since my business location is here in Downieville, and I am now going to sell in Anderson for the weekend, I will have to register the Fairgrounds in Anderson as a second location for my business. And to add icing to the cake every other bottle show in California that I sell at will have to be listed as another location for my business. Hell, my little chicken shit business is now becoming a multi location major red flag for the State Board of Equalization to zero in on.
The increasing pressure the State BOE is putting on small organized collectible shows is not a California only issue. If you sell at the Reno Bottle Show you will need a City of Reno sellers permit to the tune of $15.00 and as a seller you are supplied with a tax form that you fill out, and based on the sales you have claimed to have made, pay the tax right there and then at the show.
Do you think that the State BOE, the City of Reno or any other entity that is collecting taxes is going to get the sales tax on a mint green Drakes Plantation Bitters that sells at a bottle show? If you believe that the tax on that transaction is claimed I have a bridge you might be interested in.
I will be selling at Anderson this weekend right after I re-price my bottles to include the 7.5% sales tax the city of Anderson is asking for.
Rick Simi