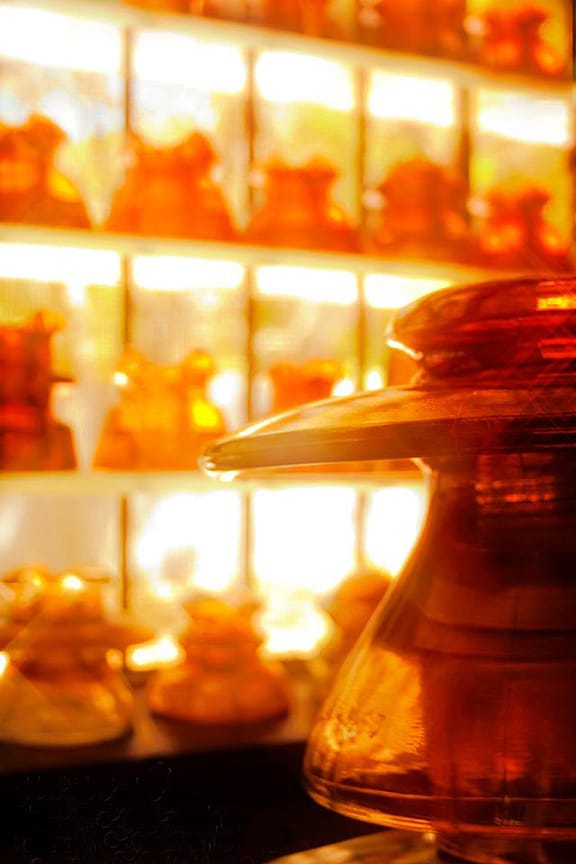 The

Color Orange

in Antique Bottles & Glass
08 February 2014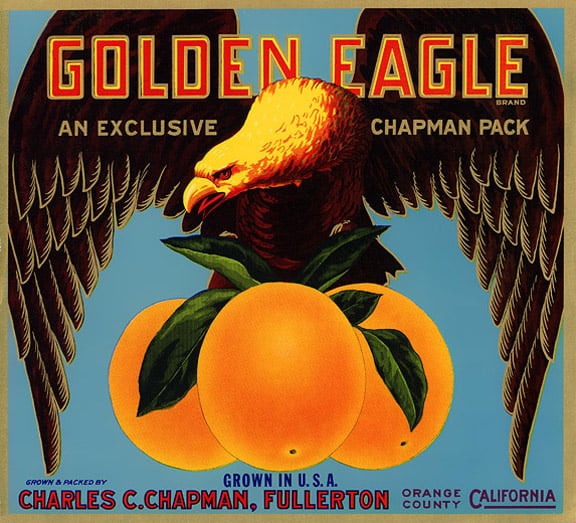 We sometimes, unfortunately, classify orange-tone bottles as amber. In the bitters world, we have orange amber but never pure orange. With fruit, the orange is as honest as you get. We do not eat a red, yellow or purple though we try to eat some 'greens' each day. My logo for Peachridge Glass is orange with red tones. This image and coloration was selected for a reason.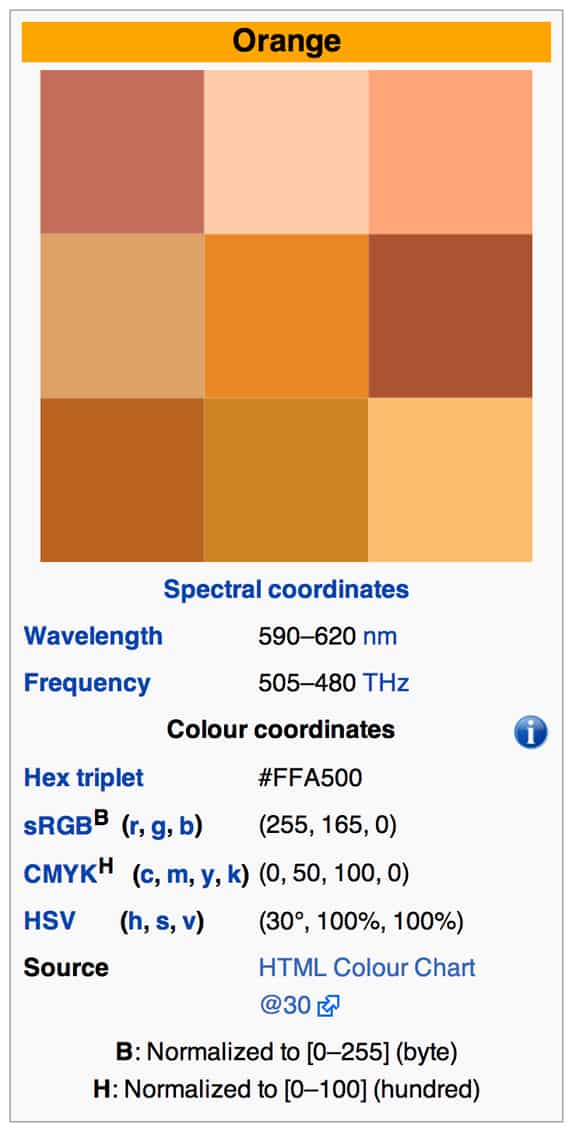 Orange is a color located between red and yellow on the spectrum of light, and in the traditional color wheel used by painters. Its name is derived from the orange fruit. In Europe and America, orange is commonly associated with amusement, the unconventional, extroverts, fire, activity, danger, taste and aroma, the autumn season, and Protestantism. In Asia, it is an important symbolic color of Buddhism and Hinduism [Wikipedia].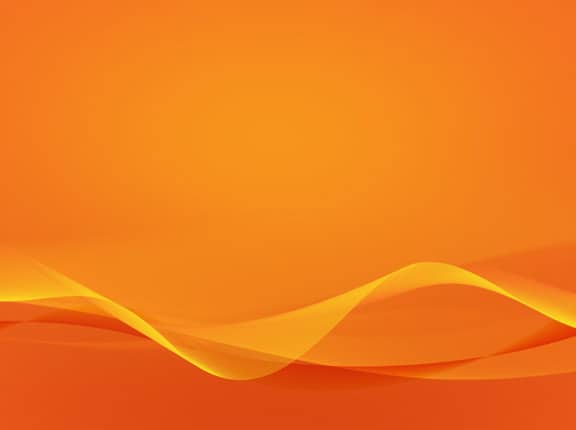 Orange is so optimistic and uplifting that we should all find ways to use it in our everyday life, even if it is just an orange colored pen that we use.
The color orange radiates warmth and happiness, combining the physical energy and stimulation of red with the cheerfulness of yellow. Orange relates to 'gut reaction' or our gut instincts, as opposed to the physical reaction of red or the mental reaction of yellow. Orange offers emotional strength in difficult times. It helps us to bounce back from disappointments and despair, assisting in recovery from grief. The color psychology of orange is optimistic and uplifting, rejuvenating our spirit. In fact orange is so optimistic and uplifting that we should all find ways to use it in our everyday life, even if it is just an orange colored pen that we use.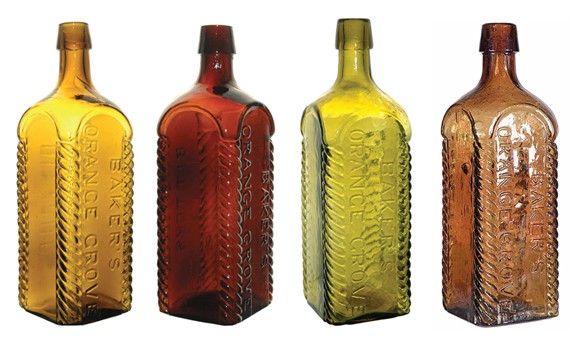 As with anything I write, some spark came before to make me think in a new direction. In this case, it was adding a new "Bakers Orange Grove Bitters" to my collection (see above). No, it was not an orange bottle, but the Baker's in Boston obviously wanted to capitalize on the orange fruit to sell their product.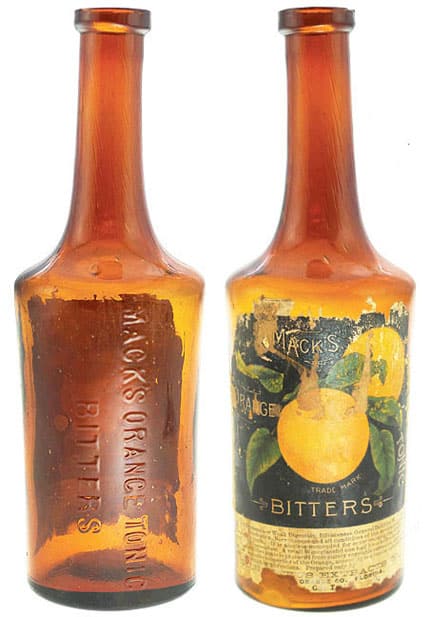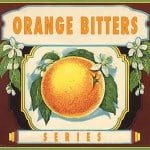 This new series will deal with bitters with 'Orange' in the name just like the Bakers. We are going to look at the Fine Aromatic Orange Stomach Bitters, Rose's Orange Bitters, Mack's Orange Tonic Bitters (pictured above) and some rare examples from the Joe Gourd Collection such as Bernard's Orange Bitters, California Aromatic Orange Bitters, De Kuyper's Orange Bitters, Grandfather's Perfect Orange Bitters, Herdrich's Orange Tonic Bitters, Pale Orange Bitters, Ree's Orange Tonica (pictured below) etc. Many of these are unlisted in Ring & Ham.
(other: Julius Marcus Orange Bitters, Orange Bitters, Orange Blossom Bitters, Orange Wine Stomach Bitters, Orange Bitters Tonic, Palais Royal Orange Bitters)
Note: If you have any material to suit this or future orange posts please send to my attention)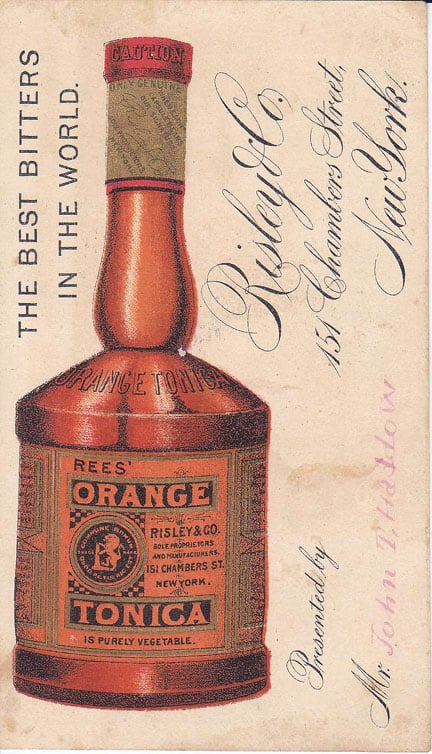 O R A N G E  

G A L L E R Y
Read More about Colors on PRG:
The Color Yellow – A wide range of shades
The Color Purple or Amethyst in Antique Glass
What is Puce or 'Pooce' as some call it?
Not Brown – A "chocolate" Brown's Celebrated Indian Herb Bitters
More on the Color Orange in Antique Glass
Note: The incredible, top insulator image needs tag identification as I have misplaced.