Fine Aromatic Orange Stomach Bitters

–

Berry, Demoville & Co. – Nashville
09 February 2014 (R•021014) (R•051614)


As I wrote the other day, I was going to start a series on the word "Orange" in bitters brands. This was inspired by a new Baker's Orange Grove Bitters addition to my collection. I started the series by looking at The Color Orange in Antique Bottles and Glass. Today we will look at Fine Aromatic Orange Stomach Bitters from Nashville, Tennessee by Berry, Demoville & Co. You can best get a grip on this brand by reading this semi advertisement within the Bitters section of the Nashville and Her Trade for 1870 book:
The Wholesale Drug firm of Berry, Demoville & Co., Nos 5 and 6 Public Square, are also engaged in the manufacture of a line of specialties that are rapidly coming into favor wherever they are known and used. Their "Fine Aromatic Orange Stomach Bitters," although but recently introduced, yet, by their delightful aroma and agreeable flavor, are destined to have a successful and popular run. During 1869, as their books show, they sold upwards of 7,500 dozen of their Bitters.
In this connection, we would take occasion to remark that this firm also manufactures quite a number of other Pharmaceutical preparations, which are made under their own supervision, a fact which stamps their reliability at once, and which, as they advertise, are not "patent nostrums," but whose component parts are known to many leading physicians both in the city and country, most of whom have evinced their appreciation of the merits by prescribing them in their daily practice.
The most prominent of these preparations are Demoville's anti-Chill and Fever Pills, Demoville's Compound of Prickly Ash, Demoville's Jaundice and anti-Dyspeptic Tobic, Demoville's Vegetable Cough Mixture, Demoville's Compound Chloroform Liniment, Demovile's Compound Dysentery Cordial, and Demoville's All Healing Ointment.
Nashville and Her Trade for 1870 – by Charles Edwin Robert
There are two sizes of the semi-cabin Aromatic Orange Bitters bottles. They are both hard to come by and make a great 'Nashville' statement in any bitters collection. The brand tells a story of two well know men, William Wells Berry and John Felix Demoville, who formed a wholesale druggist partnership in early Nashville. Both bottles are pictured below with the Carlyn Ring and Bill Ham listings from Bitters Bottles.
A 90  AROMATIC ORANGE STOMACH BITTERS
AROMATIC ORANGE // STOMACH BITTERS // BERRY, DEMOVILLE & CO. / NASHVILLE // sp //
10 x 2 3/4 (7)
Square, LTC, 4 sp, Panel shoulders, Tooled lip and Applied mouth, Amber – Scarce; Green – Extremely rare
Nashville Union & American March 19, 1872
This company also produced Compound Jaundice Tonic & Anti-dyspeptic Bitters
A 90.5  AROMATIC ORANGE STOMACH BITTERS
AROMATIC ORANGE // STOMACH BITTERS // BERRY, DEMOVILLE & CO. / NASHVILLE // sp //
9 x 2 3/8 (6)
Square – semi cabin, Amber, LTC, 4 sp, Panel shoulders, Applied mouth, Rare
William Wells Berry (1812-1876)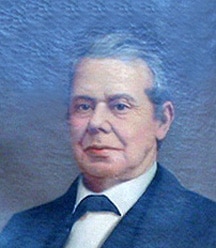 William Wells Berry, son of Horatio and Sarah Godman Berry, was born in Baltimore, June 8, 1812. He attended a private school until he was 16 years of age and then entered a wholesale drug store, where "under a kind and upright employer he gained a knowledge of commercial matters, which made him at the age of 21 an independent and self-reliant merchant."
This beginning of business for himself, it appears by inference, was in Nashville in or about 1824. Here he established a wholesale drug firm which for more than a generation has been known as Berry, Demoville & Co. The firm was located on the Public Square until a few years ago, when they removed to Market street.
Besides the drug business which he founded and managed with such ability and success, Mr. Berry was identified with other enterprises. He was a member of the board of directors of the Planters' Bank of Tennessee during its most prosperous period, from 1854 to 1862. He was president of the Third National bank of Nashville from its organization in 1865 until 1876, when he was prostrated by disease which caused his death that year. At the time of his death he was president of the Equitable Insurance Co., a position he had helf from the organization of the company.
He was at one time owner of large planting interests on the Arkansas river. His success in all his undertakings would be sufficient evidence, if this were all; that he possessed in a remarkable degree two essentials to success in any line of endeavor, viz. the confidence of the public and skill in management. Neither is worth much, in a business way, without the other. Character begets confidence, but along with character there must be a knack for management, and back of this must not only a knowledge of one's business from the ground up, but a knowledge of men and disposition to get along with them.
In 1840, Mr. Berry married Jane E. White, daughter of Gen. William White of the Nashville bar; a gallant officer under Gen. Jackson in the War of 1812, and subsequent campaigns against the Indians; and the fighter of a duel with Hon. Sam Houston.
[from the Men Who Helped To Make Nashville by Douglas Anderson]

[Pictured above: Small and large examples of the Aromatic Orange Stomach Bitters and the Berry, Demoville & Co. jug – Shultis Collection]
Select Berry Timeline Events
1813: Born to Horatio and Sarah (Godman) Berry, both of Anne Arundel County, Maryland, in Baltimore, Maryland, on June 8, 1813.
1829: Completes private school education; begins five years of employment with Keerle and Company, a wholesale drug house of Baltimore, Maryland.
1834: Berry moves to Nashville where he uses his prior training in the commercial drug business to establish his own firm, which became Berry, DeMoville and Company.
1840: Married to Jane E. White, March 10, 1840, daughter of General William White, a member of the Davidson County bar, and an officer under Andrew Jackson in the War of 1812.
1854-1862: Member of the Board of Directors of the Planters' Bank of Tennessee.
1865-1876: President of the Third National Bank of Nashville
1876: Died, June 15, 1876.
William Wells Berry also served as President of the Equitable Insurance Company of Nashville from its inception until his death, and was director of several other insurance and manufacturing interests. He had extensive landholdings along the Arkansas River.
John Felix DeMoville (1823-1884)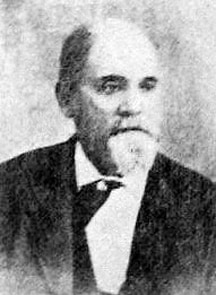 John Felix DeMoville was born in 1823 in Richmond, Virginia and died in 1884 in Davidson, Tennessee. From The Huntsville Weekly Democrat, December 3, 1884:
Mr. John Felix Demoville, for many years a member of the drug firm of Berry,
Demoville & Co., in Nashville, Tenn., after several months illness, died
there on Thursday last. His business integrity and sound judgment, and his
social virtues were proverbial. About 40 years ago, he was a popular druggist
in Huntsville, and left here for Nashville in 1847 or 1848.
Support Imagery