The Tippecanoe Bitters Figural Log and Mushroom
19 November 2012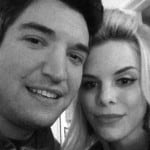 Lance and Brianna Westfall (San Diego, California) were in H-Town (Bayou City) visiting family over the weekend. Lance said he was able to get in a few probes in Old Town Spring (north of Houston) and to visit a few antique shops. One was the 85,000 sq ft Antique Gallery of Houston which includes over 250 dealers. Lance noticed immediately a booth as he walked in, full of bottles, labeled medicines and advertising. He immediately set his eyes on and purchased a gorgeous, whittled Drakes Plantation Bitters in raspberry and a Drake's Plantation Bitters Sign for me (see picture below).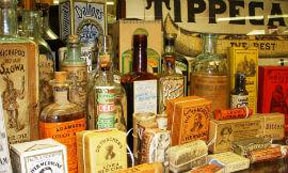 For those of you 'in the know' down here, Lance had discovered the antiques booth of none other than Dan Cowman. Dan is probably the most well known, along with Terry McMurray (Kirkwood, New York), labeled medicine and advertising collector and dealer in the United States. We sit near each other at the Houston Antique Bottle Show (see: 2012 Houston Antique Bottle Show – Rain or Shine!) and his table is always full to the brim with great stuff. Dan is a fantastic guy that usually has great bottles too. Lance said this could have been, quite possibly, the nicest bottle booth he has ever seen in an antique shop!

Lance, while he was at the Cowman booth, noticed this framed Tippecanoe Bitters advertising piece (see top of post) that when I saw the photo he shot me, I discounted because I thought I had it already. What Lance and I discovered when he visited Peach Ridge yesterday and saw my piece (see below) was that the support copy was different. The sign Lance saw reads, 'TIPPECANOE – The Best For Malaria Tired Feeling' rather than 'TIPPECANOE – The Best For Bilious Headache. Blood Disorders'. I thought this was pretty interesting so it prompted me to look a little further and develop this post on the widely popular TIPPECANOE Bitters figural log.
You do not venture anywhere with H. H. Warner from Rochester, New York without acknowledging the great work of Steve Jackson (pictured to left) on the Warner's Safe Cure Blog. Steve is the foremost authority with the great and wide variety of Warner products in my book. From Steve's blog "I have always heard that if you are going to create a web page or, in this case, a blog, you should pick a topic about which you are passionate. For over 30 years, I have collected Warner's Safe Cures, Remedies, almanacs, trade cards, etc. My collection consists of well over 100 varieties of these bottles, including a couple "one of a kinds." I have had the privilege of meeting some great and famous Warner's collectors from around the country and some of the bottles and ephemera purchased from them grace my collection."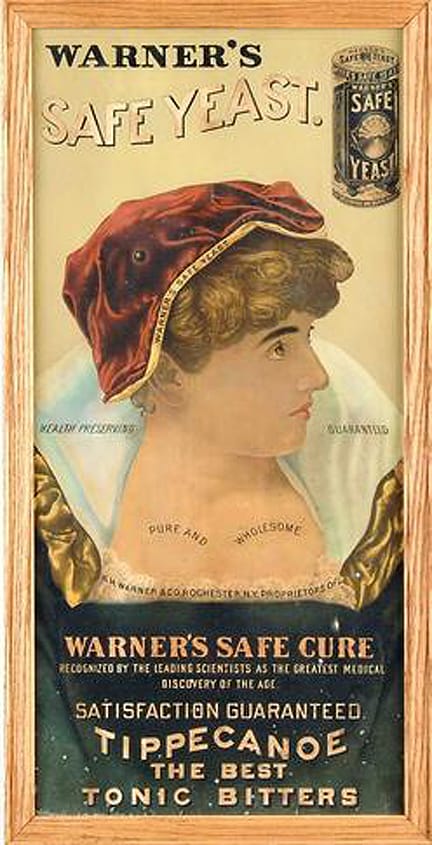 T H E    B A T T L E    
O F    T I P P E C A N O E
[Wikipedia] The Battle of Tippecanoe was fought on November 7, 1811, between United States forces led by Governor William Henry Harrison of the Indiana Territory and Native American warriors associated with the Shawnee leader Tecumseh. Tecumseh and his brother Tenskwatawa (commonly known as "The Prophet") were leaders of a confederacy of Native Americans from various tribes that opposed U.S. expansion into Native territory.
As tensions and violence increased, Governor Harrison marched with an army of about 1,000 men to disperse the confederacy's headquarters at Prophetstown, near the confluence of the Tippecanoe and Wabash Rivers.
Tecumseh, not yet ready to oppose the United States by force, was away recruiting allies when Harrison's army arrived. Tenskwatawa, a spiritual leader but not a military man, was in charge. Harrison camped near Prophetstown on November 6 and arranged to meet with Tenskwatawa the following day. Early the next morning, warriors from Prophetstown attacked Harrison's army.
Although the outnumbered attackers took Harrison's army by surprise, Harrison and his men stood their ground for more than two hours. The Natives were ultimately repulsed when their ammunition ran low. After the battle, the Natives abandoned Prophetstown. Harrison's men burned the town and returned home.
Harrison, having accomplished his goal of destroying Prophetstown, proclaimed that he had won a decisive victory. He acquired the nickname "Tippecanoe", which was popularized in the song "Tippecanoe and Tyler too" during the election of 1840, when Harrison was elected president. But some of Harrison's contemporaries, as well as some subsequent historians, raised doubts about whether the expedition had been much of a success.
Although the defeat was a setback for Tecumseh's confederacy, the Natives soon rebuilt Prophetstown, and frontier violence actually increased after the battle. Public opinion in the United States blamed the violence on British interference. This suspicion led to further deterioration of U.S. relations with Great Britain and served as a catalyst of the War of 1812, which began six months later. By the time the U.S. declared war on Great Britain, Tecumseh's confederacy was ready to launch its war against the United States and embrace an alliance with the British.
The Carlyn Ring and W.C. Ham listing in Bitters Bottles is as follows:
TIPPECANOE BITTERS, Circa 1880 – 1895
L…Tippecanoe XXX Trade Mark Use No Nostrums Nor Preparations
TIPPECANOE / motif birch tree bark, a canoe, birch tree bark / H. H. WARNER & CO. // ( b ) PAT NOV, 20, 83 // ROCHESTER // NY // 5
9 x 2 7/8 (7)
Round, Amber, FM meant to represent a fungus (mushroom) growing out of the log shaped bottle.
Label

: The best stomach tonic. Illustration of typical Warner's Safe with Trade Mark and Warner's Cure. Tippecanoe Trade Mark. The best for dyspepsia
assimilation of food, stomach disorders, general functional derangements, constipation, tired feelings, malaria, blood disorders, skin eruptions, loss of energy, female disability, feeble appetite, bilious headache, etc.
Drug Catalog

: 1885 Goodwin, 1887 Meyer, Trade Cards available.
T I P P E C A N O E    G A L L E R Y