Old Bourbon Whiskey put up by Wilson, Fairbank & Co. for Medicinal Purposes
24 February 2014 (R•022019) (
R•031719)

There is a wonderful bottle on ebay now reading "Monk's Old Bourbon Whiskey Put Up By Wilson, Fairbank & Co. Sole Agents For Medicinal Purposes". Somewhere, I have seen this bottle before and I bet it was at a past 49er Bottle Club Show in Auburn, California. The bottle shards above are from Western Bitters News which is interesting. This looks to be an eastern bottle. What was it doing out west? The ebay listing with a cropped picture below reads:

KILLER AND VERY RARE MONK'S OLD BOURBON WHISKEY BOTTLE PONTILED
Here is a killer and extremely rare Monk's Old Bourbon Whiskey bottle. I believe it to be a bitters bottle. Nice graphite pontil and some nice whittling. This bottle has no condition issues whatsoever other than being a little dusty inside !!!!!  Measures approx. 9 3/4″ tall and 3″ square. Don't miss an opportunity like this !!!!  This would be the highlight of any bottle collection !!!!!! hoffa 1 (100% Positive feedback) See ebay listing
A bitters bottle eh? A 'medicine' for sure because it says, "For Medicinal Purposes", there you go. Apparently, there is a pint version that has the word, "Monk's" slugged out. Rumor has it that New England collector, Jack Pelletier has a labeled example. I hope see him in Baltimore this weekend and I will ask him.
I found two advertisements dating the Old Bourbon Whiskey brand to 1857 or so in the Rockland County Messenger and Cambridge Chronicle (see below). Wilson, Fairbank & Company (John Wilson, Jr. and  Franklin Dexter Fairbanks then George Edward Fairbanks) were wholesale druggists located at Nos. 43 and 45 Hanover Street in Boston, Massachusetts. The firm originated in 1849 or so from humble beginnings and within ten years, they became the largest and most prominent druggist in Boston. Their medicinal whiskey and other products such as assorted drugs, chemicals, patent medicines, glass ware, shakers' herbs, fluid extracts, medicine chests, cigars, tobacco, and the purest of liquors, of their own importation (for medicinal purposes they said) were sold in New York and other parts of the country according to the advertisements below. It looks as though the bottle comes in green and aqua colorations.
Select Listings:
1851:

 John Wilson, Jr. and Franklin Dexter Fairbanks, Wilson, Fairbank & Co., druggists, 45 Hanover, Boston – 1851 Boston City Directory
1857:

Advertisement (above in post) The Drug Business – Wilson Fairbank & Co. – History of Prominent Mercantile and Manufacturing Firms in the United States, 1857
1858:

Newspaper advertisement (above in post) Old Bourbon Whiskey Put Up By Wilson, Fairbank & Co. for Medicinal Purposes – Rockland County Messenger, January 21, 1858
1872:

Newspaper advertisement (below) Fairbanks & Piper's Wine of Calisaya (Peruvian) Bark – The Fitchburg Sentinel, Saturday, January 20, 1872

1874: 

Newspaper notice (below) – George E. Fairbanks of Fairbanks & Piper files for bankruptcy – The Boston Globe, Wednesday, May 27, 1874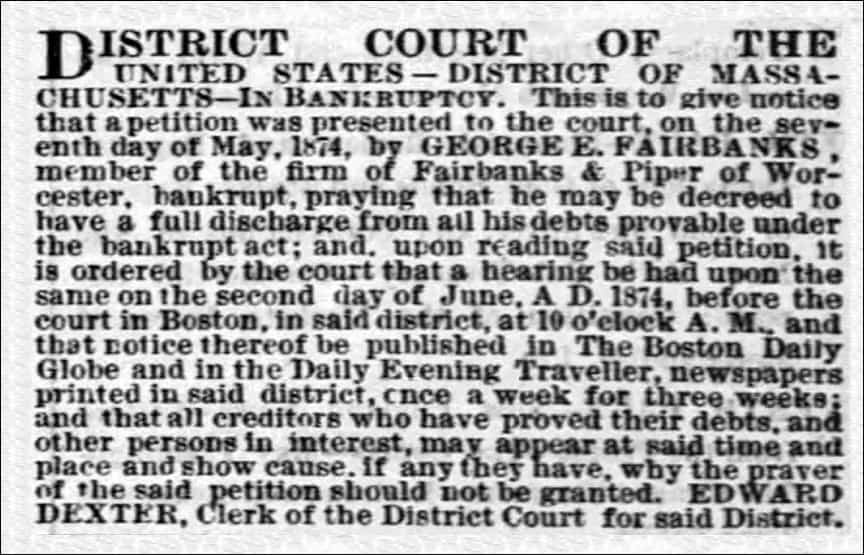 1874: 

Newspaper notice (below) – George M. Piper of Fairbanks & Piper files for bankruptcy – The Boston Globe, Wednesday, June 1, 1874