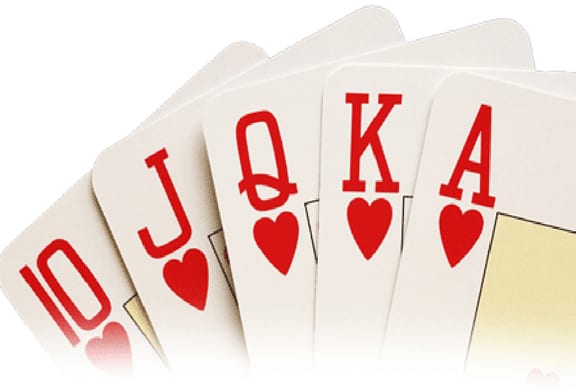 R O Y A L   F L U S H   B I T T E R S
The ultimate hand to a poker player is the Royal Flush. The odds of drawing this hand in a five card poker game are one in 649,740. Yet every year someone, somewhere draws this hand. So what are the odds of acquiring a

Royal Flush Bitters

when only one is offered for sale in 10-years?
GLASS WORKS AUCTIONS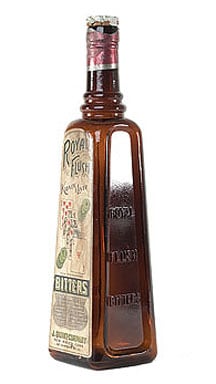 You know, I have always liked the Royal Flush Bitters as every time I see a pictured example, it is fully labeled, sealed and full of contents.
Has anyone every seen an empty bottle without the label? Go figure. Anyway Jim Hagenbugh (General Jim) has an extraordinary example in his Glass Works Auction #96 "The Cabin Fever Auction" that is occurring now. A second example recently was sold by American Glass Gallery (see below) in May 2010.
According to Glass Works there are only two or three known examples making this bottle extremely rare. This same bottle was previously sold by Glass Works back in November 2002 which means that every time I see a picture it is the bottle in this auction or the example pictured in Bitters Bottles (see below).
I was certain that I would find an abundance of information when conducting a search. All I can find is a listing for a J. Quint Company in New Haven, Connecticut. Their address was noted as 835 Grand Avenue.
Here is the Carlyn Ring and W.C. Ham Bitters Bottles write-up for the bottle:
R 110  ROYAL FLUSH BITTERS
ROYAL FLUSH BITTERS // f // ROYAL FLUSH BITTERS // f //
Label: J. Quint Company, New Haven, Conn.
12 x 3 (9)
Square tapering to top, Amber, LTCR, Extremely Rare
Similar in shape to Big Bill Best Bitters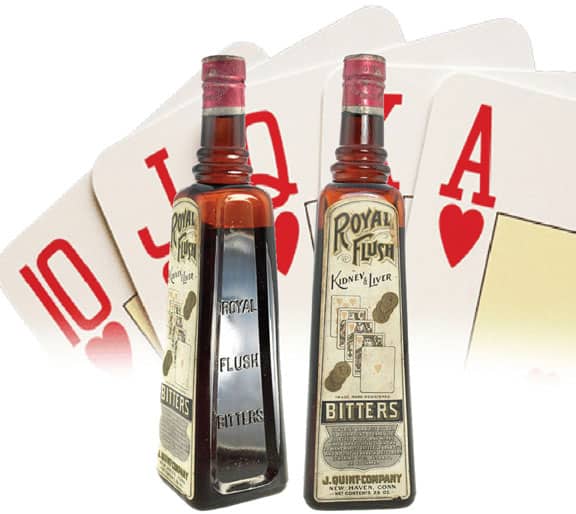 Historical Pricing Information: The example sold by American Glass Gallery in May 2010 sold for $5,500. The example sold by Glass Works Auctions in November 2002 went for $3,575. Very strong.
Read More: Big Bill Best Bitters