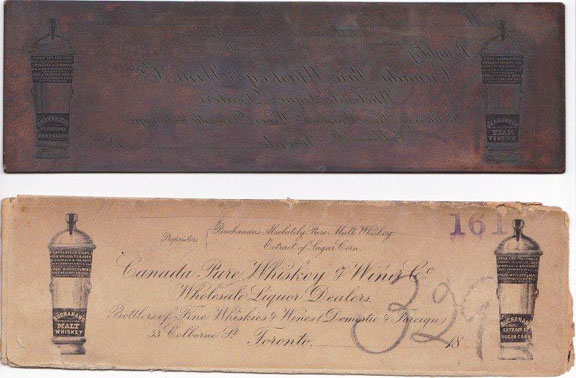 Buchanan Brass Printing Plate – Figural Cannon Series
19 August 2012

Really phenomenal new material coming in from Abel Da Silva regarding my recent post on the Buchanan Cannons. This information pretty much closes the door on my questions about James Buchanan. Read: "the Buchanan Cannons"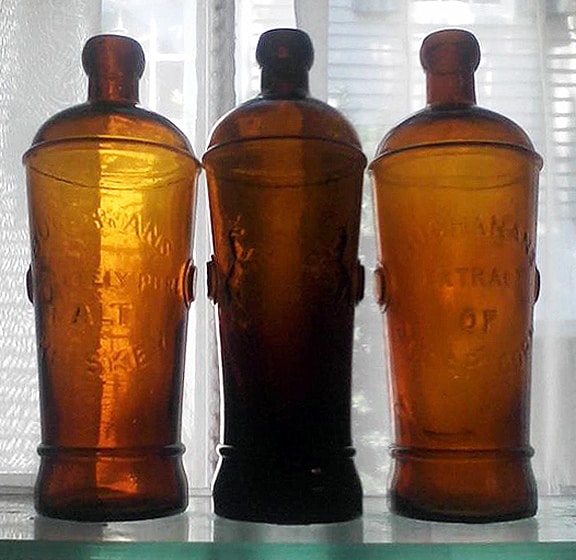 Hello Mr. Ferdinand Meyer V.
I have just read your article on Buchanan's Figural whiskey cannon bottles. Back in the 1980's in Yorkville which is part of Toronto, Canada I dug two Buchanan's Figural whiskey cannon bottles. One was the Malt Whisky and the other extract of sugar corn. Both bottles were auctioned off at Glass Works Auctions in East Greenville, Pa. I also suspect that James Buchanan in 1889 opened an office in Toronto, Canada. I do not believe that this company lasted very much more than one year in business here in Canada because there has been only a few of his bottles found in Toronto in the last 30 years. The bottles have been found only in 1889-1890 dumps in Toronto. I do have a brass printers plate of an advertising of the the two cannon bottles with a paper label near the top of the bottle and one near the bottom of the bottle. I will see if I can scan and sent you some photo's of the plate.
Regards, Abel Da Silva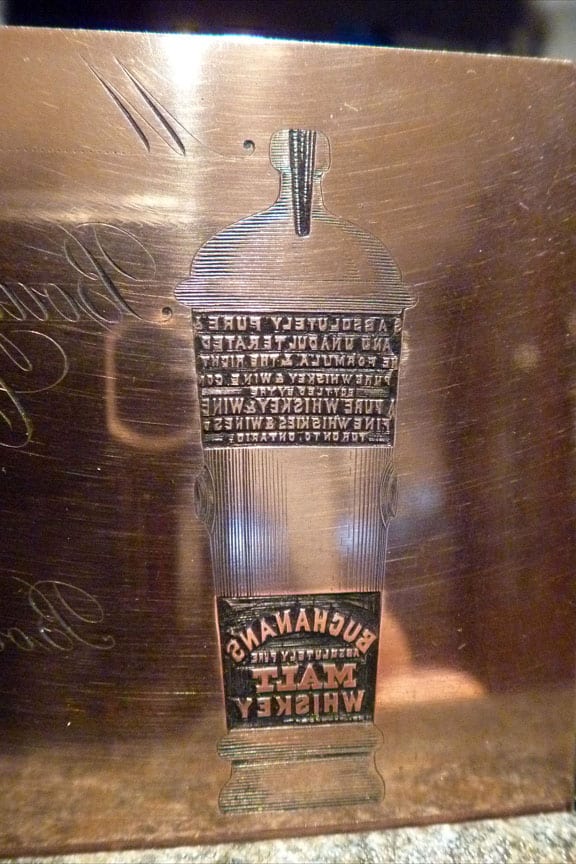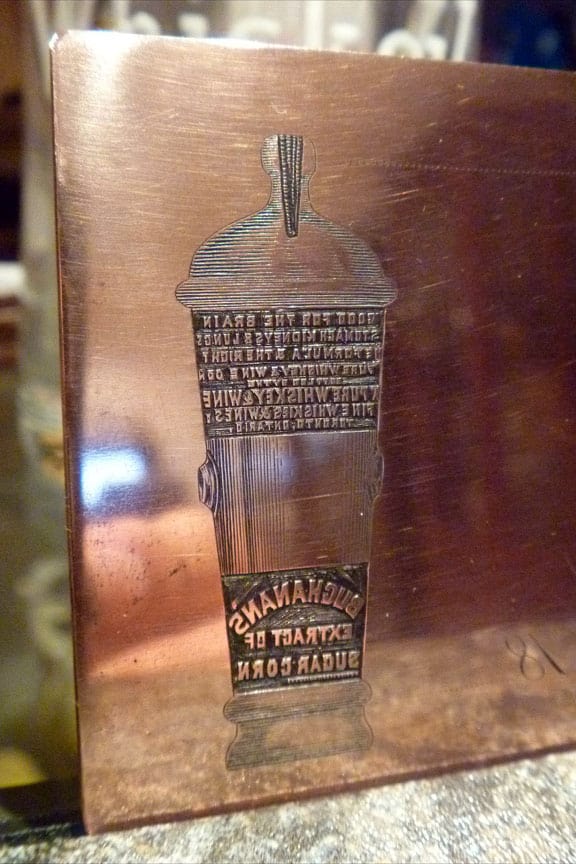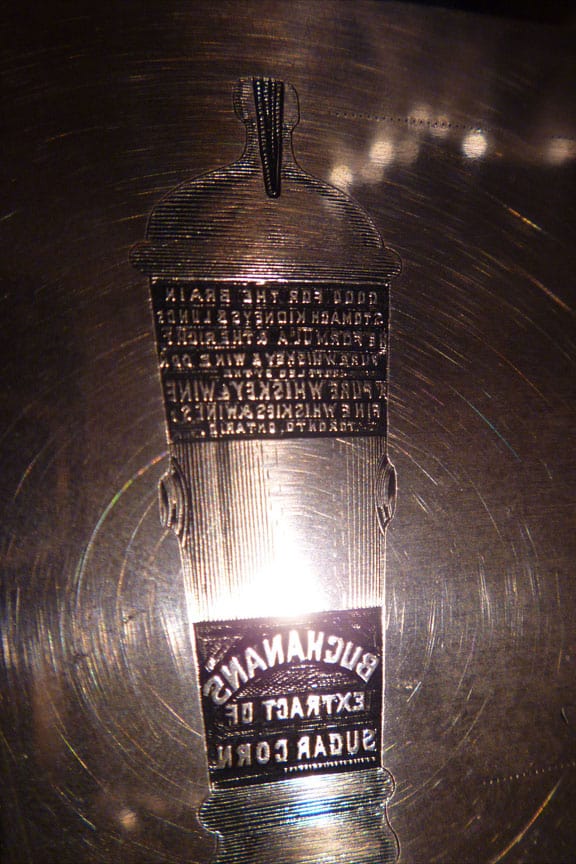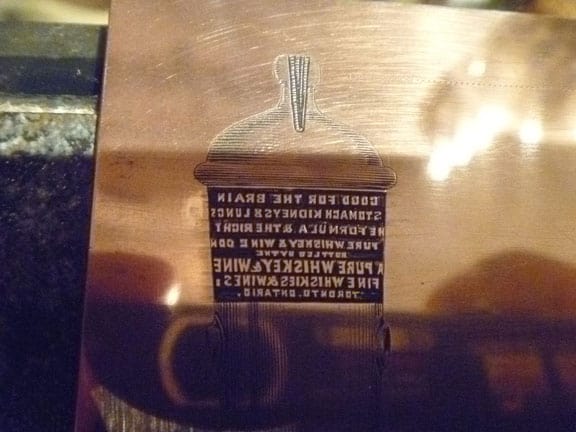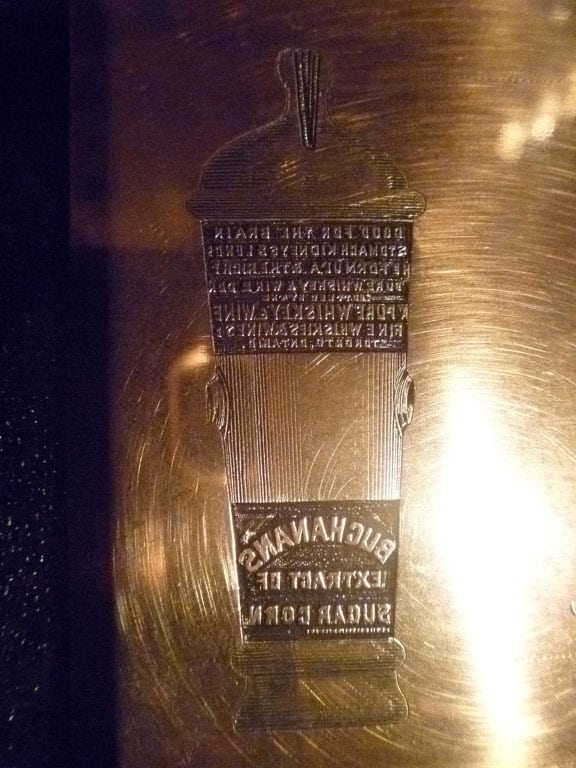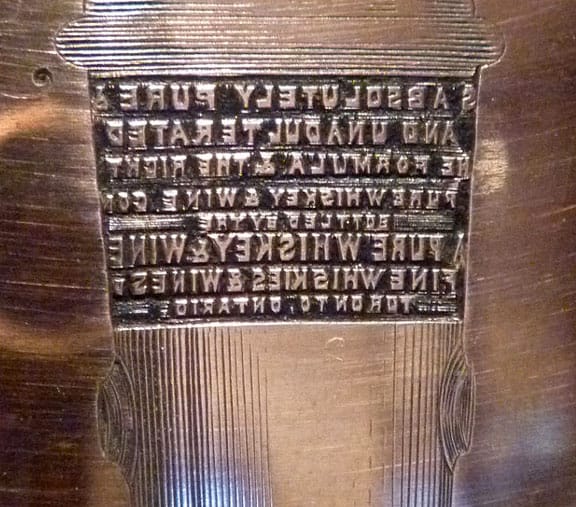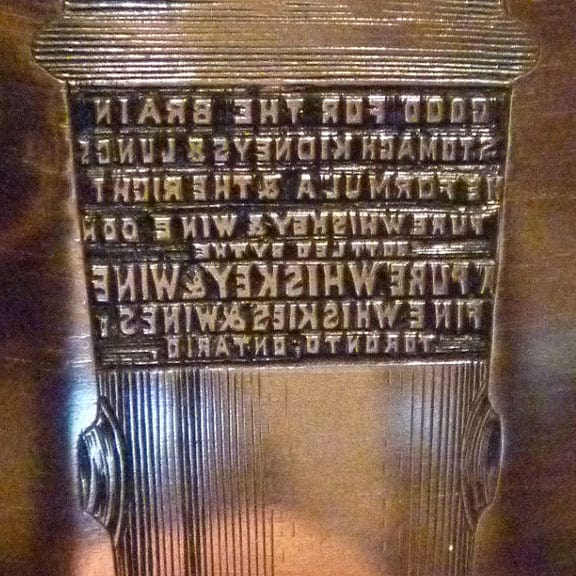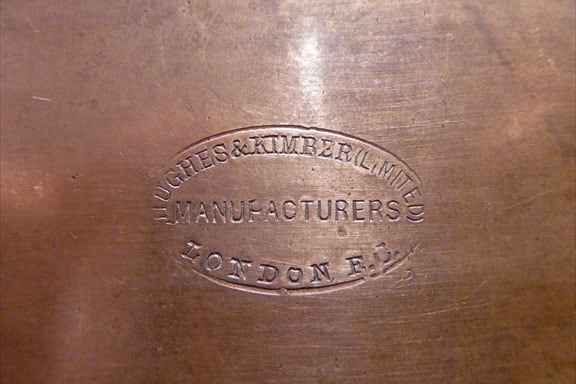 More from Abel: The copper plate (see above) bears the oval stamp of 'HUGHES & KIMBER (LIMITED) / MANUFACTURERS / LONDON E.C.' This size of plate (or ones very close in size) with the same stamp were used for at least a dozen etchings (including Cottage Door [252], St James's Park [250], Wimpole Street [279], Theatre, Loches [418] and Hôtel de la Promenade, Loches [415]). Although not all of these are dated, there is a strong probability that they were obtained from Hughes & Kimber in 1887 and 1888. Other etchings of similar size may also have been drawn on Hughes & Kimber plates and date from the same time although the copper plates are missing (e.g. The Menpes Children [300] and Butcher's Shop, Sandwich, Kent [320]).
The plate was listed as 'Hotel Windows' (see below) in a studio inventory with the size given in inches as '3 7/8 x 2 5/8', which is 98 x 67mm. Windows opposite hotel, Bourges is actually slightly larger, at 100 x 67mm, but this is a reasonable margin of error – Whistler's studio stock-taking seems to have been rather sloppy, since several etchings were recorded twice, under different titles.
The plate was in Whistler's studio at his death and bequeathed to Rosalind Birnie Philip (1873-1958) who gave it to the University of Glasgow in 1935. It was cancelled posthumously with a diagonal line across the lower left corner.