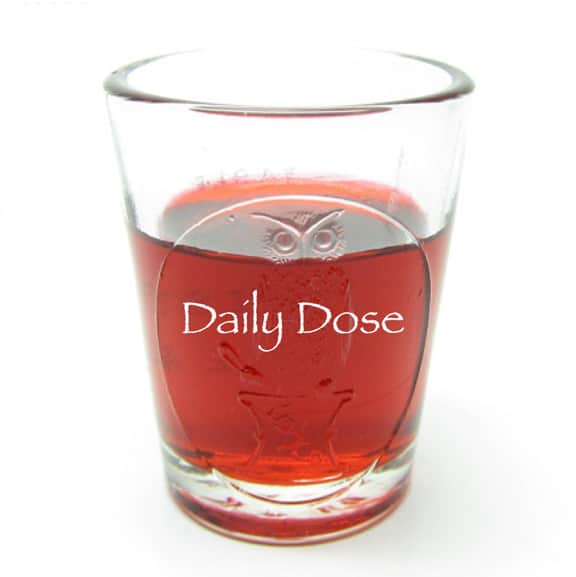 2 0 1 9
22 March 2019 | Friday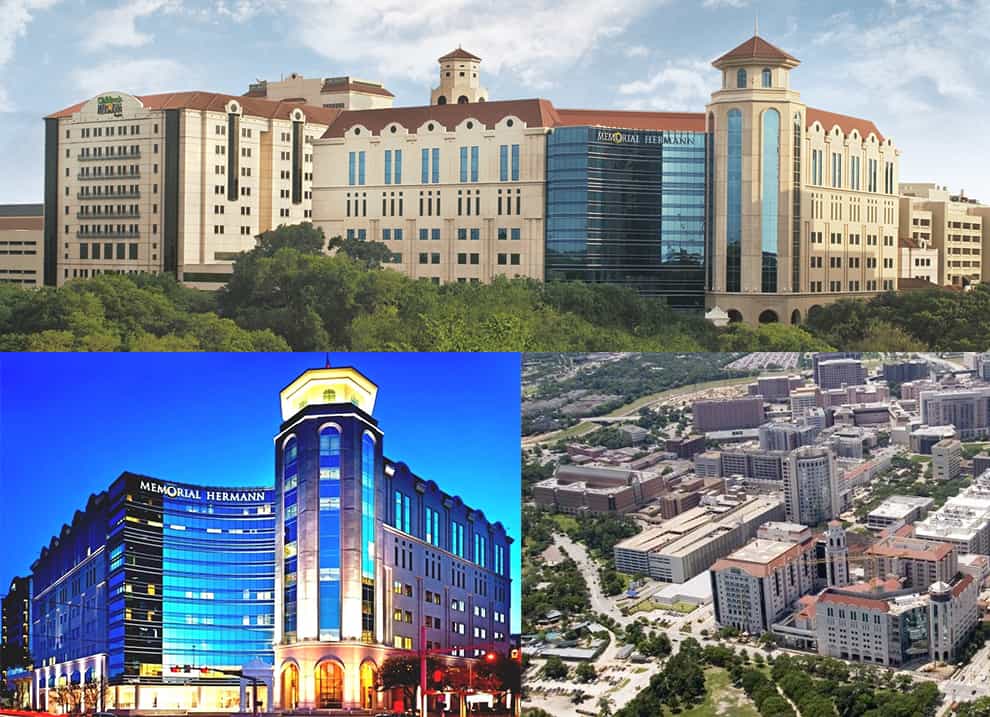 Ok, today is DISCHARGE day. My 10th day at Memorial Herman Hospital, Texas Medical Center, Jones Tower, Dr. Red Duke Trauma Institute. Two surgery's so far. Final surgery scheduled for next Wednesday.
21 March 2019 | Thursday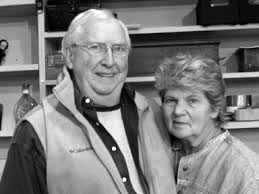 Sad news to start the day. Liz Heckler passed away. Later in the day, I heard of the sudden death of Rick Simi, one of our western anchors. Rick and his beautiful wife Cherry hosted, at their house, one of the finest dinner parties associated with a bottle show. Additionally, Rick's Western Bottle News was the inspiration for Peachridge Glass. More info on Cherry Simi Facebook page. This is terribly upsetting. Our deepest condolences. This follows of course, the death of Dr. Burton Spiller.
13 March 2019 | Saturday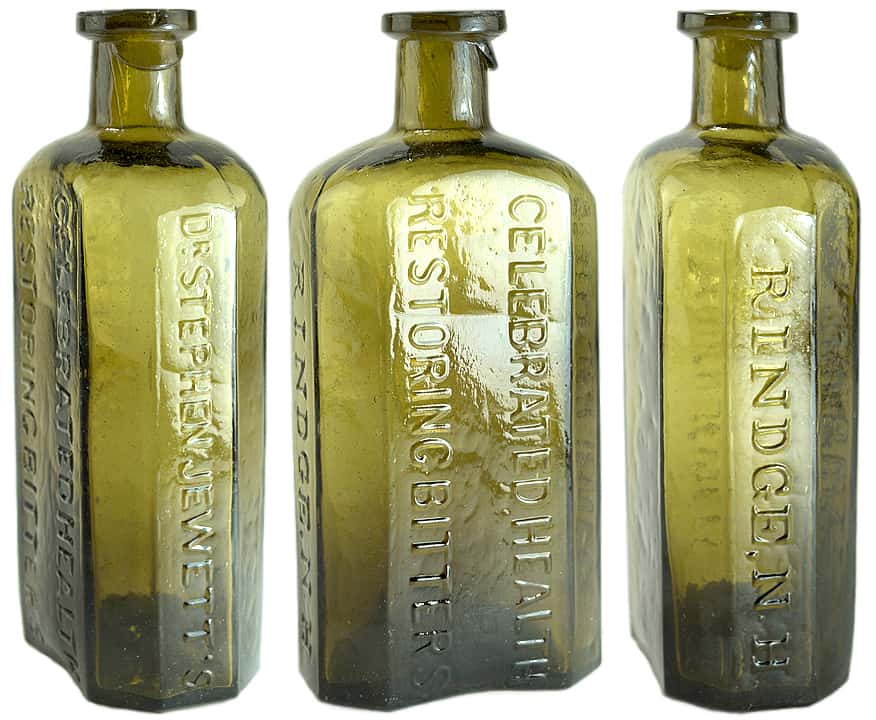 Post update: A labeled Dr. Stephen Jewett's Tonic Bitters
Post update: Dr. Wynkoop's Sarsaparilla – New York
11 March 2019 | Monday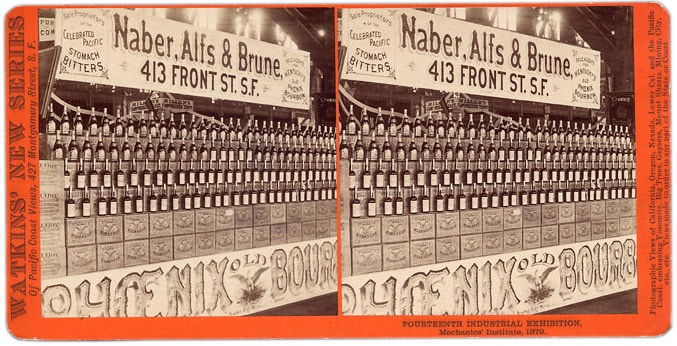 Stereograph of possible unlisted bitters reference (top left banner display sign) at the Fourteenth Industrial Exhibition, Mechanics' Institute, 1879, Naber, Alfs and Brune, 413 Front St. S.F., Sole Proprieters of the Celebrated Pacific Stomach Bitters, Sole Agents of Kentucky's Old Phoenix Bourbon, Photographer: Carleton E Watkins.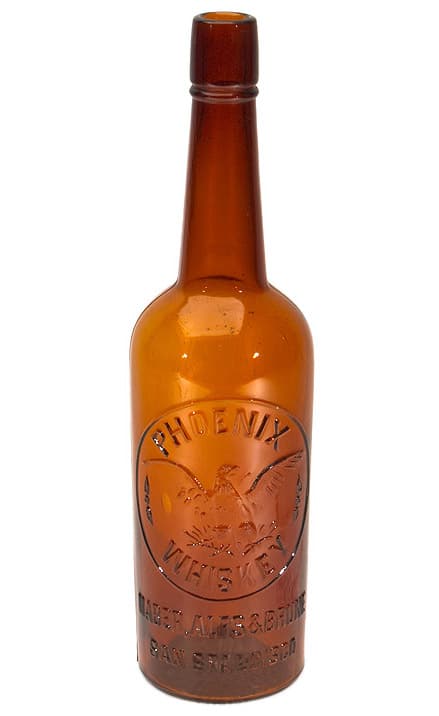 09 March 2019 | Saturday
A nice Dewey's Manilla Bitters pitcher spotted by Alan DeMaison in an antique shop on his way to the Baltimore Antique Bottle Show on Sunday, 10 March.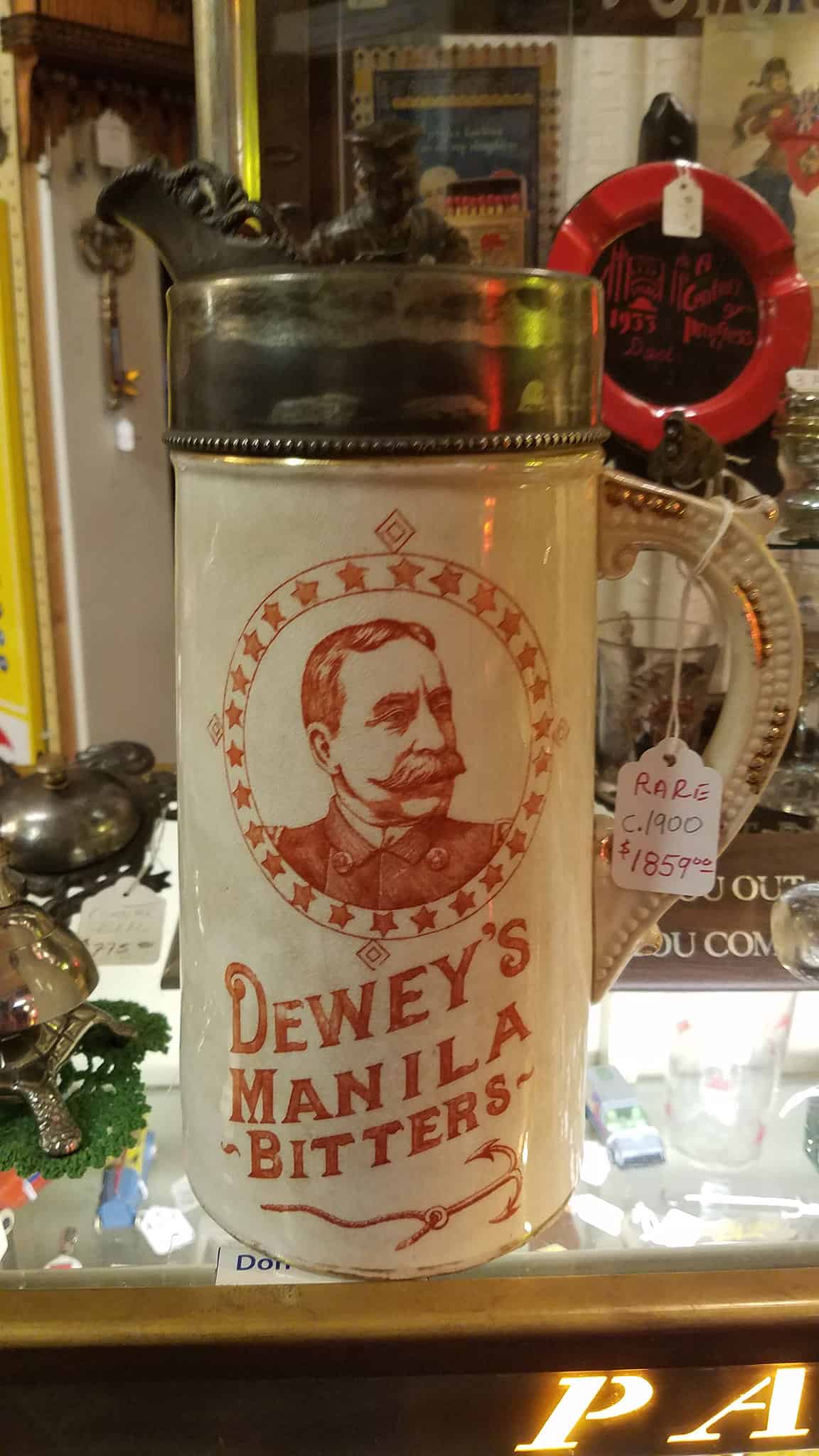 03 March 2019 | Sunday
Post update: The old but sexy, Brown & Drake Catawba Bitters lady's leg

27 February 2019 | Wednesday
Post update: Bunker Hill Monument Figural Colognes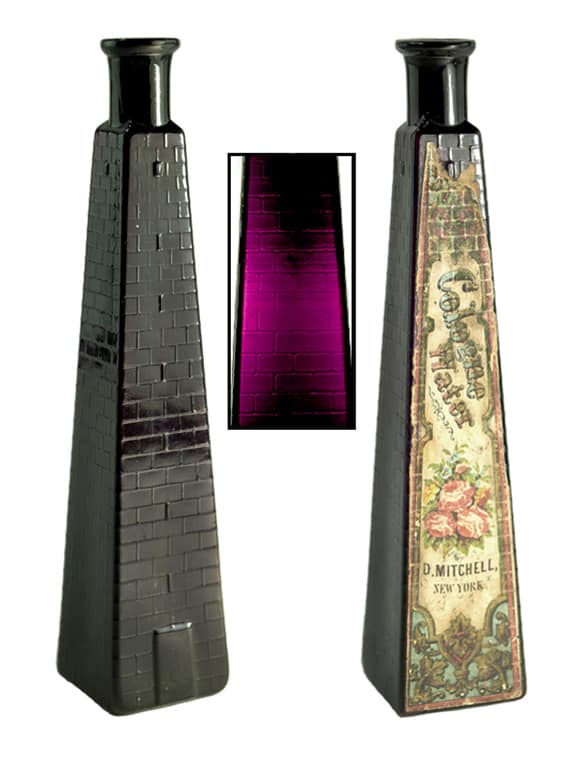 25 February 2019 | Monday
Post update: What about this New Orleans Malakoff Bitters?

24 February 2019 | Sunday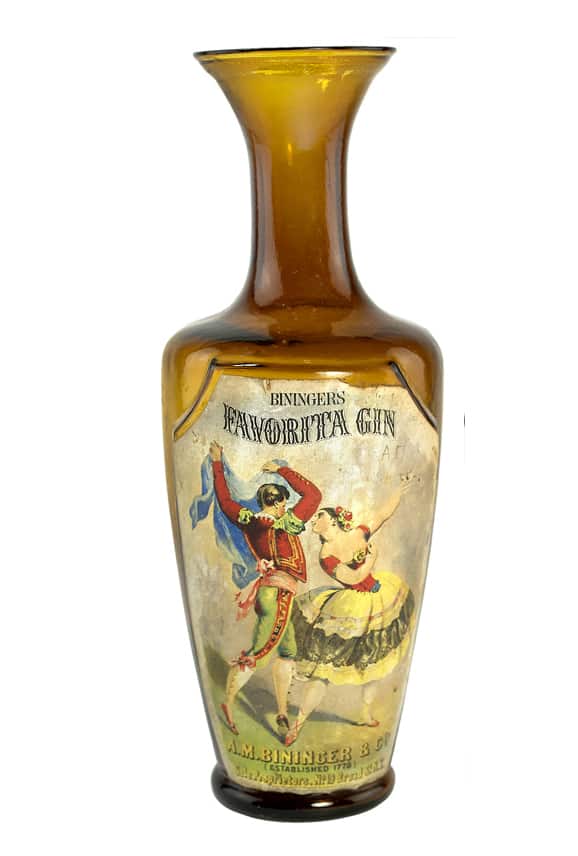 As a designer and artist, I really admire the wonderful advertising art for Bininger products such as the fully labeled A.M. Bininger & Co. figural cannon, held by the Corning Museum of Glass. Other Bininger products include: La Sylphide Bourbon, Old Kentucky Bourbon, Great Gun Bourbon, Traveler's Guide Bourbon, Essence of Old Virginia Wheat Whiskey, Bouquet Bourbon, Zouave Bourbon, Pioneer Bourbon and Favorita Gin.
Read: Bininger Advertising Art & Labels
23 February 2019 | Saturday
Post updated for Dr. John Bull and Louisville at that time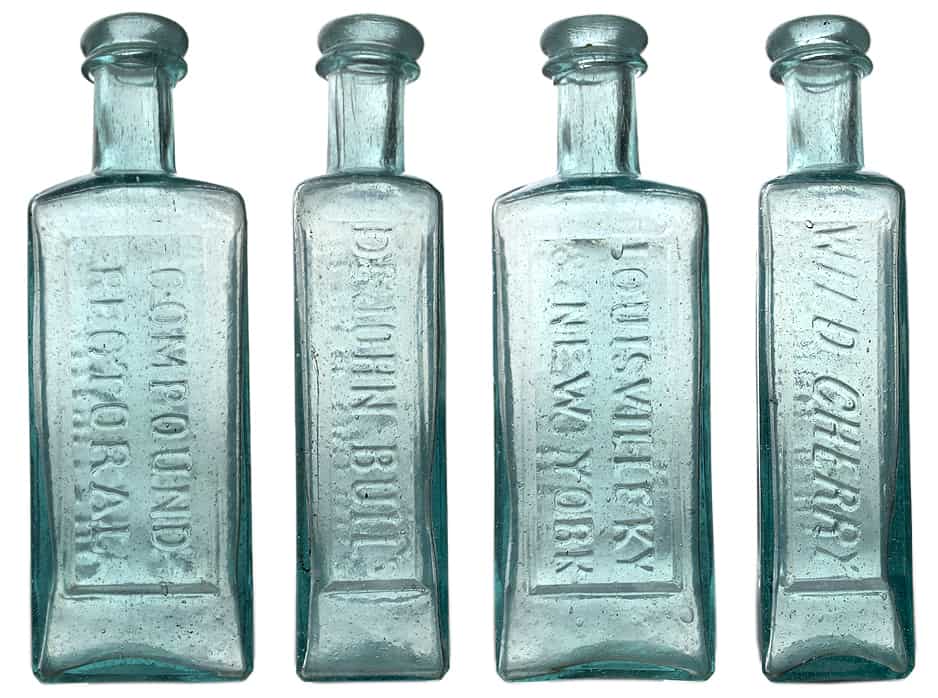 22 February 2019 | Friday
Post updated for Barnett & Lion's Southern Grey Jacket Stomach Bitters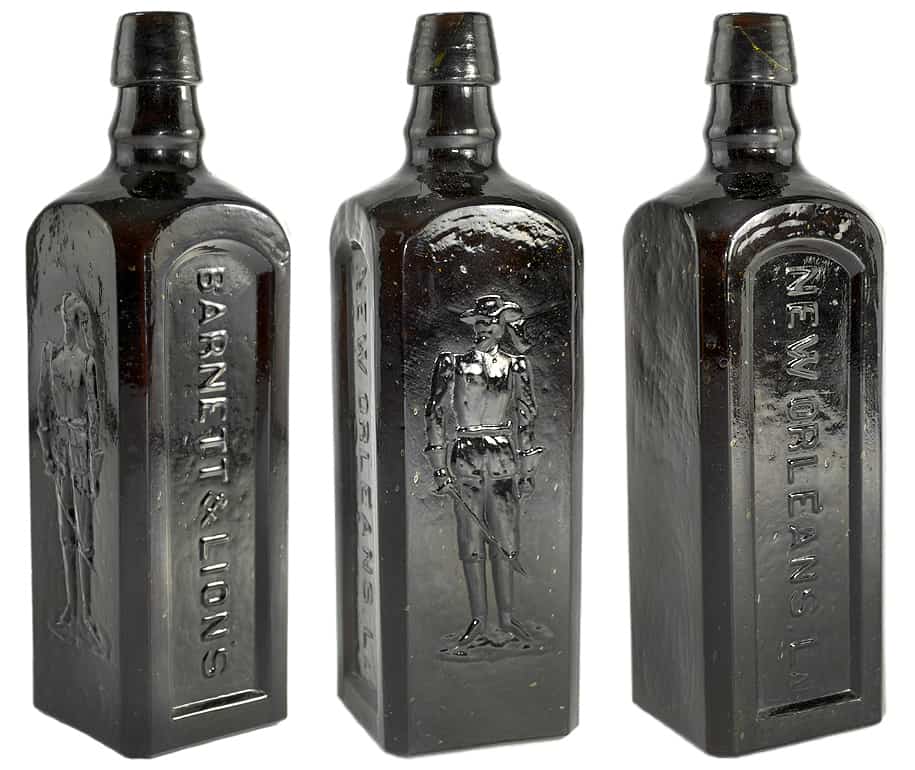 21 February 2019 | Thursday
Just amazes me how much Hostetter & Smith dominated the bitters market. Look how many places were selling Hostetter's Stomach Bitters in New Orleans in 1859.

18 February 2019 | Monday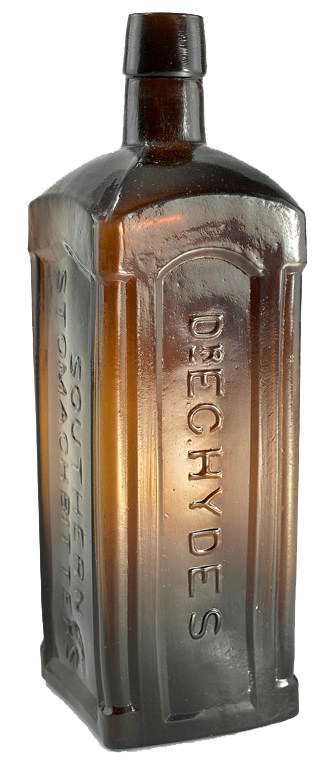 Working on a post for Dr. De Andries Sarsaparilla Bitters from New Orleans. This required an update to the Dr. E. C. Hyde's Southern Stomach Bitters post. Both these guys knew each other and set up shop around the corner from each other.
14 February 2019 | Thursday (Valentine's Day)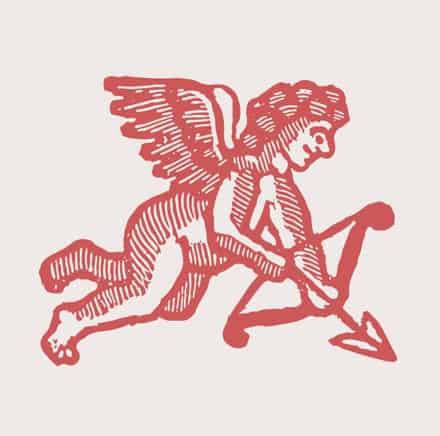 I posted earlier today on Continental Bitters advertised by Mayer, Strouse & Baum in Philadelphia from 1861 to 1863. During my research, I came across these other Continental Bitters and Old Continental Bitters ads.
The first is an 1864 advertisement for McCullough's Continental Bitters advertised in Richmond, Virginia in 1864. This appears to be unlisted.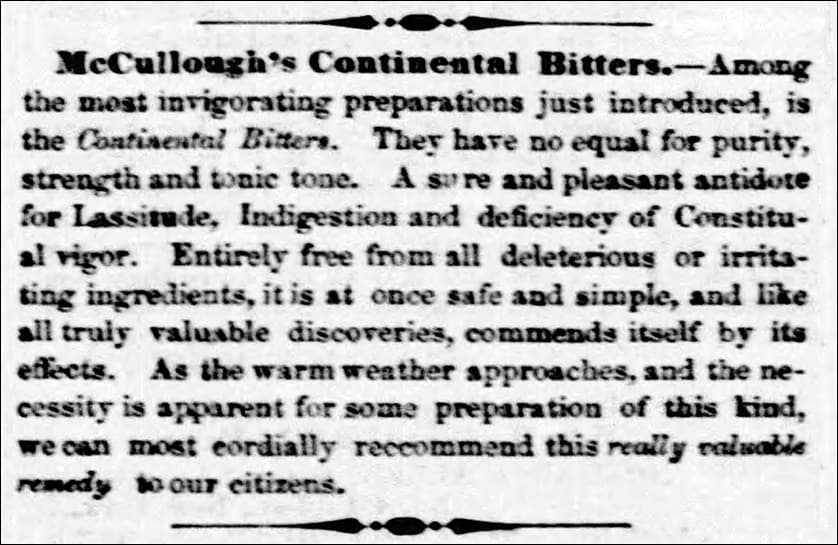 Here is an 1868 advertisement below for an Old Continental Bitters "now manufactured by Dr. H.S. GeEENO of Topeka, Kansas." This appears to be unlisted.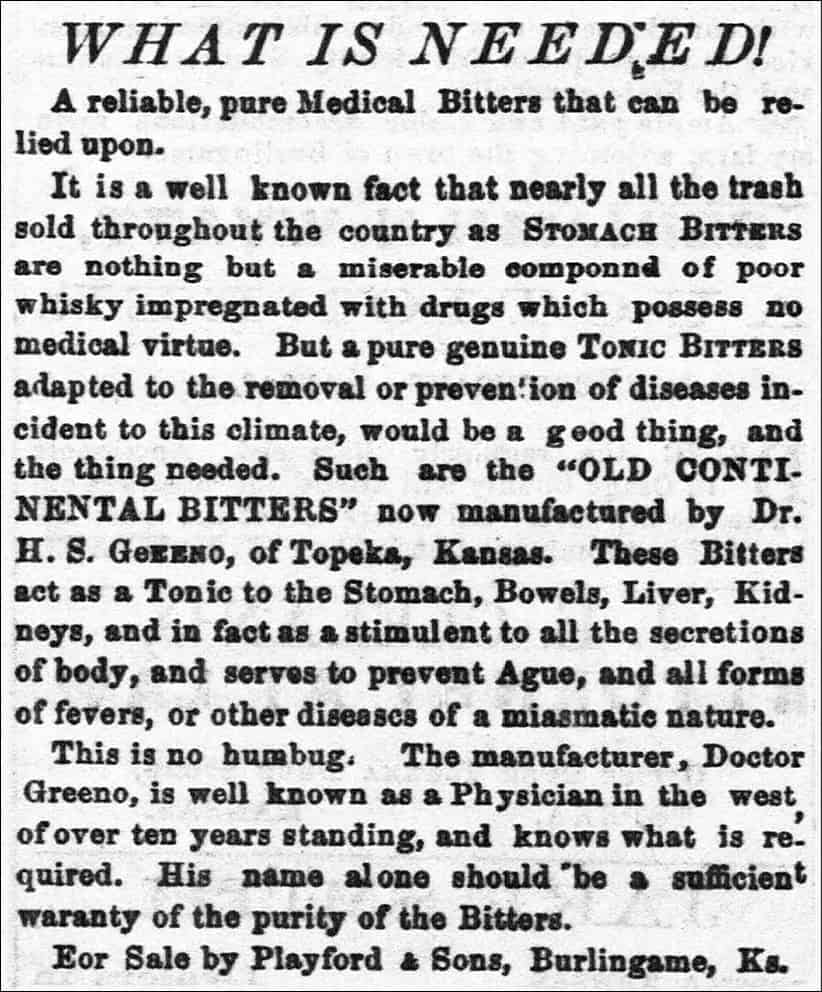 Here below is an advertisement for Thurston't Old Continental Bitters sold in Lynn, Massachusetts 1887. The bitters is listed in Bitters Bottles as T 26, Thurston's Old Continental Bitters. It was prepared by George B. Thurston of Lynn, Mass. There are rectangular, aqua bottles out there.

This last article from Iowa in 1918 is titled "Bitter Scrap in District Court, Continental Bitters and Bitter Wrangle – Bitter Appeal to the Court." The Continental Bitters that Theodore Keutchman, a local druggist, contained about 25% alcohol. He was arrested some years earlier. I'm really not sure what Continental Bitters is being referenced here.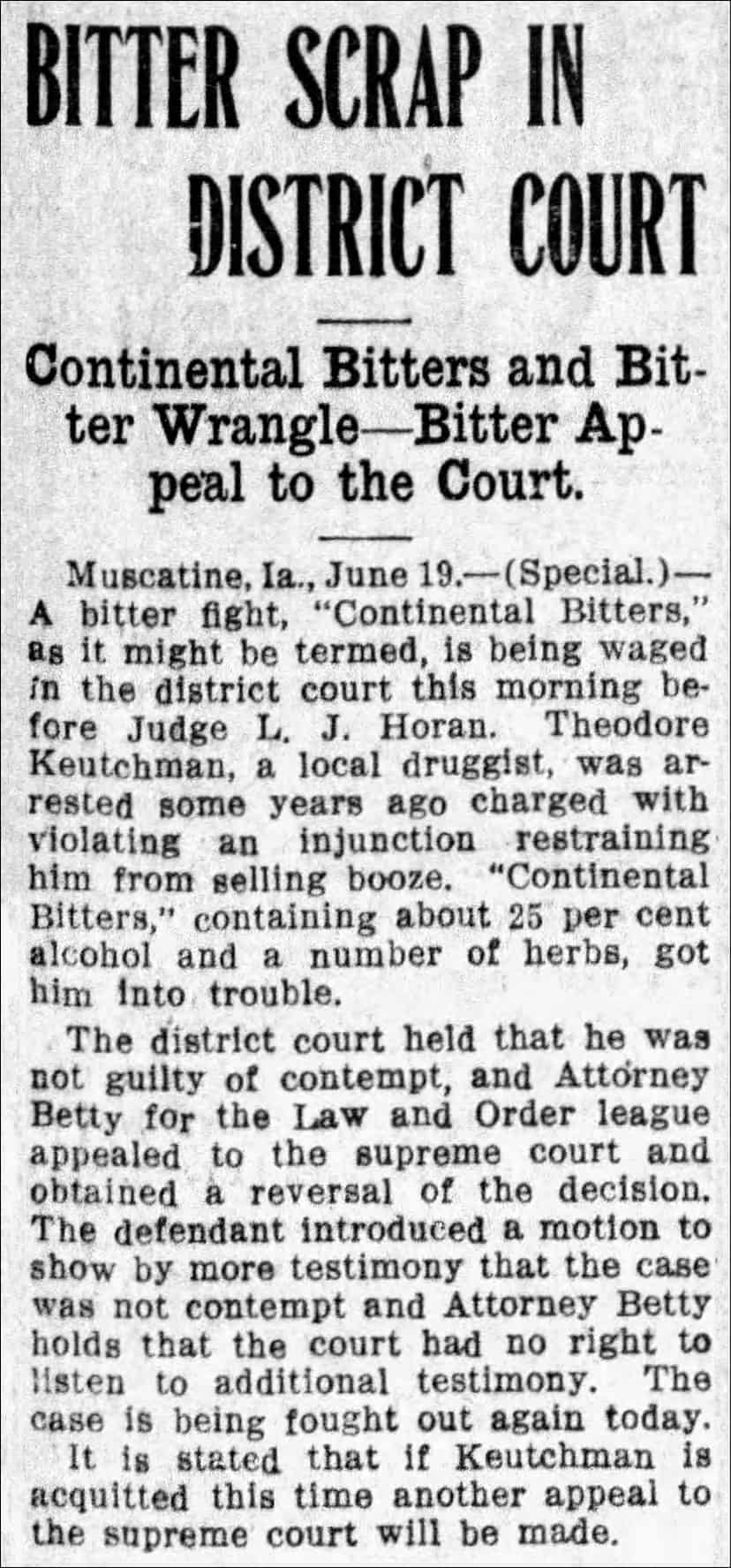 12 February 2019 | Tuesday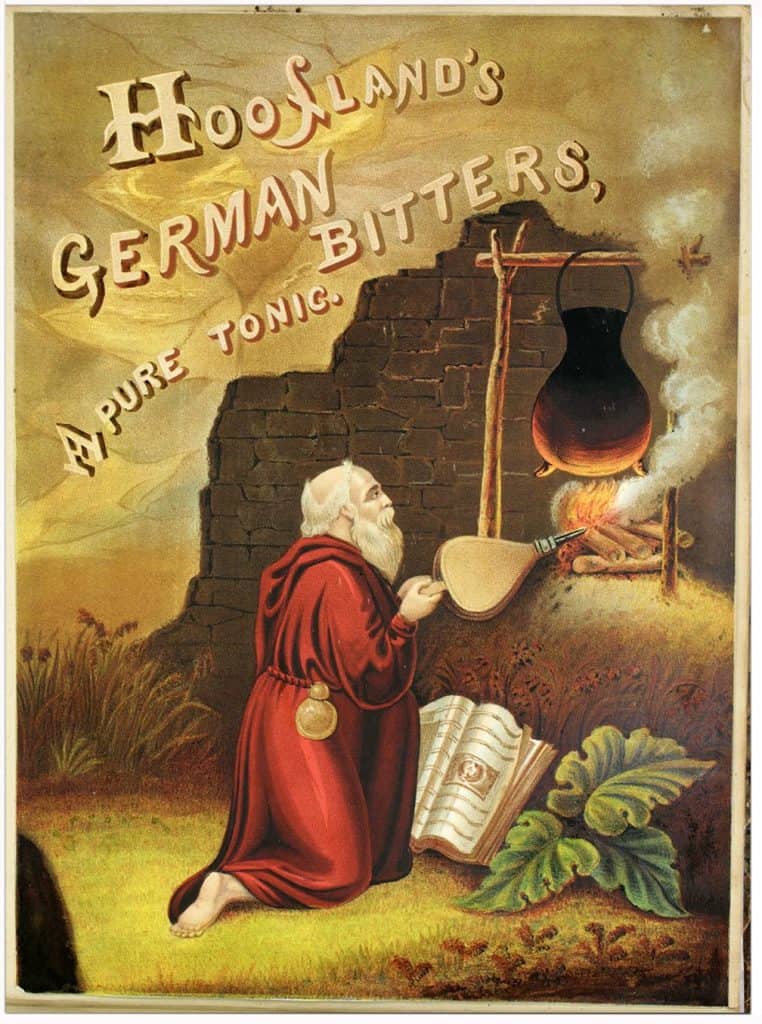 Hoofland's German Bitters advertisement for the patent medicine showing a medieval scene. – Library Company of Philadelphia Print Department. According to Hoofland's Almanacs, this eponymous bitters was "the happy result of intelligent research, coupled with the extensive practice of Dr. Christoph Wilhelm Hueflin (Hoofland) of Gena, Germany." Dr. Hoofland's Celebrated German Medicines were first being sold in Philadelphia at 278 Race Street in 1847.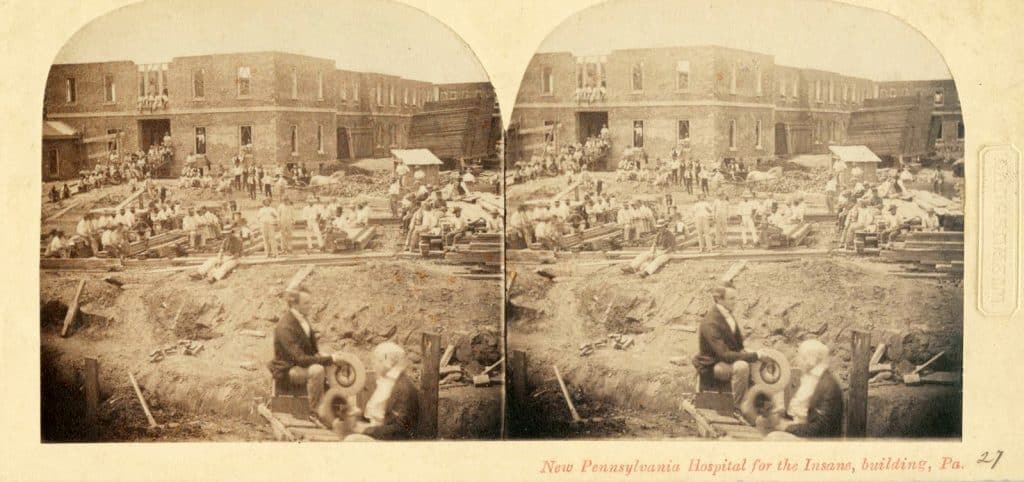 Interesting stereo card for the New Pennsylvania Hospital for the Insane. Looks like the architect and contractor working in field. The Institute of Pennsylvania Hospital, also known as Kirkbride's Hospital or the Pennsylvania Hospital for Mental and Nervous Diseases, was a psychiatric hospital located at 48th and Haverford Streets in Philadelphia, Pennsylvania. It operated from its founding in 1841 until 1997.
11 February 2019 | Monday
Post update: Tobias Barto and his Great Gun Bitters – Reading, PA
09 February 2019 | Saturday
Advertisement for an O 82, Original Aromatic German Bitters put out by Charles Schneyer, Rectifier and Wholesale Liquor Dealer, Not. 154 and 156 Fairmount Avenue, Philadelphia – Philadelphia City Directory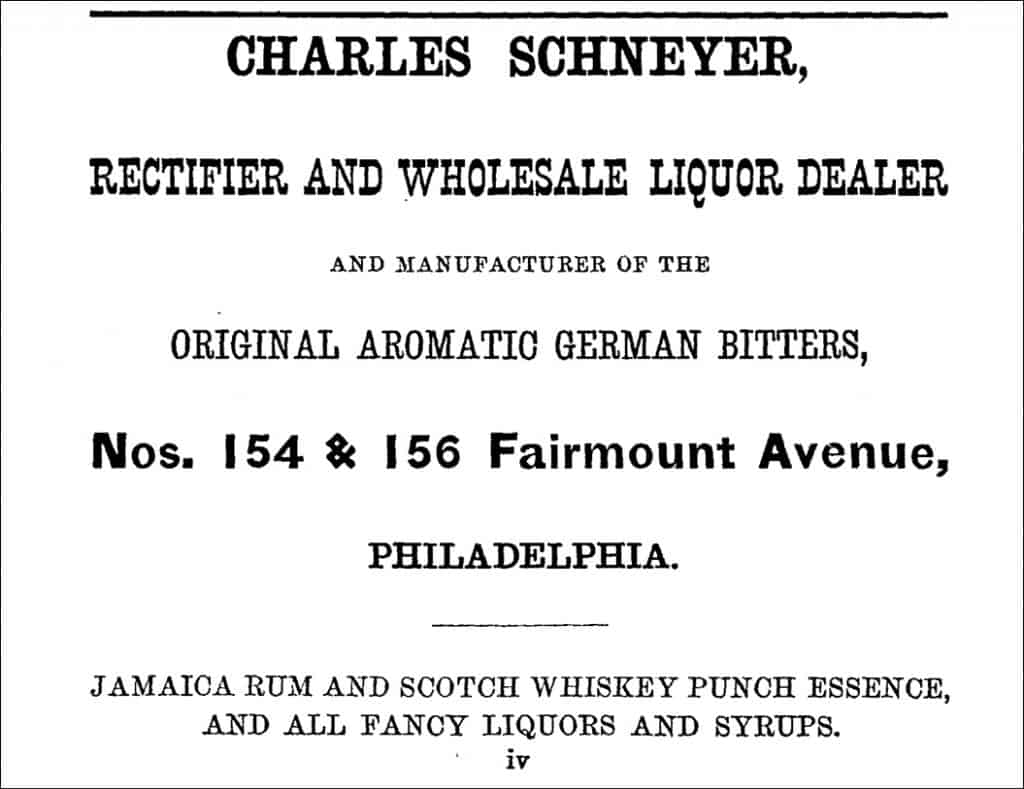 03 February 2019 | Sunday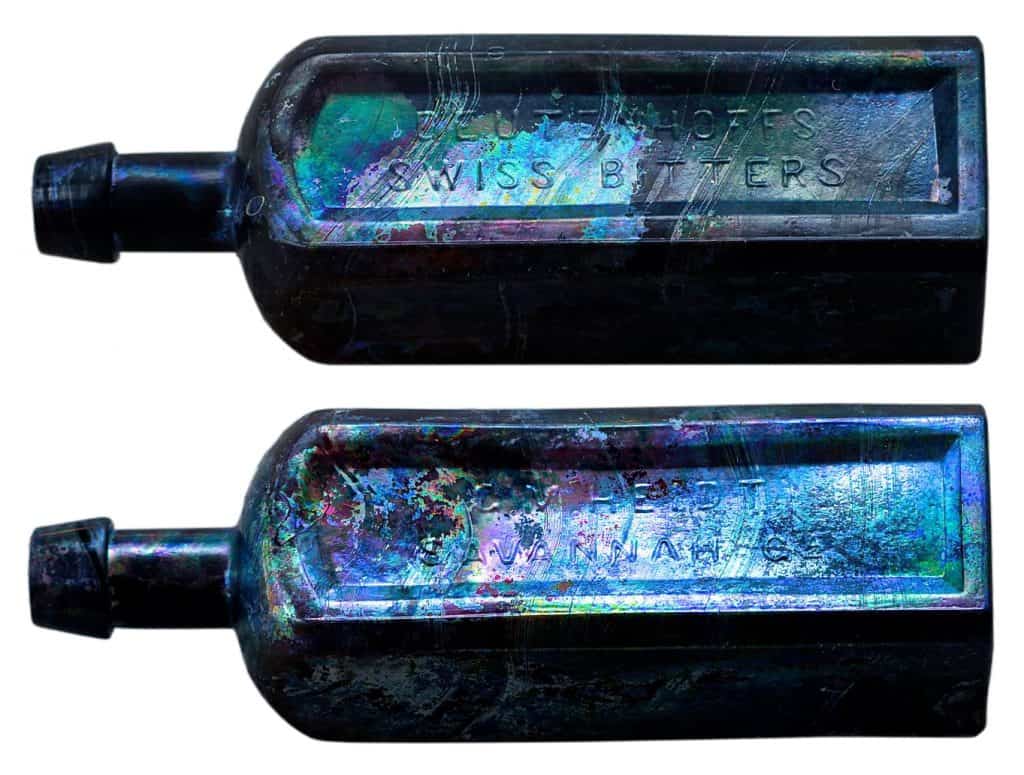 It made my day when I pulled this bad boy out of the ground. I dug it from a small 1860s to a early 1870s dump in downtown Savannah. This bitters is the rarest from Savannah and also one of the rarest from the state of Georgia The bottle is about 9 1/2 inches tall and is a dark puce amber color. A hard bottle to photograph due to the intense rainbow color patina on the bottle. – Robert Biro
Read: Deutenhoff's Swiss Bitters –Savannah
01 February 2019 | Friday
Unlisted bitters listing for Southern Stomach Bitters prepared by Buck, Bailey & Co., Wholesale and Retail Druggists, Jackson, Mississippi. These guys also put out Buck's Aromatic Bitters. Ad from The Daily Clarion, Saturday, December 16, 1865.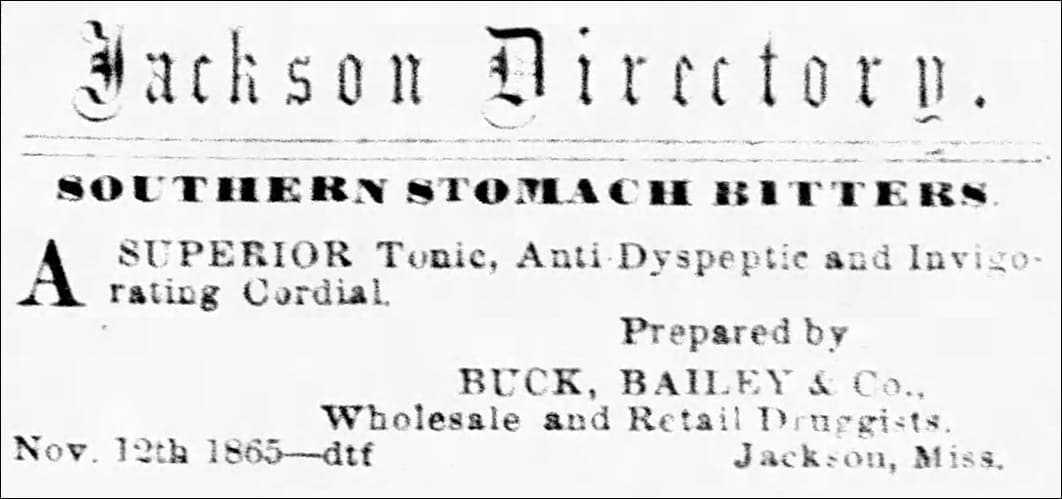 Read more: Dr. E. C. Hydes Southern Stomach Bitters – New Orleans
31 January 2019 | Thursday
Post update: Arabian Bitters – One Thousand and One Nights

26 January 2019 | Saturday
Recently I wrote about a rare Spring Bitters bottle by John W. Service, druggist in Hartford, Connecticut. Here is a much earlier 1859 reference an unlisted Dr. Day's Spring Bitters in the The Democrat, Tuesday, May 24, 1859. J.H. Leonard was druggist and apothecary from St. Albans, Vermont. This could be related to the D 31 listing in Bitters Bottles.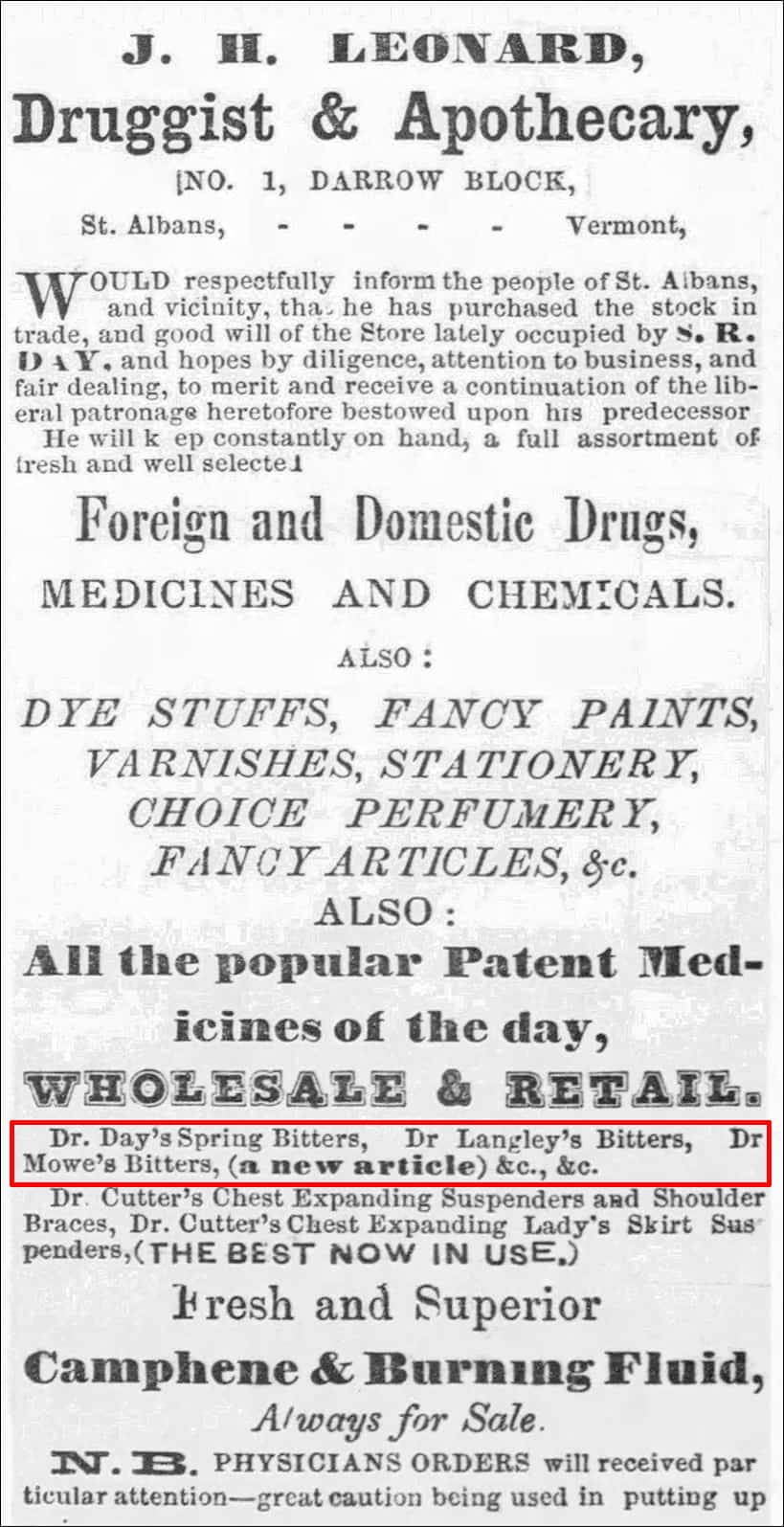 17 January 2019 | Thursday
New image of extremely rare, Tincture of Centaury Bitters from Louisville, Kentucky. Added to Kentucky's Top 25 Rarest Bitters Bottles, compiled by Paul Van Vactor, Sheldon Baugh and Steve Keith.
Read: Tincture of Centaury Bitters – Bernheim Brothers & Uri, Louisville, Kentucky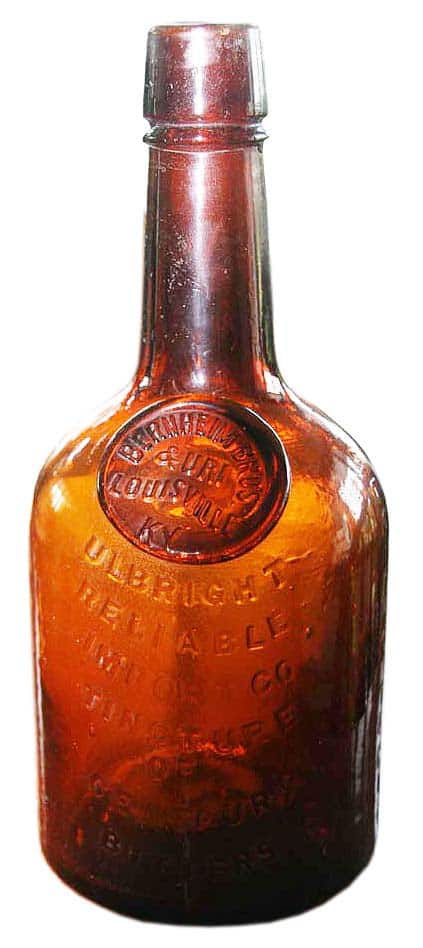 6. Round amber seal bottle embossed on seal BERNHEIM BROS. / & URI / LOUISVILLE / KY. Embossed horizontally below seal ULBRIGHT / RELIABLE / IMPORT CO. / TINCTURE / OF / CENTAURY / BITTERS. Also, embossed vertically on sides: BLOOD PURIFIER / STOMACH TONIC.
Kentucky's Top 25 Rarest Bitters Bottles, compiled by Paul Van Vactor, Sheldon Baugh and Steve Keith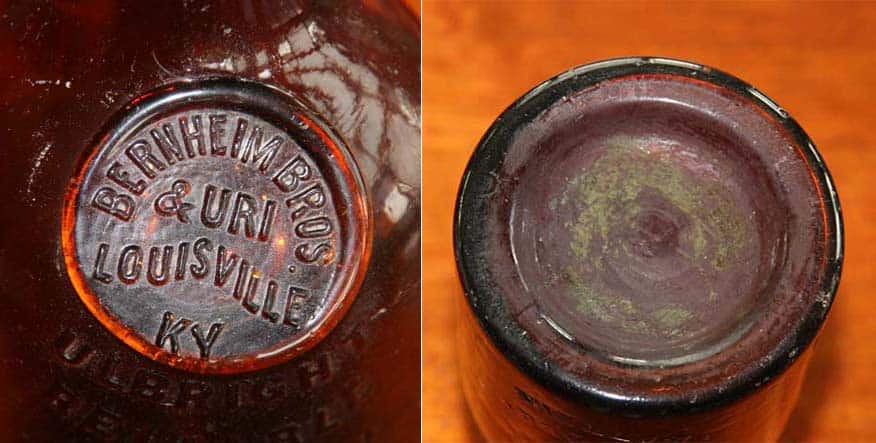 15 January 2019 | Tuesday
Neat advertising trade card for Drs. Starkey & Palen's Compound Oxygen, 1529 Arch Street, Philadelphia, circa 1887.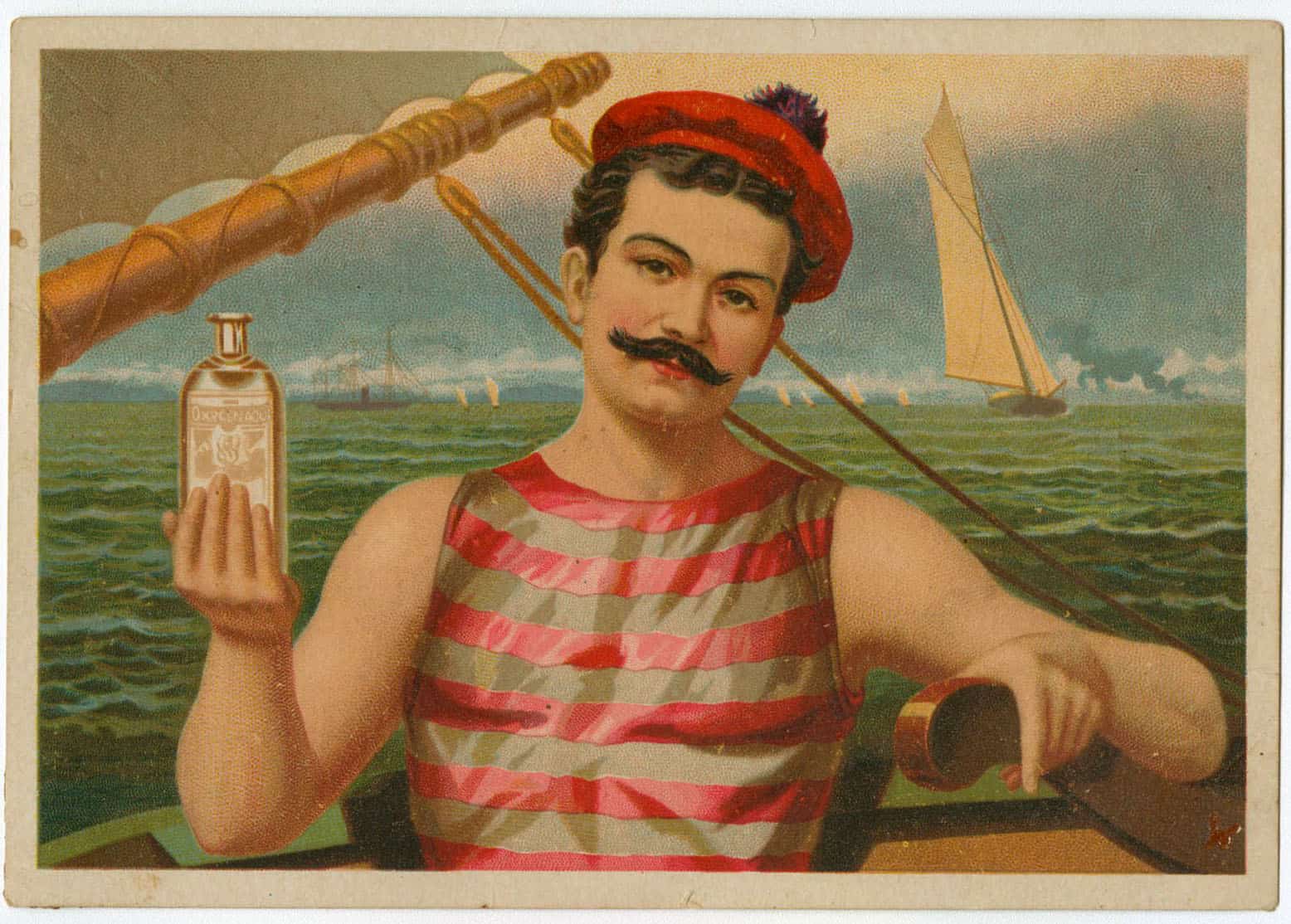 13 January 2019 | Sunday
Post update: Who is I. & L. M. Hellman of St. Louis, Missouri?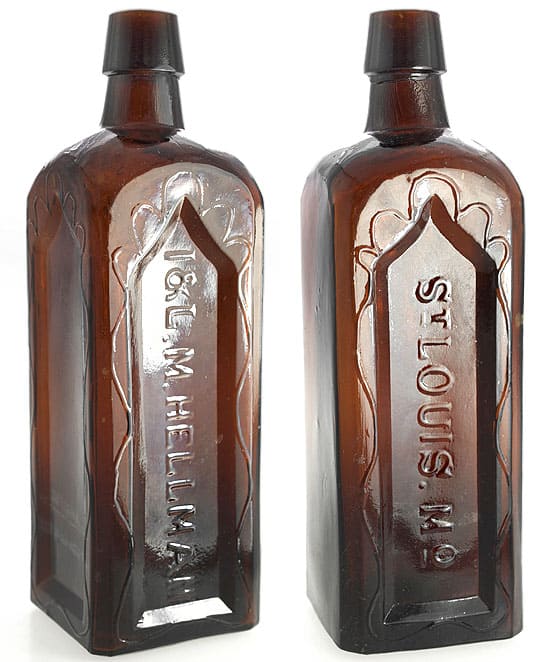 12 January 2019 | Saturday
Post update: The great William Allen's Congress Bitters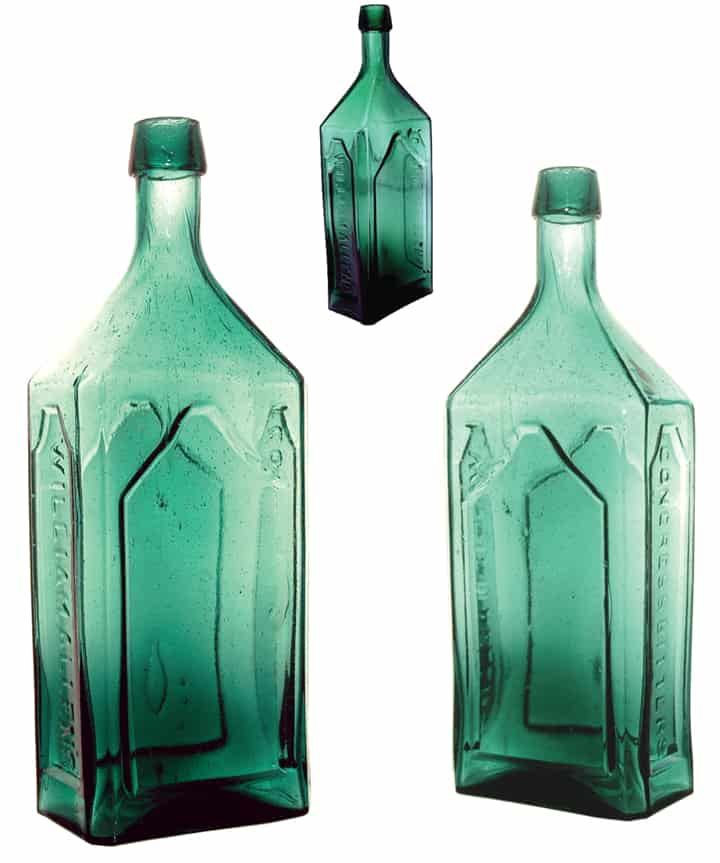 03 January 2019 | Thursday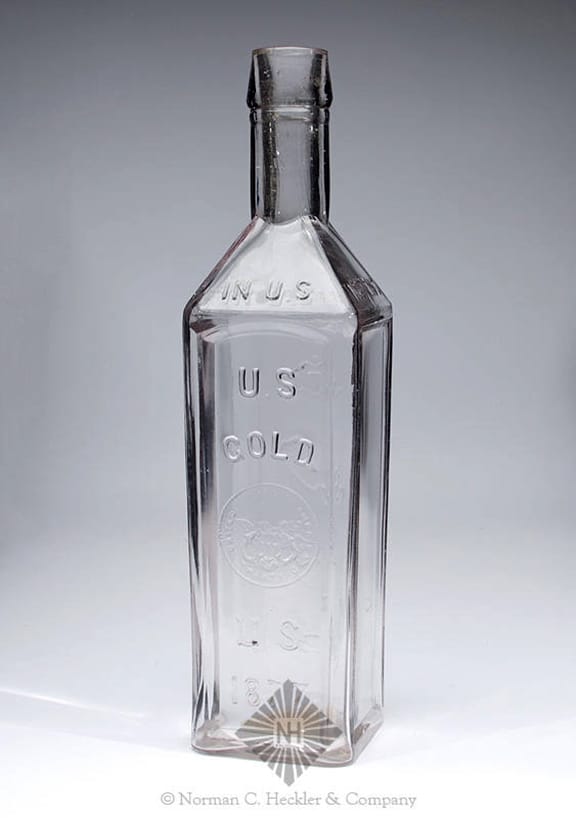 HECKLER has a clear U.S. Gold Bitters in their next auction. Read: U.S. GOLD BITTERS – Augusta, Maine
02 January 2019 | Wednesday
Here is an advertisement below for an unlisted Excelsior Stomach Bitters that I came across during production of the Excelsior Stomach Bitters post from St. John, Iowa. This bitters is late, came in three sizes and could be purchased at Rose's Drug Store in Westminster, Maryland. Found in the The Democratic Advocate, Saturday, March 5, 1904. I found the token online for sale on eBay.
Read: Excelsior Stomach Bitters – Rose's Drug Store, Westminster, Maryland