The great William Allen's Congress Bitters
26 May 2014 (R•011119)

I have been looking for a reason for some time now to unveil a post on the great William Allen's Congress Bitters. I now have one as John Pastor has a great labeled example (pictured above) in his current American Gallery Gallery Auction #12 that ends this Wednesday night, my birthday by the way. Hmmmm. John's catalog write-up is as follows:
"WILLIAM ALLEN'S – CONGRESS BITTERS" (with original labels), America, 1865 – 1875. Emerald green, rectangular semi-cabin, applied sloping collared mouth – smooth base, ht. 10 1/8″, mint. R/H #A29. 95% complete front label, 85-90% complete rear label. "WILLIAM ALLEN / MANUFACTURER & PROPRIETOR, / FORT EDWARD, N.Y." (on label). Beautiful color, extremely rare with original labels. Provenance: Ex. William Osgood, Ex. Charles B. Gardner collections. Interesting note; Charlie Gardner's tag is still on the base with his code, which indicates that he paid $9.00 for this bottle.
The listing in Bitters Bottles Supplement is below. Note that the bottles come in emerald green and aqua, which surprisingly is scarce, and amber and puce which is rare. Charles B. Gardner even made an amethyst, 7 3/4 inch, William Allen's Congress Bitters (A 30) with a tooled lip as a later commemorative piece (see above).
Charlie Gardner's tag is still on the base with his code, which indicates that he paid $9.00 for this bottle.
A dozen of these bottles were produced for Gardner who owned the mold. They were all in amethyst. There is no indication that this size was ever previously produced as Mr. Gardner bought the mold in perfect, unused condition. It is interesting that the example in the subject auction was once a Gardner piece. 
A 29  WILLIAM ALLEN'S CONGRESS BITTERS
sp // WILLIAM ALLEN'S // sp // CONGRESS BITTERS //
L… *1865 William Allen, Allen's Congress Bitters, Superior Tonic, William Allen, Fort Edward, N.Y.
10 x 3 3/4 x 2 (6 1/2) 3/8
Rectangular, LTC & LTCR, Applied mouth, 4 sp, Aqua and Emerald green – Scarce,
Amber and Puce – Rare
*Note that the American Glass Gallery label may be different from the label noted above in Bitters Bottles.
William Allen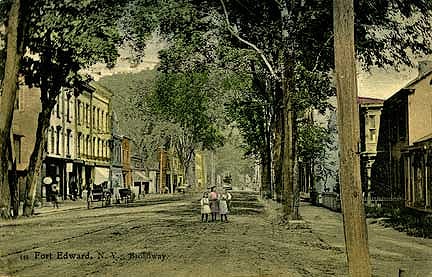 William Allen was born in New York around 1820 and started in the mercantile business in the 1840s in Fort Edward, New York which is north of Albany. The town is located at the "Great Carrying Place," a portage around the falls on the Hudson, which had been used by Native Americans for thousands of years before European colonization. It was located on the Native American "Great War Path," later used by French and English colonists during their own warfare, during the colonial years, especially during the eighteenth century.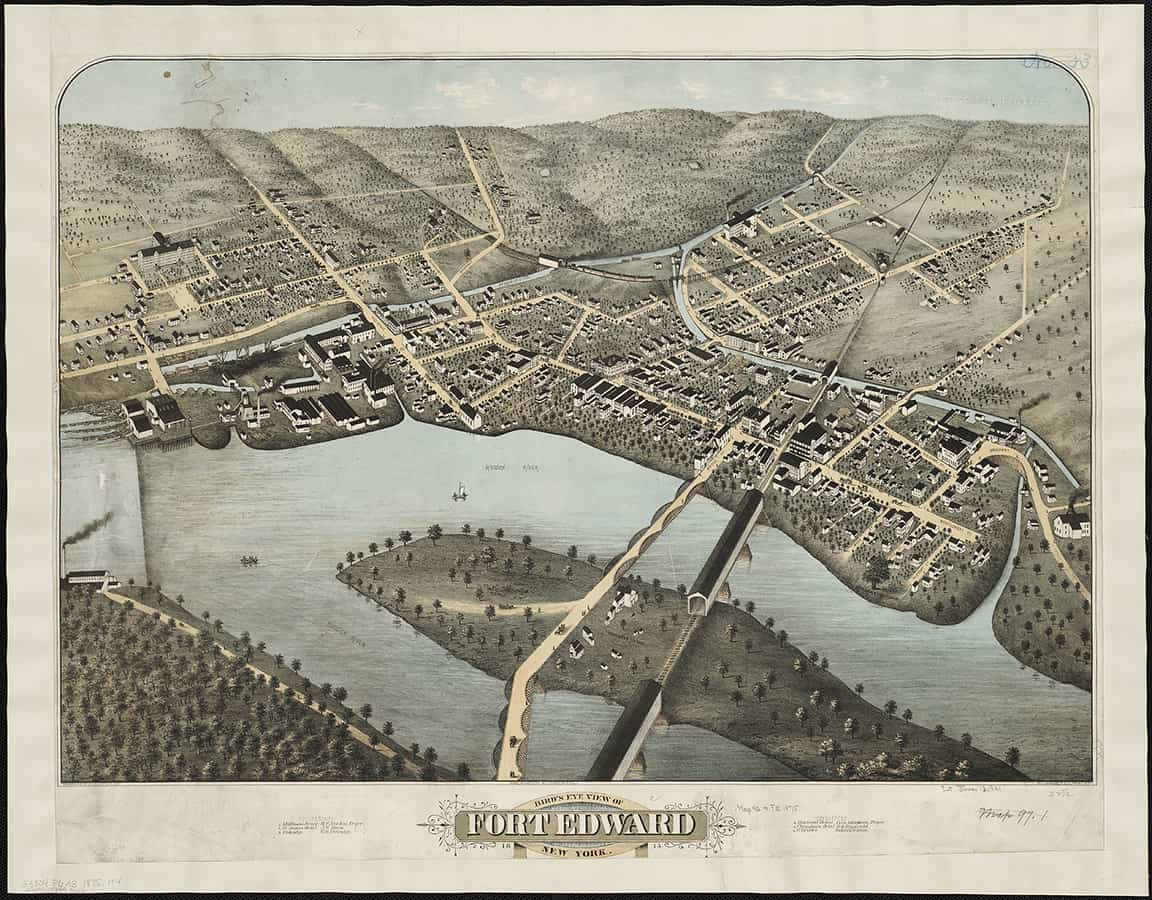 Allen invented his bitters in 1865 and said it was composed of sixteen different roots and barks and prickly ash berry. For a bit of punch, he said that his compound was preserved by adding pure, not cheap, old Bourbon Whiskey.
He reasoned that American people were emphatically "fast livers" who put a lot of wear and tear on their brain and muscles which brought on many ailments. He said his bitters would restore your appetite, cure heart burn and all the attendant horrors of dyspepsia, such as billious headache, loss of appetite, stupor, hypochondria, and general debility of the whole system. He said it was a tonic to purify the blood, renovate and strengthen the system and cure Asiatic Cholera and other diseases peculiar to the summer seasons. His great grandson remembers the use of walnut bark in a liquid preparation to treat rheumatism.
He put up his bottles in cases of one dozen quart bottles. While stating that he was the manufacturer and proprietor, he used druggists to sell his product like Wells, Richardson & Co. and Henry & Co. in Vermont. By 1871, 640,000 bottles of Allen's Congress Bitters were being made annually.
Strangely, advertising for the bitters stops after 1871. Allen would continue manufacturing other products like Allen's Compound Extract Of Butternut For The Blood which he filed for a label patent in 1878.
Wells, Richardson & Company
On the reverse label of the Allen's Congress Bitters, you will see that Wells, Richardson & Co. is listed as Wholesale Agents located on Leavenworth Block on College Street in Burlington, Vermont (see illustration above). They occupied a four-story brick High Victorian Italianate building, one of several, within the Wells-Richardson Complex Historic District, which is bordered by Main Street on the south, College Street on the north, Pine Street on the west, and St. Paul Street on the east. In 1883, the Wells-Richardson Building was built at 127 College Street as the main laboratory and offices of this drug and medicine manufacturing firm.
In 1872 the Wells Richardson Company succeeded Henry & Company (see below) where William W. Wells was a partner.
William Wirt Henry was born on November 21, 1831, in Waterbury, Vermont, the eldest child of James Madison Henry (1809-1863) and Matilda Gale Henry (1811-1888). William Wirt Henry was married on August 5, 1857, to Mary Jane Beebe daughter of Lyman and Mary (Sherman) Beebe of Waterbury, Vermont. They had five children, Bertram (1858-1859); Mary (Mollie) Matilda (b. 1860), Ferdinand Sherman (1862-1884), who died while a student at the University of Vermont; Katherine (Katie) Beebe (1865-1897), who married the Reverend William Henry Hopkins and whose only child died in 1906; and Carrie Eliza (b. 1869). Mary Jane (Beebe) Henry died November 18, 1871. On December 3, 1872, William married Valeria (Lillie) Heaton, daughter of Timothy J. and Susan P. (White) Heaton of Waterbury.
William Wirt Henry was educated in the schools of Waterbury and spent one term at People's Academy in Morrisville. William taught school for one winter (1849-50) in Wolcott, Vermont, and then caught "gold fever" and moved to California to seek his fortune. He returned to Vermont in 1857 and joined his father's druggist business, J. M. Henry & Sons. In 1861 he sold his interest in the business and enlisted as a first lieutenant in Co. D of the Second Vermont Volunteers. He resigned November 5, 1861, and then reenlisted as a major in the Tenth Vermont Infantry. He was promoted to lieutenant colonel in November 1862 and to colonel in June 1864. He resigned December 17, 1864, and was made brevet brigadier general on March 7, 1865. He was wounded in the battles of Cold Harbor and Cedar Creek.
After he returned from war, William rejoined the family business, then known as John F. Henry & Co., manufacturer of patent medicines. William served in the Vermont Senate from Washington County in 1865-1868, and from Chittenden County in 1888-1889. He was mayor of Burlington from 1887 to 1889. He served for seven years as U.S Marshall for the District of Vermont and was a U.S. Immigration Inspector. From 1897 until 1907 he was the American Consul in Quebec.
In 1872, William W. Henry and a group of friends traveled to the Laurentian Mountain region of Quebec, Canada, on a fishing trip. The trip was so successful, the group returned annually, eventually setting up a permanent camp and finally incorporating as the St. Bernard Fish and Game Club in 1899. Henry was considered the founding father of the organization and remained an honorary member of the club until his death in 1915. William W. Henry died August 31, 1915, at the age of 83. He is buried at Lake View Cemetery in Burlington, Vermont.

[Vermont Historical Society]
Later, Edward Wells, A. E. Richardson, and W. J. Van Patten would join William Wells as members of the firm. Later, Henry Wells and F. H. Wells, Edward's brothers, joined the firm. Today the Wells-Richardson Building is listed on the National Register of Historic Places and is occupied by Bennington Potters and other renters.
Wells, Richardson & Company were Wholesale Druggists and Manufacturing Pharmacists who patented, manufactured and distributed analyne dyes under the name of Diamond Dyes, as well as butter dye, baby food and proprietary medicines such as Williams Allen's Congress Bitters and the famous Paine's Celery Compound.
William W. Wells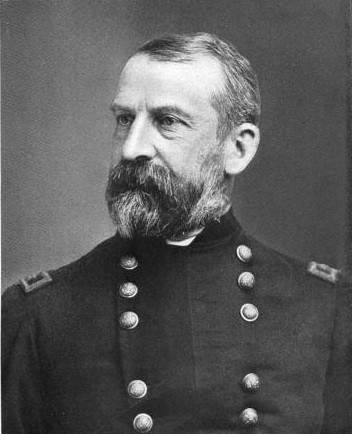 William W. Wells, Jr. (1837 – 1892) was a businessman, politician, and general in the Union Army during the American Civil War who received a Medal of Honor for gallantry at the Battle of Gettysburg. Wells was born in Waterbury, Vermont, the third of ten children (nine boys) of William and Eliza Wells. He began his education in the common schools of his native town, and mastered the higher branches in Barre Academy and Kimball Union Academy in Meriden, New Hampshire. While in Barre at the age of 17, he used an odometer in surveying for a county map of Caledonia County, a task which occupied him for two months. From the age of nineteen until the spring of 1861, he was his father's assistant in his extensive business.
At the outbreak of the Civil War, William Wells and three of his brothers joined the Union army. Wells enlisted as a private soldier on September 9, 1861, and assisted in raising Company C of the 1st Vermont Cavalry. He was sworn into Federal service October 3, 1861, and was soon promoted first lieutenant and then captain in November of that year. He was in the thickest of the fight at Orange Court House, Virginia, August 2, 1862, and was promoted to major on October 30, 1862. Wells commanded the Second Battalion, 1st Vermont Cavalry, in the repulse of Stuart's Cavalry at the Battle of Hanover during the Gettysburg Campaign. In the famous and desperate cavalry charge on Big Round Top on the third day at Gettysburg (July 3, 1863), he commanded the leading battalion, rode by the side of General Farnsworth, the brigade commander, and, almost by a miracle, came out unharmed, while his commander fell in the midst of the enemy's infantry. A few days later, in the savage cavalry melee at the Battle of Boonsboro in Maryland, Wells was wounded by a sabre cut. At Culpeper Court House, Virginia, September 13, 1863, he charged the enemy's artillery with his regiment and captured a gun, and was again wounded, by a shell. Congress later awarded Wells a Medal of Honor "for distinguished gallantry at the battle of Gettysburg, July 3, 1863."
Upon his return from war, Wells became a partner in the firm of Henry and Company, wholesale druggists in Waterbury, Vermont. In 1868, the company moved to Burlington, where it became Wells, Richardson, and Company in 1872, and where Wells made his home. 
An active businessman, Wells achieved such influential positions as President of the Burlington Trust Co., President of the Burlington Board of Trade, and directorships of the Burlington Cold Storage Co., and the Rutland Railroad Co., and the Champlain Transport Co. He represented Waterbury in the legislature of 1865-66, being chairman of the military committee and an influential legislator. In 1866 he was elected adjutant general of Vermont, and held the office until 1872. He was succeeded by James Stevens Peck and accepted appointment as collector of customs for the district of Vermont, a position which he filled with efficiency and credit for thirteen years. At the end of that time, he resumed his active connection with the business house known the world over as the Wells Richardson Company, manufacturer of Paine's Celery Compound. General Wells was married with two children – Frank Richardson and Bertha Richardson Wells (who later married Dr. Horatio Nelson Jackson). [Wikipedia]
G A L L E R Y
Select Listings:
1850:

William Allen, Merchant, Age: 30, Birth Year: abt 1820, Birthplace: New York, Home in 1850: Fort Edward, Washington, New York, Family Number: 72, Household Members: William Allen 30, Phebe Allen 23 – 1850 United States Federal Census
1860:

William Allen, Liquor Dealer, Age: 39, Birth Year: abt 1821, Birth Place: New York, Home in 1860: Fort Edward, Washington, New York, Post Office: Fort Edward, Dwelling Number: 488, Family Number: 505, Real Estate Value: 12000, Personal Estate Value: 2500, Household Members: William Allen 39, Phebe Allen 32, Libbie Allen 6, Carrie Allen 2, Louisa Russell 18 – 1860 United States Federal Census
1862:

Paper script worth 25 cents, issued in 1862 by the Bank of Fort Edward and signed by William Allen. – Fort Edward Chamber of Commerce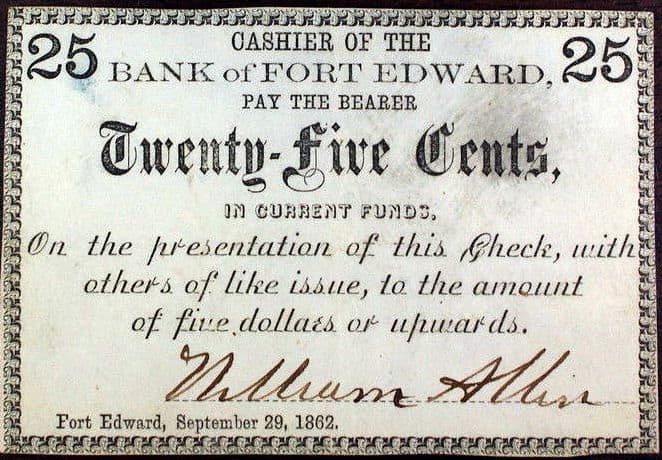 1866:

 Newspaper advertisement (below) C.B. 1865 William Allen's Congress Bitters, William Allen, Manufacturer and Proprietor, Fort Edward, N.Y. – Rutland Weekly Herald, Thursday, November 15, 1866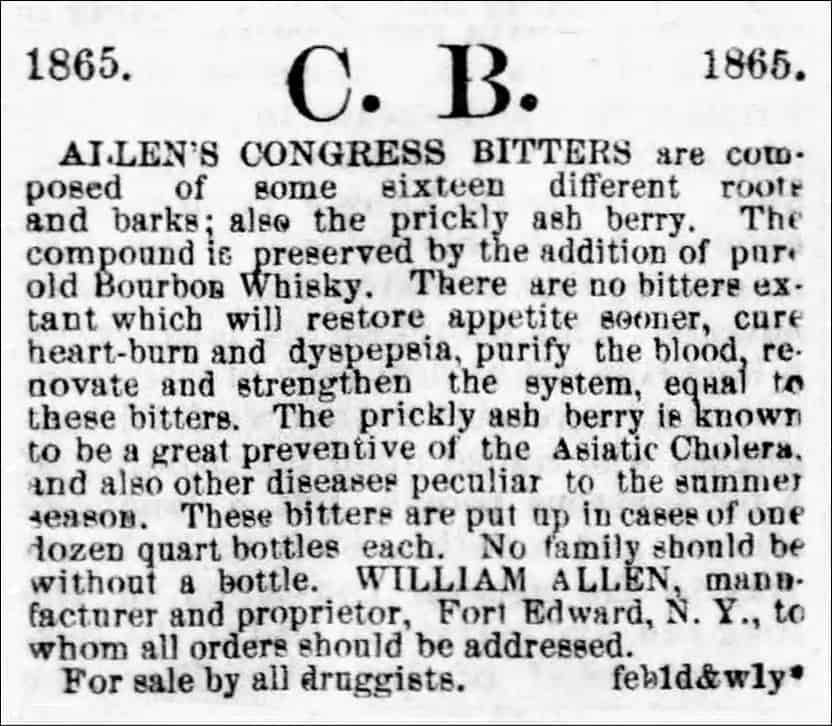 1869:

Newspaper advertisement (below) William Allen's Congress Bitters, W. Allen, Proprietor, Fort Edward, N.Y. – Rutland Weekly Herald, Thursday, November 11, 1869
1870: 

William Allen, Cigar Dealer, Age in 1870: 49, Birth Year: abt 1821, Birthplace: New York
Dwelling Number: 209, Home in 1870: Fort Edward, Washington, New York, Personal Estate Value: 1000, Real Estate Value: 13500, Inferred Spouse: Phebe Allen, Household Members: William Allen 49, Phebe Allen 43, Carrie E Allen 12, Josephine Allen 5 – 1870 United States Federal Census
1870:

Newspaper advertisement (below) Allen's Congress Bitters, William. Allen, Manufactured at Fort Edward, N.Y. – Rutland Weekly Herald, Thursday, September 1, 1870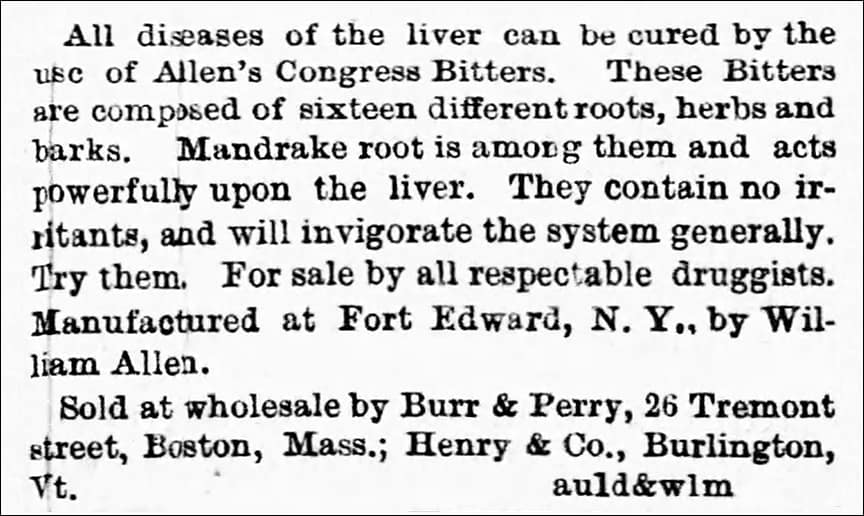 1871:

Newspaper advertisement (below) 640,000 bottles of Allen's Congress Bitters have been sold in the last year., Manufactured at Fort Edward, N.Y., by William Allen –  Rutland Weekly Herald, Thursday, June 29, 1871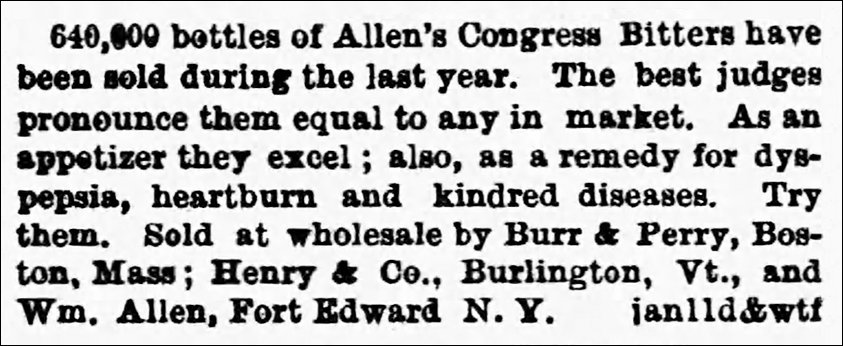 1871:

Newspaper advertisement (below) Pure Kentucky Bourbon sold by Wm. Allen, Fort Edward, N.Y., Henry & Co. Wholesale Agents for Allen's Congress Bitters – Rutland Weekly Herald, Thursday, September 21, 1871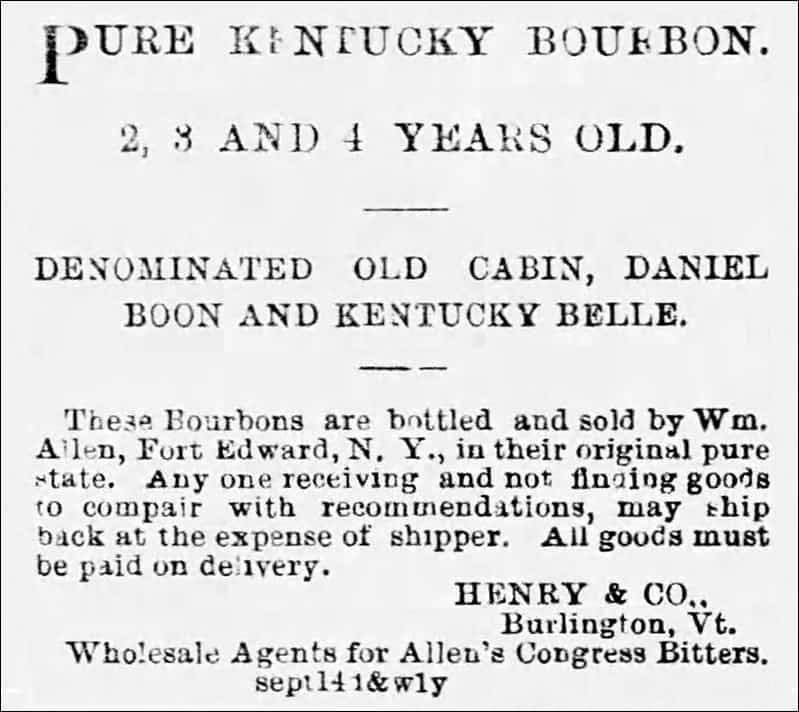 1878:

 LABELS. [Each certificate bearing date March 19, 1878, 1.448. —Title: "Allen's Compound Extract Of Butternut For The Blood." – William Allen, Fort Edward, N. Y. Application filed March 7, 1878. – Official Gazette of the United States Patent Office
1880:

William Allen, Manufacturer, Age: 59, Birth Date: Abt 1821, Birthplace: New York, Home in 1880: Fort Edward, Washington, New York, House Number: 33, Dwelling Number: 74, Marital Status: Married, Spouse's Name: Phebe Allen, Father's Birthplace: New York, Mother's Birthplace: New York, Household Members: William Allen 59, Phebe Allen 53, Josie Allen 15 – 1880 United States Federal Census