Continental Bitters
Mayer, Strouse & Baum – Philadelphia
14 February 2019

I recently came across this neat circa 1862 trade card advertisement (above) held by the The Library Company of Philadelphia for Continental Bitters put out by Mayer, Strouse & Baum which surprisingly, seems to be unlisted. The proprietors are noted as Importers of Wines, Brandies Gins &c. The primary image and the reason for the bitters name is an illustration of the Continental Hotel, at No. 116 North 3rd Street in Philadelphia, Pennsylvania. The card also shows street and pedestrian traffic, including horse-drawn carriages, an omnibus, and a man on horseback.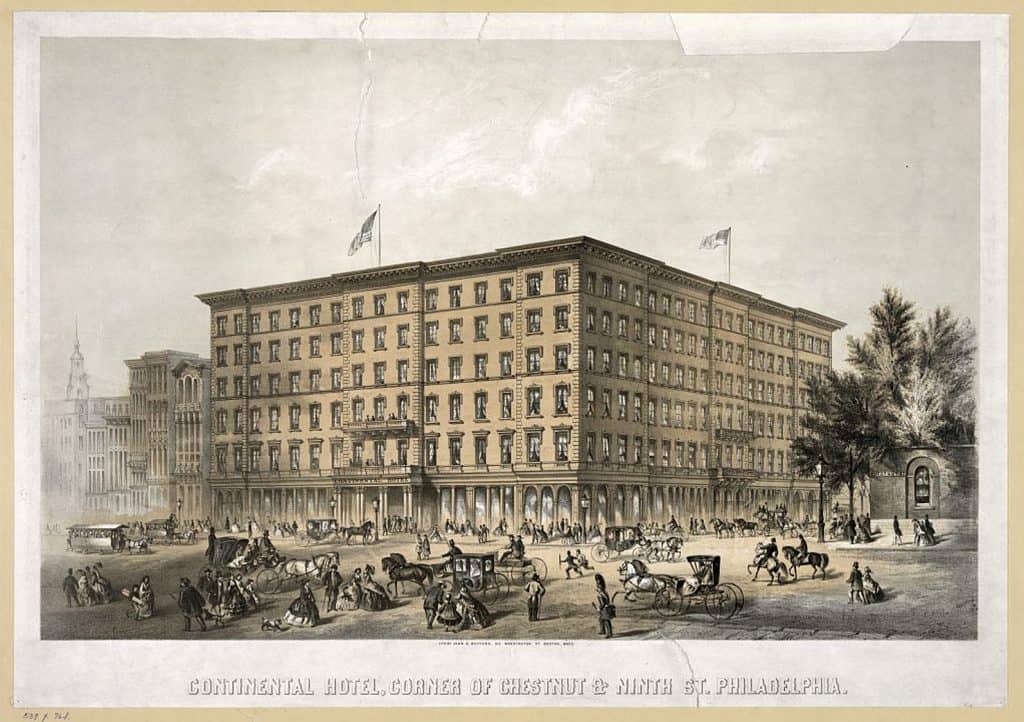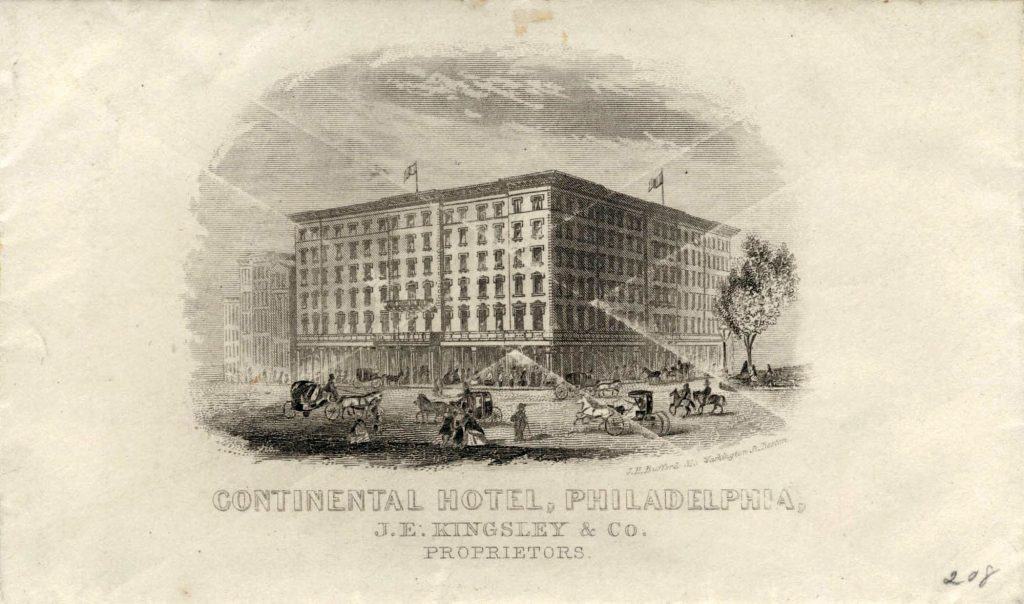 The Continental Hotel was tall for its time and sat prominently over the Washington Square neighborhood at a height of six stories. Located at the corner of 9th and Chestnut streets, the 700-room Continental Hotel opened its doors to the public in 1860 and featured one of the nation's first elevators, in addition to a grand stairway crafted of polished Italian marble that ushered guests into its world of no-holds-barred extravagance.
The architect was John McArthur, Jr. who was known for being the architect of the Philadelphia City Hall. Abraham Lincoln visited Philadelphia on February 21-22, 1861 arriving from New York via Newark and Trenton to stay at the new Continental Hotel. There he talked with advisers about the rising tensions and learned of a newly-discovered assassination plot. The following morning, Lincoln went to Independence Hall to ceremoniously raise the nation's new flag. He hadn't prepared a speech but spoke to the issues of the day. The hotel was demolished in 1924.
There are no examples of this bitters other than this advertising reference. Bill Ham with Bitters Bottles Supplement 2 may want to list in his upcoming book.
Advertisement and Trade card
C 224.5 CONTINENTAL BITTERS, Mayer, Strouse & Braum, 116 N. 3d, Philadelphia
Philadelphia, Pensylvania City Directory, 1862
Mayer, Strouse & Baum
Not much is known about Mayer, Strouse & Baum though we can see from Philadelphia city directories that they were in business from 1861-1863 at 116 North 3rd Street in Philadelphia, Pennsylvania. The partners were Jacob Mayer, Levi Strouse and Gabriel Baum who were wholesale liquor dealers and importers. It must have been challenging conducting business in the midst of the Civil War. Jacob Meyer would continue with his own operation afterwards while Strouse and Baum went into business together selling liquor.
Select Listings:
1858: 

Newspaper notice (below) Coat Basters Wanted at Jacob Mayer & Co's, 116 N. Third Street – Public Ledger, Tuesday, December 14, 1858

1860:

 Jacob Mayer, Merchant, Age: 45, Birth Year: abt 1815, Birth Place: Germany, Home in 1860: Philadelphia Ward 12 Division 1, Philadelphia, Pennsylvania, Post Office: Philadelphia, Dwelling Number: 165, Family Number: 228, Real Estate Value: 10000, Personal Estate Value: 15000, Household Members: Name Age, Jacob Mayer 45, Matilda Mayer 33, David Mayer 14, Emmanuel Mayer 12, Washington Mayer 10, Marion Mayer 8, Josephine Mayer 7, Virginia Mayer 5, Charles Mayer 3, Wm Mayer 1, Morris Mayer 11, Jeannet Mayer 20, Jennie Jacobs 19 – 1860 United States Federal Census
1861: 

Mayer, Strousse & Baum (Jacob Mayer, Levi Strouse & Gabriel Baum), wines and liquors, 116 N. 3d, Philadelphia, Pennsylvania –  Philadelphia, Pennsylvania, City Directory, 1861
1862: 

Mayer, Strousse & Baum (Jacob Mayer, Levi Strouse & Gabriel Baum), liquors, 116 N. 3d, Philadelphia, Pennsylvania –  Philadelphia, Pennsylvania, City Directory, 1862
1863:

 Mayer, Strousse & Baum (Jacob Mayer, Levi Strouse & Gabriel Baum), wholesale liquor dealers and importers, 116 N. 3d, Philadelphia, Pennsylvania –  Philadelphia, Pennsylvania, City Directory, 1863
1863:

Jacob Mayer, Dealer, Birth Year: abt 1816, Age: 47, Residence Year: 1863, Residence Place: Philadelphia Ward 12, Philadelphia, Pennsylvania – Pennsylvania, Septennial Census, 1779-1863
1864:

Jacob Mayer, liquors, 116 N. 3d, Philadelphia, Pennsylvania –  Philadelphia, Pennsylvania, City Directory, 1864
1864:

 Strouse & Baum, wholesale liquors (Levi Strouse and Gabriel Baum), 337 N. Front, Philadelphia, Pennsylvania – Philadelphia, Pennsylvania, City Directory, 1864
1865:

Levi Strouse, liquors, 337 N. Front, Philadelphia, Pennsylvania – Philadelphia, Pennsylvania, City Directory, 1865
1867: 

Mayer & Morgan, wholesale liquors, N. 3d, Philadelphia, Pennsylvania –  Philadelphia, Pennsylvania, City Directory, 1867
1870:

Newspaper notice (below) Steamship Salvor, Ashcroft arrives in Charleston with 1 bbl whiskey from Jacob Mayer – Philadelphia Inquirer, Wednesday, August 10, 1870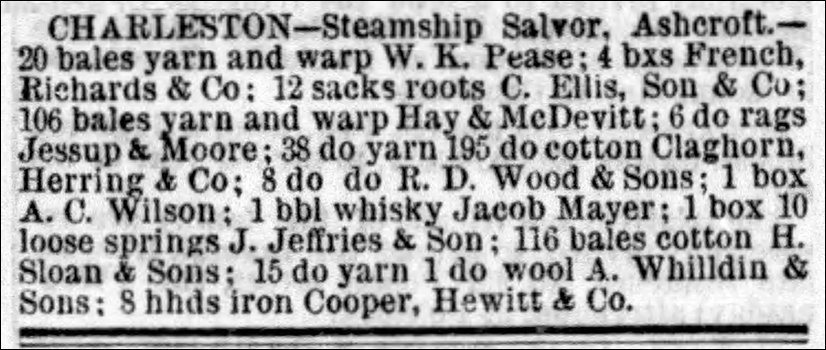 1870:

Strouse & Baum, liquors (Levi Strouse and Gabriel Baum), 122 Walnut & 17 Granite, Philadelphia, Pennsylvania – Philadelphia, Pennsylvania, City Directory, 1870
1880:

L. Strouse & Co., (Levi and Benjamin Strouse), liquors, 213 N. 3rd., Philadelphia, Pennsylvania –  Philadelphia, Pennsylvania, City Directory, 1880