Excelsior Stomach Bitters – Rose's Drug Store
Westminster, Maryland
04 January 2019 (R•041019)

Here is an advertisement below for a possibly unlisted Excelsior Stomach Bitters that I came across during research for the Excelsior Stomach Bitters post from St. John, Iowa. This bitters is late and was advertised in 1904, came in three sizes (25c, 50c and $1 bottles) and could be purchased at Rose's Drug Store in Westminster, Maryland. Westminster is northwest of Baltimore City. Being from Baltimore, I was curious.
Excelsior Stomach Bitters at Rose's Drug Store, Westminster, Maryland
The Democratic Advocate, March 5, 1904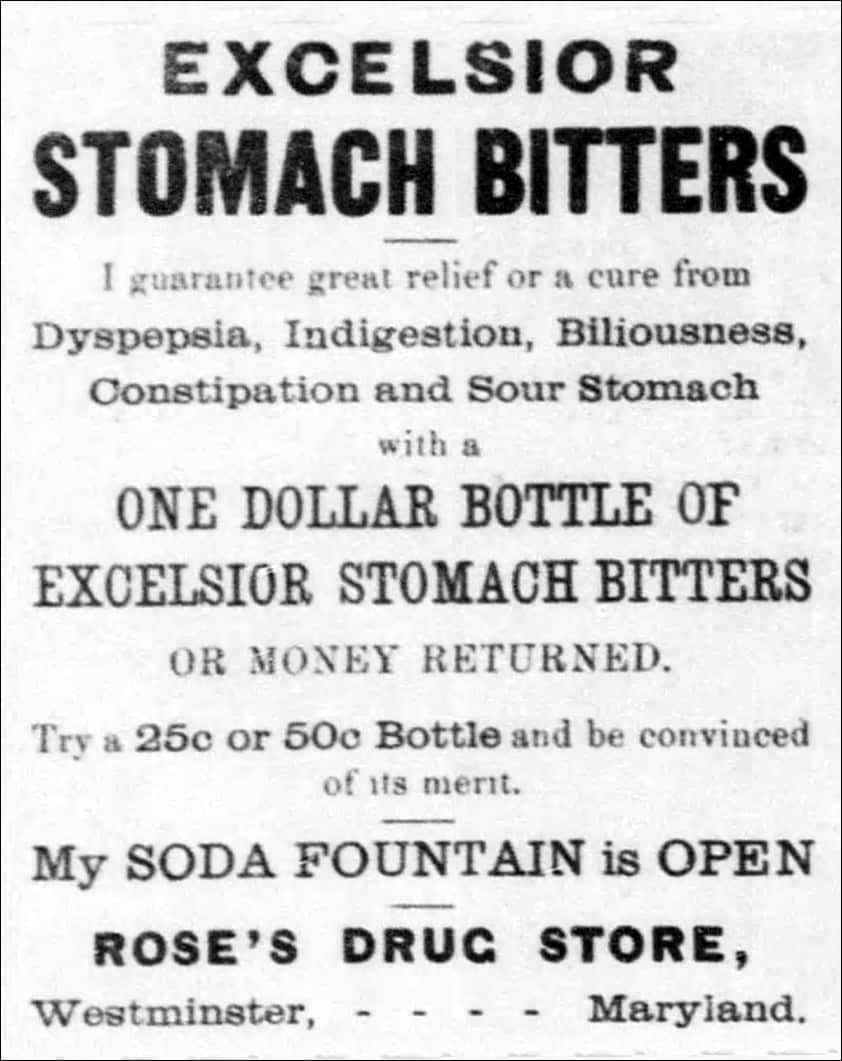 The new listing by Bill Ham for the forthcoming Bitters Bottles Supplement 2:
Advertisement
E 65.7. Excelsior Stomach Bitters, Roses Drug Store, Westminster, Maryland
Advertised in 1904, came in three sizes (25, 50 and 75 cents)
John J. Rose was a druggist who advertised his concern as Rose's Modern Drug Store primarily due to having one of the first soda fountains in the region.
John J. Rose
At first I pictured a more matronly "Rosie the Riveter" type lady behind the druggist counter doling out drugs but it turns out that we are talking about John J. Rose, a life-long druggist born in Baltimore, Maryland on March 9, 1869. He was the youngest son of George and Eliza Rose. His father and older brother were butchers in Baltimore.
By 1900, at the age of 31, he purchased A. H. Huber's long-standing drug store and opened his drug store at 183 East Main Street in Westminster, Maryland. Huber had started his own drug store in 1865 and was the successor to Huber and Royer at No.2 Carroll Hall in Westminster. They sold drugs, chemicals, patent medicines, fancy articles and perfumery. One of their main products was Hering's Compound Syrup of Blackberry Root.
Rose's first newspaper advertisement in 1900 asks the reader to "Try My Ice Cream Soda" drawn from his new soda fountain at Rose's Modern Drug Store. He was also selling crushed fruit, pure fruit juices, ice cream, mineral waters, pure drugs, chemicals, toilet articles, soaps, patent medicines, perfumery, shoulder braces and trusses, cigars, Kodaks and photo supplies and stationery etc. Of course he was filling prescriptions too. As noted above, he would sell the Excelsior Stomach Bitters in 1904. Rose would guarantee in his ads that the bitters would give great relief or a cure for dyspepsia, indigestion, biliousness, constipation and sour stomach.
We can't say for certain that this is his bitters but it probably was, as we find no reference in this time period and region of a maker of Excelsior Stomach Bitters. I am not aware of any surviving bottles.
Rose would operate his drug store up until his death in January 1918. At this point, Randolph Wehler, from Washington, D.C. opened a new drug store that was formally occupied by Rose's Drug Store.
5c Trade Token from Rose's Drug Store, Carroll County, Westminster, Maryland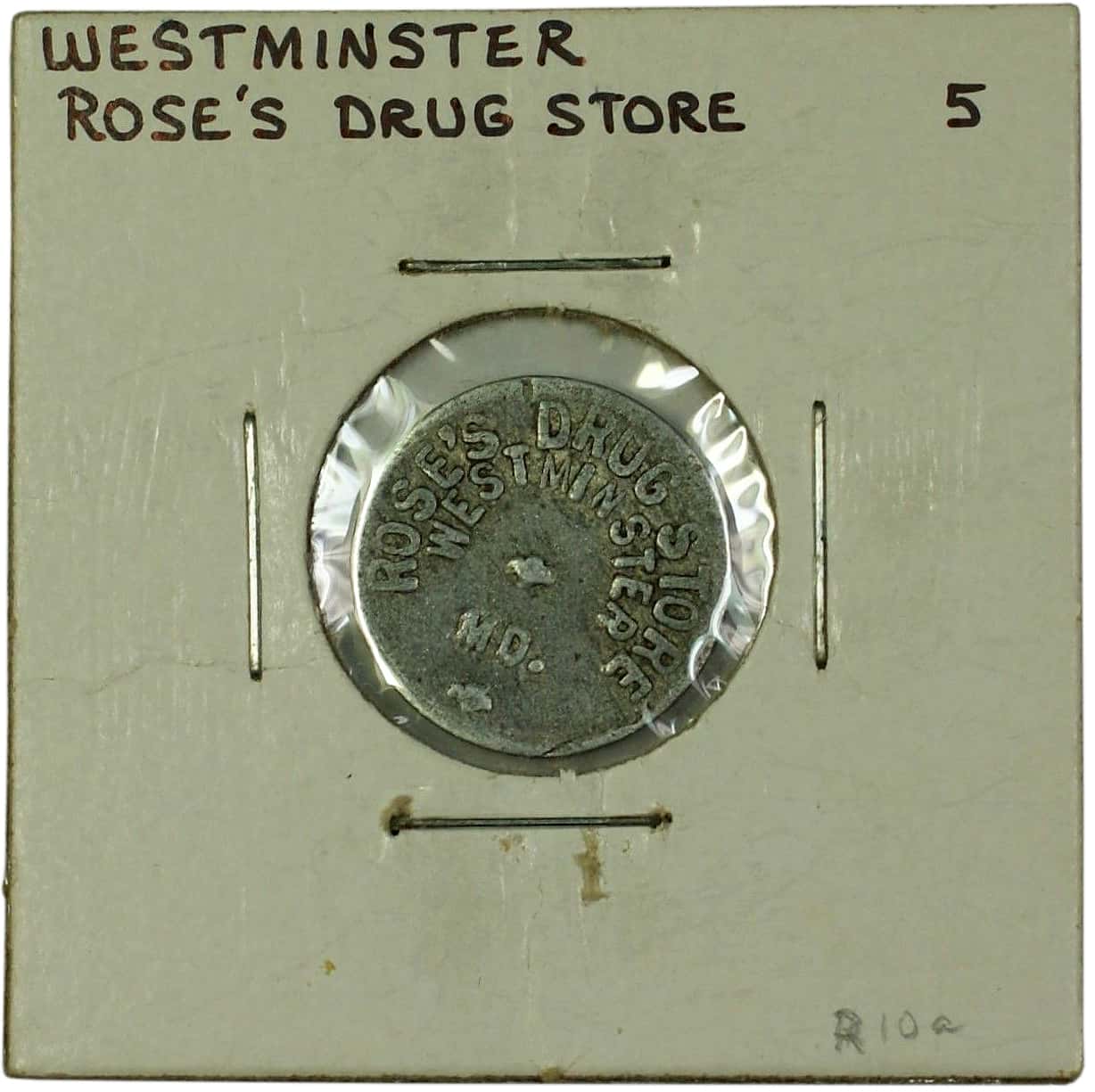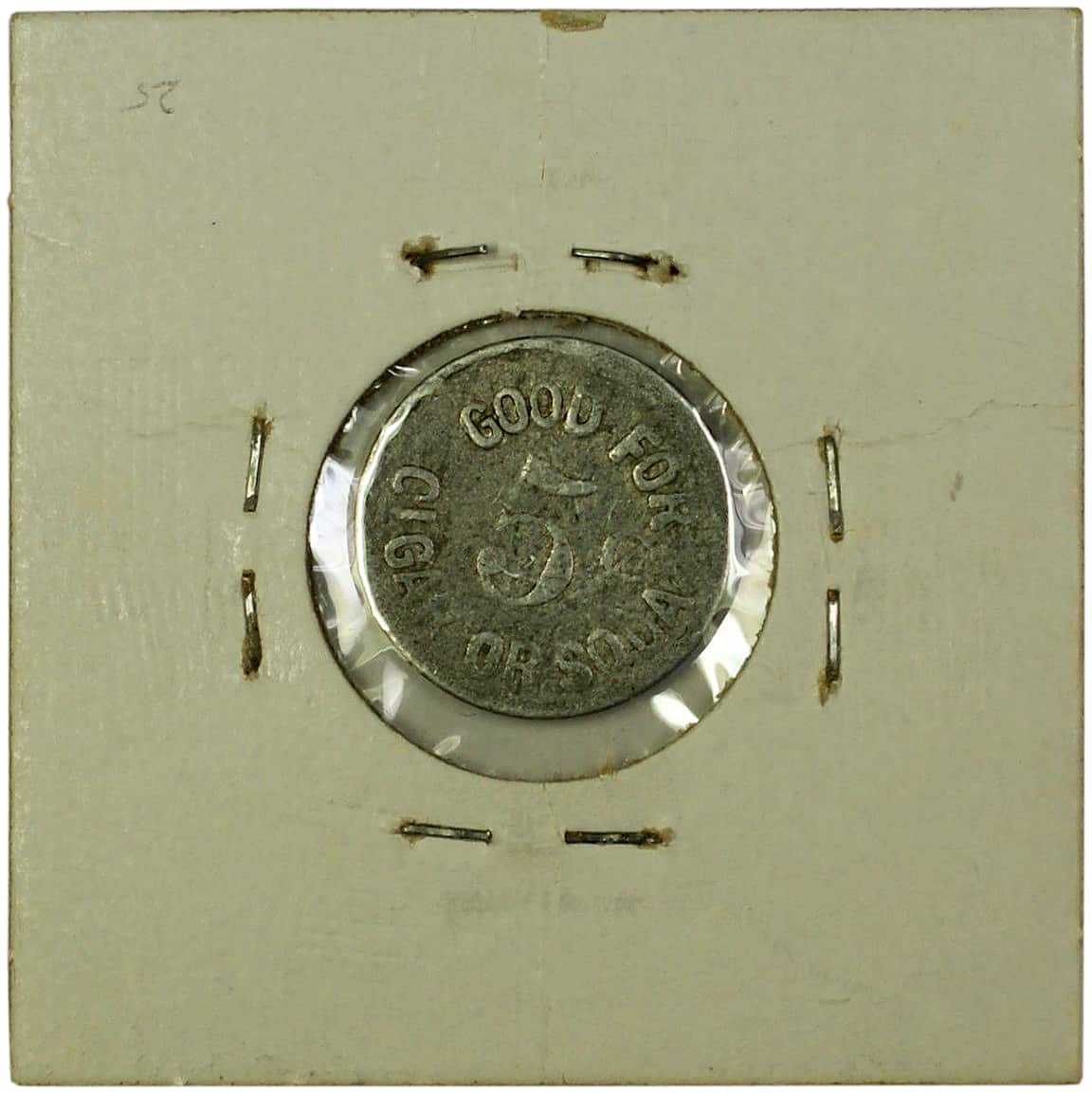 Main Street Post Cards, Westminster, Maryland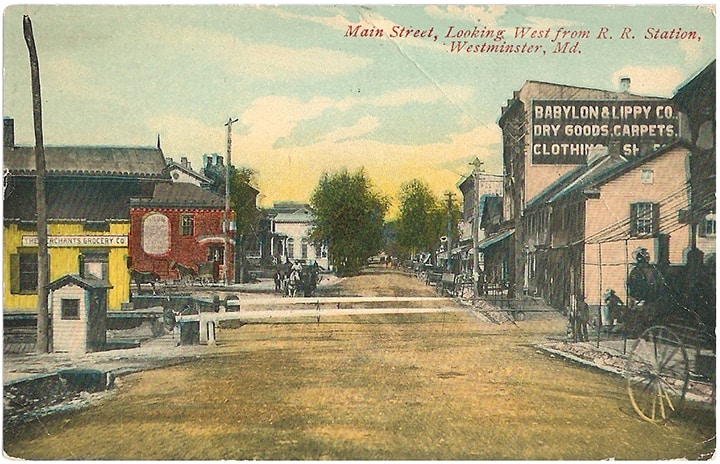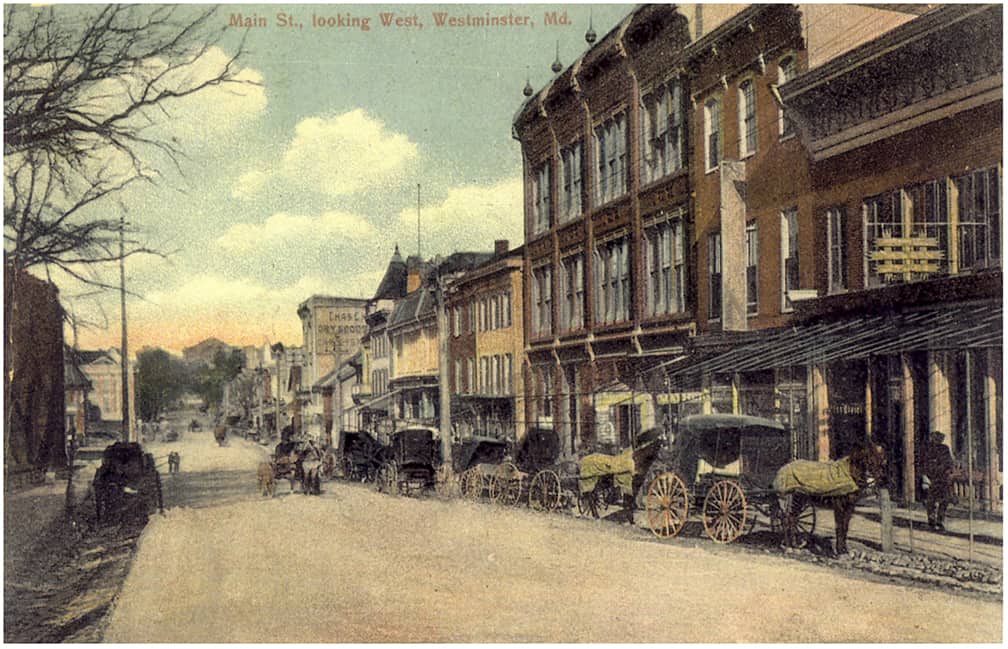 A.H. Huber (Successor to Huber & Royer) (John J. Rose would buy this concern in 1900, see below), Westminster, Maryland
The Democratic Advocate, December 21, 1865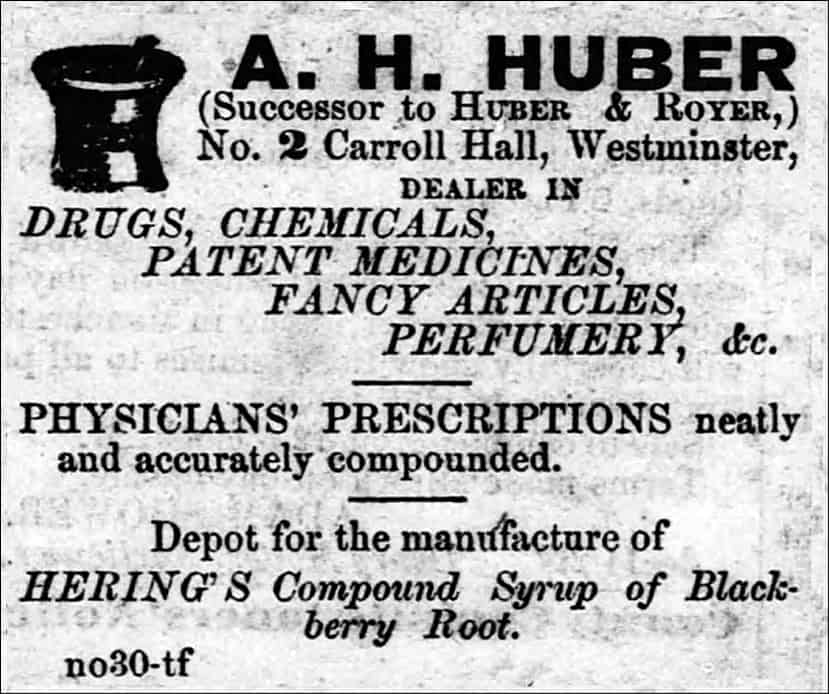 Try My Ice Cream Soda at Rose's Drug Store (formerly Huber's), Westminster, Maryland
The Democratic Advocate, December 29, 1900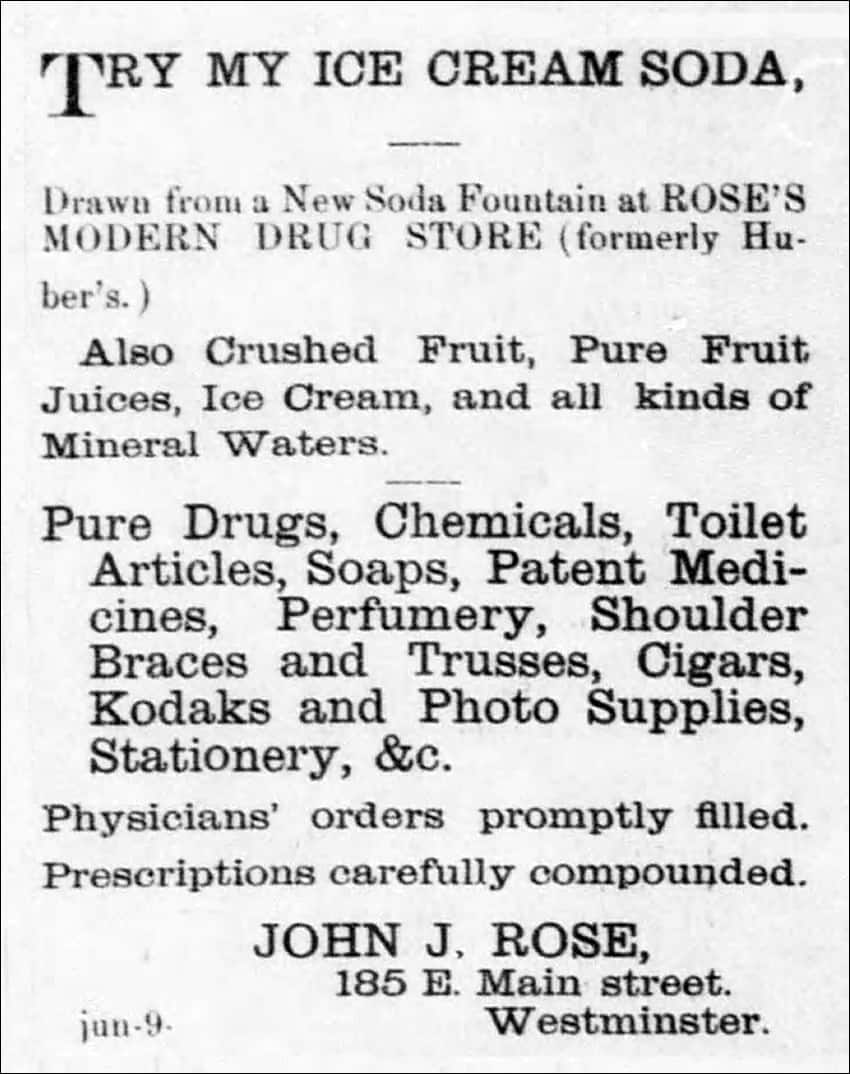 Ex-Sheriff wins the handsome doll at Rose's Drug Store, Westminster, Maryland
The Democratic Advocate, December 29, 1900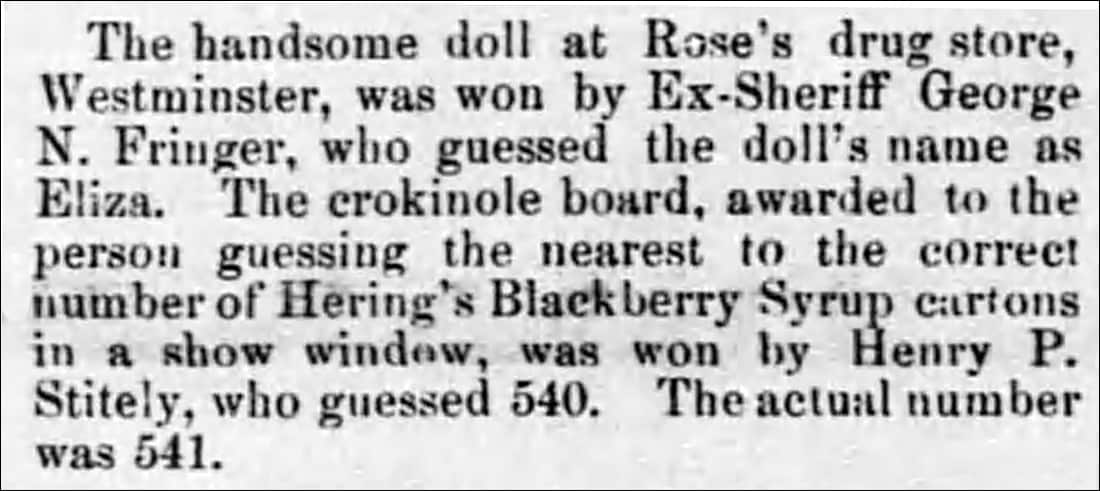 Rose's Phosphatic Emulsion of Norwegian Cod Liver Oil being sold at at Rose's Drug Store, 185 E. Main Street, Westminster, Maryland
The Democratic Advocate, November 7, 1903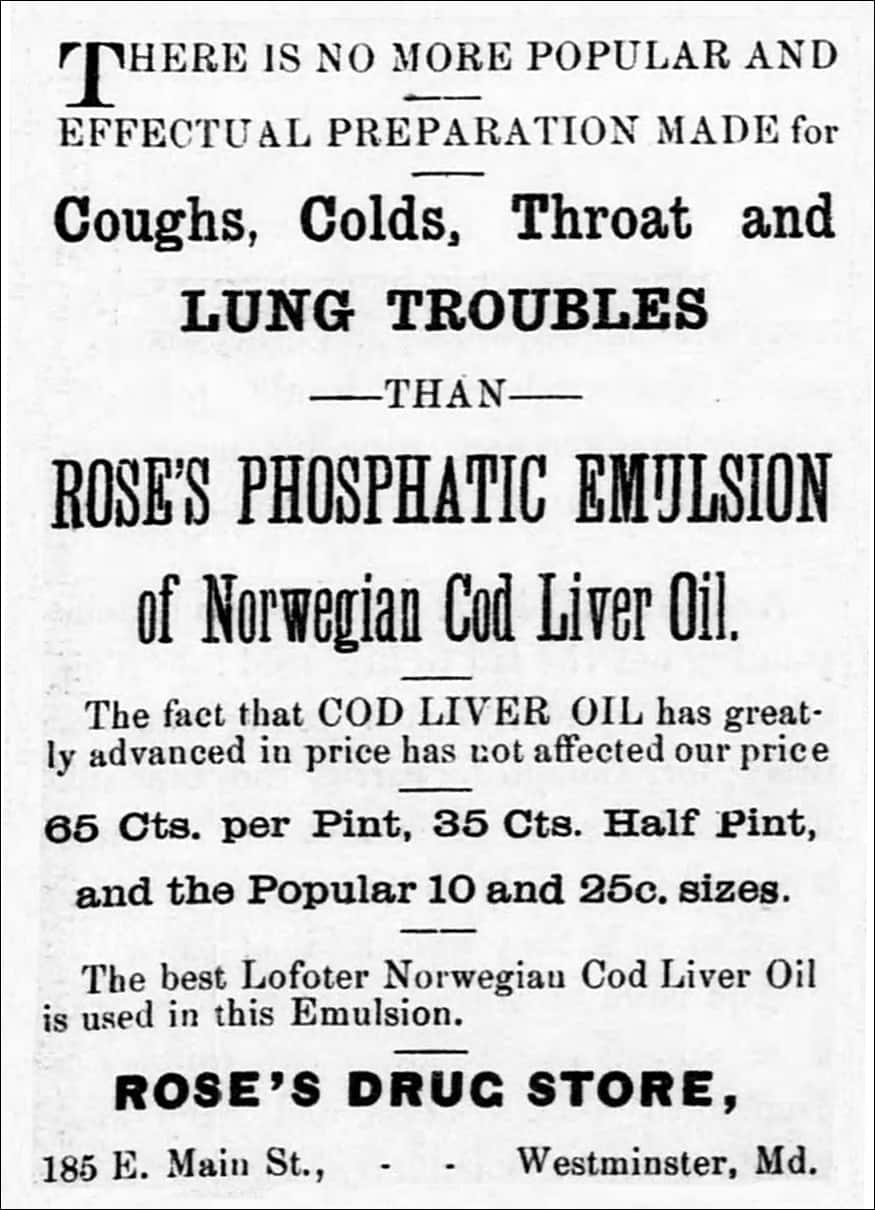 Soda Fountain just installed at Rose's Drug Store, Westminster, Maryland
The Democratic Advocate, June 30, 1911

Rose's Drug Store robbed on East Main Street in Westminster, Maryland
The Democratic Advocate, June 29, 1917

New Drug Store formally occupied by Rose's Drug Store, 183 East Main Street, Westminster, Maryland
The Democratic Advocate, October 4, 1918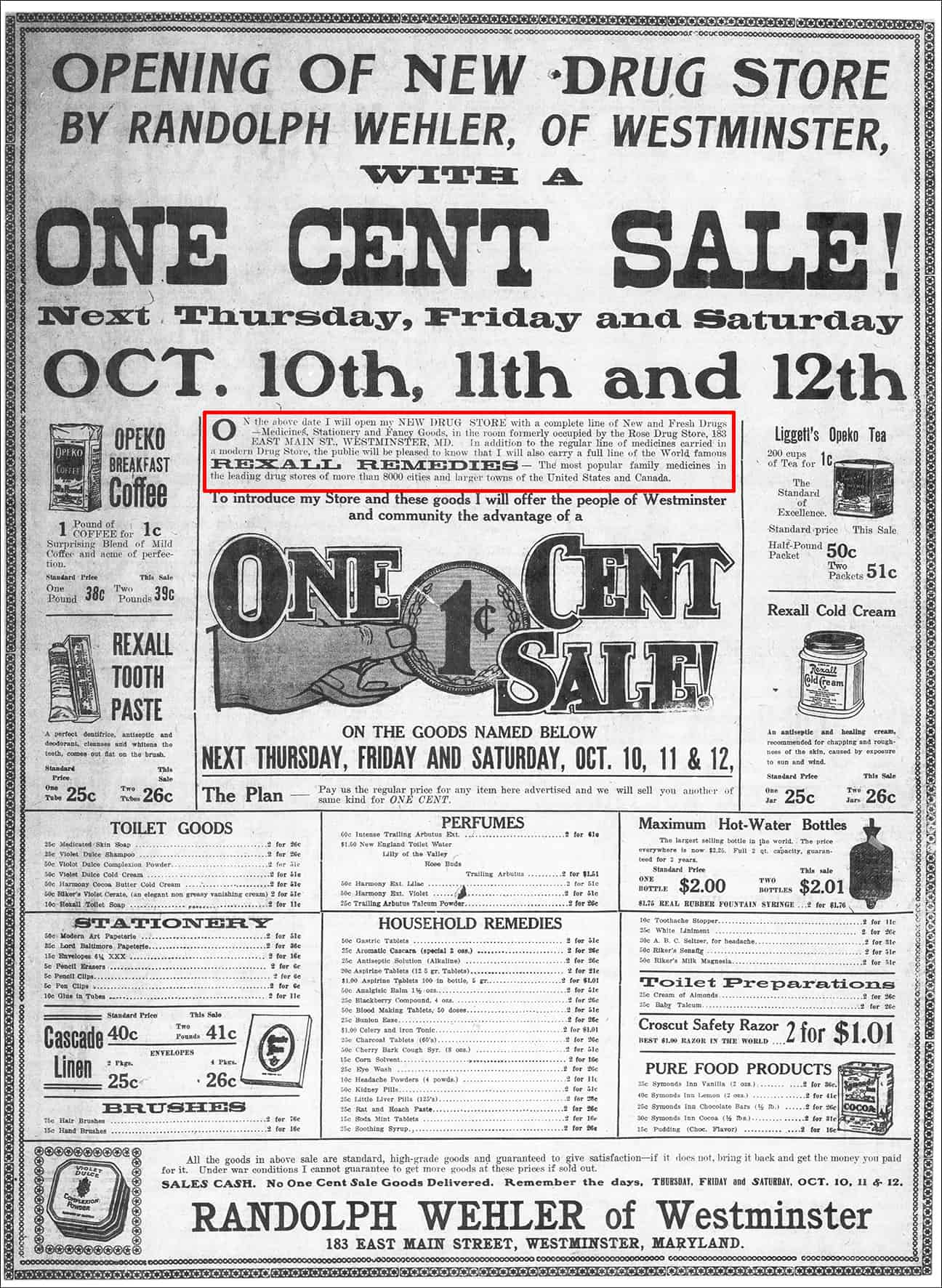 Select Listings:
1869:

John J. Rose, Birth Date: 9 March 1869 – U.S., Find A Grave Index, 1600s-Current
1870:

John Rose, Age in 1870: 1, Birth Year: abt 1869, Birthplace: Maryland, Dwelling Number: 453, Home in 1870: Baltimore Ward 17, Baltimore, Maryland, Inferred Father: George Rose, Inferred Mother: Eliza Rose, Household Members: George Rose 50, Eliza Rose 41, Andrew Rose 20, Charles Rose 18, Francis Rose 16, Theresa Rose 14, Harry Rose 12, Clara Rose 10, Irene Rose 8, Welborne Rose 5, John Rose 1 – 1870 United States Federal Census
1900:

John J Rose, Druggist, Age: 31, Birth Date: March 1869, Birthplace: Maryland, Home in 1900: Westminster, Carroll, Maryland, Street: East Main Street, House Number: 67, Sheet Number: 22, Number of Dwelling in Order of Visitation: 422, Family Number: 441, Relation to Head of House: Boarder, Marital Status: Married, Marriage Year: 1895, Father's Birthplace: Maryland, Mother's Birthplace: Maryland – 1900 United States Federal Census
1900:

 Newspaper advertisement (above) Try My Ice Cream Soda at Rose's Drug Store (formerly Huber's), Westminster, Maryland – The Democratic Advocate, December 29, 1900
1903:

 Newspaper advertisement (above) Rose's Phosphatic Emulsion of Norwegian Cod Liver Oil being sold at at Rose's Drug Store, 185 E. Main Street, Westminster, Maryland – The Democratic Advocate, November 7, 1903
1904:

 Newspaper advertisement (above) Excelsior Stomach Bitters at Rose's Drug Store, Westminster, Maryland – The Democratic Advocate,

March 5, 1904
1911:

 Newspaper advertisement (above) Soda Fountain just installed at Rose's Drug Store, Westminster, Maryland – The Democratic Advocate, June 30, 1911
1918:

John J. Rose, Death Date: 21 Jan 1918, Cemetery: Saint Johns Cemetery, Burial or Cremation Place: Westminster, Carroll County, Maryland, Spouse: Regina C. Rose – U.S., Find A Grave Index, 1600s-Current
1918:

Newspaper advertisement (above) Randolph Wehler Opening a New Drug Store formally occupied by Rose's Drug Store, 183 East Main Street, Westminster, Maryland – The Democratic Advocate, October 4, 1918