Buck's Aromatic Bitters – a First Rate Tonic & Remedy
14 November 2018 (R•012919)

I came across some newspaper advertising for Buck's Aromatic Bitters and was curious about the brand. It looks like the proprietors were Captain John Thomas Buck and Dr. Pinckney T. Baley (also incorrectly spelled Bailey, pictured above), working under the name, Buck & Baley, in Jackson, Mississippi. They were wholesale and retail druggists who also put out Buck's Diarrhoea (sic) Syrup, Buck & Baley's Chemical Yeast Powder and Southern Stomach Bitters in 1865 (see ad below)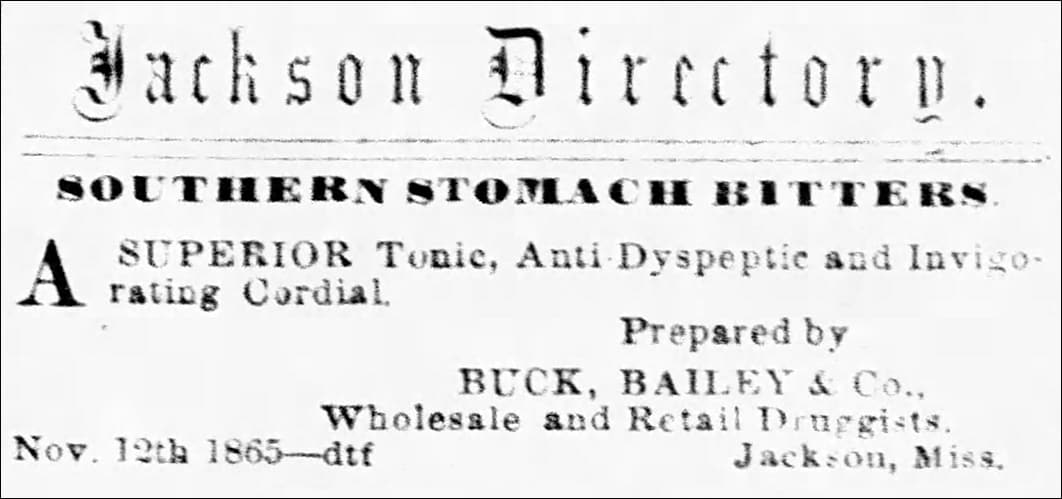 Like many other druggists of the time, they hopped on the medicinal tonic and remedy band wagon and came up with their own bitters. They said it would cure the usual ailments that most bitters claimed during this era in the south such as Dyspepsia, Indigestion, Want of Appetite, Flatulence, Acidity of the Stomach and General Debility.
There are only Jackson, Miss. newspaper advertisements for the bitters in 1867 through 1869. Each year is represented below. There is only one bottle example that I am aware of. I can not find any other collateral material such as a label or trade cards.
The Carlyn Ring and W. C. Ham listing in Bitters Bottles Supplement is as follows:
B 248.5  Buck's Aromatic Bitters
// f // BUCK'S // AROMATIC BITTERS // JACKSON. MISS //
8 3/4 x 2 7/8 x 2 1/8
Rectangular, Amber, NSC, Applied mouth, 3 sp, Extremely rare
Read More: Some Extremely Rare Mississippi Bitters
On the Buck side, this seems to start with Robert Luther Buck who was born in Virginia in 1816. He was a doctor and partnered with John Thomas Buck and Dr. Pinckney T. Baley in the 1865 or so, the firm name being Buck, Baley & Co. in Jackson, Mississippi. They were druggists and apothecaries located on State Street. They sold the usual drugs and medicines along with paints, linseed oil, lard oil, window glass, putty, dyes and other convenient items. They also sold wines and liquors for "medicinal purposes". They filled prescriptions at all hours and sold to "The Ladies", perfumery, cocaine and portable lemonade, which is a tasty syrup. So they ran a drug store like a hardware store that was a liquor store and sold cocaine….and lemonade.
Pinckney T. Baley, born in 1832 in Georgia, was one of the pioneer physicians in Jackson, Mississippi. He was the son of Stephen P. Baley (1806-1876), the long-time proprietor of S.P. Baley & Co. in Jackson from the late 1830s to 1850s. S.P. Baley sold mainly groceries, hardware and liquor. He got his start when George Finucane & Co. disposed of their entire stock to S.P. Bailey & Co. in 1838. Pinckney T. Bailey truly was a doctor and attended Jefferson Medical College in Philadelphia though he first entered the drug store trade when he bought a one half interest in the Yandell & Baley Drug Store located on the corner of State and Pearl Streets at No. 1 Cheapside in Jackson, Mississippi in 1853. His partner was Dr. Henry William Yandell (1835 – 1918) who graduated from medical school in Kentucky.
G. Finucane & Co.

•

S.P. Baley & Co.

• 

Yandell & Baley 

• Buck, Bailey & Co. •

Buck & Baley

Pinckney next partnered in what I believe to be the same drug store, at the same address (corner of State & Pearl Streets) with Dr. Robert Luther Buck and Captain John Thomas Buck, a southern Civil War veteran, sometime during the Civil War. Two physicians and a druggist, seemingly the perfect match. Dr. Robert Luther Buck died in 1866 and the firm became Buck & Baley, the concern that produced Buck's Aromatic Bitters.

They split in 1873, where Baley continued his medical practice. John T. Buck, born in 1839 in Tennessee, started out as a druggist in Kentucky in 1860. He would eventually move on to other occupations including being a City Clerk and Tax Collector in Jackson, a Baptist newspaper editor and a Savings and Loan Association official for the State of Mississippi. Baley would die in 1888 while Captain Buck passed on in 1906.

A little background for an extremely rare bitters. It's interesting to learn and imagine about the circumstances, lives and times of three men who made a bitters.
Select Listings:
1816:

 Dr Robert Luther Buck, Birth Date: 4 Aug 1816, Front Royal, Warren County, Virginia, Spouse: Elizabeth Buck, Children: Robert Luther Buck, Claiborne Cage Buck, Ellen Stewart Buck, Amanda Stewart Buck, Charles Buck, Mary Elizabeth Buck, Robert LeWright Buck, Jennie Cage Cole, Frances Hamilton, Dr. William Stewart Buck, James Duncan Buck, Infant Daughter Buck – U.S. Find A Grave Index
1832:

Dr Pinckney T. Baley, Birth Date: 1832, Birth Place: Georgia
1838: 

Newspaper notice (below): G. Finucane & Co. disposes of entire stock to S.P. Bailey & Co. – The Southern Sun, Saturday, December 29, 1838

1839: 

Newspaper notice (below): S.P. Baley & Co. received, per steamboat Grand Gulf, at G. Finacane's old stand – The Weekly Mississippian, Tuesday, January 29, 1839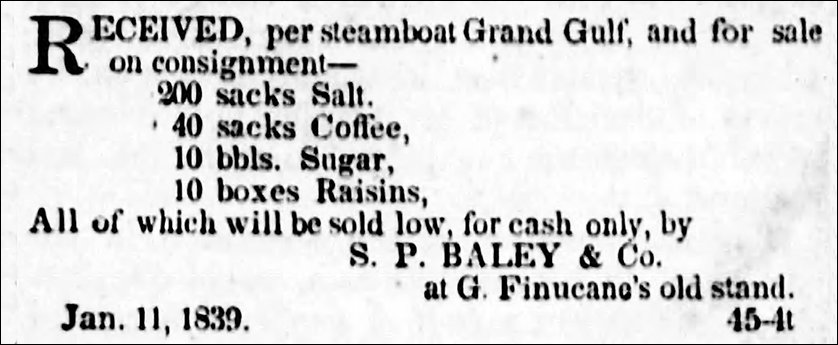 1839:

 John Thomas Buck, birth 29 August 1839, Tennessee
1850:

John T Buck, Age: 11, Birth Year: abt 1839, Birthplace: Tennessee, Home in 1850: District 2, Christian, Kentucky, Household Members: Samuel D Buck 46, Annis L Buck 17, John T Buck 11, Henry C Buck 2 – 1850 United States Federal Census
1853: 

Newspaper notice (below): Copartnership, I have sold one-half of my Drug Store to Doctor P.T. Baley, now Yandell & Baley, corner of State and Pearl Streets, No. 1 Cheapside – Flag of the Union, Friday, April 22, 1853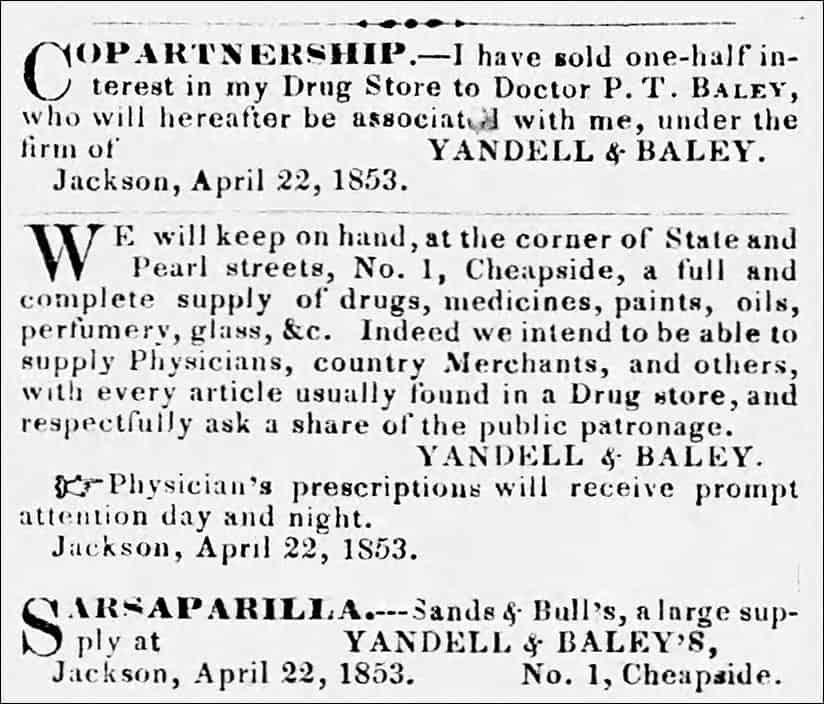 1853:

 Newspaper advertisement (below): Patent Medicines being sold by Yandell & Baley, No. 1 Cheapside – Flag of the Union, Friday, June 17, 1853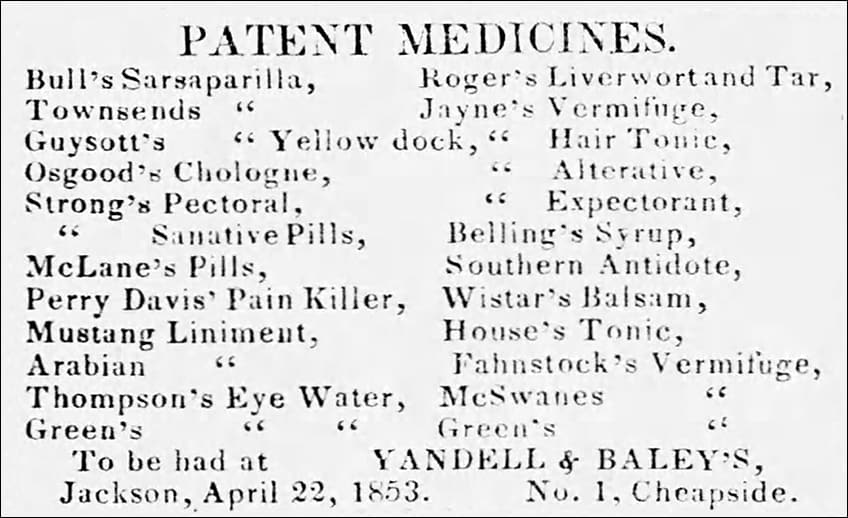 1856:

Pinckney T Baley, Publication Year: 1856, Publication Place: Pennsylvania, School Name: Jefferson Medical College, Residence Place: Mississippi – US School Catalogs
1858: 

Newspaper notice (below): W.W. Divine, druggists, books transferred to S.P. Bailey & Co. in Jackson, Mississippi – The Weekly Mississippian, Wednesday, December 29, 1858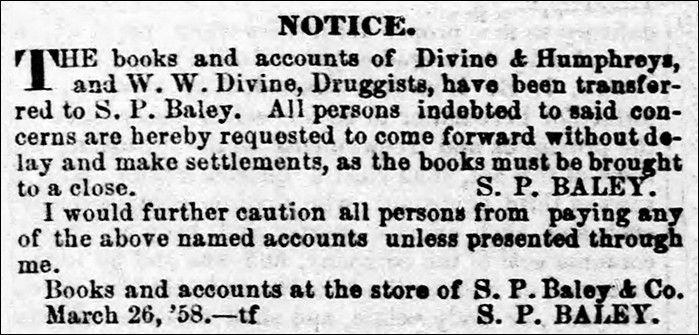 1860:

Robt L Buck, MD, Age: 43, Birth Year: abt 1817, Birth Place: Virginia, Home in 1860: Jackson, Hinds, Mississippi, Post Office: Jackson, Dwelling Number: 315, Real Estate Value: 35000, Personal Estate Value: 30000, Household Members: Robt L Buck 43, E Buck 32, Willie Buck 14, Fanny Buck 12, Charley Buck 7, Claiborn Buck 5,M Buck 4,A Buck 2, Buck 7 Months – 1860 United States Federal Census
1860:

John T Buck, Age: 20, Occupation: Druggist, Birth Year: abt 1840, Birth Place: Tennessee, Home in 1860: Hopkinsville, Christian, Kentucky, Post Office: Hopkinsville, Dwelling Number: 217 – 1860 United States Federal Census
1860:

P T Bailey, MD, Age: 29, Birth Year: abt 1831, Birth Place: Georgia, Home in 1860: Jackson, Hinds, Mississippi, Post Office: Jackson, Dwelling Number: 300, Family Number: 307, Occupation: M D, Real Estate Value: 4000, Personal Estate Value: 26,300, Household Members: P T Bailey 29, E M Bailey 27 – 1860 United States Federal Census
1861:

John T Buck, Age at Enlistment: 21, Enlistment Date: 21 Feb 1861, Rank at enlistment: Captain, State Served: Mississippi, Birth Date: 29 Mar 1839, Death, Date: 31 Jul 1906, Death Place: Jackson, Mississippi – U.S., Civil War Soldier Records and Profiles, 1861-1865
1865:

 Newspaper advertisement (below) Southern Stomach Bitters Prepared by Buck, Bailey & Co., Jackson, Miss. – The Daily Clarion, Saturday, December 16, 1865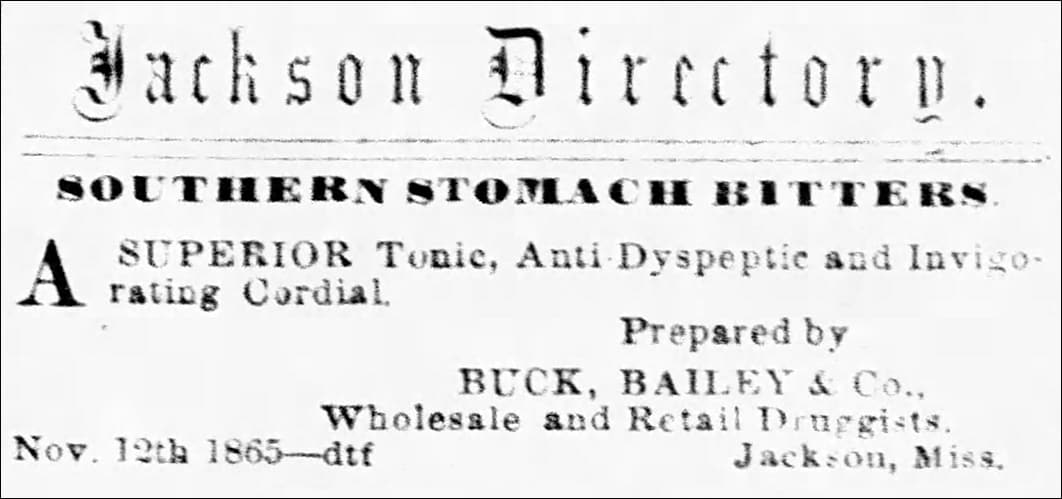 1865:

 Newspaper advertisement (below): Buck, Baley & Co., Dr. R.L. Buck, Dr. P.T. Baley and John T. Buck, Druggists & Apothecaries, State Street, Jackson, Miss. – The Daily Mississippian, Sunday, October 1, 1865
1866:

 Dr Robert Luther Buck, Death Date: 15 Jan 1866, Cemetery: Greenwood Cemetery, Burial or Cremation Place: Jackson, Hinds County, Mississippi – U.S. Find A Grave Index
1866: 

Newspaper Special Notice (below): Co-partnership between Dr. R.S. Buck, Dr. P.T. Bailey and John T. Buck dissolved due to death of Dr. R.S. Buck. Buck, Bailey & Co. now Buck & Baley –  Daily Mississippi Clarion and Standard, Sunday, July 15, 1866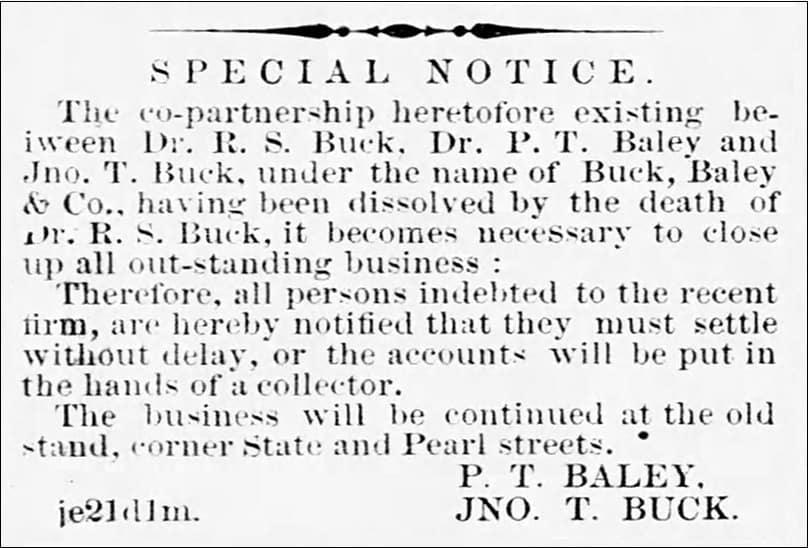 1869:

 Newspaper advertisement (below): Pure Catawba Wine being sold by Buck & Baley. – Tri Weekly Clarion, Thursday, December 16, 1869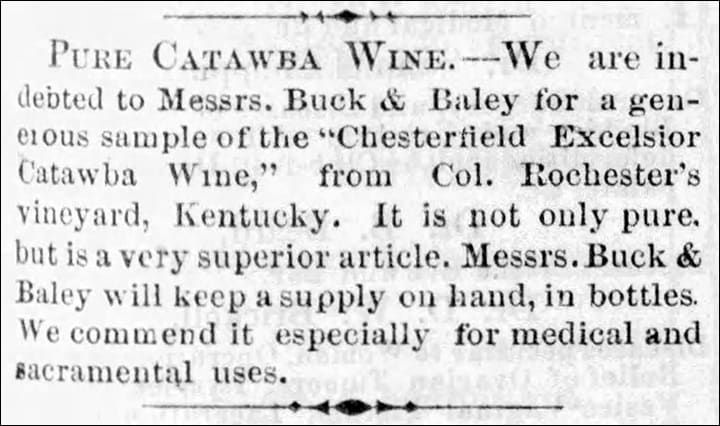 1870:

Jno T Buck, Druggist, Age in 1870: 30, Birth Year: abt 1840, Birthplace: Tennessee, Dwelling Number: 600, Home in 1870: Jackson, Hinds, Mississippi, Personal Estate Value: 4,000, Household Members: Jno T Buck 30, Hattie L Buck 23, William J Buck 1 – 1870 United States Federal Census
1870:

Pinckney T Baley, Occupation: Physician, Age in 1870: 38, Birth Year: abt 1832, Birthplace: Georgia, Dwelling Number: 535, Home in 1870: Jackson, Hinds, Mississippi, Personal Estate Value: 5000, Real Estate Value: 10000, Inferred Spouse: Emiline Baley, Household Members: Pinckney T Baley 38, Emiline Baley 34, George A Baley 7, Annie E Baley 9, Mira Baley 6, Farrar P Baley 4, Emmie Baley 8/12 – 1870 United States Federal Census
1873:

Newspaper notice (below): Dissolution of Partnership, Captain John T. Buck and Dr. P. T. Bailey in Jackson, Mississippi on December 1, 1873. Buck buys Baley out and continues.  – The Clarion Ledger, Thursday, December 18, 1873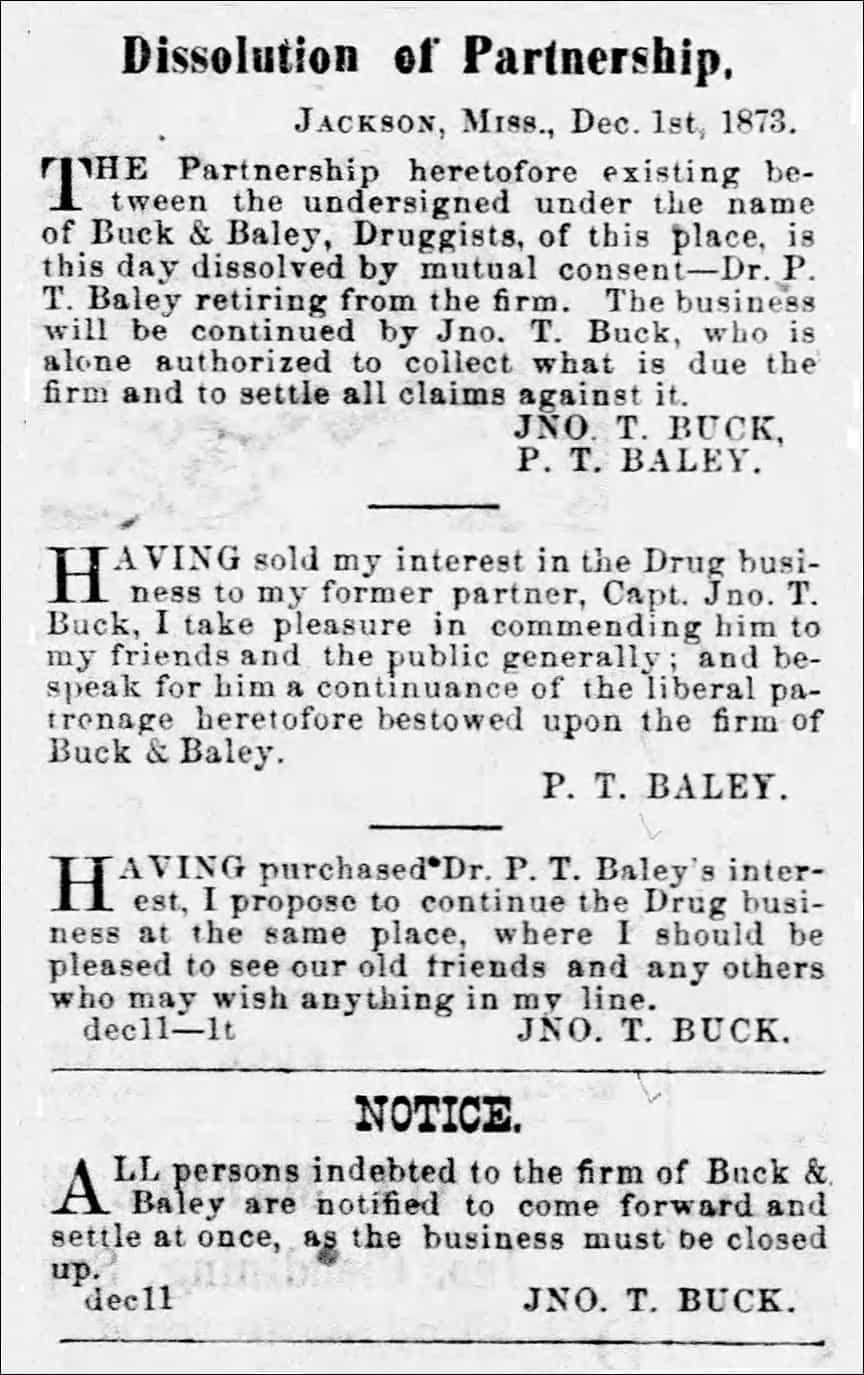 1880:

 John F. Buck, Age: 40, Birth Date: Abt 1840, Birthplace: Tennessee, Home in 1880: Jackson, Hinds, Mississippi, Street: Congress Street, Dwelling Number: 52, Marital Status: Married, Spouse's Name: Hadie Buck, Father's Birthplace: Virginia, Mother's Birthplace: Virginia, Occupation: Local Editor, Household Members: John F. Buck 40, Hadie Buck 33, William Buck 11 – 1880 United States Federal Census
1880:

Pinkney T. Baley, Physician, Age: 45, Birth Date: Abt 1835, Birthplace: Georgia, Home in 1880: Jackson, Hinds, Mississippi, Street: State Street, Dwelling Number: 158, Marital Status: Married, Spouse's Name: Emeline M. Baley, Father's Birthplace: Georgia, Mother's Birthplace: Georgia, Household Members: Pinkney T. Baley 45, Emeline M. Baley 46, Anna E. Baley 19, George A. Baley 19,Myra L. Baley 15,Farrar P. Baley 13, Cornelia A. Baley 10, Lelia E. Baley 8 – 1880 United States Federal Census
1888:

Dr. Pinckney T. Baley death 12 May 1888 (aged 55–56), Jackson, Hinds County, Mississippi, Burial Greenwood Cemetery, Jackson, Hinds County, Mississippi, Section 4, Lot 42, new cemetery – U.S. Find A Grave Index
1890: 

John T. Buck, City Clerk of the City of

Jackson – 

Charter of the City of Jackson, and Revised Ordinances of 1890
1900:

 John T Buck, Occupation: Sec. Building And Loan, Age: 60, Birth Date: Aug 1839, Birthplace: Tennessee, Home in 1900: Jackson Ward 1, Hinds, Mississippi, Ward of City: 1, Street: Jefferson, House Number: 511, Institution: Belhaven College (Female) Line 2 To 8 Inclusive, Number of Dwelling in Order of Visitation: 77, Father's Birthplace: Virginia, Mother's Birthplace: Virginia, Household Members: John T Buck 60, Hadie L Buck 52, William J Buck 31 – 1900 United States Federal Census
1901:

John T. Buck, Secy, Building and Loan Assn., Jackson, Mississippi, V president, Miss Baptist Publishing Co., res 511 n Jackson – Jackson, Mississippi, City Directory, 1901
1904: 

Newspaper notice (below): Conditions in Baltimore (fire-stricken city) – Jackson Daily News, Thursday, February 18, 1904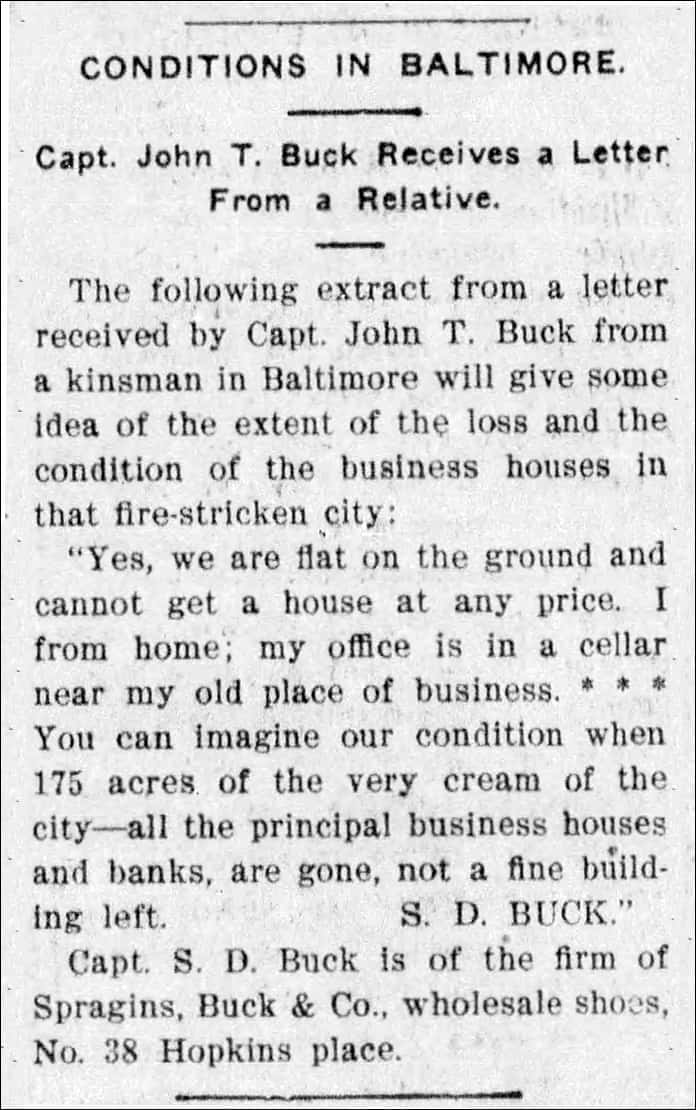 1906:

John Thomas Buck death 31 July 1906 (aged 66), Burial Greenwood Cemetery, Jackson, Hinds County, Mississippi, Section 1, Lot 134, new cemetery – U.S. Find A Grave Index