Deutenhoff's Swiss Bitters

–

Savannah
30 October 2014 (R•11.12.15) (R•020319)

Here is a tough bitters that I have never seen before. The Deutenhoff's Swiss Bitters from Savannah, Georgia recently sold in the American Glass Gallery Auction #13 that closed this past Tuesday night. It is also embossed, G.M. Heidt. This bottle form very much reminds me of the Lippman's Great German Bitters and Solomon's Strengthening Bitters, also both from Savannah. The Carlyn Ring and W.C. Ham listing in Bitters Bottles is as follows: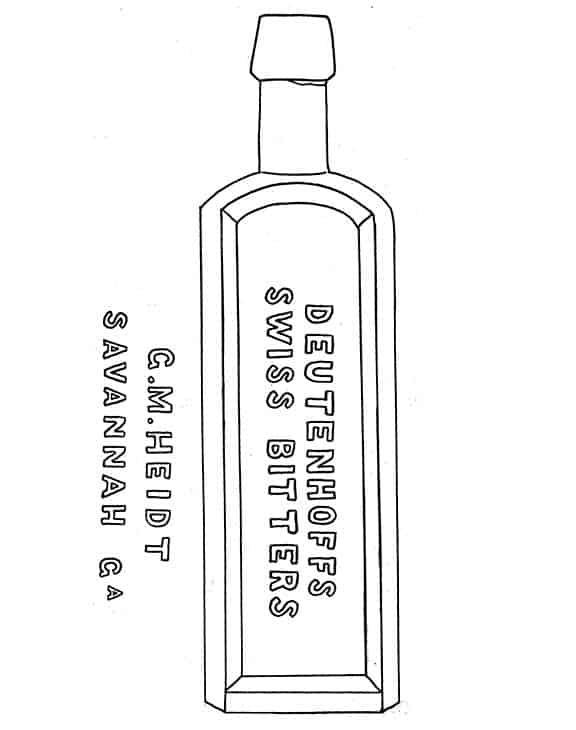 D 55

 Deutenhoff's Swiss Bitters
DEUTENHOFFS / SWISS BITTERS // sp // G.M. HEIDT / SAVANNAH GA // f //
9 1/4 x 2 5/8 (6 5/8) 1/2
Square, Amber, LTC, Applied mouth, 3 sp, Extremely rare
George Marion Heidt
George Marion Heidt was born in April 1831 in Effingham County, Georgia. His great-grandfather was John George Heidt I from Salzburger who came to Georgia Colony in 1749. His parents were Daniel Heidt (1809-1852) and Sarah R. Cannon Heidt (1798-1834). His wife was Maria Isabella Thomas Heidt (1825-1892). Their children were Isabelle Heidt Kolb (__-1883), Thomas Purse Heidt (1855-1905), George Daniel Heidt (1857-1858), Mary E Heidt (1859- __) and Willie Marian Heidt Cregar (1862-1949).
George M. Heidt was a druggist and member of the Georgia Pharmaceutical Association and was elected corresponding secretary for the state board of Pharmacists in 1882. He was also in the Masons and in 1882 was Grand Secretary of Masonic Lodge #48. He was also Director of the Savannah City Dispensary.
George owned a drug store called G.M. Heidt Company located at 145 Congress at the corner of Whitaker Street in Savannah, Georgia. He resided in Marietta, Georgia, just north of Atlanta. Heidt apparently designed an early model of a soda jerk machine for his drug store, and one report said that he invented the original formula for Coca-Cola, which was stolen at an expo some time later. I can not validate this information and doubt it. Of course most records show the invention was by John S. Pemberton. In 1888 he gave the pharmacy to his oldest son, Thomas Purse Heidt, Sr. (b. April 26, 1855). One report says Thomas Heidt invented Talcum Powder which I also seriously doubt. Later, trapped a house fire, Thomas jumped out a window to escape causing severe head injuries. He never fully recovered and was placed in State Asylum in Milledgeville until his death on January 2, 1905.
George Heidt moved on to run a 220 acre farm near Marietta, that he purchased in 1881. Sometime in the 1880s he also bought an additional 160 acre farm. In the 1890s he was a druggist at Mary Telfair Women's Hospital in Savannah, Georgia. On February 3, 1893, Heidt received an additional degree and graduated from the University of Georgia in Athens, believed to be the oldest student in the country at that time. George Marion Heidt died on August 17, 1900 in Bloomingdale, Chatham County, Georgia.
Deutenhoff Swiss Bitters
Using online search methods so far, I can find no direct reference to Deutenhoff's Swiss Bitters in period advertising. Possibly "Deutenhoff" is an older Swiss name. Wikipedia says that Swedish bitters is a Bitter and a traditional herbal tonic, said to have been formulated in a similar way by Paracelsus and rediscovered by 18th century Swedish medics Dr. Klaus Samst and Dr. Urban Hjärne. The alcoholic Swedish bitters is reported as having a similar flavor to Angostura bitters, though perhaps a little drier. Nowadays is more common to prepare Swedish bitters from a dry herbs mixture.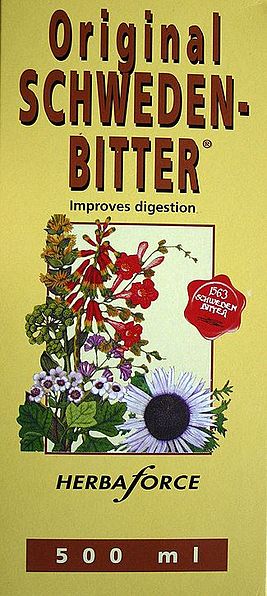 Select Milestones
1831:

 George Marion Heidt was born in April 1831 in Effingham County, Georgia.
1853:

George M. Heidt, City of Savannah, Georgia land record (see below)
1855:

George M. Heidt, 10 May 1855, Court Records
1863:

40 Ounces P. and W. Quinine, Received and for sale by G. M. Heidt, Corner State and Whitaker sts. – Savannah Republican, June 8, 1863
1866-1867:

Geo. M. Heidt, City Dispensary, dealers in drugs and chemicals, SE corner of State and Whitaker Streets (see 1866 advertisement below) – Savannah Georgia City Directory
1870-1874: 

G.M. Heidt & Co. (George M. Heidt and Augustus Richards), druggist, wholesale and retail, 21 Whitaker – Savannah Georgia City Directory
1879-1886:

G.M. Heidt & Co. (George M. Heidt), drugs, druggist, seeds, wholesale and retail, 145 Congress, cor Whitaker, res Marietta – Savannah Georgia City Directory
1888:

 George M. Heidt transfers G.M. Heidt & Co. to his oldest son, Thomas Purse Heidt, Sr. 
1900:

George M. Heidt death (see obituary)