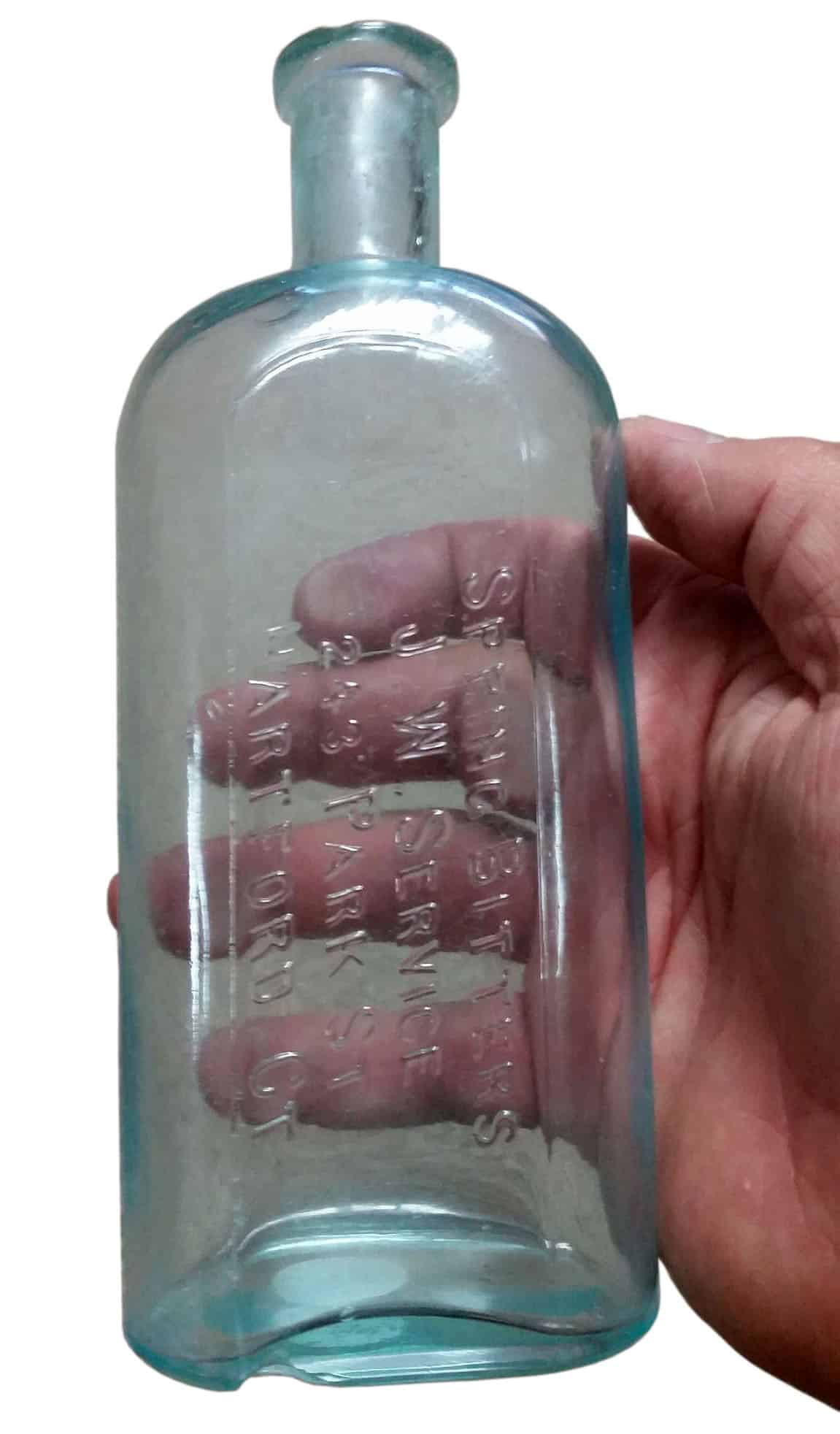 Spring Bitters – John W. Service
Hartford, Connecticut
25 January 2019

Bobby Conner sent me the two top-most pictures here and said, "Good morning Ferd. Here's a bitters you may enjoy seeing. I can't find any info on it other than Bill Steele 'thinks' he may have had one at one time. Enjoy."
I've not seen this bottle before so I thought I would check it out. Spring Bitters was somewhat of a generic term for bitters but there are certainly a few embossed and labeled Spring Bitters out there associated with proprietors. Here is a 1935 article about "Grandma's Spring Bitters."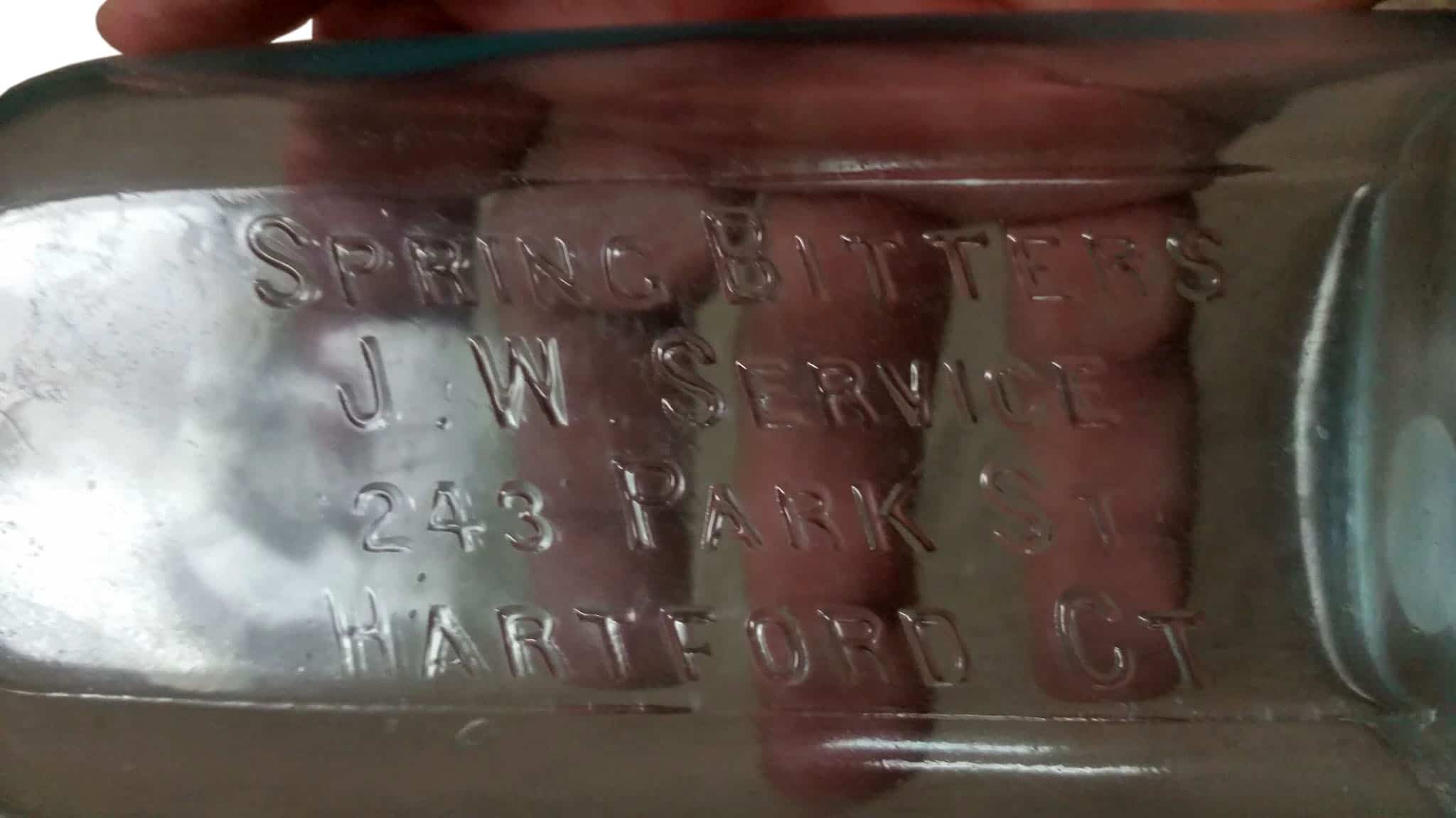 Looking at Bitters Bottles by Carlyn Ring and Bill Ham, I see S 98, Shedd's Spring Bitters from Jamestown, New York which is a rectangular, amber bottle with a tooled lip. A labeled example is pictured below.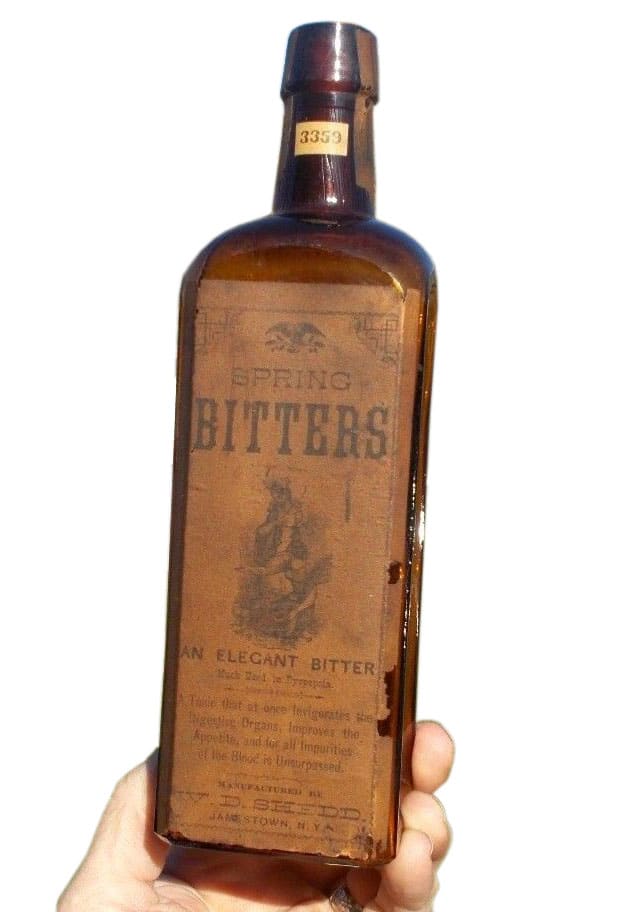 There is also a labeled, S 168, Spring Bitters which is rectangular and amber, another S 168 Spring & Summer Bitters put out by A.S. Davis who was an agent in Chelsea, Massachusetts.
Most interesting is a S 168.7 Spring Bitters noted in Bitters Bottles Supplement with (street address) and (city and state). It is noted as oval, aqua and has a tooled lip. I suspect this is our bottle with outdated information or incomplete information.
The new Carlyn Ring and W.C. Ham listing in Bitters Bottles Supplement 2 is as follows according to Bill Ham:
S 168.7  Spring Bitters
SPRING BITTERS / J. W. SERVICE / 243 PARK ST / HARTFORT CT // f //
7 5/8 x 3 1/8 x 1 7/8
Oval, aqua, NSC, Tooled lip, Very rare
Here are a few additional pictures Bobby sent with an outdoor setting.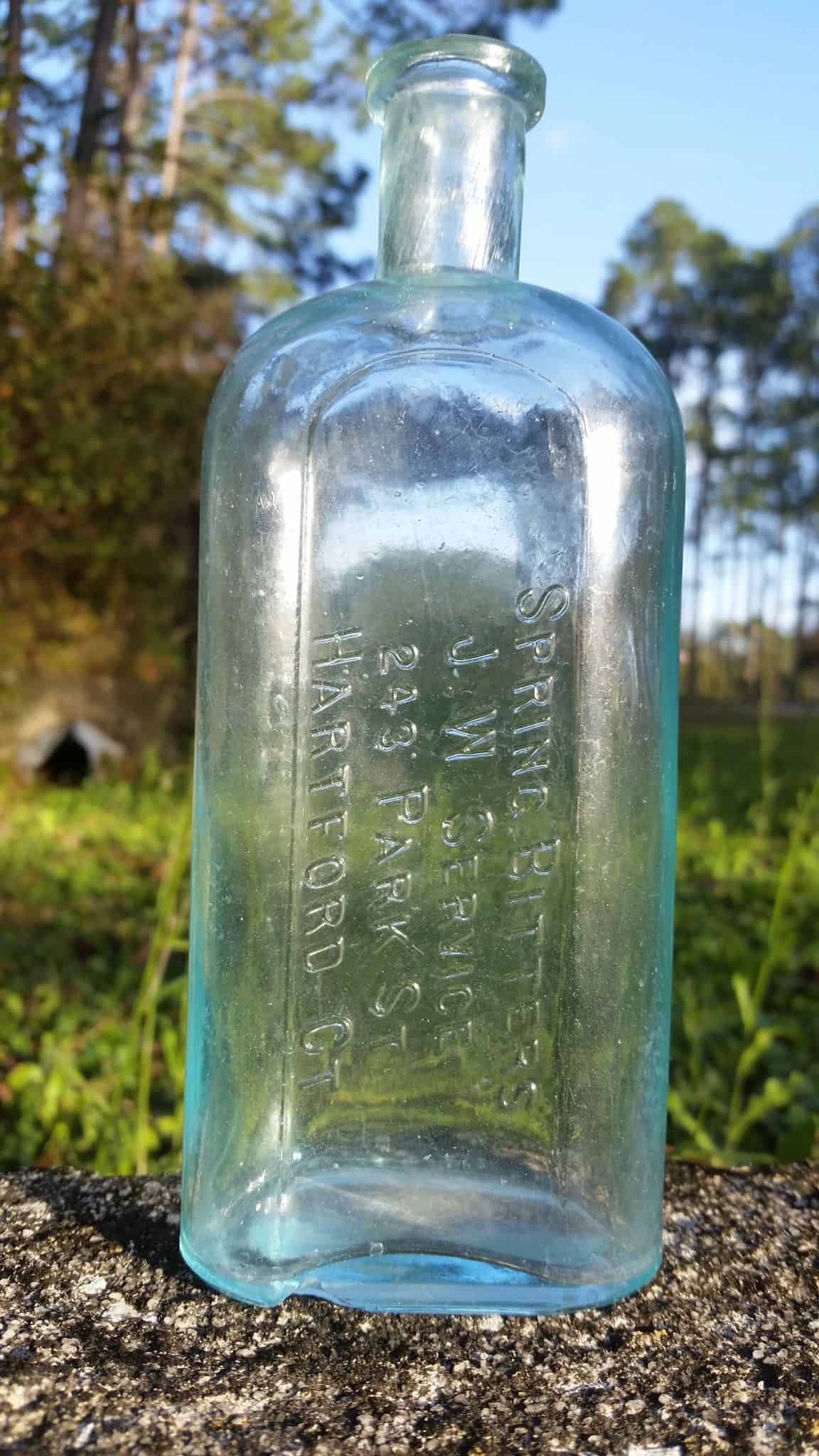 John W. Service
John W. Service was born on February 21, 1858 in Worcester, Massachusetts. His father was William Service and his mother was Hellen Smith. He first married a Rebecca G. and she died in 1892. He then married Susan Ellen Aldred in 1893. His father died at the young age of 30 or so while his mother, from Scotland, died in 1910.
We first see John clerking in a drug store in the late 1870s with an Edwin Crary who had a drug store at the corner of Park and Squire Streets in Hartford, Connecticut. This leads to an almost 40 year span where he was a prominent and popular druggist, most for his own concerns at 243 and 299 Park Street in the South End of Hartford. He called his 299 store "The Modern Pharmacy."
He probably sold his aqua Spring Bitters in the late 1880s though there was another Spring Bitters being sold at the City Hotel Drug Store on Main Street in Hartford, Connecticut in 1884, according to this Hartford Courant advertisement below. Maybe this product gave him the idea? Later in 1890, another advertisement said that various spring bitters were being sold in nearly every drug store in Hartford. "Their show windows are full of bottles of spring tonic bitters; you buy a bottle, you think that it does good." They go on to say that all those spring bitters don't work and you should use their Pure Wines of California Spring Bitters made by the California Wine Agency, located at 72 Trumbull Street in Hartford.
Like many druggists bottles, the typography on the Spring Bitters bottle is slanted left opposed to straight or italicized right which I find interesting. It must have been a short run since this example is the only bottle example that I, and others have seen. I also can not find any advertising for the product. I did find this picture below of his standard druggist bottle.
In 1910, with regulations severely tightened with what druggists could sell, John Service updated his druggist license to sell spirituous and intoxicating liquors, ale, lager beer, Rhine Wine and Cider at the 299 Park Street address. He had previously pled guilty to violating the provisions of his earlier liquor license and was fined $25 and costs. He was to sell these products for medicinal purposes and not to get drunk on the premises. They had taverns and bars for that. He agreed to not sell spirituous liquors in quantities exceeding one gallon, except other than distilled liquors and those in quantities exceeding five gallons. His license cost fifty dollars. Basically these drug stores, in many cases, were the first convenience stores that are everywhere today.
Though I could not find a picture of his drug stores, I did find the picture below for Lester H. Goodwin, Pharmacist located at 336 Main Street in Hartford during the same time period. If you enlarge the picture you can read that he his selling Drugs & Medicines, Mineral Waters, Soda, Poland Water, Trusses, Elastic Stockings and Supporters. His Homeopathic Pharmacy also had a sign reading "Open All Night." His products were displayed neatly in his first floor corner shop windows.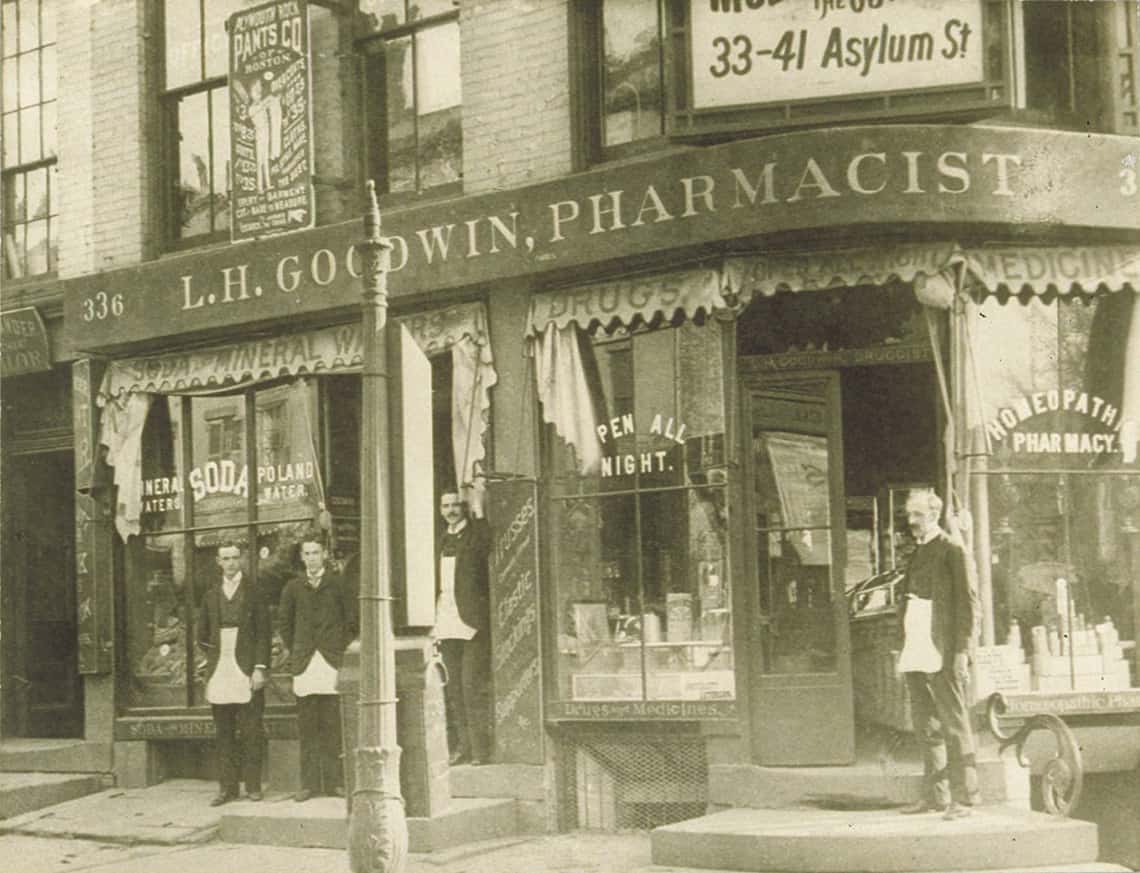 John W. Service retired in 1917 when he sold his drug store at 299 Park Street to James DeLeo and James P. Murray, who had been his clerks, one about nine years and the other about three. He also sold his interest in the 243 address to George Robertson who had run the store and been his partner.
John Service was well known in other ways and was considered one of the earliest baseball fans and financial supporters of local clubs in Hartford. Hartford had nearly continuous baseball from 1874 to 1952, including early major league baseball teams from 1874-1877. He retired in Middlesex, Massachusetts where we last see him in 1920. He died around 1929.
Select Listings:
1858: 

John W Service, Birth Date: 21 Feb 1858, Birth Place: Worcester, Massachusetts, Father: William Service, Mother: Hellen Smith – Massachusetts, Birth Records, 1840-1915
1880:

John W. Service, Clerk in Drug Store, Age: 20, Birth Date: Abt 1860, Birthplace: Massachusetts, Home in 1880: Hartford, Hartford, Connecticut, Street: Lawrence Street, House Number: 43, Dwelling Number: 155, Marital status: Single, Mother's Birthplace: Connecticut – 1880 United States Federal Census
1890:

 Pure Wines of California Spring Bitters made by the California Wine Agency, located at 72 Trumbull Street in Hartford. – Hartford Courant, Wednesday, May 7, 1890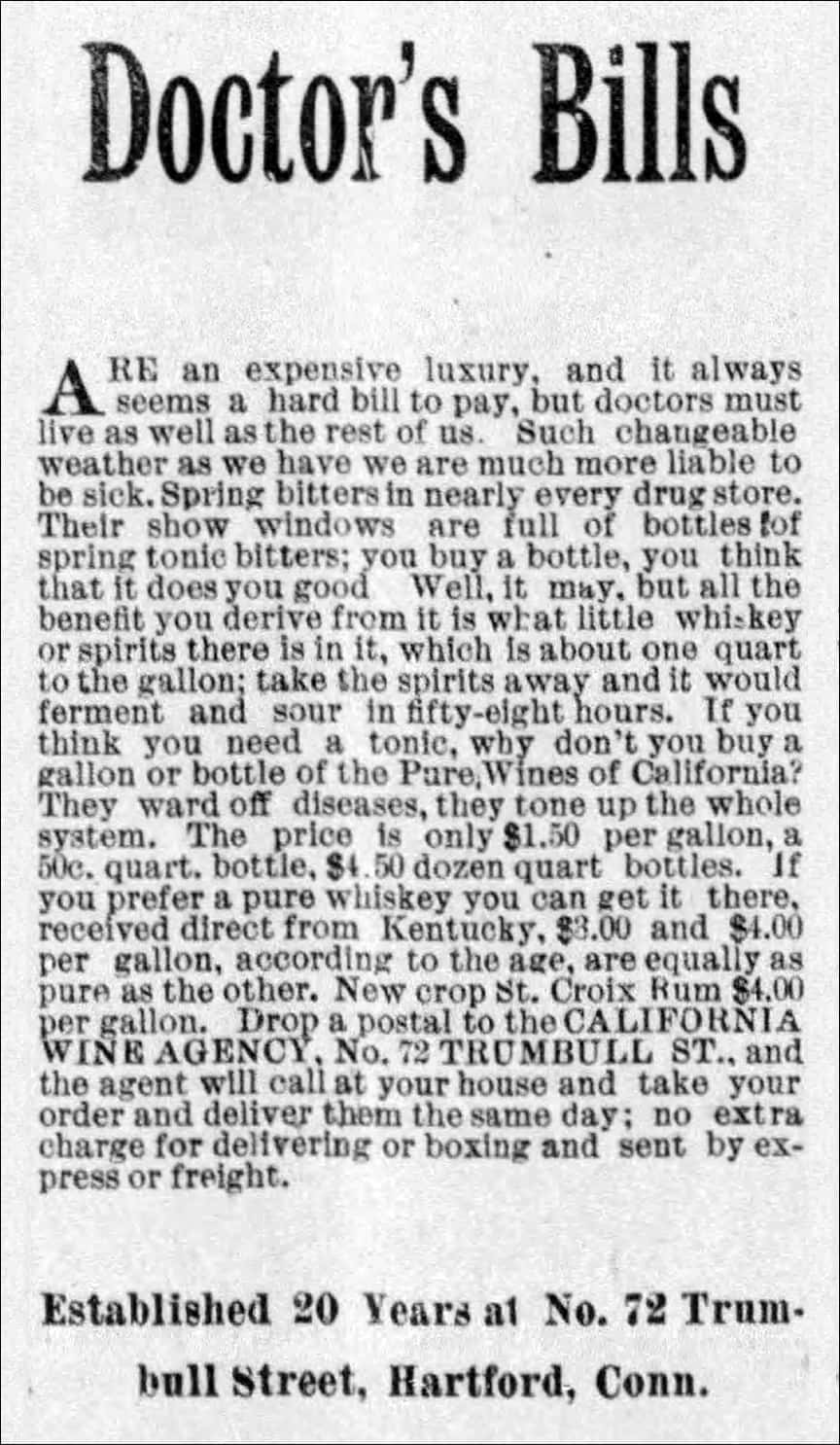 1892:

 Newspaper notice (below) Mrs. Rebecca G. Service, wife of John. W. Service died…- Hartford Courant, Wednesday, June 15, 1892

1893:

 Newspaper advertisement (below) Richardson's SherryWine Bitters being sold by John W. Service – Hartford Courant, Thursday, September 21, 1893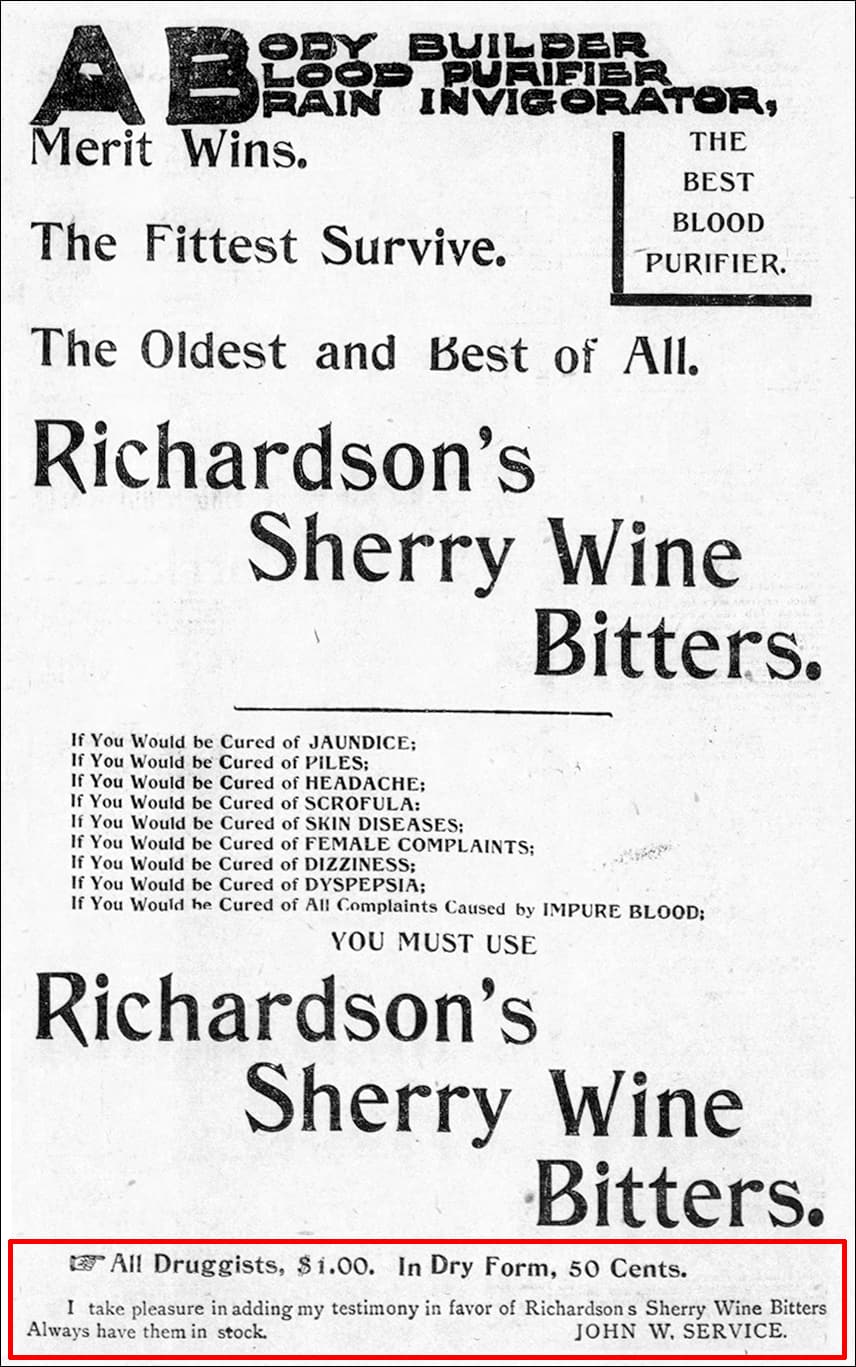 1893:

Marriage John W Service, Age: 34, Birth Year: abt 1859, Birth Place: Worcester, Marriage Date: 14 Feb 1893, Marriage Place: Boston, Massachusetts, Father: William Service, Mother: Helen Service, Spouse: Susan E Aldred – Massachusetts, Marriage Records, 1840-1915
1893-1894:

John W Service, Druggist, Street address: 243 Park, Hartford, Connecticut – Geer's Hartford, Connecticut, City Directory, 1894
1897-1899: 

John W Service, Druggist, 243 & 299 Park, h 42 Allen, Hartford, Connecticut – Hartford, Connecticut, City Directory, 1897 also Geer's Hartford, Connecticut, City Directory, 1897
1899:

 Newspaper notice (below) Druggist' License for John W. Service, 299 Park Street – Hartford Courant, Wednesday, May 3, 1899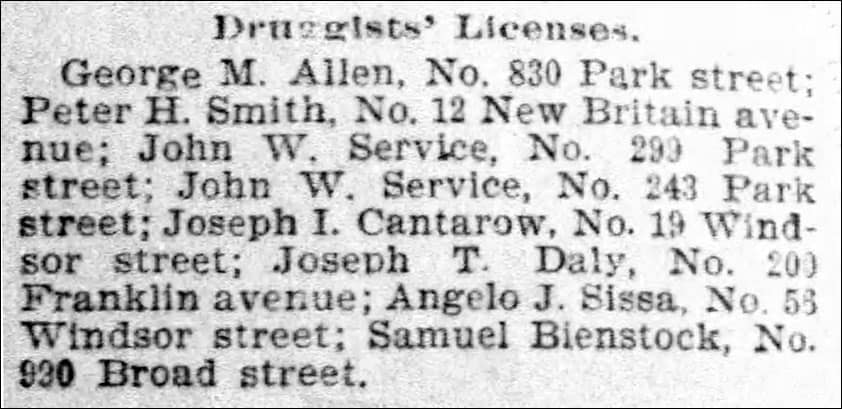 1900:

John W Service, Druggist, Age: 42, Birth Date: Feb 1858, Birthplace: Massachusetts, Home in 1900: Hartford, Hartford, Connecticut, Ward of City: 8th, Street: Allen Place, House Number: 70, Sheet Number: 8, Number of Dwelling in Order of Relation to Head of House: Head, Marital status: Married, Spouse's name: Susie E Service,Marriage Year: 1893, Father's Birthplace: New York, Mother's Birthplace: Scotland, Household Members: John W Service 42, Susie E Service 36, Charlotte Ring 29 – 1900 United States Federal Census
1900:

 Newspaper advertisement (below) Dr. Holt's Kidney Tablets sold at John W. Service, 243 Park Street and The Modern Pharmacy, 299 Park Street – Hartford Courant, Tuesday, July 24, 1900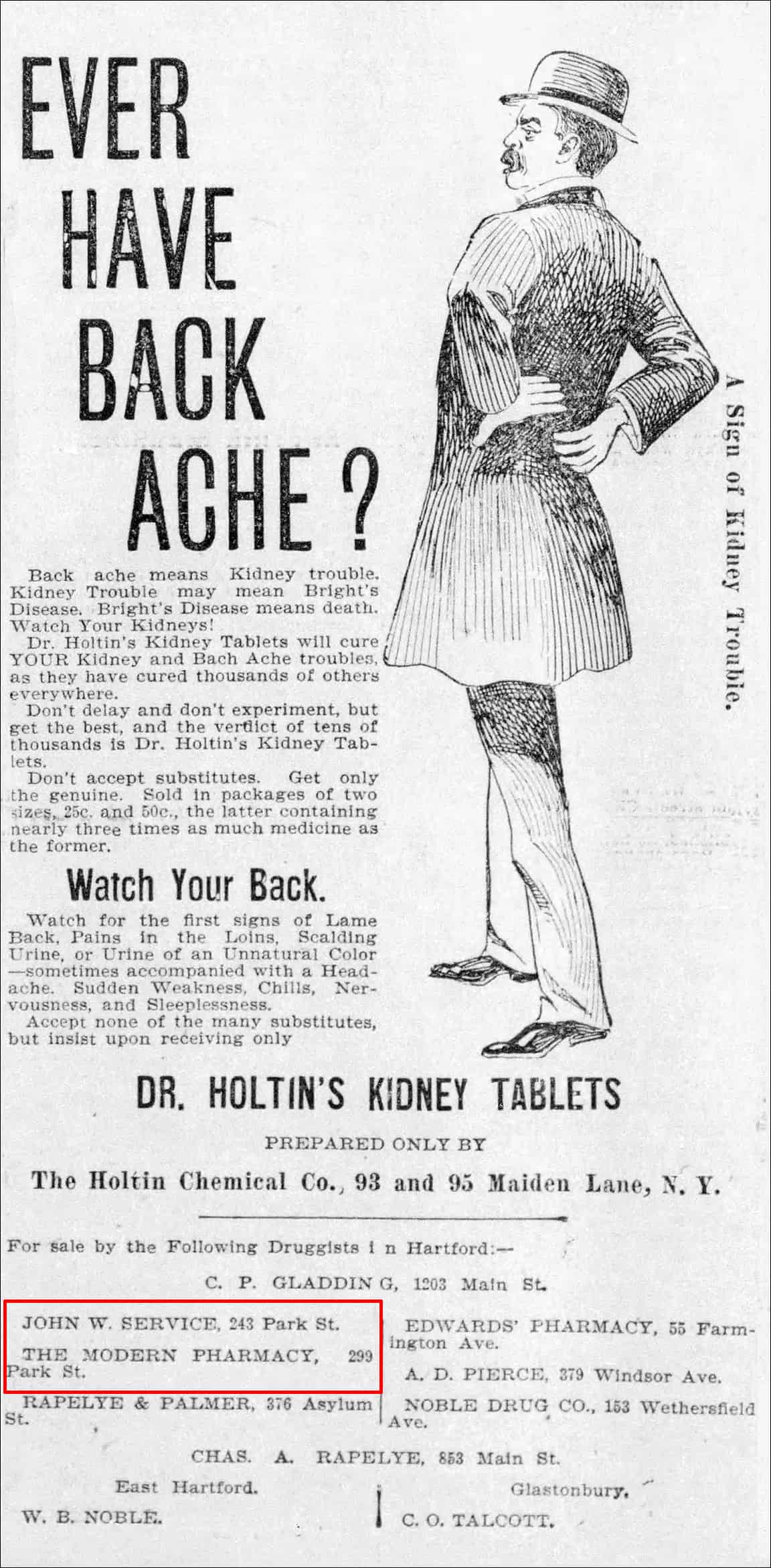 1900 – 1903:

Drug Stores: John W Service, Druggist, Street address: 243 and 299 Park, h 70 Allen Pl, Hartford, Connecticut – Hartford, Connecticut, City Directory, 1900
1905: 

Newspaper notice (below) John W. Service, a druggist, pleaded guilty to violating the provisions of his liquor license and was fined $25 and costs. – Hartford Courant, Saturday, October 7, 1905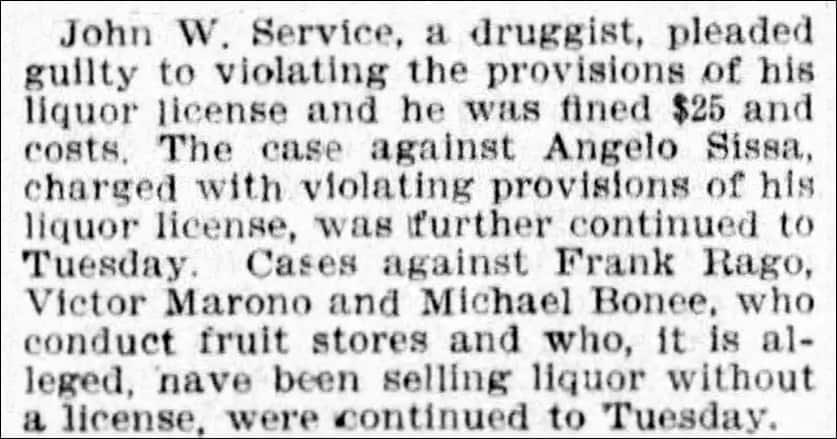 1906 – 1916:

John W Service, Druggist, 299 Park (Modern), Hartford, Connecticut – Hartford, Connecticut, City Directory, 1906
1910:

John W Service, Druggist, Age in 1910: 51, Birth Year: abt 1859, Birthplace: Massachusetts, Home in 1910: Hartford Ward 8, Hartford, Connecticut Street: Washington, House Number: 41, Marital status: Married, Spouse's name: Susaine C Service, Father's Birthplace: Connecticut, Mother's Birthplace: Scotland, Industry: Own Store, Employer, Employee or Other: Own Account, Home Owned or Rented: Own, Home Free or Mortgaged: Free, Farm or House: House, Years Married: 17, Household Members:  John W Service 51, Susaine C Service 39 – 1910 United States Federal Census
1910:

 Newspaper notice (below) John W. Service submits for druggists license to sell spirituous and intoxicating liquors – Hartford Courant, Friday, April 15, 1910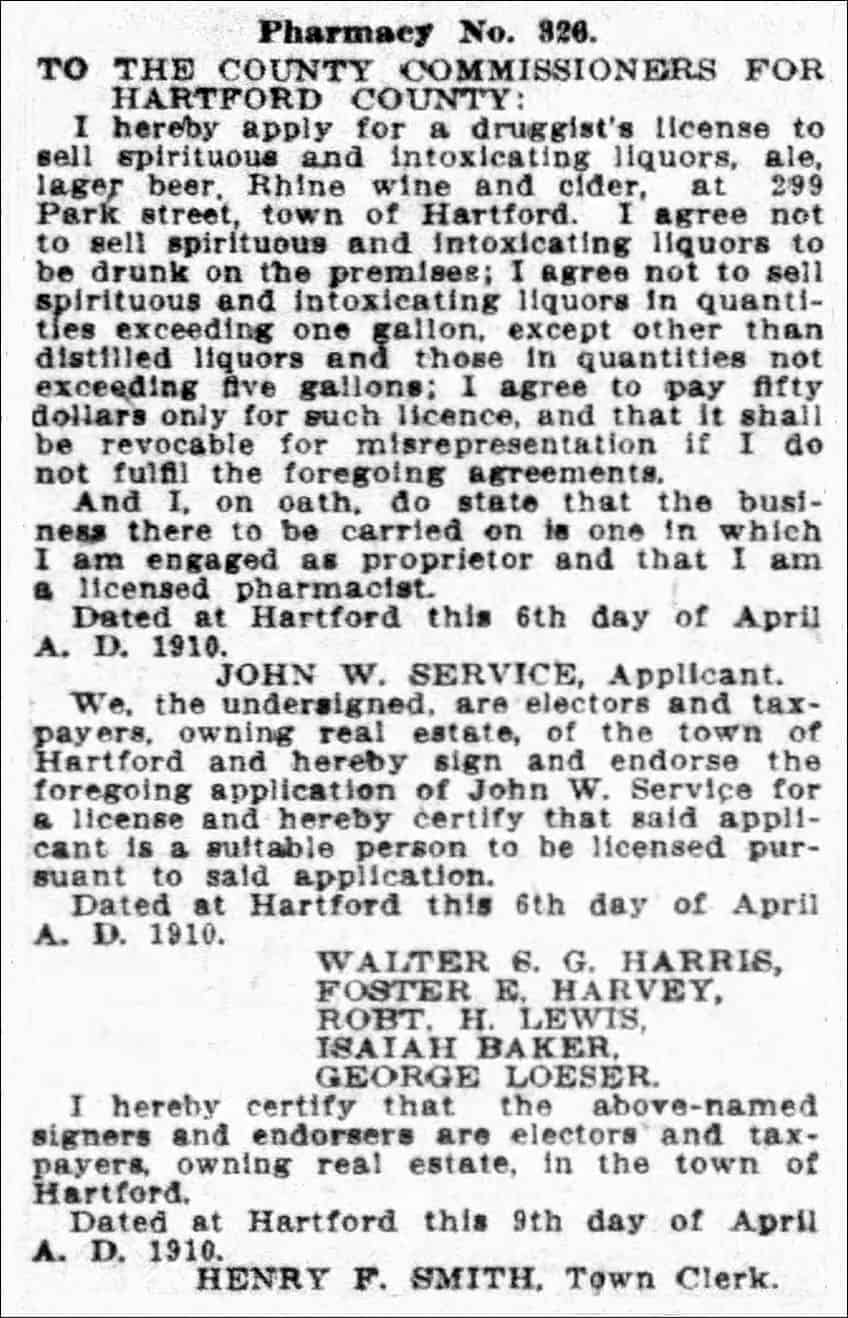 1910:

 Newspaper notice (below) death Mrs.William Service (Helen Smith), mother of John W. Service – Norwich Bulletin, Wednesday, December 28, 1910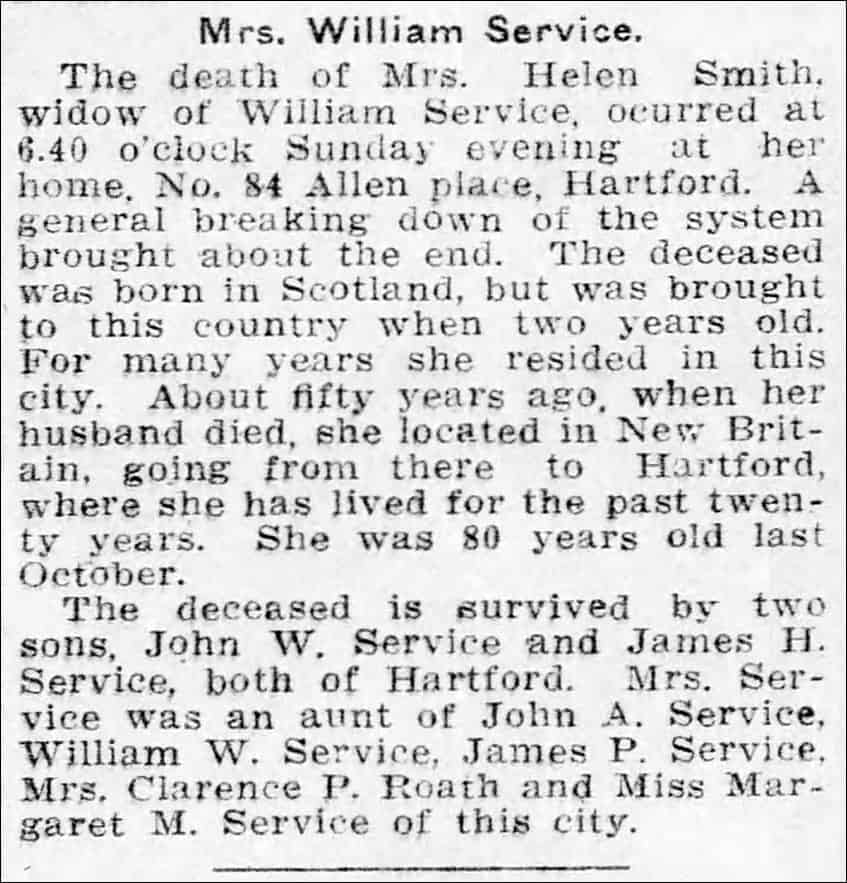 1913: 

Newspaper notice (below) Burglar Enters Two Houses in South End – John W. Service – Hartford Courant, Saturday, July 5, 1913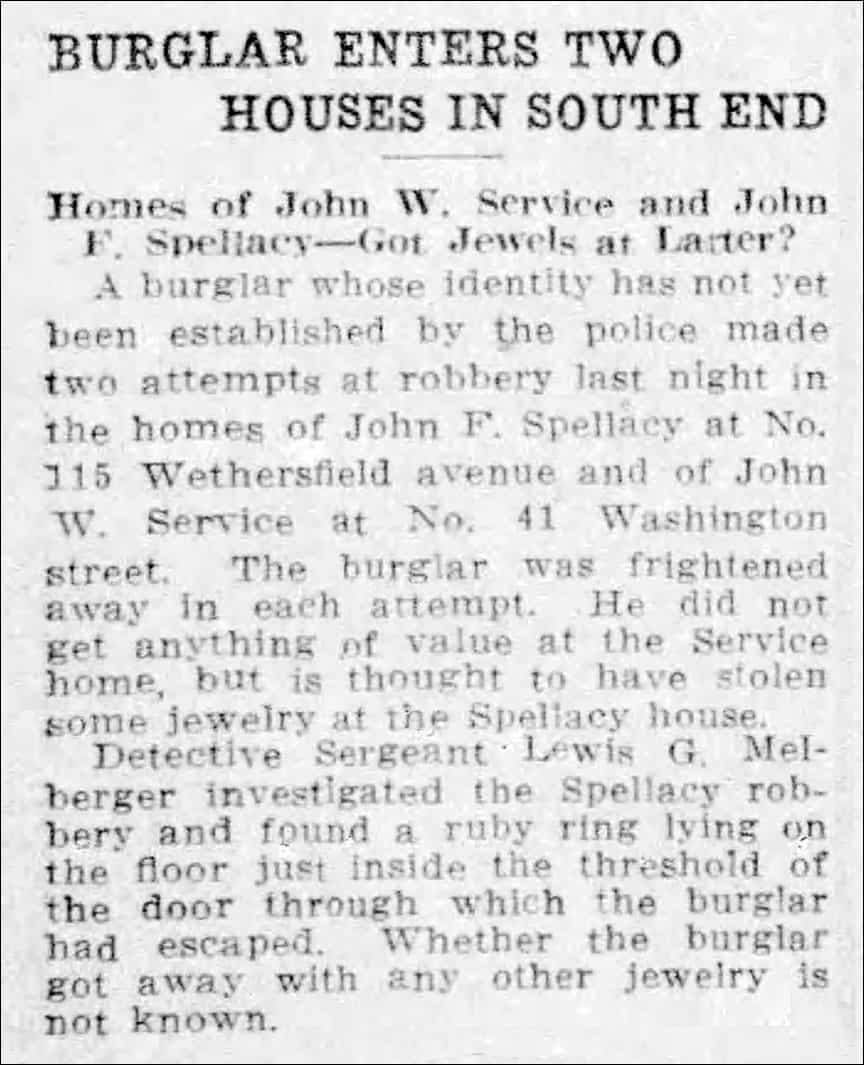 1917:

Newspaper notice (below) John W. Service Out of Drug Business – Hartford Courant, Wednesday, August 22, 1917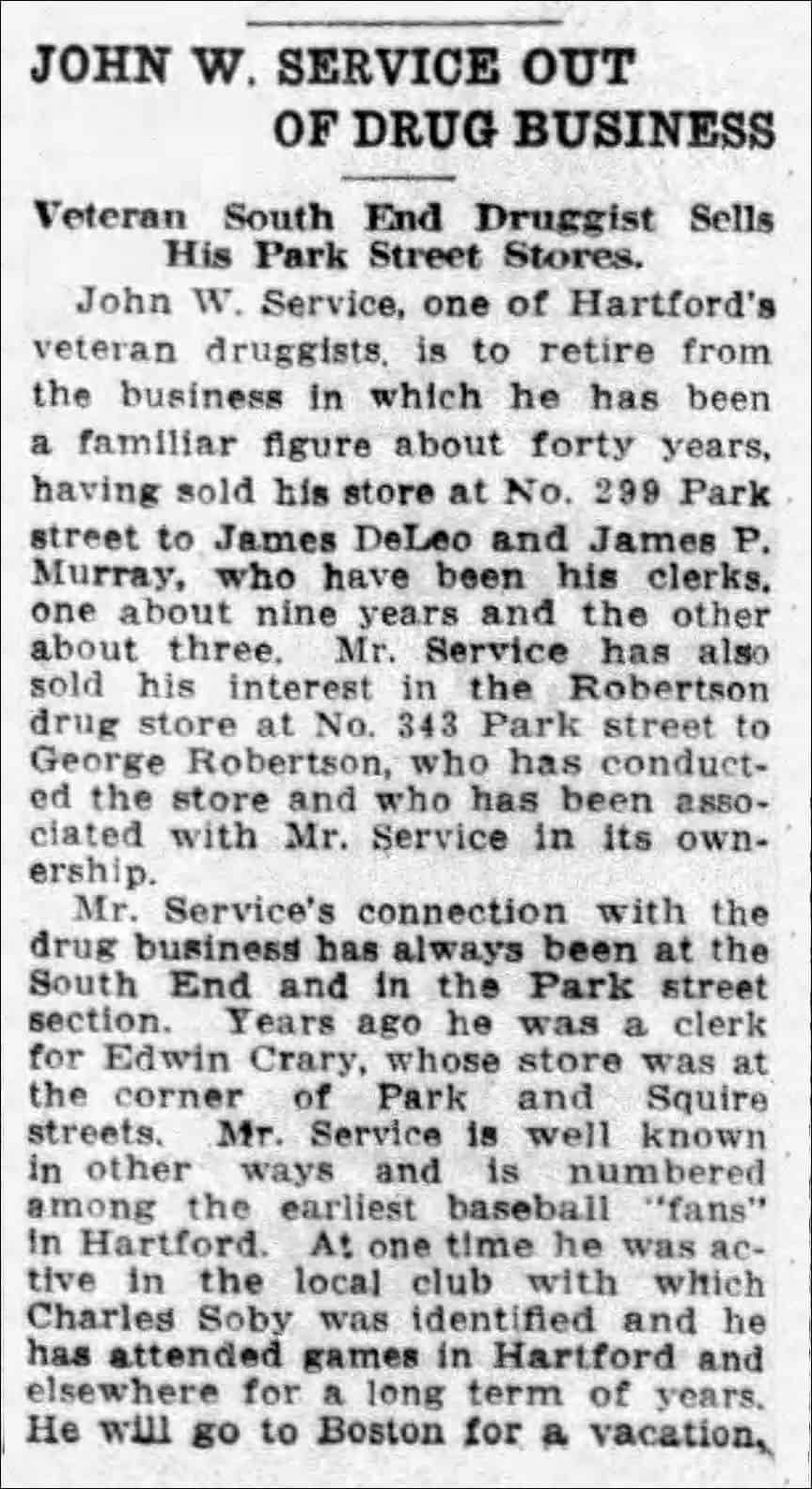 1920:

John W Service, Age: 61, Birth Year: abt 1859, Birthplace: Massachusetts, Home in 1920: Medford Ward 2, Middlesex, Massachusetts, Street: Fells Avenue Terrace, House Number: 16, Residence Date: 1920, Marital status: Married, Spouse's name: Susan E Service, Father's Birthplace: New York, Mother's Birthplace: Scotland, Household Members: John W Service 61, Susan E Service 55 – 1920 United States Federal Census
1936: 

Newspaper notice (below) Susan Eldredge, second wife of John W. Service dies. Notes John W. Service died about seven years ago – Hartford Courant, Tuesday, December 15, 1936