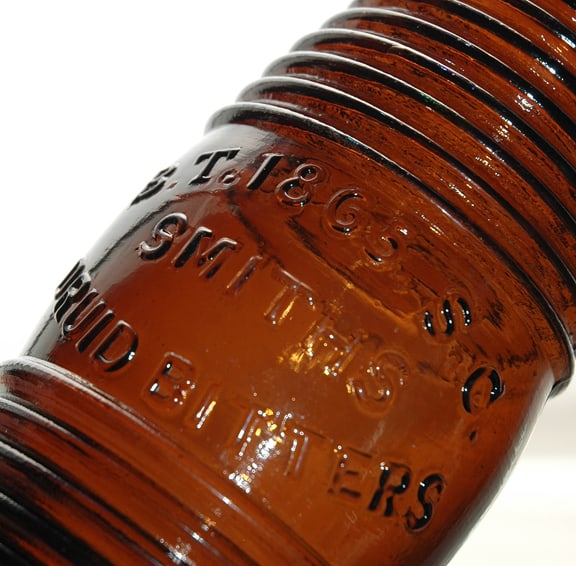 B. T. 1865 S. C. 
SMITH'S DRUID BITTERS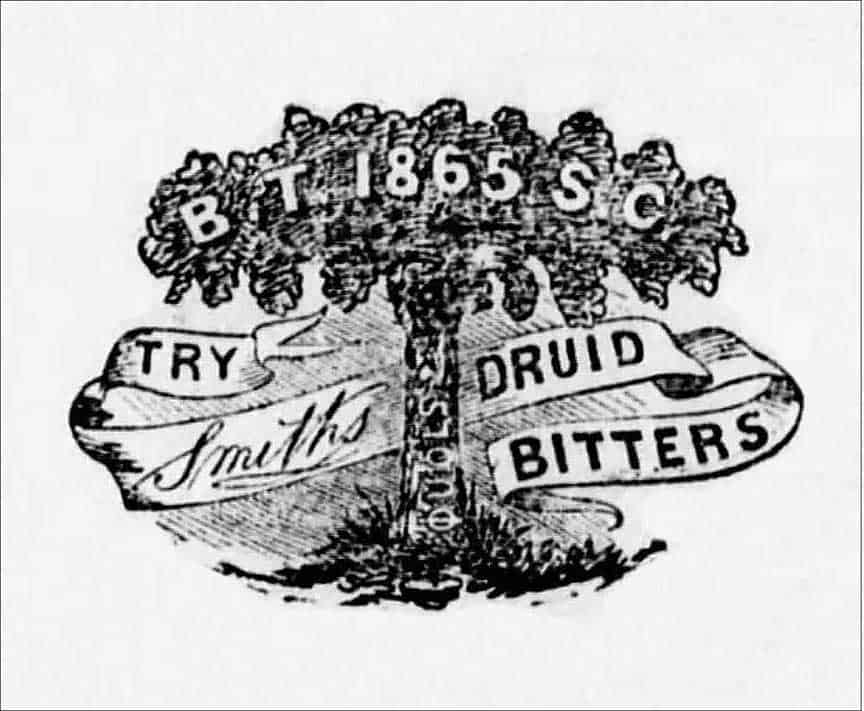 J. Smith & Son, Wholesale Grocers and Liquor Merchants, No. 35 Cheapside, Baltimore
20 July 2012 (R•052914) (R•032919)
"on o/e all due up to this date except 1 barrel whisky"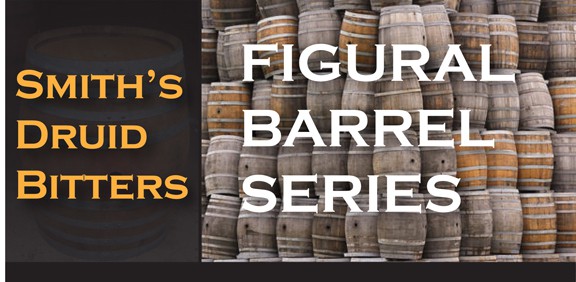 The Smith's Druid Bitters is a great Baltimore figural bitters barrel that I have written about before. Read: Awesome Smith's Druid Bitters Moves from West Virginia to Houston to Oregon. These barrels are extremely tough to obtain and rarely make an appearance at an auction, eBay or bottle show circuit. Most are embedded in collections. You would think that they would all be amber in coloration but that is not the case. I have seen, and possessed one in amber and olive green and recently have seen two in yellow amber and one in puce.
Three of the Smith's Druid Bitters that I have seen have shown up in the Shenandoah Valley (western Virginia and Eastern West Virginia) region leading one to believe of local distributors for this extremely rare Baltimore bottle. A puce example owned by a collector in West Virginia was found in Stephens City which is west of Winchester, Virginia.
Here is what I have on the brand including two documents from my collection. I would love to find a labeled example and some related advertising for John Smith and his son.
Box of candy for someone who can tell me what "B. T." and "S. C." stands for? Also, while you are at it, what is the meaning of the cryptic lettering within the tree trunk of the trademark logo for Smith's Druid Bitters? Looks like some type of Greek or Celtic lettering.
Box of candy for someone who can tell me what "B. T."  1865 "S. C." stands for?
The Carlyn Ring and W.C. Ham listing in Bitters Bottles is as follows:
S 124  Smith's Druid Bitters
B. T. 1865 S. C. ( au ) / SMITH'S / DRUID BITTERS ( ad ) // c //
9 1/2 x 2 1/2
Round barrel, 10-10, NSC, Applied mouth, Amber and Puce – Rare; Yellowish olive green and Olive yellow – Very Rare
---
Newspaper Advertising
I found this 24 April 1866 advertisement in a Petersburg, Virginia newspaper, showing "B. M. Robertson & Co." as the Virginia proprietor for Smith's Baltimore bitters. Hope that helps! Furthermore, I've confirmed "B. M. Robertson" as a Petersburg, Virginia druggist, grocer and merchant during the Civil War and that he sold supplies to the Confederacy, including medical, food, and chemical supplies. Enjoy! – Jim (Schmidt)
---
The Indian War of 1864, by Eugene Ware
Plantation Bitters appeared in 1860, and every wall and fence and vacant place in the United States was placarded with the legend, "S. T. 1860 X." For several months everybody was guessing what the sign meant. It was in the newspapers. It was distributed in handbills on the street. It was seen at every turn, "S. T. 1860 X." After the world had long grown tired of guessing, there appeared the complete legend, "Plantation Bitters, S. T. 1860 X."
Plantation Bitters became the bottled liquor of the age. It was made out of alcohol, water and flavoring, and was really very attractive as to taste and results. The Hostetter and the Log Cabin followed closely behind in popularity. The Log Cabin got into sutler tents all over the district which the army occupied. Its principal advertisement was the strange glass bottle made in the shape of a log cabin. At about the time I speak of, all three of these liquors were on sale at Boyer's.
The legend of the Plantation Bitters was that it meant "Sure thing in ten years from 1860." That is, when the inventor had made the decoction, and submitted it to a friend as an invention and marketable article, the friend, so the story goes, told him that it was a sure thing for a fortune in ten years. So, acting on this thought, he had billed the United States, "S. T. 1860 X.," and spent half a million advertising "S. T. 1860 X.," before anybody knew what it was all about.
Here is another thought.
No doubt the Druid's anogram was the result of following the success of the Drake's Plantation bitters Ad campaign. Best guess, Best Tonic 1865 Sure Cure – Steven James Anderson
"Best Tonic 1865 Sure Cure"
---
Receipts
J. Smith & Son, 35 Cheapside
J. Smith & Son (John Smith and Joseph S. Smith) were wholesale grocers and commission merchants who sold liquor, tobacco, cigars, fish and other provisions to the seasoned Baltimore inner harbor inhabitants and sailors. They were located at No. 35 Cheapside Street in Baltimore, Maryland.
I believe that John Smith worked at C. C. Adreon & Company who were importers and dealers in brandies, wines, gins and cigars located at two locations in downtown Baltimore, one being at 35 Cheapside. John Smith would take over the Cheapside location in the mid 1860s. In 1873, he was partnered with W. P. Whiting and the business was called Smith & Whiting. By 1883, W.P. Whiting & Co. took over the concern again as grocery and commission merchants located at 35 Cheapside.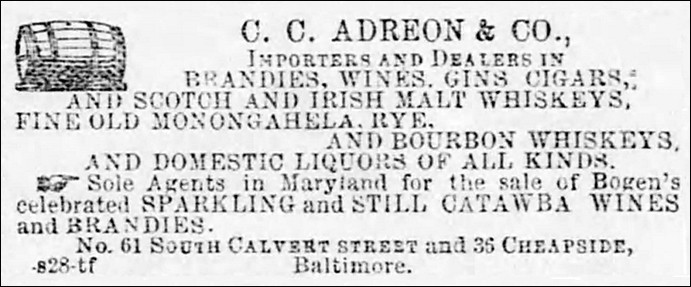 Baltimore's Inner Harbor was unsuitable for larger ships and heavy industry, both of which found Fells Point, Canton, and Locust Point to be more accessible. In spite of these disadvantages, the so-called "Cheapside Wharf" along Light and Pratt streets remained crowded with wooden docks and warehouses well into the 1950s. Cheapside Street disappeared after the 1904 Baltimore fire that burned the city. Cheapside and Franklin Lane were never rebuilt. In the maps below, we can see that Cheapside Street was one block east of Calvert Street and perpendicular to Pratt Street.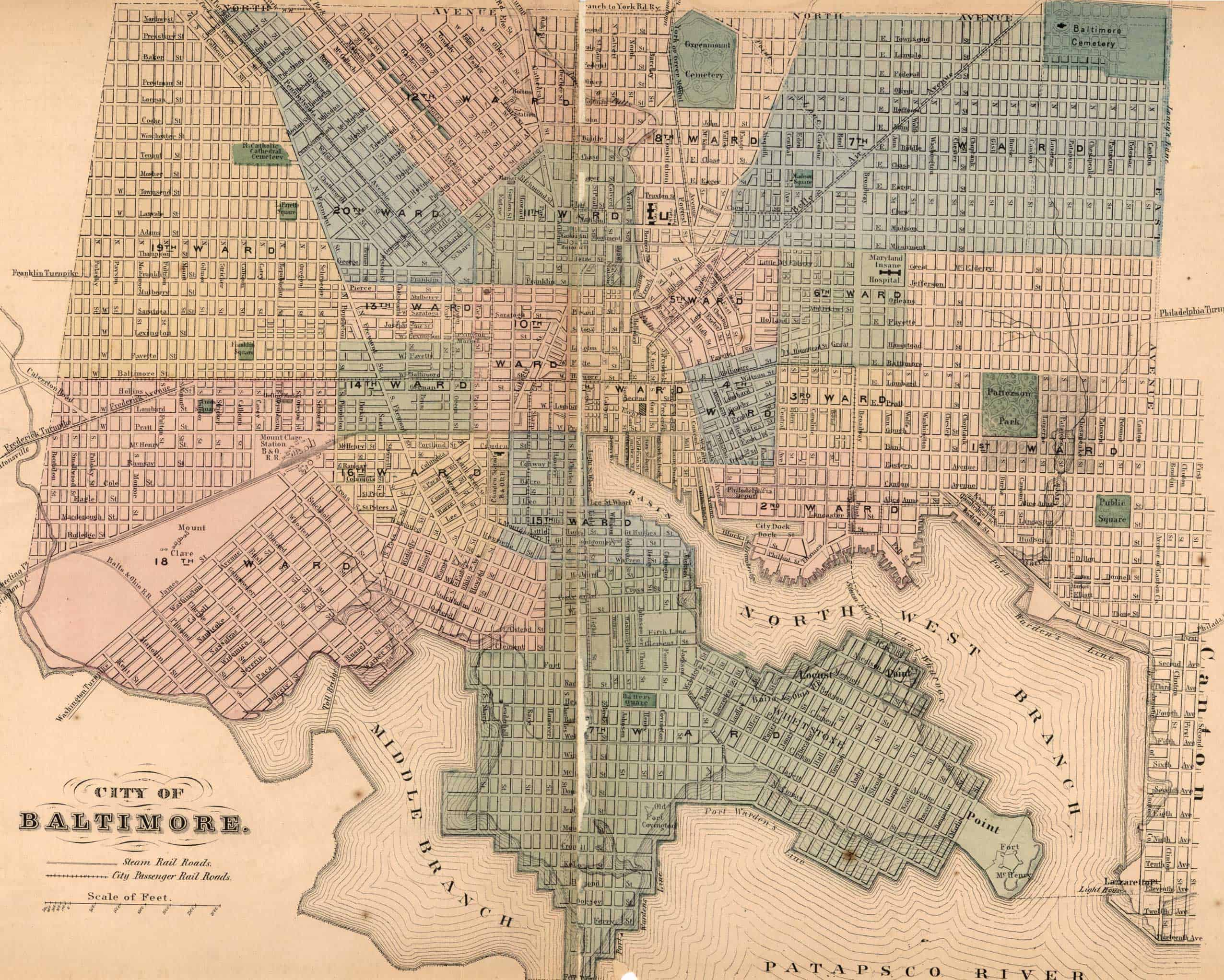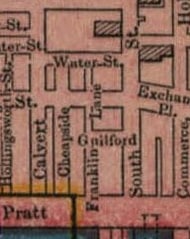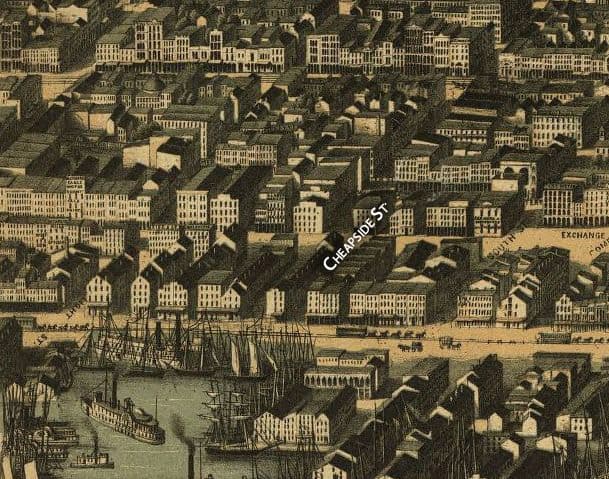 As their barrel is embossed B.T. – 1865.- S.C., SMITH'S DRUID BITTERS, we can say that their bitters was invented 1865. Their label said that the bitters was a tonic that would cure dyspepsia, heartburn, indigestion, sick stomach, chills & fever & C & C. A pleasant and agreeable drink. The best appetizer in the world.
The bitters had a relatively short shelf life which attributes to the rareness of the bottles.
Why is Druid in the name?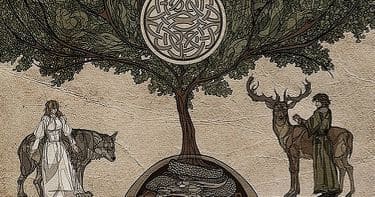 Why did John Smith call his medicine Smith's Druid? A druid was a member of the high-ranking professional class in ancient Celtic cultures. Perhaps best remembered as religious leaders, they were also legal authorities, adjudicators, lorekeepers, medical professionals, and political advisors. Celtic mythology is the mythology of Celtic polytheism, the religion of the Iron Age Celts. Like other Iron Age Europeans, the early Celts maintained a polytheistic mythology and religious structure. Celtic mythology is rich with symbolism of life, death and rebirth, replete with the magic of nature and the ancient world.
The art above is the Celtic tree which is a symbol of the eternal renewal of life – an important theme in Celtic mythology. The tree was also used in the Smith's Druid Bitters logo.
Druid Hill Park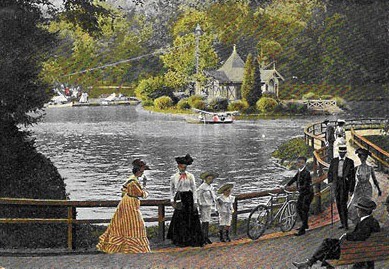 It is thought that John Smith and his wife lived and had a horse farm on what would become Druid Hill Park. This 745-acre urban park in northwest Baltimore was bounded by Druid Park Drive (north), Swann Drive and Reisterstown Road (west and south), and the Jones Falls Expressway / Interstate 83 (east). Inaugurated in 1860, Druid Hill Park, a famed urban park, ranks with Central Park (begun in 1858) in New York City, Fairmount Park (1812) in Philadelphia and Golden Gate Park in San Francisco as the oldest landscaped public parks in the United States.
The history of Druid Hill Park began over two centuries ago when the Susquehannock Indians ceded land in 1652- that included that park's area and its holdings to Lord Baltimore. Because of its access to the Jones Falls stream and other springs it is believed to have been an ideal site for the Native Americans. Lord Baltimore subsequently began to parcel the land out.
Gallery
Read More: Awesome Smith's Druid Bitters Moves from West Virginia to Houston to Oregon
Select Listings:
1860:

 Newspaper advertisement (below) Cows forSale, Apply to John Smith, 35 Cheapside – The Baltimore Sun, Friday, April 6, 1860

1861:

 Newspaper advertisement (below) C.C. Adreon & Co., Importers and Dealers in Brandies, Wines, Gins, Cigars …, 35 Cheapside – The Daily Exchange, Wednesday, February 20, 1861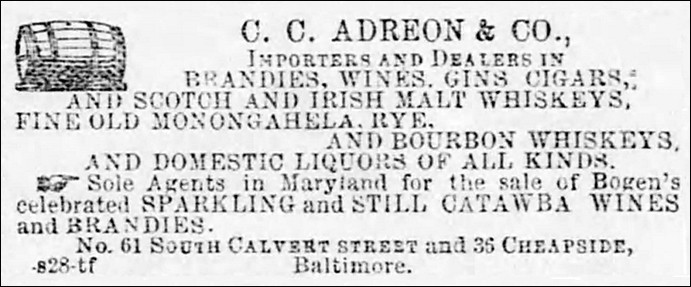 1863: 

Newspaper notice (below) $20 Reward, missing horse, reply to J. Smith, 35 Cheapside –The Baltimore Sun, Wednesday, July 15, 1863

1865:
J. Smith & Son (J. Smith, J.S. Smith) Wholesale Grocers and Liquor Merchants, No. 35 Cheapside, Baltimore – 1865 Baltimore City Directory
1865:

Newspaper advertisement (above in post) B.T. – 1865.- S.C., Try Smith's Druid Bitters – Civilian and Telegraph (Cumberland, Maryland), Thursday, August 31, 1865
1866:

 Newspaper advertisement (above in post) B.T. – 1865.- S.C. Smith's Druid Bitters, J. Smith & Son, Proprietors, Baltimore, Md. – The Progress Index (Petersburg, Virginia), Tuesday, April 24, 1866
1867: 

Receipt (above in post) dated May 1867. Cream paper receipt with black engraving of a Smith's Druid Bitters logo and a hand written notation as follows, 'on o/e all due up to this date except 1 barrel whisky'. This is also the exact receipt pictured on p. 506 of 'Bitters Bottles' (R/H) – Meyer Collection
1869:

 Newspaper notice (below) Pasture for Horses and Cows, Mrs. John Smith, 35 Cheapside – The Baltimore Sun, Tuesday, June 1, 1869

1871:

J. Smith & Son, 35 Cheapside – The state gazette and merchants and farmers' directory for Maryland and District of Columbia, Sadler, Drysdale & Purnell, Baltimore, 1871
1873:

 Newspaper advertisement (below) Gunpowder… For Sale at Smith & Whiting, 35 Cheapside – The Baltimore Sun, Tuesday, September 30, 1873

1883:

W.P. Whiting & Co. (W.P. Whiting), Groceries and Commission Merchants, 35 Cheapside
---
Read More on Figural Barrels
Barrel Series – Roback's Stomach Bitters (the smaller ones)
Barrel Series – Roback's Stomach Bitters (the big boys)
Barrel Series – Dr. Chandler's Jamaica Ginger Root Bitters
Barrel Series – Favorite Bitters & Peoples Favorite Bitters
Barrel Series – Wormser Bros San Francisco
Barrel Series – Mist of the Morning
Barrel Series – Old Sachem Bitters and Wigwam Tonic
Barrel Series – Turner Brothers New York & San Francisco
Barrel Series – The Mysterious Blue Barrel
Barrel Series – Original Pocahontas Bitters
Figural Barrel Series – Hall's Bitters
Greeley's Bourbon Whiskey Bitters – aka Vertical Greeley's
Peach colored Bourbon Whiskey Bitters added to Color Run